Fancy a free graze box packed with loads of exciting new snacks? I must admit, I'm a big fan of snacks. I'm especially partial to a sweet treat with a cup of tea! 
I recently got the chance to try a delicious graze box for free and in today's post, I'm sharing the love and giving you the chance to try it for free too. 
Continue reading to find out more about how to claim yours…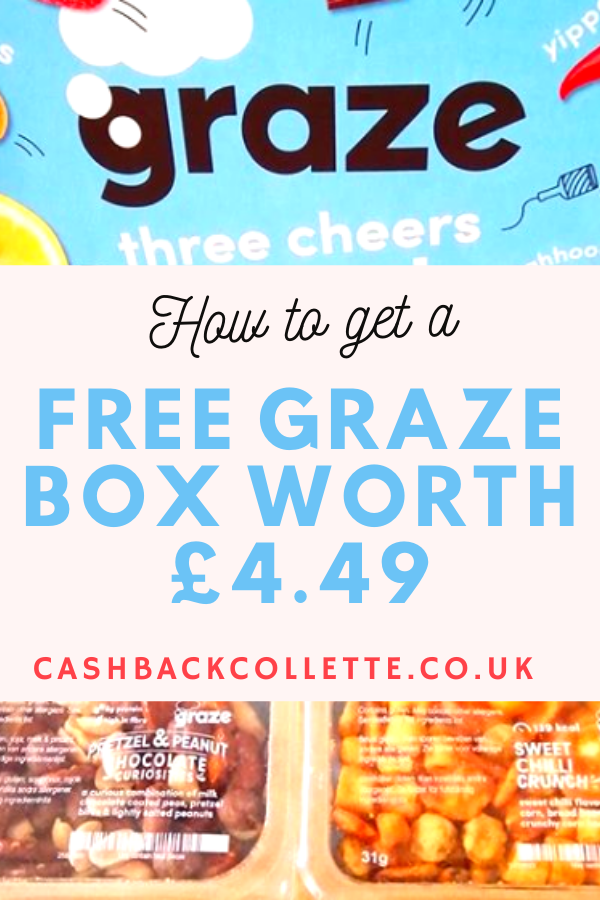 Who are graze?
Graze.com was started by a group of seven mates who all shared a love of healthy snacks back in 2008. They created a convenient subscription service to offer a wide range of healthy and tasty snacks for busy folks.
Since then, they've also launched a selection of treats you can purchase in many supermarkets and shops too. 
What are graze boxes?
A graze box is the main product offering from Graze and is a subscription service. Each box contains a selection of four snacks for you to nibble on.
What's inside a graze box? 
There are over 20 different types of snacks available to add to your box, and you can choose a variety box or go for specific selections such as:
Low sugar
High protein
Vegan 
Plus more!
You can order a weekly or fortnightly box, and tell them which snacks you love or don't enjoy. 

How much is graze per box? 
After your free box, it costs £4.49 a box. If you carry on your subscription, you'll also get your fifth box free too plus loads more perks. 
Are graze snacks really healthy? 
Yes! They pride themselves on producing healthy snacks, containing natural protein and fibre, and ingredients like nuts, seeds, fruit, vegetables and wholegrains. Yum! They're also between 150-220 calories. 
Is graze good for weight loss?
Graze can serve as a healthy snack option if you're on a diet, depending on how many calories you can consume to remain in a calorie deficit.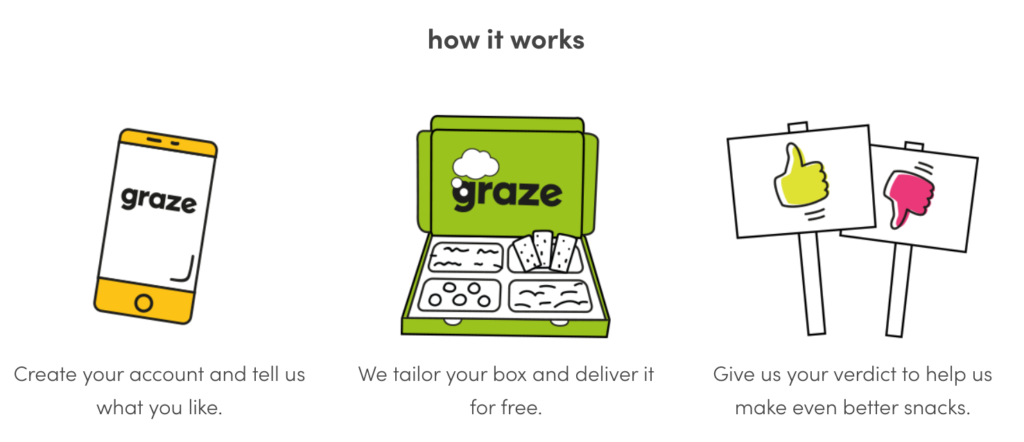 Do graze boxes fit through the letterbox?
Yes! That's one of the best things about a Graze box. Their standard size boxes fit through your letter box, meaning you don't even have to be home when they're being delivered.
Are graze boxes worth it?
It all depends on your budget and how much you enjoy their product. For some, £4.49 per box may seem expensive. However, if you enjoy trying adventurous, natural snacks, graze boxes will keep surprising you with new products. 
I highly recommend trying a free trial before you commit to a full subscription. 
How do I get a free graze box? 
To get your free graze box, simply click this link and you'll be sent to their homepage. Click 'get started' and sign up to get your free box delivered to your chosen address.  
Is the first graze box really free?
Yes!! Your first box (and fifth if you choose to stay) is totally free using this link. 
How do I order a free graze box? 
Once you click the 'get started' link they will ask for some information about your dietary preferences. You don't necessarily get to choose from specific snacks, but rather you can select likes/dislikes from the list of snacks e.g. if you like chocolate they'll send you chocolate snacks.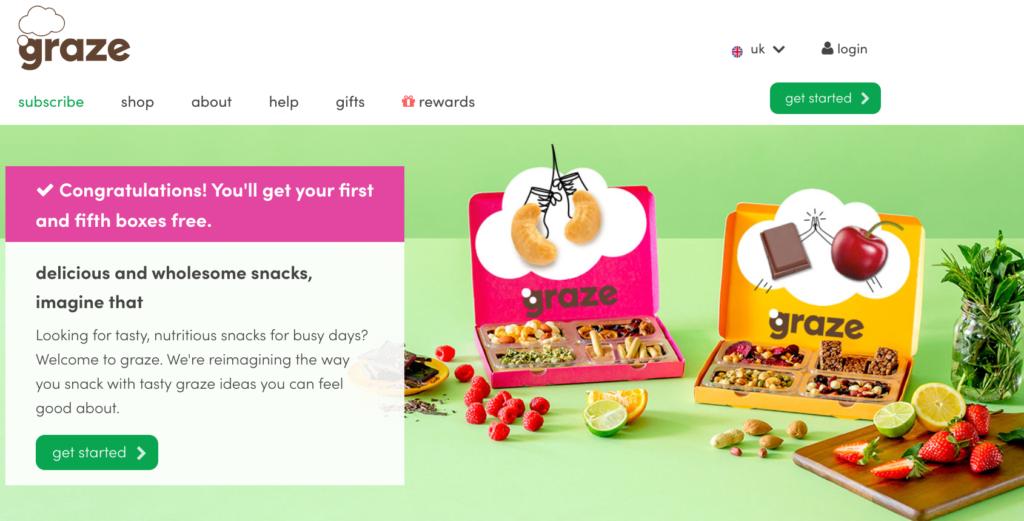 They promise never to send you anything you don't like or are allergic to, and your boxes will become more tailored if you choose to stick with it. 
You will be asked to enter your payment details and will be given a timeframe for when your next box will be delivered. I know some people are nervous about this but don't worry, you will not be charged unless you choose to continue your subscription. 
Can you cancel graze after a free box?
Absolutely! You can manage your subscription via your 'my graze' account page on their website. Simply click 'manage my box' and you can choose to skip or cancel your subscription whenever you wish. 
TOP TIP: As with all free subscriptions and trials, as soon as your free box order email confirmation comes through, I would cancel so you don't forget. You can always go in and re-subscribe later if you like it. 
However, getting your money back if you forget to unsubscribe can often be tricky! You could also set yourself a reminder on your phone so you don't forget to cancel. 
For more freebies and free samples, check out the following posts:
P.S. for £100+ worth of freebies and deals, don't forget to sign up to my 30 day freebie challenge!
Pin for later…