In this post, I'll show you how to cancel an eBay bid, super quick! I talk a lot on this blog about selling on eBay, but I also love buying secondhand and pre-loved stuff on there too! I've also learned a thing or two over the years about bidding on items and what to do in certain situations.
If you have bid on something on eBay but you've had a sudden change of heart, don't freak out! In some cases, you can actually retract your offer and cancel a bid quickly. It's really easy to do too!
Here's everything you need to know about how to cancel your bid on eBay…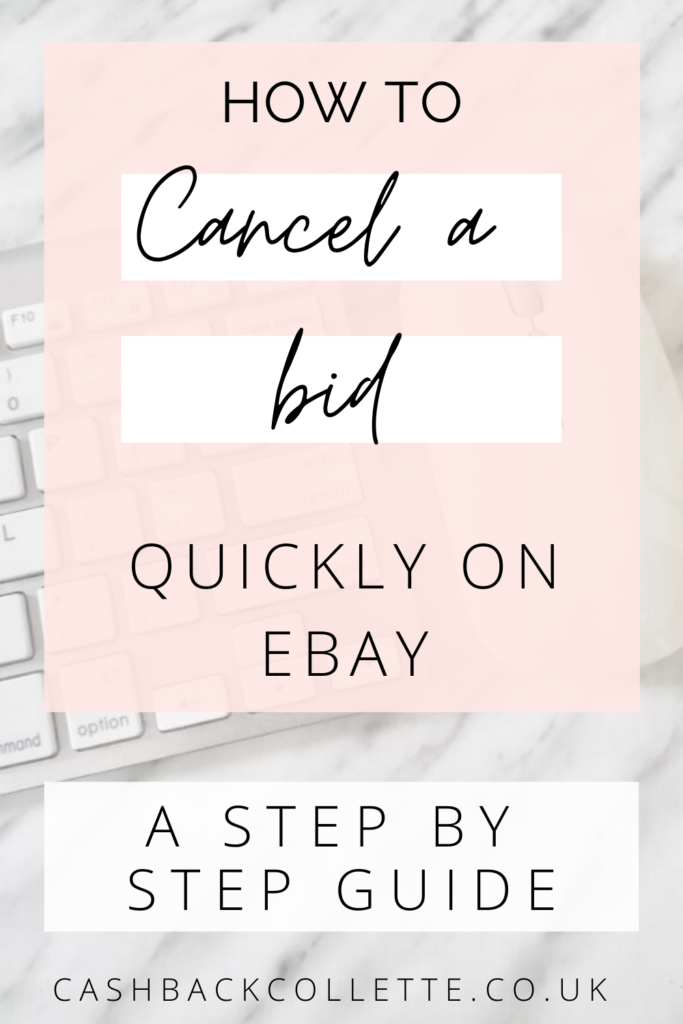 Am I allowed to withdraw a bid on eBay?
Before I show you how to cancel a bid, it's good to know that eBay will only let you cancel a bid if there's a genuine reason.
You can retract a bid if you're having problems with the seller, such as:
The seller changing the description
Sellers can change the following up until 12 hours before the listing ends:
The title or description
Item category
The duration of the listing
Accepted payment methods, checkout information, item location, and shipping terms
This means they can significantly adjust the listing, which is annoying but it gives you genuine grounds for cancelling your bid.
You can't get in touch with the seller
Have you asked a question and you haven't heard anything back? Something fishy may be going on! Also, if you've tried emailing and it has bounced back, or the phone number the seller has supplied doesn't work, you can cancel your bid.
You can also report the seller if you're having issues or your item has shown up damaged or not as described.
Can I cancel my bid if I bid the wrong amount?
eBay are also pretty understanding if you've bid the wrong amount by accident. Say you've added an extra 0 to a bid and accidentally bid £200 instead of £20, you can cancel that bid.
It's obviously a genuine mistake!
Once your bid has been retracted, you can bid the amount you intended. Just be careful with your typing next time!
How to cancel a bid on eBay as a buyer
The process of cancelling a bid is quick and easy! Just head to the 'retracting a bid' page on eBay and hit the 'retract a bid' button. Then, select the product you'd like to cancel your bid for and give your reason. Job done!
You should get an email notification confirming once this has been completed.
Can I retract an eBay bid if I've changed my mind?
Unfortunately, eBay will not retract a bid for you if you've just changed your mind. Instead, you can contact the seller directly via eBay and ask them to cancel your bid, explaining your reasons.
Do bear in mind, though, they are under no obligation to do this for you. Be polite and honest, but remember that if you try to cancel a bid without a valid reason, this is called an 'invalid bid retraction' and the seller can report you to eBay.
This means your account will be flagged to eBay and they could suspend your account as a result. Don't worry, you'll often get a warning first – just don't make a habit of trying to remove bids!
So basically, it pays to check the listing before you bid, or at least ensure that you meet the criteria to remove a bid before asking eBay or a seller to cancel your bid.
Is there a time limit for cancelling a bid?
Timing is everything if you're looking to cancel an eBay bid. If there are more than 12 hours left, you can cancel your bid with a valid reason.
If the listing is due to end in less than 12 hours, you can retract your most recent bid within an hour of placing it. Either way, it's good to cancel your bid ASAP just to make sure!
How to cancel an eBay bid as a seller
As a seller, you also have the power to cancel bids on eBay. If you're selling an item on auction, you can quickly cancel a bid in a similar way to the buyer. Simply head to eBay's Cancelling bids & managing bidders page, click on 'cancel a bid', and follow the instructions.
To avoid disappointment on the buyer's behalf, eBay only recommends you cancel an auction when absolutely necessary. If you end an auction with bidders, you will be charged fees.
As advised by eBay, you should only end an auction or cancel a bid if:
A buyer asks you to cancel a bid and you agree
The item is broken, lost or no longer available for some reason
You realise you've made an error in the listing, which can't be changed
You're worried the bid you've received may be from a fraudulent buyer
Top tips for avoiding the need to cancel an eBay bid
To help you avoid buyers remorse or regret bidding later, here are a few things I always do before bidding
Ask yourself 'Do I really want or need the item?' – is this an impulse purchase? Even if it looks like the biggest bargain, ask yourself if you can honestly afford it and consider if you even want it that badly
Have an absolute max price in mind – auctions provoke a sense of urgency and if you're not careful, you'll end up in a bidding war. Set a price and stay strong! If it goes well above your budget, it's not meant to be
Check the seller's feedback – if they have lots of negative feedback, where items haven't been sent or buyers have had multiple issues, it's probably best to avoid them
Take time to read the description & view images – don't bid until you're 100% happy with the product's condition, shipping costs, etc.
Have a look at similar sold prices – it's always a good idea to search for similar items and filtering to 'sold' and 'completed' sales to compare it to the listing you're about to bid on. If it's a popular item, maybe you can wait and get it cheaper from another seller in the future?
Triple check your bid amount before submitting – especially if you're bidding last minute, as there's no time to withdraw your bid!
Pin for later…