Cashback is one of my all-time favourite ways to save cash! After all, who doesn't love free money? If you're new to the world of cashback, check out my ultimate guide to cashback for beginners post to help you get started.
TopCashback New Members Freebies & Offers
TopCashback is the perfect place to start earning cashback every time you shop! They have new member freebies and offers running all the time to entice you in and help you start earning money straight away.
How do TopCashback New Member freebies work?
It's so easy to claim your welcome offer. Have a gander below at all the current deals and click through to sign up. Then, simply follow the instructions to claim your welcome freebie!
I call them 'freebies' because you can often claim a free product up to the value of the cashback. For example, if there is a free £10 eBay welcome bonus up for grabs and you buy something for £10, it's free! Sometimes there is a minimum spend e.g. £15, but it's still a bargain!
Can I claim more than one Welcome Offer?
Sadly, new member freebies are just for new members so once you've chosen one deal and signed up, you are no longer a new member. Therefore you cannot claim another welcome offer. You can still refer your friends and family though and earn extra cash that way.
Psst… Quidco also offers a free £10 welcome bonus if you sign up for more free money!
Latest TopCashback welcome freebies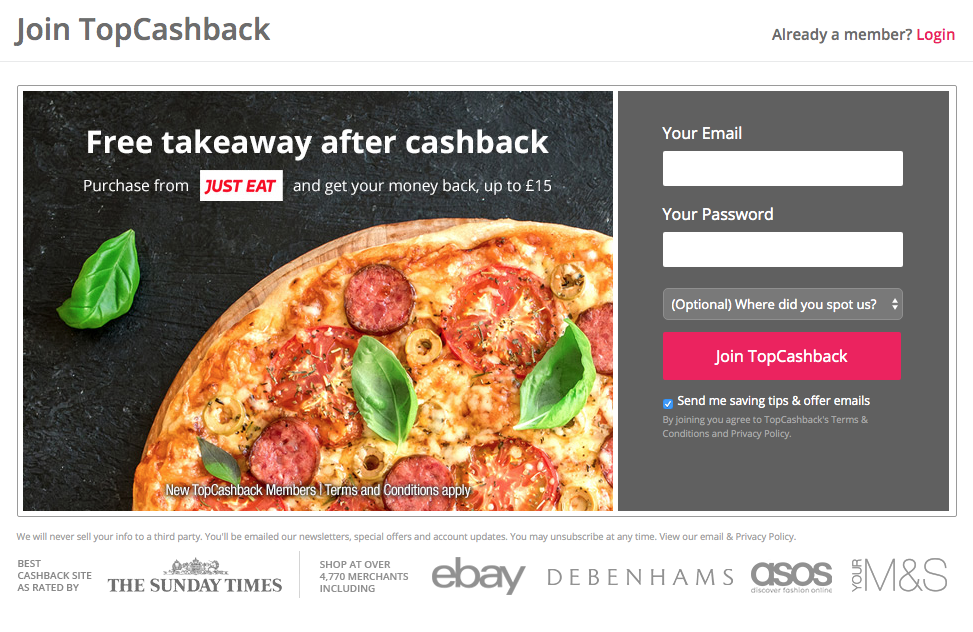 Let's start with the best one in my opinion! If you fancy a takeaway tonight, claim a free Just-Eat takeaway worth up to £15. Choose your cuisine and tuck in!
Expiry Date: 28/06/2020 10:00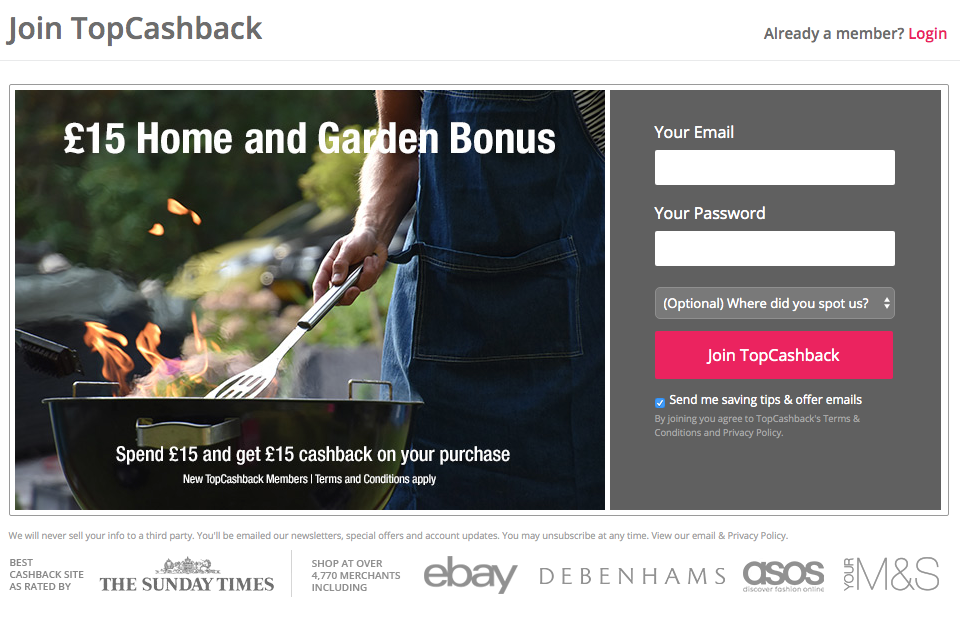 Spruce up your home with new furniture and accessories! Use this offer to get £15 cashback on any £15+ spend on home and garden essentials.
Expiry Date: 30/06/2020 23:59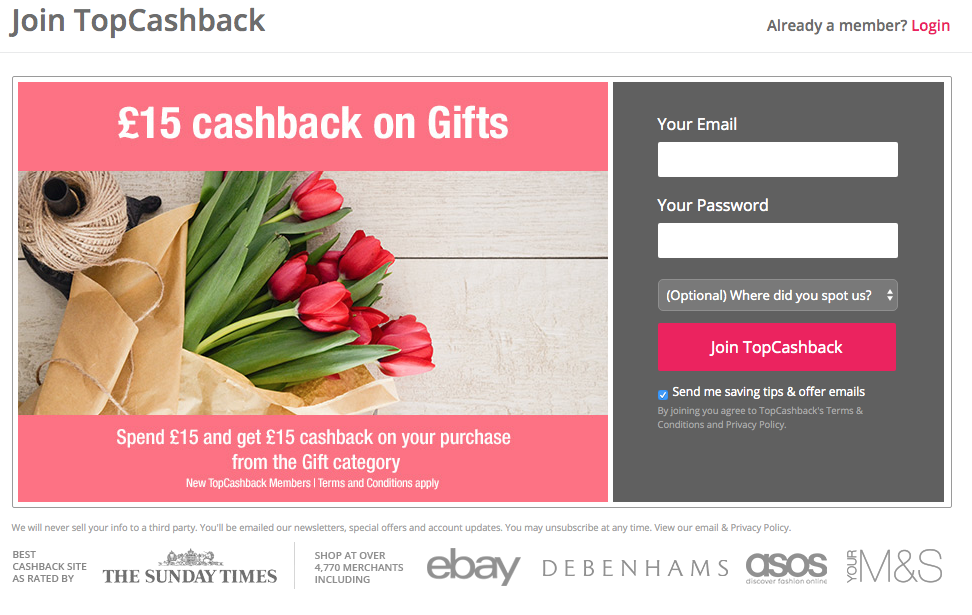 Treat a loved one to something super special with £15 cashback on £15+ spend on gifts. Think flowers, chocolates, that sort of thing!
Expiry Date: 30/06/2020 23:59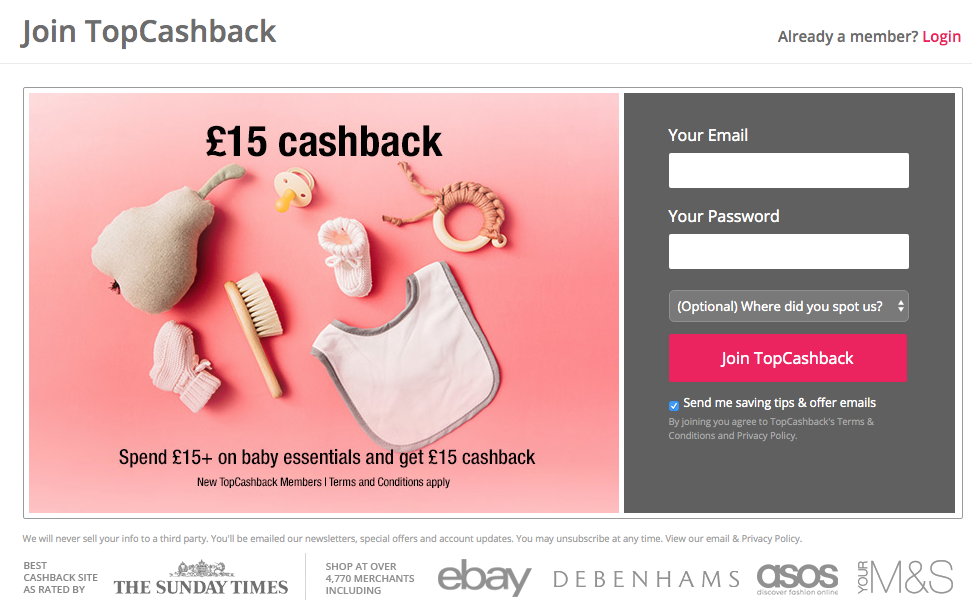 Calling all new or expecting parents! Claim this £15 cashback on £15+ spend to save money on essentials for your new baby.
Expiry Date: 31/12/2020 23:59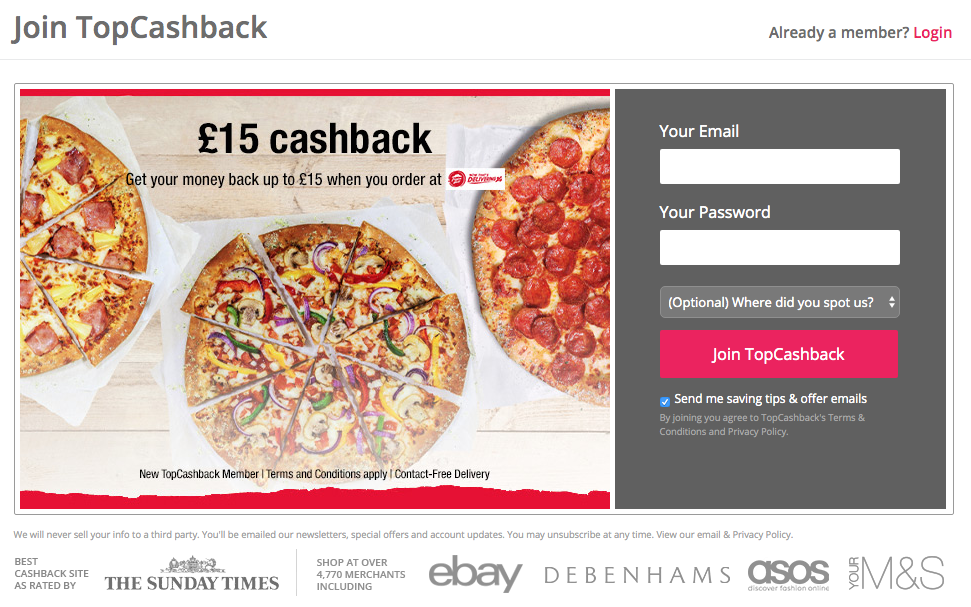 Fancy a delicious pizza for dinner tonight? Claim your free £15 cashback at Pizza Hut and tuck in!
Expiry Date: 30/05/2020 23:59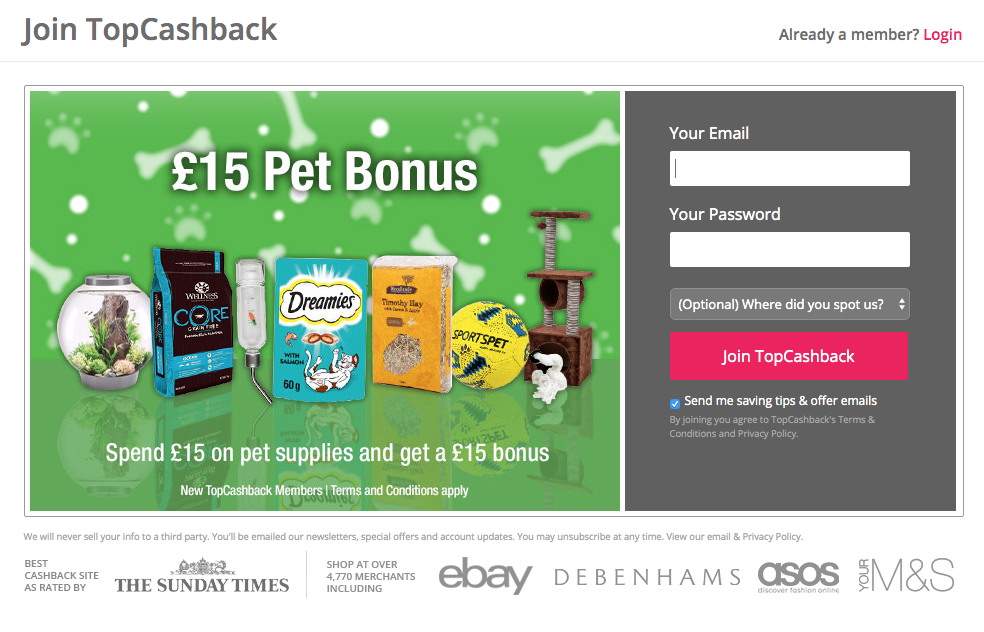 Pet lovers! Don't miss out on this new TopCashback welcome offer. Claim £15 when you spend £15 on pet essentials and treats for your furry friend.
Expiry Date: 30/05/2020 23:59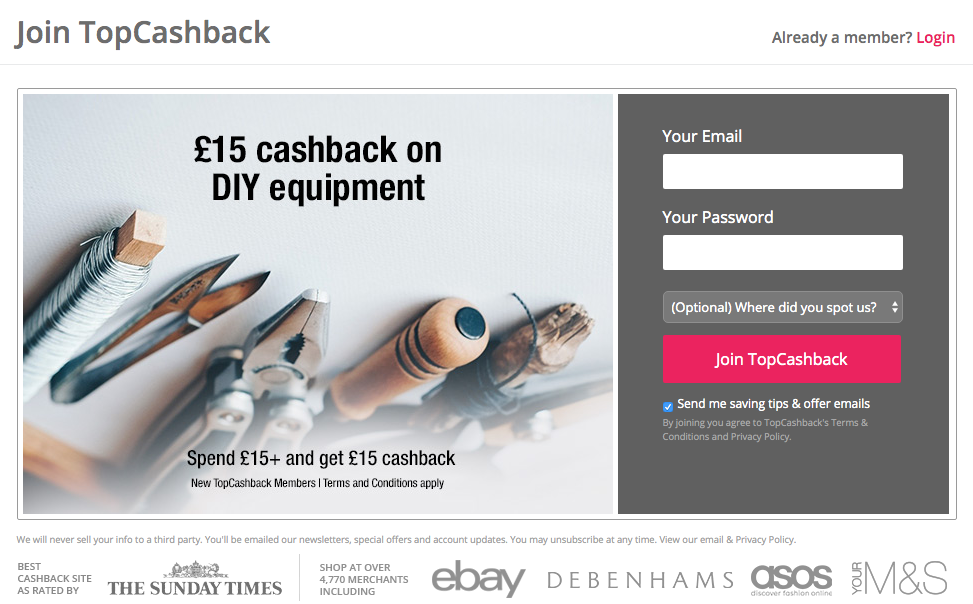 Let's be honest, there has never been a more perfect time to finish off all those DIY jobs! Claim £15 free cashback when you spend £15 on all DIY necessities.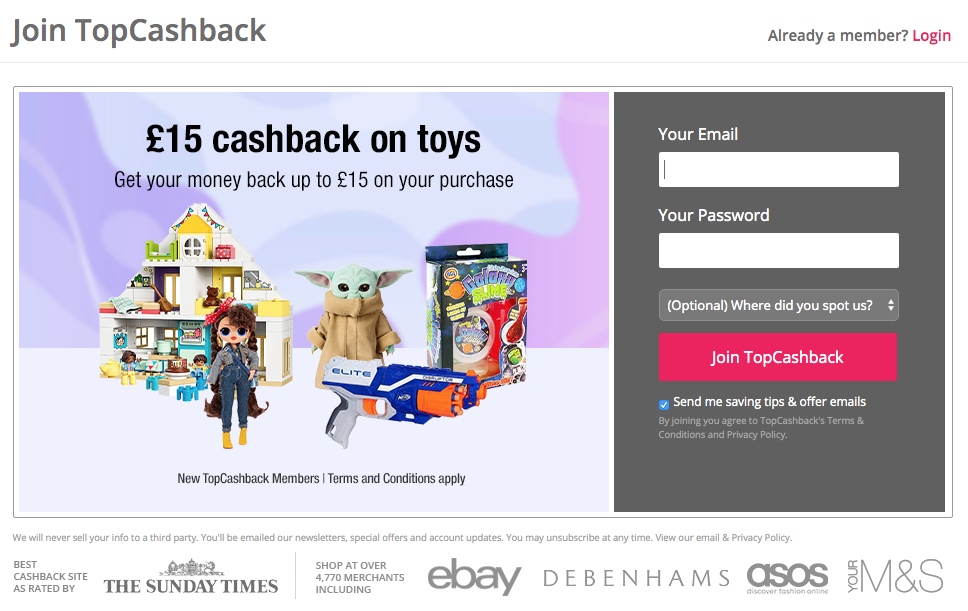 Whether your kid's birthday is approaching or you just want to treat them, claim £15 cashback on all toy purchases!
Expiry Date: 30/05/2020 23:59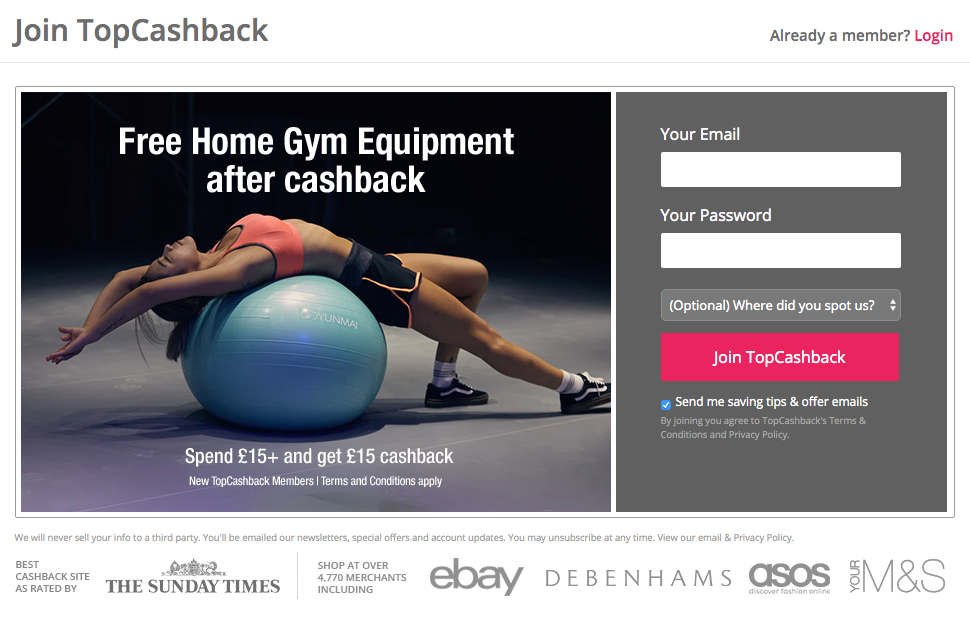 Now is the time to work on your six-pack! Get up to £15 free home gym equipment after cashback when you spend £15 or more.
Expiry Date: 30/05/2020 23:59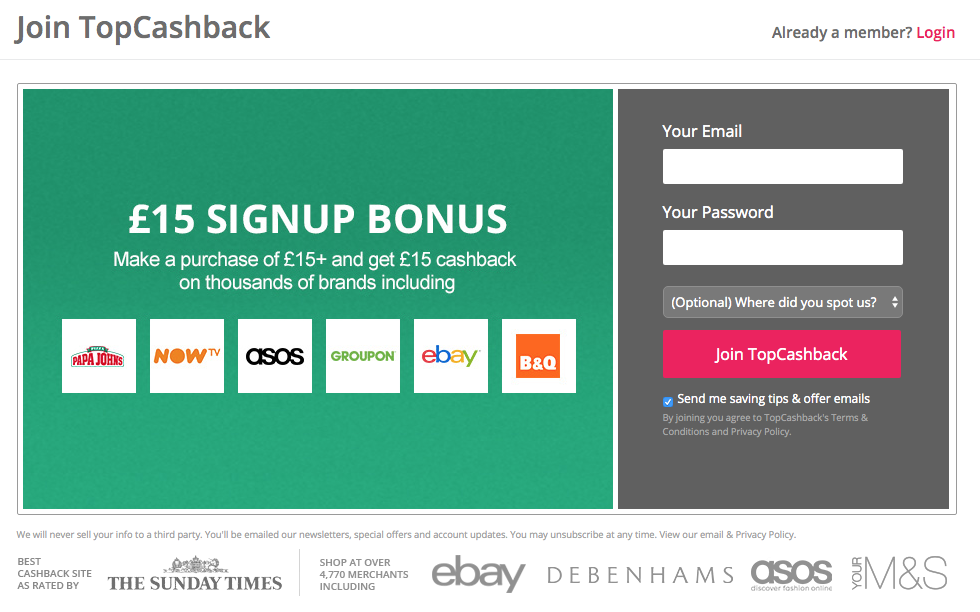 Last but not least… If you can't decide which offer to use, why not claim a £15 signup bonus when you spend £15 on ANY TopCashback retailer?
Expiry Date: 30/05/2020 23:59
Offers valid at the time of posting. This page contains affiliate links and is updated regularly.