I don't know about you, but I LOVE bagging a bargain on eBay! Did you know that among personal sellers flogging their used wares, many popular high street brands also have cheap eBay outlet stores where you can save up to a whopping 90% off brand new or refurbished items?
I know, this blew my mind too! You could also save a fortune on all sorts of stuff like clothes, shoes, beauty products, and household goods. The list goes on!
The best part? Your order will get delivered straight to your front door, saving you a trip into town, winner!
I've been a fan of these stores ever since I bought a Boden dress for my friend's wedding back in 2019 for £70. I know this sounds like a lot, but I really loved the look of it and I knew I would wear it again.
Plus, after some research, I found out it was still for sale for £160 on their main website! Thankfully, it arrived in perfect condition, with original Boden tags and packaging too.
I thought it was just luck but then I found out loads of retailers have eBay outlets and since then, I've been obsessed!
Related: 125+ best selling items to sell on eBay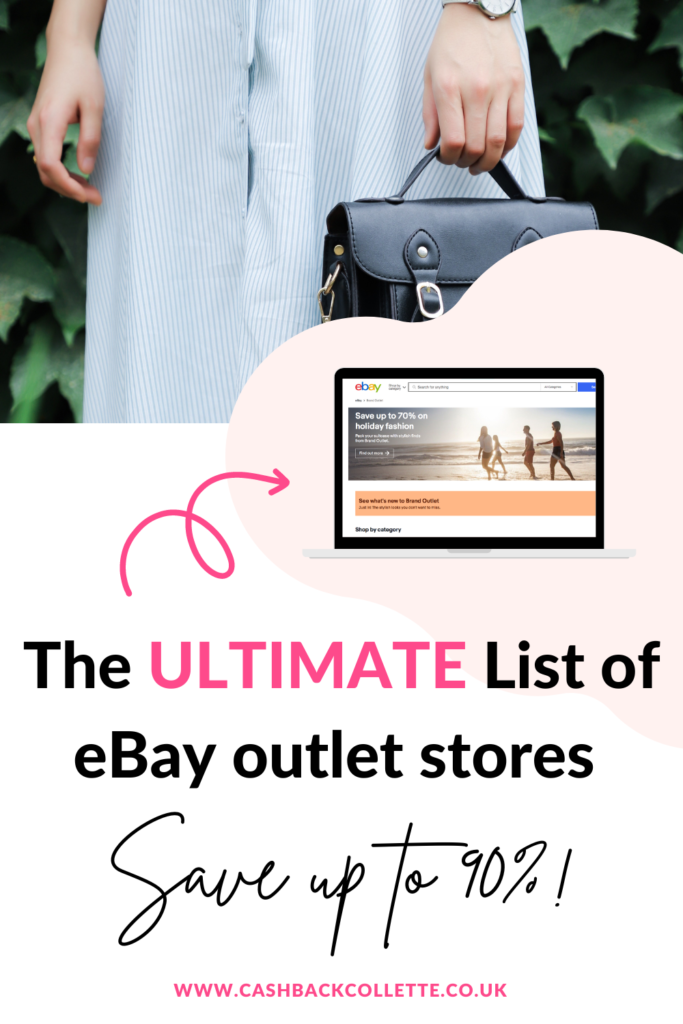 What do eBay outlet stores sell?
Brands sell excess or ex-display stock on eBay. They may also list stuff exclusively on their eBay site, that was never available in-store in the first place.
You could also bag a bargain with end-of-the-line stock or stuff that is out of season. E.g. brands are likely to sell coats or jumpers on here during Summer.
Is it new or used stock?
Most clothing and accessories items listed on eBay outlet shops are brand new. However, for items such as household appliances or tech products, you may find refurbished products too.
Don't automatically skip these offers. You can save a lot of money buying refurbished products, which are often still in great condition!
Especially grade A condition products, which tend to be like new and come in original packaging.
I've not personally seen any unwanted customer return items for sale in any outlet stores but I would always read the description to check the condition before purchasing.
Do I bid or buy it now?
This one depends on the retailer. Many offer buy-it-now format listings exclusively, others run regular auctions.
I've also seen some offer a mix of buy-it-now products and listings that require you to bid.
Can I return unwanted items?
If you're unhappy with your item, you can return it by opening a return case on eBay.
Keep in mind that if there is nothing physically wrong with the product and you've just changed your mind, you will most likely be required to pay return postage costs.
However, if the product is faulty or not fit for purpose, the retailer should supply you with a free returns label.
eBay outlet stores list UK
Onto the good stuff! Here are my favourite eBay outlet stores in the UK. Grab a brew and get shopping to hunt down bargains…
Fashion eBay outlets
Bench

While Bench has closed a lot of its stores in the UK, they still operate online and have a fab eBay outlet store, providing a range of clothing for the ultimate urban look.
Best for: Puffy coats, t-shirt multipacks, general streetwear
Blacks

Blacks are a household name in the world of Outdoor clothing and equipment. Their eBay shop offers everything you could ever need for a successful outing or camping trip!
Best for: Raincoats, tents, and camping accessories
Blue Vanilla

Blue Vanilla has some stunning prints and designs, especially if you're after that boho look! Their eBay store is packed full of dresses, tops, jumpers, and loads more, all up to 70% off RRP.
Best for: Quirky print jumpers and kimonos
Brown Bag

Brown bag is similar to TK Maxx and offers top designer brands at super cheap prices. Get up to 70% off popular brands like Fila, New Balance, Farah, and more in their eBay outlet.
Best for: Casual wear like t-shirts and trainers
Crew Clothing

Crew Clothing is a classic British brand, selling quality, iconic pieces such as rugby shirts and polo neck tops. Their eBay outlet is packed full of discounted stock for women, men, and children.
Best for: polo shirts, jumpers, and ditsy floral print tops and dresses
F Hinds Jewellers

F.Hinds Jewellers is a popular high street jewellery store, with their eBay store offering generous discounts of up to 30% off on a range of beautiful pieces.
Best for: Necklaces, earrings, and watches
Footaslyum

Footasylum eBay outlet is the perfect place for finding streetwear and sportswear from top brands like Farah and French Connection. You can bag a real bargain here at up to 80% off in their outlet too!
Best for: Hoodies, joggers, and multipacks of t-shirts and underwear
Get The Label

Get The Label is committed to getting you major discounts on leading brands across the UK. Receive up to a whopping 75% off RRP on ladies', men's, and children's clothing, shoes, and accessories.
Best for: Trainers and shoes from popular brands including Skechers and Timberland
Hobbs

Fancy getting your hands on a brand new Hobbs dress at a fraction of the price? Now you can! Thanks to their eBay outlet store, which stocks all the classic designs you'd expect, at up to 80% off.
Best for: Dresses, coats, and scarves
Hotter shoes

Hotter has been a leading brand of quality footwear for over 60 years! Thanks to their eBay store, you can bag their signature footwear for up to 70% less.
Best for: Women's sandals and deck shoes
Jack & Jones

Jack & Jones is a high street menswear store, selling must-have clothing for the modern hipster male. You can bag some real bargains on their eBay outlet shop!
Best for: Men's t-shirts, jackets and underwear
Jack Wills

Speaking of hipsters, Jack Wills also has an eBay shop, flogging all its original Devon relaxed, beach vibe clothes like flip flops, hoodies, and more at up to 70% off.
Best for: T-shirts and accessories
JD Outlet

Another one for your list if you're into sports/streetwear! JD Outlet on eBay is one of the best places to find discount brands like PUMA, Fila, and loads more.
Best for: Trainers and hoodies
Joules eBay outlet

I absolutely love Joules so I was buzzing to find out they had an eBay store stocked full of their classic prints and designs with up to 60% off.
Best for: Coats, tops & accessories
Lingerie Outlet

The Lingerie Outlet Store stocks over a whopping 50 brands of lingerie and swimwear. Their eBay outlet shop is the best place to purchase their high-quality goods at super low prices, with up to 80% off.
Best for: Swimsuits, bras, and mix and match underwear sets
Lucy & Yak

Lucy and Yak create some lovely, bright, and unique clothes including dungarees, jeans, jackets, and more. Their eBay store offers recycled and sample sale products at up to 60% off.
Best for: Women's dungarees and trousers
M&Co outlet

M&Co is a popular high street store, offering a wide range of clothes for the whole family! Their eBay store is a great place to pick up some bargains at up to 70% off RRP.
Best for: Casualwear like sweatshirts, t-shirts, and leggings
Mountain Warehouse

Mountain Warehouse is a popular chain, specialising in outdoor clothing and equipment for your next adventure! You can shop directly from their store via their eBay outlet, and grab loads of offers here.
Best for: Camping accessories like chairs and hiking boots
OFFICE eBay outlet store

OFFICE has a vast selection of stylish footwear available to purchase in-store or online. If you're after a deal on your next pair of shoes, their eBay store is the place to go for women's, men's, and kid's shoes.
Best for: Any brand or any style of shoe, I guarantee you'll find something!
Oliver Bonas eBay outlet

I don't know about you, but I used to spend a lot of time browsing the Oliver Bonas site (mainly in the sale!) but then I found out have an eBay outlet offering up to a whopping 60% off homeware, clothing, and accessories – hurrah!
Best for: home accessories, jewellery, and funky print tops and jumpers
PUMA

Did you know PUMA also has its own eBay outlet? Pick up sportswear like tracksuits and trainers from this world-leading sports brand, at a fraction of the cost.
Best for: Trainers
Regatta

Regatta is another fantastic outdoor clothing brand, which offers up to 60% off coats, hiking equipment, and more in their eBay outlet shop.
Best for: Hiking gear for the whole family
River Island

I'm sure you're familiar with River Island, but did you know they also have an eBay shop? Get up to 70% off the latest women's and girls' fashion trends – amazing!
Best for: Dresses, bags, and shoes
Savile Row Company

Savile Row Company eBay outlet is a one-stop-shop for all men's formal clothing but also offers fancy PJs at a low price.
Best for: shirts, pyjamas, ties, and accessories like umbrellas
Seasalt Cornwall

Another brand that I love (but definitely can't afford at full price) is Seasalt Cornwall. Luckily for me (and you) they also have an eBay store offering up to 70% off!
Best for: Classic Cornwall looks, including stripe Breton tops and linen trousers
Sports Direct

Sports Direct is Europe's biggest sports retailer, offering a huge range of products at discount prices. Their eBay outlet shop offers even more discounts on all the items you would find in-store. Amazing!
Best for: Trainers, hoodies, swimsuits, and accessories like football gloves
Superdry

Did you know Superdry also have an eBay store? Get up to 70% Superdry stock on men's and women's clothing and accessories.
Best for: Women's dresses, men's shorts, and accessories like wallets and bags
Tokyo Laundry

Tokyo Laundry Store is another popular brand that sells a range of clothing on its eBay store at up to 70% off RRP.
Best for: Men's boxers, t-shirts, polo shirts, and shorts
Trespass

Trespass design clothing to be used outside, up hills, on mountains on snow, and in rain. If you love climbing, hiking & travelling but can't quite afford the products in-store, it's definitely worth checking out their eBay outlet store!
Best for: Waterproof raincoats, hiking shoes, and accessories including camping chairs
White Stuff

White Stuff also has a fab eBay outlet shop. Pick up lovely women's, men's, and kids' clothing, accessories, homeware, and gifts with a generous discount of up to 80% off RRP!
Best for: Clothing and home accessories like scarves, coffee cups, and more
Home eBay outlet stores
AO

Get super cheap appliances and electrical items for your home with AO outlet. They're discounted because they're either the last few they have left, or they've been refurbished by their electrical experts. Winner!
Best for: American fridge freezers, TVs, washers, and kitchen accessories like coffee machines
DFS

Looking for a new sofa at a fraction of the price of a showroom piece? Have a look at the DFS eBay outlet store to find your new dream sofa or armchair for less!
Best for: Sofas, armchairs, and chair cleaning accessories
Dyson

Dyson also has an eBay outlet where you can pick up amazing, refurbished products like vacuum cleaners, hairdryers, fans, plus more of their original products. You can also pick up spare parts and cleaning kits on here too.
Best for: Refurbished vacuums and fans
Karcher outlet

Looking to invest in a new Karcher cleaning product? We've had a wet and dry vacuum for years so I can fully vouch for the quality of their products! Bag yourself a bargain on new and refurbished products on their official eBay outlet.
Best for: Pressure washers and vacuums
KitchenAid

Bakers rejoice! KitchenAid has an eBay outlet store where you can bag all the classic products for your next baking endeavour, with a tasty discount off the RRP.
Best for: Blenders and cook processors
Lakeland

Lakeland has thousands of products to choose from to help you cook, bake, clean and more! Their eBay shop is packed full of the same handy products, with up to 20% off RRP.
Best for: Cleaning products and home accessories like steamers and mops
Ryman

Ryman offers a similar range of stationery and home/office storage supplies on its eBay outlet store with very generous discounts!
Best for: Plastic storage boxes and buying things like paper and ring binders in bulk or multi-packs
Tefal

The Tefal eBay store is a fab place to bag a bargain pan or innovative, discount electrical items for your kitchen!
Best for: Non-stick pan sets and kitchen accessories like food processors
Tesco

Tesco Outlet is wholly owned and managed by Tesco Stores Ltd but operates independently, meaning they're able to offer a wide range of products, some that are not even available in store!
Best for: Electrical products including TVs, tables, phones, and accessories like gaming chairs
Wordery

Wordery provides a huge selection of books at the best prices for book lovers all over the world. The best part? They also offer free delivery!
Best for: Any book category you can think of! From children's books to autobiographies and everything in between
Zavvi

Looking for a quirky sweatshirt or mug design from your favourite cult classic tv show or film? Look no further than Zavvi's eBay store!
Best for: mugs, art prints, sweatshirts, and more
Tech eBay outlet shops
Currys PC World

Currys eBay Clearance store offers a wide range of new, clearance, and refurbished products at rock bottom prices. If you're looking for a Currys product, check here first!
Best for: TVs, laptops, appliances, and loads more
Music Magpie

Did you know Music Magpie also has an eBay shop? Get loads of refurbished tech, DVDs, games, books, and more, all at a discount price.
Best for: Games and refurbished mobile phones
Panasonic

Panasonic eBay outlet store is another great place to find discount tech. Everything for sale on their page has been officially refurbished and is covered with a 12-month manufacturer warranty. Amazing!
Best for: TVs, soundbars, and cameras
Toshiba
Looking for discounts from Toshiba? Check out their official eBay outlet store to find your next piece of home tech!
Best for: TVs and laptops
eBay car outlet stores
Euro Car Parts

Euro Car Parts eBay store is packed full of accessories and essentials for your vehicle. All listings are available for home delivery or selected items available for click & collect.
Best for: Wheel trims, car cleaning products, and loads more
MINI Direct

MINI Direct Store offers top-quality, official MINI car parts, and accessories at an affordable price. All MINI products come with a two-year warranty.
Best for: Any MINI car part you can think of!
Top tips for shopping with eBay outlets
Hopefully, you've seen a few outlet stores that tickle your fancy? Now that you've checked out the list, here are some of my top tips for shopping on eBay outlet stores:
Do your research – cross-reference products and check in the sale category on a brand's website or check out their bricks and mortar clearance store (if they have one) to see if you're getting the best price
Read the returns policy – some brands may not let you return bigger products e.g. appliances like washing machines unless there is a genuine fault
Refine your search – find exactly what you're looking for by using eBay's multiple filters, including price, condition, buying format (auction or buy it now), location of the item, delivery options, and more
Select click & collect to save money – not all eBay outlet stores offer free delivery, but some do offer a click & collect option, so it's worth checking to see if you can order to a local pickup location instead
Remember to activate any warranties – some electrical, car parts, home appliances, and accessories come with a free warranty so don't forget to take advantage of this!
That's all folks! Hope this list helps you save some cash next time you shop on eBay 🙂 Have I missed any? Let me know! Psst… Find even more savings on eBay's brand outlet.
Pin for later…