Fancy getting some free samples using your Amazon Alexa or Google Assistant? You can! Thanks to Send Me a Sample, you can order free food and drink and makeup and beauty samples directly to your front door using your voice assistant or smart speaker device. Winning!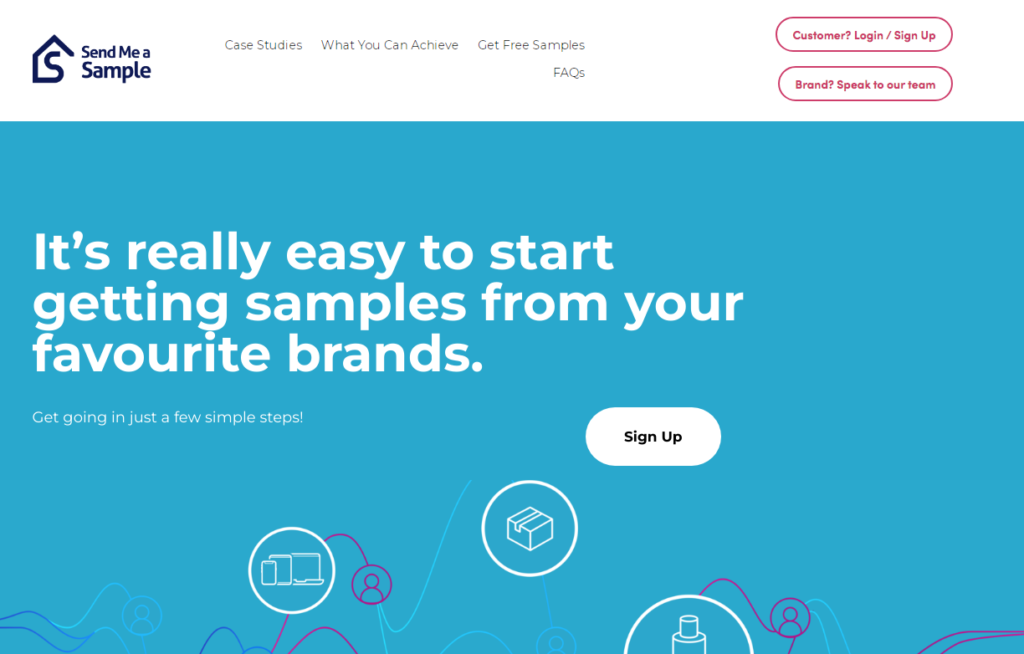 What is Send Me a Sample?
Send Me a Sample is an award-winning service that lets you order free samples using your Amazon Alexa and/or Google Assistant.
It's used by lots of trusted brands including Coca Cola, L'Oreal, and many more. Companies use the service to send free samples out and get honest feedback from willing consumers like you and me. Find out more here
What freebies can I get?
You can get loads of free stuff using the service, including food and drink, makeup, beauty products, and more! Here are some things that have recently been up for grabs:
Can of Coke Zero
Nutella
Aveeno Moisturiser samples
Benefit POREfessional
Kind protein bar
Jean Paul Gaultier samples
Baileys almond milk
Plus loads more! If any of these tickle your fancy, keep reading to find out how to claim samples…
How do I get samples from Send Me a Sample?
Claiming freebies with Send Me a Sample is super easy! To start claiming samples, firstly register for a free account by following this link. It only takes seconds to join!
Then, you just need to activate the Send Me a Sample skill on your device via the Amazon Alexa or Google Assistant app and you can start claiming freebies straight away – hurrah!
How do you ask for a sample?
Once you're all set up, look at what samples are up for grabs and request yours via your smart device:
Ask for free samples with Amazon Alexa
Order a sample on your Amazon Alexa by saying 'Alexa, Send Me A Sample for a (insert freebie here)' and again, your sample will arrive in the mail.
Request free samples using Google Assistant
Simply say 'Hey Google ask Send Me a Sample for a (insert freebie here)' and wait for your sample to arrive to your listed address. So easy!
I don't have an Amazon Alexa or Google Assistant – can I still claim freebies?
Yes! Even if you don't have a smart speaker, you can still download the Google Assistant app for your phone on the App Store or Google Play Store and request samples this way.
Unfortunately, though, they can't take sample requests via any other medium e.g. email, over the phone, or social media.
How can I find out what samples are available?
You can check their site to see a list of the latest samples currently on offer.
Also, anywhere you see the Send Me a Sample logo on a product advert, you'll know it's available to request by asking your voice assistant.
Make sure you subscribe for updates on your account for handy updates on when new samples are available too!
Many freebie sites also announce new offers when they become available.
Is Send Me a Sample free to use?
Absolutely! It's 100% free to use.
How long do free samples take to arrive?
It takes around two weeks for your samples to arrive after you have requested them. If you've been waiting longer than this, check your email for confirmation that the sample has been sent.
You can also contact their friendly customer service team to ask if there have been any issues regarding your sample(s).
Is Send Me a Sample legit?
Yes! I have used it myself and would not recommend it unless I knew it was a genuine way to get free stuff.
How can I get more freebies?
Looking for ways to get even more free stuff? For more freebies and free samples, check out my following posts:
You'll soon have freebies bursting through your letter box in no time! Let me know what you find 🙂
Pin for later…