We recently signed up for adolescent dog training classes for Blue, our scruffy Bedlington x whippet at Dogs Trust Manchester and honestly? I couldn't recommend it enough!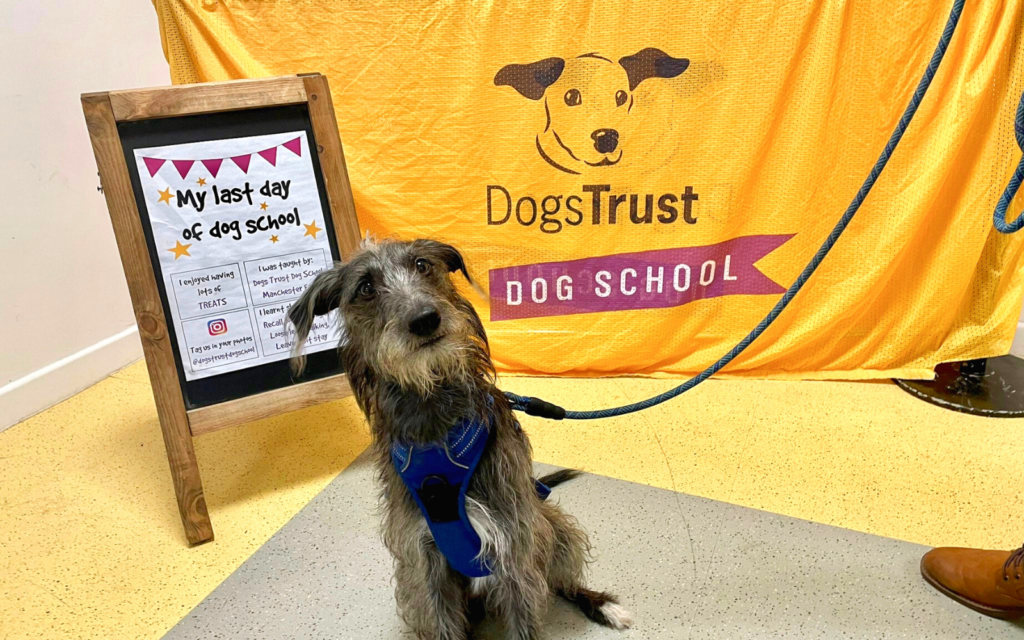 Blue is such a lovely boy in so many ways. He's completely calm in the house and loves a cuddle.
He also LOVES other dogs and people when we're out and about, and we really needed help to try and contain his excitement to some extent!
As he was a lockdown pup, he also missed out on some vital socialising opportunities, which we wanted to try and make up for with the help of these classes.
What do Dogs Trust training classes cover?
The course is available in various locations across the UK and the four classes focus on teaching calm behaviours and nice manners.
Each week there are new topics and exercises but you also get to practice what you've learned in the weeks before.
The coaches (Emma, Georgia & Charlotte) were super friendly and helpful when teaching us things like:
Impulse control (leave it)
Settle in public places using a mat or bed
Sit & stay
Polite greetings (not jumping up!)
Recall & focus work
Loose lead walking
They showed us how to perform each of the exercises before giving us a go with our dog and broke them down into steps for us. If your dog was doing well, you could progress to the next step.
One of the things we practiced in stages was sitting and staying. If your dog could sit, you had to try a sit and stay for a couple of seconds before rewarding.
Then, you kept gradually increasing that time and tried taking steps away.
If you think your dog will struggle with a specific exercise, don't worry! All the coaches walk around the room and offer advice on how to fix it.
For example, Blue kept breaking his sit as soon as we went to reward him with a treat.
(We think we had accidentally taught him this sequence and he thought that getting up was the part where he earned the treat.)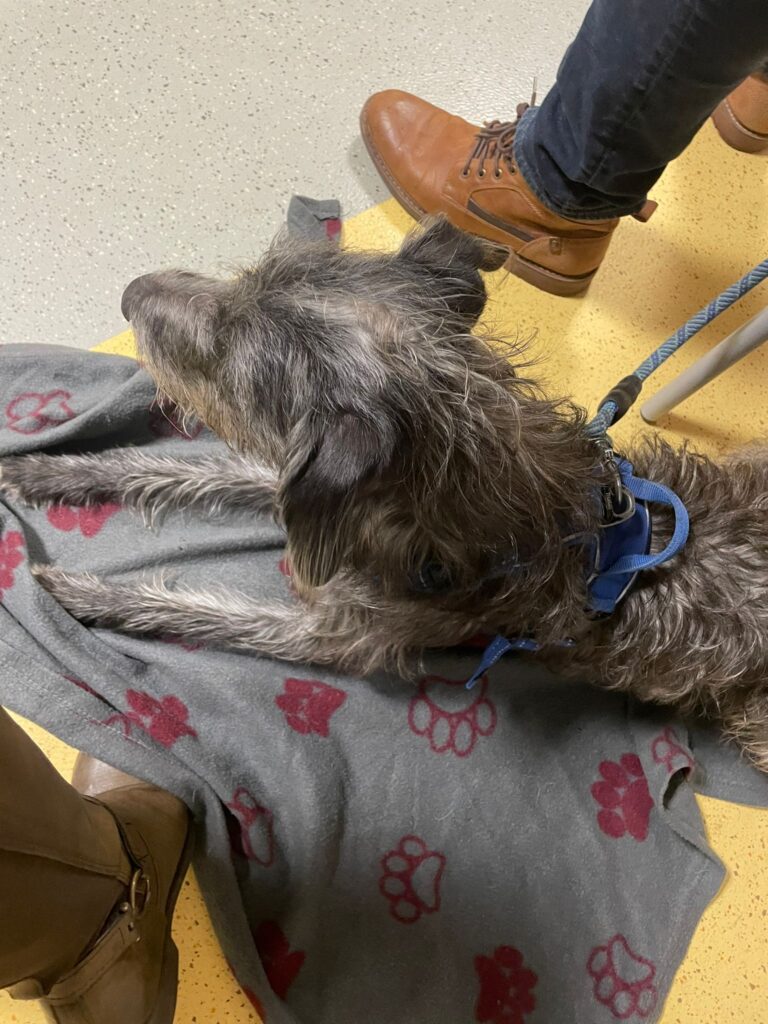 With Emma's help, we waited him out and he quickly figured out that his bum had to remain on the ground to get that juicy bit of chicken or hot dog!
Each week, you'll be asked what went well with your dog from the previous week, so make sure you practice the exercises at home if you're going to these classes!
It's also really good to do this because, as they kept reminding us, dogs don't really generalise. So they could do really well in class but in the real world, it might take a bit more time for them to learn that behaviour.
You also get a little diary to fill out, but don't worry there's no pressure to fill this out! It's more for you to remember what you've done in classes and at home.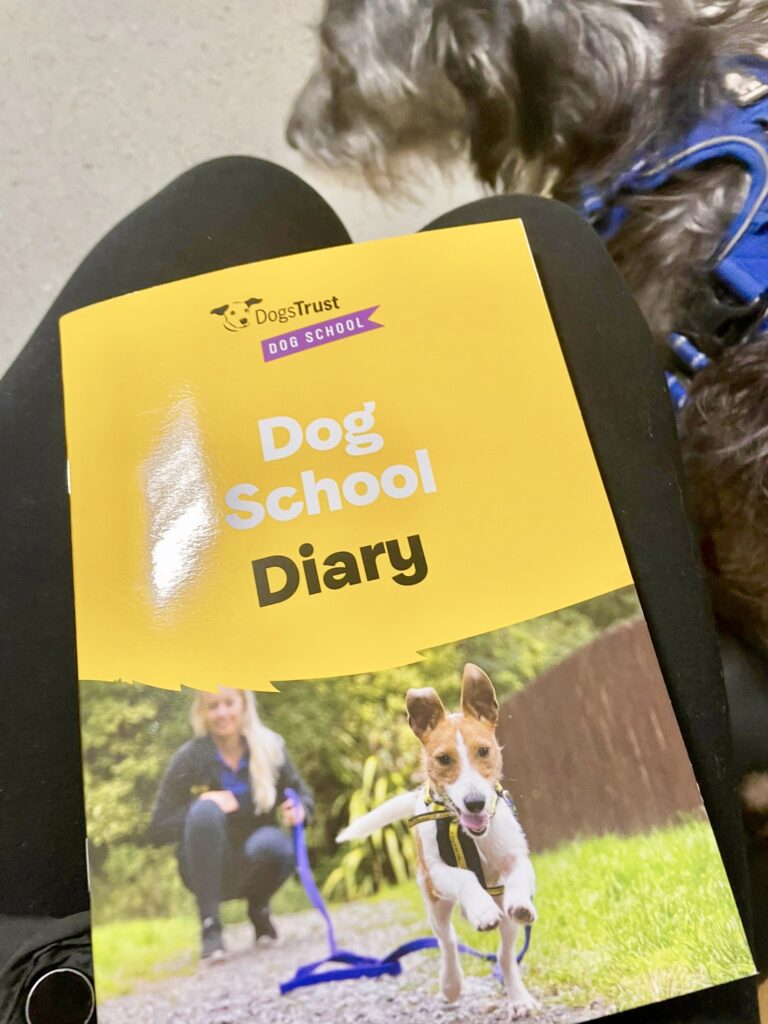 On top of face-to-face classes, you get access to online videos and training material via the Dogs Trust support hub.
Here you'll find guidance on additional topics such as mouthing, separation anxiety, plus more. They are definitely worth a look too!
How many other dogs are there?
To begin with, there were five dogs in our first class – including Blue. However, in the following three weeks, there were just four dogs including Blue.
To be honest, we were really worried that Blue was going to lose his mind when he saw all the other dogs!
We were so surprised with his level of focus and how he was able to complete the exercises around other dogs.
If this is something you're worried about, the coaches are really good at managing this.
For the first couple of classes, there were barriers between each 'station' where each dog and owner were sat. I think this really helped build his focus, as he couldn't see the dogs directly.
When the barriers came away, we had already put in some of the groundwork to help him focus on us, which is why we think he didn't react as much.
How many people can you bring?
Up to two people can come to class with their dog. I personally think this is the right amount, as one person might struggle to do some of the exercises alone.
Yet more than two people may distract and confuse the dog.
Do I need to bring anything to training sessions?
You will receive an email detailing everything you need to bring prior to your classes starting, but here is what we were asked to bring along with us:
A bed or blanket
Mix of high value and small treats that are easy to break up
A toy
Your dog to be wearing a collar / harness or both
A lead (not an extendable one if possible)
A mask, unless exempt
Does my dog get a certificate?
Yes! You have a final circuit of exercises to complete, then your dog has a cute little graduation day stand where you can take photos. At the end of the session, you'll receive a Dogs Trust certificate.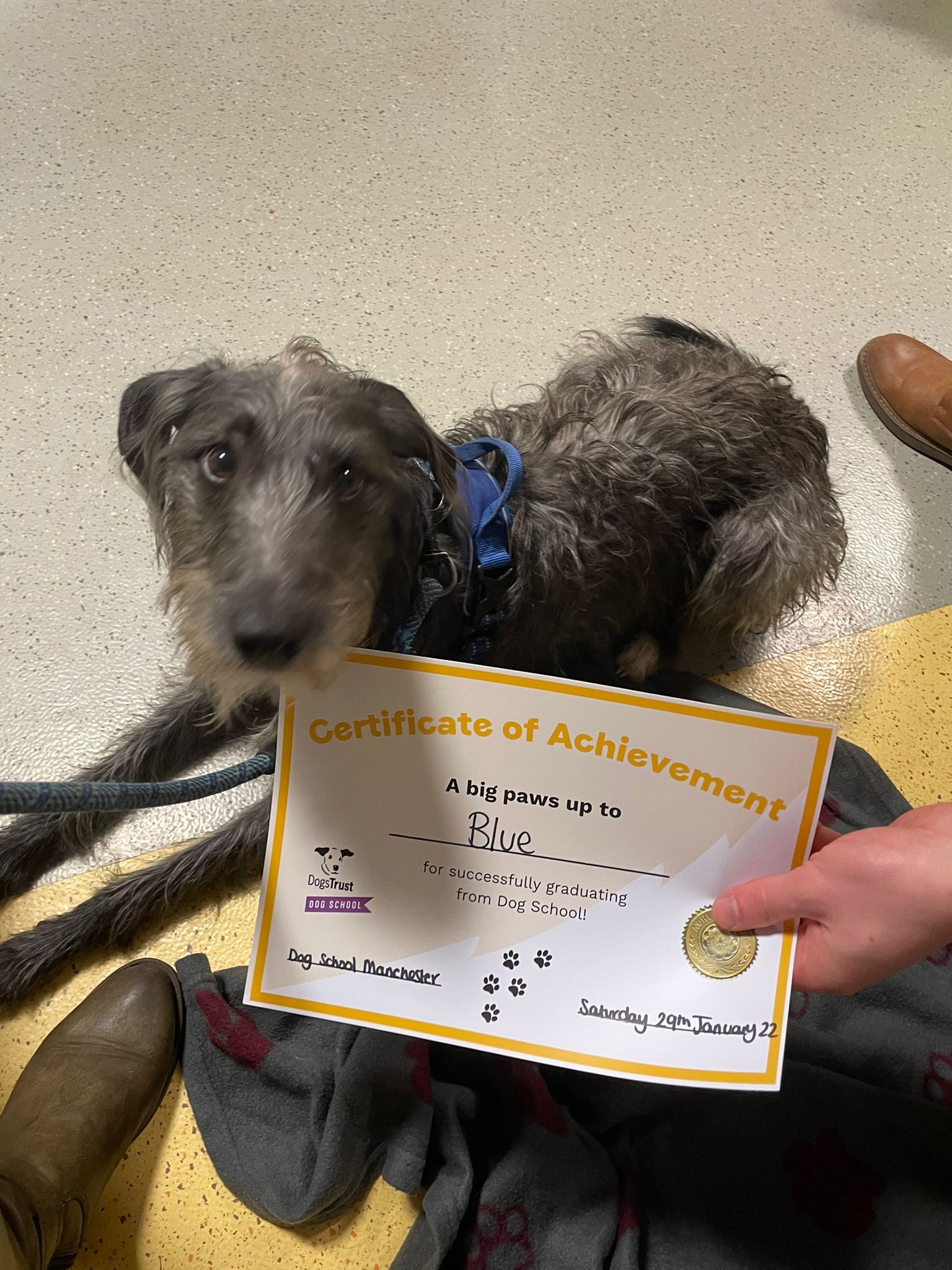 (Ours has obviously gone on the fridge!)
Is it worth the money?
Absolutely, 100%! It is such good value for money in my opinion. Especially considering all the things you learn.
One-to-one sessions with private trainers start from around £50 per session. So when you think about it, this is a real bargain, as it covers a lot of different areas rather than one specific issue.
Have I convinced you to sign up? Find out more and book your dog in today!
Pin for later…