Free coffee, anyone? If like me, you can't resist a caffeine fix, you'll know that nothing beats that feeling of a nice hot drink. Especially when it's free! (And freezing cold outside!)
Did you know there are actually loads of places you can bag yourself a free hot drink in the UK? 
Keep reading to find out how to claim them all…
Where can I get free coffee & hot drinks in the UK? 
Craving a free tea or coffee? Here is my ultimate list of places currently offering free coffee and hot drink deals…
1. Free hot drink at Greggs
Download the Greggs Rewards app and get a free drink straight away, just for signing up! From there, you can scan the app each time you buy a hot drink. Once you hit 7 stamps, they'll give you your 8th coffee 100% free.
2. Free Pret coffee for a month
Pret recently launched a fab new coffee club loyalty scheme. Once you sign up, you get a whole month of unlimited free coffees, teas, frappes, and hot chocolates! 
After your first month is up, it's £20 a month. I know, that sounds like a lot but if you're a Pret regular, you'll definitely save money by joining!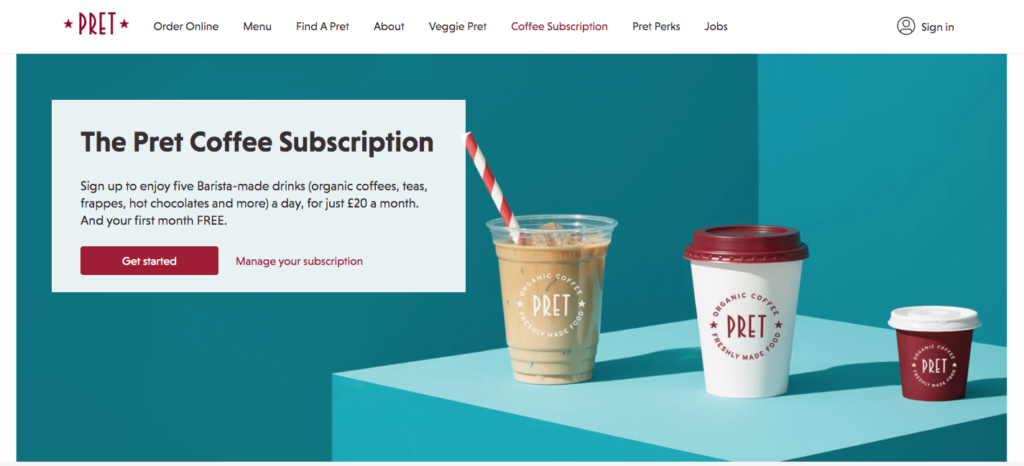 3. Free McDonald's hot drink
McDonald's is currently offering a free hot drink when you download their loyalty app and sign up for free. New customers can claim a free coffee, tea, latte, or hot chocolate. Nice! 
Once you've bagged your free drink, don't forget to scan the app every time you buy a hot drink. Five digital stamps will bag you a freebie. 
4. Free Costa Coffee on their loyalty app
Costa is quickly becoming one of my favourite coffee loyalty schemes! To get a free coffee, you'll need to collect 8 'coffee beans' on the app. You can do this both in-store and at any machine. 
To get there faster, simply download the app using my ref link here and enter code: RAOYE and we'll both automatically get 5 beans – hurrah! 
Also, use a reusable cup and you'll get double the beans on the app. Meaning your free drink is only 4 purchases away!
There are also exclusive app giveaways, free birthday cake, plus loads more perks. Once you've signed up, you can also pass on your referral code to bag 5 coffee beans whenever you refer someone.
5. Free Costa Coffee on Vodafone VeryMe
Vodafone has a loyalty section on their app called 'VeryMe Rewards' where they offer exclusive weekly rewards to loyal customers.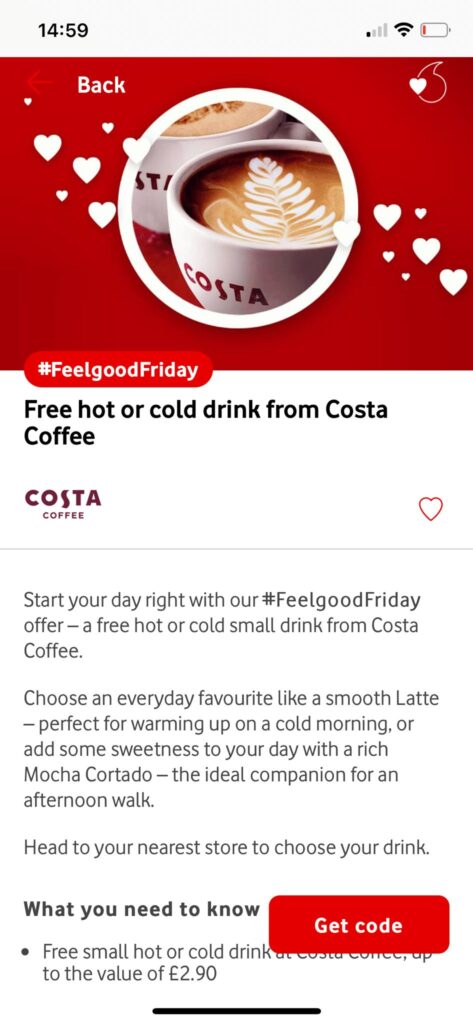 Most Fridays, they offer a free hot or cold drink at Costa using a unique code found on the app. You'll have to be quick though, codes run out fast for these!
6. 3 x free coffees on The Caffè Nero app
This little hack can get you not only, not two, but THREE free hot drinks at Caffè Nero. 
As if one coffee wasn't great enough?! Download the Caffè Nero app using this link to get the ball rolling. Once you purchase your first drink, you'll have a free coffee available on your app.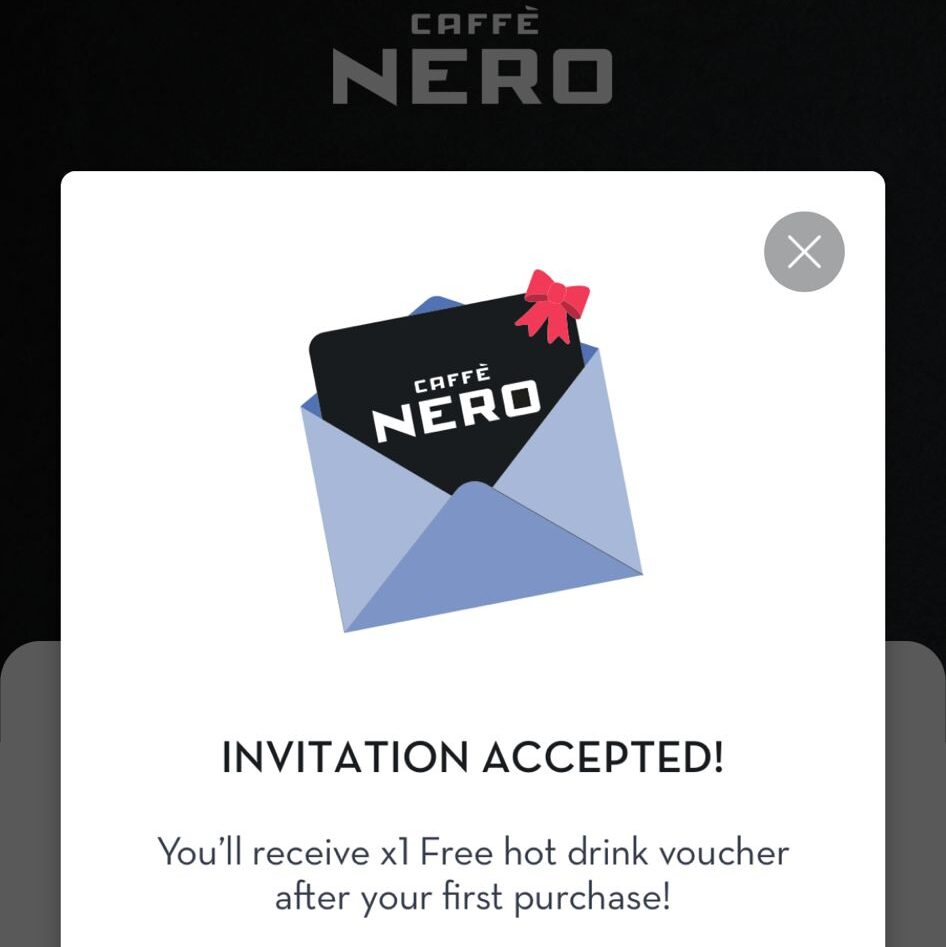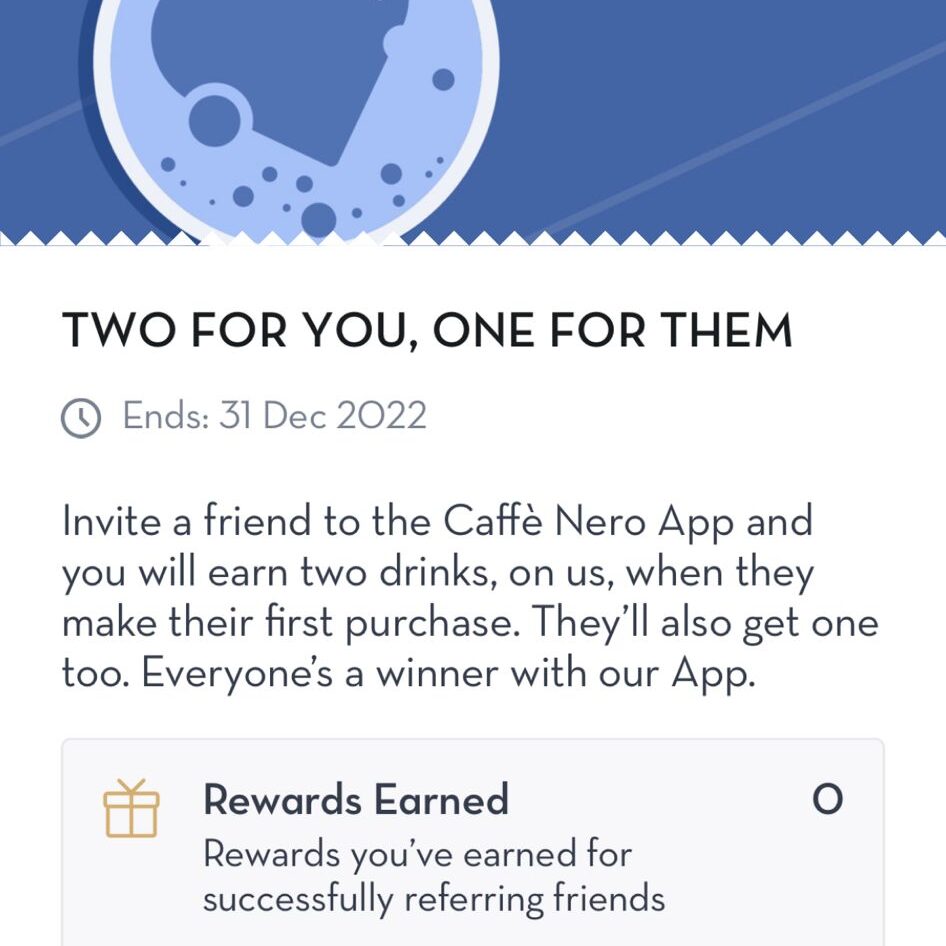 (This will only be available if you use my referral link above)
To get two more free coffees, invite a friend to download the app via your own unique link (which you can fetch on the main screen of the app) and once they sign up you get TWO free drinks. AMAZING!
They will have to then purchase their first drink to get their free one and invite their friends to bag two free drinks for themselves. And so the chain continues!
7. Free Caffè Nero drink on O2 Priority
Customers of O2 can also bag a free Caffè Nero hot drink every Tuesday or Wednesday using the O2 Priority app. All you have to do is head to your nearest Caffè Nero and load up your app.
Find the deal and hit 'USE NOW' to scan your unique QR code and score your freebie.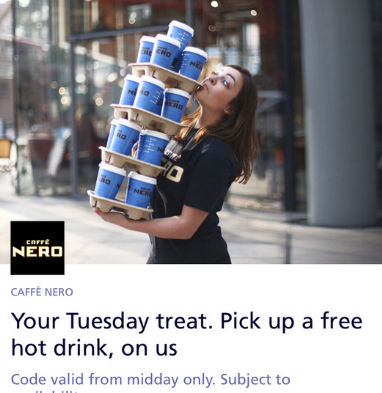 If you're not on O2 already, don't worry! You can still order a free O2 Pay & Go SIM card and pop it into your smartphone to activate it.
Simply download the app, upload a minimum of £10 onto your SIM to keep it active for six months, and enjoy the perks!
(To save you switching SIMs every time, you could always use an old phone just to claim freebies.)
8. Free hot drink at IKEA
This is definitely one of my favourite ways to get a free coffee while shopping. Join IKEA Family and get a free hot drink (plus unlimited free refills!) Monday – Friday. 
(They used to let you score a free hot drink for whoever you were with too. I would double-check that's still the case before you offer!)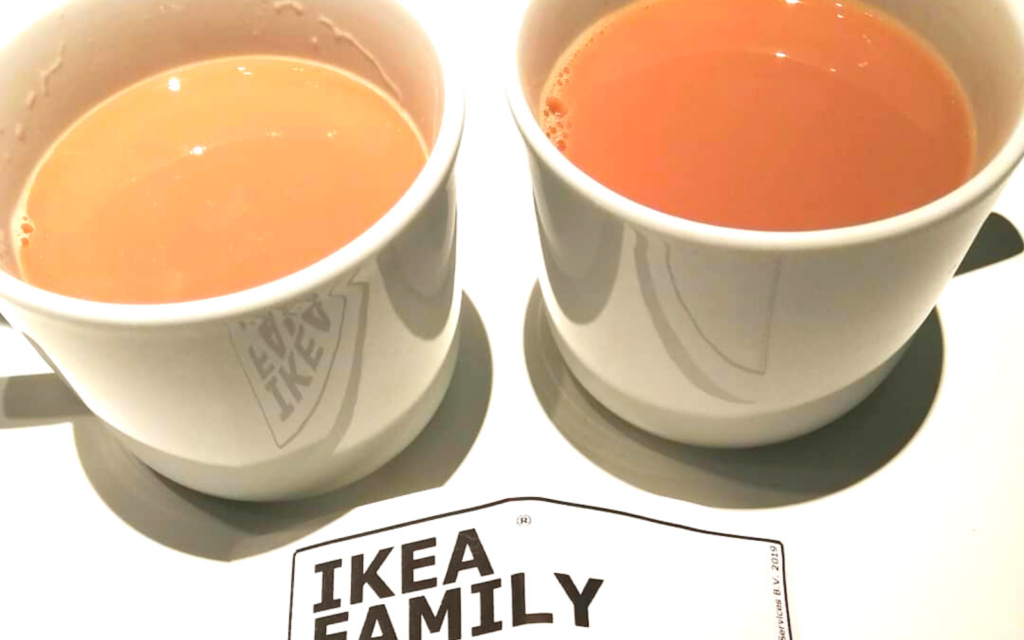 9. Free Harris + Hoole hot drink
Download the Harris + Hoole loyalty app and get a free coffee instantly on your account. Just for signing up! After that, stamp your digital card every time you visit and you'll get your 7th coffee free. 
10. Free Jack's Beans Coffee 
Jack's Beans Coffee app also has a free hot drink on offer when you download their app. They have 400 places across the UK where you can claim this, including shops like Spar, Londis, Costcutter, and Nisa! 
Similar to other loyalty apps, they also have a loyalty scheme where you get your 10th coffee free. 
11. Free hot drink at Waitrose
Sign up for a myWaitrose card and get a free hot drink every time you shop and purchase something. You can literally buy the cheapest thing in the store! There's just one catch, you now need to bring your own reusable cup to get your free drink. So don't forget!
12. John Lewis free coffee & cake
Another fab in-store freebie! Join the John Lewis membership loyalty scheme and get a free voucher in the post every six months for a free coffee and cake to redeem in one of their cafes.
13. Free filter coffee & tea at Leekes
Leekes also have a generous loyalty card scheme. Sign up for a Privilege card and get free filter coffee or tea Monday to Friday when you visit one of their stores.
14. Free coffee at Benugo
Sign up for Benugo's newsletter and get a free coffee voucher sent straight to your inbox! They have the most amazing coffee shops and restaurants dotted all around London so when you're next in the Capital, don't forget to claim your free coffee…
15. Free birthday drink at Starbucks
If you're a fan of Starbucks, you'll already know their loyalty scheme works slightly differently from others featured on this post. 
With Starbucks Rewards, you collect 3 points (or stars) per £1 spent. When you reach 150 stars, you get a free drink.
Once you reach 450 stars, you achieve Gold status, where you can earn a free birthday drink and loads of other exclusive perks.
16. Free Tea at The Cosy Club
In their battle to end loneliness in every generation, The Cosy Club is encouraging everyone to pop along to one of their stores for a chat and a free cup of tea every Wednesday between 10am-11am. How lovely!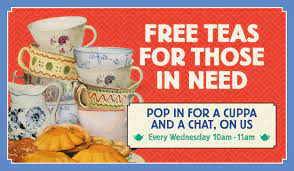 17. 2 x free hot drinks at Dobbies Garden Centre
My Mum and Dad kindly informed me of this one! (They LOVE the garden centre) Join Dobbies Club and get 2 x free hot drinks every month.
The best part is, if you don't use them, they roll over and remain on your card so you can use them at any time. Plus, you can treat friends or family to a free drink too!
18. Free Krispy Kreme hot drink
Sign up to Krispy Kreme Rewards and not only will you score a free doughnut straight away, but you'll also earn 'smiles' points. Collect 150 points and you can get a free hot drink of your choice. Amazing!
19. Free coffee at Muffin Break
Join Muffin Break's loyalty club for perks like a free coffee just as thanks for signing up and a free birthday muffin! You'll also receive every 6th coffee for free too.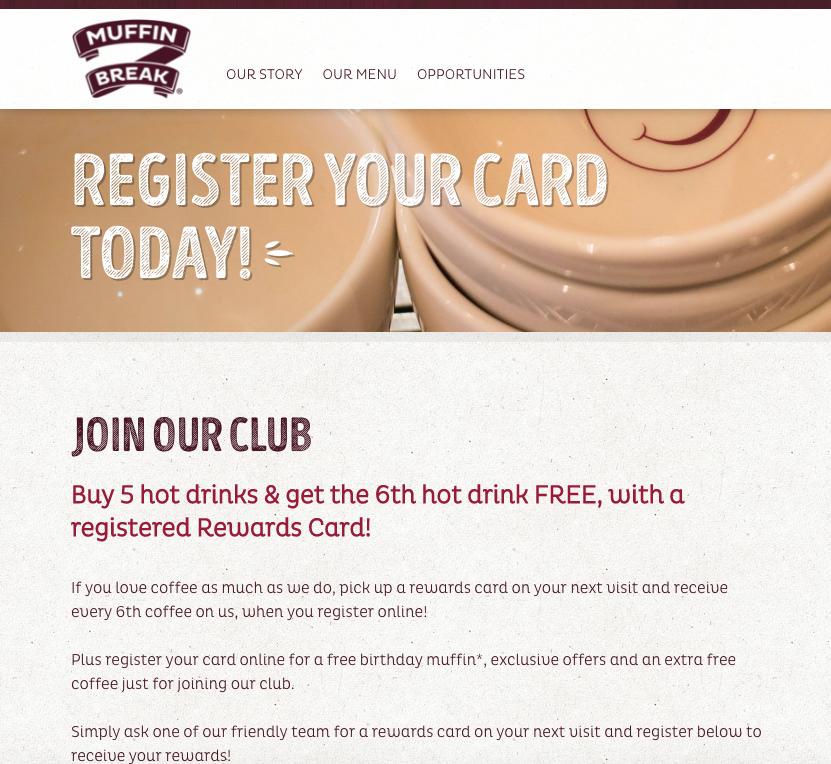 20. Free hot drink refills at Wetherspoons
Last but not least! If you're a regular at Wetherspoons, you'll probably already be well aware of this one! If you buy any hot drink or choose a hot drink with your meal, you get unlimited free refills.
Prices start from just 99p so not completely free, but you can certainly get your money's worth!
More ways to get free coffee & hot drinks
Still with me? Great! Here are EVEN more ways to score free hot drinks…
Join loyalty schemes
Loyalty schemes are a great way to save money and earn points towards free drinks. Even if your favourite coffee shop doesn't have a loyalty rewards scheme, it's still definitely worth signing up for their newsletter or following them on social media to look for upcoming offers.
Sign up to freebie sites
Freebie sites are amazing because they do all the hard work for you and find the best free stuff every day. If there is a free coffee up for grabs, they'll be the first to let you know about it! Sign up to their daily newsletter for updates and check here for all the latest freebies.
Cashout with coffee gift cards on cashback sites
Are you using cashback sites? Did you know you can cashout with gift cards for places like Costa and Caffe Nero instead of cash? In most cases, you'll get even more if you choose this option. Plus, it will save you a small fortune on hot drinks!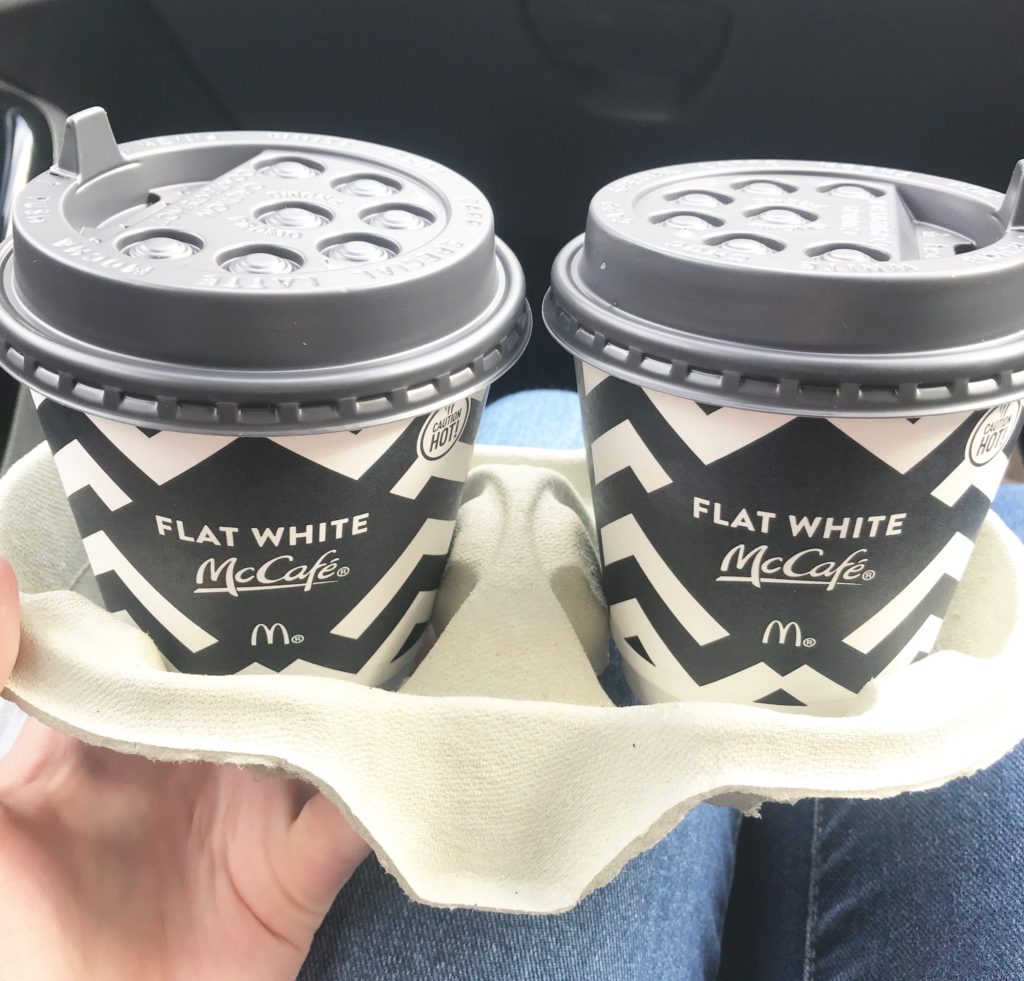 Look for coupons in newspapers & magazines
Pick up free newspapers and magazines like Metro and Tesco Food magazine to get regular coupons and drinks offers. Sometimes, big brands like Costa and McDonald's offer free coupons in the paper. Tesco also features offers for their cafe in their monthly magazine.
Related: 40 Best places to find coupons & save money
Look on supermarket apps for free coffee and drinks
Supermarket cashback apps like Shopmium and CheckoutSmart often feature deals on their app for coffees and iced caffeine drinks for you to enjoy in the comfort of your own home.
Related: CheckoutSmart App – How To Earn Cashback At The Supermarket
Complete surveys for free coffee gift cards 
Similar to cashback sites, most survey sites also give you the option to cashout via Amazon gift cards or popular high street coffee shop chains.
Enter competitions
Like many brands, coffee shops also host regular competitions and giveaways. To find these easily, look on competition database sites like The Prize Finder, check online and social media channels, and look at any in-store packaging to look for new competitions to enter.
Take advantage of birthday freebies
As I've mentioned in this post, many companies offer birthday freebies, which you can often claim around the month of your birthday. Make sure you always enter your DOB and the company will usually email you to let you know you have a birthday offer available. How exciting!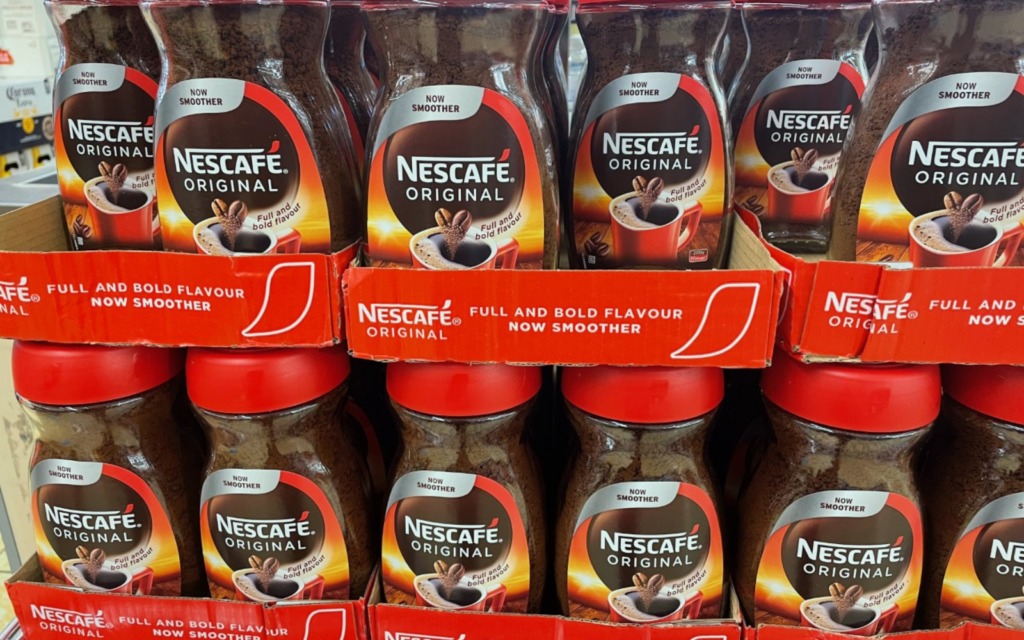 Keep an eye out for awareness days
There are genuinely days like National Tea Day (21st April) and National Coffee Day (1st Oct) where brands like Starbucks and Tea Pig give away freebies! Make sure you keep an eye on your social media for generous offers around these dates.
Check for exclusive NHS staff offers
I saw loads of special offers around the first lockdown for NHS staff and keyworkers in general from coffee shops and restaurants. Keep checking this page, which is regularly updated with freebies.
Employee perks
Does your company have any perks that you may not know about? Some businesses I've worked for in the past have signed up to Perkbox, where you can get free coffee from certain coffee shops, as well as loads of other freebies and discounts.
Give blood
Finally, if you can give blood, you definitely should anyway. But obviously, a free cup of tea and biscuit certainly takes the edge off!
Pin for later…