Today I'd like to talk to you about my secret weapon for comparing cheap insurance, energy, and utilities: Quidco Compare! As many of you may already know, Quidco is an amazing cashback site that can save you money when you shop online.
Did you know they also have a compare site, though? Keep reading to find out more…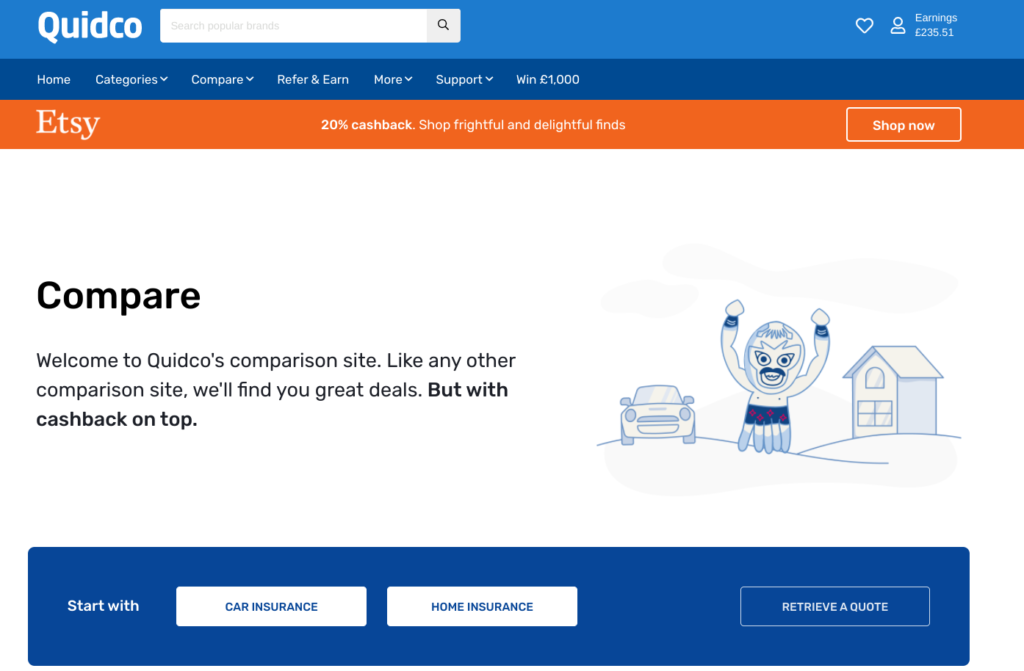 What is Quidco Compare?
Quidco Compare is a comparison site that helps you save money when you compare quotes for energy, insurance, broadband, and loans.
It works in a very similar way to other sites – you simply enter your details and you'll get a range of quotes to suit your personal details, in order of the cheapest first.
Why use Quidco Compare?
You might be wondering, why would you use Quidco Compare over other sites? For me personally, the thing I love is that they have similar deals as other comparison sites. Yet unlike any of their competitors, they also offer you cashback on top of your quote!
Here is a quick list of their current cashback offerings:
Who doesn't love free money??
How does Quidco Compare work?
Firstly, you'll need to sign up for a free Quidco account. Use this link to get a £5 bonus when you sign up and confirm your first £5 cashback! Once you've signed up, it's really easy to use the site to compare insurance and energy.
All you have to do is head to Quidco.com/compare and then choose from a range of insurance or utilities options. Then simply:
Enter your information – take a couple of minutes entering details e.g. age, breed, etc for pet insurance
Compare quotes – compare policies and prices and choose the best one to suit you (and your pet!)
Get cashback – Once your purchase is confirmed, your cashback will make its way into your account – hurrah!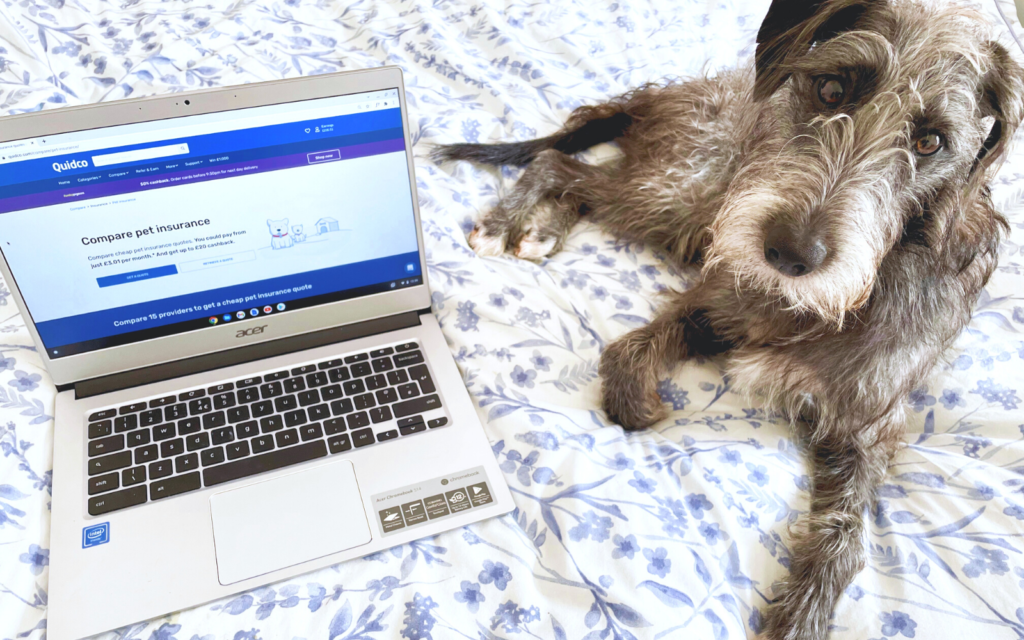 How to get a cheap pet insurance quote
I put Quidco Compare to the test when we first brought home the newest member of our family, Blue – our Bedlington x whippet. Once our free four-week PetPlan trial ran out, we needed to find insurance that would suit him.
Being a lurcher, he's very gangly and loves to run at top speeds. I can't tell you the number of times I hold my breath watching him belt around and slide all over the place in the muddy fields on his daily walks! I've heard horror stories from other sighthound owners, who said theirs get various injuries when running too fast.
(However, as far as dog breeds go, he's pretty low maintenance and risk-free in terms of serious health concerns.)
With all this in mind, finding a good, yet affordable pet insurance provider was important to us.
Getting a pet insurance quote was pain-free and took me less than five minutes to enter all my information and get a quote.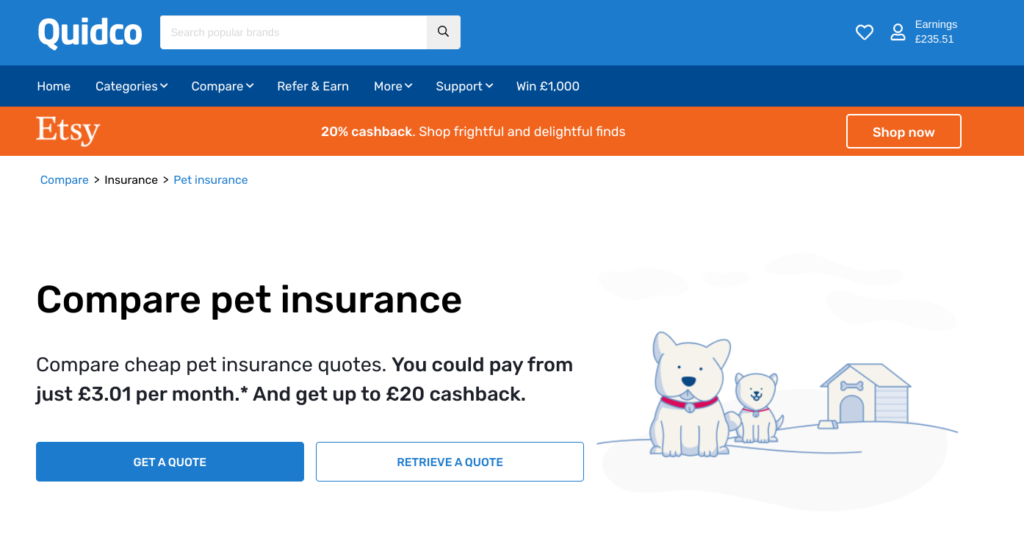 What factors do you need to consider when buying pet insurance?
There are a number of things to weigh up when purchasing pet insurance. Things to factor in include:
What type of cover you want: accident only/lifetime/maximum-benefit/time-limited
How much excess you want to pay
Do you want boarding fees included?
The cost of vet fee cover
Would you like insurance from an award-winning company?
Have you looked at extras? E.g. video vet calls?
Will you choose monthly or annual payments?
All these things are important to think about and research before committing to pet insurance.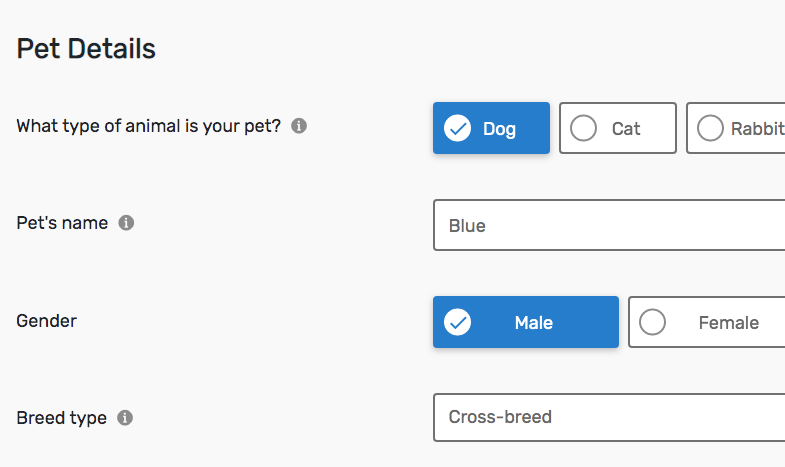 How did Quidco Compare stack up with other comparison sites?
Based on Lifetime/Ongoing condition policies for Blue, with £2,000 vet fees and £100 compulsory excess, here are the cheapest quotes I got from Quidco Compare and its rival sites:
| | |
| --- | --- |
| Comparison site | Quote received |
| Quidco Compare | £121.08 |
| Go Compare | £131.68 |
| Compare the Market | £147.12 |
| Money Supermarket | £156 |
| Confused.com | £158.40  |
Information correct as of 7/10/2021
As you can see, Quidco Compare came out the cheapest. Plus, when you add the extra £20 cashback on top, that's a pretty decent saving in comparison to other sites!
Top tips to save money on pet insurance
Keep your pet as healthy as possible and stay on top of things such as regular grooming needs, vaccinations, and worming and flea treatments
If you have a crossbreed, try a few variations when you run a quote – e.g. for Blue, we tried 'whippet' 'Bedlington terrier' 'lurcher' and 'crossbreed' to see which one was the cheapest
Make sure your pet is microchipped and ensure all your record information is up to date
Do your research before you purchase or adopt your pet, so that you're aware of any specific needs
Consider multi-pet insurance if you have more than one pet in your household
Make sure the breed you put down on your insurance matches what your vet has – otherwise the insurers may refuse to payout if you need to make a claim!
Win £1,000 with Quidco Compare in October!
Did you know Quidco is currently hosting a competition where you could win £1k?? To get involved, all you have to do is get a home insurance or car insurance quote throughout October and you will be entered into this amazing prize draw. Two lucky winners will be chosen at random!
Here are their terms and conditions: https://www.quidco.com/pages/compare-win-1000/
Earn £25 with Quidco's refer a friend scheme
Refer your friends and family to Quidco and they can enter the competition and start earning cashback too! They will get the same £5 bonus offer using your referral link, and you'll get a whopping £25 per friend or family you refer. How generous! Find out more here…
Pin for later…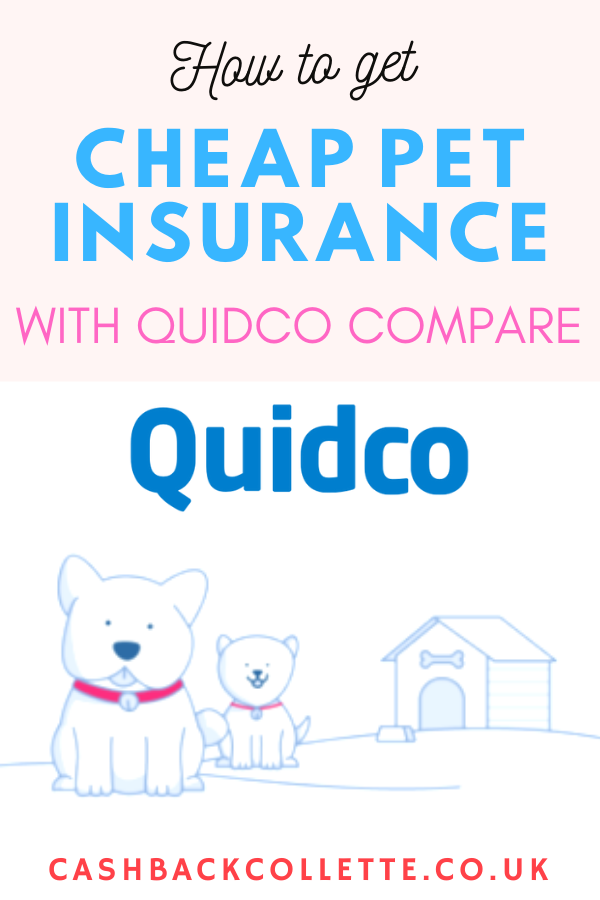 This post contains affiliate links, which means I earn a small commission if you choose to sign up to Quidco, at no extra cost to yourself.