Hello and welcome to my very first post on Cashback Collette. Eek! If you haven't guessed by the name of my blog, I'm a HUGE fan of cashback. It's a really easy way to top up your bank account and it's one of the many little tricks I use to save money on all of my purchases.
It's really helped me save money on everyday purchases and bigger ones too like car insurance. We even got cashback on our mortgage! The best part is, if you're going to buy something anyway, you get rewarded for doing it.
I'll show you how to claim hundreds back each year in free cash in this guide.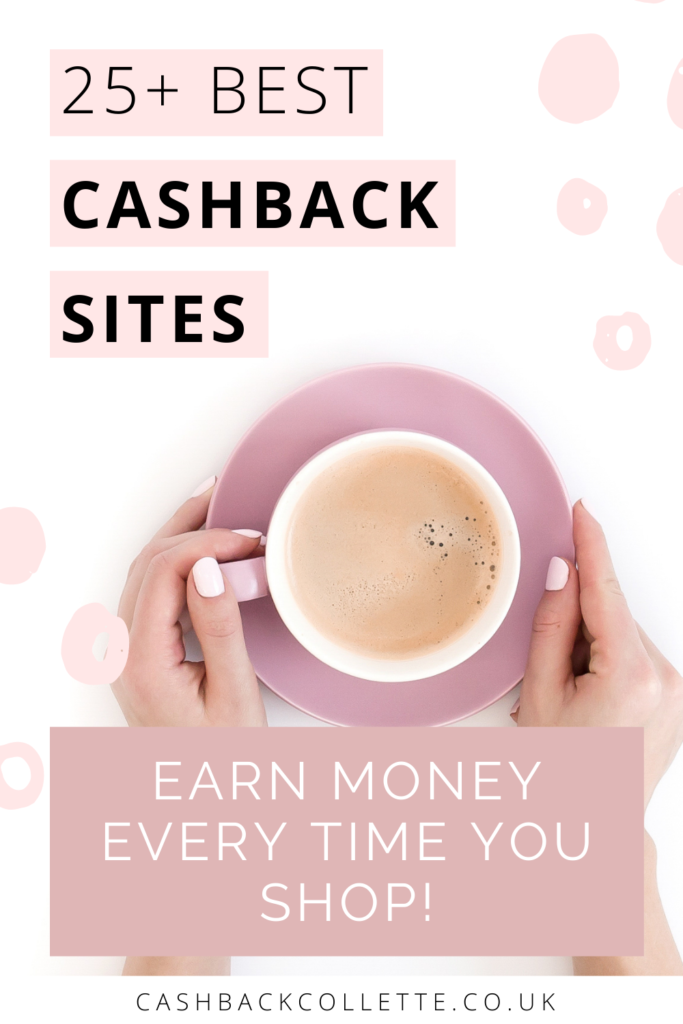 What exactly is cashback?
Cashback is a great little incentive that brands like to use to encourage you to buy their product or use their service. Every time you purchase an item, you can earn a free cash bonus. Free money basically! Sounds fab, right?
How do cashback sites work?
This varies slightly but most cashback sites work the same. You sign up for a free account, then search for your favourite retailers on the cashback site each time you shop online. Click through and shop as normal, and your cashback will be tracked and added to your account.
What can I earn cashback on?
From car insurance to your weekly shop, the list of what you can earn money back on is genuinely never-ending. Some of the most useful things I've earned cashback on are:
Insurance policies
Clothes & makeup
New furniture
Supermarket shops
Just-eat and Hungry House (probably far too often, oops!)
Gifts and cards for people
eBay (great for earning Nectar points, too)
You can even earn cashback on comparison sites like uSwitch
Plus loads more. Honestly, there are so many companies on there! You'll be absolutely kicking yourself with all the free cash-earning potential you've missed out on!
How much cashback can I earn?
Good question! It all depends on three things really:
What you're buying
How much it costs
And what offers are up for grabs at the time
Some companies offer a percentage and some offer a fixed fee. Most sites offer anything between 2% – 15% but you do land some absolute gems sometimes where you can earn £100 or more.
Are cashback sites scams?
Absolutely not! They are 100% genuine and I would definitely not be recommending them if I didn't swear by them myself. Trust me, this is coming from a real cashback geek. These are legitimate sites and free to use.
If you're still a little unsure, contact them directly to give yourself peace of mind. You can find their contact details when you scroll right down to the bottom of the page.
What are the best cashback sites?
Here are my top picks of the best cashback sites and apps. These all work slightly differently and can save you so much money!
Topcashback
TopCashback is my top choice (see what I did there??) and it's the first cashback site I discovered when I was looking for ways to save money. It's so easy to use and there are hundreds of retailers on there.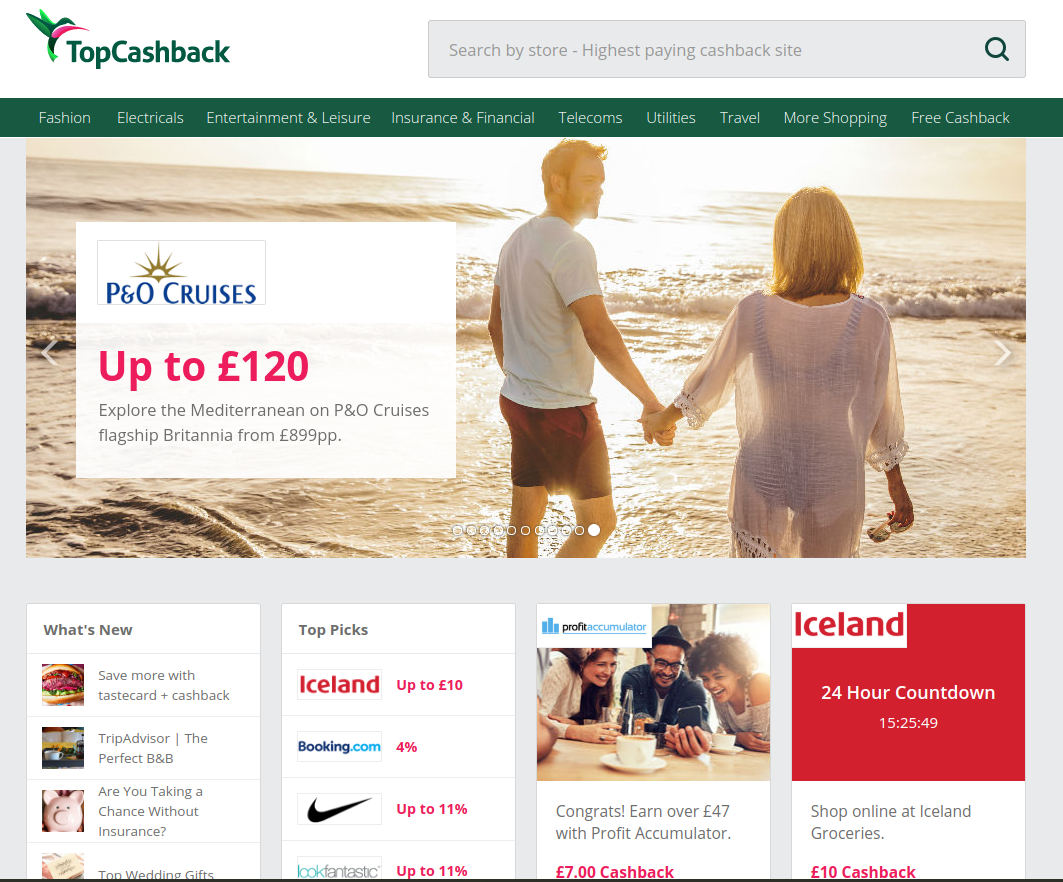 Sign up for a free account and start earning straight away. Just log in and search for the retailer and click through and shop as normal. It will track your purchase and the amount will show up on your account.
Related: TopCashback – the ultimate guide & top tips for earning even more
Quidco
Quidco is another cashback site I use a lot. It's very similar to Topcashback and they usually have the same deals on each site. It's worth checking both because sometimes they have exclusive offers running. You can also earn a free £10 when you sign up here and start using the site.
Kidstart
This is a great one for parents! Sign up to Kidstart for free and you'll open a savings account for your kids. Top up their account and earn cash every time you shop online via their site.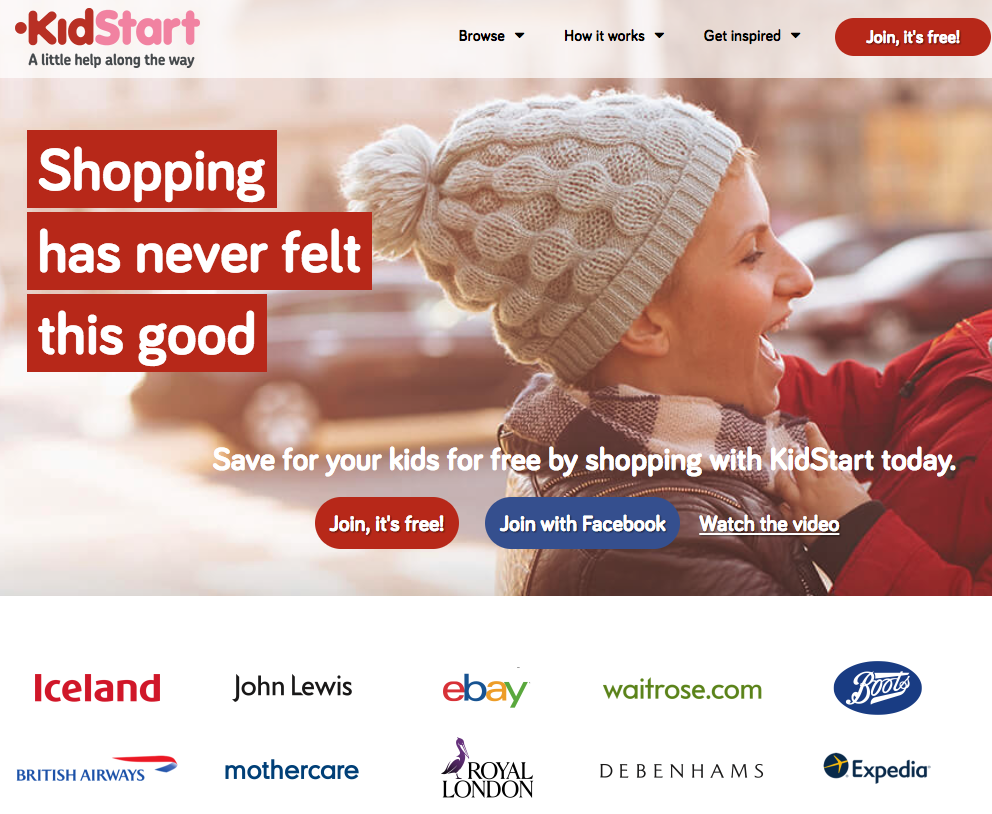 It's not just baby and parent brands on there either. There are so many companies on there like eBay, Boots, Waitrose, British Airways, Debenhams, Iceland and loads more! Join Kidstart today.
WEshop
This one works a little differently to other sites. Join WEShop now and earn rewards for shopping, sharing on the platform and engaging with other users. You can spend your WeCoins with all the amazing partners on their site too!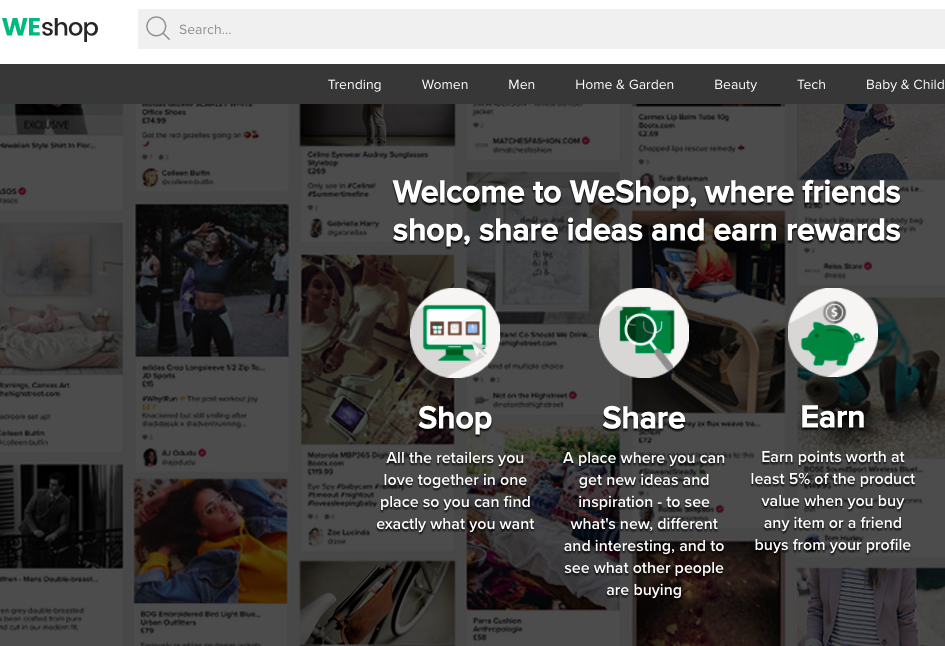 Plus, sign up and share your first post and you'll earn enough for a free coffee. Now that sounds like my kind of deal!
Get Paid To Cashback Sites
Get paid to cashback sites offer extra money for completing tasks such as taking surveys and free trials, on top of shopping cashback.
Swagbucks
Join Swagbucks for free and start earning 'Swagbucks' straight away. This works the same as Topcashback and Quidco. You log in, find your retailer and click through to earn cashback. They've also got insurance deals and other sites on there so check them out too.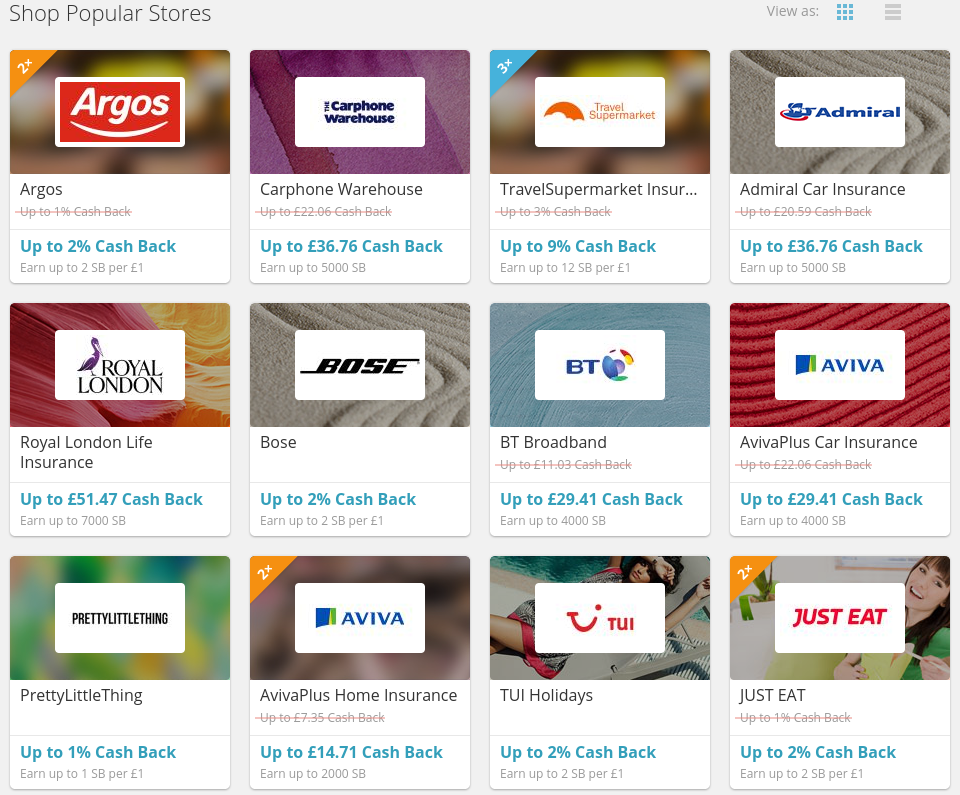 This also doubles up as a survey site and you can earn points for all sorts like signing up for special discounts, too. Sign up and earn £3 literally just for joining!
OhMyDosh
OhMyDosh is pretty similar to Swagbucks – there are loads of ways to earn free money including claiming cashback for shopping!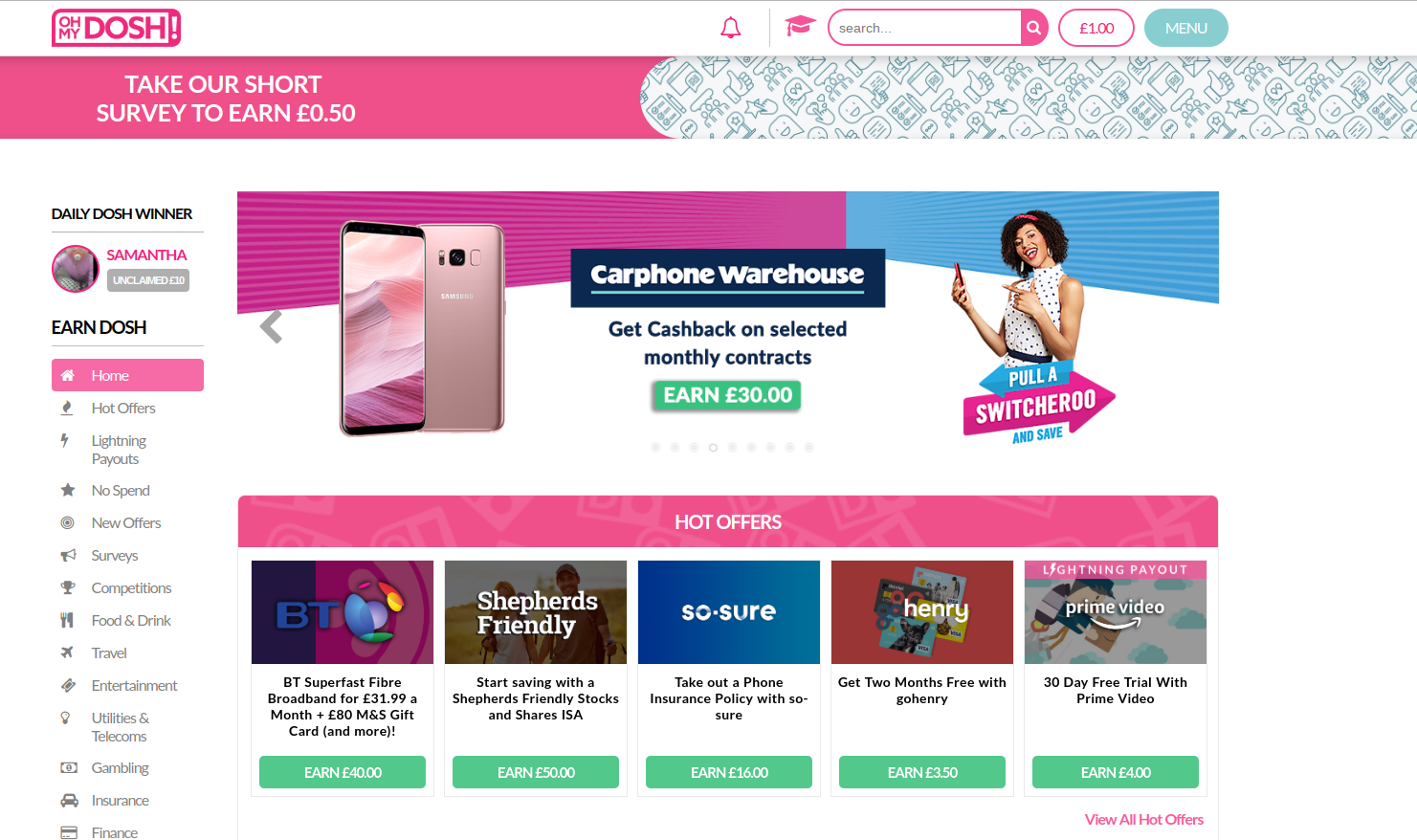 You can earn free cash on so many things, like signing up for a free Amazon Prime trial or purchasing your broadband with BT. You can even earn cashback for buying lottery tickets or booking your next holiday!
As with all cashback sites, some offers take longer than others to come through, but they do have 'lightning offers' where you can cashout within 3 days. Get a £2 welcome bonus just for signing up and confirming your details!
Related: OhMyDosh – how to make extra cash fast!
Earn cashback directly from a brand's website 
Some companies offer cashback directly on their site, so you don't even have to go through third-party sites. If you're applying for cashback directly from a brand, sometimes you'll be asked to fill in a form to claim cashback after you've purchased your item.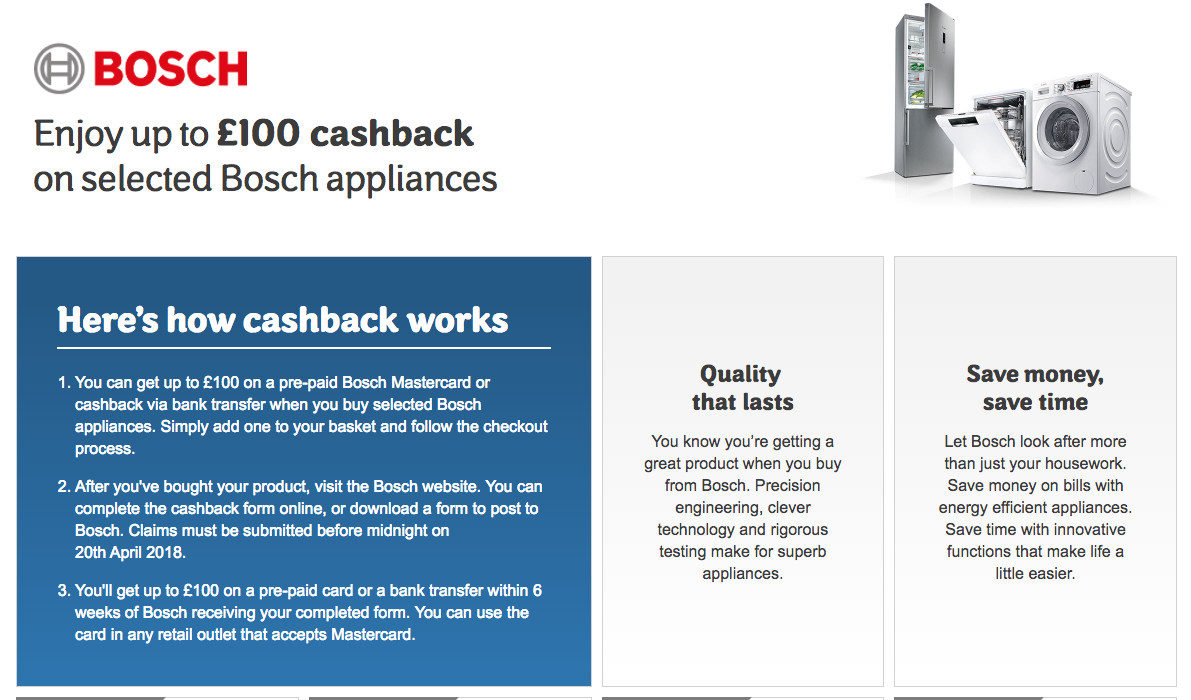 This is often the case with bigger, or as I like to call them real adult purchases like a household appliance or piece of furniture. AO offer cashback on a selected range of appliances and sometimes insurance comparison sites like Admiral and Money Supermarket do too.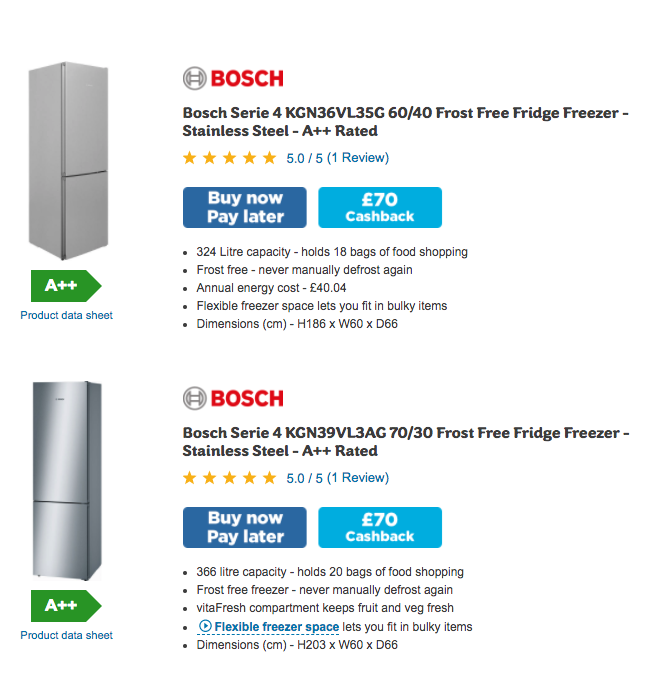 You might also be offered cash perks, which is sort of like cashback. BT offered us a £150 cash card when we signed up for broadband with them, which was an amazing perk! If you're upgrading your mobile phone contract, try looking on mobiles.co.uk who also offer cashback. 
These types of cashback purchases often take a lot longer to process so you might not get your money back for up to six months, but it's worth the wait as you'll often get more cashback for these purchases than everyday ones!
Earning cashback in shops & restaurants 
If you don't really shop online much but you're still wondering how you can earn cashback, there are loads of ways you can claim while you're out and about!
Topcashback In-store
This is a great option if you're looking to earn cashback in selected stores. Head to the TopCashback in-store section of their website and simply register your card.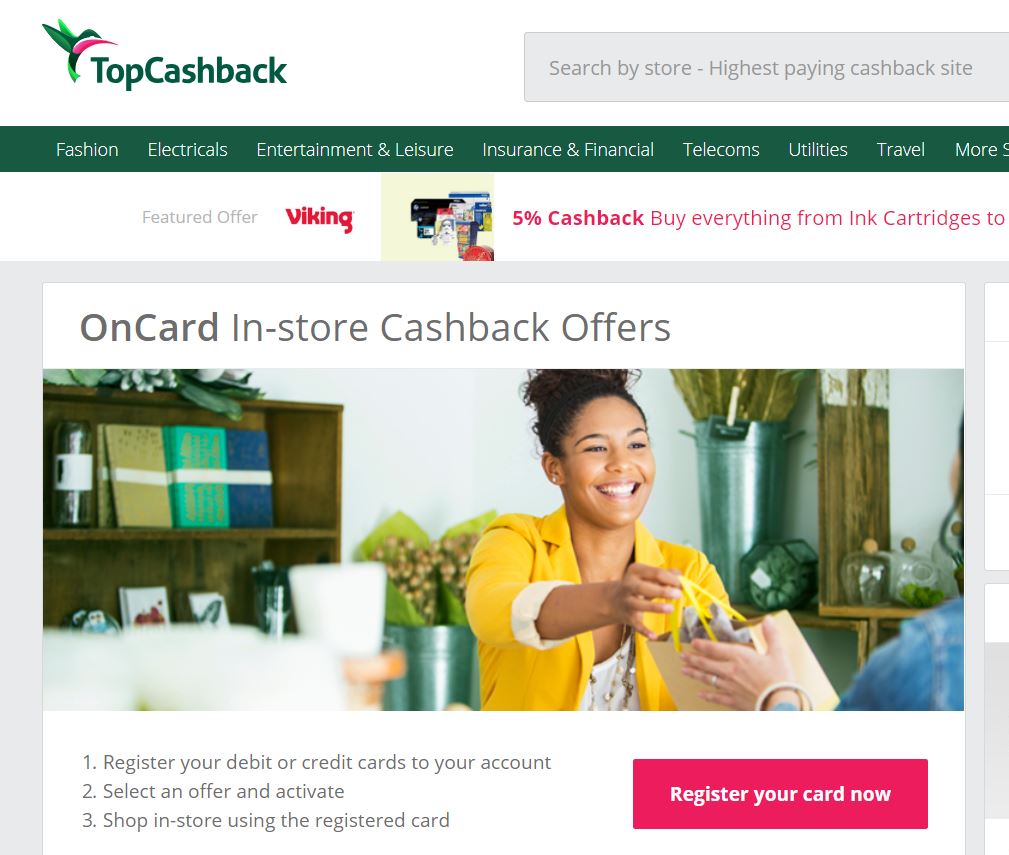 Then have a scroll through and when you see an offer you like click 'active offer' and when you spend on your card, the cashback will automatically be loaded to your TopCashback account.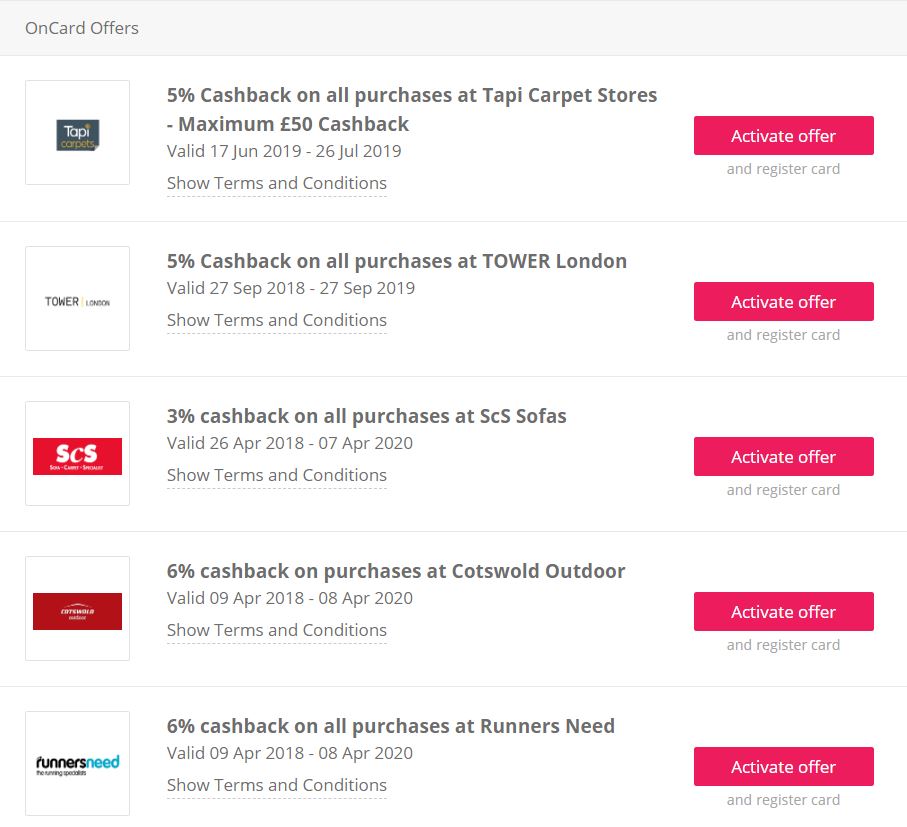 Quidco in-store 
Quidco in-store also works in the same way, just log in, register your bank card, activate your offers and the money will roll into your Quidco account when you spend at the stores or restaurants.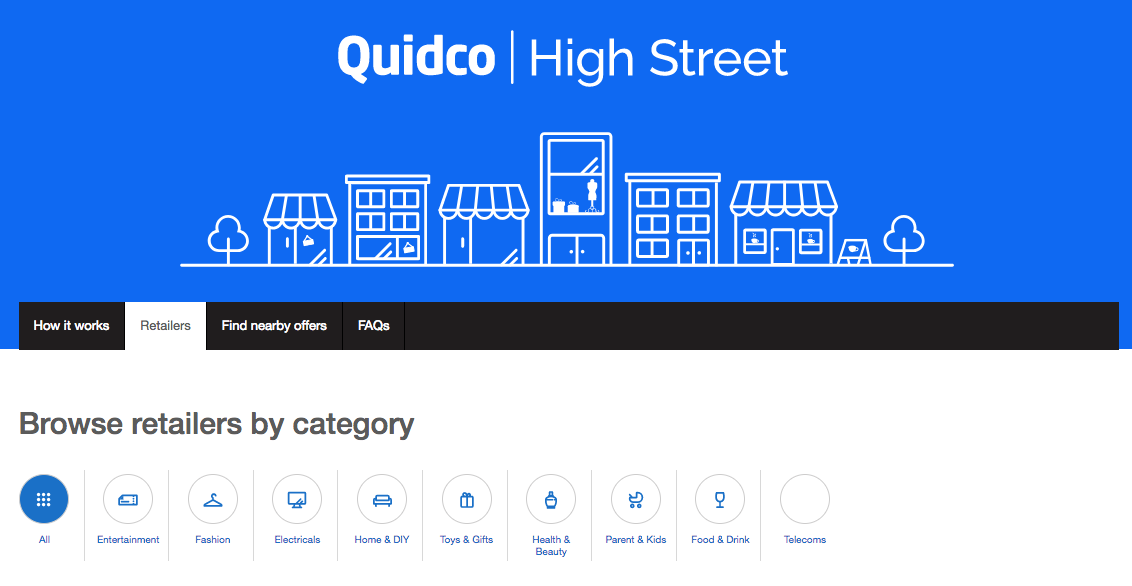 I'll admit, there are more offers for restaurants and pubs on here, which makes sense! I personally log in and activate all the offers and use both in-store and online cashback to maximise my earnings. 
Co-op rewards
Co-op rewards offers a whopping 5% cashback when you spend in-store. Just pick up a card in store for £1 and start earning cashback today. There are some restrictions like you can't earn cashback on gift cards or lottery tickets, but most items are eligible.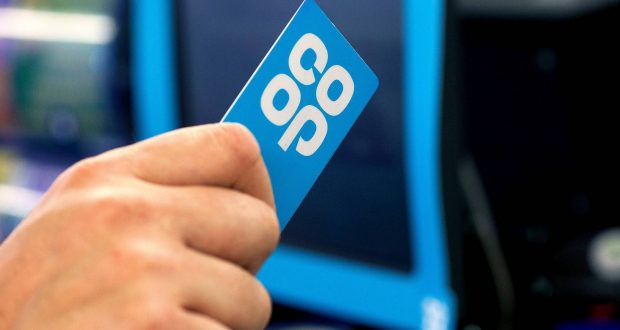 Save money on your phone bill with Airtime rewards 
Airtime rewards is an amazing app I've recently discovered, where you can earn cashback on your phone bill, just for spending at all your favourite shops and restaurants!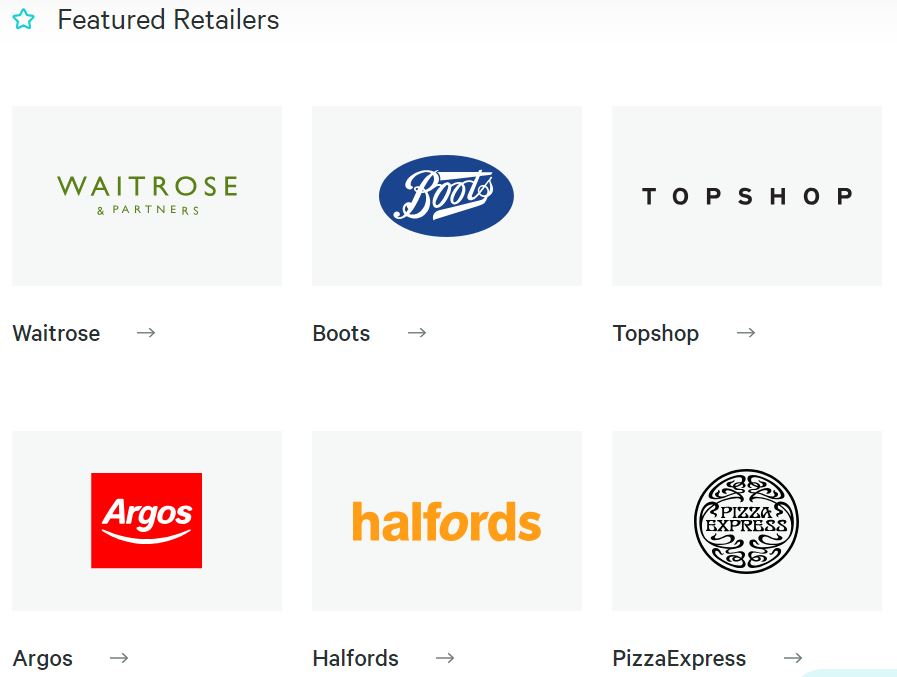 Sign up now using my code PPBMT7HU and you'll get a 50p bonus. I've written a post all about Airtime Rewards if you'd like to find out more.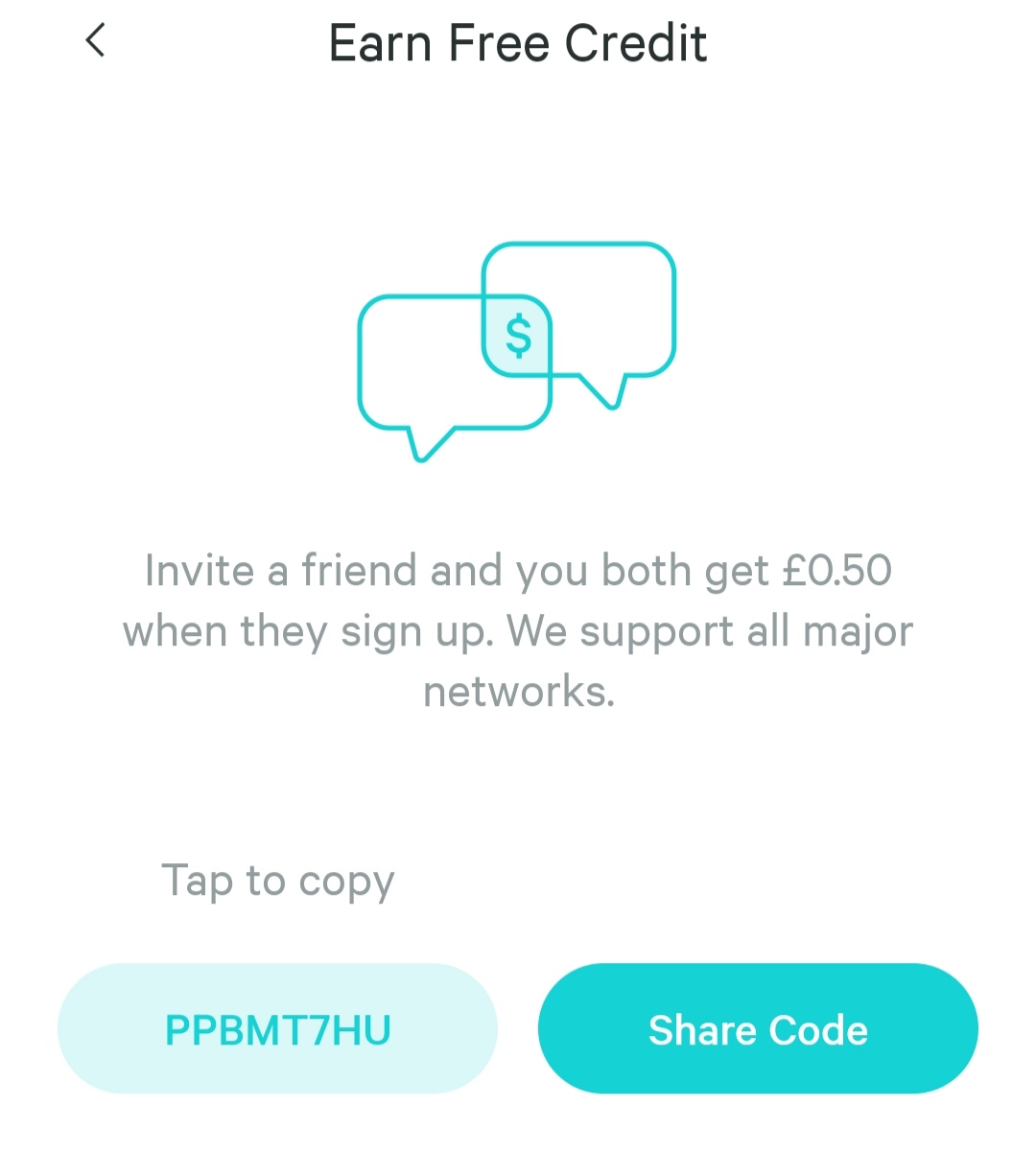 Save on your supermarket shop with cashback apps
I love cashback apps just as much as cashback sites! I've got soo many freebies over the years from these and saved a fortune on my grocery shopping. These apps work slightly differently, but they're still really easy to use and can save you lots of money on your supermarket shop.
Download the apps and check out what freebies and offers are up for grabs. Then you simply pick up the product and purchase as normal in-store, upload a pic of your receipt on the app and they'll reward the money back into your account, often within 24 hours. Score!
I've written about each supermarket cashback app in detail here but here are the best ones. 
CheckoutSmart 
CheckoutSmart is one of the most popular supermarket cashback apps, and it updates the app regularly with freebies and major discounts from a range of brands. Items vary from snacks to full on meals and even booze.
Related: CheckoutSmart App – How To Earn Cashback At The Supermarket
Shopmium
I probably use Shopmium the most, as I'm within walking distance to Waitrose and Sainsbury's and a lot of the deals on here are valid at these stores. They also have a wide selection of freebies and often run 50% off on products too.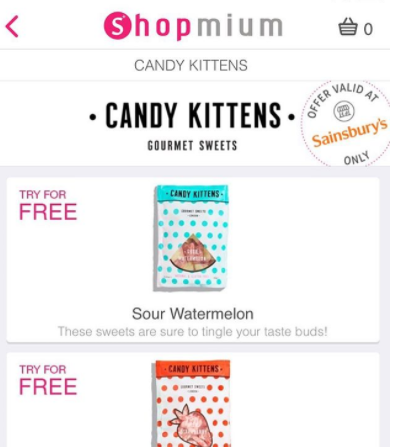 The items on here are often new brands or products and they run a lot of beauty products and toiletries deals too. Psst. sign up to Shopmium using my code KHKCYCEN and you'll get a free tub of pringles!
Related: Shopmium App – How to get freebies & save money at the supermarket
Topcashback's Snap & Save
Another fab way to claim cashback with Topcashbackis using their app Topcashback Snap & Save! They don't run as many offers as the other apps but they're often good for staples like butter, eggs, milk, etc.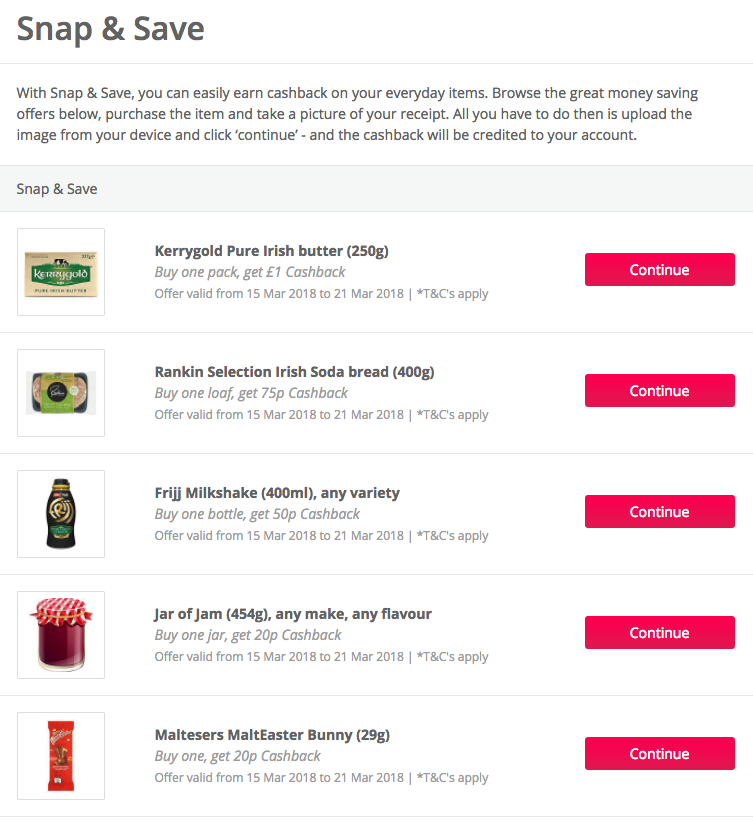 They also have some pretty amazing freebies where you can claim a free pack of ice lollies in Summer, free Easter egg treats and more seasonal items. 
Quidco Clicksnap
I'll let you in on a little secret here, Quidco Clicksnap and CheckoutSmart are run by the same company, so you'll most likely see very similar deals on both apps.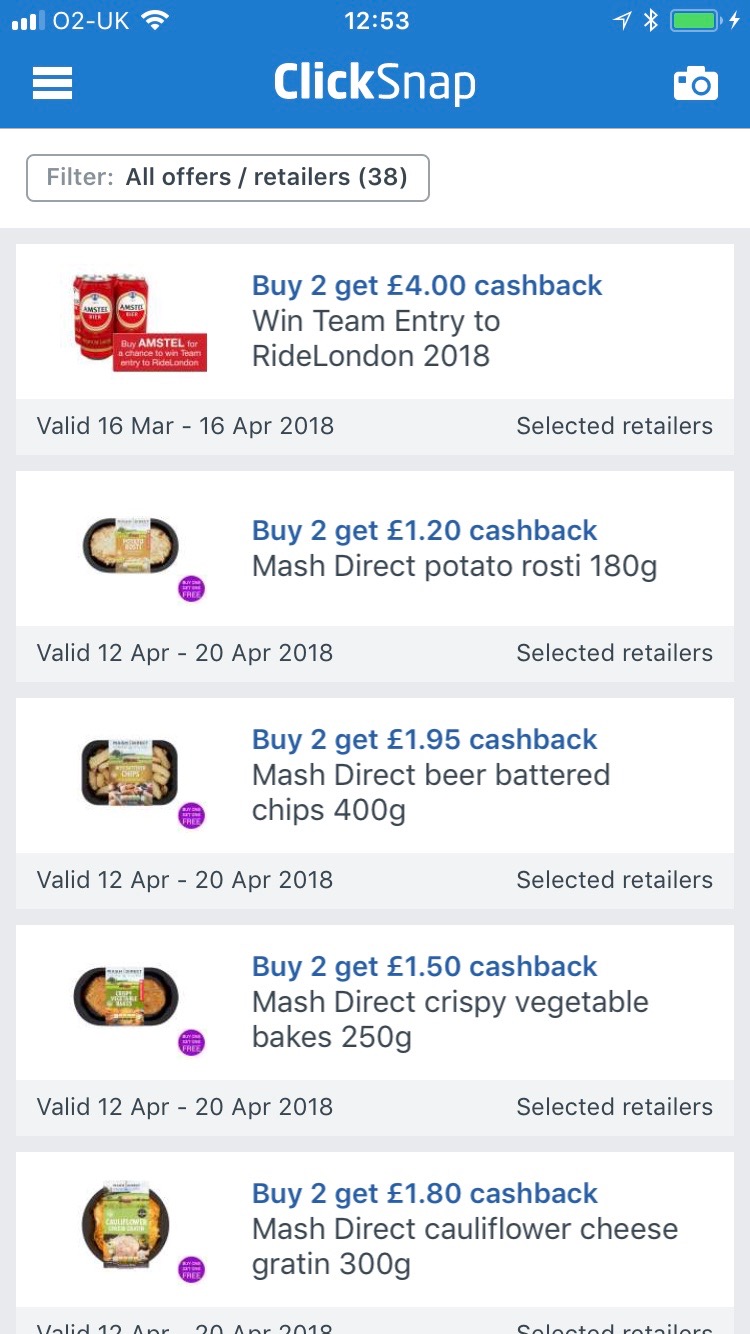 If you want to claim your offers twice, I would recommend splitting your receipts, as they sometimes reject duplicate claims. 
Green Jinn 
Green Jinn is still quite a new app but they have lots of offers on there from Tesco, Waitrose and Sainsbury's. This app is also good for staples, I've claimed cashback for things like bread, shower gel, pasta, and loads more bits and bobs.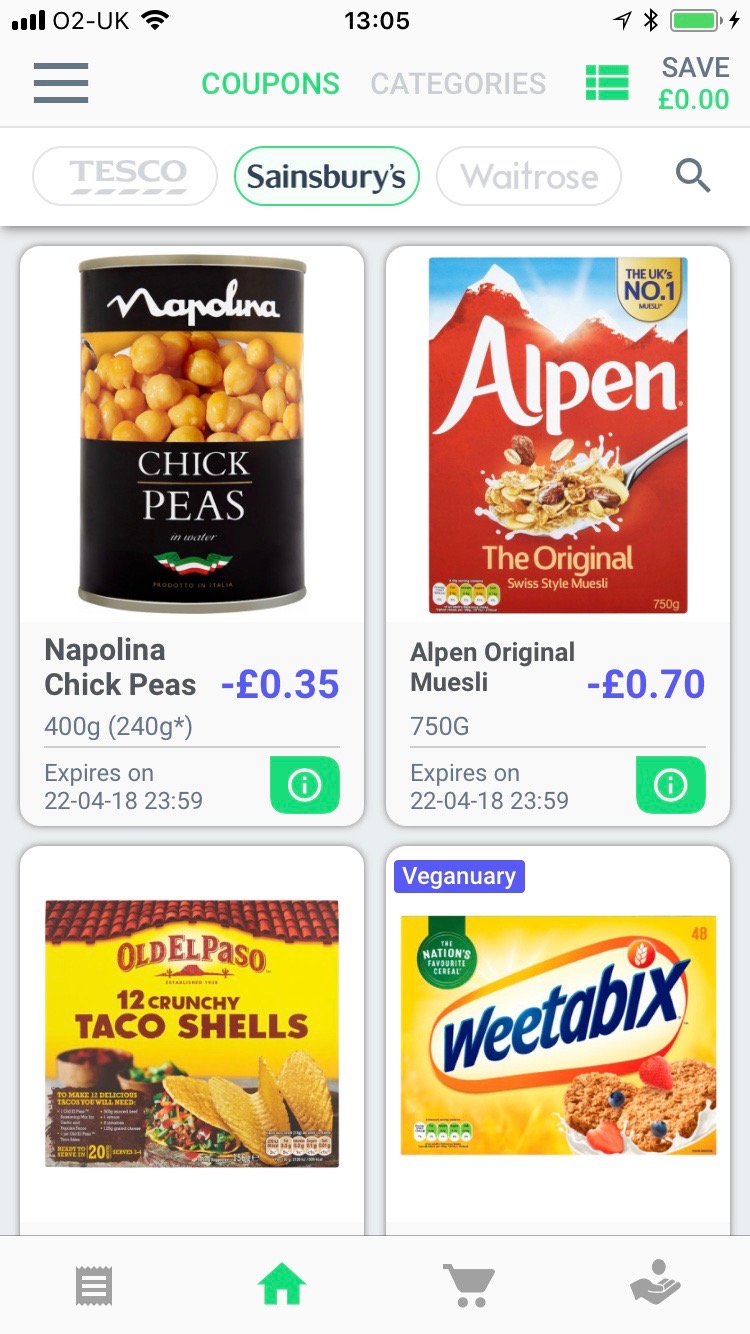 Check out my post packed full of 50+ ways to save money at the supermarket for more top tips!
Get cashback with your bank
You can also earn cashback with your bank in a number of ways. Each bank offers different cashback deals (on top of their switching cash offers!) Here are the best ones.
Halifax
You can earn up to 15% cashback on selected retailers on your everyday shopping and eating out with Halifax. All you have to do is log into your online banking and click on the 'Cashback Extras' hub and activate the offers you'd like to redeem.
Then, when you spend at one of these places, it will automatically be added to your account. You can also track your cashback earnings in your Cashback Extras hub. 
Lloyds 
Lloyds has a very similar offering to Halifax, where you can earn up to 15% cashback on your everyday spending.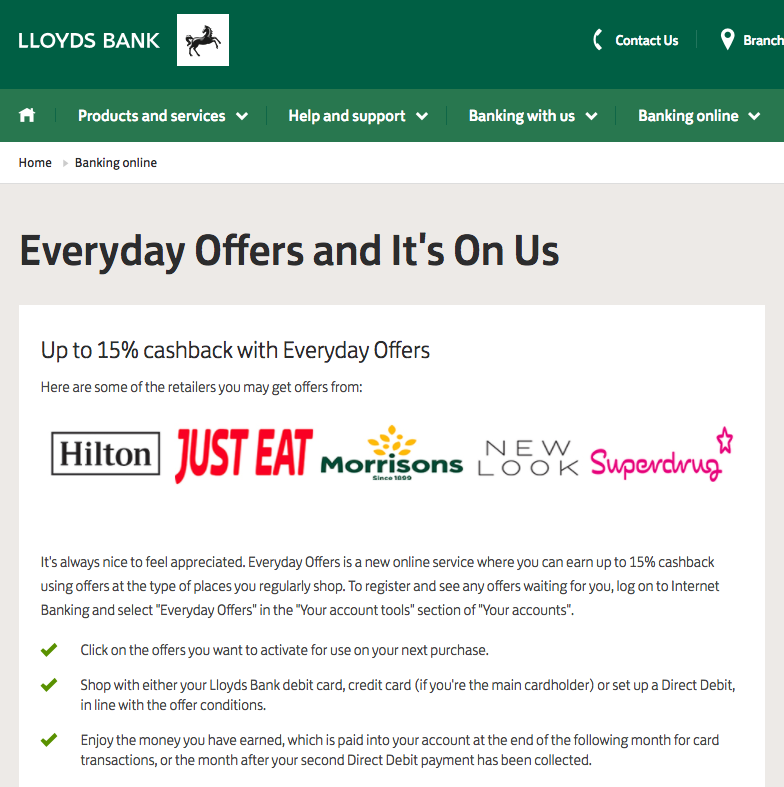 Natwest
Natwest has also gotten in on the cashback action, offering you 1% cashback on popular merchants when you spend on your debit or credit card. They also have a 'trade up' option, where you exchange your cashback rewards for gift cards or voucher codes.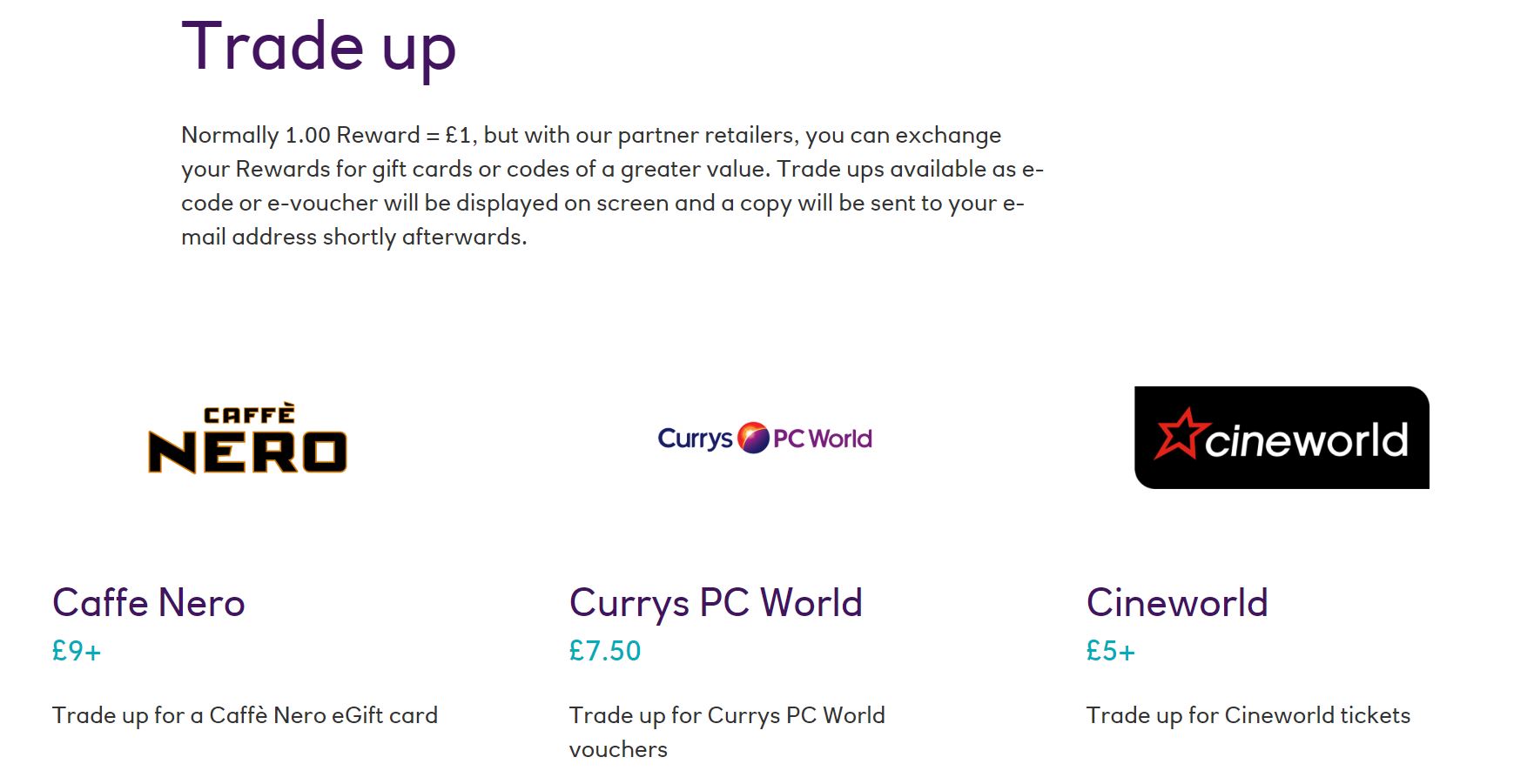 What's more, you can even earn cashback on your household bills, which can save you loads of money! There is a small fee to pay for a 'MyRewards' account, which starts from £2. It's worth weighing up if the rewards outweigh the cost of the account. 
Barclays
Barclays is offering up to 10% cashback on selected retailers when you shop using their online banking or mobile banking app. They have a good selection of shops on there like Apple, Boots, B&Q, Nike, and loads more.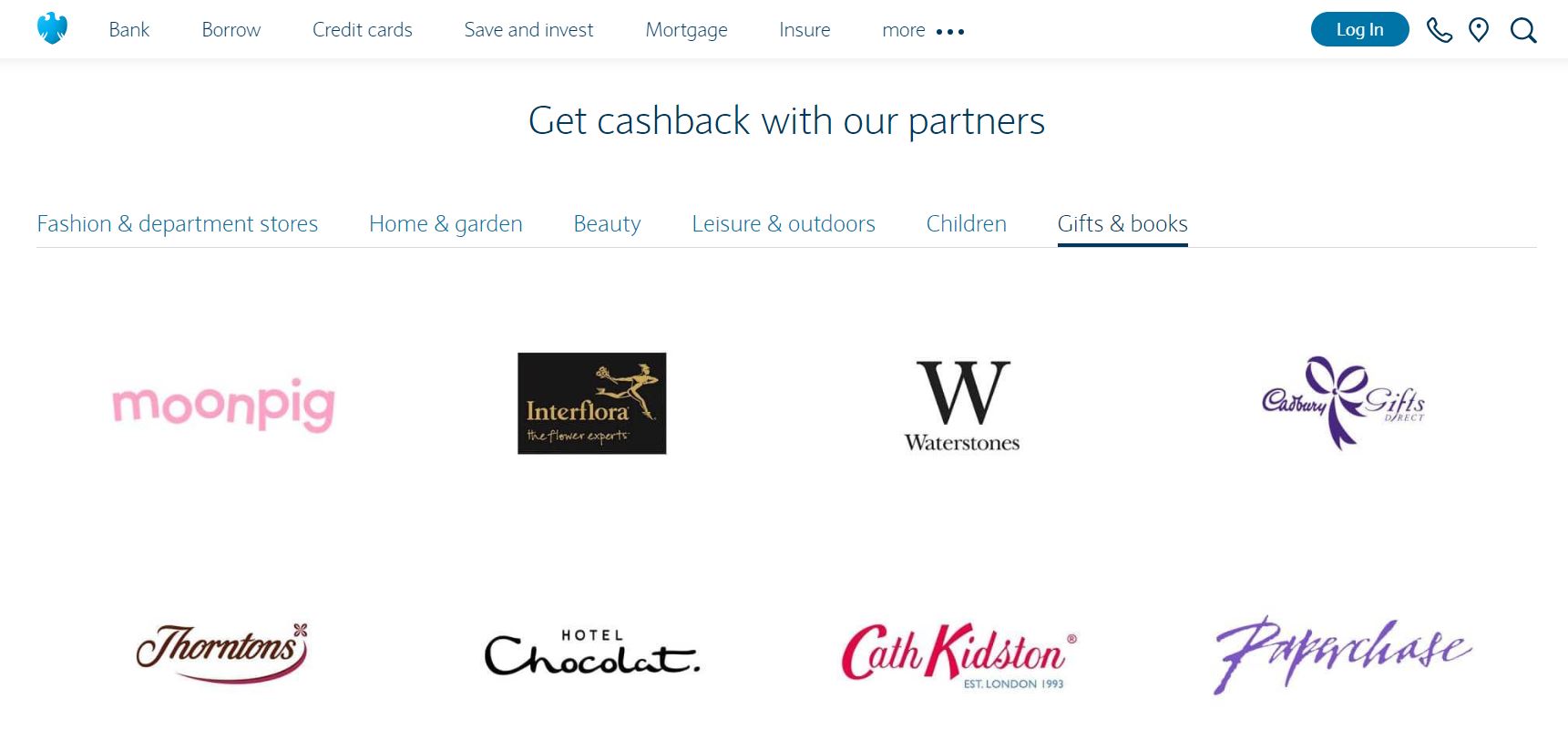 They also offer you the opportunity to earn cashback with companies like Just Eat and Expedia. 
RBS
RBS is very similar to Halifax and offers you 1% cashback on all your purchases. You just need to have an RBS account and activate 'Cashback Plus' – once you've earned £5, you can bank it or swap it for gift cards.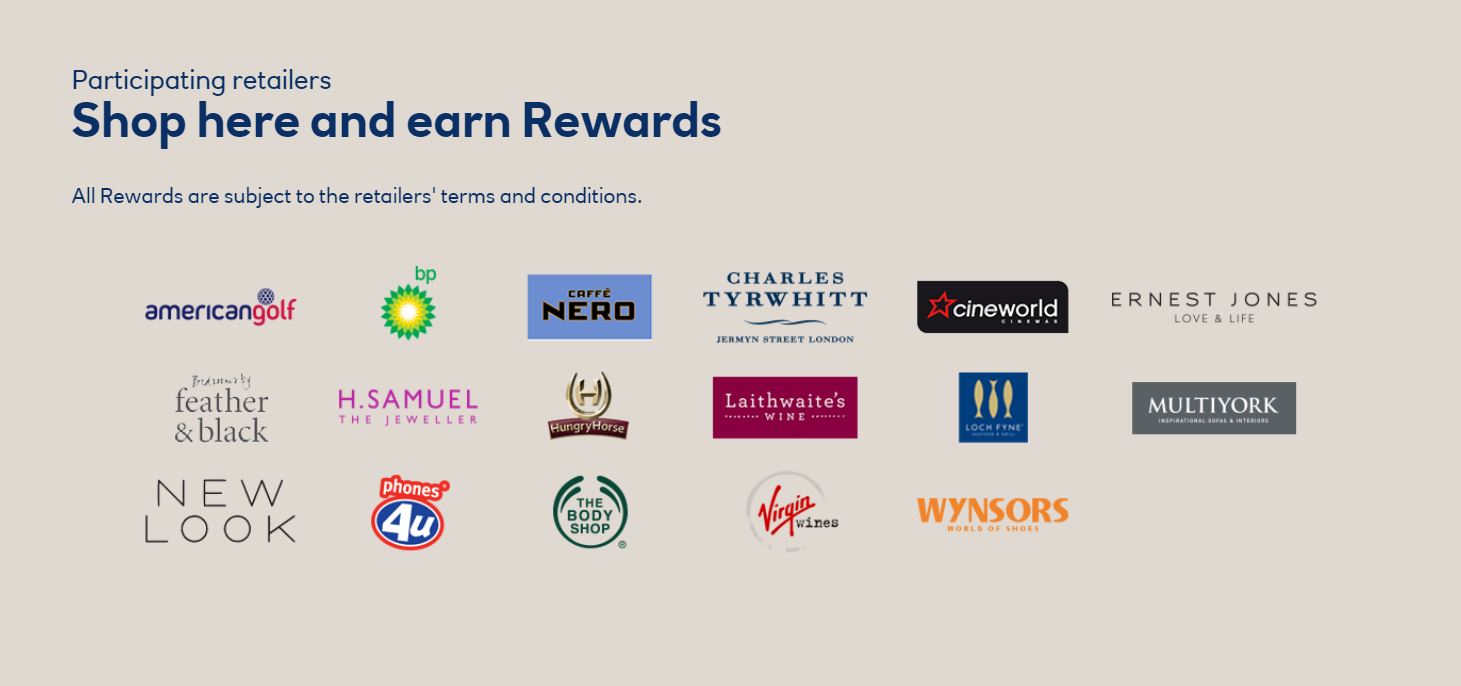 Santander
Santander offers cashback on all your household bills when you sign up for a 1,2,3 current account. Earn 1% cashback for water and council tax bills, 2% for gas and electricity, and 3% for TV, home phone and broadband packages.
It does cost £5 a month to keep the account so again, it's worth adding up if the cashback is worth it. You can also earn a whopping £1,000 cashback as a first-time homebuyer.
Danske Bank
Danske Bank also offers competitive cashback deals when you apply for a mortgage. Find out how much cashback you could earn with their handy cashback calculator.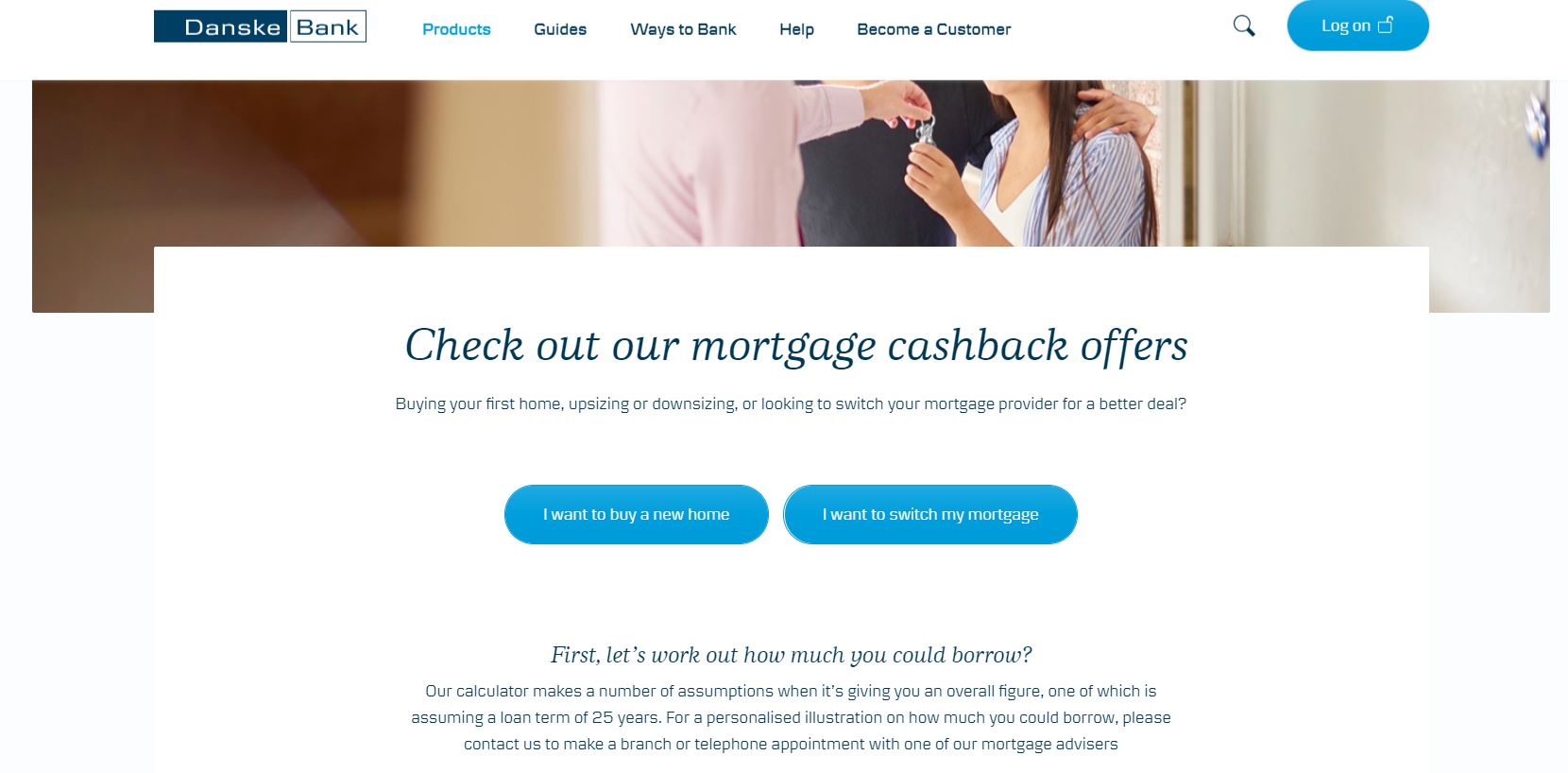 Do cashback sites work with discount and promo codes?
This one depends on the retailer and the individual T&Cs. If there's a welcome cashback offer, you probably can't combine it with other promotional codes.
Unfortunately, most claims where I've tried to combine a discount code and get cashback on top, have ended up being declined.
If you check the T&Cs of each offer and you can't combine two offers, it's worth weighing up whether you'll get a better discount with your code or get more in cashback, and go with the best option.
>>> Related: How to get the best voucher codes & discounts for ASOS, Domino's & more <<<
Can I keep the cash even if I return the items?
This one is a bit of a grey area. Sometimes the tracking fails to acknowledge you've returned the item and you'll get to keep the money. Your cashback could be pending for a long time. This probably means they are processing the return.
How long does it take for the cashback to reach my account?
It honestly depends on the company you've bought the item or service from, some are instant and some take a while. Some brands that pay me instantly are eBay, Just-Eat and New Look. Others that take a little longer are ASOS and any big purchases or insurance policies.
Bigger claims can take up to 6 months, but hey it's free money and worth the wait. You'll also get an email when to confirm when you've received cashback into your account so keep an eye out for these.
Top tips to help you get started
If you're all set to start earning free cash, great stuff! Just a few last things to remember with cashback…
Clear your cookies first to make sure your transaction is being tracked
With cashback the last cookie counts, and it's what most cashback sites use to track if you've purchased the product via their link.
Clear your cookies right before you click over to make your purchase to ensure everything runs smoothly. Not sure how to do it? Check out this helpful guide on how to clear your cookies.
Get Topcashback's notifier so you never miss a cashback opportunity
This is great! Download Topcashback's notifier for your browser and a little box pops up when you're on a site that currently has a cashback deal.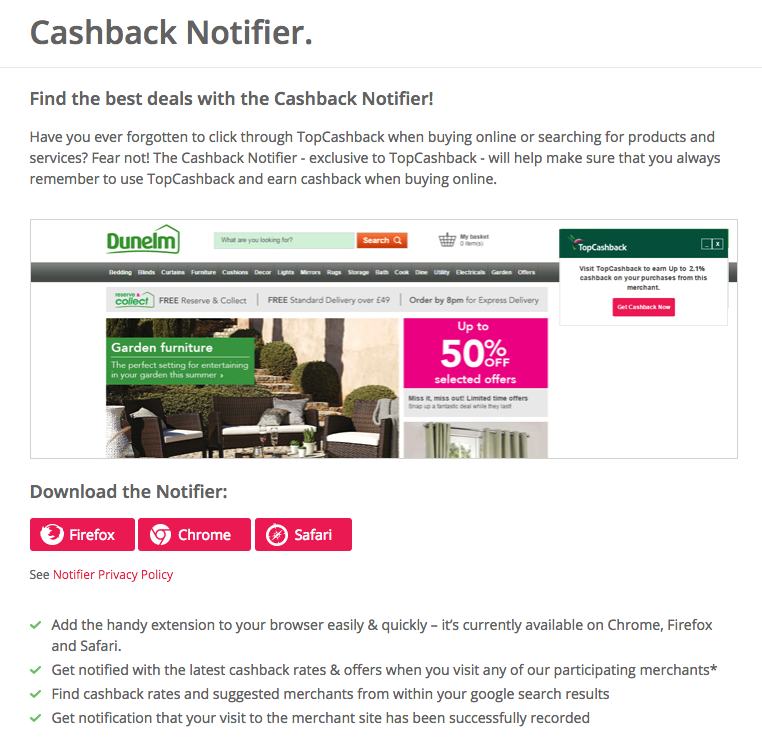 I would have missed out on so many cashback opportunities if I hadn't had this downloaded!
Make sure you apply by any deadlines
Some sites have deadlines to upload receipts or apply to receive the cashback, so always double-check these and cash in ASAP. Remember, it's no skin off the brand or cashback company's back if you don't claim in time.
I almost missed out on £50 from AO when we bought our washing machine because I thought it was automatically processed when I bought the item.
Luckily, I double-checked a few days before the offer was due to expire and there was a tiny link in my order email to start my cashback return and claimed just in time. PHEW.
How can I maximise my earnings from cashback sites?
As if cashback sites weren't the greatest invention already, there are even more ways you can squeeze a little more out of your purchases.
Take advantage of welcome offers
Cashback sites often run regular incentives for new customers. Quidco offer a £10 bonus for all new members when you cash out your first £5. TopCashback also offers occasional welcome deals for members, keep an eye out when you sign up! Discover all the latest cashback deals here
Earn free cashback WITHOUT spending a penny
TopCashback has a free cashback section, where you can complete tasks like applying for free insurance quotes or signing up to survey sites.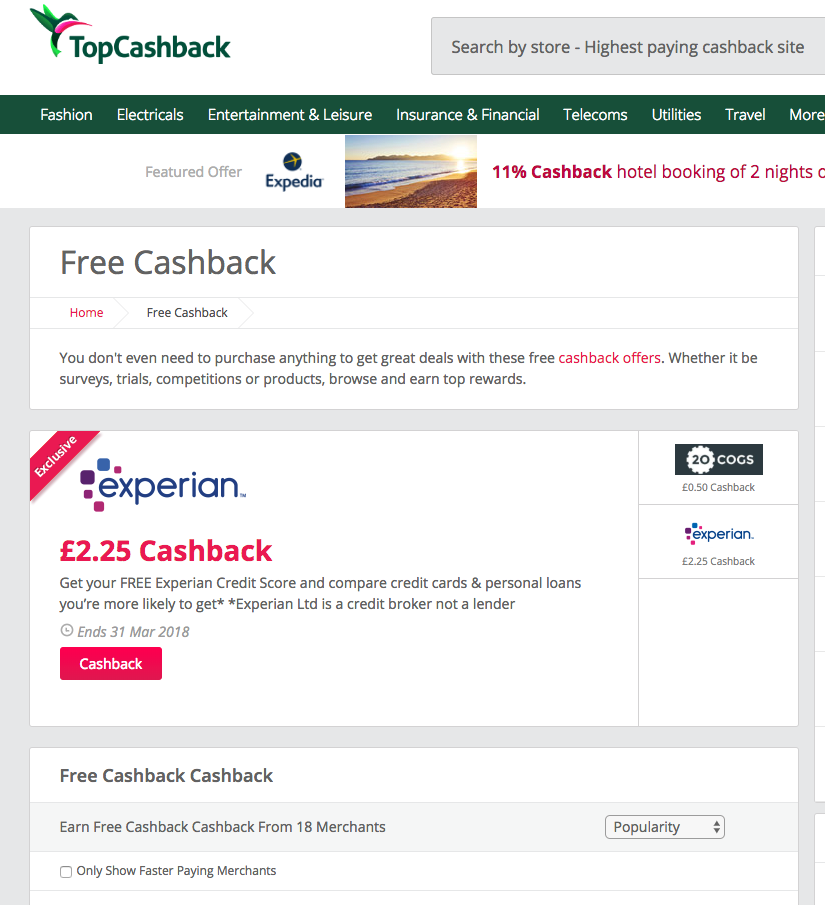 This way, you're not spending any money on a purchase or committing to a transaction, but you're still getting paid. Sites like Oh My Dosh and Swagbucks also offer free cash for completing surveys, watching videos, signing up to free trials, which you can cancel at any time and still keep the cashback. Definitely worth doing! 
Combine new customer incentives & cashback deals
As I said previously, you'll often find that you can't use a discount voucher code and then claim cashback on top. It's one or the other.
However, you can take advantage of any welcome deals on a company website and also claim third-party cashback from sites like Topcashback and Quidco. Just make sure you check the T&Cs!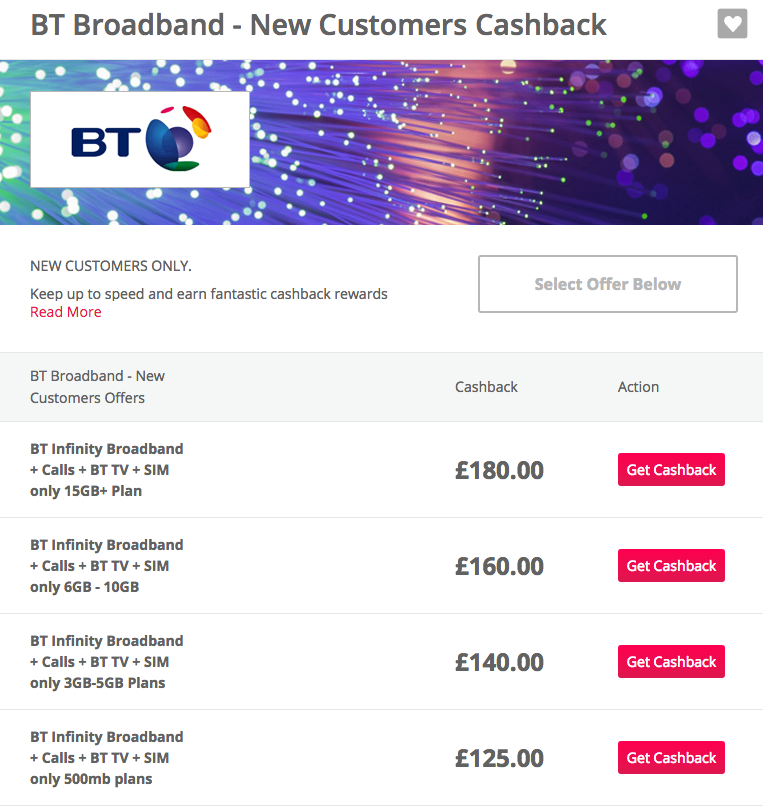 When we moved into our new flat, we signed up for a BT deal where we got a £150 cash card, which really helped when it came to buying paint and our flooring!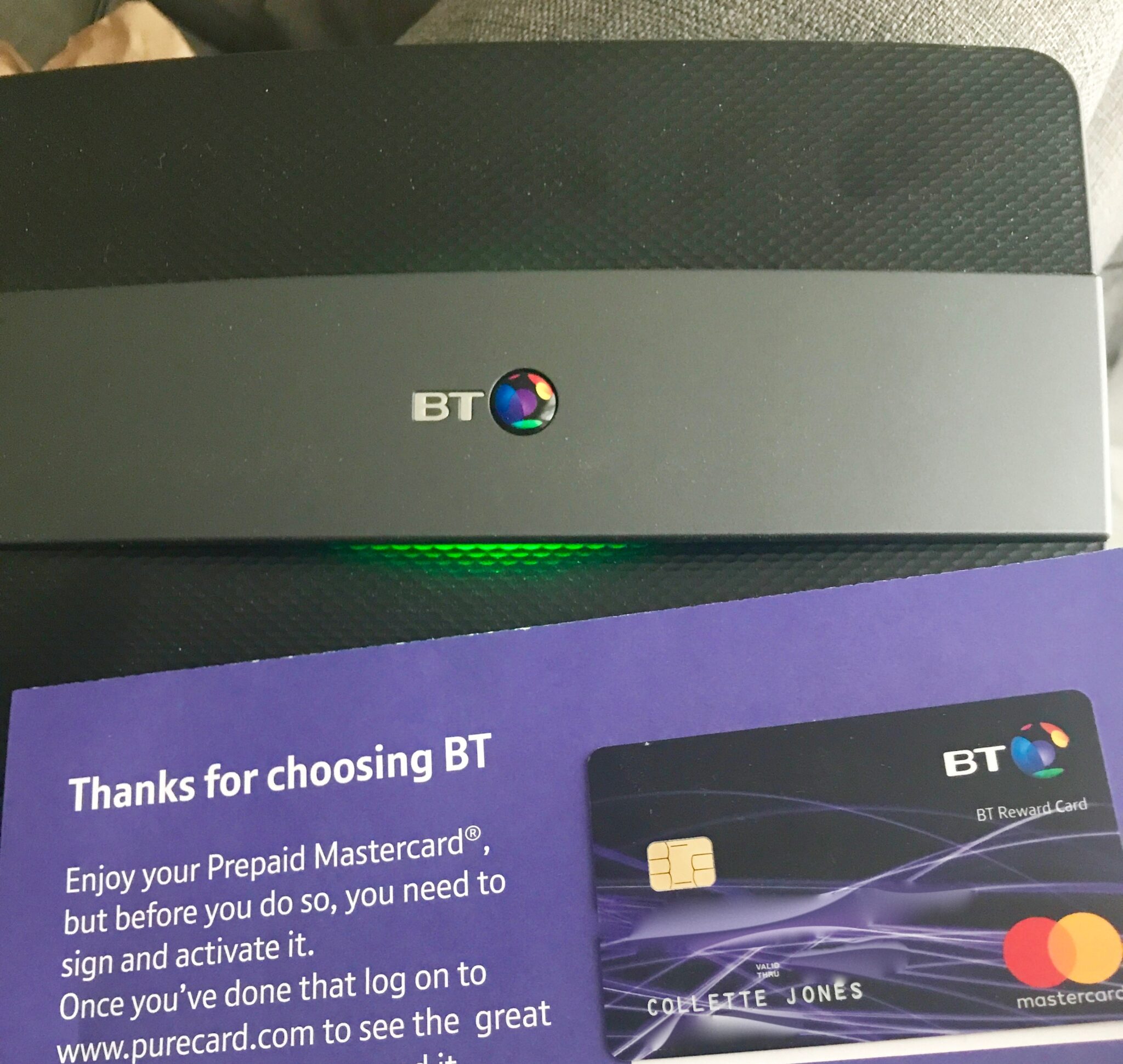 Even better, because I went through TopCashback, we also got £50 cashback on top of that. (BT Fibre Broadband only) That £200 is equivalent to almost half of our internet bill for the year so we were pretty chuffed with ourselves.
Withdraw your earnings as a gift card
If you're cashing out via a cashback website like TopCashback or with your bank, more often than not you get more for cashing out with a gift card than you do with bacs or PayPal transactions.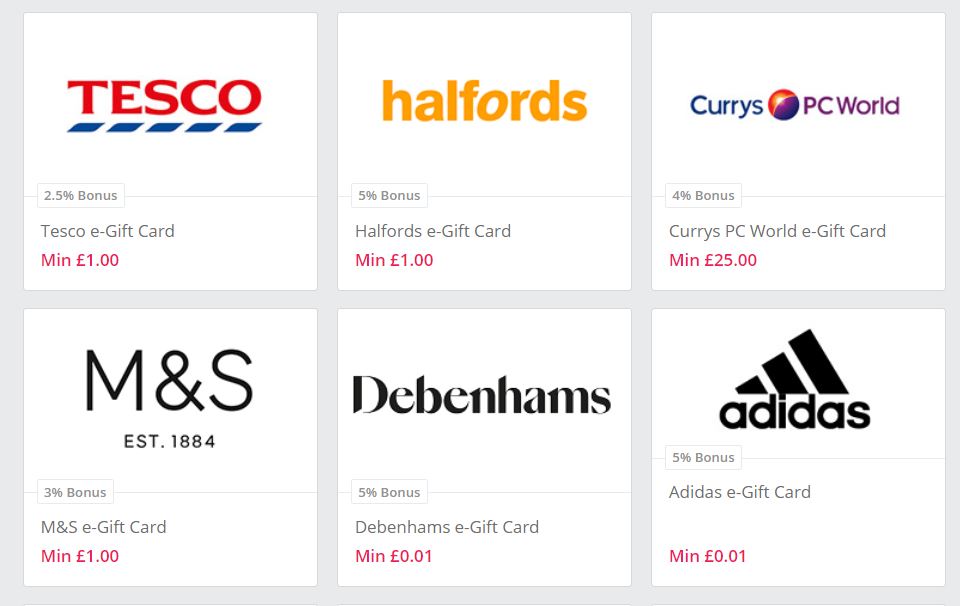 This is perfect if you've been saving up for a particular product or love your Starbucks or Pizza Express. You even get a bonus percentage on top of this.
>>> Related: 50+ easy ways to earn FREE Amazon gift cards <<<
Earn free cash when you switch or compare
 Quidco has a compare section on their site where you can earn cash when you get a quote.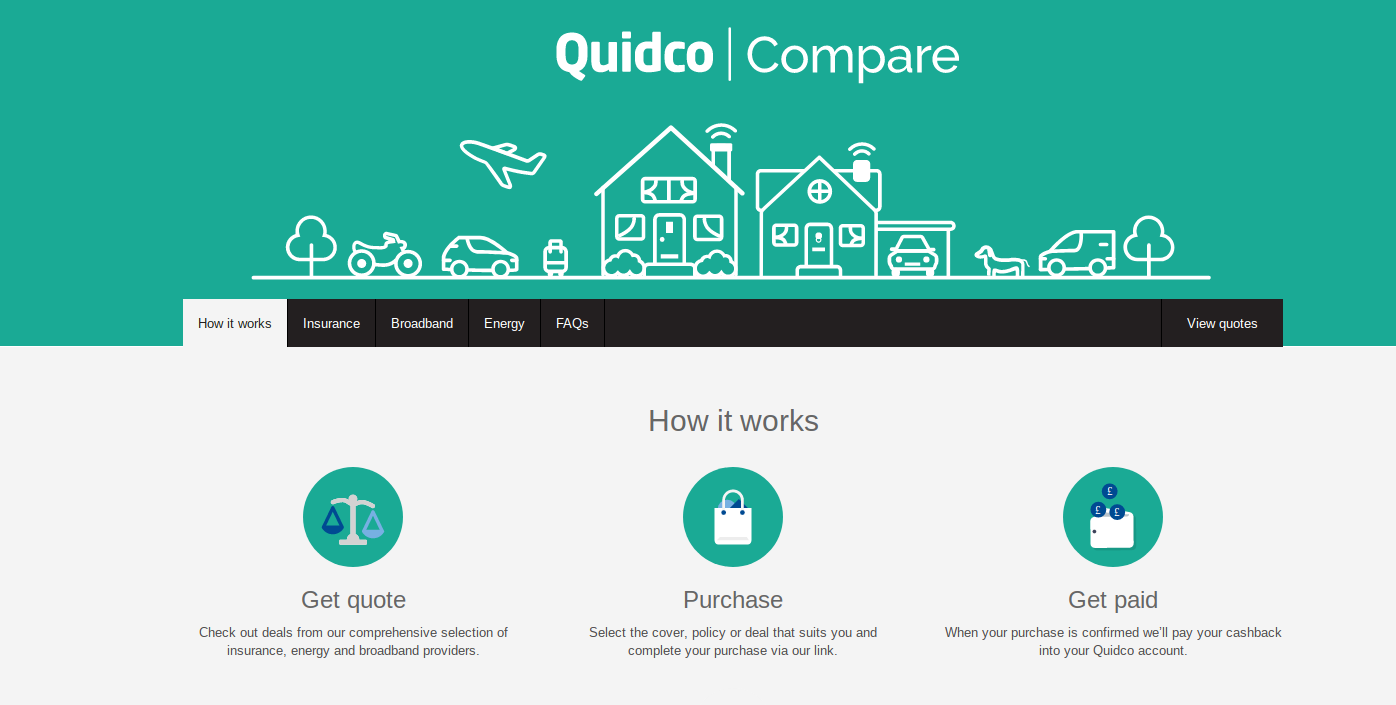 If you continue and purchase the policy or cover through their site, you'll earn free cash straight back to your account.
Join premium accounts for exclusive cashback deals
If you sign up to Topcashback as a plus member, you'll get access to exclusive deals, earn more when you refer your friends and family and get loads more perks. It practically pays for itself!
Refer a friend & earn extra cash 
Lots of the sites I've mentioned have generous refer a friend schemes, where you can earn extra cashback just for sharing your link with a friend or family member. When they sign up and submit their first cashback claim or cashout, you'll get your cash bonus! Here are some of the cashback referral schemes:
Play seasonal games on cashback sites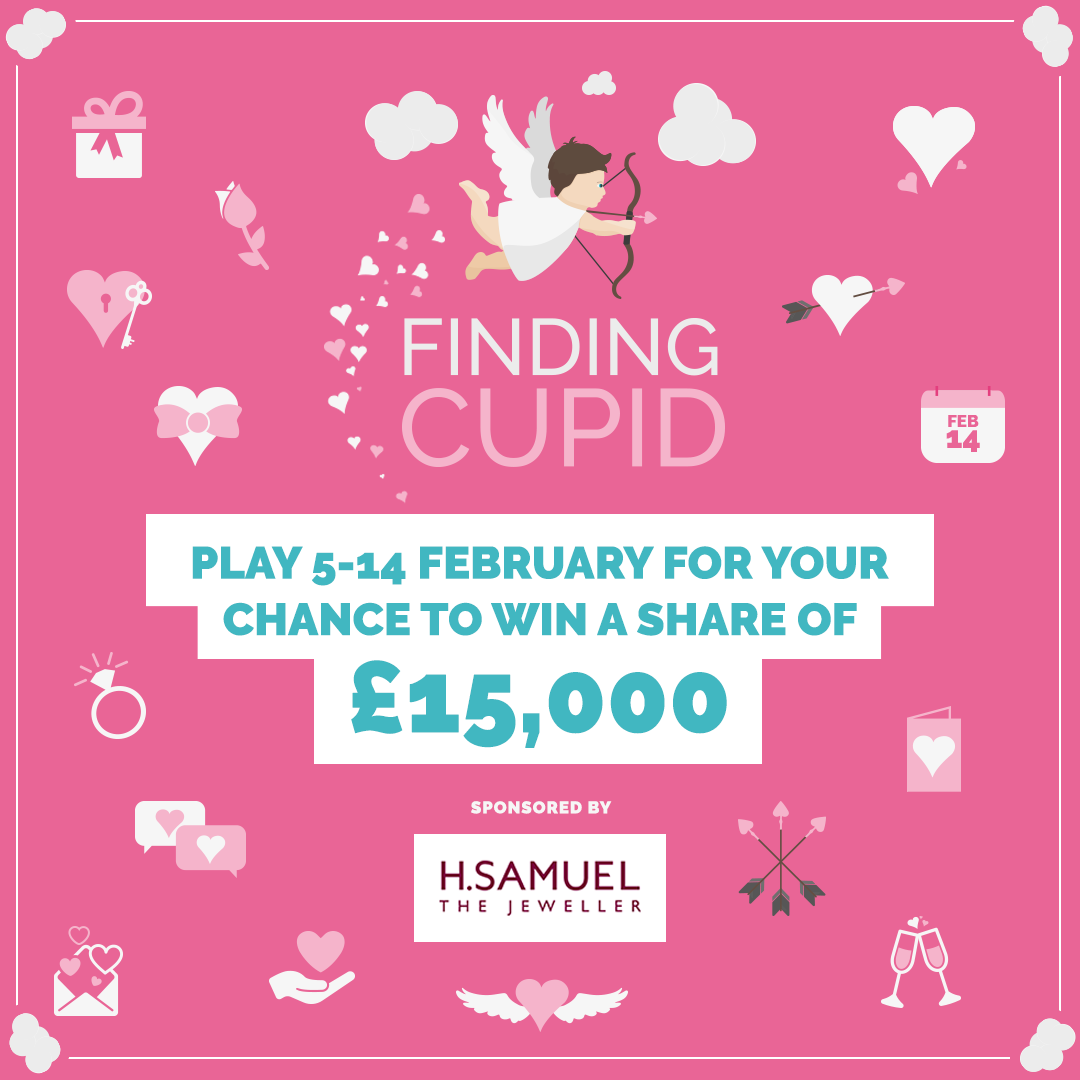 I recently won £20 on Quidco's Valentine Game, all I had to do was follow the clues to the retailer and click on Cupid. TopCashback also runs a similar game where you can win big. Both have a prize draw too where you could bag yourself a whopping £3,000, sometimes more! I won about £30 off this game this year. Every little helps!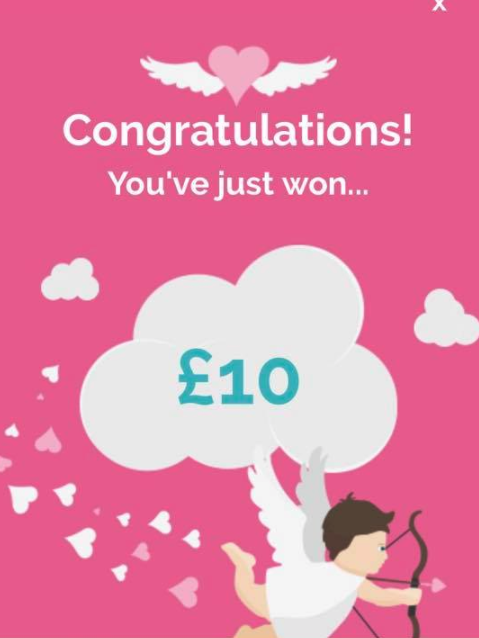 They often run these during special seasons like Valentine's Day and Christmas and someone's got to win, so why not you?
Sign up to cashback site newsletters for flash deals & offers
Sometimes I get emails halfway through the day about flash deals and offers that are only valid until midnight that day. Sign up for newsletters and you'll get the same exclusive offers!
Ok, I've done everything, why haven't I received cashback yet?
Don't be disheartened if you've not received your money back instantly. Sometimes it can take up to 6 months to reach your account, and sometimes the transaction fails to track altogether.
This glitch happens every now and again, so it's always worth following up with the site in question. Quidco and TopCashback have both been amazing and very responsive whenever I've contacted them and they've always got to the bottom of my problem within 24 hours.
Sometimes, there are times where you won't receive cashback. This can vary but the most common reasons are usually:
You've cancelled or returned your order or part of your order
You've used a promo code which wasn't approved
The offer was for new customers only and you're an existing customer
You didn't complete your order in the same browser/window/device
There were T&Cs that you didn't meet
This is why it's always worth double-checking everything before you go ahead and purchase something.
Over to you…
So that's it from me, what are you waiting for? It's your turn to start earning free money today!
Pin for later…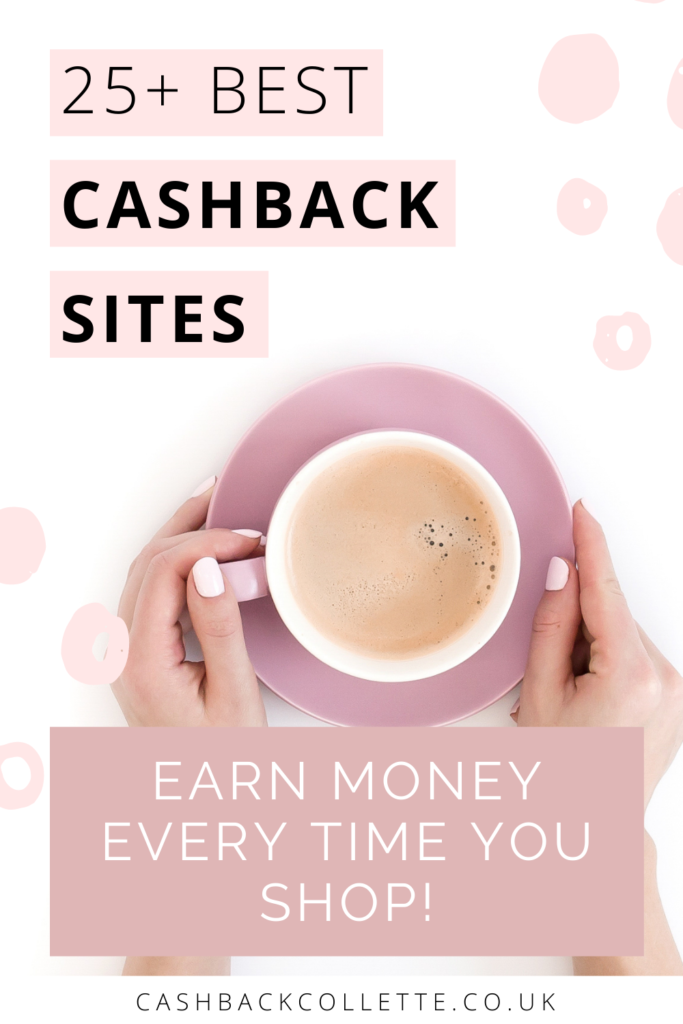 This post contains affiliate links where I earn a small commission when you sign up or purchase any products I recommend. The information in this post was accurate at the time of writing this post, but please check each offer before applying.