Hello folks! This weekend I took my first trip to Costco, and it was truly an eye-opening experience! I went with my husband and father-in-law, piggy backing off his Costco membership and wasn't quite sure what to expect.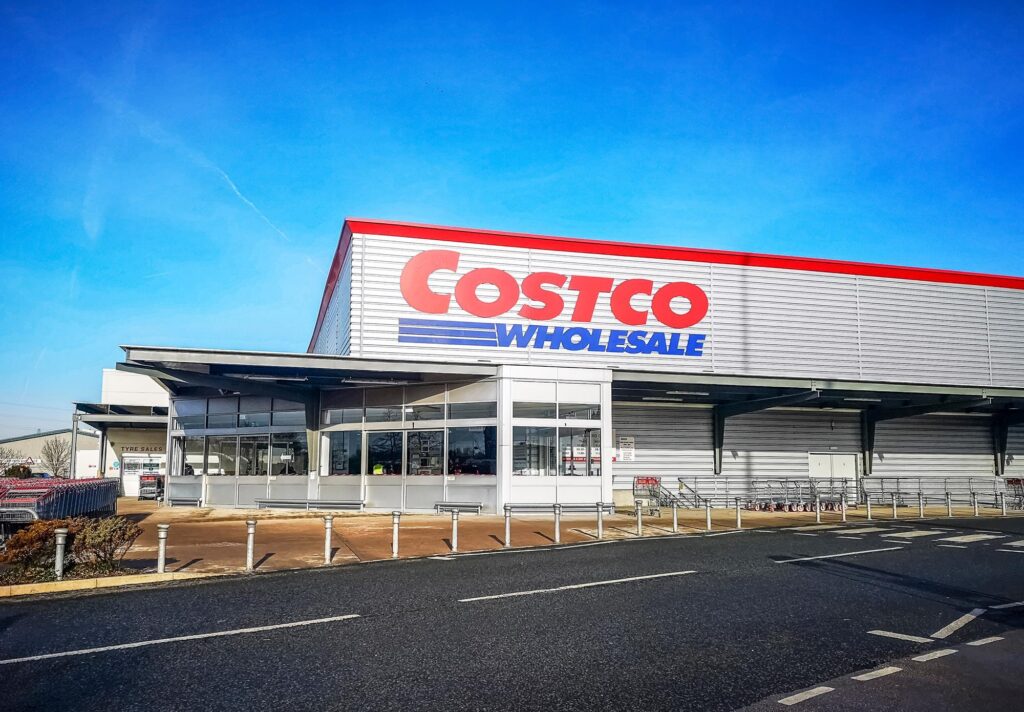 If you can imagine a typical American one-stop-shop warehouse style building, filled to the brim with pallets piled high with material stuff to fill your home, you're basically right on the money.
Costco has everything from food and drink, to TVs and gadgets, and even has an optical centre, fuel station, tyre centre, and even more. I know, right?!
If you're a Costco virgin like I was, you might be wondering if it's worth investing in a Costco membership?
Keep reading to find out…
How much is Costco membership?
First things first, I'm sure one of the main factors of whether or not you'll want to join is how much it will cost and what each membership includes.
Costco breaks down its membership options here but to give you a quick overview, here are your options: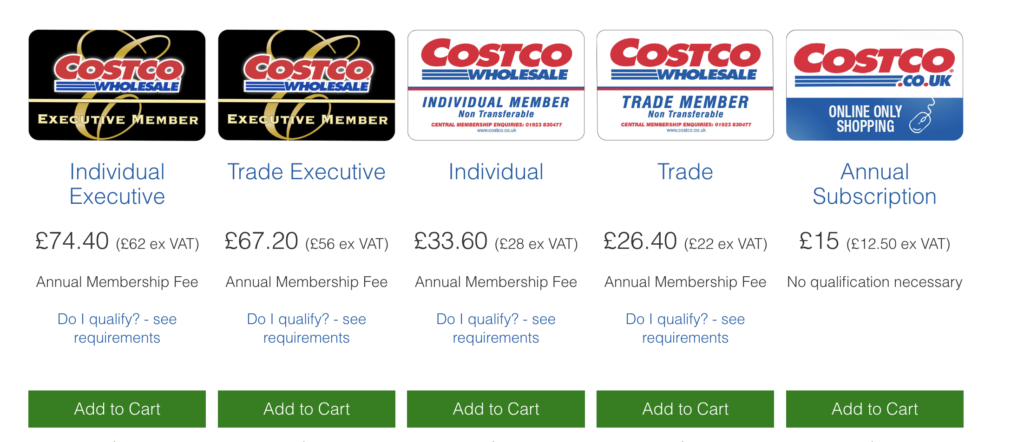 As you can probably guess, each has its perks and advantages, but for most people like you and me, the individual membership costing £33.60 a year is probably the one to go for.
This also includes a Free Spouse or Domestic Partner Card, meaning you can effectively share your membership with one other person and split the cost.
Can anyone join Costco?
Officially speaking, Costco has quite a strict list of criteria on their site for people who can join, which you can see here. You basically have to either be a current or retired employee from a selected list of professions.
However, some Costco stores recently confirmed on a Channel 5 show that you can become a member if you also have either AA or RAC breakdown cover, have a National Trust membership, or carry an American Express credit card.
Pros & cons of a Costco membership
Pros
Lots of items under one roof, one-stop shop
Worth it to stock up on essentials for your home, especially when you think about situations like the pandemic and cost of living crisis
They have a really good selection of food and drink, especially for things like buffet food and cakes, and booze too
Free samples! You can taste delicious food and drink products without the expectation that you'll even follow it up with a purchase – how generous is that?
You may also like: How to get companies to send you free samples and coupons
Cons
You need a decent amount of home storage space, as everything comes in bulk sizes and portions
Costco membership fees feel quite expensive if you only use it a handful of times throughout the year
Items aren't always cheaper so it's worth weighing up before you go
VAT is charged on top of items
7 things worth buying at Costco
When you first enter the store, you're hit with big TVs and electrical items, and piles of branded clothes. It's easy to get drawn in to be honest!
However, in my humble opinion, here is what I thought what was actually worth buying at Costco:
Cleaning & household essentials
I would say cleaning and household essentials are worth stocking up on if you have the space. Pick up multipacks of cleaning sponges and cloths, washing up liquid, and disinfectant from popular brands like Fairy and Spontex.
Plus, you can also get huge 120 wash boxes of laundry powder and gel from brands like Persil and Costco's own brand, Kirkland.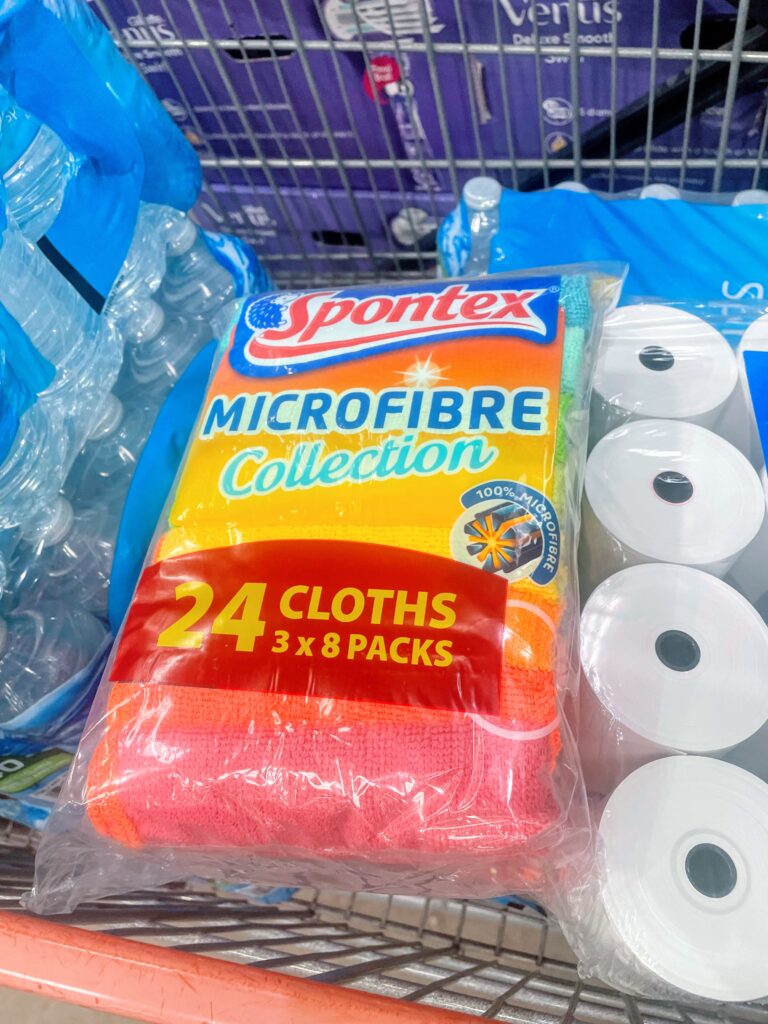 If you drink a lot of tea or coffee (like us) then it's worth a trip to Costco to stock up on mega bags and canisters. For example, you can get a 480 pack of Yorkshire Tea bags for less than £10!
Other household essentials like toilet roll, kitchen roll, and big packs of biscuits are also up for grabs.
Fresh food for parties & events
If you're hosting a party, Costco is the place to go for huge sandwich platters, cakes, and canopies. They have a really good selection, so you can cater to all dietary needs. They also have a good variety of fresh fruit and salad too.
Toiletries
Branded toiletries are another reason to sign up for a Costco membership. You can get multipacks of hand gel from top brands like Baylis & Harding and lovely gift sets like hand cream sets from the likes of Cath Kidston.
One bargain I did pick up while I was in there was this two-pack of Batiste dry shampoo. I absolutely love this stuff! It's usually £5+ for just one bottle so to me, this was a no brainer.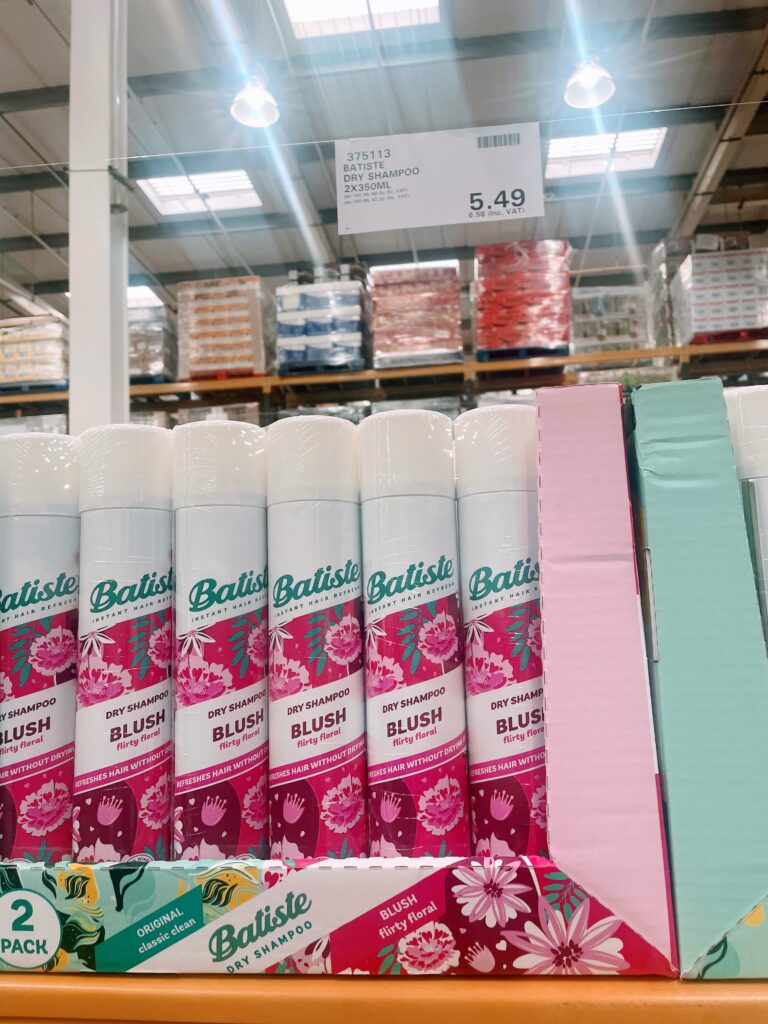 Dog treats
Obviously I couldn't resist having a gander at the pet section while I was in there! I wasn't really fussed about the dog food (as you'll know if you have a dog, they'll probably already have a favourite!) but the treats were actually worth checking out.
For example, you could get a mega tub of Webbox Meaty Chomping Chews, 1.5kg for £8.50 and a 12 pack of pigs ears for £10.99.
Gym & health products
My husband is quite the gym fanatic and he goes to Costco regularly to pick up protein powder and protein snacks. His most recent pick up was this USN Muscle Fuel Strawberry Anabolic Powder, 2.2kg for £27.99.
I can't comment too much haha but he said it's really good and mixes well, unlike other shakes he's tried.
He also said Costco also have pretty decent general health products and gym equipment so it's worth a look if you're into fitness!
Baby stuff
While there isn't a huge selection of baby products in Costco, what you can pick up is worth it because you can buy it in mega packs, like nappies and baby wipes.
They also have a good variety of baby formula, as well as nursery furniture and gadgets like baby bottle sterilisers and electric breast pumps.
Christmas & seasonal
It was August Bank Holiday weekend when we visited Costco, and they already had quite a lot of Christmas stuff out on display!
If you're planning on going all out with your Christmas decorations this year (like huge light up reindeers in your garden) I would definitely recommend a trip to Costco!
They also have some supersized beauty gift sets and goodies like chocolates and biscuits, plus a range of Advent calendars.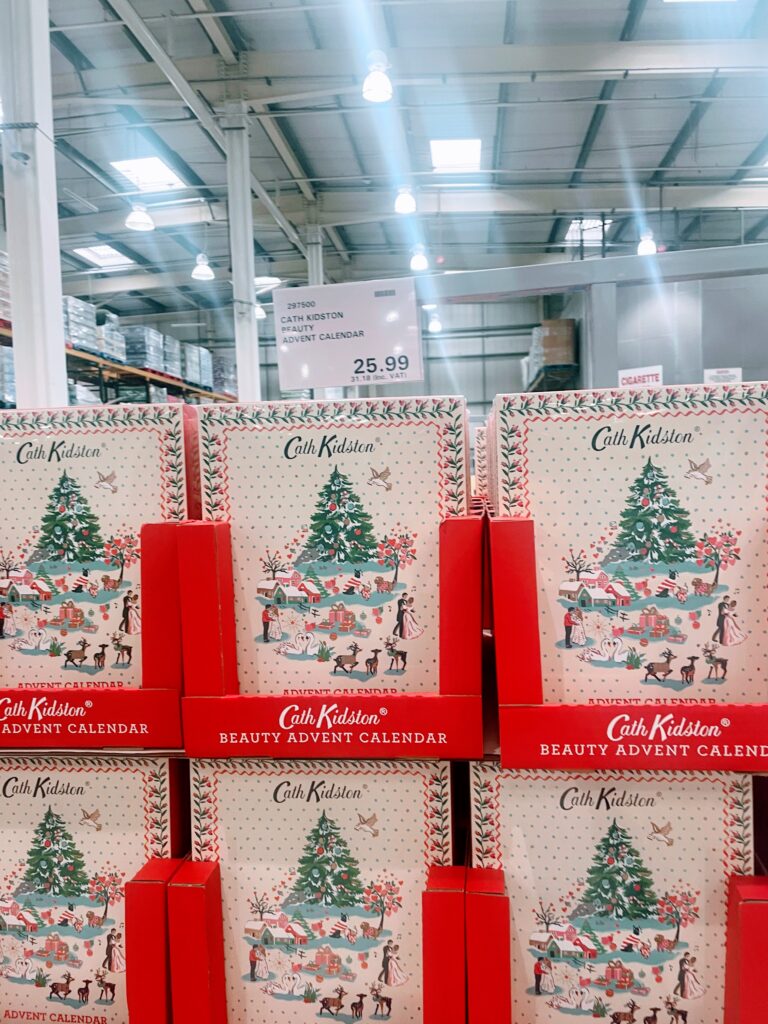 Fuel
Before you leave, make sure you top up on fuel – it's so much cheaper than other petrol stations! Obviously, it's only worth filling up if you're already there or live close to a Costco.
Top tips for shopping at Costco
From my first visit, I clocked some tips that I think might help you if you're looking at signing up for a Costco membership. Here they are:
Go with someone else first (perhaps even a few times) before committing to a membership
Head there early in the morning – we went on a Bank Holiday at 10am, which was right when they were opening and it was really quiet, which made it less hectic and meant we could take our time walking around and could look at everything
Write a list of things you think you want to buy and have a look on their website and compare prices beforehand to avoid you getting sucked in and impulse buying
If you are a fan, consider a joint Costco membership with friends & family and split the cost between you both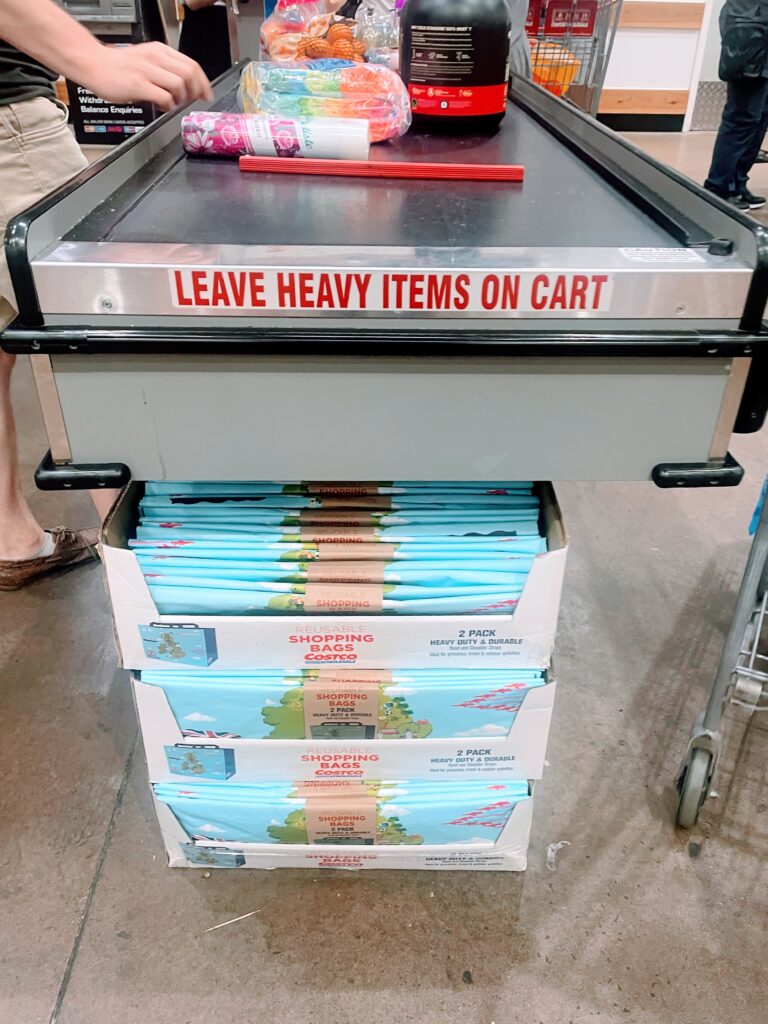 Would I pay for a membership?
Personally? No. I know that's blunt but honestly, it's not really worth the membership cost for us.
A lot of items we considered buying beforehand like nappies and cleaning supplies were actually working out the same as if we just bought them in the store as and when needed.
I get it though, the main draw is that you can buy in bulk. No one said anything about the products being super discounted or significantly cheaper!
That being said, the bulk buying just doesn't do it for me. Our lifestyle and petite home means we're limited on storage space so the thought of bringing home 50 packs of kitchen roll and figuring out where to put them all fills me with anxiety for some reason.
Especially with a baby on the way!
Plus, if we ever need anything, we're lucky that we can just go with a family member instead.
Don't let me put you off, thought! I would definitely try and visit with someone and judge for yourself whether or not you think a Costco membership is worth it.
Pin for later…