In today's post, I'm very excited to share one unique way to get freebies – writing to companies to ask for them! I've received quite a few messages asking me about this method and if it still works. I can confirm it's still 100% a genuine way to get free stuff here in the UK. I've even included a template for you!
Continue reading to find out how you can bag free stuff this way…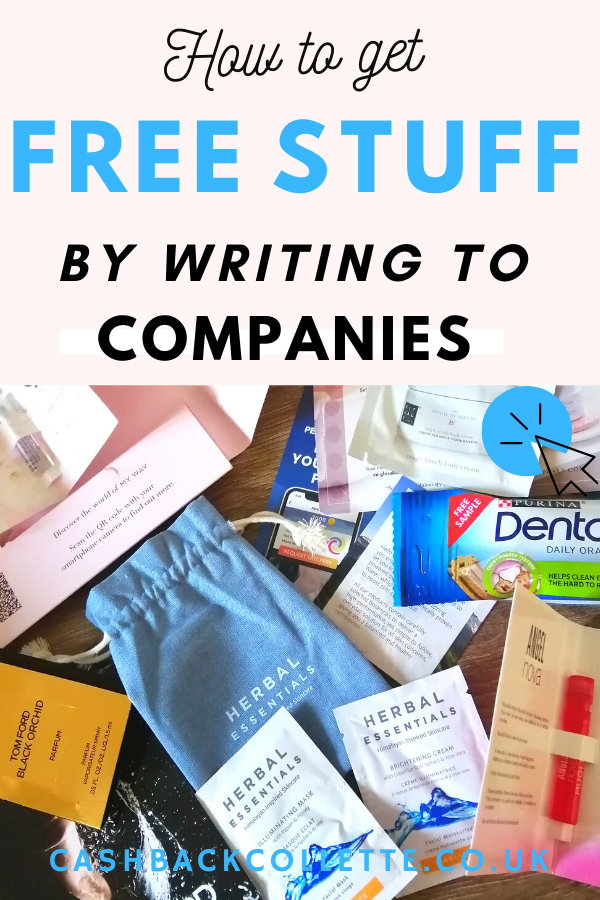 Why do companies give away free samples & coupons?
If you're feeling a little suspicious, I get that. Why would a company give away something for nothing? Nothing is truly free, right? Well, brands give away freebies for one main reason, exposure! By giving away a few samples, they are reaching thousands of potential new customers.
They hope you'll return to buy the full-size product and become a loyal customer. If not, you might at least tell a friend about your freebie and they'll grab a sample too. They might then become a customer, and so on.
What can I get for free?
You can score loads of freebies, from makeup, beauty products, food & drink, plus loads more. In most cases, brands will send you smaller samples, but if you're lucky, you'll occasionally hit the jackpot and get a box full of full-sized freebies. To give you an idea, here are some things I've got for free in the past:
A box full of Betty Crocker goodies
Fairy dishwasher tablets
A gin cocktail kit
Belvita breakfast bars
Olay coupons
Flash mop
Arm & Hammer toothpaste
GLAMGLOW face masks
The list goes on! I'm not saying you should rush out and email all these companies point blank, there is a strategy to follow!
Keep reading for my top tips on writing to companies for freebies…
How do I get companies to send me free stuff? (UK)
Before I share my secrets for scoring freebies by writing to companies, did you know there are loads of other ways to get free stuff in the UK? Check out these articles to help you get started:
What companies send free samples in the UK?
I would absolutely love to give you a definitive list! Unfortunately, I can't guarantee companies will send everyone that emails them freebies. Plus, can you imagine how many emails big brands like Cadbury get on a daily basis asking for free stuff??
Instead, I would recommend checking out my list of 30+ freebie sites to check daily for freebies for guaranteed freebies on that day. Popular brands that give away free samples that you can find on freebie sites include:
Clinique
L'Oreal
The Body Shop
Garnier
Colgate
Cadbury
Nivea
Greggs
Gillette
Dove
Fairy
Mcdonald's
Pampers
Always
Persil
KFC
Just to name a few… Bear in mind, though, that the number of freebies each brand has to give away is also limited so act fast if you see something you like!
Now I've got all that out of the way, there are still brands that will send you freebies for writing to them. I would suggest targeting smaller companies or start-ups that you see on social media or shows like Dragons Den.
As companies like this are still building a name for themselves, they will likely be grateful for the free PR when someone shares their product online or shows their friends/family. Plus, their team is smaller, so you have a better chance of someone actually reading your email or letter.
You could also try sending an email or letter directly to the manufacturer of a product or to a supermarket. While these are also very busy and popular, In the past, I've had better success reaching out to P&G directly, rather than a brand they produce e.g. Pantene.
What do you say to a company to get free stuff?
Now onto the good stuff. What do you actually say in your email or letter to get freebies? Here are my top tips on what to include (and what not to!) when asking a company for free samples and coupons…
Compliment, don't complain to get freebies
This is a big one! Companies get so many rude complaints from people demanding refunds or free stuff. Imagine their delight when they read a lovely compliment from you? They're much more likely to send you freebies. Tell them how much you love their brand or their latest product and how you'd love to try it.
Don't forget to include please and thank yous, and to send a little thank you message if you do get something. Sometimes brands may also ask you to share a pic of your haul on social media in exchange. Again, it's only good manners to do this or ask someone else to on your behalf if you don't have any accounts.
Include key details
Always remember to mention something about a freebie in a polite way. It helps here to be specific about what you actually want to try (more on that below) If you're not clear enough, they might not realise you actually want anything at all!
Also, it may seem obvious, but don't forget to include your name and address so that they know who and where to send your freebies to.
Emailing vs traditional letters
Some companies will only reply to emails, others only respond to physical letters. The advantage of emailing is it takes way less time and effort. Not to mention it saves you money on postage and stamps.
However, with letters, you have the opportunity to make your post stand out with a pretty envelope and unique style of paper. You can also choose to handwrite your letters, giving them an extra personal touch.
Get creative
This is your time to shine! Could you draw a nice image or create something unique to capture the company's attention? I've seen others online have success writing poems including the brand or product. You can also involve your whole family and pets too. Try including funny photos, which the brand may use for their social media too!
Be honest when asking for free samples & coupons
It's really important to be honest when you're asking for free products. Lots of people out there genuinely rely on freebies or want to try specific products. If you're not a vegan or your kids don't have coeliac disease, for example, don't lie just to get free products!
You'll ruin it for everyone else.
Instead, it's best to stick to brands you genuinely love. Your passion will come across better when asking for free samples or coupons.
Do your research when looking for freebies
Brands will be more likely to be impressed if you share your knowledge of their products and be specific about which products you'd like to try. For example, if there's a certain flavour of soup or scent of perfume you can reference, it will always go in your favour.
Your email or letter then starts to look more legit than just a basic paragraph asking for anything for free.
Keep it short and sweet
These companies are super busy taking over the world! While it's really good to make each email or letter personal, try not to make these any wordier than they need to be. Simply include a few paragraphs, thank them for their time and move on. This way, you'll have more time to ask even more companies for freebies!
Triple check before hitting send!
If you're using a template and doing a lot of copying and pasting, this point is super important! Don't forget to read your email/letter a few times at different points throughout the day to check for errors.
Spelling mistakes (the odd typo is ok!) or sentences accidentally including the wrong brand could cost you that freebie. It's best to make sure everything is as polished as possible before sending to secure your free stuff.
---
Writing to companies for freebies – example template
Dear Sir/Madam of Dr. Oetker,
I'm writing to you today to let you know how delicious your Ristorante pizzas are! Your classic Mozzarella Pizza is a weekly staple in our house. We noticed you have recently released two tasty-looking flavours including a Broccoli & Mushroom Pizza and Momenti Tomato, Mozzarella & Pesto Pizza.
We would absolutely love to try these, as we're trying to cut down on our meat intake at the moment and can't resist your pizzas! I was just wondering if there was any chance you could send us some money-off coupons towards our purchase of these exciting new flavours?
Our address is:
Thank you so much for taking the time to read my letter and I hope you have a wonderful day!
Kindest regards,
---
Psst… Looking for more ways to get coupons? Check out my couponing for beginners post, featuring the 40 best places to find coupons!
So there we go! I hope these tips help you bag loads of freebies in the post! Let me know how you get on 🙂
Pin for later…