This week I'm very excited to share with you another one of my favourite ways to make some extra cash really quickly – enter OhMyDosh! You can make a fair amount of money on this site if you take advantage of all it has to offer. 
Plus, I've found all the best offers to help you make your first £20 on the site in half an hour or less! 
So what's it all about then? Keep reading to find out…
What is OhMyDosh? 
Oh My Dosh is a UK 'get paid to' cashback website. You can earn money for completing tasks like signing up for free trials, taking surveys, and entering competitions.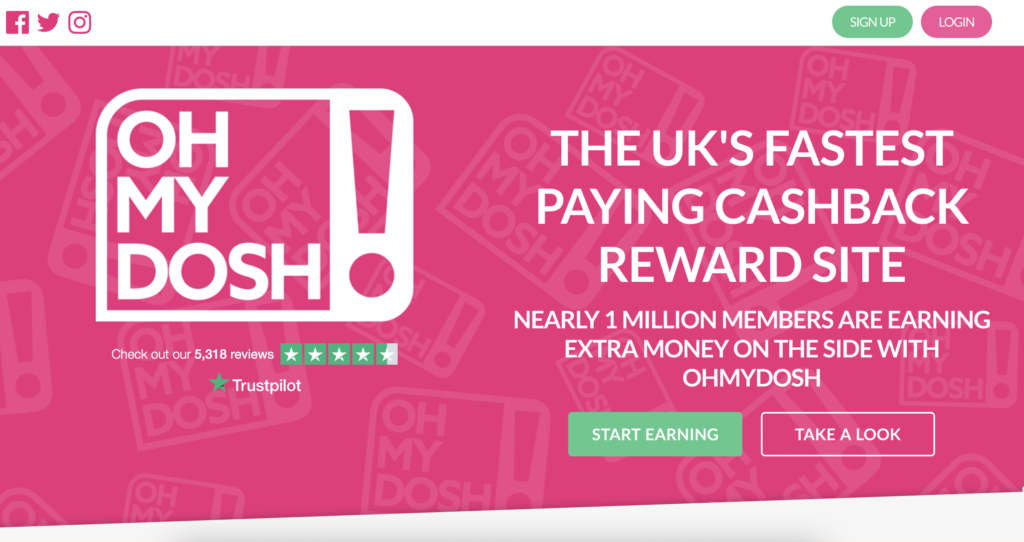 It also serves as a cashback site and has a 'shop and earn' section. This is where you can earn extra money by finding your favourite retailers on the OhMyDosh website and clicking through to make a purchase online via their site.
How does OhMyDosh work?
OhMyDosh works in the same way as other cashback sites like TopCashback and Quidco. You simply sign up on their website and browse all their offers.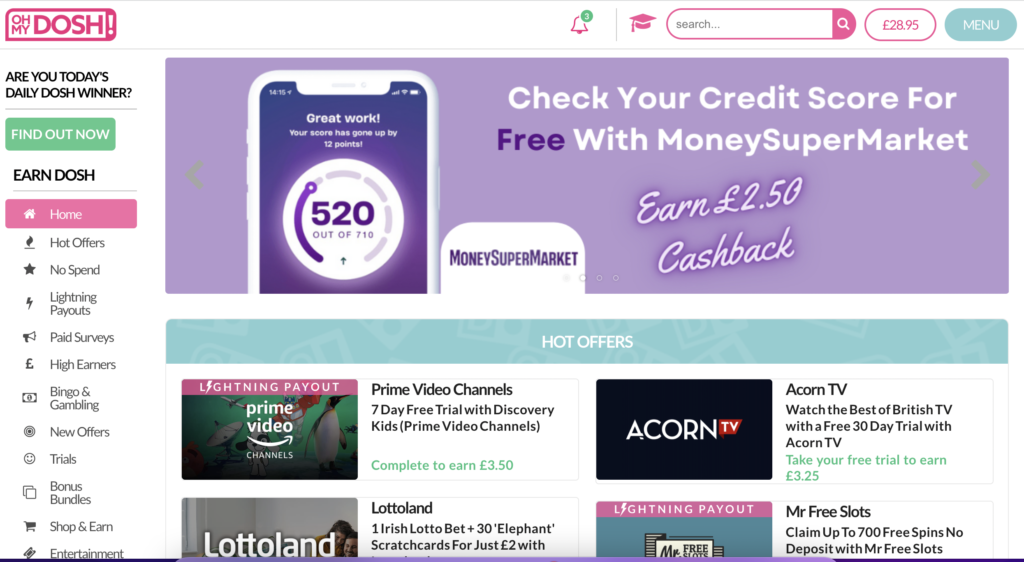 When you see something you like, click the green button and complete each task. 
Once you've completed your task and OhMyDosh confirms this, the money will appear on your account balance.
What I really like about OhMyDosh is how they lay out all the terms and conditions and instructions on how to claim out for each offer. It makes it all so clear and easy! 
There are loads of offers on there to take advantage of! Popular brands include:
Amazon 
O2
BT
Gala Bingo
Groupon
Boots 
Virgin 
Plus plenty more! It all depends what you're looking for and how much money you'd like to make.
How do I sign up? 
Signing up is really easy and takes just seconds! Join OhMyDosh for free using this link to earn yourself a £1 welcome bonus.
You'll also get 50p for filling in a quick welcome survey, then another 50p for confirming your email address. Not too shabby for 30 seconds work!
Once you've signed up, take a look around and check out all the amazing deals up for grabs!
How can you make money on OhMyDosh?
There are loads of ways you can extra cash on the OhMyDosh website, including:
Completing surveys
Getting cashback on purchases
Taking part in free trials and welcome subscription offers
Entering competitions
Bingo & casino offers
Switching energy bill suppliers
On top of this, you can also take advantage of their regular prize draws, including:
Referring your friends – you get £5 per friend who cashes out but could also win their weekly bonus giveaway of a £50 cash bonus when you refer your friends!
Entering their 'Daily Dosh Winners' prize draw – where you could win £10 cash (you have to check this daily but it's worth it if you win!)
OhMyDosh categories
The site has different categories conveniently featured on the sidebar of their website to help you find the type of offers you're after quickly:
Hot offers
These are offers that OhMyDosh are really keen for you try as soon as you land on their website – so don't miss out on these!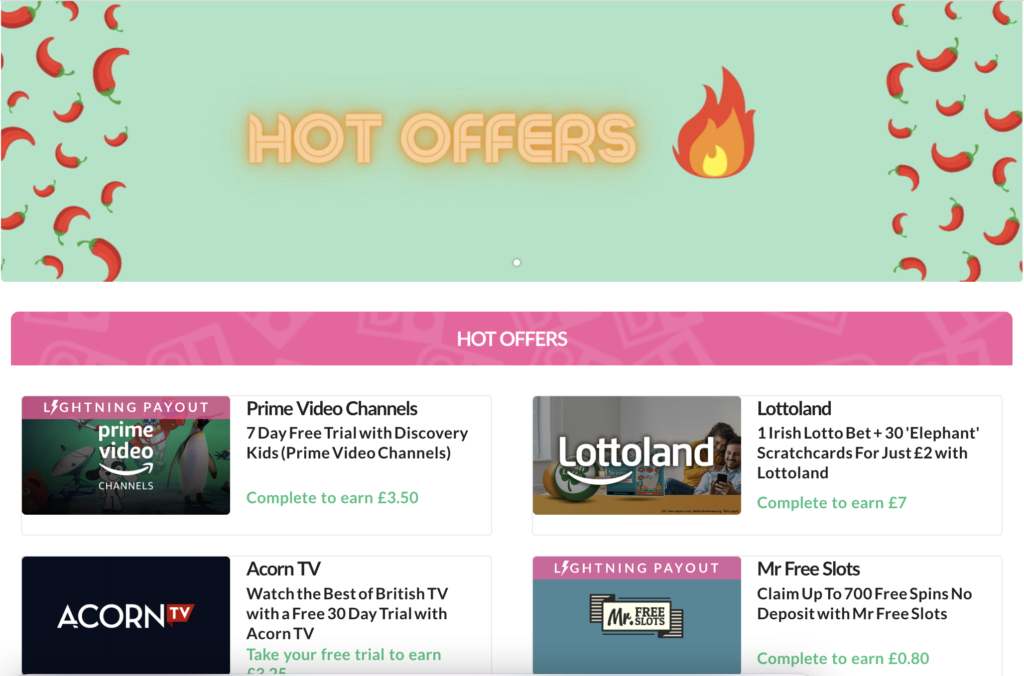 Here you'll find a good mix of lower, quicker payout offers and higher payout deals too. If you land on the page and are looking for the best deals, I would recommend looking here first.
OhMyDosh Lightning payouts
This is my favourite section of the site, as you can make money super fast! Once you've completed one of these offers, it will show as pending within 24-72 hours.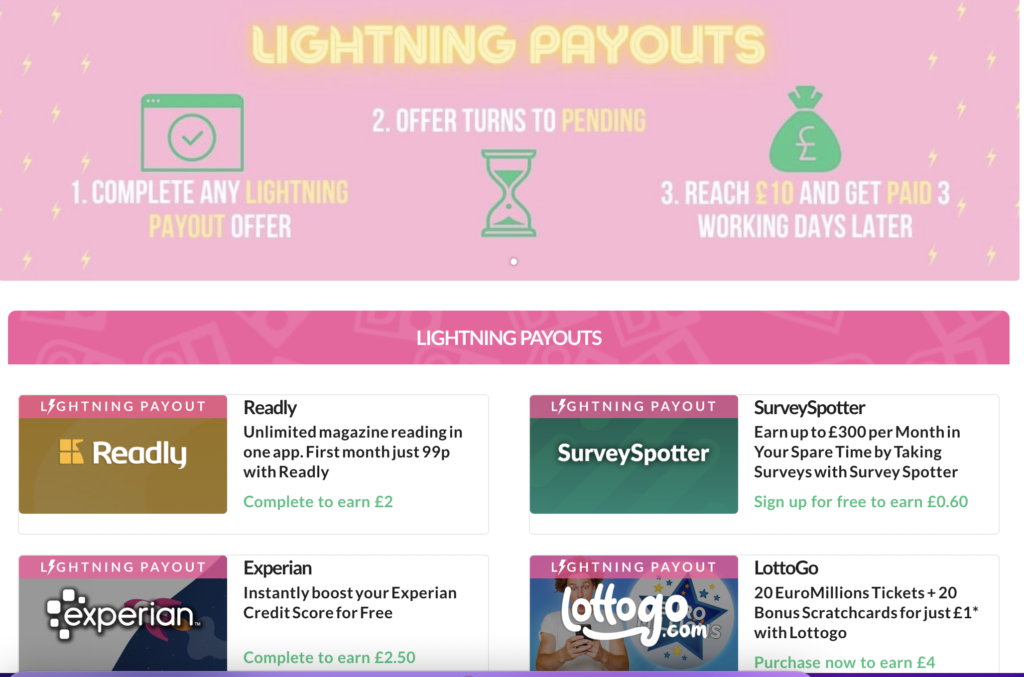 Once you reach £10, you can cashout and get paid within just three days. These types of offers tend to be smaller opportunities such as free trials or surveys, and tend to pay between 50p-£4.
OhMyDosh no spend offers
There is a section of the website where you can make free money without committing to one of the bigger spend categories, which require you to make a purchase or small deposit for example.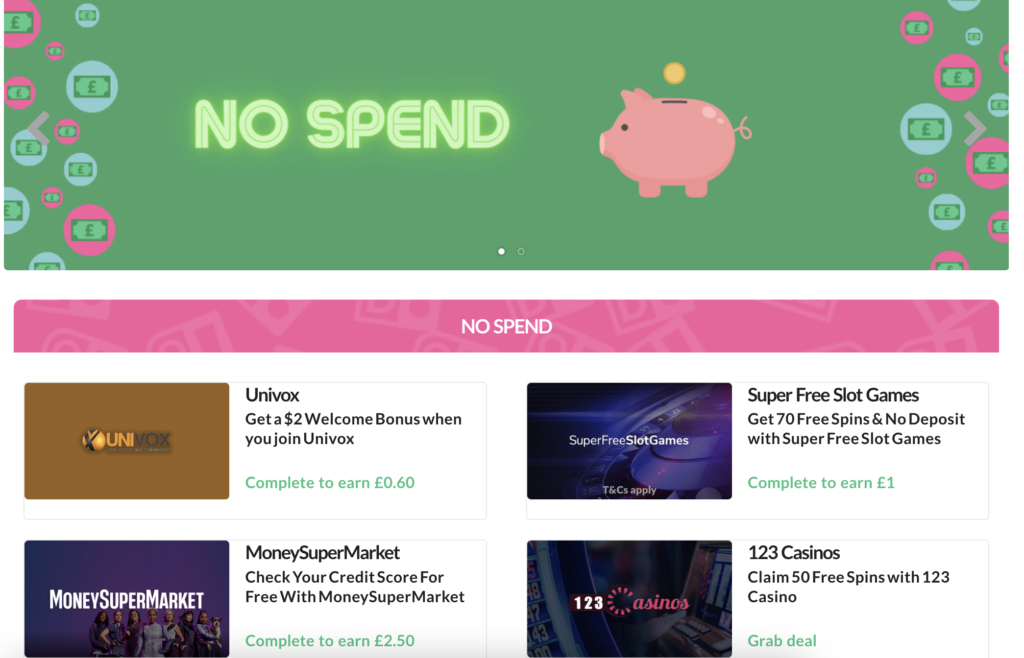 There are a good range of offers here where you can earn anything from 60p – £3.50 per offer. These include checking your credit score for free, answering surveys, and free website joining bonuses too.
OhMyDosh paid surveys
OhMyDosh also promotes paid survey sites, where you can earn between 50p up to a whopping £6 for joining featured survey sites.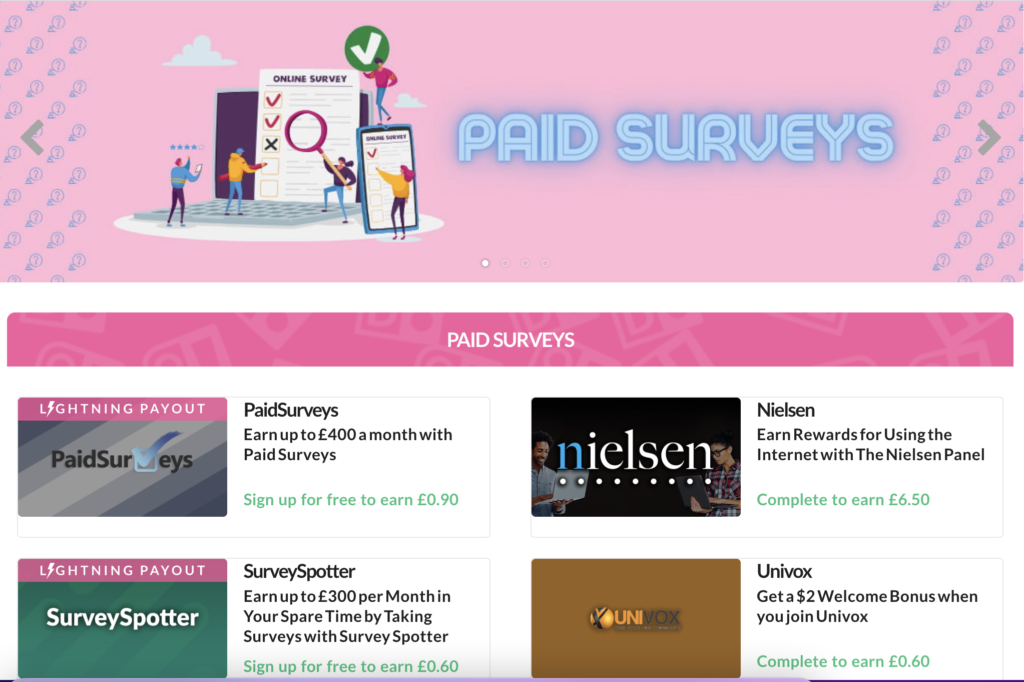 I would always recommend signing up for a separate free email address, as survey sites are pretty full on with their email sends once you become a member!
High earners
On the opposite end of the spectrum to its free cash offers page, OhMyDosh also features a high earners page, where you could make up to £50, in some cases even more, on single purchases.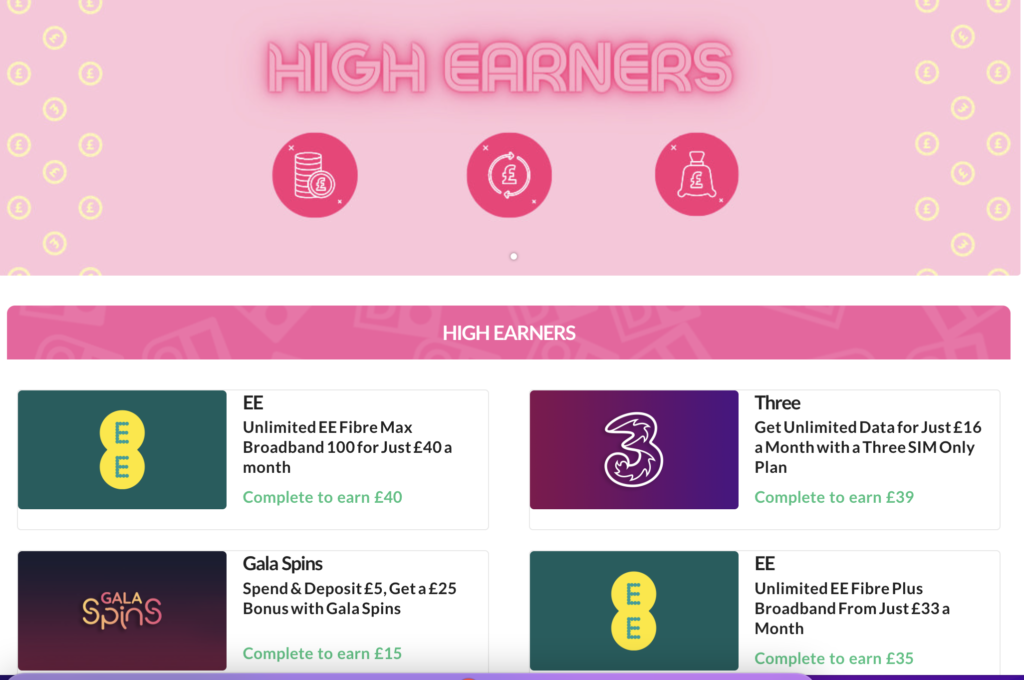 If you're about to purchase a new phone contract or run an energy supplier comparison quote, make sure you check this page first!
Bingo & gambling
I don't really like promoting bingo and gambling on here, but OhMyDosh has a page where you could earn money this way, so it seems only fair to include it.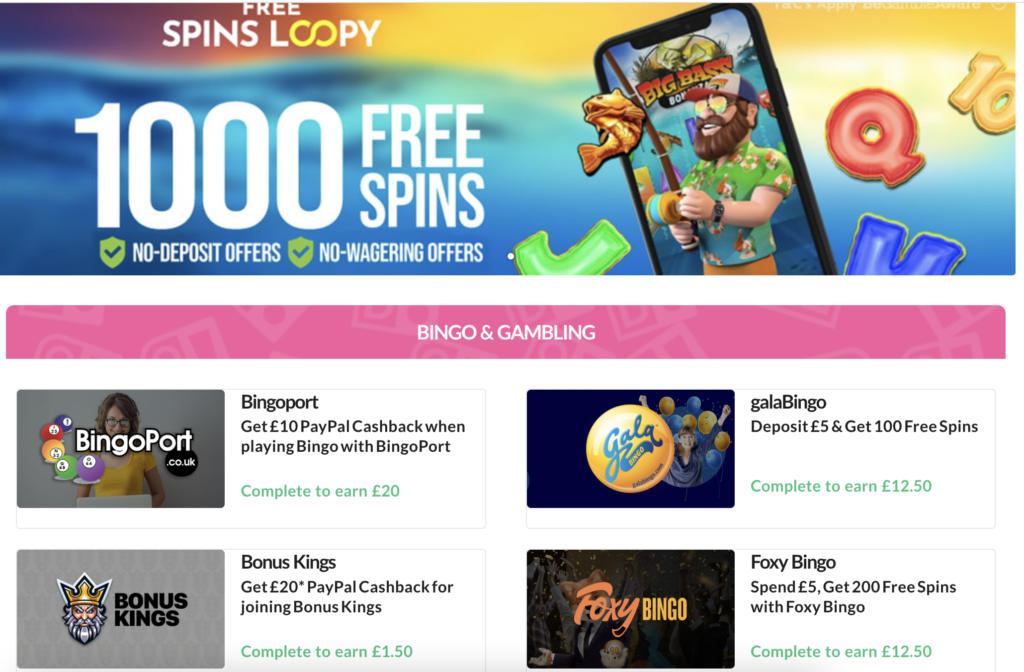 There are lottery, bingo, casino, and sports betting offers available on here, so if this is your sort of thing, feel free to have a browse. Just remember to be responsible and gambling aware!
New offers
If you're looking for the latest deals and offers, be sure to head to this page first and peruse at your leisure!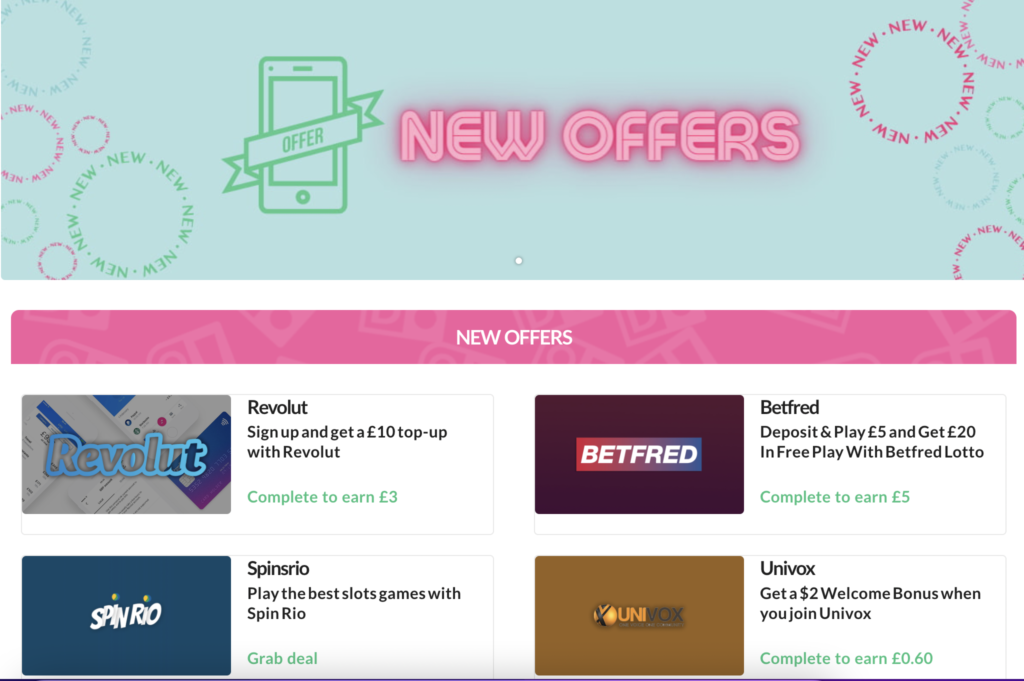 OhMyDosh free trial offers
If you fancy trying something new, check out this section of the site, packed with loads of exciting new free trial offers!
These range in payouts so you can make anything between £1-4 generally. Just remember to set a reminder to cancel if you don't want to continue after your trial!
Bonus bundles
This section of the site is very exciting! You can earn even more cash by taking advantage of bonus bundles on OhMyDosh.
For example, if you join all the survey sites listed in the offer above, you would get a £1.50 bonus – amazing!
Shop & earn
This is the cashback section of the website, where you can make money by purchasing things from retailers such as The Body Shop and Groupon.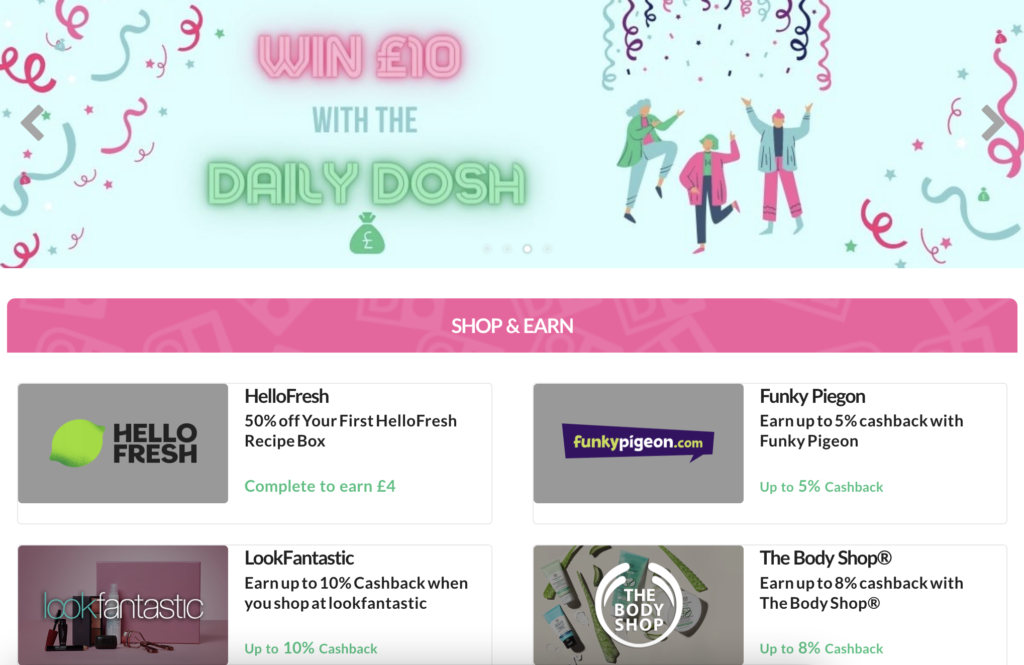 While OhMyDosh offer competitive cashback, it's always worth comparing cashback rates on similar sites like TopCashback and Quidco before you shop!
Entertainment
The entertainment category on the website features offers for tv and audio, food and drink, and health and fitness products and services.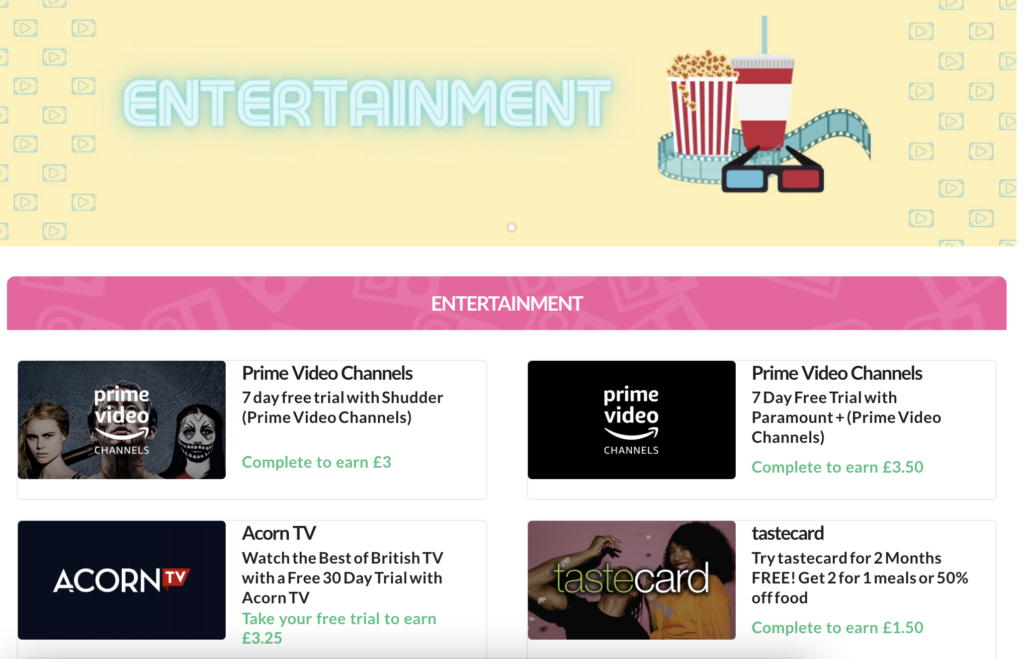 There are some great offers on here and you can earn on average between £1.50-3.50 on most offers so have a gander when you next visit the site!
Phone & broadband
One way you can earn big bucks with OhMyDosh is by using it to purchase a new phone contract or broadband deal.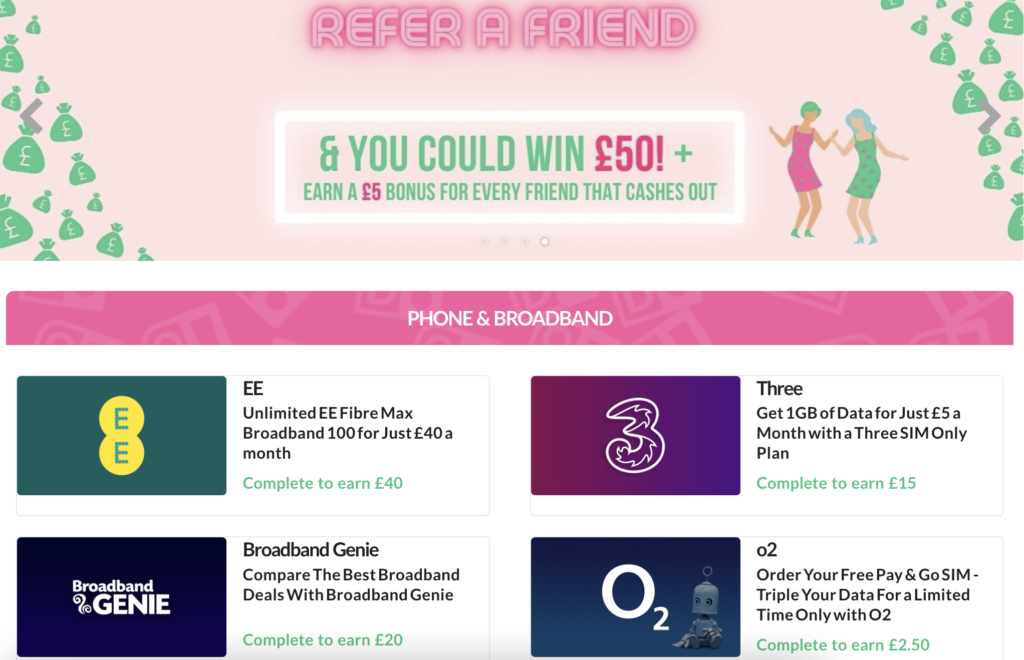 This could help you save anywhere between £10-50 on a new deal – how good is that?!
Energy
Looking to switch your energy supplier? Get money on OhMyDosh for comparing gas or electricity with trusted companies like USwitch or find deals directly with brands like Shell.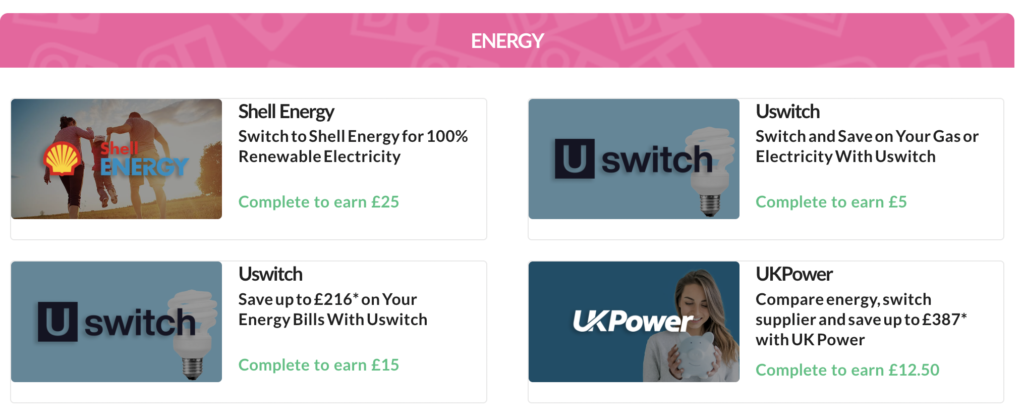 Insurance & finance
OhMyDosh also has an insurance and finance category, where you can get paid to compare financial products and check your credit score too.

Great deals
Last but not least, the final category is great deals. This is very similar to the 'hot offers' page and features freebies and deals. Grab these while you can!

There is also a section where you can view every single money offer on the site, and also pick up where you left off using the 'offers I've started' feature.
How to make £20 on OhMyDosh in 30 mins (or less)
OhMyDosh have lots of opportunities for you to make £20+ really quickly on their site. You can make this using just one offer e.g. comparing broadband deals with Broadband Genie will earn you £20 cash.
You could also use a variety of offers to reach £20 super quickly, including:
Free credit score check with Credit Karma – £2.50
30 day Amazon Prime Video free trial – £3.50
Nielsen Rewards panel – £6.50
Acorn TV free trial – £3.25
Ancestry 14 day free trial – £1.25
Is OhMyDosh legit?
Yes! OhMyDosh is 100% genuine. I've cashed out successfully many times since joining and they has an excellent 4.5/5 rating on Trustpilot and won Cashback site of the year category at Moneyfacts Consumer Awards 2019.

How long does OhMyDosh take to pay?
Once you've completed an offer in full, it will change to pending on your account. This usually takes less than 24 hours but it can take up to seven days.
The time it then takes for the money to hit your account depends on each individual offer. Lightning offers are paid out within three days.
OhMyDosh state they make payments three times a week: Monday, Wednesday and Friday, which can take up to 2-3 working days to be processed with your bank if you choose BACS as payout option.
If you choose PayPal as a 'dosh out' option, you will be paid by 6pm on the day they make payment.
What is the minimum cash payout?
The minimum cash threshold you need to reach before you can 'dosh out' is £10.
What is the OhMyDosh refer a friend scheme? 
OhMyDosh have a really generous referral scheme, where you can earn £5 per friend you refer as soon as they cash out. They'll also get a £1 bonus too.
Even better, you could win a £50 bonus when you share your link in their amazing prize draw!
Top tips for using OhMyDosh
Have I convinced you to sign up yet?? As you can probably tell by now, I'm a big fan of this cashback site!
Here are some of the ways I make even more money using OhMyDosh – you're welcome…
Set up a separate email for offers
If you apply for freebies or enter competitions online, you might already have a separate email account. If not, I would really recommend setting one up dedicated to offers and deals.
Check the site every day
New offers are added to the site regularly, so it always pays to check daily for new money making opportunities!
Set reminders for trial offers
Don't get caught out with this one! If you're taking advantage of a free trial and don't want to continue, make sure you make a note of the subscription end date and set a reminder to cancel in advance.
Look out for bonus bundles
I wrote about this earlier in the post but just popped it here again as a reminder to check the 'bonus bundles' page for extra cash opportunities!
Here you can earn even more by applying for each of the offers in the category, rather than just one.
Refer your friends to earn more
As I also mentioned above, referring your friends can help you earn big money!
Pin for later…