Curious about TopCashback and looking to find out more? You've come to the right place! Over the years, I've saved thousands earning free cash every time I shop or buy insurance. Alongside Quidco, it's definitely on of my favourite cashback sites. Let's get started…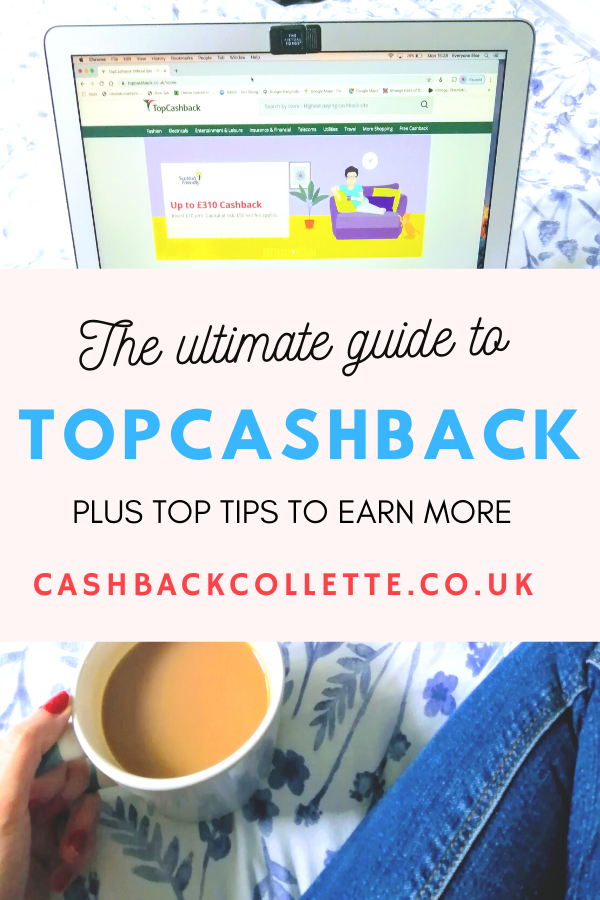 What is TopCashback?
With over 11 million users, TopCashback is one of the UK's most popular cashback sites that helps you earn money back when you shop online. There are a whopping 5,000 retailers offering discounts and cashback deals on the site.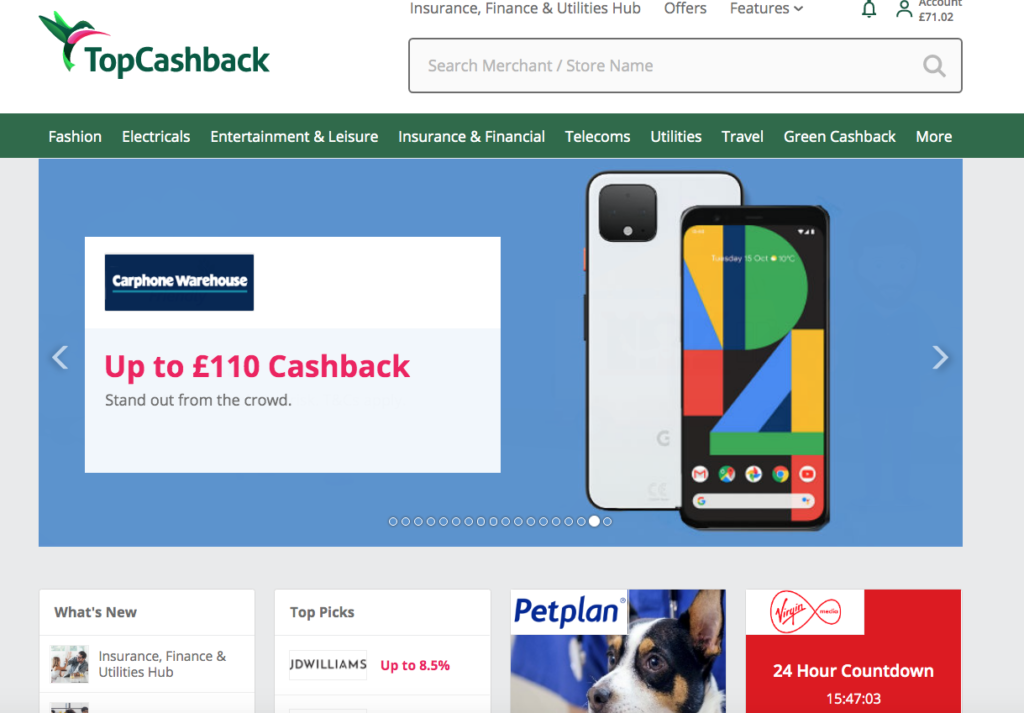 Popular brands you can earn cashback for include Just-Eat, ASOS, Dominos, Boohoo, plus loads more. You can also get exclusive Amazon cashback deals on the website too.
How do you use TopCashback?
TopCashback is SUPER easy to join and start using:
Sign up for a free account – use this link to get a £5 bonus when you reach your first £10 cashback payout (signing up takes less than a minute!)
Log in and search for a retailer every time you go to purchase something online
Click the 'Get Cashback Now' button and earn a percentage of your money back on each confirmed purchase
Then rinse and repeat and watch the money stack up in your account!
What can I earn cashback on?
You can earn cashback on pretty much anything you can think of. The possibilities really are endless here!
Here are some products and services you can earn cashback on:
Clothes and accessories
Insurance (home, car, pet, etc)
Mobile phone contracts
Utility bills
Broadband
Laptops & tech
Mortgages
Bank accounts
Holidays
Pet products
Household items
Furniture
Appliances
The list goes on!
How much can I make?
TopCashback prides itself as 'the UK's highest paying cashback site' and generally pays around 1-5% cashback on most purchases.
However, sometimes you'll get a fixed amount, rather than a percentage back e.g. £40 cashback. They tend to work in percentages for everyday purchases like clothes and offer fixed amounts on things like insurance.
Of course, it also depends on how much you purchase. Here is how much I have earned with an account I set up about a year ago:
You could definitely earn £1,000+ in a year if you're shopping for big-ticket items and doing things like setting up utilities in a new home.
Benefits of using TopCashback
There are loads of advantages of using TopCashback, which I dive into throughout this post. Here are some of my highlights:
One of the fastest paying cashback sites
Exclusive deals with retailers and merchants like Amazon
Loads. of payout options including BACS, PayPal, and a massive list of retail gift cards
Amazing, quick and responsive customer service
The option of upgrading to a plus account, to help you save even more money!
Is TopCashback free to use?
TopCashback is 100% free to use. They offer a classic version, which is free, and a 'plus' option, which costs just £5 a year, but you get plenty of perks, so it basically pays for itself.
Keep reading to find out the difference between membership options…
TopCashback classic vs plus membership
| | | |
| --- | --- | --- |
| Account Type | Classic | Plus |
| Extra 5% top-up cashback | x | ✓ |
| Tell a friend bonus | £5 | £7.50 |
| Extra reward wallet payout bonus | Up to 10% | Up to 25% |
| Exclusive promotions & competitions | x | ✓ |
| Enhanced monthly statements | x | ✓ |
How do you get your money from TopCashback?
To cashout your earnings, simply hover over your account icon (top right on your desktop) and click 'Payout'. It will show you the amount you have available to withdraw and give you the option to cashout via BACs, PayPal or choose from a range of retailer gift cards (Amazon, Costa, Sainsbury's, etc.)
Is there a minimum payment threshold?
This is the great thing about TopCashback, the minimum threshold for BACS or PayPal, or Amazon.co.uk Gift Card is just 1p! You can cashout other gift cards and e-codes from £1. It gives you the option to check each retailer gift card threshold when you select them as you cashout.
How long does TopCashback take to payout?
Once your purchase has been confirmed, it can take anywhere between 4 – 8 weeks for your account to update and for funds to be available in your account. That gives them time to see if you've returned any purchased items and for them to collect commission from the merchant to pay you.
They explain why it might take this long in detail here. Once you've requested a BACS payment, the cashback should show up in your account within 4 working days.
Top tips to make even more money with TopCashback
Now we've covered the basics of why this cashback site is so great, here are some top secret tips and tricks I've learned to help you make EVEN MORE money on TopCashback…
Get an exclusive welcome offer
Did you know TopCashback has offers exclusively for new member offers? Check out this page to browse cashback deals like £10 cashback at Boots, Superdrug, Just Eat, B&Q, and many more. You can only claim this deal once as a new user when you sign up, so choose wisely!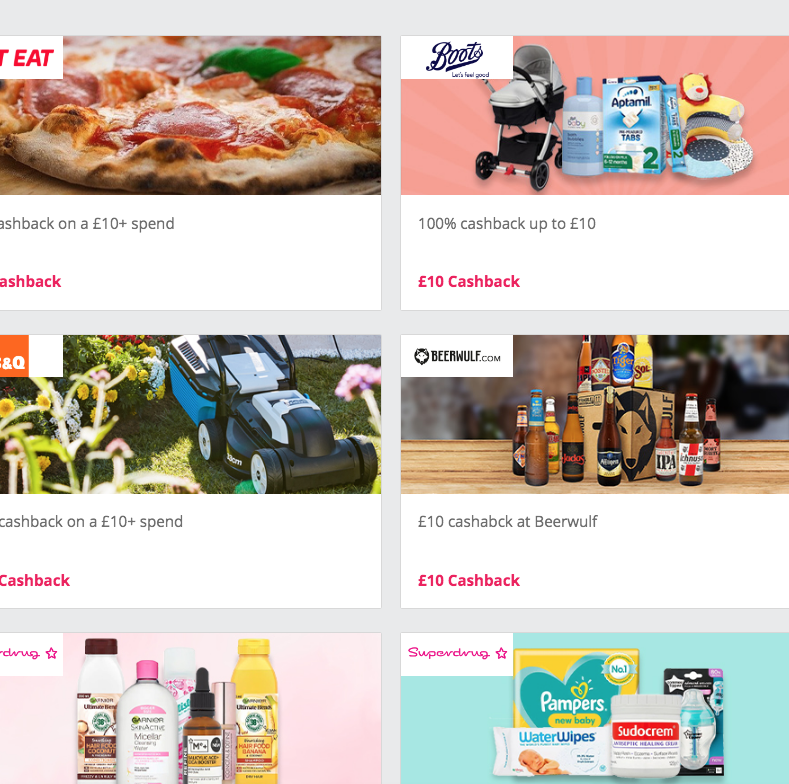 Take advantage of free cashback offers
There is also a free cashback page where you can earn cash without spending a penny! Sign up for free trials, take part in surveys and sign up to free daily lottery draws to top up your account balance.
Play seasonal games
TopCashback hosts a fun treasure hunts-style game around Christmas, Valentine's Day, and Easter on their website. Each day they release a clue to a retailer. Once you figure it out, head to their retailer page and click the hummingbird to reveal your prize.

In their latest Sweet Treats giveaway, you could earn over 72,000 instant-win cash prizes worth up to £100, or a top prize of £1,000!
Look out for voucher code combo deals
In addition to cashback, the site also offers voucher codes to help you deal stack and get the best offer. I used a voucher code and got cashback when I bought my latest iPhone from mobiles.co.uk and made £50 cashback!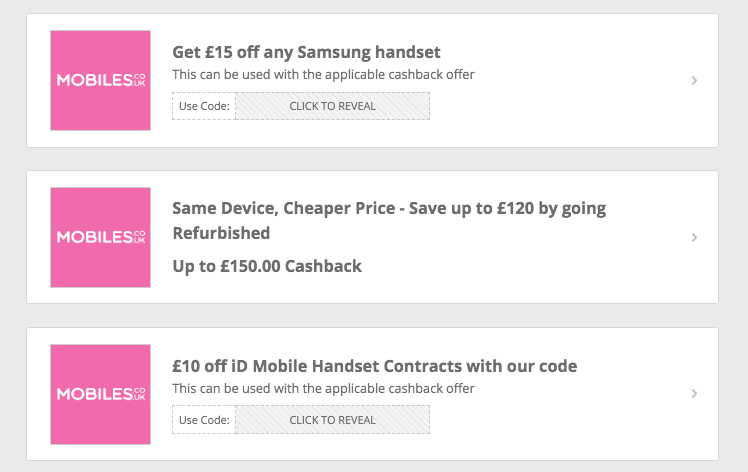 Refer a friend
When you sign up you will get a unique refer a friend link on your account, which you can share with as many people as you like. On a classic account, you'll get £5 per referral, and £7.50 per referral on a plus account. Quite often, they will have flash offers where you can earn up to an awesome £25 per referral on certain weekends.
Install the browser extension
There is an amazing TopCashback browser extension you can install on Google Chrome. This sits in your browser and will alert you every time you're on a website that offers cashback. All you have to do is click 'allow' to get notifications. How fab is that??
Cashout with a gift card
You can earn even more money when you cashout your earnings as a gift card. TopCashback offers a bonus of up to 25% when you choose from retailers such as Amazon, Primark, Halfords, Tesco, and more. Check out their Reward Wallet section to find out more!
Download the app to get notifications
TopCashback often has flash bonus days, where you can earn an extra £2-5 on top of any purchase. These only last 24 hours and they often release a push notification or send an email, so make sure you download their app and signup to their email notifications to make sure you have all bases covered and stay in the loop!
Get cashback when you compare bills
One of the site's latest features is its Compare section, where you can run quotes to compare energy bills, insurance, and more. This means you can make money while you save money!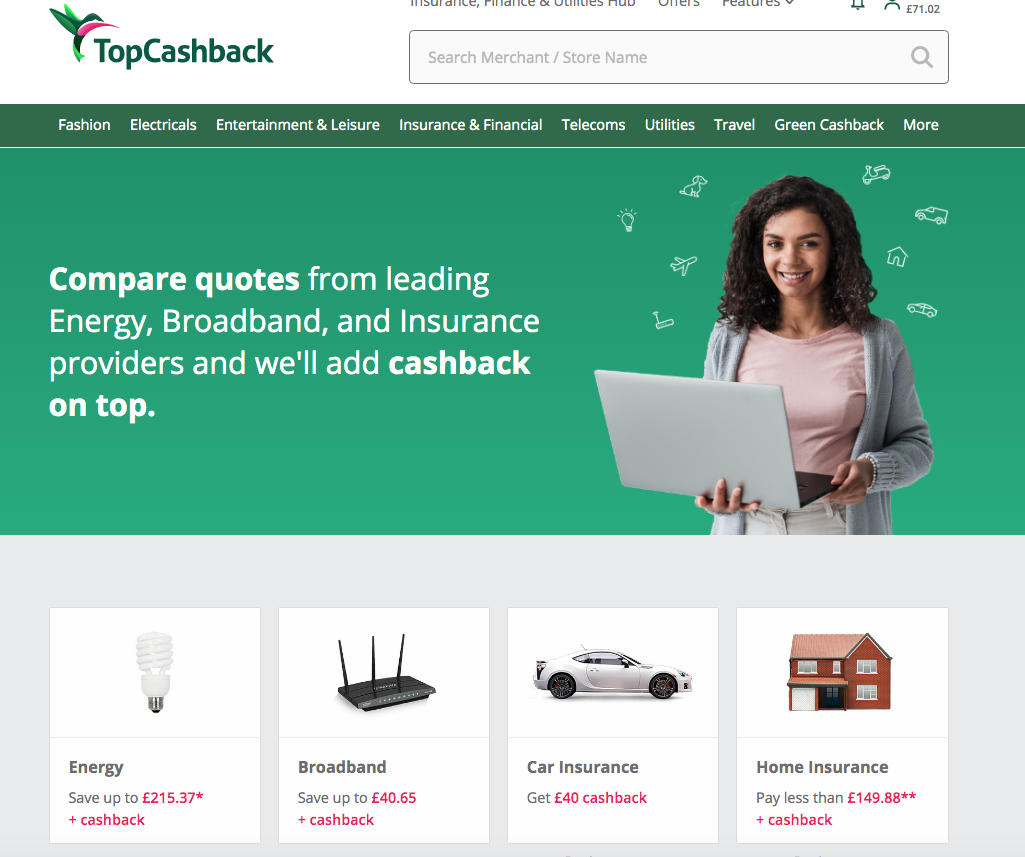 TopCashback FAQs
How does TopCashback make money?
Cashback sites secure affiliate partnerships with brands and retailers so that every time you purchase an item via their cashback site, they earn a commission from the retailer as thanks for directing you to the brand.
However, TopCashback claims their users get 100% of their commission. They suggest they use a separate affiliate network to earn money from retailers and will also make money by collaborations with bloggers and influencers.
Is TopCashback a con?
As with all products and services on my blog, I use TopCashback myself and wouldn't recommend it otherwise. It's a genuine company and I've cashed out successfully many times. They have been around since 2005 and have endless testimonials to back up their credibility.
If you have any concerns or questions, you can always contact their super-friendly customer service team to help put your mind at ease.
Can I get cashback in-store?
Yes! You can connect your card to TopCashback and every time you spend with selected retailers in a shop, your cashback will be tracked and added to your account.
Can I use a promo code & get cashback as well?
Unfortunately, you can't use any voucher codes found on other sites. You can only use promo codes on selected pages that are offered by TopCashback. If you use a promo code, it might initially track, but your cashback may be cancelled later.
How many times can you use TopCashback?
You can use TopCashback for claiming cashback with as many retailers as you like on one account. However, creating multiple accounts to claim one offer is against their policy.
Can you use TopCashback after making a purchase?
Sadly not. TopCashback tracks your cookies once you click their 'Get Cashback Now' button. Therefore, if you haven't clicked the button, your purchase won't track and can't be added to your account.
However, in some cases, tracking fails. If you fill in a missing cashback claim form you can usually select the last time you clicked a get cashback button from a dropdown list. If you can prove your purchase alongside this, their friendly customer service team can help you claim your missing cashback.
What are the best TopCashback alternatives?
I think TopCashback is great, but there are alternatives I use for different purchases. It's good to check these, as they may have a better cashback rate at the time:
Quidco – you can get £5 cashback when you sign up and earn your first £5 in cashback
Kidstart – really good option for parents, you can save towards your kids future and get cashback on loads. of brands!
Airtime Rewards – an app that lets you earn cashback off your phone bill when you connect it to your debit card and spend with various retailers – use code PPBMT7HU to get £1.50 when you join!
Related: 25 best cashback sites & apps in the UK (2021)
Pin for later…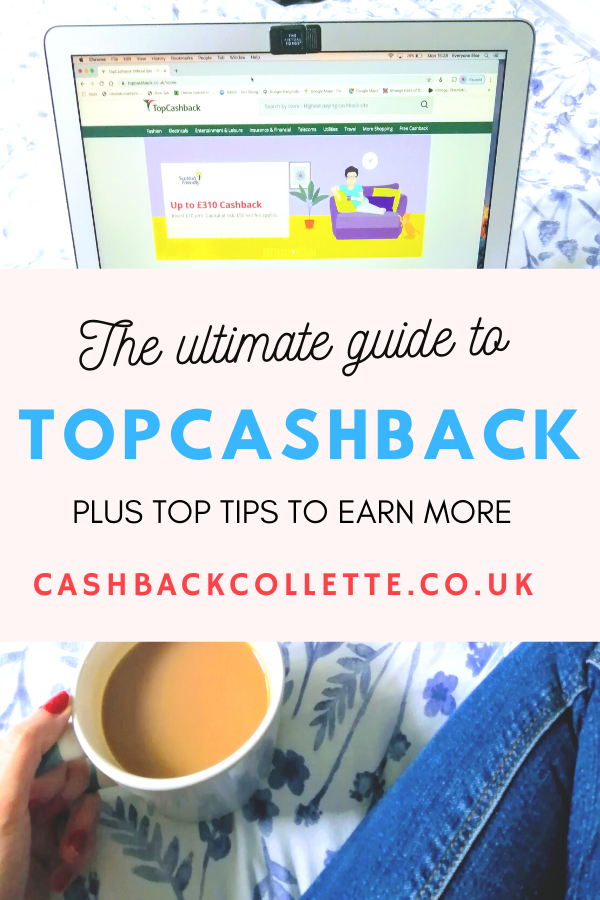 This post contains affiliate links, which means I earn a small commission if you decide to sign up to TopCashback or any related mentioned sites, products, or services, at no extra cost to yourself.