Did you know Amazon offer you a free baby gift when you create a baby wishlist and spend £20 on baby products? Whether you're a new mama, mum-to-be, or buying something for a loved one who is expecting, this is definitely worth claiming!
Speaking of baby freebies, make sure you check out my huge list of pregnancy and baby freebies you can claim right now in the UK!
What is the Amazon Baby Wishlist?

The Amazon Baby Wishlist is an amazing tool from Amazon that I used during my pregnancy. As the name suggests, you can get inspiration on what you may want or need for your baby, and create a wishlist from over a whopping 100,000 baby items available on Amazon!
You can use the list to keep track of everything you've already bought or need to buy, and also share this with friends and family via email, social media, or a unique website link.
Once you've created your list, simply add baby products by searching for them on Amazon, and clicking the 'add products to baby wishlist' option in the sidebar. These will then appear within the 'your wishlist' tab on your homepage.
What I personally love is that there is a handy, built-in baby essentials checklist available. It features everything from car seats, baby changing accessories, clothes, hospital bag items, plus loads more. I thought this was so useful, as I really had no idea where to start!
Other benefits include:
Recommended top-rated products and curated lists to make baby shopping much easier
Free shipping for Prime members
Thank you list to easily track who has bought you a gift using your wishlist
Ability to add items from any website and manage them within the wishlist, thanks to Amazon Assistant
What free gifts are up for grabs?
Free welcome gifts vary, but at the time of writing, here is currently what's available:
I've also included them here so you can see how much they would cost:
This changes daily on Amazon, but based on this list, I would say the Fisher-Price Laugh & Learn light up dog remote is the best value to choose as your freebie. However, it all depends on what you need or want really!
If you know you're going to get more use or value out of the wipes, bottles, or nappy bin, then obviously it makes sense to choose that instead.
How to claim your Amazon Baby Wishlist free gift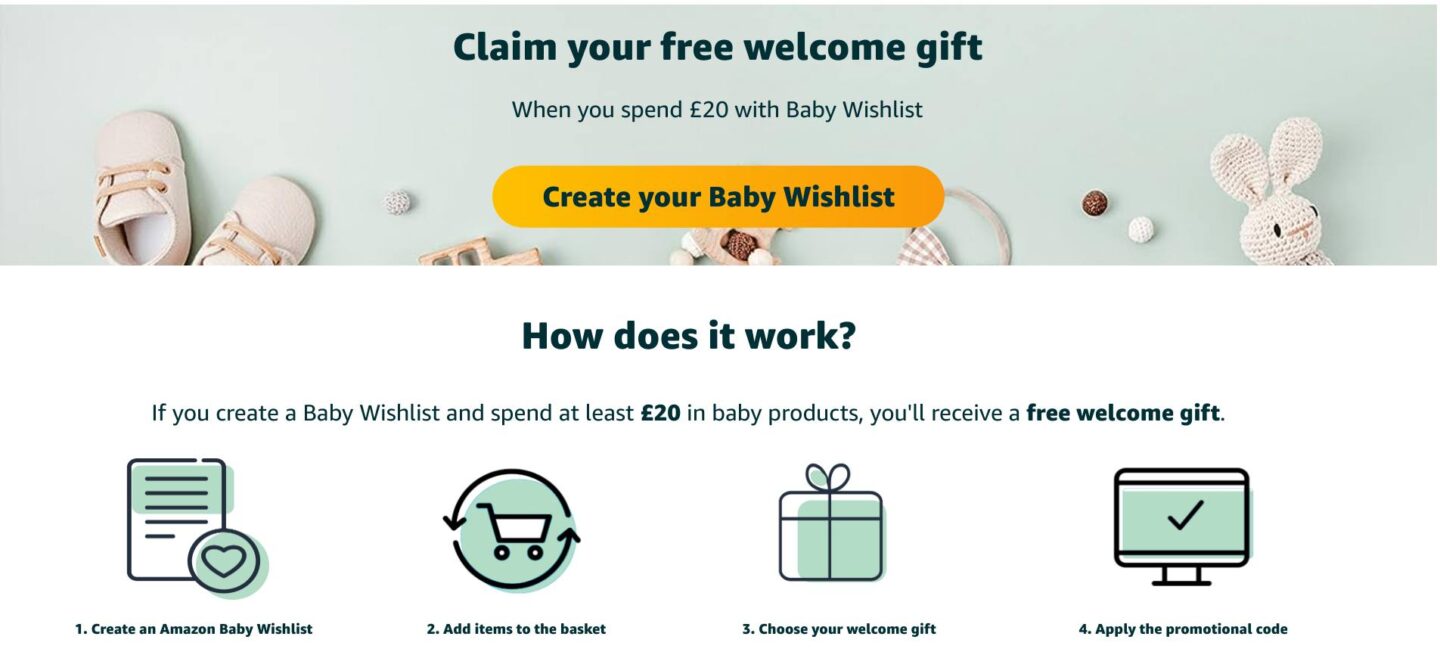 Now you've seen what freebies are up for grabs, you're probably wondering how to claim them – right? Well, the good news is, it's super easy to claim one of these…
Step one – Create your Amazon wishlist
To claim your free gift, you'll need to create a baby wishlist. This is super easy to do and takes less than a minute:
How to create an Amazon baby wishlist
Head over to the Baby Wishlist homepage on Amazon
Click the 'create a wishlist' button and enter your information
Start shopping on Amazon and add baby products to your list – start on the Amazon baby store for inspiration
See, it's that easy! Once you've set up your wishlist, it's time to start shopping!
Step two – Add eligible baby items to your basket
To get your freebie, you have to purchase at least £20 worth of 'eligible' baby products. This excludes nappies, formula, baby food, and books. These products also have to be dispatched and sold by Amazon. Products sold by third party sellers will not count. Add your chosen products to your basket and then head on to step three…
Step three – Choose your free gift
Now onto the fun part – choosing your freebie! I've listed all of the options above, so take your time and choose your baby freebie. Once you've picked yours, add it to your basket as normal.
Step four – Apply your promo code when you checkout
When you create your baby wishlist, you should find a discount code on your wishlist homepage to use when you checkout. If you've chosen eligible products, the cost of your free item will be deducted when you enter this on the checkout page. Hurry, though – these promo codes have an expiry date!
How to get extra discounts on Amazon baby wishlist items

On top of your free welcome gift, you can get occasional discounts on various baby wishlist items. Currently, you can get 15% off eligible items and save up to a whopping £300! Similar to most offers, this has an expiry date of 90 days after your baby's arrival date.
Plus, your wishlist must be active for at least 14 days before you claim this discount.
Top tips for shopping for baby products on Amazon
Hopefully this post has inspired you to start your own Amazon baby wishlist and snap up your free gift! Before you start shopping, here are my top tips for buying baby products on Amazon:
Do your research on baby brands, products, makes and models, etc – and check reviews before purchasing anything pregnancy or baby related to avoid buyer's remorse, especially for bigger products like a pram, cot, or car seat
Use Camel Camel Camel, an Amazon price tracking browser extension, which allows you to see if the price is likely to go up or down in the near future
Check the returns policy – most Amazon products have free returns for Prime members, but third party sellers tend to charge for returns, especially if you've just changed your mind
Save for later…