You'll never guess what I came across on Instagram… ANOTHER baby freebie! You can get a free pack of Lidl Lupilu size one newborn nappies using Send Me A Sample. You'll have to be quick, though.
This one is available on a first-come, first-served basis until all 4,500 samples are claimed.
You may also like: How to claim a free pack of Aldi Mamia Nappies
How do I claim my free pack of nappies?
It only takes a few seconds to claim your free pack of nappies. Click this link to go to the Send Me A Sample site. Sign up or log in for free and follow the instructions.
Then, simply say to your voice assistant (Alexa or Google Assistant) 'Send Me A Sample For Lidl Nappies' and you should receive a notification to say your sample is on the way!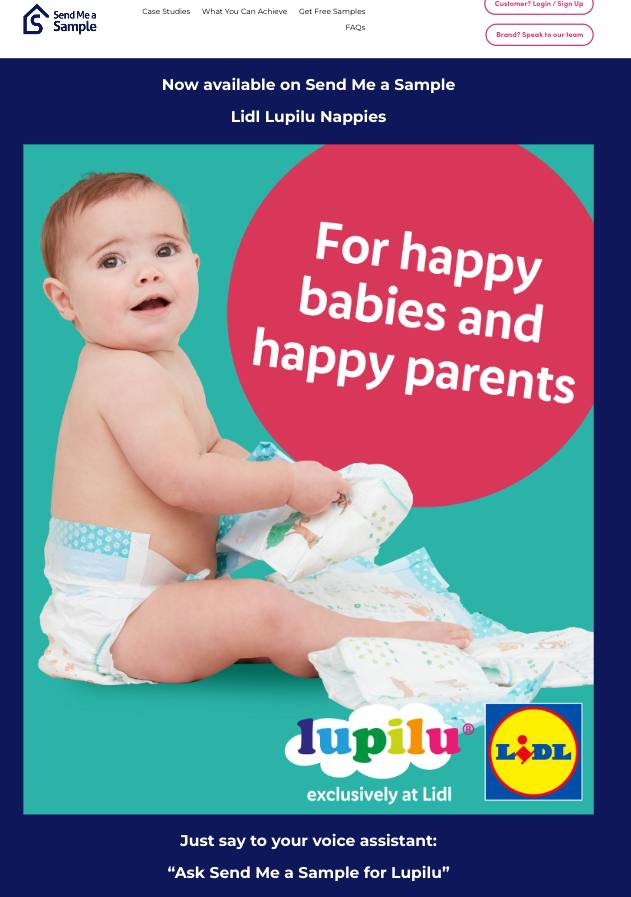 Even if you don't have a voice assistant, you can claim using the Google Assistant app. It's so easy to do! To find out more about this, check out my guide on how to get freebies with Send Me A Sample.
Lidl Lupilu Nappies Review
When Rose was born, we tried pretty much all nappies from major supermarkets, including ASDA, Tesco, Aldi, Morrisons, and Lidl.
Lidl's Lupilu newborn nappies were definitely one of our favourites for newborn nappies!
Rose grew at a rapid rate and many of the other newborn nappies didn't really seem to last long or fit right (they were either too small or too big) but these ones from Lidl were great.
You may also like: 5 tried and tested ways to get free Pampers nappies
One thing I loved is how thin the design was. It meant we could stock up and keep loads in the caddy and her nappy bag.
It also meant they didn't look bulky with her little outfits, which I found a lot of other nappies tended to.
This didn't mean they compromised on quality, though.
The nappies definitely held their own! We've had our fair share of poonamies and days where she just seemed to wee non-stop and these nappies helped hold most of the contents to be fair.
On that basis, I would 100% recommend them to a friend or family member!
Fancy more baby freebies? Check out my list of 36+ baby freebies you can claim right now in the UK.
Save for later…