Hello again! Today I want to share with you all a number of ways you can bag yourself FREE Pampers nappies.
We all know and trust the Pampers nappies brand, but they can be quite expensive.
If you're a new parent and money is tight, every penny counts. So, when it comes to essentials like nappies, you're definitely going to want to save money where ever you can!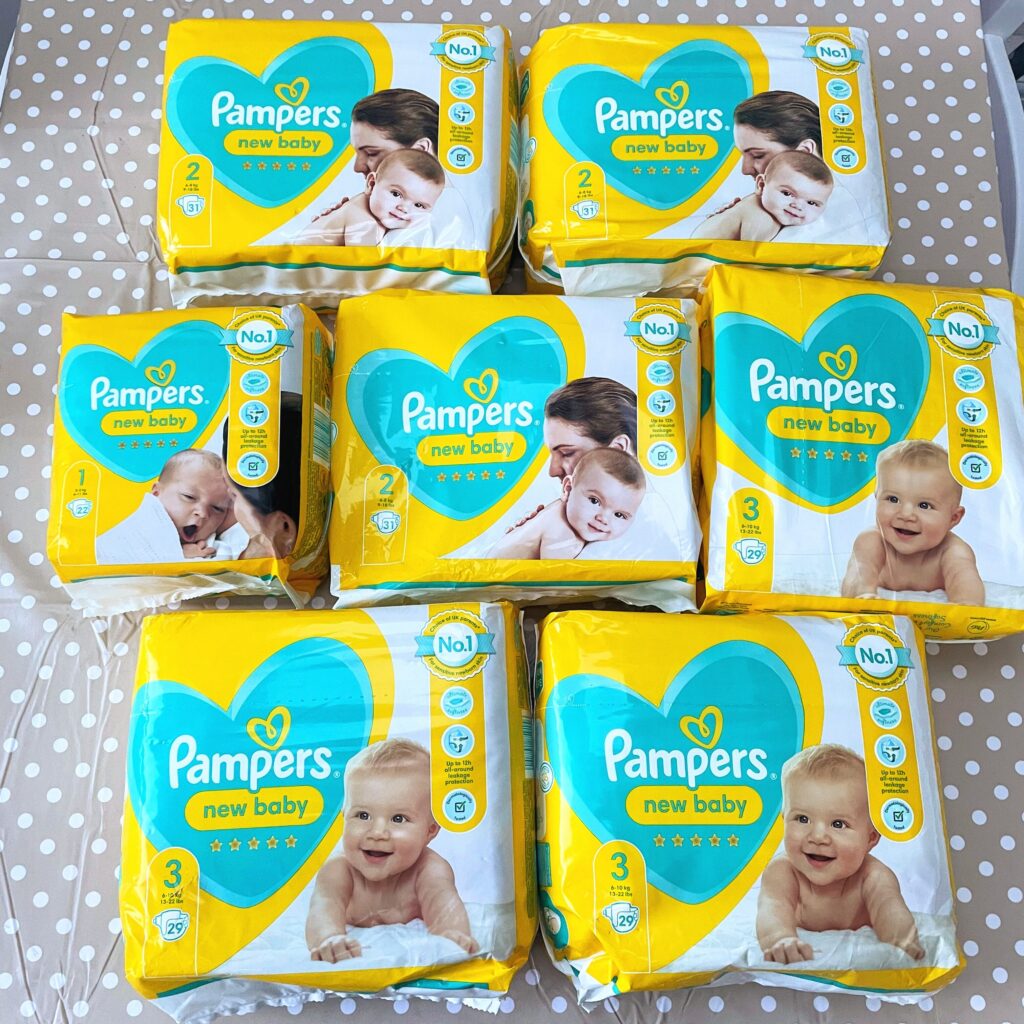 That being said, I'm not going to lie, Rose has had quite a few poonami situations, and Pampers are the only brand I've tried that can truly survive them.
So I've worked hard to find ways to afford Pampers whenever I can find a good deal.
These methods have helped me save so much money on nappies and I've built quite an impressive stockpile of nappies in a range of sizes.
Psst… Before you read this post, check out my list of 36 baby freebies you can claim right now in the UK!
So, how do you score free Pampers nappies? Here's how…
How to get free Pampers nappies
1. Look on the Pampers coupons & offers page
Pampers have recently launched a very exciting offers & coupons page, where you can go straight to the source and find all the latest freebies and offers. Need I say more?
2. Download the Pampers Club app
Another easy way to get a free pack of Pampers nappies is to download the Pampers Club app.
It lets you collect stamps by inserting unique codes found on the inside of each pack of Pampers nappies.
It used to be a stamp collection scheme, but they recently changed it to a points system. Collect points and earn rewards on the app, like £5-off vouchers and even the occasional freebie!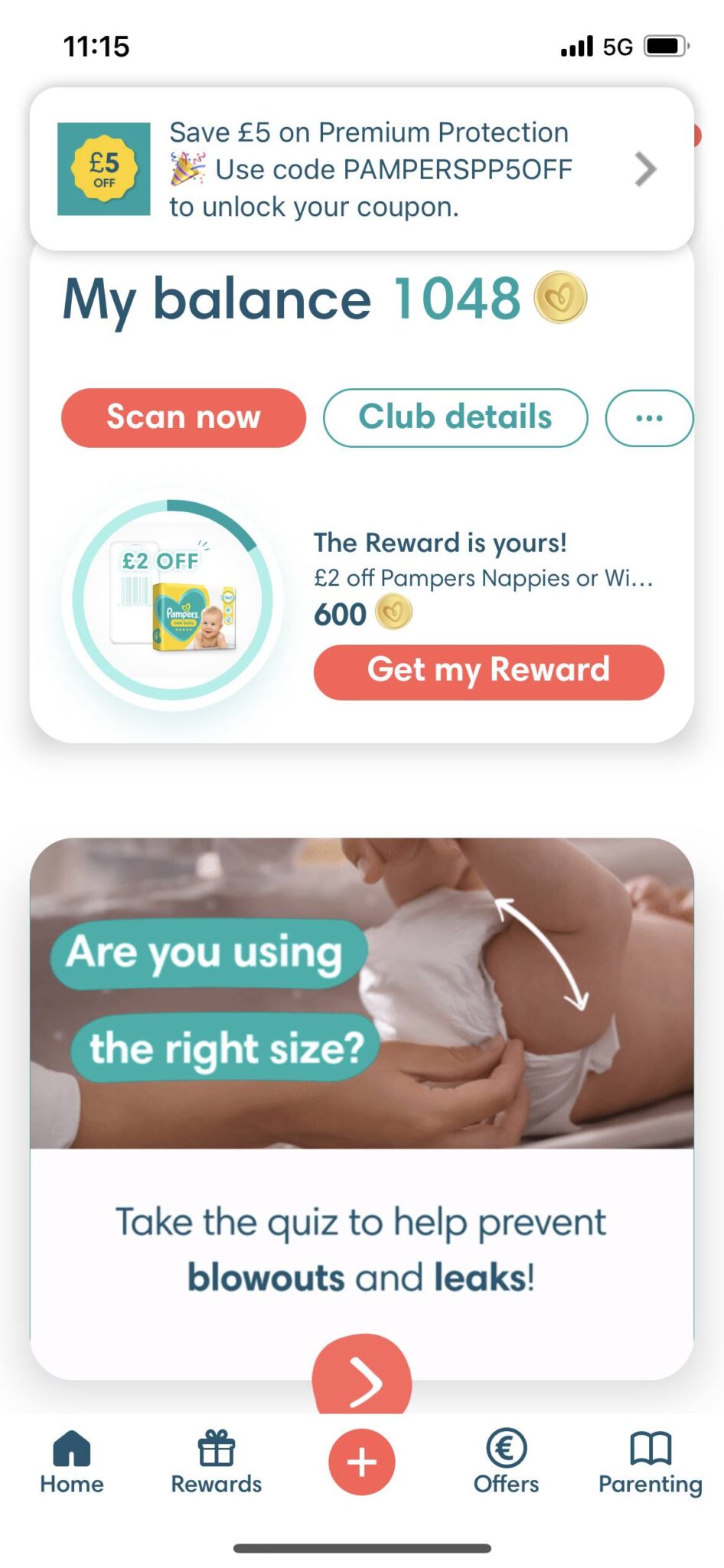 This is perfect if you're already a loyal customer who purchases Pampers regularly.
Even if you're not a regular buyer of Pampers, you can find coupons and discounts to get free packs using the rest of the tips in this post.
Then, use the codes from these packs to earn yourself more freebies and offers on the app. Genius!
You may also like: How to get a free pack of Free Aldi Mamia nappies
3. Look for sponsored social media posts
Have you seen posts that pop up on Facebook and Instagram offering you free samples? If they're from a brand like Pampers and you see a blue tick, they're legit!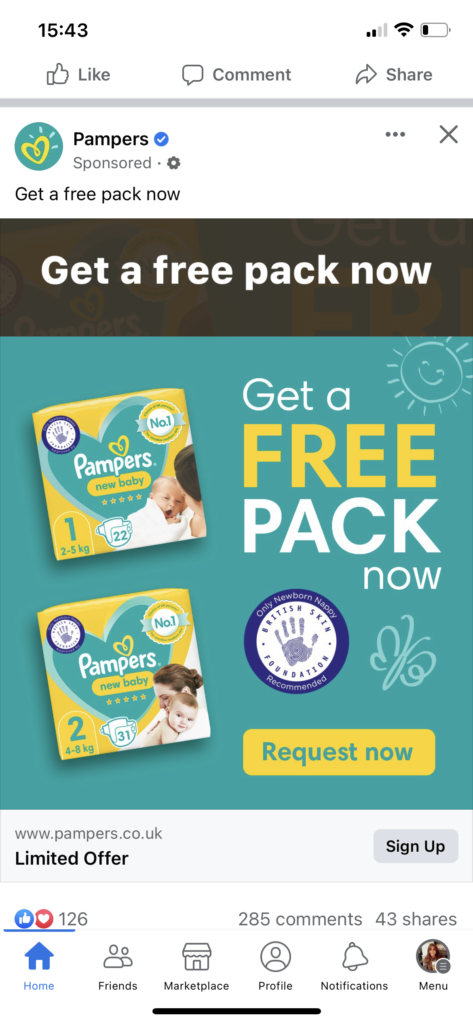 Enter your details and Pampers will send your coupons in the post to redeem in your nearest participating supermarket.
Check out my post about how to get free stuff with sponsored social media posts to find out more about how these work.
4. Become a Pampers Squad product tester
Did you know Pampers has a product testing panel where you can try their products in exchange for an honest review? It's true!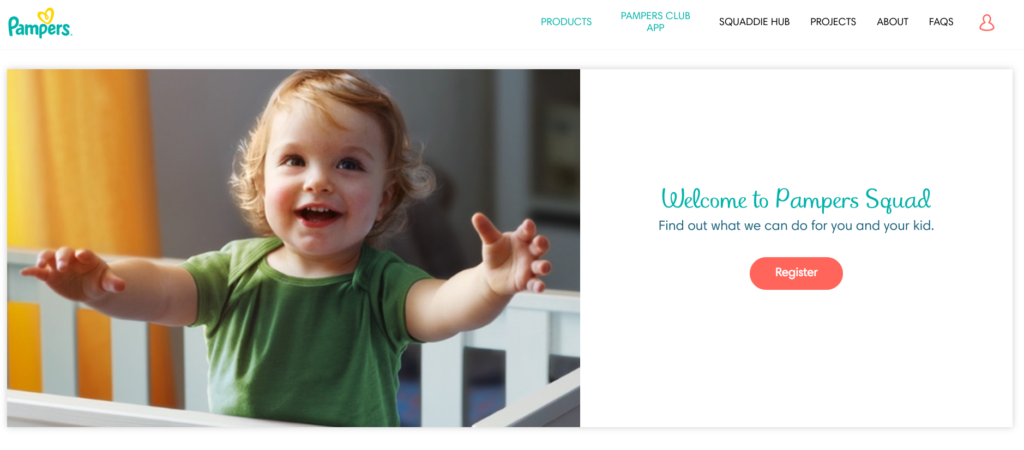 Sign up here and they'll be in touch as soon as a new product testing opportunity becomes available. Exciting!
(Remember, only apply for these products if you genuinely need them, as lots of parents rely on these freebies.)
You may also like: 30+ genuine product testing opportunities
5. Pick up an Emma's Diary Mum-to-be pack
If you're expecting, you can get three free packs from Emma's Diary, packed with pregnancy and baby freebies.
The mum-to-be pack contains a free pack of Pampers Size One nappies. Find out more how to claim your free Emma's Diary Packs here.
More ways to get free Pampers nappies
Sign up for the Pampers email newsletter
Want to be the first to find out when Pampers are giving away free nappies and money-off coupons?
Sign up to receive the Pampers email newsletter straight to your inbox and you'll be the first to find out about any new offers and giveaways.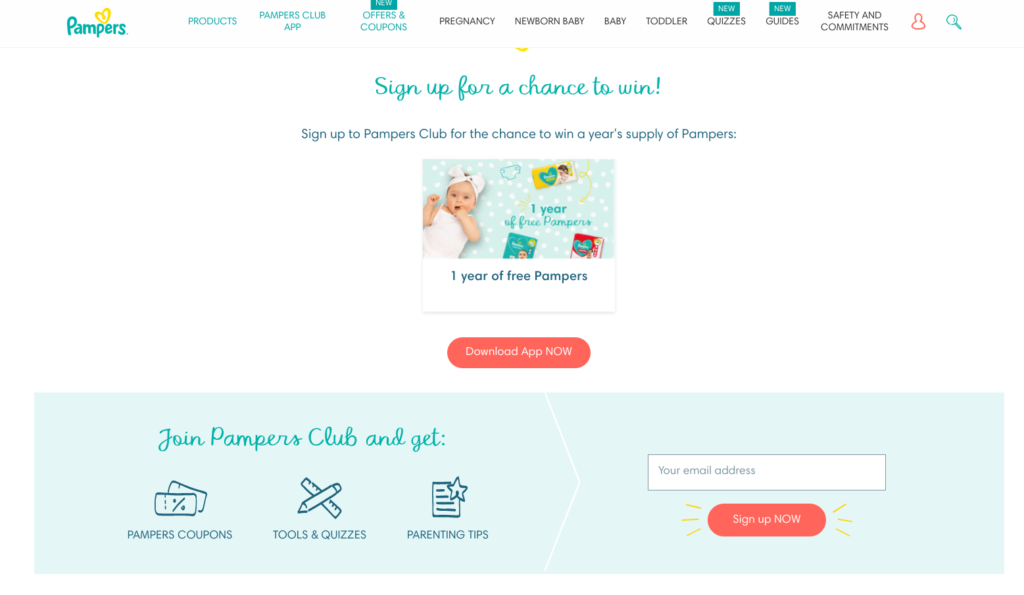 When you'll sign up, you'll also have access to lots of useful and pretty cool tools from Pampers, including a pregnancy tracker and name suggestions.
Follow Pampers on social media
You can also find all the latest offers on social media too by following Pampers across all their social media channels, including Facebook and Instagram.
If you do this, you may also improve your chances of seeing those sponsored posts I mentioned earlier!
Cash in your loyalty points
Don't forget, you can use your loyalty scheme points to bag yourself free nappies. Sign up to schemes like:
& Many more to get personalised coupons too including money-off baby products. Check out my huge list of the best loyalty schemes in the UK to find out more.
You may also like: How to get baby freebies with Boots Parenting Club
Pin for later…