In today's post, I'm super excited to share with you my favourite app to help you save money on your weekly shop: Shopmium! This app has honestly saved me hundreds of pounds since I started using it back in 2017. It's also a great way to get freebies and try exciting new supermarket products.
Keen to find out more? Great! Keep reading…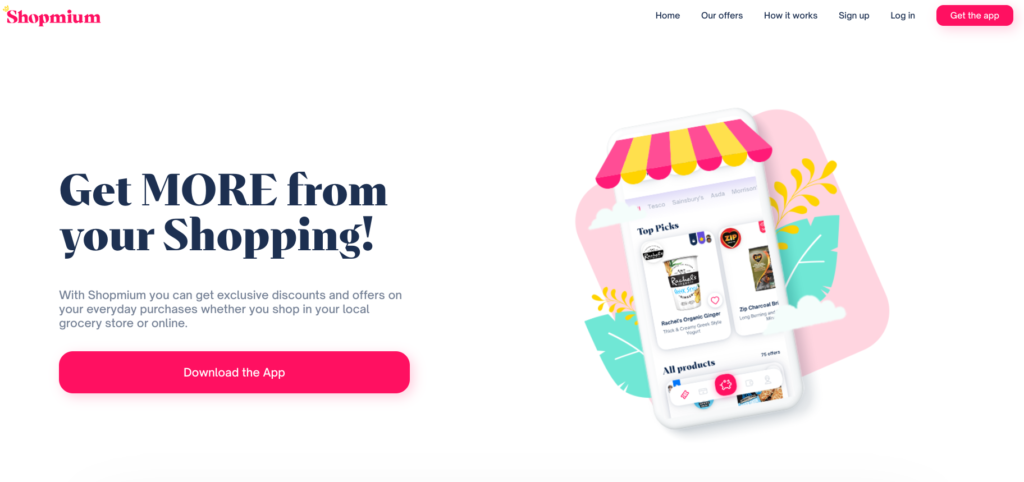 What is Shopmium?
Shopmium is a cashback app that offers freebies and discounts on popular supermarket brands and products. The app offers discounts on items at various grocery stores including ASDA, Tesco, Waitrose, Morrisons, Sainsbury's, and more.
It works in a similar way to using coupons. However, instead of redeeming coupons in-store to reduce the cost of your shop, you claim cashback for specific products once you get home.
This means you can earn a nice cash bonus on stuff you would normally buy anyway – what a win!
I've written a post about supermarket cashback apps and how they're a great alternative to using coupons. It also shows you how can they can help you save money at the supermarket.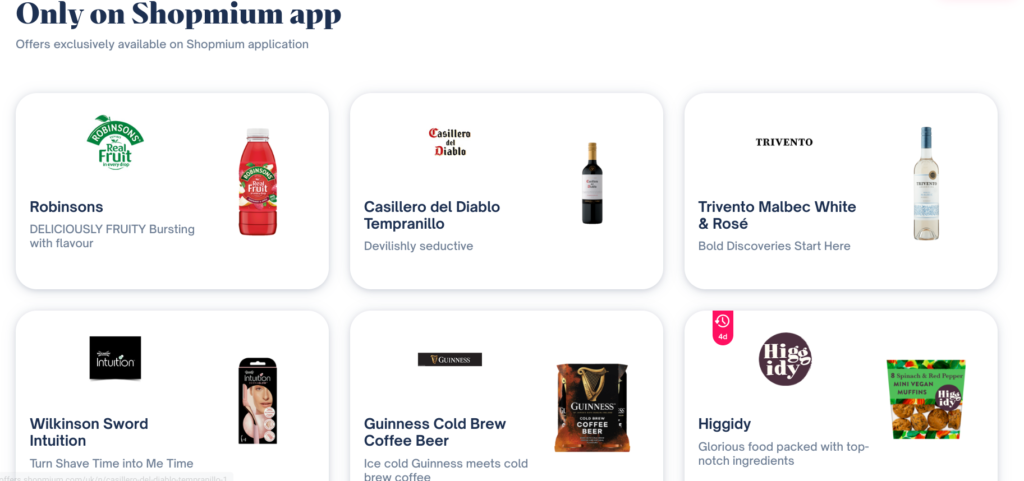 How does it work?
Using Shopmium is really easy! Simply download their app and sign up using your name, email, etc. (Enter my Shopmium referral code: KHKCYCEN for a FREE Tub of Pringles!) Then, scroll through their list of deals to see if anything catches your eye.
Offers change weekly and each one has an expiry date so make sure you claim an offer before you miss out!
Shopmium has a handy 'favourite' tool, so you can add each offer to your favourites to remind you to pick these up while you're in the store.
Head to the selected supermarket and pick up the item(s). Pay as normal but make sure you ask for a receipt and keep it safe! Once home, follow these easy steps:
Click on the offer on the app
Click the piggy bank and select 'request my cashback'
Upload a photo of your receipt and scan the product barcode
Wait for your cashback to roll into your PayPal or bank account – yay!
The amount you will receive depends on the offer. For example, if you've picked up a product that's 50% off, you'll get 50% back. If the product is free, you'll get 100% money back in your account.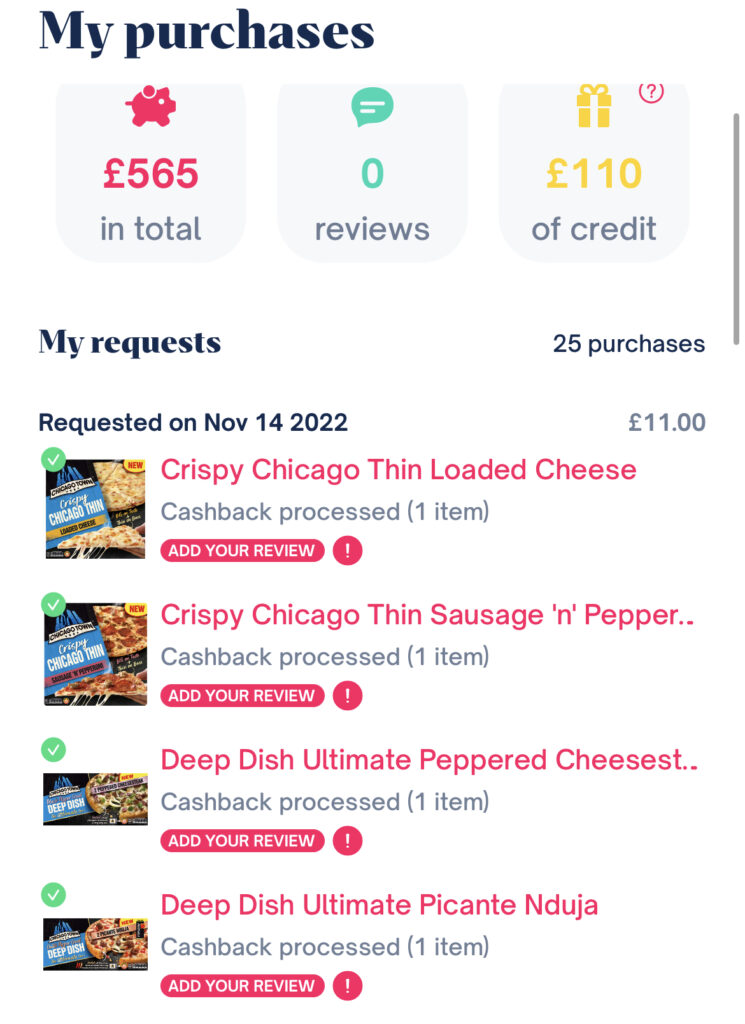 Is Shopmium app free?
Yes – that's the best part! The app itself is 100% free to download and use forever on both android and iPhones. They also have a referral scheme where you can earn free credit to spend on the app, which I'll talk more about later in this post…
How much money can I save?
Shopmium suggests you can save £50+ every week when using their app. They also have a daily total, where they show you how much you can claim back if you bought all the deals on their list on that day.
However, this completely depends on what deals there are on the app and how many offers you plan to snap up. For example, if there are loads of freebies, you'll save more.
How do I withdraw money from Shopmium?
To get cashback on items you've bought, click the piggybank icon and select 'request my cashback' to start the process.
Once your receipt is photographed and accepted after you upload it to the app, Shopmium will automatically send the money to your chosen account, often within 48 hours.
This will appear in your account as Shopmium or Quotient Technology Limited. You don't have to process your items one by one either.
You can take multiple photos of your receipt and scan all the products you've purchased and submit them under one claim.
How long does Shopmium take to pay out?
As soon as you've uploaded your receipt and your cashback has been approved, your money should be transferred to your bank or PayPal account within two days. Shopmium will notify you on the app when this happens.
I have to say, I've always been paid very quickly whenever I've submitted cashback requests!
If you haven't been paid within two days, don't panic. Shopmium says it can take an average of three days to be paid into your PayPal account and up to seven days for bank accounts.
However, if you're worried about a claim or have any questions, you can always contact their super helpful customer service team.
Shopmium refer a friend scheme
Shopmium also has an amazing referral scheme, which offers £3 app credit per each family or friend you refer. This means you can get even more deals and freebies! Plus, the person you refer will get a free tub of pringles. It's a win, win!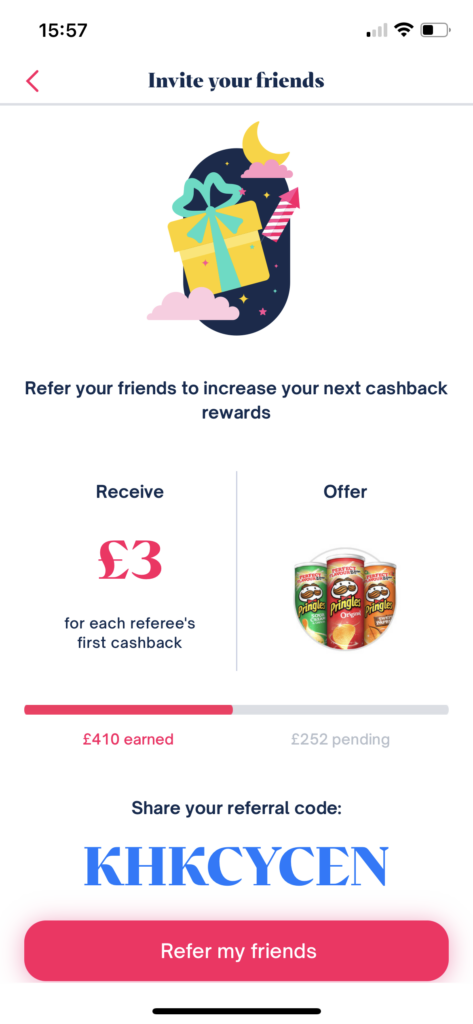 To get as much referral credit as possible, I would definitely recommend sharing your link on social media, talking about it with people, and taking photos of your bargains to persuade people to sign up.
Your friend or family member needs to sign up using your code and make their first cashback purchase on the app for you to receive your £3.
How do you use Shopmium credit?
Once you've referred your mates, your credit will appear on the app. You can check how much you've earned in referral credits by clicking on your profile icon and pressing the 'refer your friends = £3' text link.
You can use your credit to spend on any offer on the app. Shopmium explain it in this example on their site:
For example:
– Say you have £3 of referral credits
– You buy a £2 product and then request your cashback from the corresponding 50% off offer
– Your entitled cashback should be of £1, but we are adding an extra £1 from your referral credits so that you get 100% of your money back for this purchase
– Your total cashback for this request will be of £2 (i.e. you get the product for free) and your referral credits balance will then be £2 (£3-£1).
How does Shopmium make money?
Shopmium makes money through its partnerships with stores and brands featured on the app. Companies essentially pay them for featuring their products on the app. Shopmium then takes a commission and rewards you with the rest as cashback.
Is Shopmium worth it?
I would say this app is definitely worth using! Especially if you have a family and/or like to try new things. I see loads of kid's snacks on there and handy household staples like sauces, coffee, laundry gel, and cheese.
You can earn cashback on popular brands such as:
McCain
Nestle
Birdseye
McCain
Persil
Plus loads more!
However, what I would say is, if you wouldn't normally buy it or shop at the supermarket the offer is promoted with, or the discount isn't that great, it's probably not worth purchasing some of the items on the app. That's totally up to you to decide, though!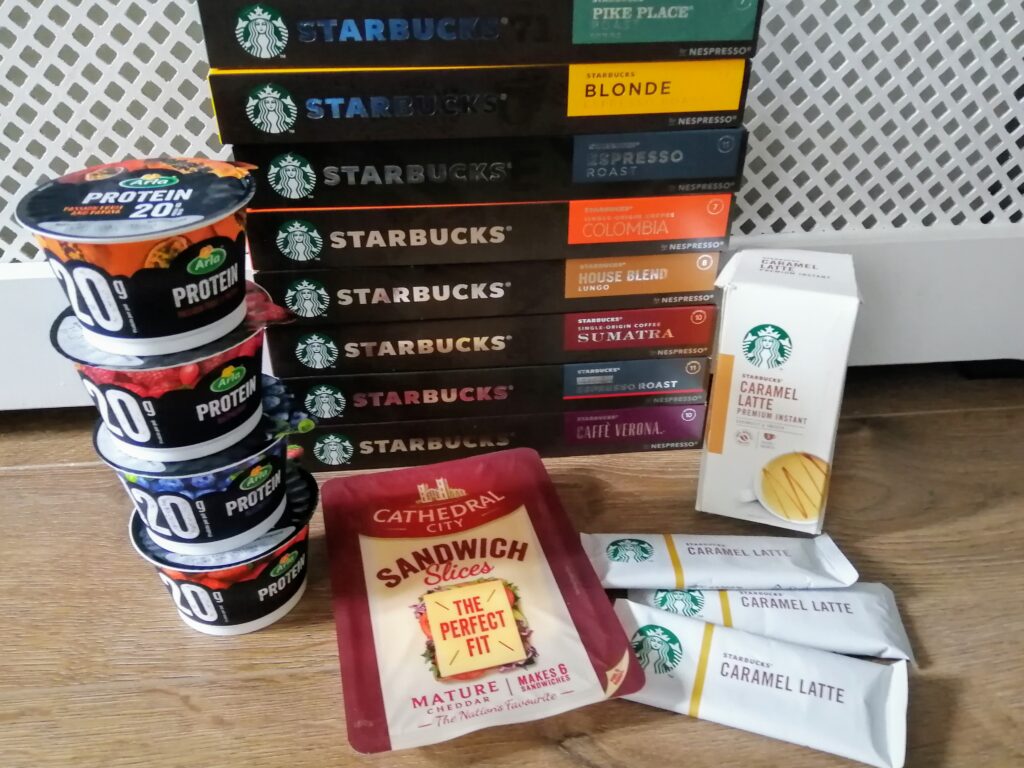 Top tips to save money using the app
As you can probably tell, I'm a huge fan of Shopmium! I've picked up a few tips and tricks along the way to help you save even more money using the app:
Scan your products in-store to check eligibility – there is nothing worse than getting your shopping home and scanning offers on the app only to find out they're not included in the promotion! Instead, you can use Shopmium's handy 'check eligibility' tool and scan your items in-store before committing to purchasing.
Use the geological tool to find availability – sometimes, offers will only be available at certain stores. Again, to avoid disappointment or make a wasted trip, check the app in advance using Shopmium's built-in map, which shows you local participating shops near you.
Refer your friends – As I mentioned earlier, you can earn £3 credit per friend/family member you refer, which means you can save even more money on deals and grab more freebies!
Keep your receipts crisp and clean – make sure your receipt is nice and neat and that you take clear photos including key details such as the date, items purchased, store, etc to avoid any delays in receiving cashback.
Become a gold member – the app has two levels of membership: Silver (regular users) and Gold level. Becoming a gold-level user allows you to unlock even more exclusive discounts and giveaways. To get to this level, you'll need to be an active user and submit at least one cashback request a month to maintain this status.
Get online cashback – did you know you can also earn cashback online via the Shopmium app? Simply change the top bar option from in-store to online and check out all the latest online cashback offers!
Related: 25+ best cashback sites in the UK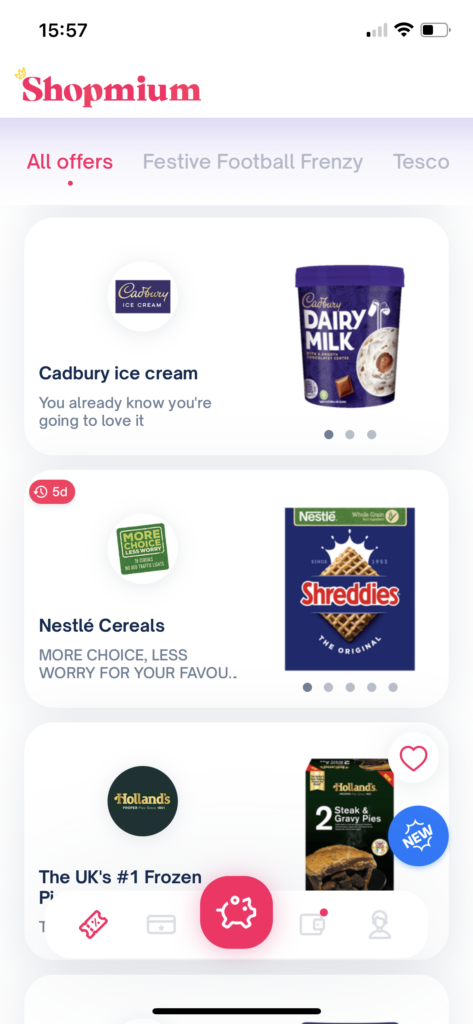 Best Shopmium alternatives
While Shopmium is probably my favourite supermarket cashback app, there are others available, which I also enjoy checking for bargains. Here are the best Shopmium alternatives:
CheckoutSmart
CheckoutSmart offers a range of freebies and discounts on their app. Like Shopmium, these are also available at a range of supermarkets like ASDA, Sainsbury's, Tesco, Morrisons, and Waitrose.
It sometimes features offers at local One-Stop and Iceland stores, too. The payment isn't as fast as Shopmium and can take up to 10 days to reach your account.
Related: CheckoutSmart App – How To Earn Cashback At The Supermarket
Quidco ClickSnap
Quidco ClickSnap has similar offers to CheckoutSmart, as they're owned by the same company. You may find this handy if you want to claim two lots of deals or freebies, as you can submit cashback claims on both apps. I would split your receipts if you plan to do this, just in case!
Green Jinn
Green Jinn has a wide range of healthier products and offers cashback on everyday items such as fruit and vegetables at Tesco, Waitrose, and Sainsbury's.
TopCashback Snap & Save
TopCashback Snap & Save doesn't update as regularly as the other apps, but it's great for seasonal products like Halloween pumpkins and Christmas wrapping paper.
Related: TopCashback – the ultimate guide & top tips to earn even more
Airtime Rewards
The Airtime rewards app works a little differently from other cashback apps. You add your card to the app and it tracks your spending at shops and supermarkets like Waitrose.
It then adds cashback to your account, which you can redeem against your phone bill. (SIGN UP USING CODE: PPBMT7HU TO GET A £1.50 WELCOME BONUS)
Related: Airtime Rewards – how to save money on your phone bill
Hopefully, I've inspired you to start saving on your groceries with Shopmium and other apps too 🙂
Pin for later