Supermarket cashback apps are one of my favourite ways to cut down my weekly supermarket shop bill and save money at the supermarket.
You can get major discounts and freebies on these apps, which can cut your food bill in half!
If you time it right and combine these apps with coupons, we're talking serious savings.
I managed to eat for free for a week using a mix of supermarket cashback apps and coupons at one point.
When I totted everything up, I realised this saved me a whopping £100!
I've been using these apps for a couple of years now and I must have saved hundreds on my food shop and I want to show you that you can do the same.
Using a combination of these apps, yellow stickers and coupons, I've now got our shopping food bill down to £15-20 per week.
That's a huge discount on food and drink!
Supermarket cashback apps are definitely a big contributing factor to this saving!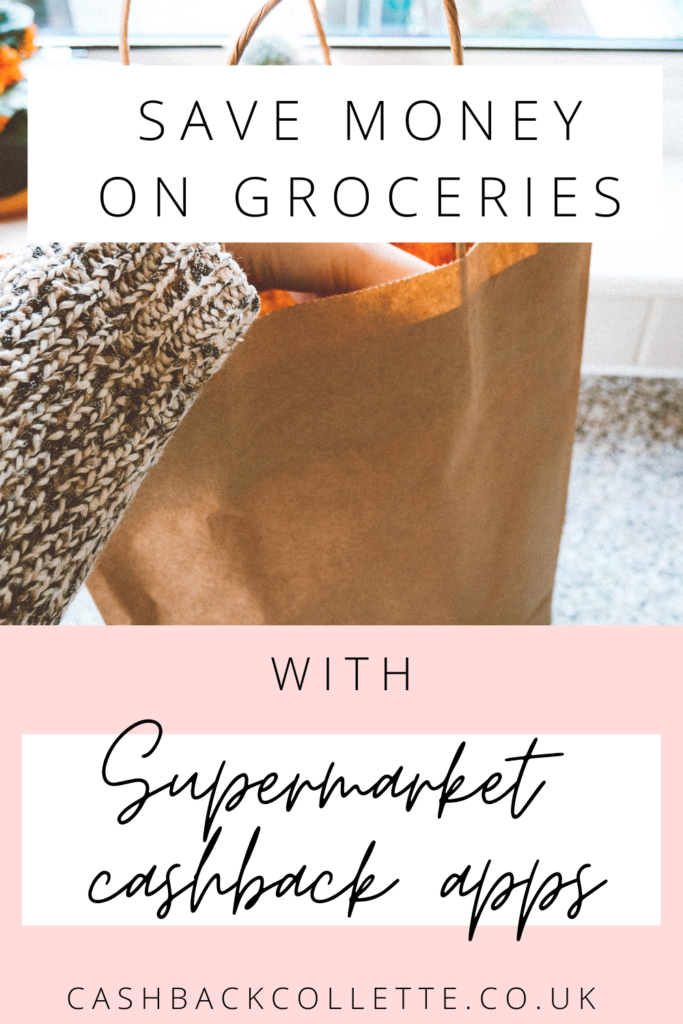 Before I go into supermarket cashback apps, did you know you can actually save money on everything you buy? Find out more about cashback now.
Why I love supermarket cashback apps so much:
You get to try exciting new products for free or at a heavily discounted rate – 90% of the products I've picked up are freebies
There's no 'oh I forgot my coupon' or price debate malarky at the till – you can claim your cashback on your receipt afterwards
You can still collect supermarket loyalty card points – hello Tesco Clubcard, Nectar points, and you too, Boots Advantage Card points!
The ability to stack deals AND sometimes even make a profit on the cashback you receive
They often run the same freebie and discount products over and over. I've had so many free packs of Hippeas puffs, so yummy!
How do supermarket cashback apps work?
It's so easy to get started using these apps!
 Download the app for free on your phone and then take a look at the offers on each one. There are usually 40 – 70 offers on each at any given point
 Unlike traditional types of coupons where you scan it at the till and it knocks the price off your total, you need to purchase the product as normal at first when using these apps.
Then when you get home, upload a picture of the receipt to whichever app the deal is on and submit your claim. Your submission will be acknowledged and the cashback will be rewarded to your PayPal account
You can save offers to your basket in the app and filter by shop on some apps.
This makes it easier for you to pick up your freebies or discounted products in each supermarket.
Amazing!
Ok… what's the catch?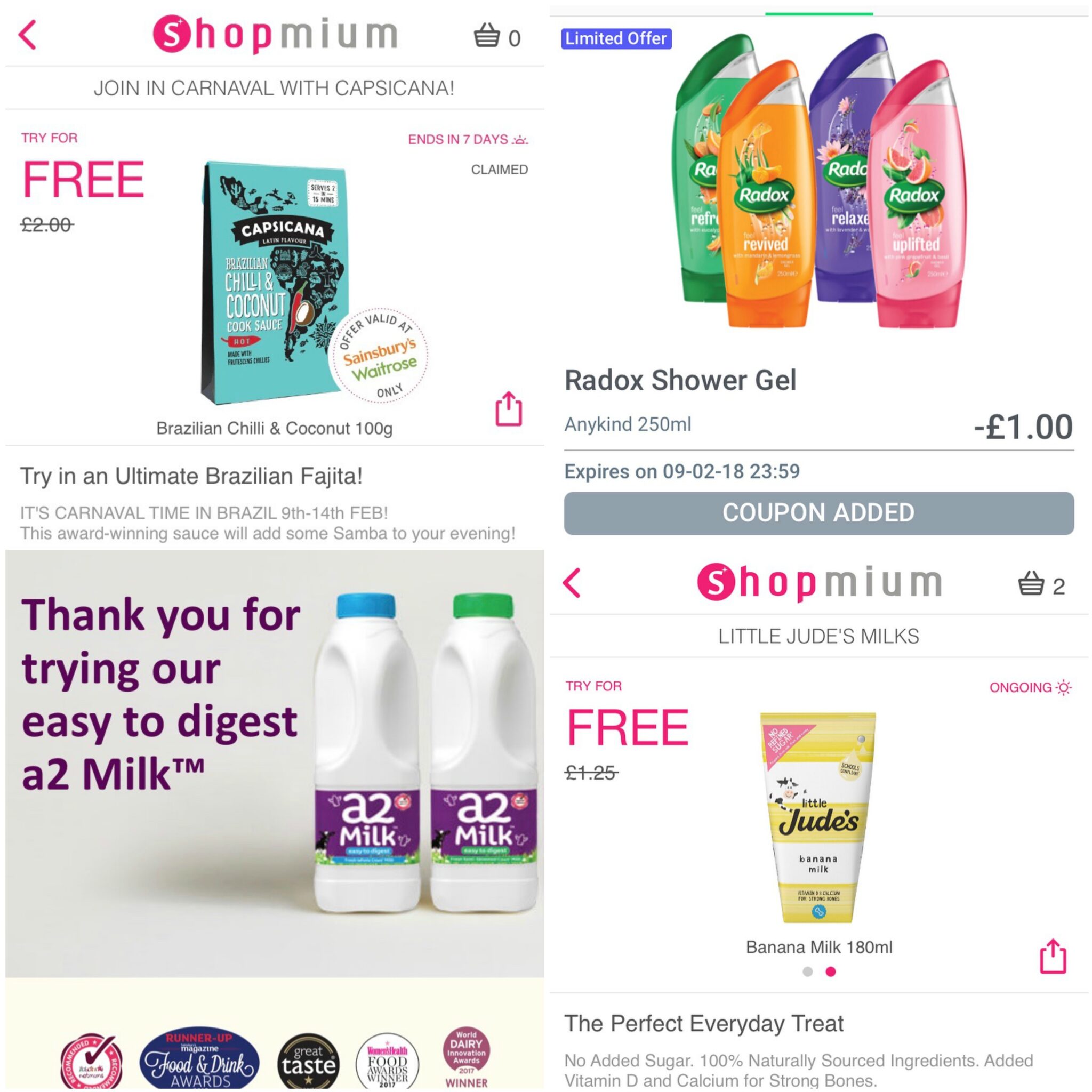 There's no catch! Honestly. The cashback paid to you comes from brands that want to promote new products and raise brand awareness. This is one of the best, most cost-effective way for brands to get their name out there.
If you like their product, they hope you're more likely to pay full price for it next time.
I've received loads of freebies and discounted supermarket treats on these apps, including:
Free Genius Gluten Free bread Free vegan-friendly Hippeas crisps
A free jar of Nutella spread
100% free Lindt chocolate bar
A free tub of Pringles
Supermarket own free pack of free-range eggs
 and loads more….
Another great thing about these apps is they also feature products for people specific dietary needs.
Gluten and dairy-free products can be quite pricey so it's great to know you can discounts.
Jen from A Balanced Belly has a great blog post series on current supermarket deals and freebies.
This is really helpful for those with these diet needs, and is definitely worth a read!
What are the best supermarket cashback apps?
There is a great selection of supermarket cashback apps to help you save money on your grocery shop.
I recommend them all, obviously, but there are 5 main ones I like to use and want to recommend to you.
Here are my 5 favourite supermarket cashback apps in order of preference:
1. Shopmium
Shopmium is, without doubt, my go-to app for saving money on your supermarket shop.
It's really user-friendly and the products on there are available at a range of supermarkets. So like ASDA, Sainsbury's, Tesco, Morrisons, Waitrose and more.
Every now and again, they even branch out and offer freebies at cafes.
For instance, they had some smoothies worth £2.85 recently on offer at your nearest Caffe Nero and some yummy biscuits at Costa.
There are no withdrawal fees and the cash goes immediately back into your bank or PayPal account, often within 48 hours.
If you go to 'Stores' then you can click on stores on the map and see all the current offers available at each store near you.
You can add items to your basket and also check the eligibility of the product. It's so easy!
Just scan the barcode via the app in the store to make sure you have the right one before you purchase it.
You also get notifications to your phone when there's a new freebie, I always get so giddy when I see these! Even better, Shopmium has a referral scheme!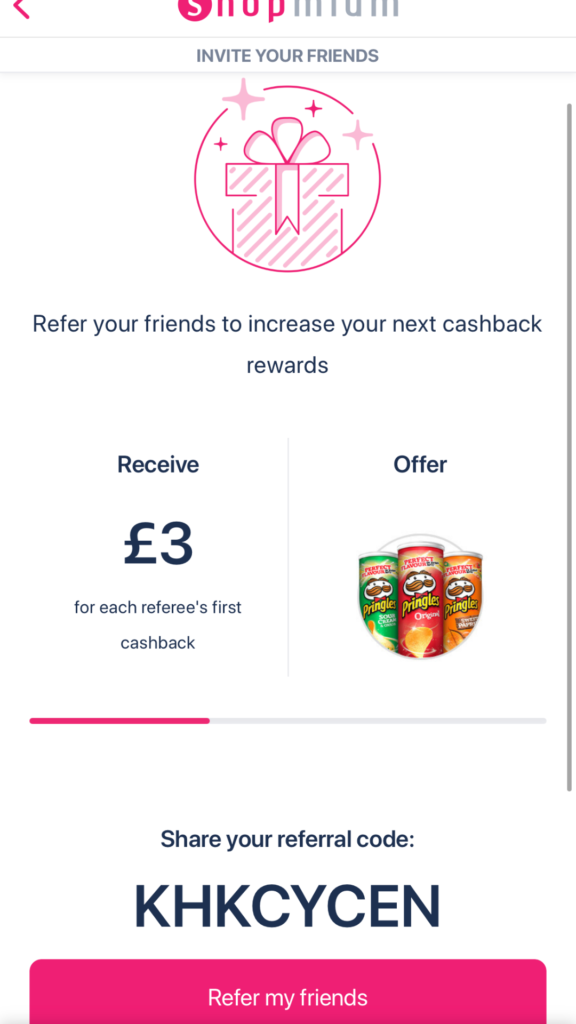 Join now and enter code KHKCYCEN to get a free chocolate treat. It's currently a jar of Nutella! Pass your code on to your friends and get £4 credit for every person who uses your code to spend on the app.
Related: Shopmium App – How to get freebies & save money at the supermarket
2. CheckoutSmart
CheckoutSmart used to be my favourite supermarket cashback app for freebies, but it doesn't seem to offer as much variety as Shopmium anymore.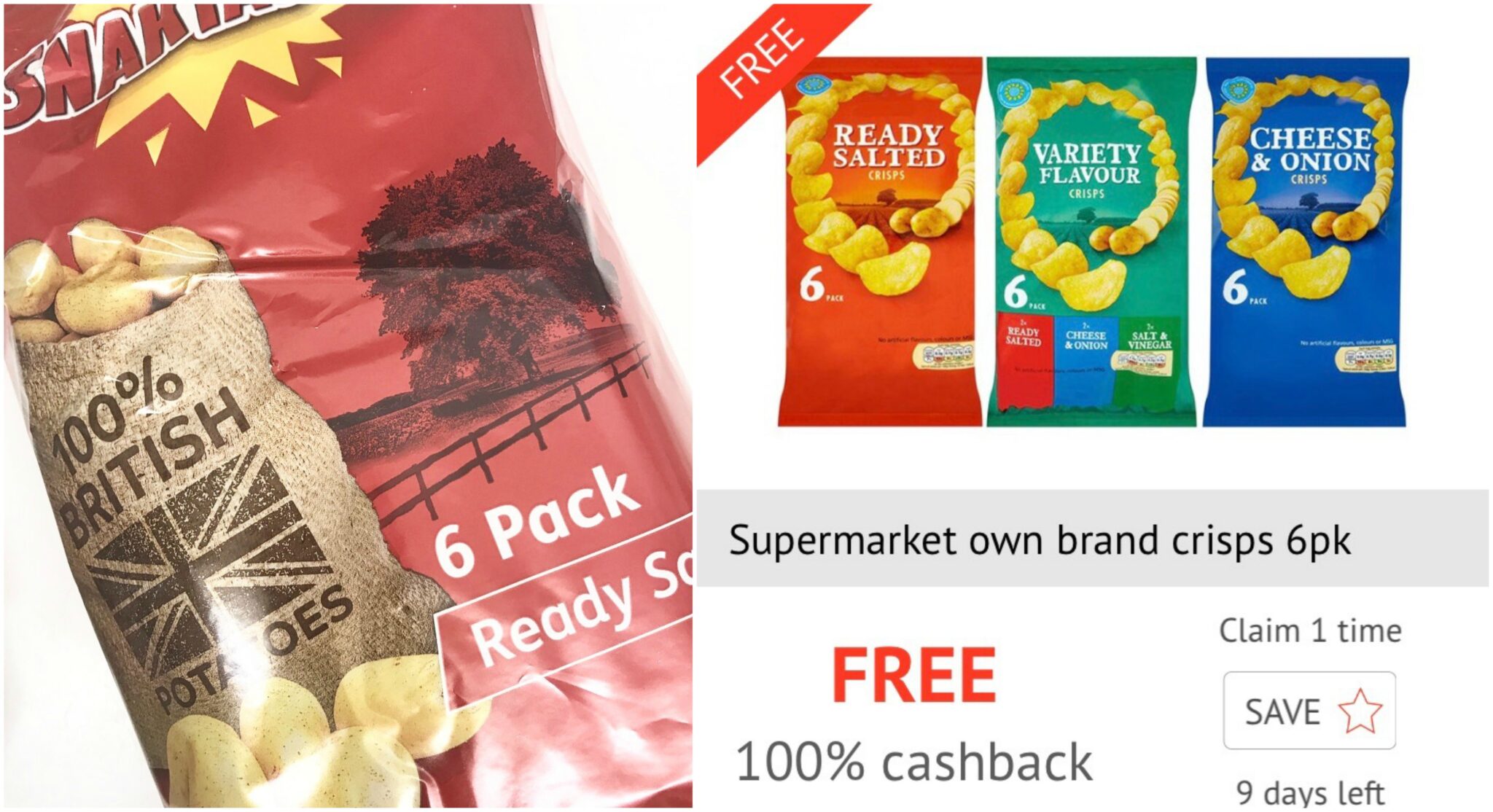 That being said, it's still got loads of tasty bargains on there. These are also available at a range of supermarkets like ASDA, Sainsbury's, Tesco, Morrisons, and Waitrose.
It sometimes has offers at local One-Stop and Iceland stores, too. The payment isn't as fast as Shopmium and can take up to 10 days to reach your account.
Related: CheckoutSmart App – How To Earn Cashback At The Supermarket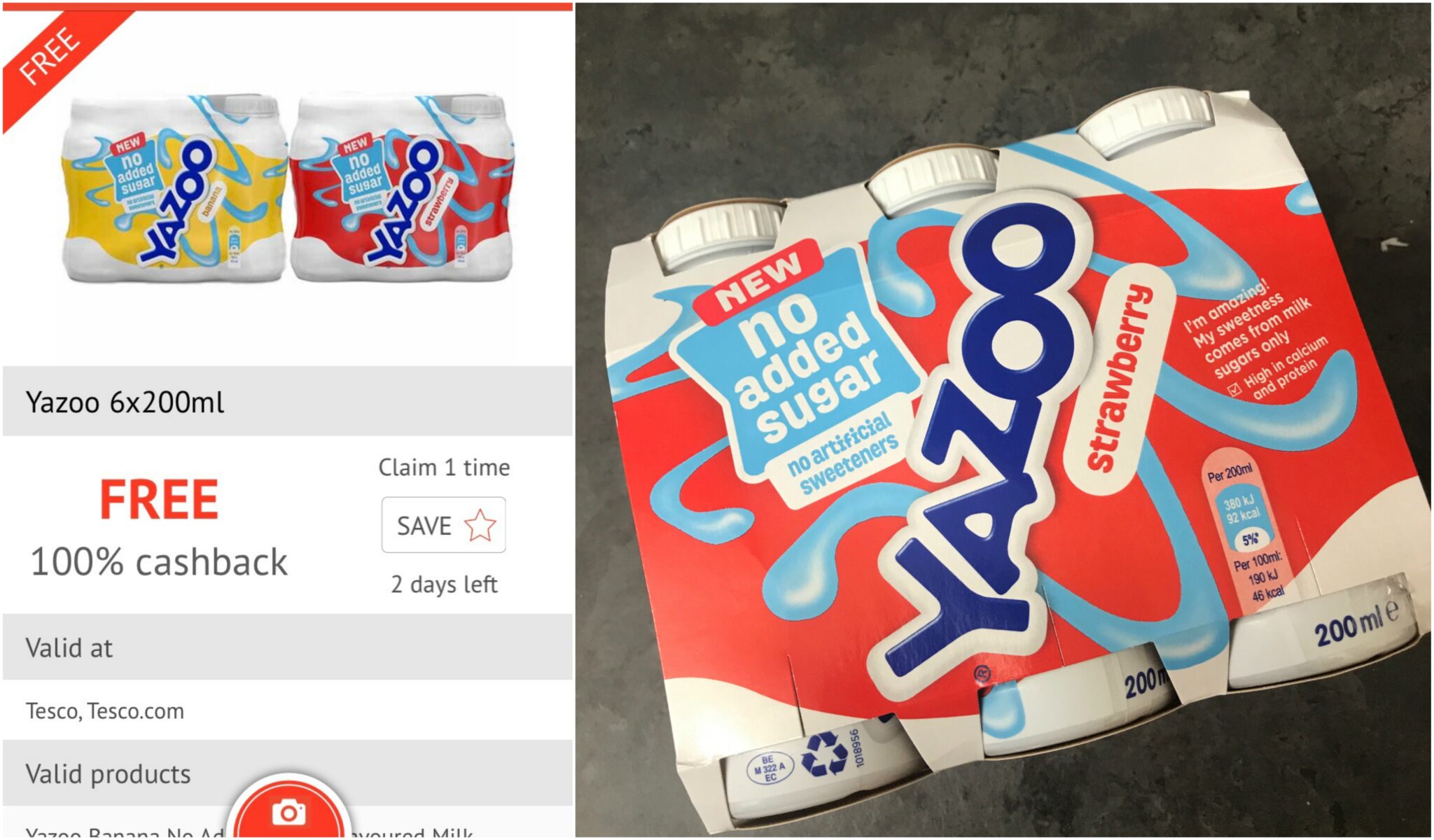 Plus, it doesn't pay out instantly, either. You have to reach £20 before you can cash out for free (or you can cash out earlier with a 5% transfer fee). With all the freebies and discounted products on offer, you'll definitely hit £20 in no time!
Similar to Shopmium, they have a filtering option, so you can see all the offers available at ASDA for example.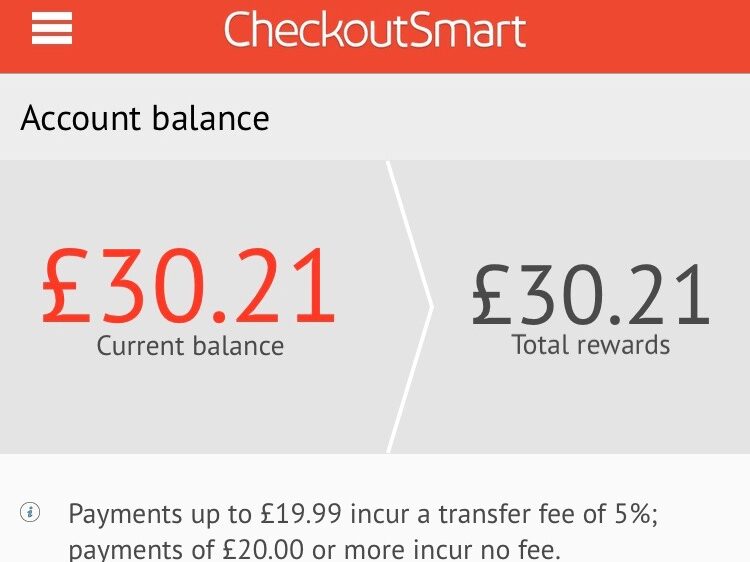 It also has a similar shopping basket system to Shopmium, where you can add items to your basket within the app.
CheckoutSmart even host competitions on their app, where you can win anything from £10 to £100 every day. Exciting stuff!
3. Quidco ClickSnap
Quidco ClickSnap is owned by the same people who own CheckoutSmart, so the deals are very similar.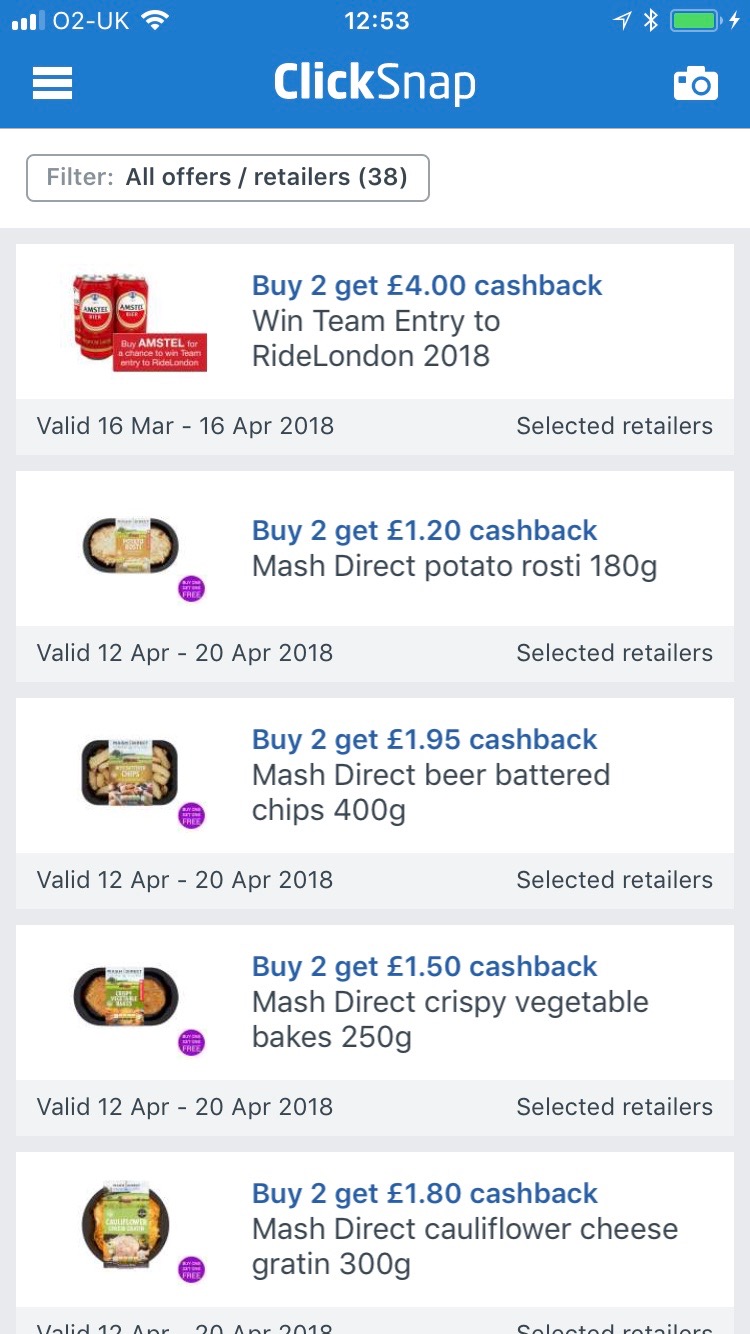 However, I tend to use this less as it's a bit clunky and less user-friendly. The images are smaller and sometimes the offers that appear to be available, sometimes disappear from the list or are unavailable when it comes to you uploading the receipt.
It's also quite slow and jumps when you scroll down to see each offer. Quite annoying!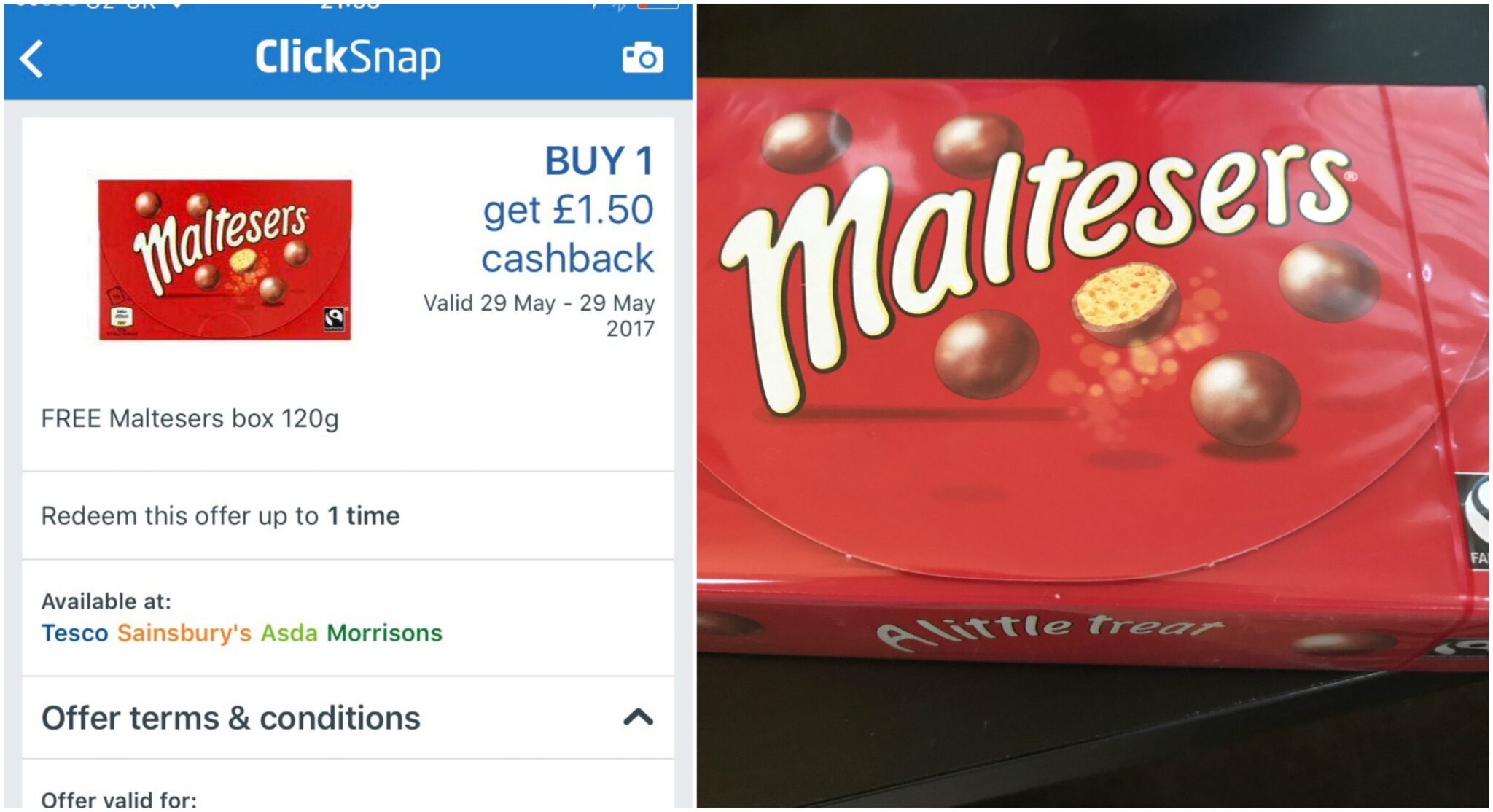 That being said, they have some really good offers on there, especially at Christmas and other seasonal periods. They also run competitions on their app, where you can win a whopping £200 when you upload a receipt.
That kind of sweetens the deal. Get the money transferred directly into your Quidco account and withdraw when you reach £5.
You even get an additional bonus for choosing a gift card option over bacs or PayPal transfer. Winning!
If you haven't signed up yet, find out more about the benefits of cashback and start earning free money on your purchases!
4. Green Jinn
Green Jinn is the newest of the supermarket cashback apps I use.
After a few technical glitches, it has now become a fully functioning app where you can earn £100+ back every month.
Green Jinn started out with Sainsbury's and Waitrose only, but they've recently added Tesco, hurrah!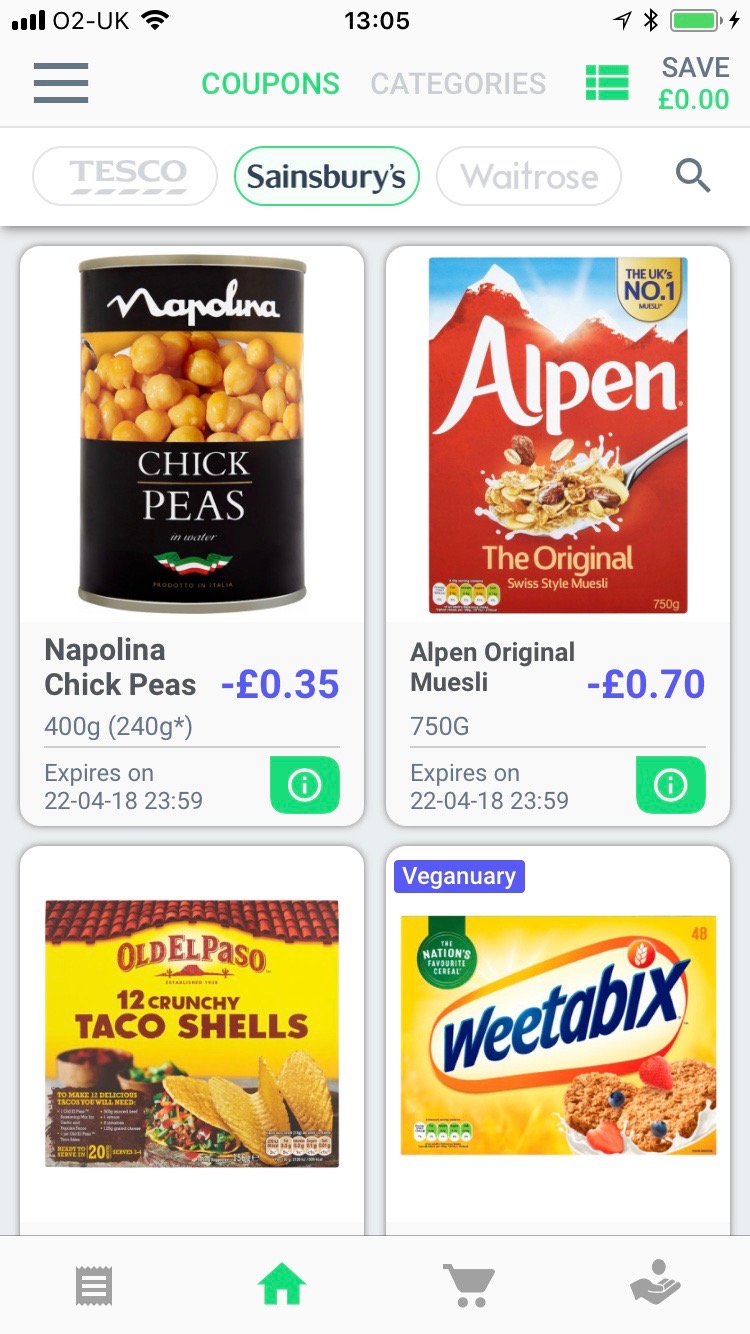 They also claim there'll be more stores coming soon. It doesn't necessarily have freebies on the app, but because it has so many deals on there, the potential to save on your weekly shop is definitely still there.
It's also a great app for deal stacking! They recently had a Radox shower gel on there for £1 off and I saw these on offer in Sainsbury's for £1, making it free.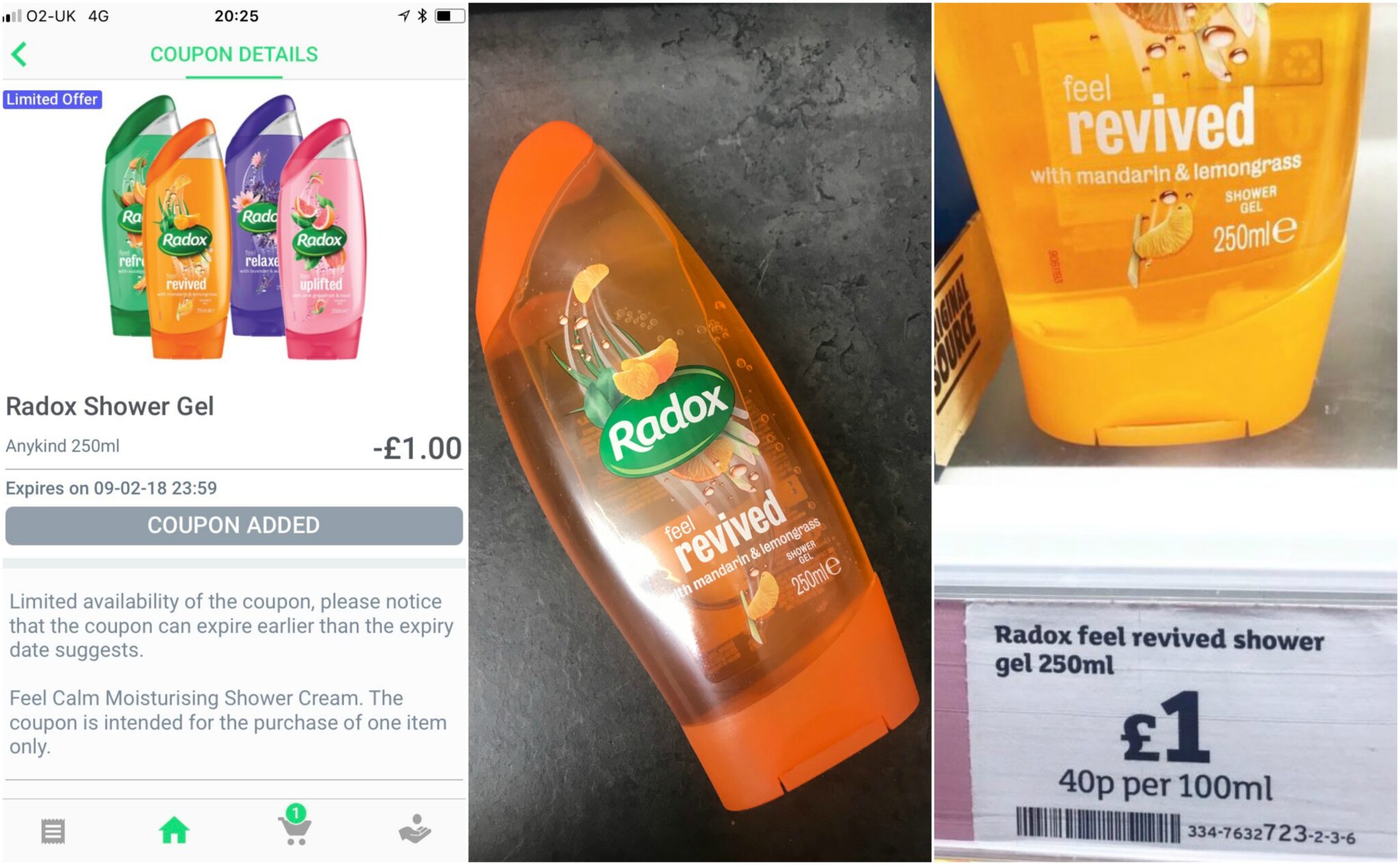 You can also personalise your coupons based on the things you like. So if you're vegetarian or love healthy eating, then you can check these off and build your shopping lists around these preferences.
Simply snap a pic of your receipt on the app like the others, and you'll receive cashback in your Green Jinn account.
Cash out after just £1.50, which after Shopmium (which is free and instant) is the lowest and fastest payout threshold.
5. TopCashback Snap & Save
TopCashback Snap & Save is less about freebies and more about money-off deals, which there aren't many of.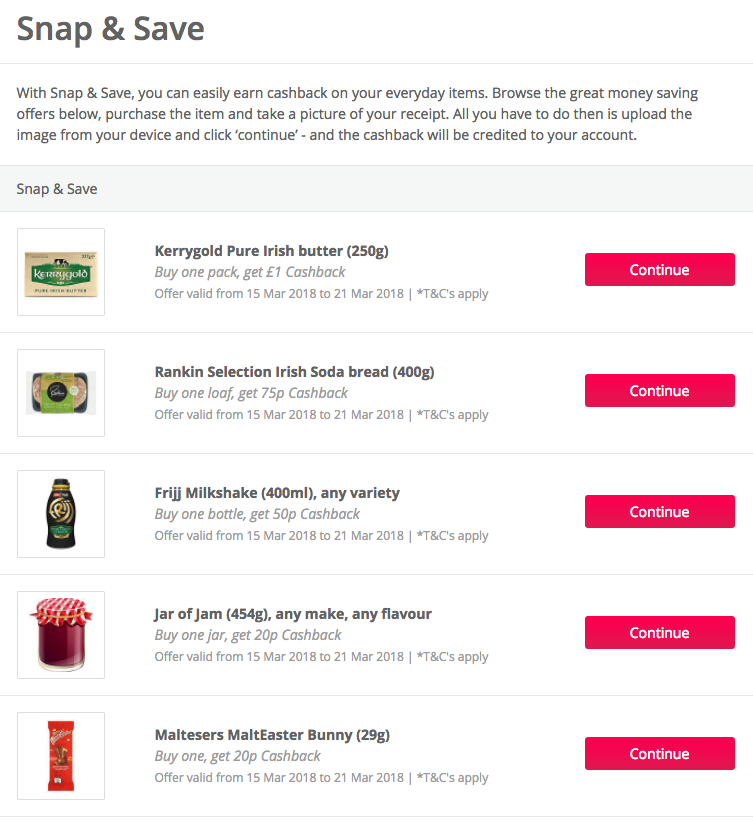 This makes it my least favourite supermarket app. Don't get me wrong, they have some reasonable deals on there like 75p off a Goodfella's Pizza, 60p off Dairylea Triangles and other family favourites.
It's good for things like lunchbox treats and bits and bobs, but it's not the first place I would look when planning my weekly shop.
Plus, I've never seen any more than 10 deals on there at a time. The app is more flexible in terms of claiming offers, as you can submit a receipt from any supermarket on most deals.
Another good thing about the app is that you can upload a receipt of your photo to claim on your desktop, rather than just your phone.
This one is quite slow to reward your cashback and can take up to 7 days to process and goes into your TopCashback account.
From there, it could take a whopping 30 days to process for you to cash out from your TopCashback account.
Top tips to get the most out of supermarket apps
As you can see, each supermarket cashback app has a different offering, but there are ways to get the most out of all of them.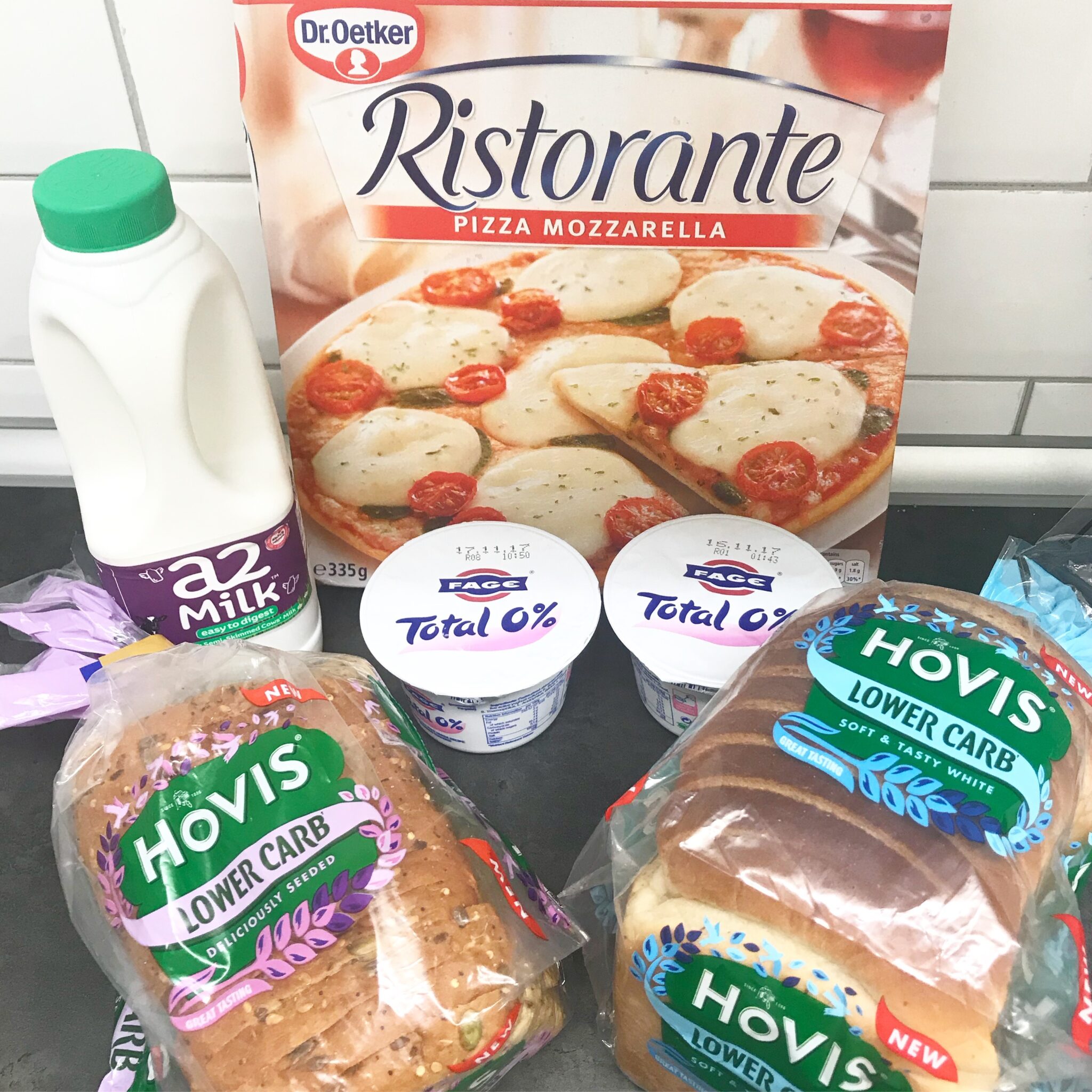 Check the apps regularly to see new offers
These apps are constantly updating every day and if you miss something, it's good to pop into each app and just refresh to keep on top of new deals.
Add all the offers you like to your basket
This will help you when you get to the supermarket. Add the items you like the look of to your basket and shop for your freebies in-store until your heart's content!
Allow notifications on your phone
Sometimes freebies only last a day on the app, so allowing notifications on your phone keeps you in the loop. You can nip to the store and pick up the freebie or new offer before it expires.
Make a list before your next shopping trip
It's good to check the apps while you're doing your shopping.
However, if you're like me, you might get a bit flustered trying to find all the products last minute, on top of your shopping list once you're in the store.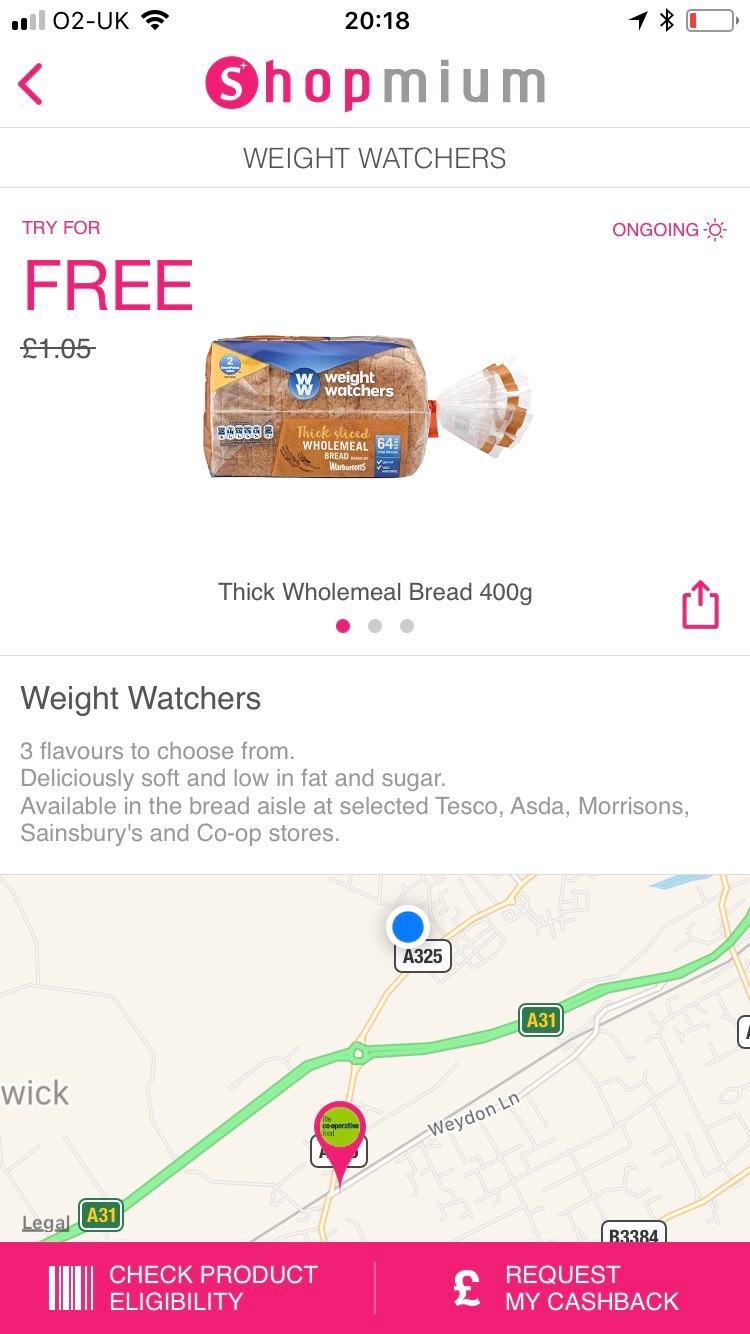 To make sure you don't forget anything, list the items in the order of the store so you can pick up any offers as you go around. This saves you zig-zagging around looking for freebies. Sometimes, they'll be in completely random places to where you originally thought, but this can't be helped.
At least this way gives you a little bit of order.
Check when the offers expire
Offers sometimes last for a day or are ongoing for months, so it's definitely worth checking before you pick yours up.
A couple of times I have missed out on claiming my cashback, as my receipt has been out of date or I picked up the item too late.
Gutted!
Make sure this doesn't happen to you by double checking when deals expire.
You can do this by clicking on the offer and scrolling down and clicking 'read more' to get all the details of the offer.
Double check you've got the right retailer & product
This has caught me out a couple of times where I've been denied cashback because I've picked up the wrong flavour, size or entirely different product.
Sometimes in a store that wasn't included in the T&Cs i.e., I've picked up a product to claim cashback in ASDA when it was only available at Sainsbury's.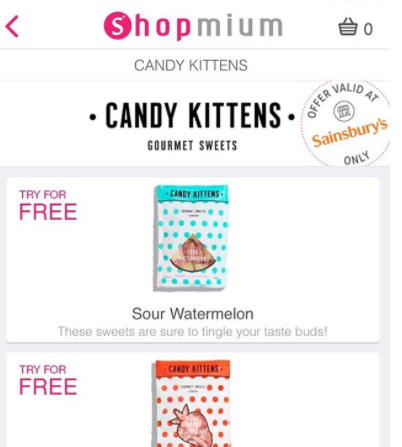 This is where Shopmium's 'check eligibility' feature is very useful, but always triple check before you pay. Snap your receipts as soon as you get home & keep them until your cashback is confirmed.
It's best to upload piccies of your receipts before they end up in the bin, as mine often do.
Then, keep your receipts in a safe place until your cashback has been confirmed.
They might ask for more information or your pic might have been blurry so it's always best to have it handy, just in case.
Stack deals to get freebies
If you've read some of my other posts, you'll know I'm a little bit of a geek when it comes to sniffing out a good deal stacking opportunity.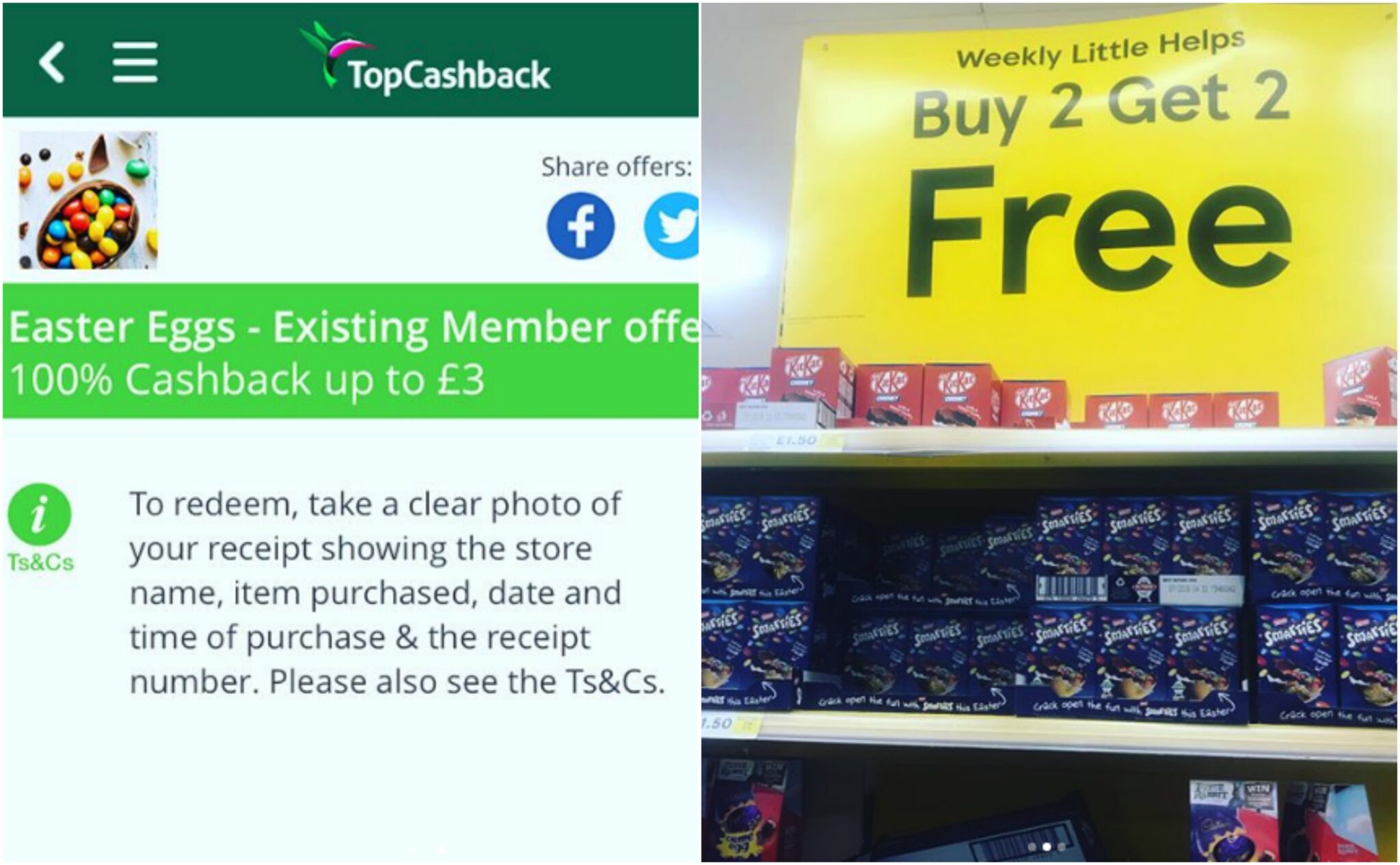 It's basically when you find a deal and combine it with another offer to make it super cheap or even free. So you can use a deal on one of the apps and a voucher or offer in-store to maximise your savings!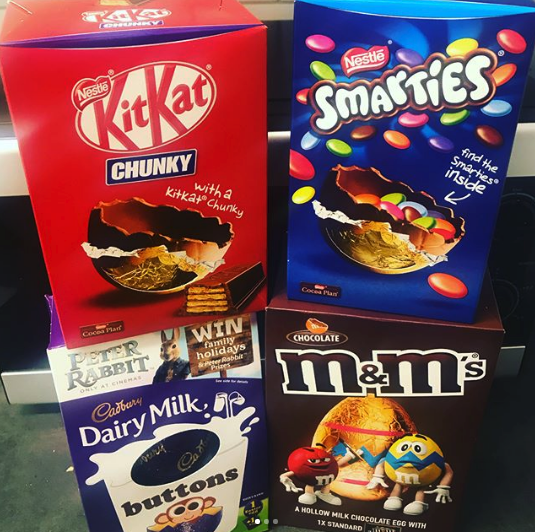 That's how I managed to get all these Easter eggs and chocolate treats for free. Tesco had a 'buy 2 get 2 free' promotion running and TopCashback's Snap n Save app had a buy any Easter egg and earn £3 back.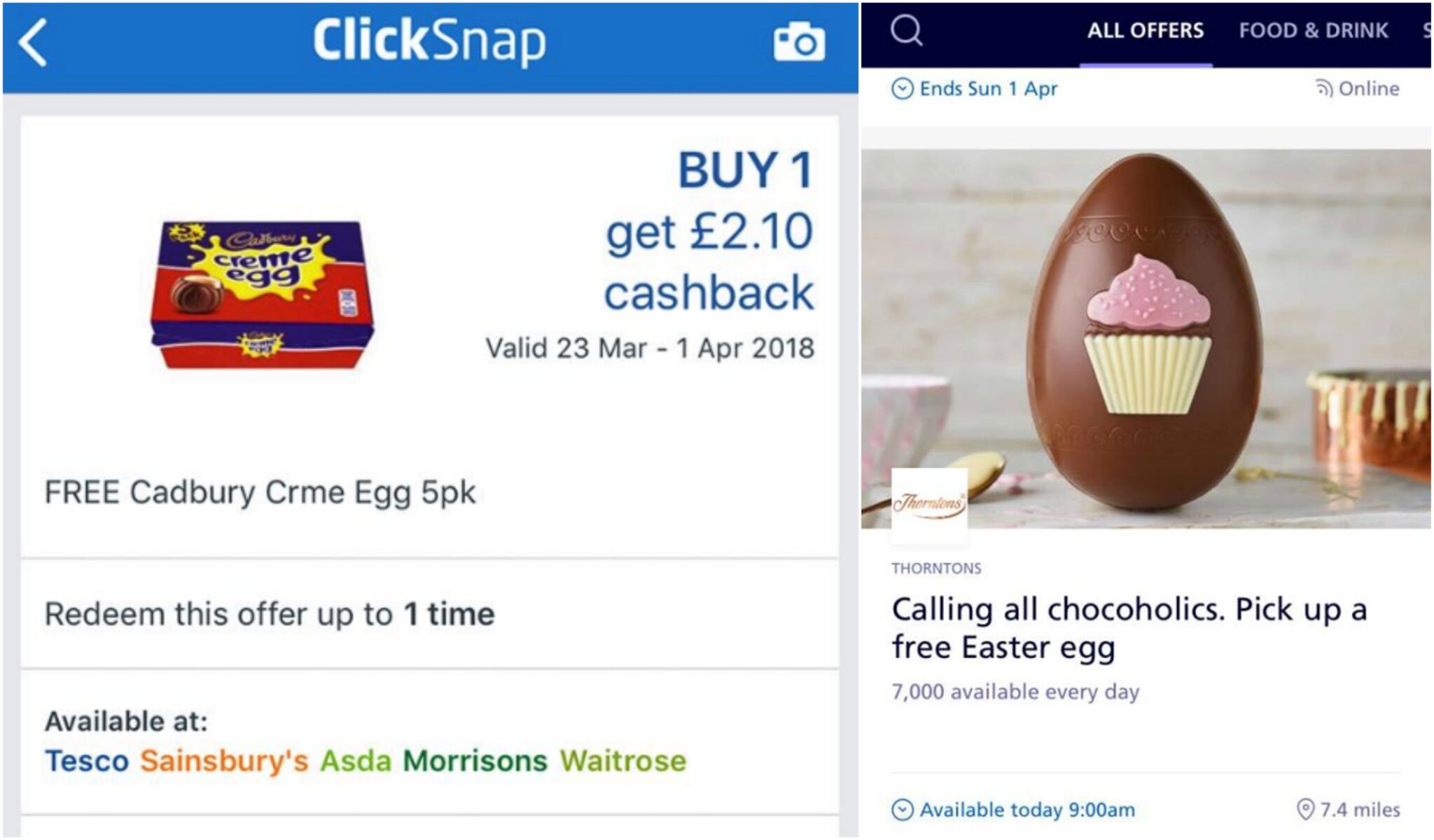 My two Tesco Easter eggs were £1.50 each so I earned £3 back from the app AND got 2 free because of Tesco's promotion. I also got a pack of Creme Eggs on Quidco's ClickSnap app and free Easter eggs on O2 Priority. This made Easter free!

Sometimes, you can even make a profit!
When a 'try me free' campaign is also running alongside a product available on a cashback app, you have the opportunity to go one step further than a freebie and earn money from it! S
o say you pick up an item like I picked up a carton of Ocean Spray Cranberry Juice.
It's got a special 'try me free' tag on, where I can go home and upload a photo of my receipt, claiming 100% cashback.
It's also offering £1 cashback on Shopmium. I'm already claiming the entire amount back on the 'try me free' campaign.
So if I scan my receipt on Shopmium too, I've made £1 profit from the Shopmium app.
Make sense?
Sometimes you can claim the difference from a sales item back, too.
Say you pick up a pack of tuna that says on the app you can claim £2 back.
If it's half price in store for £1, you can still claim the complete £2 back.
This isn't always the case though, and most times you'll only be able to claim what's on your receipt, but it's a nice bonus when it does happen.
>>> Related: How to get the best voucher codes for ASOS, Domino's & More <<<
Split your receipts to enjoy double the rewards
Like I said earlier, Quidco's ClickSnap and CheckoutSmart are owned by the same company.
This means they will only accept one receipt, regardless of which app you've claimed on.
If you want to enjoy two lots of the same freebie, split your supermarket shop so you get two receipts.
It takes a little bit longer, but it's worth it to save some pennies and claim freebies.
This is also the case if you've got family members who have signed up and you're picking up the items for them, too.
I've heard that they accept the same receipt across two accounts, but I don't like to risk it.
Sign up for their newsletters
Apps like Shopmium and CheckoutSmart usually email you with a rundown of all their latest deals and a total of how much they can save you.
So make sure you sign up to keep in the know.
You might even get exclusive freebies this way, especially when they have seasonal promotions and games on the go!
A few things to note with supermarket cashback apps
Can I use cashback apps with an online supermarket shop? 
I've only ever seen a few online exclusive supermarket cashback app offers so I wouldn't hold out for these. 
Here's what I would do instead:
Claim cashback deals from third-party sites like Topcashback and Quidco who often have exclusive online cashback deals for supermarkets like Asda and Tesco – check out my guide on cashback websites if you're a beginner. 
Use your loyalty scheme points and vouchers with your online shop – think Tesco Clubcard and Sainsbury's Nectar card points 
Write to manufacturers of your favourite brands and ask for coupons that work online to try their products.
Don't go out of your way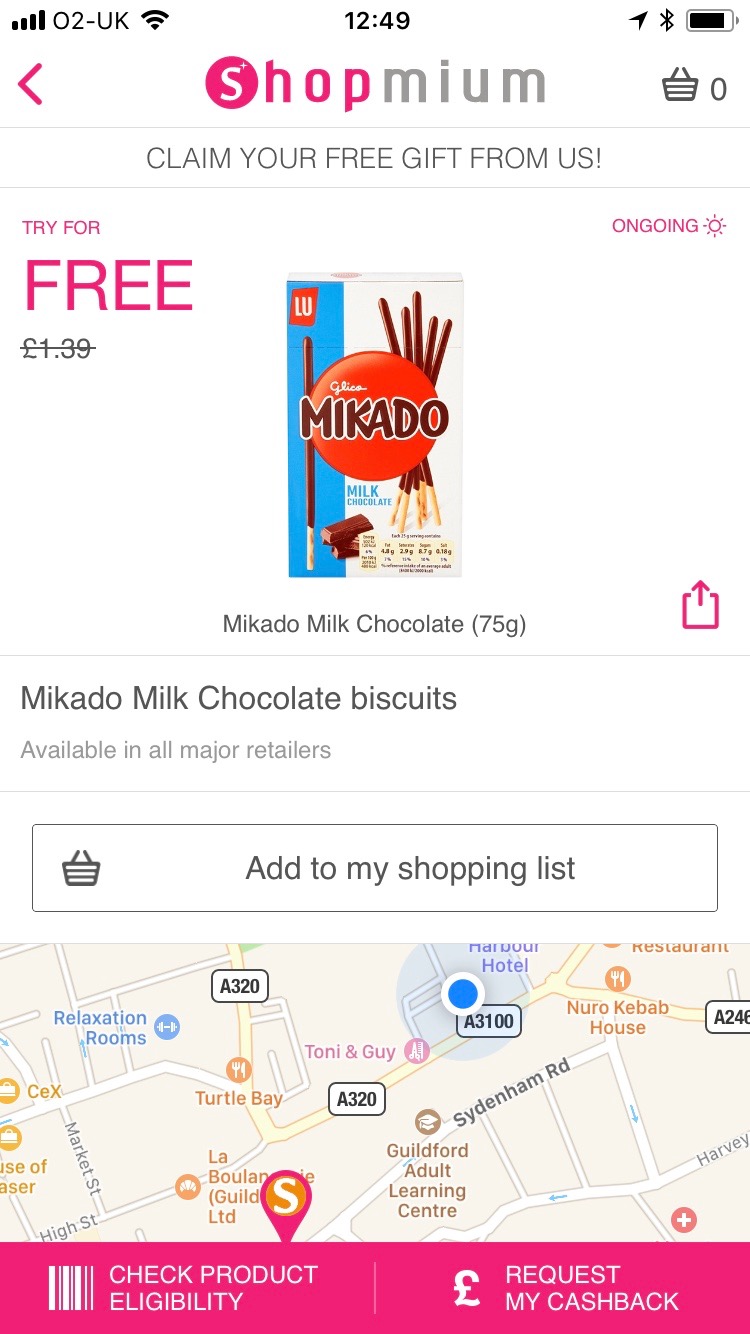 Were you going to the supermarket where the freebie is anyway? If not, is it worth the cost of petrol to pick up a free item? Probably not. A freebie is great when it's something you can pick up with minimal effort.
However, if you're driving or getting public transport there and taking a significant amount of time out of your day, it's probably not worth the cost of the freebie.
Are you really going to use it?
I get so hyped up when I see freebies, I've even claimed free dog and cat food, nappies, toddler snacks and more.
I don't have any pets and I certainly don't have any kids. Before you get carried away like me, think about the purpose of the item, rather than the value.
If it doesn't serve a purpose in your home, it's not worth claiming.
Spread the word & pass on unwanted items
Wondering what I do with all my unwanted household freebies? I stash them in a box and donate them to a food bank every time the box gets full.
Then, if I go on another mad freebie haul, I repeat the process.
It's a great feeling when you've scored something for free. It's an even better feeling to know that you're helping someone who is even less fortunate than you are.
Sometimes the items won't be in stock
I can't tell you how many times I've wandered around my local Tesco, asking multiple members of staff where an item is.
Sometimes it's just not stocked in your store, especially if it's a new product, flavour or range.
This is why it's best not to go out of your way to make the trip just for freebies.
Final thoughts on supermarket cashback apps
You can't pick up your items from the yellow sticker aisle
Make sure you keep your receipts nice and neat. If there's a crease or a spill over the details, they might be rejected
Remember to do a good deed and pass on whatever you're not going to use
I hope these supermarket cashback apps help you save as much money on your supermarket shop as it has for me. Enjoy!
This post contains affiliate links, which means I earn a small commission if you sign up to some of the recommended products listed in this post.
Pin for later…