Looking for the best cashback apps to save some cash? I must admit, I probably use cashback apps now more than I use cashback sites or coupons (which are these are still great ways to save money by the way) as they're on my phone and ready to use there and then.
Cashback in general is such a fab way to save money, as it's basically getting free cash every time you shop!
What is cashback?
If you've stumbled across this post and aren't sure what cashback actually is… It's when you basically buy something from a website or shop and make a percentage of your purchase back.
You can save quite a lot of money using cashback sites and apps – I've saved thousands since I started using them a few years ago!
How do cashback apps work
Cashback apps work slightly different to cashback websites. With cashback sites, you load up a cashback site e.g. Quidco, search for a retailer on said cashback site, and click through to shop and checkout.
The cashback site will then track your purchase and reward the money into your account.
However, some cashback apps work differently. With supermarket cashback apps, you buy a selected product in-store and upload a photo of your receipt to earn cashback.
Some cashback apps also connect to your debit card and reward you automatically every time you spend on it.
What are the best cashback apps UK?
Here are my favourite cashback apps to use to earn extra money when you shop! All of these are available for both Android and iOS so fill your boots!
---
1. Quidco
Quidco is my favourite cashback site, as I find the cashback rates are often higher than others (but it's still worth checking others!)
You can shop with over 4,200 retailers on their site or using their free app, which works in the same way.
You simply click 'Get cashback' on a merchant page and it will track and reward your account in the same way.
They also have flash bonus days, where you can earn big, and also offer voucher codes to stack with your cashback for selected retailers, meaning you can save even more!
Some offers are even exclusive to the app, so it's definitely worth downloading.
Sign up now and get a £5 bonus when you earn your first £5 in cashback!
---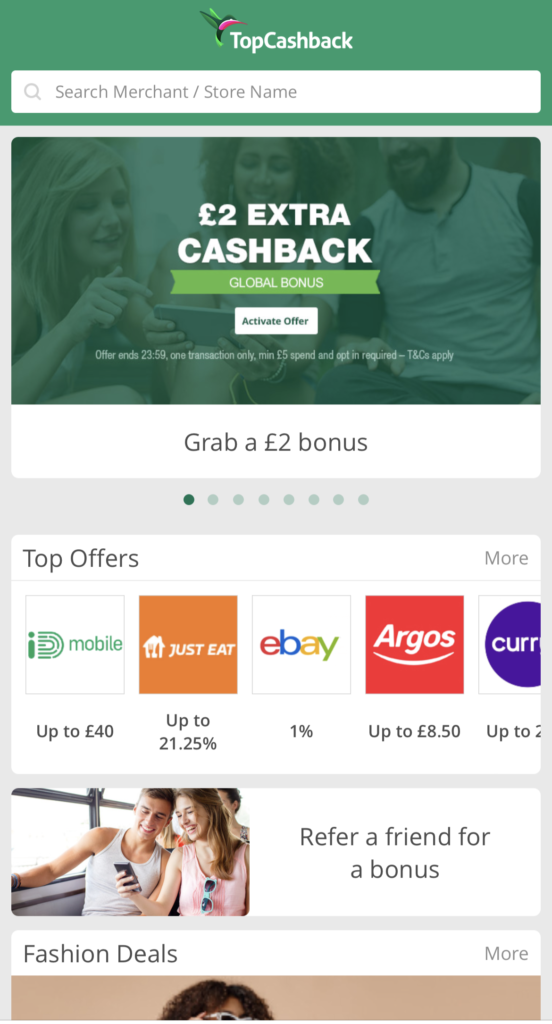 2. TopCashback
TopCashback is another one popular cashback site, where you can earn with thousands of retailers.
They also have an app where you can earn cashback the same way, by clicking through and shopping straight from your phone.
Check this regularly for bonus reward days, where you can earn up to £5 back when you shop within 24 hours.
The app also features a 'Snap & Save' section, where there are regular offers for you to claim in the supermarket.
TOP TIP: Keep an eye on the app during seasons such as Christmas, where they have offers such as free wrapping paper!
Sign up and get a £5 bonus when you make your first £10 in cashback.
---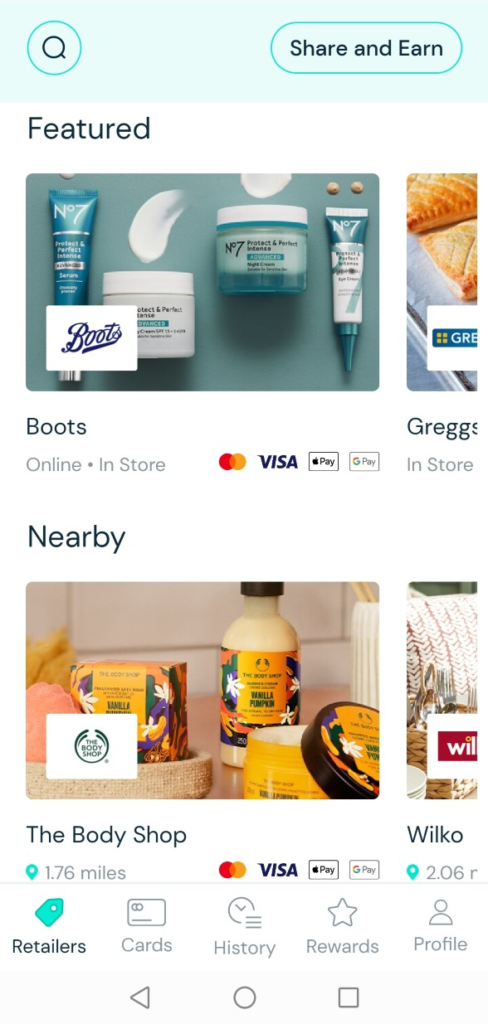 3. Airtime Rewards
Airtime Rewards is fab cashback app that rewards you by knocking money off your phone bill when you shop in-store with your favourite retailers.
There are currently 80+ shops, restaurants, and cafes, where you can earn cashback, including Argos, Primark, Greggs, Caffe Nero, plus loads more.
It's really easy to set up too! Download the free app and connect your debit or credit card and it will automatically track your spending and add your cashback earnings to your account total.
Then, you can use this at the end of each month to contribute towards your phone bill. It works with most major networks, including EE, O2, and Three.
Use my referral code PPBMT7HU if you want to get a 50p bonus (PLUS £1 bonus if you spend with a partner retailer in the first 7 days)
Related: How to save money on your phone bill with Airtime Rewards
---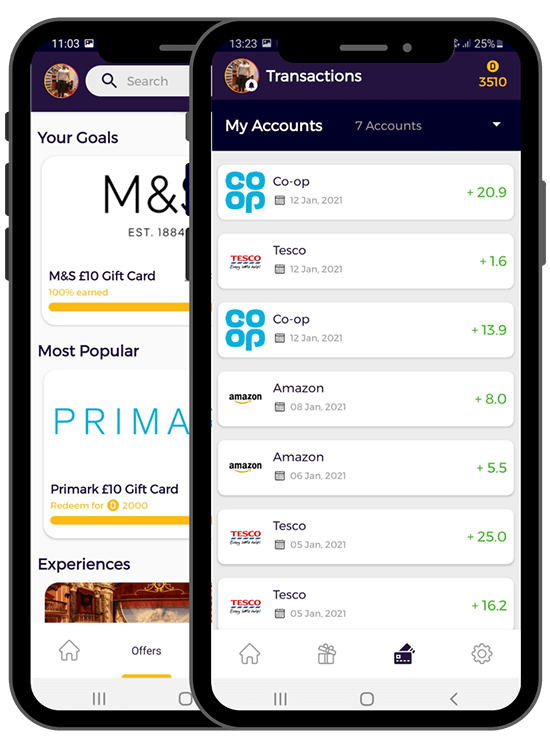 4. Daali
Daali app is the new cashback app kid on the block! It works similar to Airtime Rewards, where you connect to your bank and it tracks your spending, allowing you to bag points by shopping, both online and in-store at various retailers.
What I love most about this app is that it gives you the opportunity to earn cashback with a range of places on top of regular shops, like Amazon, UBER, and McDonald's.
Once you earn enough points, you can convert these into gift cards for Amazon, Costa, plus loads more!
Sign up here and use my referral code: WrNHj and we'll both get 200 Daali points to help you get started!
---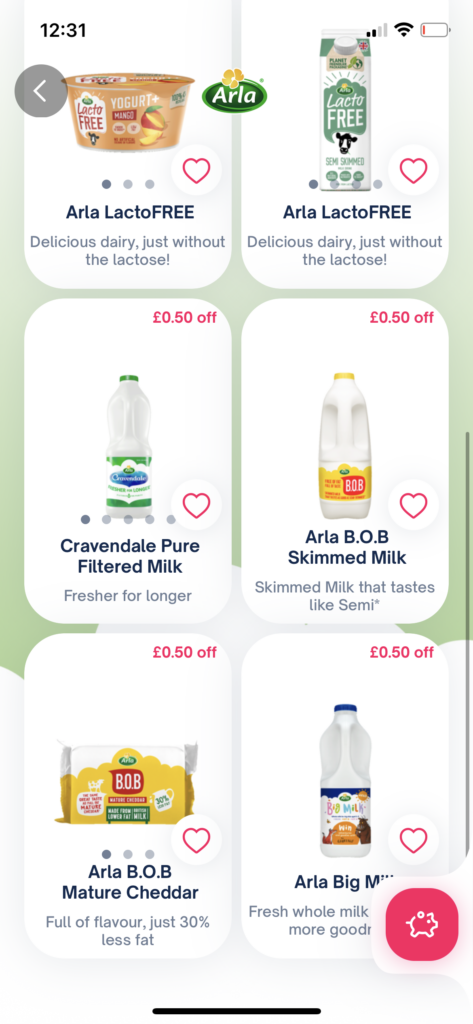 5. Shopmium
You may have seen me banging on about Shopmium A LOT, especially over on Instagram. This is one of my favourite supermarket cashback apps!
The app is packed with fantastic deals and freebies, which are updated regularly and can help you save a lot of cash on your weekly shop.
Once you've downloaded the app, check out the deals available and head to the supermarket to pick these up.
When you get home, snap a photo of the receipt on the app and scan your product and they'll reward you with the cashback – amazing!
Don't forget to enter my Shopmium referral code: KHKCYCEN for a FREE Tub of Pringles when you download the app!
Related: Shopmium – how to get freebies & save money at the supermarket
---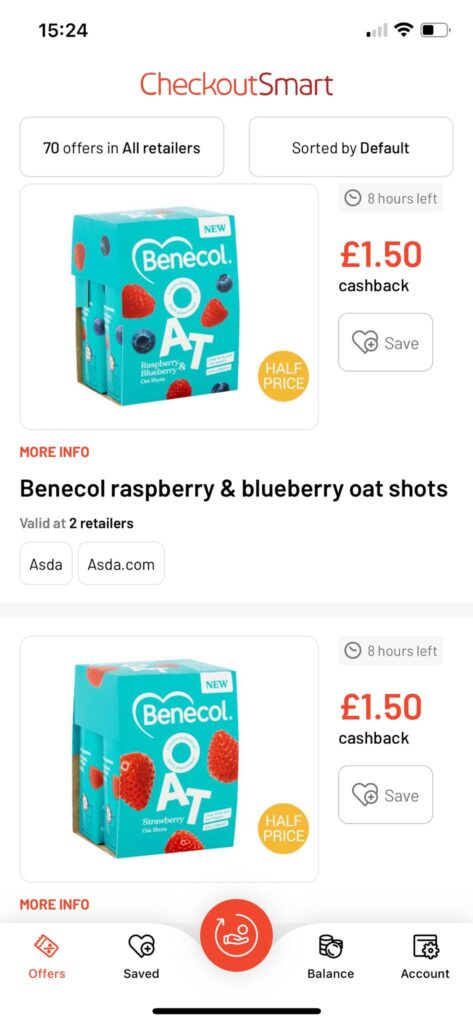 6. CheckoutSmart
CheckoutSmart is another one of my favourite cashback apps to check before I hit the supermarket.
It's also got generous discounts and freebies, which can help cut down your grocery bill.
The app is specifically good for things like drinks and children's snacks, as well as things like biscuits and yoghurts, so it's definitely worth having a browse!
Plus, you can also claim discounts at your local corner shop like One-Stop, or at Iceland and Aldi, on top of popular supermarkets like Asda and Morrisons.
(Most other apps only offer deals at major supermarket chains.)
CheckoutSmart also runs regular competitions, where you can win up to £100 gift cards every time you submit a receipt! Download the app today and see how much you can save.
Related: CheckoutSmart – how to earn cashback at the supermarket
---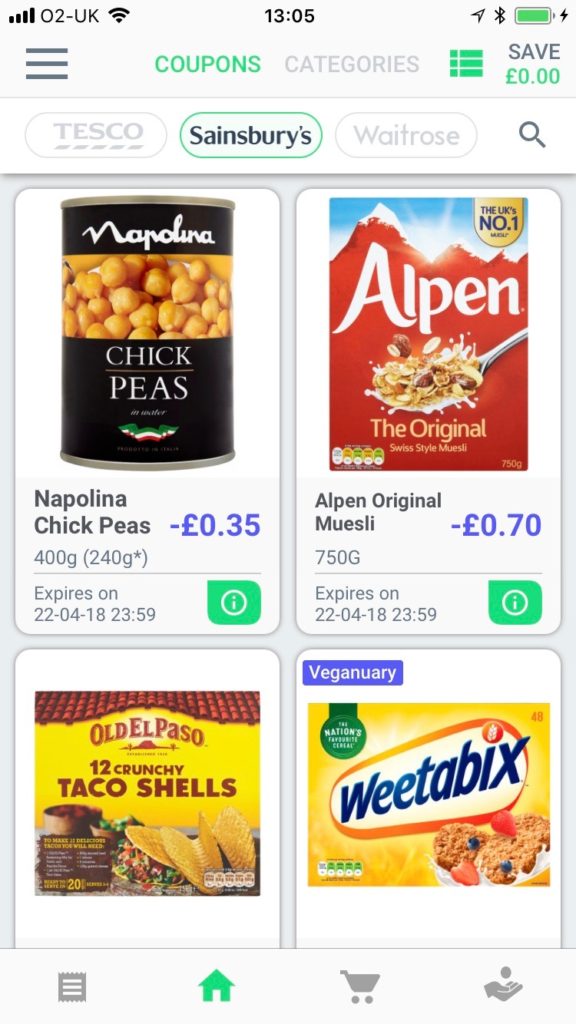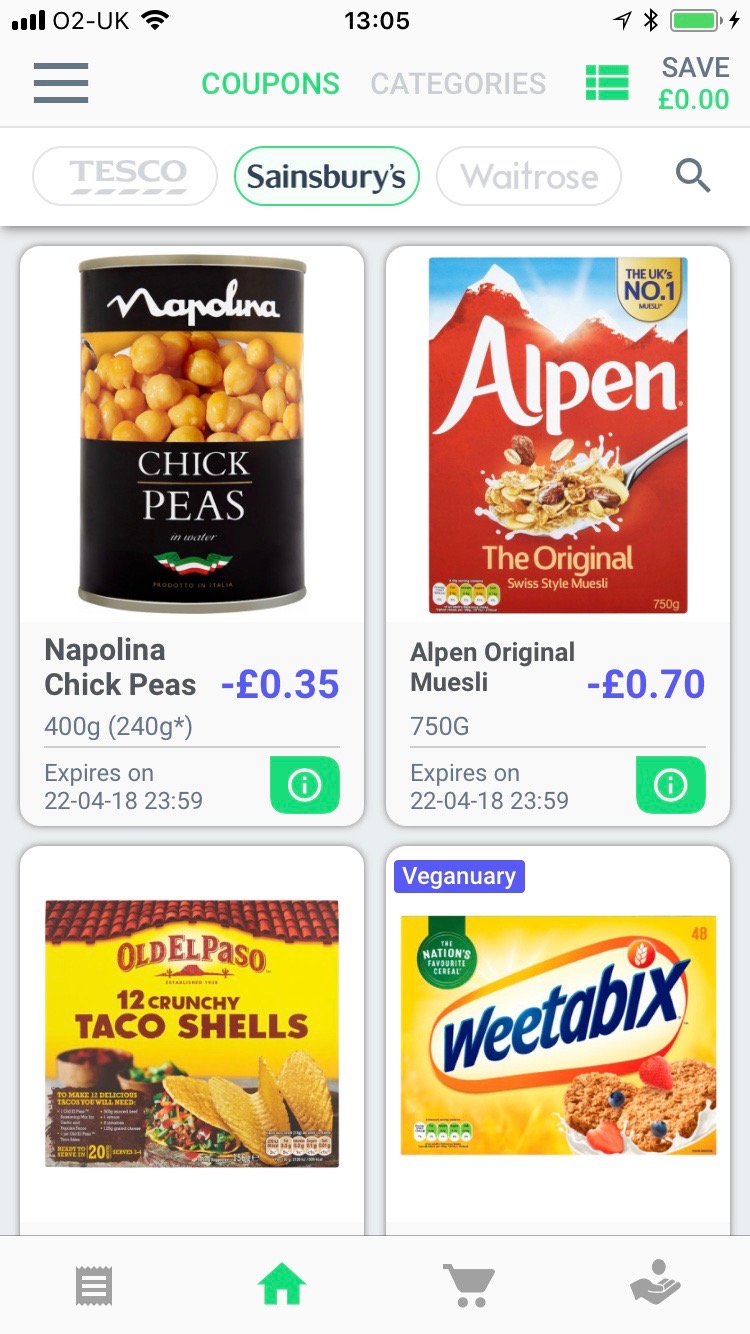 7. Green Jinn
Green Jinn is perfect if you're on the lookout for healthier options and things like fresh fruit and vegetables. The app features digital coupons for products at Tesco, Waitrose, Morrisons, and Sainsbury's.
In addition to cupboard and fridge staples, it also features loads of new, exciting products from familiar and new to market brands that are vegan-friendly and eco-conscious, including milk alternatives, and snacks like chocolate and crisps.
This works similar to the other supermarket cashback apps, where you pick up the items in the shop and pay for them as normal.
Then upload a photo of your receipt to the app when you get home and wait for your cashback to roll into your account.
---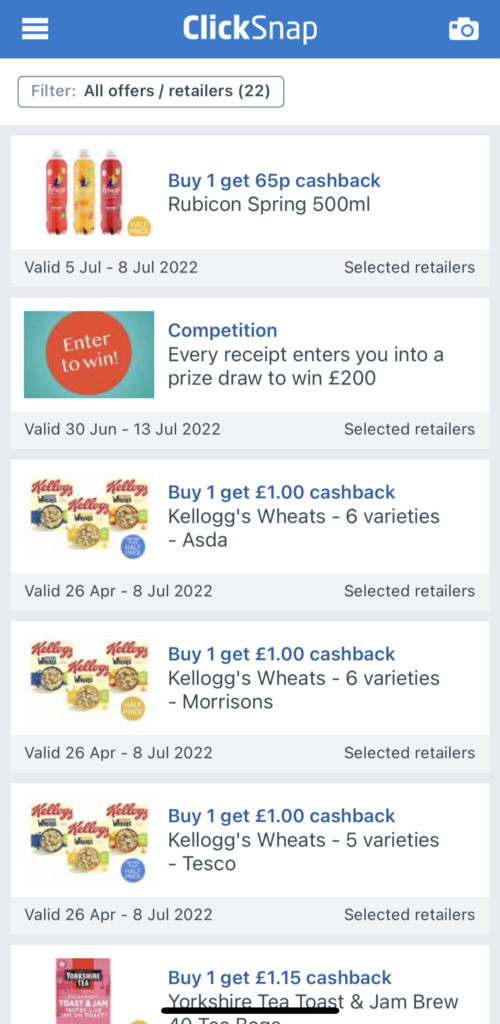 8. Quidco ClickSnap
Quidco ClickSnap is another fab app that is packed full of offers and freebies on cupboard staples like cereal, crisps, and fruit juice, which you can pick up at supermarkets like Tesco and Morrisons.
Similar to CheckoutSmart, you can also earn cashback on products you pick up at local stores like Londis too.
It's a separate app to Quidco but you can log in with your Quidco account.
Whenever you earn cashback, it will be added to the same Quidco savings pot.
It's a great way to top up your cashback savings even more by using the app when you shop for groceries.
TOP TIP: Quidco ClickSnap and CheckoutSmart are owned by the same company, so often have the same offers across both apps.
If you want to double your savings, split your till receipts and claim the cashback twice on both apps!
---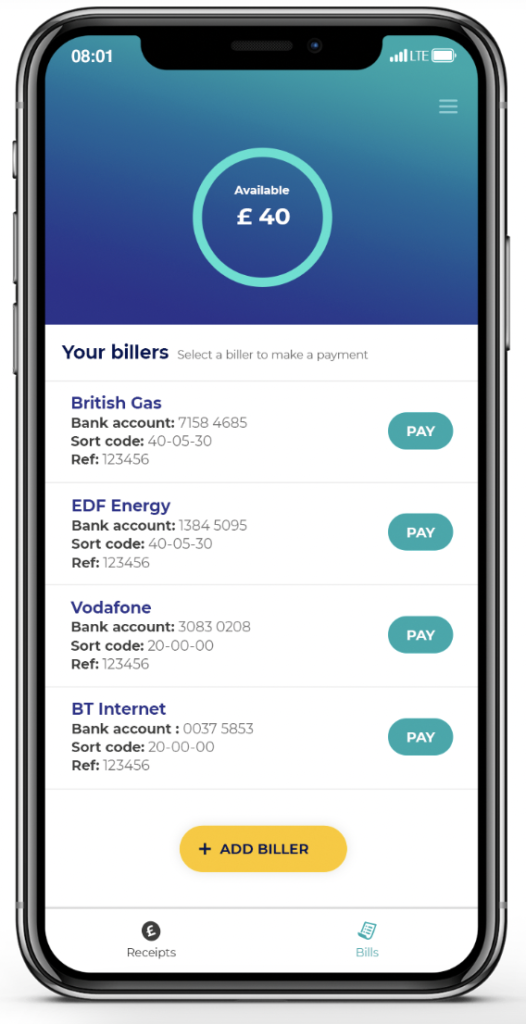 9. ZipZero
Another one of my favourite cashback apps to earn extra cash, both in-store and online, is ZipZero.
Download the app to get started and connect your card and every time you shop with one of their retail partners, including eBay, Amazon, H&M, and more, and you'll earn rewards.
Once you've reached the threshold, you can put the cashback you've earned towards your utility bills like gas, electric, internet, and phone bill.
Plus, you can scan your receipts and upload them to the app to earn even more money off your bills.
I personally think this is such a fab idea, especially given the current cost of living crisis!
---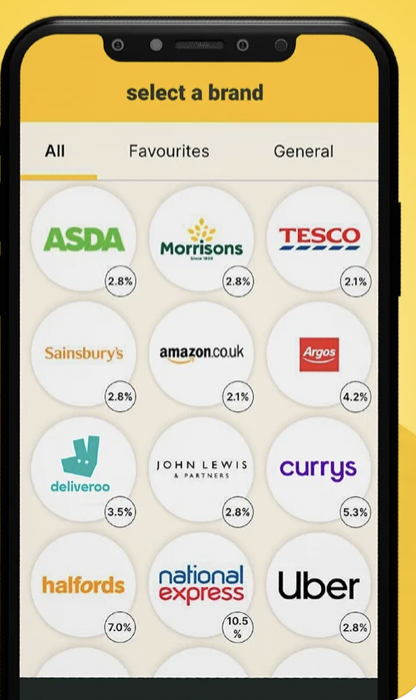 10. Karma Vouchers
Karma Vouchers is a unique way to get rewarded cashback every time you buy gift vouchers from 50+ high street and online retailers and companies, including Primark, Amazon, Decathlon, Pizza Express, Uber, and loads more.
This is a brand new way to earn cashback but it's brilliant because you are paid cashback instantly into your account, rather than waiting weeks or months for cashback to be approved and paid.
Once the cashback is added to your account, you can spend it on more gift cards, withdraw it, or donate it to charity. The cashback rates on the app are also very generous and some even rival main cashback sites like TopCashback and Quidco!
Any vouchers you purchase are stored on the app too, so there is no risk of losing your gift card and you're help reducing paper. It's a win, win!
---
11. LoyalBe
LoyalBe is another new cashback app where you get rewarded for spending. Simply download the app and connect your card and you can earn points when you shop with brands like ASOS, B&M, Zara, and even places like ODEON cinemas and Nandos.
Once you've stacked up enough points, you can cashout by choosing a gift card of your choice, or donating to a charity. In that way, it works very similarly to Daali.
What are you waiting for? Download it today and give it a go!
Top tips for using cashback apps
Before you go… Check out my to tips to help you earn more using cashback apps:
Check the apps regularly for exclusive bonus days where you can earn extra cashback rewards
Make sure you keep your bank and debit cards active and connected on the app to avoid losing cashback
Enable auto updates on all apps to stay logged in and keep earning cashback
Save up your earnings to put towards special occasions like holidays or contribute towards birthday and Christmas presents
Refer your friends to earn even more cash on top of your regular cashback earnings
Pin for later…