Today I want to share with you my honest opinion on a deal I found when I was pregnant with Rose; The Works 10 books for £10 offer.
During my mad nesting phase (also known as my third trimester) I was looking for some cheap and cheerful books to fill the book shelves in her nursery.
That's when I came across The Works 10 for £10 book offer posted by a fellow money-saving blogger on Instagram.
So I headed to The Works website and found myself sucked in by all the wonderful, colourful kids books. Did I order any, though? Obviously!
I mean, let's be honest. There aren't many places you can get 10 brand new kids storybooks for £10 these days!
But was it a good deal after all? And would I buy more bundles? Keep reading to find out…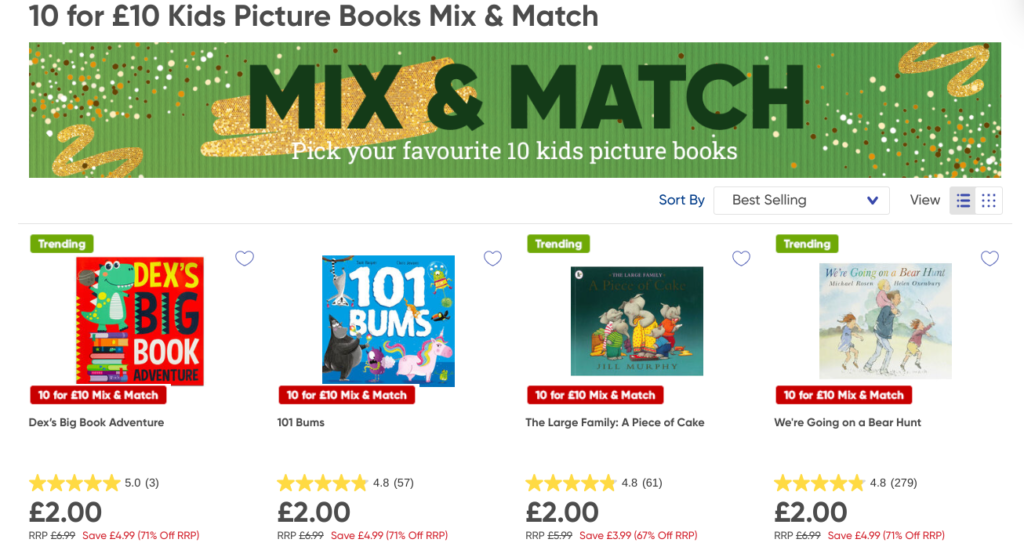 What is The Works 10 for £10 book offer?
The 10 for £10 book deal is an all-year round promotion from The Works where you can get 10 children's picture books for £10.
There are a wide collection of books to choose from, which are available both in-store and online.
Can I choose my own book bundle?
If you're wondering whether you can choose your own books or if the book bundles are already pre-selected by The Works… The answer is both!
The Works sell pre-made bundles and you can also choose your own 10 books if you prefer.
Is the deal available in-store and online?
Yes! This offer is available both in-store and online. You can also get free delivery if you spend over a certain amount.
What books are included in the offer?
There are loads of different books in the offer to suit your child's personality and books from their favourite characters.
These include:
The Large Family
Hairy Maclary (a personal favourite, as he looks like our dog Blue)
Peppa Pig
Maisy Mouse
Meg & Mog
& Loads more! On their website, you can filter based on characters and/or types your child prefers.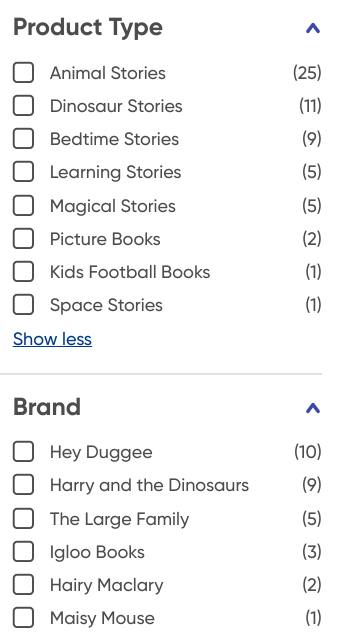 You can also get lovely classic stories and nursery rhyme/ fairytale books like:
The Gingerbread Man
Cinderella
The Little Mermaid
Three Little Pigs
The Ugly Duckling
The list goes on!
The Works 10 for £10 Christmas books

The Works also sells some lovely kids book bundles around Christmas time. That's a brilliant Christmas Book Advent Calendar idea or a decent stocking filler/Christmas Eve box for your kids right there!
Which books did I buy?
Here are the books I bought:
We're Going on a Bear Hunt
Hairy Maclary From Donaldson's Dairy
You're All My Favourites
Goldilocks and the Three Bears
Hairy Maclary, Sit
I Love Guinea-Pigs
The Gingerbread Man
Puppy Love
Come On Baby Duck
When We Are Together
Is The Works 10 for £10 a good deal?
Personally, I would say yes, The Works 10 for £10 book deal is good value for money.
I think it's a great, budget-friendly way to find brand new books that your kids will love. There are LOTS of animal-related lovey-dovey type books included in the deal, which are a personal favourite of mine.
The pictures and illustrations are adorable and really vibrant, and the books in general are surprisingly really good quality.
Rose seems to really respond to these too. In fact, I would go as far as to say she currently seems to prefer these to more obvious kids books like The Gruffalo.
Of course, that might all change! But for the time-being, I think I'll definitely continue to purchase these bundles.
That being said, I'm also a huge fan of shopping second-hand and would always advocate for saving books and giving them a new home.
I have picked up lots of used books in charity shops for 50p-£1 or sometimes even less!
So it's good to try doing this too if the books are in decent enough condition, which to be fair, most ones I've seen in charity shops usually are.
How to make the most of the offer
The deal alone is great value in my opinion, but there are ways you can save even more money at The Works…
Get cashback on all online purchases
Use cashback sites like TopCashback and Quidco to earn up to 8% cashback on your order when you shop online.
Choose the free click & collect option
If you live local to a store, try The Works free click and collect option. I did this and my order was available to collect within three working days, which I thought was surprisingly quick compared to other stores.
Get 10% discount off your next order
Whenever you buy a book bundle like this from The Works, they offer you an extra 10% off your next purchase. This deal is available online and offered to you in-store too if you choose click and collect.
Pin for later…