If you've read my blog before, you'll know how much I love loyalty schemes – and Nectar is one of my absolute favourites! Why? It's not limited to one store or website. You can earn points with a whopping 400+ brands.
That's right, it's not just Sainsbury's where you can collect points!
Keep reading to discover the best places to earn Nectar points and get my top tips to earn even more…
"I've never heard of Nectar… what is it?"
For those who don't know (don't worry, my parents genuinely didn't either!) Nectar is a popular loyalty reward scheme for UK shoppers, where you can earn rewards when you spend with over 400 retailers.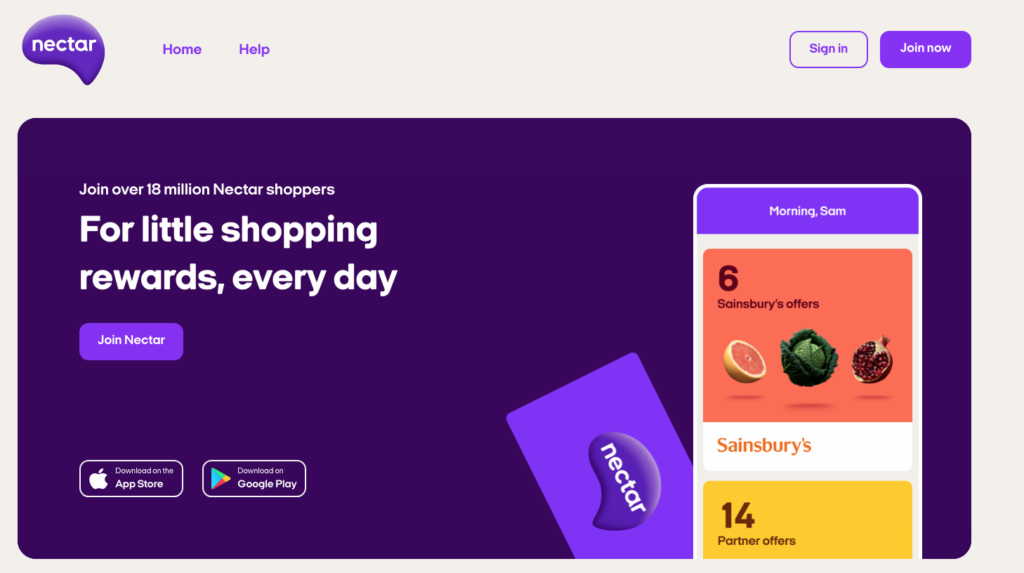 Every time you purchase something, points are added to your account. (More on this below)
While this loyalty scheme sometimes gets a bad rep, in my opinion, it's definitely worth signing up if you haven't already and shop regularly.
Otherwise, you could be leaving cash on the table!
What are Nectar points?
Nectar points are loyalty points that you collect when you scan your Nectar card and spend with a Nectar partner e.g. Sainsbury's, Argos, eBay, and loads more.
Once you've earned enough points, you can cash them in and spend them at various participating retailers across the UK.
How much are my points worth?
One Nectar point is worth 0.5p, which is the equivalent of getting 0.5% cashback on a purchase. That might not sound like a lot but trust me, it quickly adds up!
So that means:
100 points = 50p
200 points = £1
500 points = £2.50
1,000 points = £5
5,000 points = £25
10,000 points = £50
You'll be surprised at how quickly you hit these milestones!
Where can I get a Nectar card?
You can pick up a card in Sainsbury's or head to Nectar's website and click 'join now' and enter your details to get a free card in the post.
How do I collect points?
There are three main ways to collect Nectar points:
Scan your physical card (or digital card via the mobile app) in a partner store
Link your card to a partner website account e.g. eBay and collect points every time you shop
Search for a store via the Nectar eshop and shop online like a cashback site
Can I collect points online?
Yes! You can collect Nectar points both in-store and online for most brand partners.
Best places to collect Nectar points
While there are 400+ places you can collect points, here are the places to get the best bang for your buck!
Sainsbury's
Sainsbury's is a founding member and partner of Nectar and offers 1 Nectar point per £1 you spend in-store and online. Scan your card at a till in-store or enter your card number to claim points online.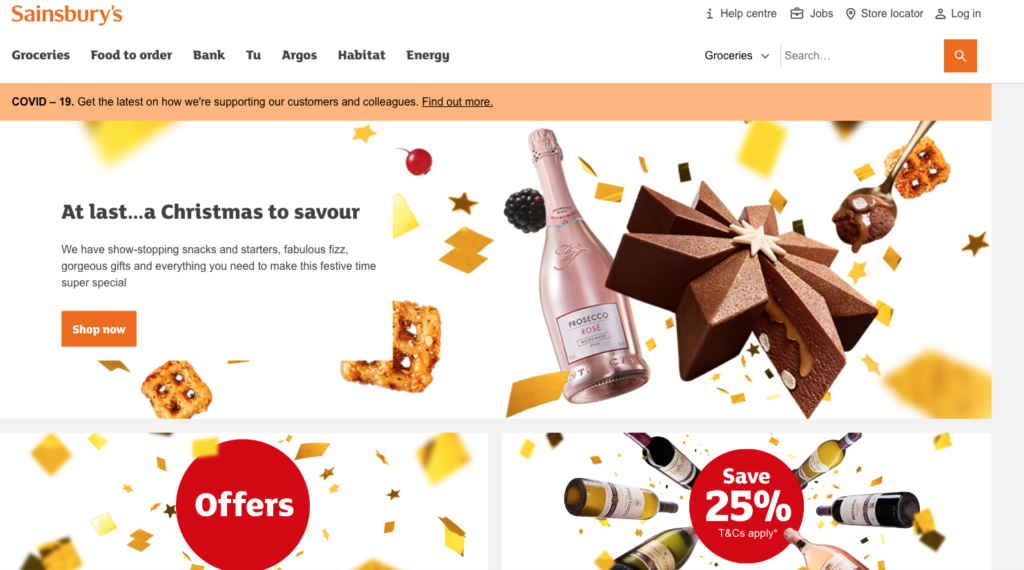 If you download the Nectar app or check your online account, you can double or triple your points with certain offers on groceries.
TU Clothing
In addition to groceries, you can also collect 1 point per £1 Tu Clothing when you shop both in-store and online. I personally love their clothing! It's good quality and fairly priced.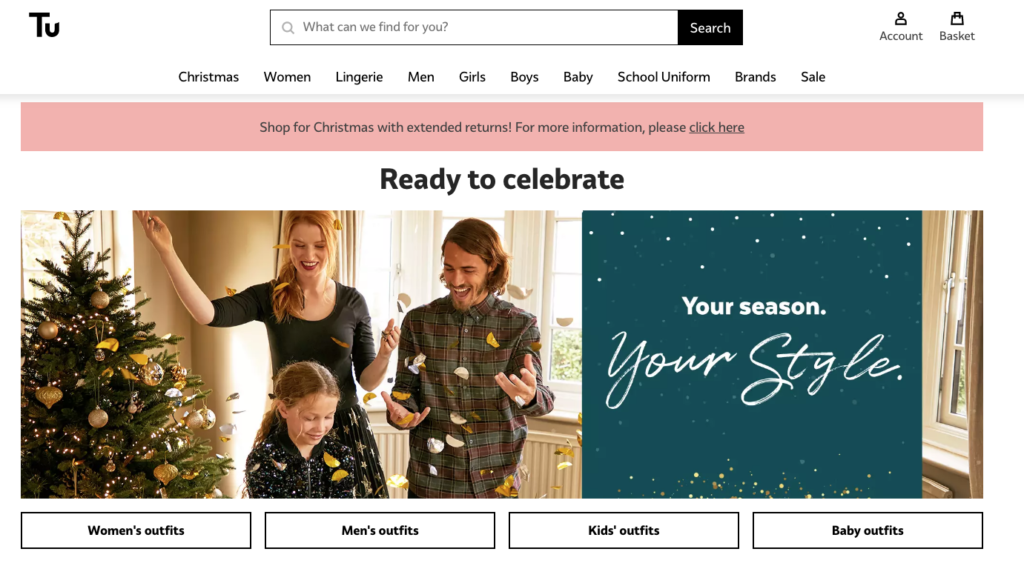 Plus, they have regular amazing 25% off promotions on clothes & accessories for Nectar cardholders.
If you ask me, it's worth signing up just for that!
Argos
Argos is also another great way to collect Nectar points. Collect 1 point per £1 spent in any Argos shop or online purchase. You can also get mega bonus points when you spend a certain amount.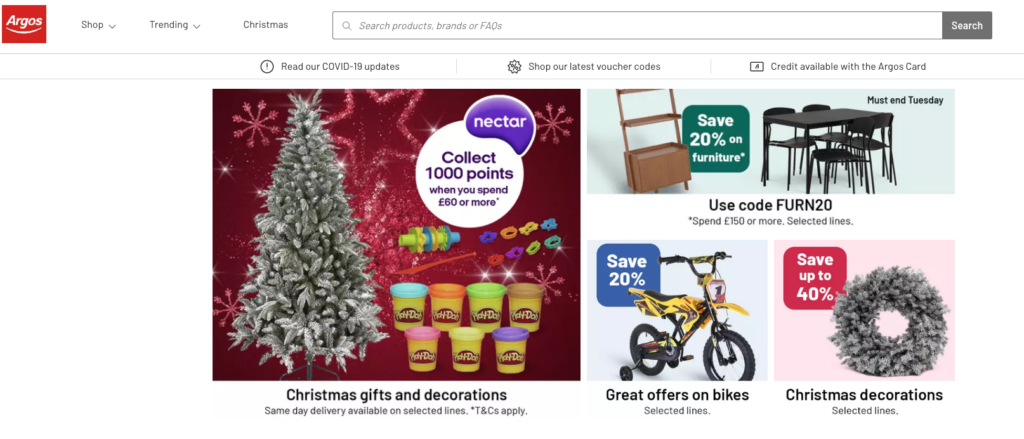 This is your chance to collect major points if you're buying big-ticket items like gadgets, home accessories, and toys.
If you're shopping online, make sure you link your accounts to claim points. To do this, sign into your Argos account, click 'ways to pay' and add your Nectar card number. Simple!
Habitat
You can also collect 1 point per £1 you spend on Habitat's website or when you shop in one of their showrooms. This means you could get serious points back here for furniture purchases!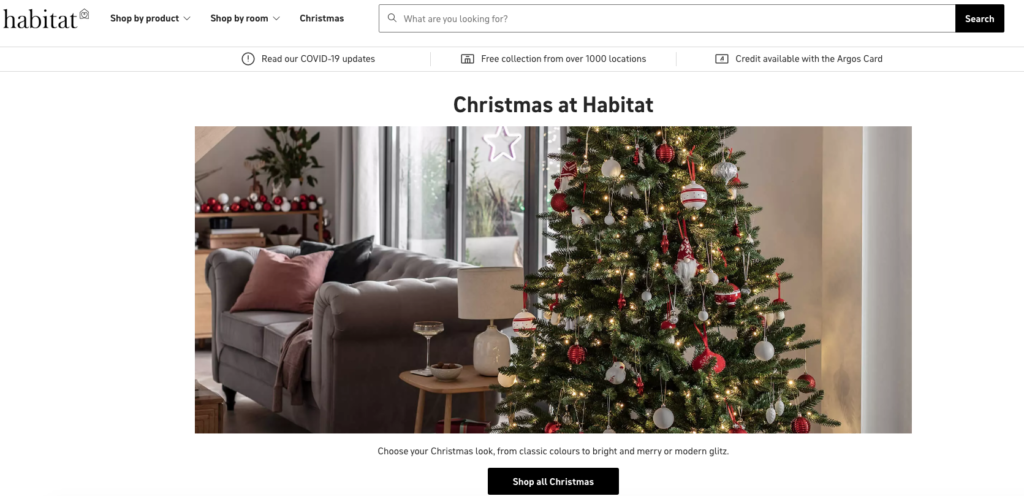 Plus, don't forget you can shop Habitat pieces on the Argos website and earn points here too.
eBay
This is one of my favourite ways to earn points! Do you buy things on eBay? Did you know you can also collect 1 Nectar point per £1 spent on here too?

Link your card here and you're good to go and should collect points every time you checkout.
Esso petrol stations
Do you have a local Esso petrol station nearby? If so, you can earn 2 Nectar points for every £1 you spend on fuel. This is another super-easy way to watch those points rack up on everyday purchases.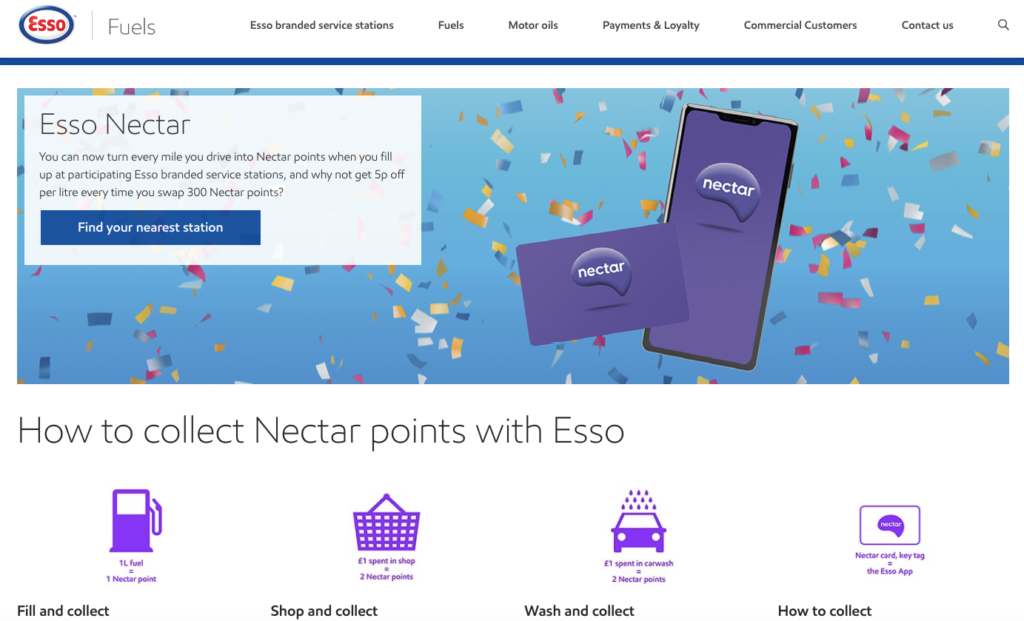 You can also collect points in the petrol station shop AND at the car wash too – amazing!
Oxfam
You can get 2 points per £1 spent on Oxfam's website. Browse over a HUGE library of 100,000 second-hand gems, like books, fashion, and more.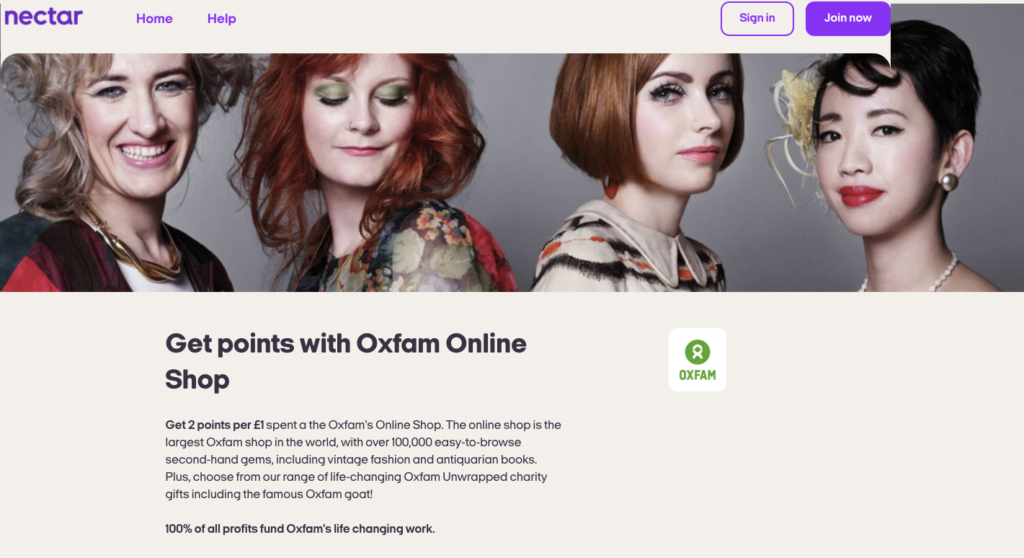 Earn Nectar points on train tickets & travel
Great Western Railway
Great Western Railway has also teamed up with Nectar to offer you 2 points per £1 spent on train tickets. In addition to this, you can also collect points on seasonal tickets and passes too.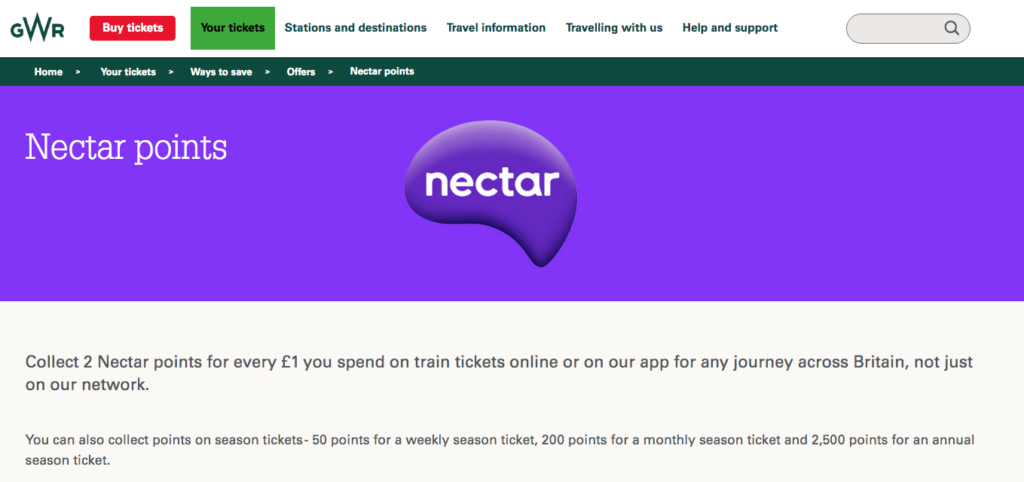 Get a generous 50 points when you purchase a weekly season ticket, 200 points when you buy a monthly season ticket, and a whopping 2,500 points for an annual season ticket!
Transpennine Express
Collect 2 Nectar points for every £1 you spend on the TransPennine Express website. Like Great Western Railway, you'll also get 50 points for a weekly ticket and 200 points for a monthly season ticket.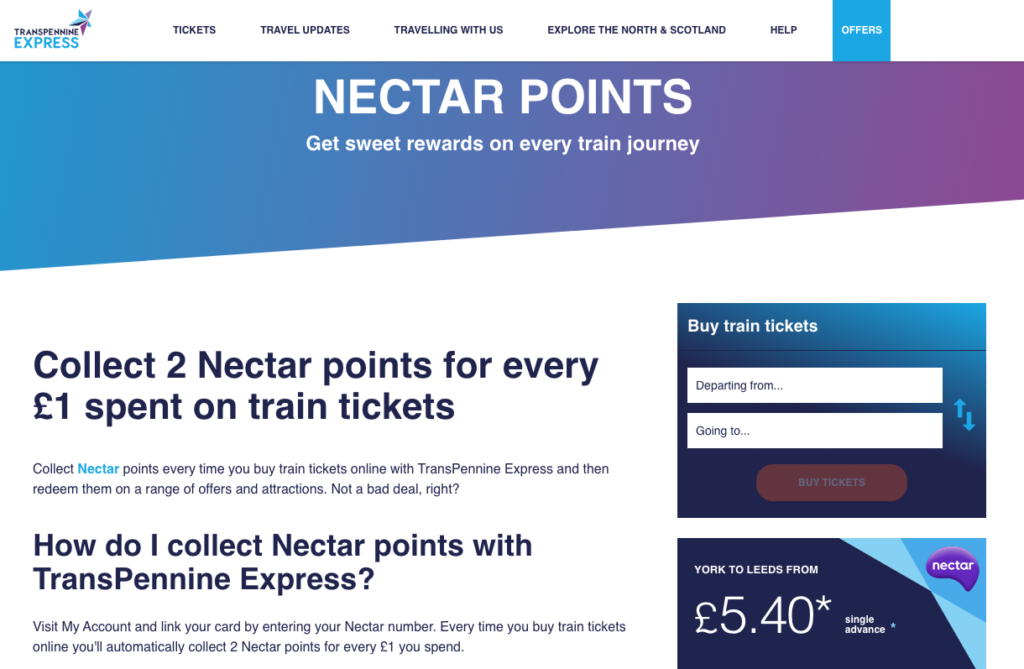 You'll also be able to collect 2,500 points when you buy Transpennine Express annual season tickets – score!
Avanti Westcoast
Avanti West Coast also offers 2 Nectar points per £1 spent when you buy and book tickets via their website or app.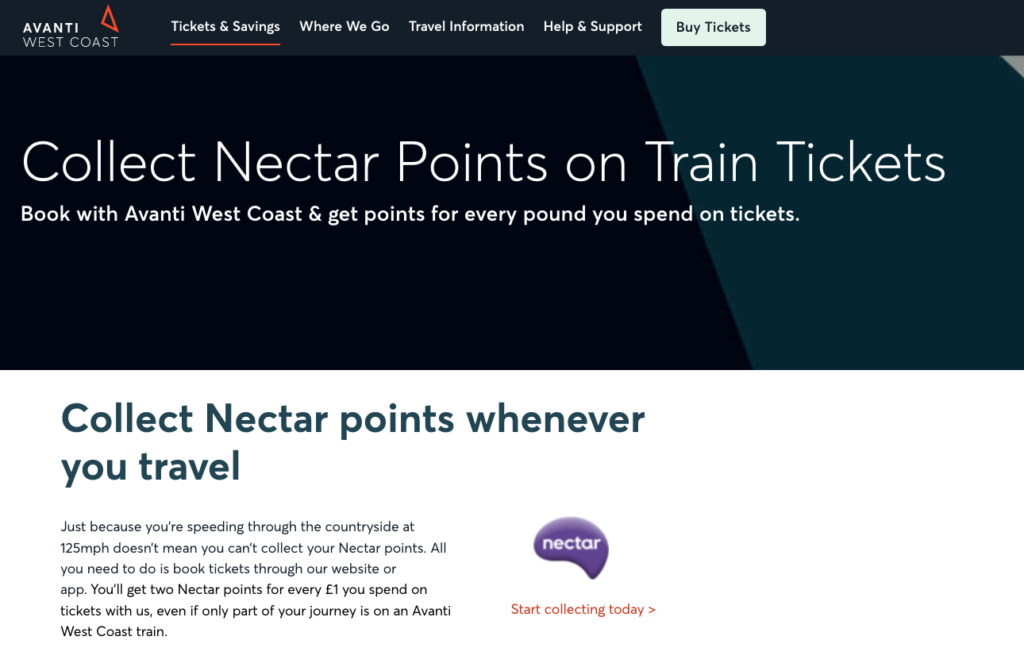 What are you waiting for? Book your next train adventure today!
Avios & British Airways Executive Club
Avios is a loyalty reward scheme aimed at regular travellers where you can collect rewards by booking trips with British Airlines (and other airlines too!) and by shopping online.
Join the British Airways Executive Club and earn Avios points every time you book flights, hotels, car rentals, plus more.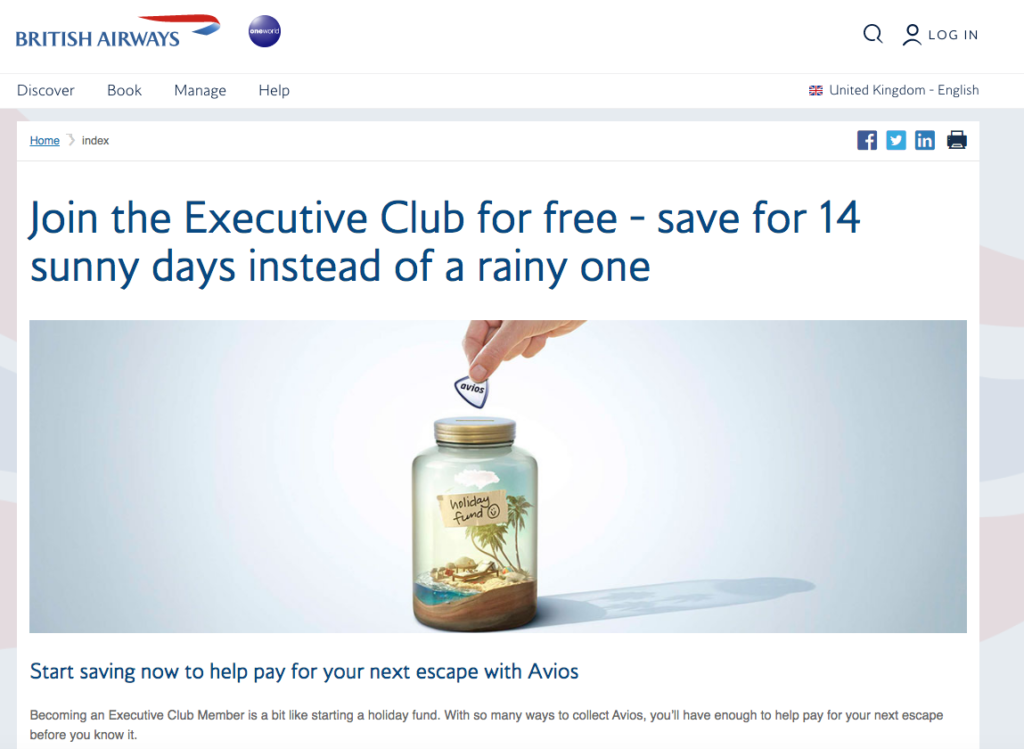 Many credit card providers, including American Express, also offer bonus Avios points when you sign up and make purchases on your credit card.
You can then use your points to contribute towards more flights, hotels, car rentals, plane seat upgrades, hotel rooms, and more.
So, what's all this got to do with Nectar? Glad you asked! You can convert 250 Avios points to 400 Nectar points to spend online.
You can also convert them the other way and transfer Nectar points into Avios points, which is super handy if you've got a trip coming up!
Get Nectar points with credit cards
Do you shop in Sainsbury's or use another store where you can collect points regularly? Looking at taking out a credit card? In that case, you should definitely check out a Nectar credit card!
American Express Nectar credit card
The American Express Nectar credit card is a great option as you get 3 points for every £1 you spend with another Nectar partner or 2 points per £1 spent anywhere else.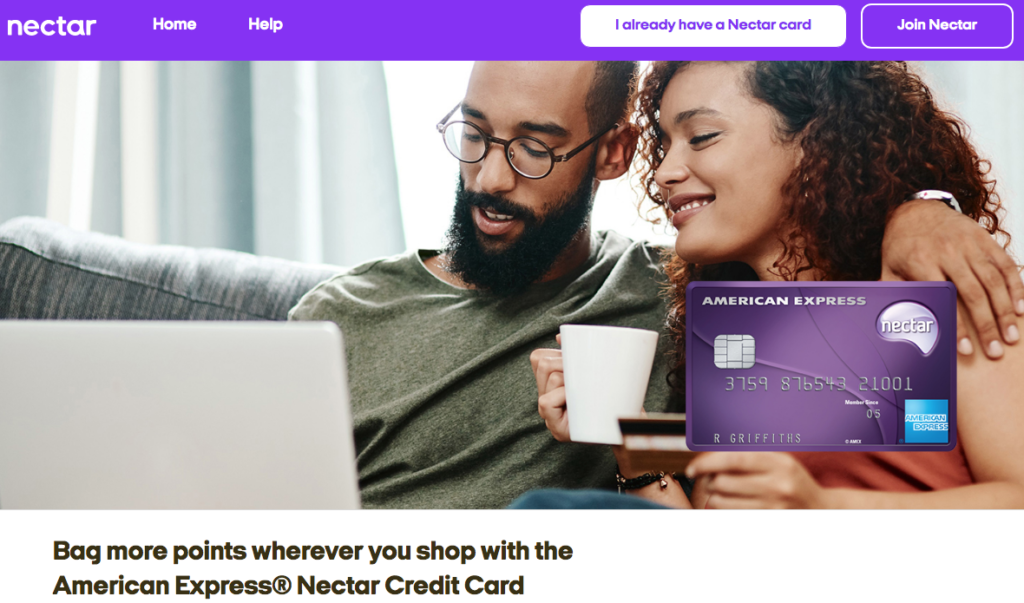 Their website claims you'll earn 9 x more points as an American Express cardholder. Plus, you also get a card for a family member to help you collect more points!
Even better… Collect 20,000 Nectar Points when you apply for the American Express Nectar credit card and spend £2,000 in the first three months of card membership.
Sainsbury's Nectar credit card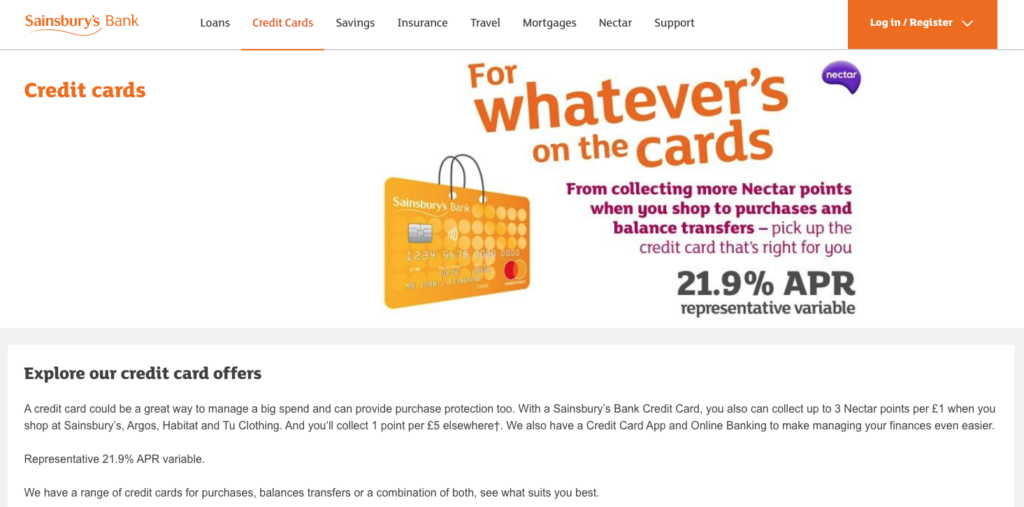 Sainsbury's Bank also has its own Nectar credit card (Mastercard) with the following benefits:
0% interest on balance transfers for up to 17 months
Balance transfer fee of 3% (minimum £3) applies on transfers made at application. The charge will depend on your current offer thereafter
Collect 8,000 bonus points when you use your card to spend a total of £400 or more at Sainsbury's, Argos, Habitat or Tu Clothing during the 2 months after your account is opened*
Always be responsible when taking out credit and make sure you can afford the repayments
Even more ways to earn points
Sainsbury's home insurance & energy bills
You can also earn significant bonus points for signing up for additional Sainsbury's Bank products like energy and home insurance.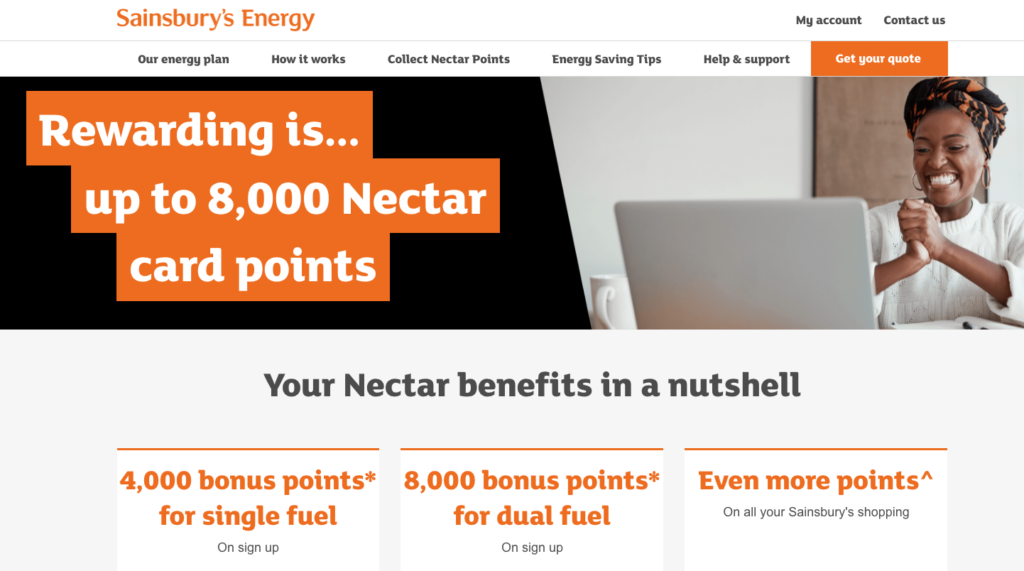 Plus, get up to a whopping 8,000 Nectar points just for signing up to an energy tariff. Plus up to triple points on your Sainsbury's shopping for the life of your tariff.
That's pretty generous if you ask me!
Daily Mail – MyMail Rewards
The Daily Mail has also partnered up with Nectar and you can earn points every time you pick up a paper. Every copy of the newspaper has a unique number printed on the back page.
To earn up to 70 points a week, simply sign up and log into your MyMail account, and enter your code to claim your points.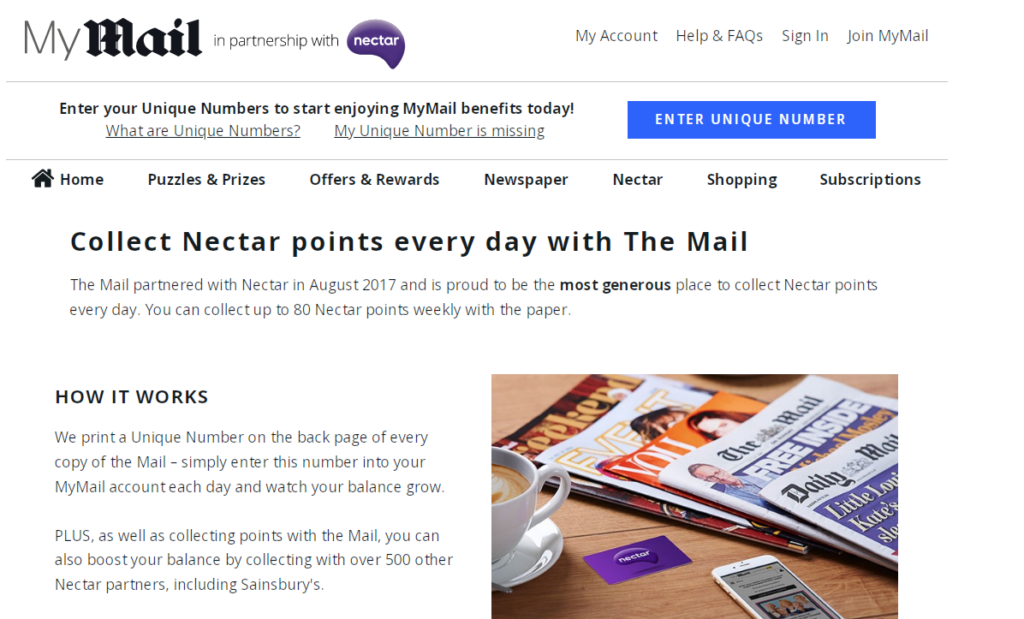 If you subscribe to the Ultimate pack, you can collect 5 points every day from Monday – Sunday.
You can also collect 30 points as a digital subscriber every 21st of the month.
Find out more in my post about how to collect Nectar points with The Daily Mail.
Nectar eshops
There are loads of other brands that let you earn Nectar points online, like ASOS, Groupon, and more. To earn points, you have to log in and click through via Nectar's eshops portal site.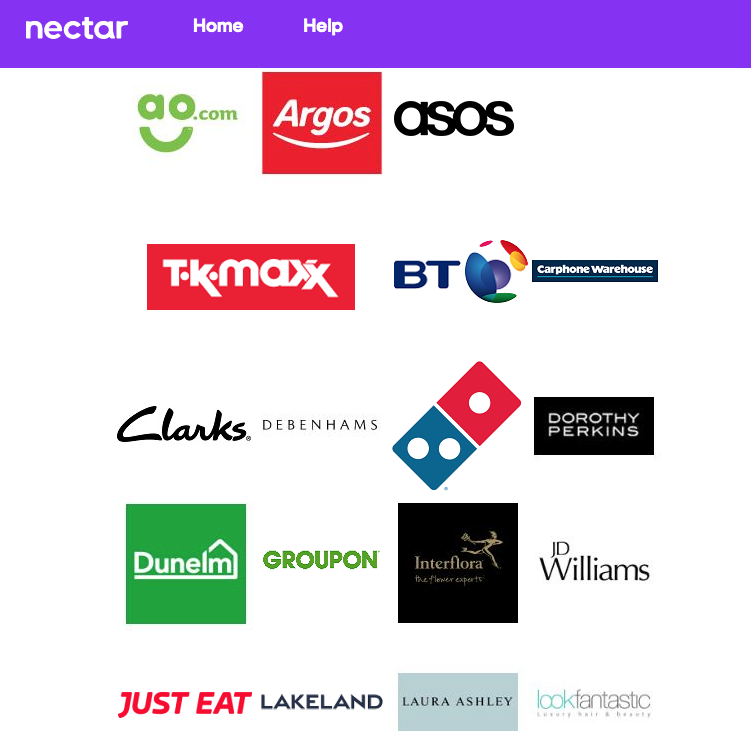 You'll usually get 2 points per £1 you spend, which works out at 1% cashback. Sometimes they offer more or less than this. It all depends on the retailer and what promotions are available at the time.
If this is the case, it's always worth checking cashback sites like TopCashback and Quidco.
Nectar Connect
Did you know you can hook up your bank or credit card to your Nectar account using Nectar Connect and earn bonus points at partner retailers like Costa and Just Eat? It's true!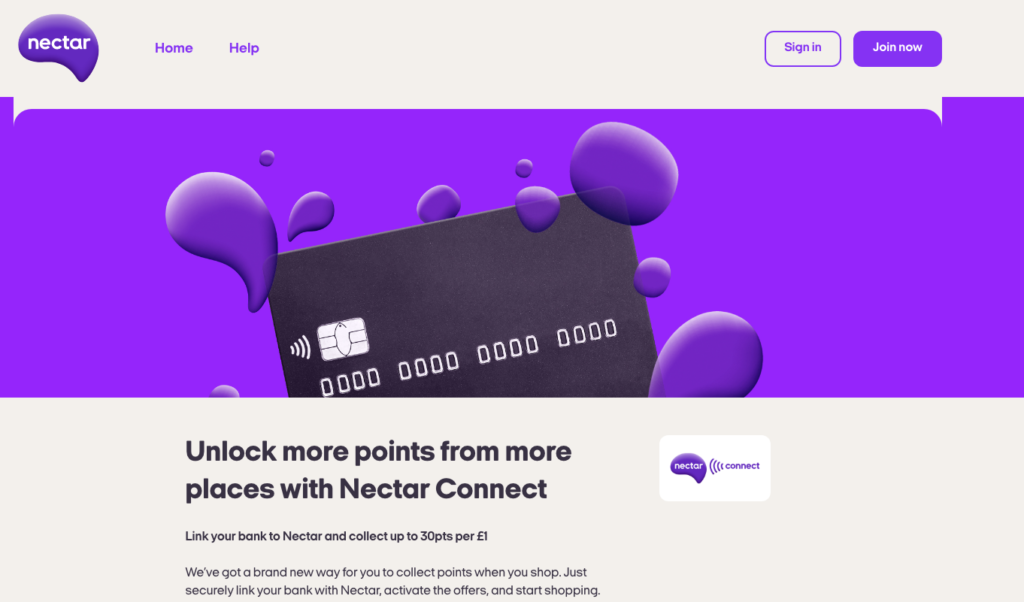 All you have to do is activate the offers on your account and earn points. The offers are quite generous too. Some offer up to 30 points per £1 spend, which is equivalent to 10% cashback. I think that's because it's a fairly new feature.
You could be super cheeky and try to combine this with cashback sites and voucher codes and other promotional offers.
Nectar Canvass 
Collect points for FREE using Nectar Canvass! Simply sign up for free and answer surveys and you'll get Nectar points for your time. Amazing!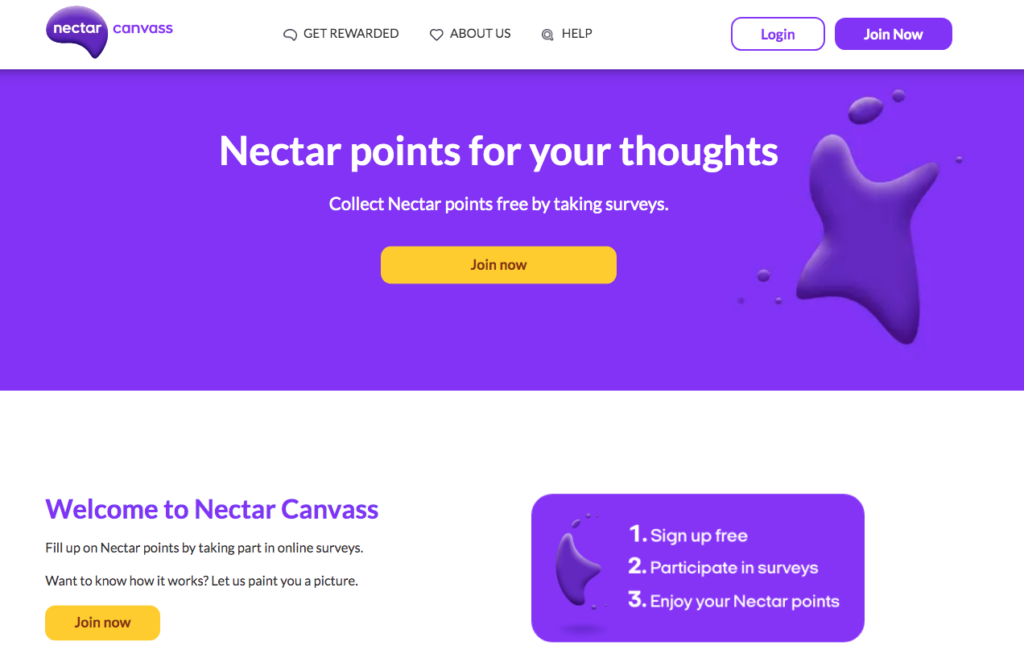 Nectar Notifier
My number one tip for collecting more points is to install the Nectar Notifier browser extension and collect 1 point per 2 valid searches online. Plus, you get reminders when you land on a page where you can earn points.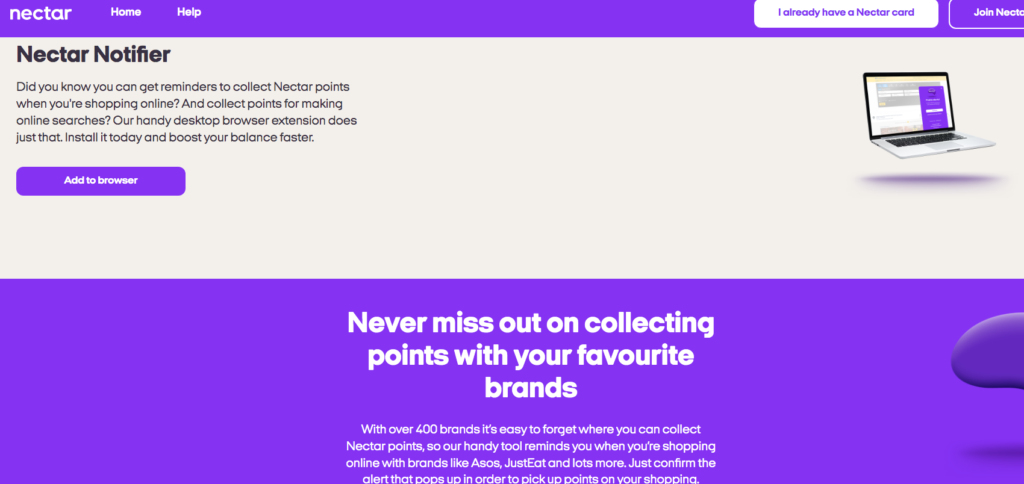 It's powered by Yahoo but works on Google Chrome, Safari, and Firefox too. Amazing!
Related: Top 10 best Chome extensions to save money shopping online
Can I collect points on previous purchases?
Yes! You can take your receipt and Nectar card back to the store within 14 days of your purchase and get them to scan your card to collect points.
Do Nectar points expire?
No, your points don't have an expiry date. However, if you close your account or the programme ends, then your points will have no monetary value.
That's all folks! Have I missed any places to collect Nectar points that you swear by? Let me know!
Pin for later…