Have you heard of Quidco? It's the UK's highest-paying cashback site and a great way to earn free cash when you shop online.
As you've probably guessed by the name of my blog, I'm a BIG fan of cashback sites and apps, and Quidco is definitely one of my favourites.
Keep reading to find out how it works, how much you can earn, plus top tips to make even more cash using the site.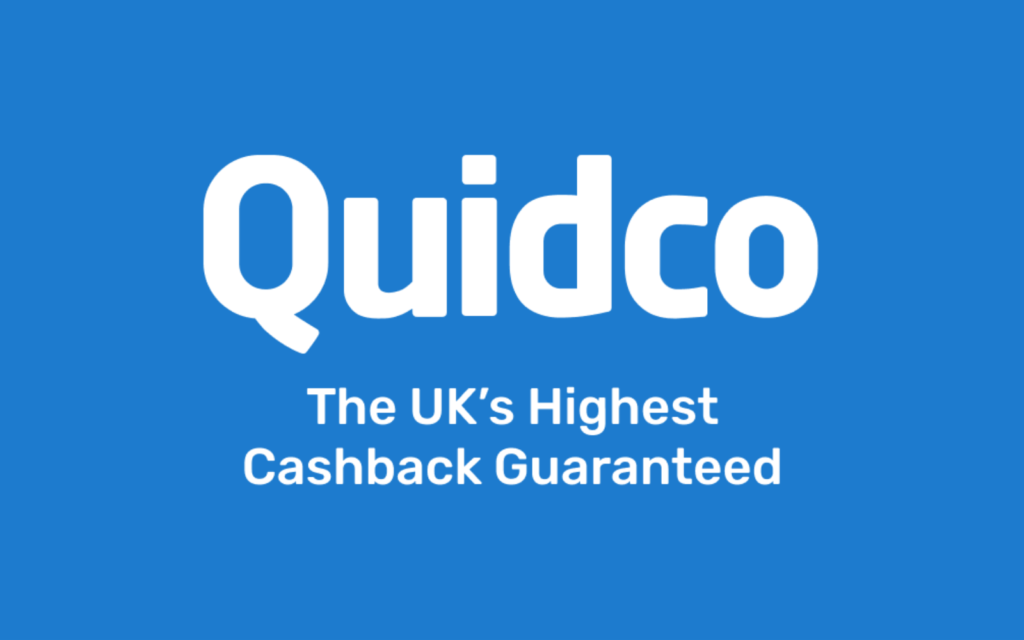 What is Quidco?
Quidco is officially the UK's highest-paying cashback site in the UK. They help millions of users earn free cash every time they shop.
The cashback site works with over 4,500 retail partners to help you earn cashback on fashion, tech, insurance, mobile tariffs, utilities, travel, plus loads more.
How does is work?
Using Quidco is really easy! Here is a breakdown of how it all works:
STEP ONE: To get started, sign up for an account using this link and you'll get a FREE £5 bonus when you earn your first £5 in cashback.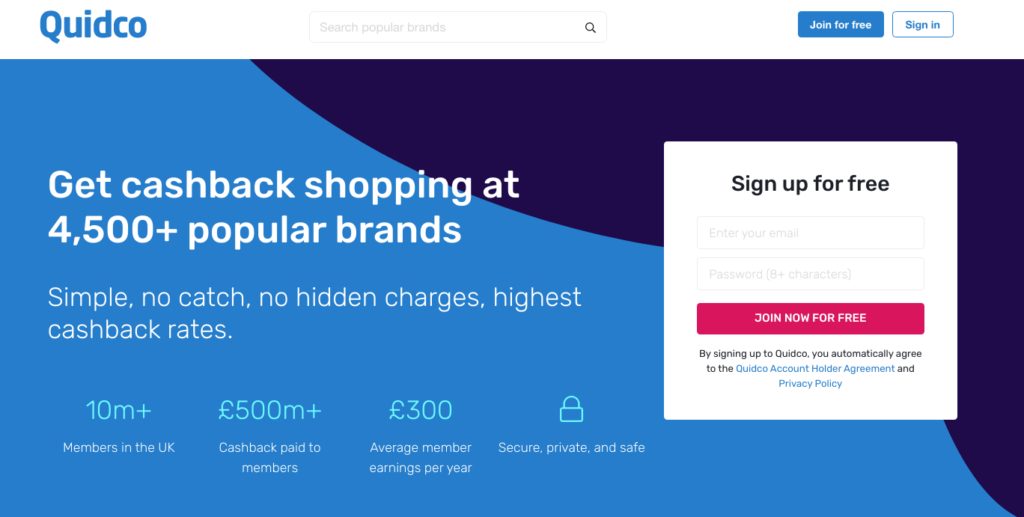 STEP TWO: Once you've set up your account, every time you come to shop online, simply log into Quidco first and search for the retailer you're about to shop with.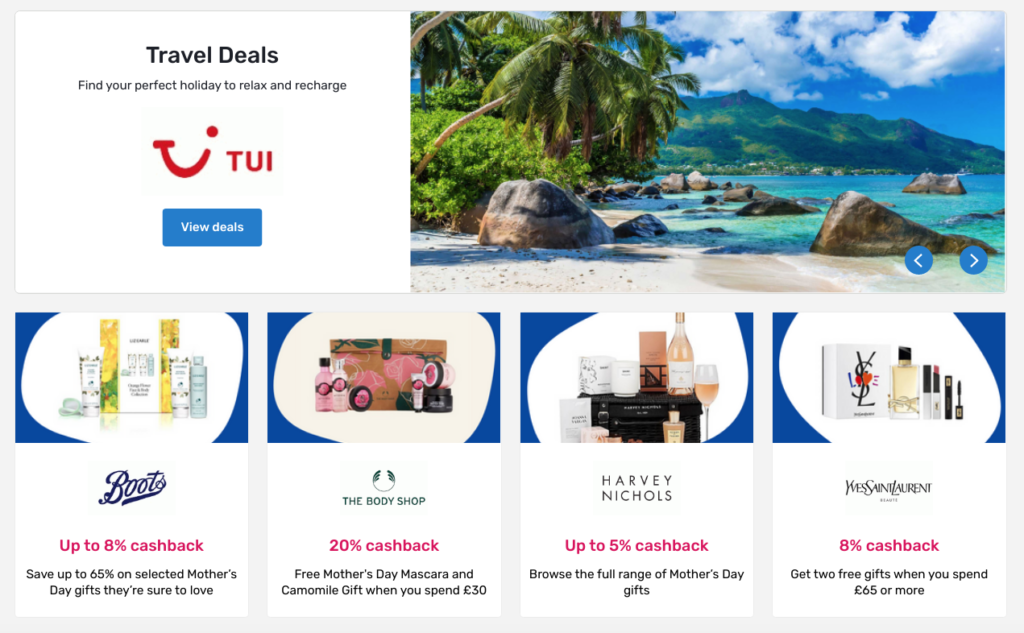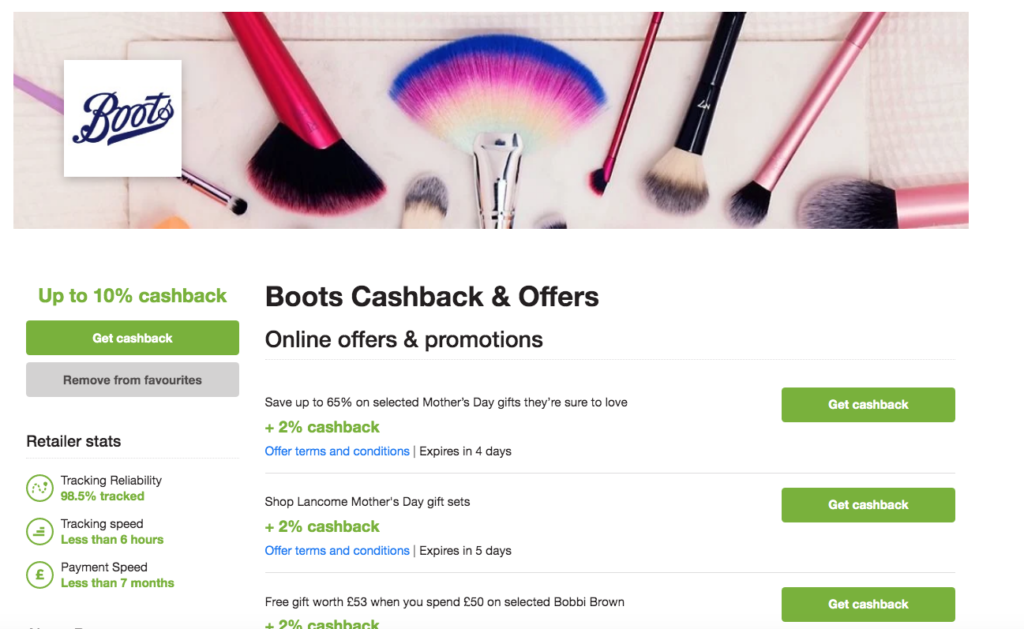 STEP THREE: Click 'get cashback' and shop and checkout as normal on the retailer website. Quidco will then track your purchase and reward your account with a cashback percentage.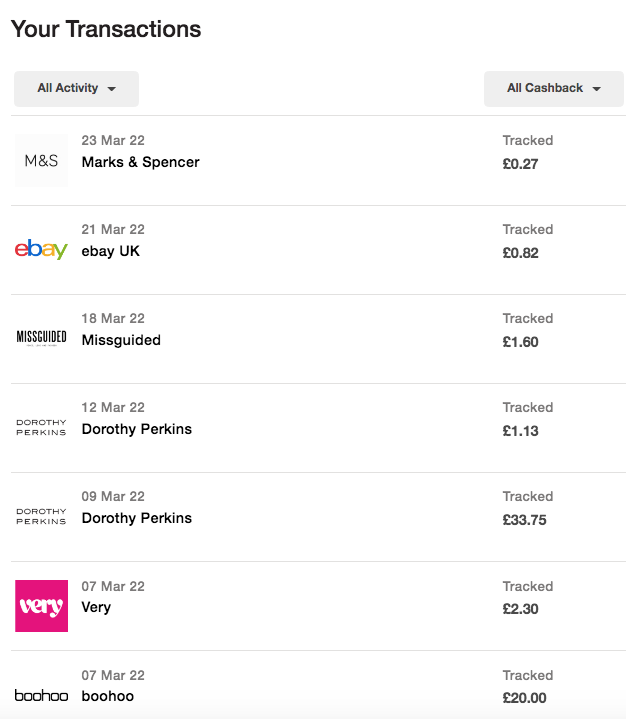 Is Quidco free?
Yes. Quidco is 100% free to use for all users. Even if you sign up for a Premium membership (more on that below) they deduct the cost out of your cashback earnings.
So, technically even that is free!
How much can I earn using Quidco?
I've managed to earn between £300-500 a year since signing up back in 2017. I've seen others make up to a whopping £3k! It all completely depends on how often you use it and what you're shopping for.
I literally use it for everything and have found you can get big payouts on things such as insurance, mobile phone contracts, and big household purchases e.g. white goods.
If you check the cashback rates available on each retailer page, it will give you a good indicator of how much you can earn before shopping.
Is Quidco safe to use?
Absolutely! I've used it myself for a long time and have never had any problems receiving my cashback.
If you have any concerns, you can contact their super-friendly customer service team by scrolling to the bottom and hitting the 'Contact Quidco Support' link.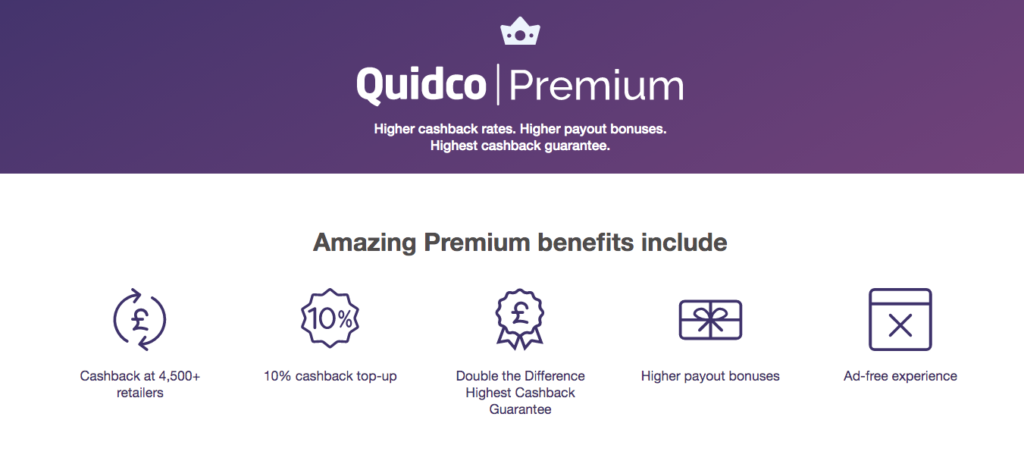 What is a Quidco Premium membership?
Quidco has two account options: Quidco Basic and Quidco Premium. If you upgrade to a premium membership, you'll unlock these amazing benefits:
Cashback at 4,500+ retailers
Up to 10% top-up on cashback rates
Double the Difference Highest Cashback Guarantee
Up to 20% payout bonuses
An ad-free experience
Once you've joined, Quidco keeps £1 of your cashback per month as a fee for the membership. They will never take this money from your bank account.
They will only retain this fee for the months that you are active on your account. If you haven't made any transactions in the previous 30 days, you won't be charged for that period of time.
How long does it take for cashback to show on my account?
Before you make a purchase, you can see how long it will take for your cashback to track on each Quidco retailer page under the 'cashback details' tab.
Once your purchase has been made, your cashback will need to be approved by the retailer. This can take 3-6 months.
I know it sounds like a long time, but if you're constantly using the site, you'll always have a flow of cashback payable on your account.
How do I get my money from Quidco?
To cashout from Quidco, hover over your earnings on the top right and click the Payments option. Then choose your withdrawal method.
You can cashout via PayPal or deposit the cash straight into your bank account. There is also the option to withdraw your earnings as a gift card for places like Amazon and Costa Coffee.
You can also use the app to cashout too. Just make sure your payment information is up to date!
How long does it take for Quidco to pay me?
Once you've submitted your withdrawal request, Quidco says it can take up to 6 working days for the payment to reach your account.
They're often really good and send email updates at every step of the process, so you'll know when the cashback is on its way to your account.
What is Quidco ClickSnap?
Quidco ClickSnap is one of my favourite supermarket cashback apps! It's packed full of offers and freebies, which you can pick up at supermarkets like Tesco and Morrisons.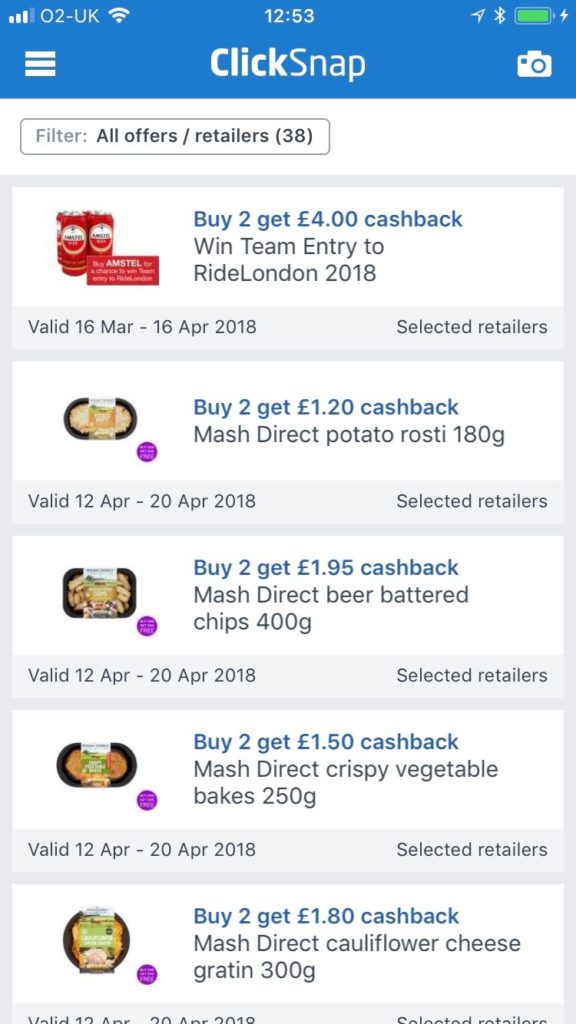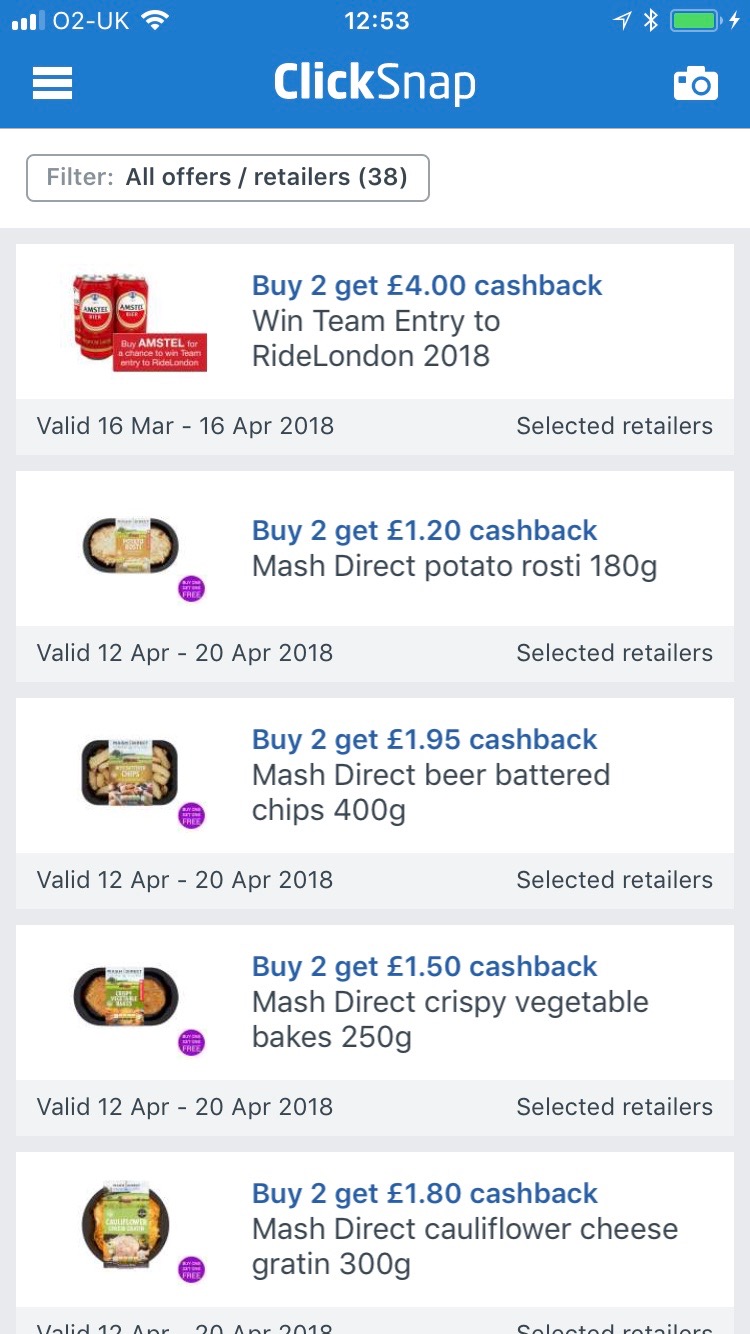 Once you've downloaded the app (you can use your same Quidco login) and found your items listed on the app in-store, pay for them as normal and keep your receipt.
When you get home, upload a photo of your receipt to the app and they will add the cashback to your account. Amazing!
TOP TIP: Quidco ClickSnap and CheckoutSmart are owned by the same company, so often have the same offers across both apps.
If you want to double your savings, split your till receipts and claim the cashback twice!
Related: CheckoutSmart App – How To Earn Cashback At The Supermarket
Tips & tricks to earn more on Quidco
There are a few ways you can maximise your earnings. Here are my favourite ways to boost my cashback:
Get a £5 welcome bonus – when you earn your first £5 in cashback using this link
Opt in for a Premium membership – I've earned loads more cashback since getting better cashback deals and you can't really argue with them taking £1 out of your cashback pot in exchange for much higher rates!
Cashout as a gift card – you'll get a higher percentage amount on withdrawing your cashback as a gift card than you would via PayPal or BACS
Get involved in competitions & games – the site hosts loads of competitions and boosted cashback days throughout the year, where you can earn big cash prizes – the last one I saw was to win £10k cash!
Deal stack using voucher codes – Quidco also offers exclusive voucher codes so make sure you check these out on each retailer landing page!
Refer your friends – you can earn up to a whopping £25 per friend you refer!
Which is better – Quidco or TopCashback?
This is an ongoing debate within the money-saving community. Personally, I think they're both amazing! It's always worth checking the rates on offer on both sites before making a purchase.
Plus, you might find that TopCashback or Quidco may have exclusive partnerships with retailers. So it's definitely worth signing up to both to get your money's worth!
Best Quidco alternatives
I've written a list of the best cashback sites, but here are some of my absolute favourites to use as well as Quidco:
Do I need to declare cashback as income?
Switching incentives and cashback rewards on spending are not taxable. Therefore, you do not need to declare these earnings as a form of income.
Pin for later…