Last updated: September 2021
Saving the planet is a hot topic at the moment and we can all do our bit to help. This includes buying less stuff and recycling more.
Luckily for us, brands are also on board and are offering a range of incentives to encourage us to hand over our used belongings to recycle, which we would probably normally just chuck in the bin.
In this post, I'll show you how to make money and get freebies in exchange for recycling.
Here we go…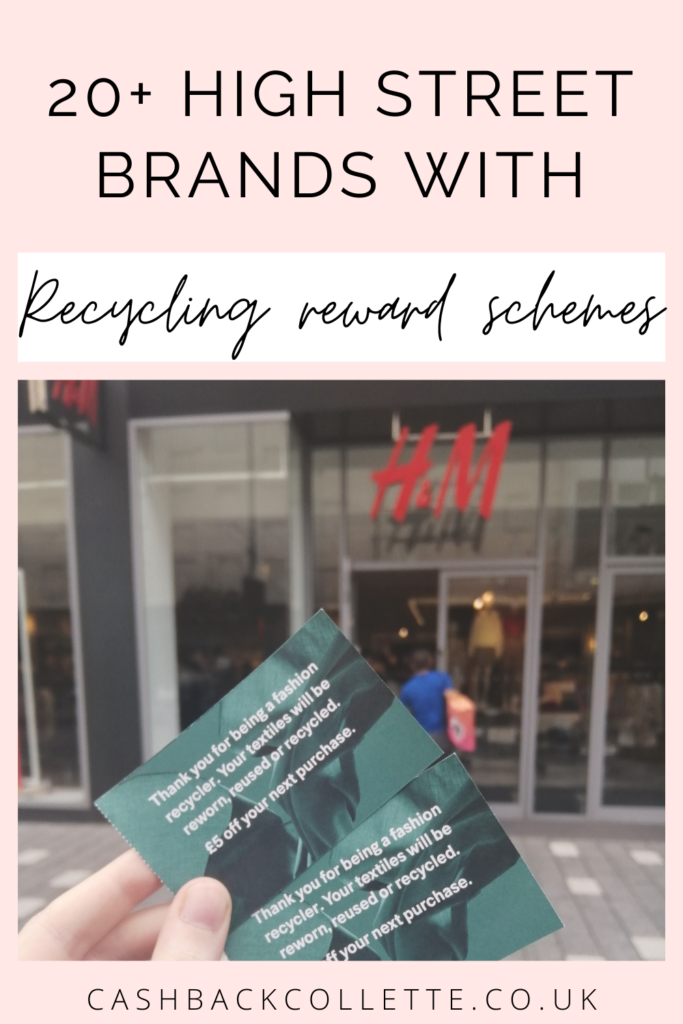 Best places to recycle clothes for vouchers
Take a bag of unwanted clothes and/or textiles into your nearest H&M and get a £5 voucher towards your next £25 spend in-store or online.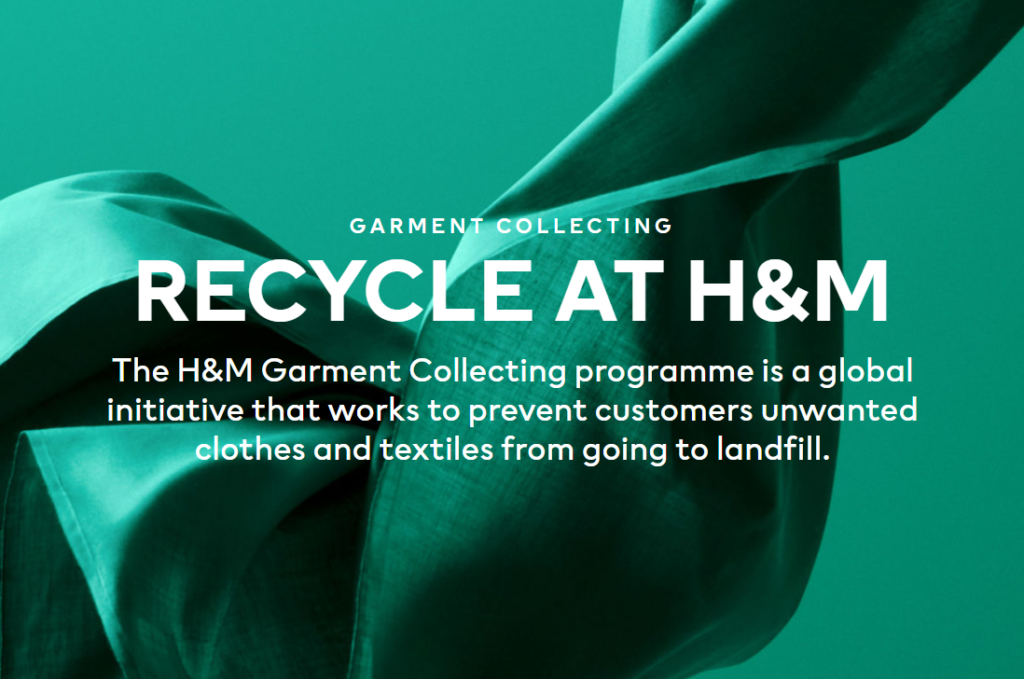 It's one voucher per bag, which can be clothes and also textiles, so like duvet sheets, curtains, etc. And can be in any condition. The best part? The stuff you donate doesn't even have to be from H&M!
You can also use your vouchers on the home section online. Bonus!
Get 10% discount to spend in-store at any & Other Stories shop when you hand in any used clothing, textiles, and beauty packaging. They take your wares and recycle them for things like shoe insoles, stuffed toys and more. How cool is that?
Arket is part of the H&M group too (like & Other Stories) and also reward you for recycling with a 10% off voucher.
M&S offers 50 Sparks points every time you 'Shwop'. Trade-in items of clothing at their Shwop bins in exchange for M&S points. The clothes you recycle don't even have to be from M&S.

Your clothes you hand in will go straight to Oxfam to either resell in one of their stores or recycle. So you're doing a good deed and getting rewarded with points!
Alternatively, donate a bag of unwanted clothes or soft furnishings straight to Oxfam and they'll give you a voucher for £5-off a £35 spend at M&S.
There are some terms with this offer. At least one item must be M&S and you have to use the voucher within the same calendar month. Plus, it's only valid in clothing, home or beauty (so not food, unfortunately!) You can, however, use it with your Sparks card offers.
With this in mind, it might be worth timing your donation. Especially if you've got your eye on a nice winter coat, a fancy occasion dress or you're planning some Christmas shopping!
Oxfam also has a scheme called 'tag your bag', which might be a better option if you collect Nectar points.
Sign up online to Tag Your Bag and you'll receive 100 Nectar points once you've linked your Nectar card details. Oxfam will then send you personalised tags in the post to attach to your bag of items.
They use your tags to track each item you donate. So once your item sells, they reward you with 2 Nectar points per £1 they raise. Sounds good to me!
Grab a pair of any branded used leggings and take them down to Sweaty Beaty to recycle. In return, you'll get a £10-off voucher when you spend £50 or more.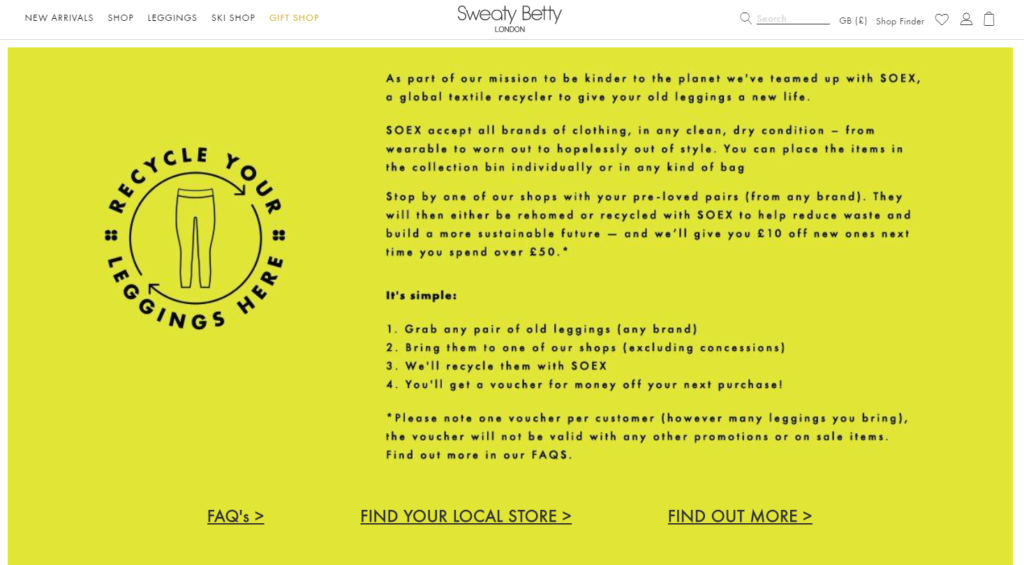 This might sound expensive, but if you're a loyal fan of the brand, I'm sure you'll love this deal. It's one voucher per customer, regardless of how many pairs you bring. Definitely worth it to help save the planet and get cute workout clothes at a discount rate!
Another fab shoe recycling deal! Recycle your shoes with Schuh's 'sell your sole' scheme and get a £5 voucher off a brand new pair.
Recycle your welly boots and get 15% off your next ones with Hunter's 'reboot' scheme. No matter how old or battered yours are, they can take them and turn them into lovely new ones! *CURRENTLY PAUSED*
Drop off any brand of clean, dry clothing or shoes in a collection box at your local Levi's store. Every time you recycle something, you'll receive a voucher for 10% off any single, regular-priced item in-store.
Donate unwanted Monsoon clothes to your local store and get a £10-off voucher to spend on any purchases £50 or more. Just hand in your clothes at any Monsoon store and you'll get the voucher straight away.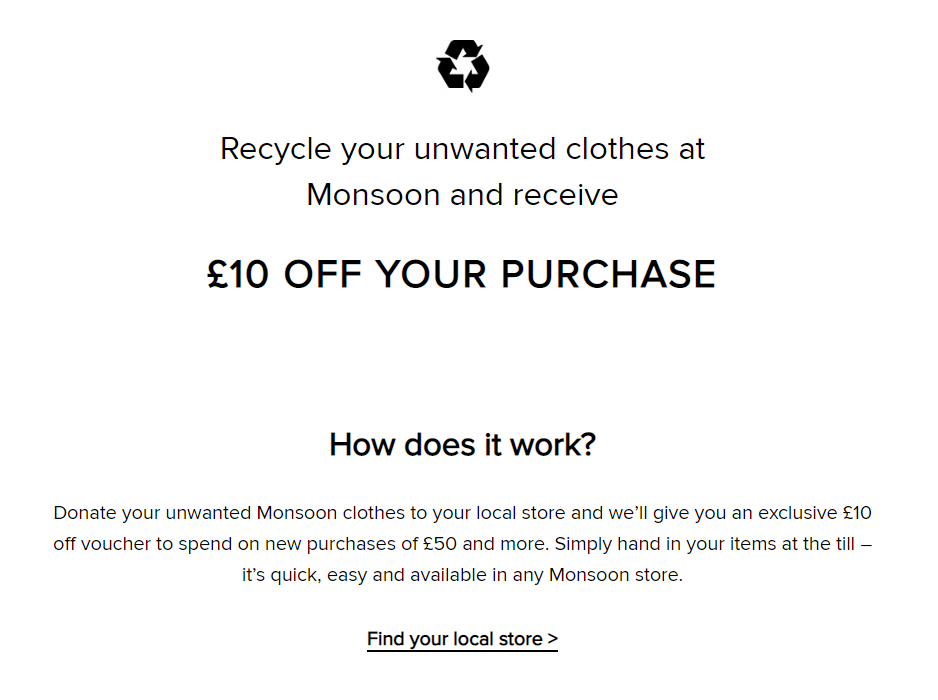 The T&Cs state: 'This offer is only available at the time of donation and cannot be redeemed at a later date.' I think this means you can only redeem your voucher on the same day you donate your unwanted goods.
If this is the case, it's definitely worth having a look at what you'll spend your voucher on first!
Bag up any old, unwanted, or used-up clothes and textiles from any brand, in any condition to a Monki store. In return, they will give you a 10% off voucher, valid for up to six months.
The TOAST Circle rewards you for recycling your Toast clothing. Take up to five items to a participating store and they'll reward you with a voucher reflecting the condition.
Hand in any used Nudie jeans and get a 20% discount on a brand new pair. They also repair jeans for free!
Recycling packaging for free makeup & beauty products
This one is very exciting for all beauty lovers! Get a free MAC lipstick worth a whopping £17.50 when you hand in six empty MAC packaging to a counter or store. This is part of their 'Back to MAC' campaign, and it's ongoing.
Pick up a free Lush face mask worth £6.50! All you have to do is return five Lush black pots or packaging to your nearest Lush store. They ask that you return them clean so give them a quick wipe and you're good to go.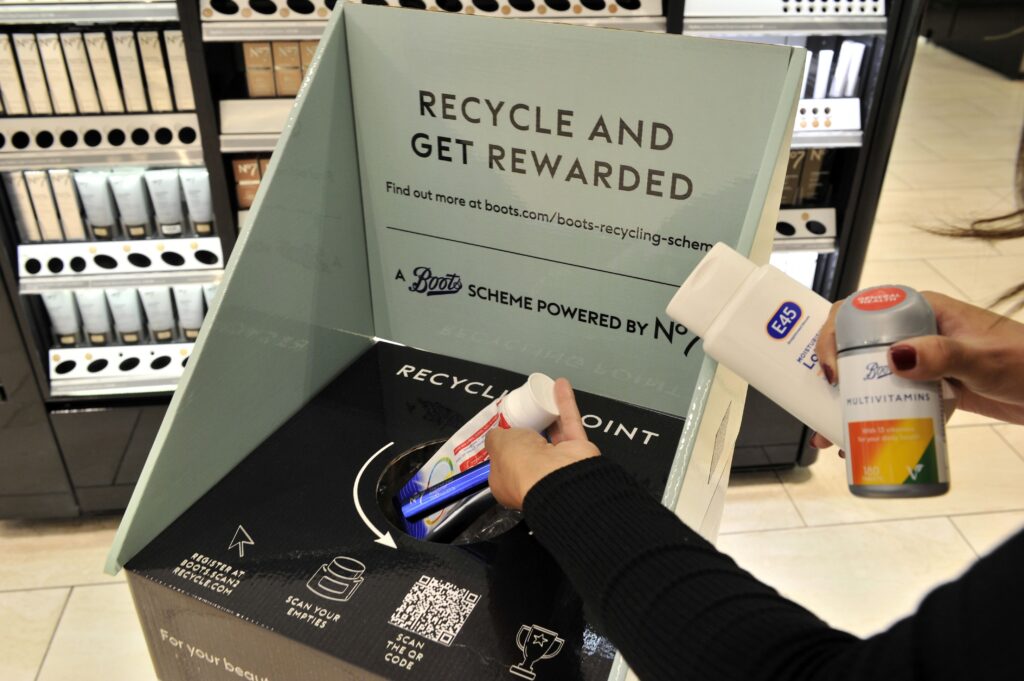 Boots have a new recycling scheme – hurrah! Take your empties and unwanted beauty, dental and healthcare products to one of their participating stores and they'll give you a whopping 250 Boots Advantage Card points worth £2.50!
Bring in five or more empty beauty products to your nearest John Lewis beauty counter and show your My John Lewis card to enjoy £5 off your next beauty purchase at any participating John Lewis store.
They also have a clothing buy-back scheme, which is temporarily unavailable but I'm sure will be back soon!
Related: 60+ best loyalty schemes in the UK
Pick up travel beauty product worth £9 when you return 10 used Kiehl's product packages to your local Kiehl's store.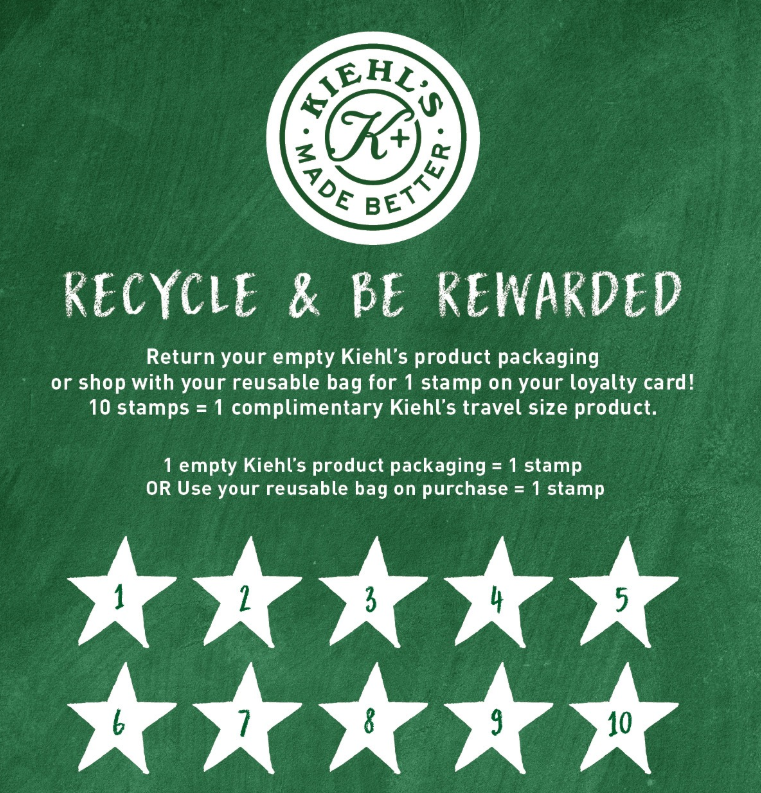 If you're a regular at Kiehl's, pop in pick up a rewards card to get it stamped every time you hand in your old packaging. Alternatively, just save them up and hand them in all at once to collect your freebie.
Origins
Recycle packaging at your nearest Origins store or concession stand and get a free sample-sized beauty product of your choice. This includes their Plantscription serum, Glow Co Nuts mask, and Charcoal Mask.
This works similar to Kiehl's so you get a stamp card and each time you recycle you get a stamp. Once you've got six stamps you get a free sample product. They accept packaging from any brand and you can recycle like glass or plastic jars, bottles, tubes, and more.
They don't advertise the freebie as such on their website. So I think this one is at the discretion of each store/stand.
Origins also usually run the below offer on Earth Day (22nd April) so keep an eye on their social media.
Bring your empty beauty and skincare products from L'Occitane (or any brand) and get 10% off a shiny new full-sized product! They accept lip balm tubes, makeup remover bottles, fragrance bottles and loads more.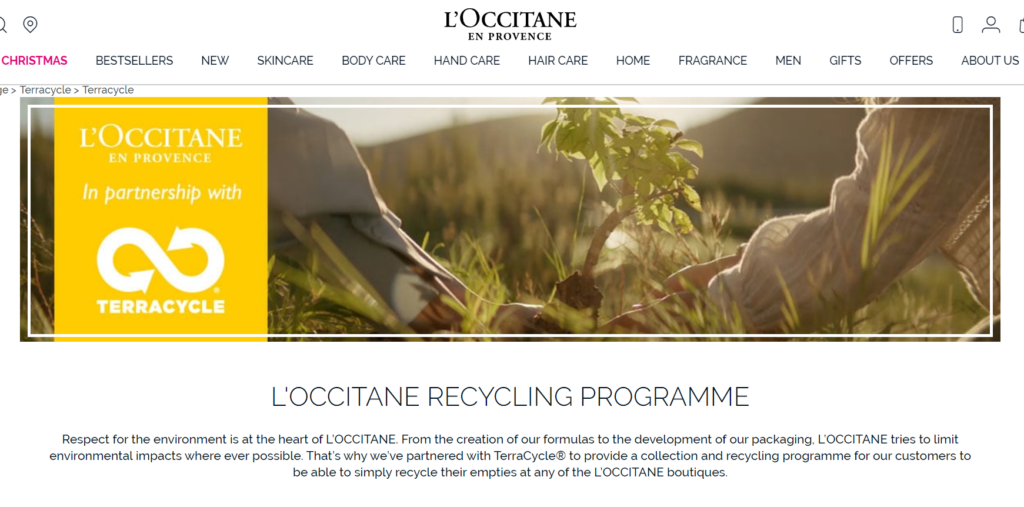 Take your empty perfume and aftershave bottles into your nearest Perfume Shop store and get a lovely 10% off your next purchase.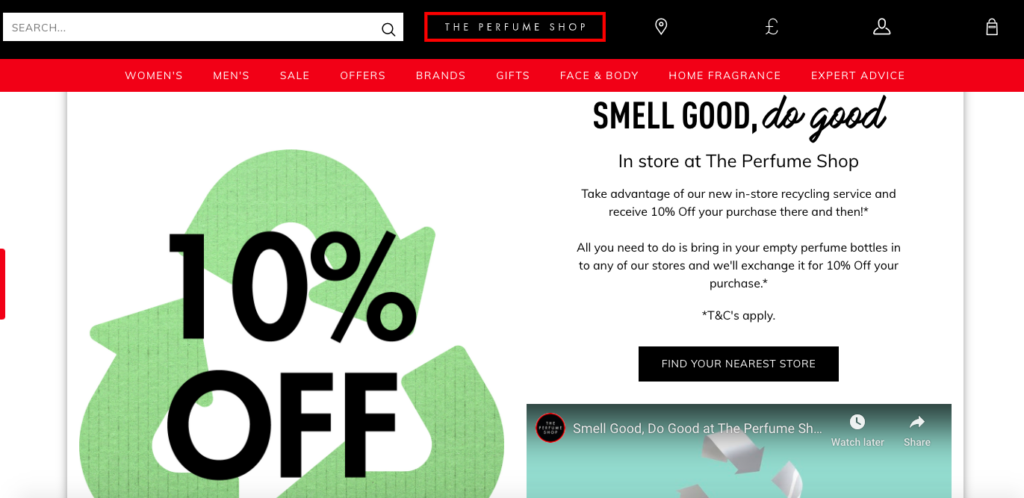 If you're feeling generous, you can cash in this offer for a loved one around Christmas. If you're on a budget but have your eye on a specific product, try waiting till a big sale to make the most of this deal!
Beauty Kitchen (a natural skincare brand) offers 100 Holland & Barrett loyalty points when you return your bottles to your local Holland & Barrett store.
Are there any other brands that offer rewards for recycling beauty products?
Brands are always running incentives to help encourage you to recycle more. It's all about having your finger on the pulse.
Some limited-time-only recycling schemes I've seen which might come back are:
Brow Pen at Benefit – you could hand in any old mascara at a counter & get a new Benefit brow pen
Free £5 Body Shop voucher – The Body Shop were offering a £5 voucher in exchange for used packaging
Make sure you sign up for your favourite brand's email newsletter and follow them on social media to be the first to hear about a new freebie.
Psst… Read my post for more ways to get free makeup and beauty products
IKEA Has recently launched its own recycling scheme. I know. So exciting! You can now sell back your old furniture to them in exchange for vouchers.
The 'Buy Back' scheme means you can receive up to 50% of your new purchase back. Depending on the condition of the furniture you're exchanging. Of course!
To give you a rough idea of what we're talking:
New furniture – 50% off
Good condition used furniture with a few small scratches – 40% off
More worn items – 30% off voucher
Not all furniture is included so make sure you check before you commit to lugging your old stuff down to IKEA! Items such as sideboards, bookcases, shelving, small tables, dining tables, office drawers, desks, and any chairs and stools without upholstery are all on the list. Yay!
Places to recycle computer parts & gadgets
Amazon has its very own trade-in scheme where you can earn free gift cards and money off your new device for exchanging your Kindle, Echo, Fire TV Stick, and more!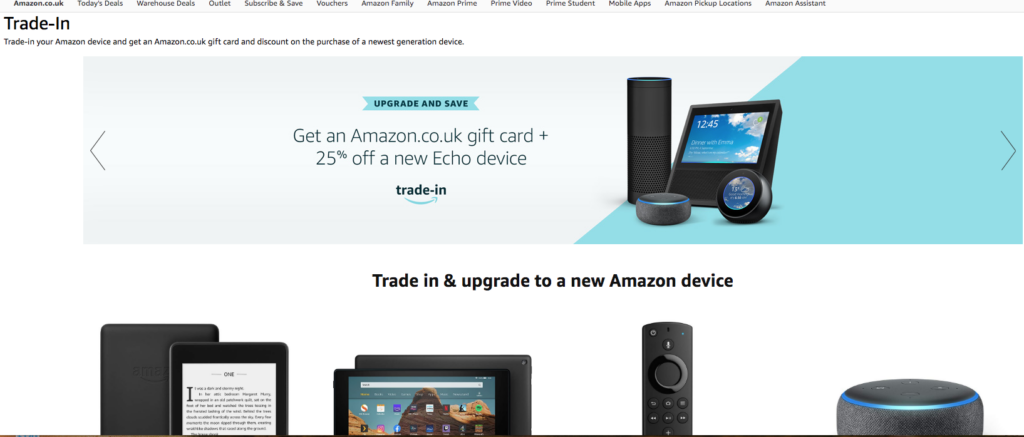 You need to check their T&Cs and make sure your product is unlocked before sending it in. Once they've received your item, they'll let you know if it's worth anything.
Even if it isn't, they will recycle it for you if you don't wish to receive it back. How nice!
Recycle any Apple device online and you'll get a free gift card to spend on your next Apple purchase. It does depend on the condition and what device it is, so it's best to be modest with your expectations.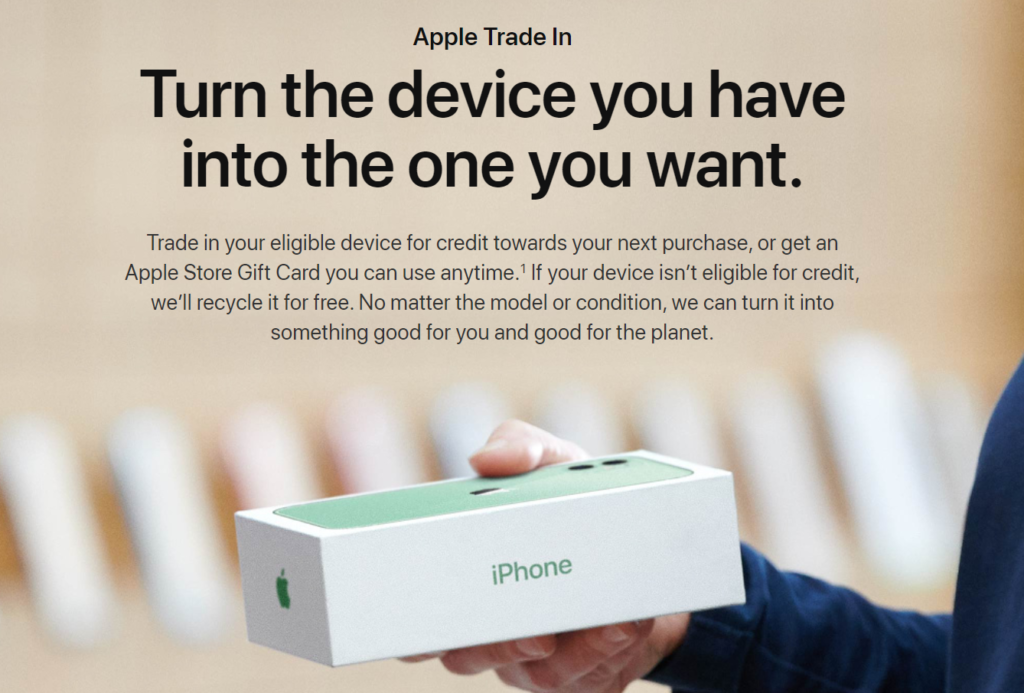 Microsoft has a trade-in service where you can send them any qualifying device and save money towards your next purchase. If it's not worth anything, they'll still recycle it for free and wipe the device for you. How nice!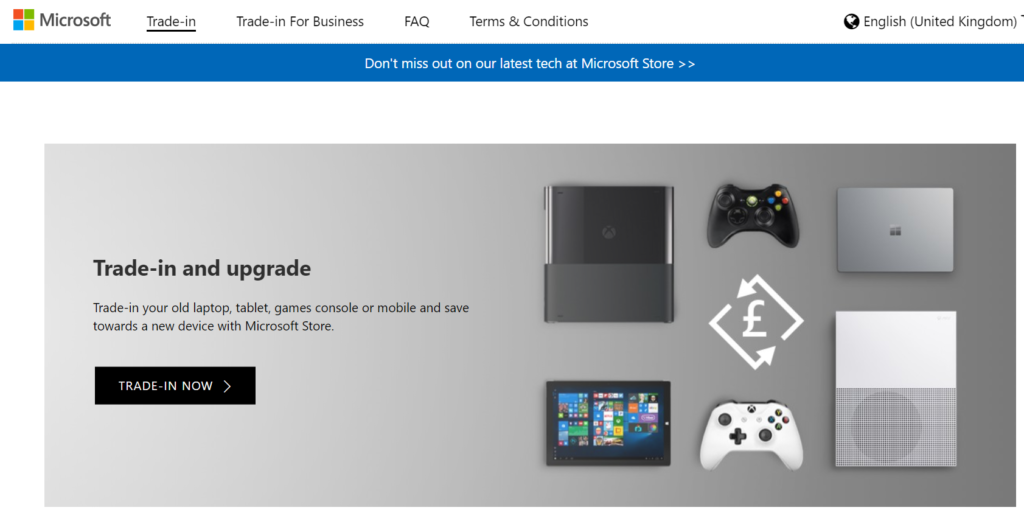 Trade in your used phone and get up to a whopping £250 off a new handset or monthly contract at Carphone Warehouse. Check their website to get your phone valued, sell it to them, and enjoy your new phone!
Save money at coffee shops with reusable cups
Ok, this isn't technically recycling. BUT bringing your own reusable coffee cup to a coffee shop can save you money AND help save the environment.
Plus, coffee shops actually reward you with discounts of up to 50p every time you bring your own cup.
I know it doesn't sound like a lot, but if you have a coffee every morning, it quickly adds up. And the cup will soon pay for itself.
Here are the best offerings:
| | | |
| --- | --- | --- |
| Company | Reusable cup saving | Reusable cup cost |
| Pret A Manger | 50p saving on hot & cold drinks | £10 |
| Starbucks | 30p | £1 |
| Costa | 25p | £3 |
| Greggs | 20p | £2 |
| M&S café | 25p | £3 |
| Caffè Nero | Double loyalty stamps | £11 (on website) |
| Waitrose | Free drink with a loyalty card | £3 |
| Virgin trains | 20p | Bring your own |
Get paid to recycle
reGAIN is a new app that offers discount codes and coupons from top brands in exchange for you recycling your used clothes.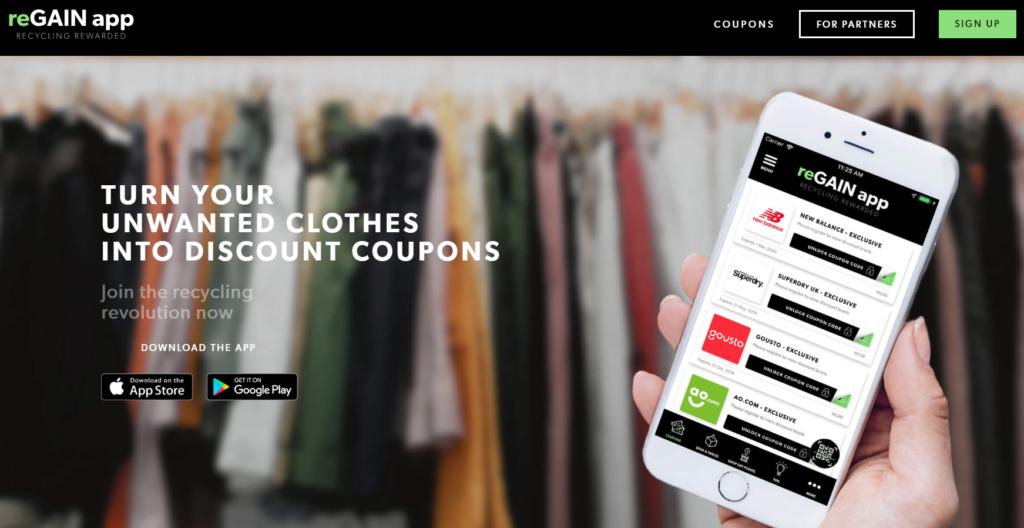 Simply download the app, pack up a minimum of 10 items and drop them at a local collection point. They'll send you coupons once they've received the items. The more you send, the more you save!
This site offers up to £20 cash for your old GHDs depending on model and condition.  If you're not fussed about the money and just want to recycle yours, GHD also has its own responsible recycling programme.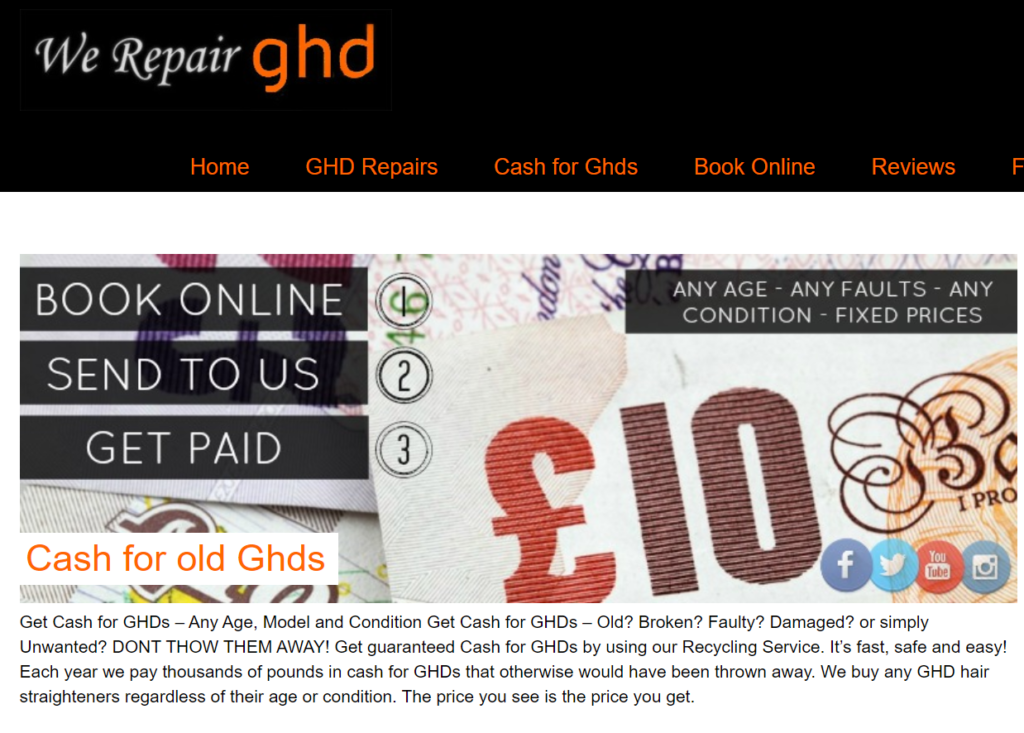 Sites like Music Magpie* offer really good rates for trading in old phones, laptops, DVDs, CDs and more. All you have to do is sign up and ship your items off with their free service. Then they'll inspect and pay you for any valid items. (If you use my link* to complete a trade, we'll both get £5!)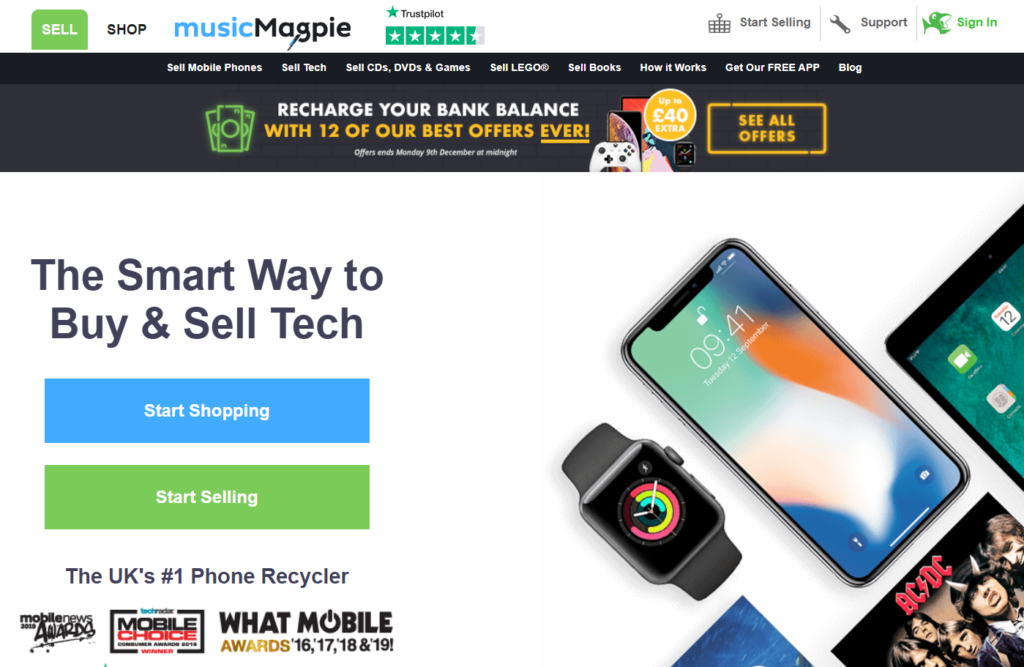 Some mobile phone companies also have their own recycling scheme like O2, which offers cash for used O2 phones. To find the best deal, it's best to use a comparison site.
Get paid for recycling ink cartridges
There are a number of sites that pay you for empty ink cartridges, including:
Cash for cartridges – paying up to £4.50 for ink cartridges
The recycling factory – offering £1.50 or 125 Tesco Clubcard points per cartridge
Printer cartridge recycling – approx £2 per cartridge
Find more places to sell your stuff for cash or sell your stuff on eBay.
Keen on recycling products from brands that haven't been listed? Check out the Terracycle website. This helps you find places to recycle stuff from your favourite companies.
Get paid to recycle cans, bottles & plastic bags
More and more companies are starting to reward recyclers of cans, bottles and plastic bags now, including:
Iceland – 10p for every bottle in 'reverse vending machine' in selected stores
Merlin attractions – giving 50% off attractions when you recycle coca-cola bottles at any reverse vending machine
Ocado bag recycle bonus – 5p for every bag you give them to recycle, even from other supermarkets!
There are also can recycling centres across the UK, which offer cash for cans. Find your nearest centre now.
You don't see many Cash 4 Clothes places anymore, but there are still some around the UK.
They offer instant cash (up to 50p per kilo) for any clean, unwanted clothes, shoes, accessories, etc. It won't make you a millionaire, but every little helps! Find out more and look for your nearest drop-off.
Flog loo rolls, wine bottles, jars & more for cash
I kid you not, people will buy anything on selling sites! Sell anything that could be recycled around your house, including:
loo rolls
wine bottles
jars
empty perfume bottles
champagne corks
egg containers
clothes buttons
and loads more.
People buy these for crafts or home accessories, so it's worth trying to sell them before you recycle. Just remember, these items sell best in bulk so bundle together your items for maximum profit!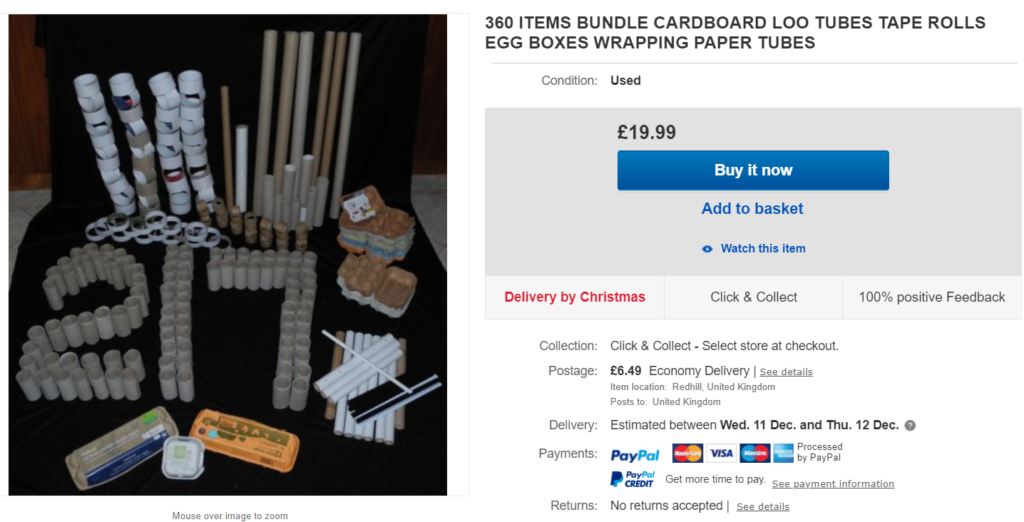 So there we have it! Hopefully, I've inspired you to declutter and get recycling to help save the planet and your wallet.
Pin for later…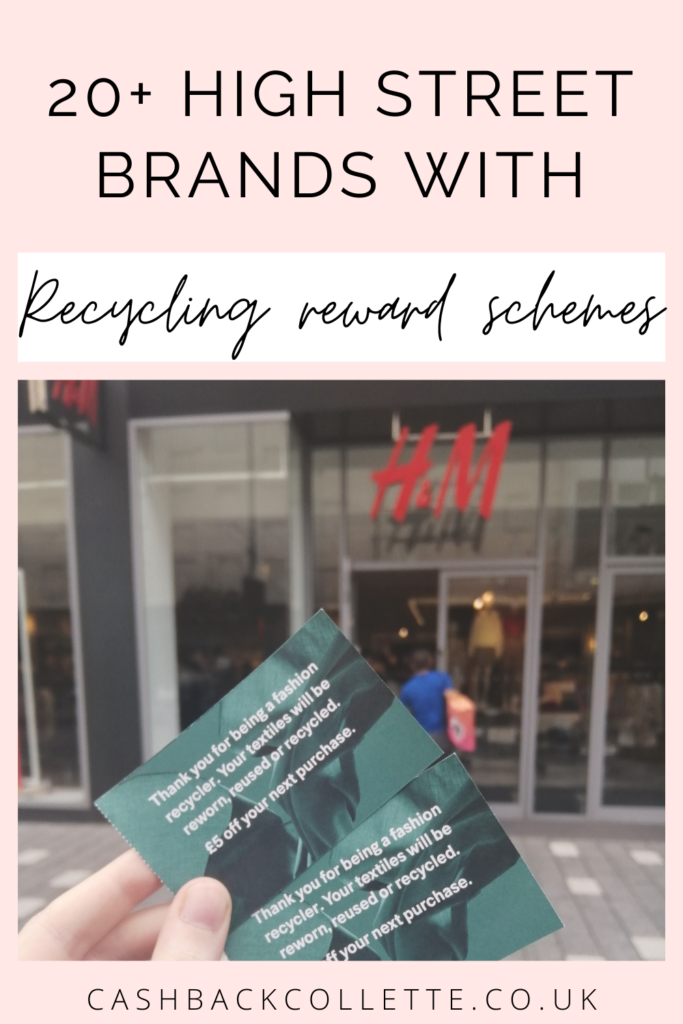 This post contains affiliate links, which means I receive a small commission if you sign up to a recommended product or service, at no extra cost to yourself.