As you can probably tell by the name of my blog, I'm a huge fan of cashback! I think it's a great way to save money.
If you're not claiming free cashback rewards yet, why not??
Perhaps you've never heard of cashback rewards?
Or you're not sure where to start?
Maybe you think it's too much of a hassle?
If you answered yes to any of these then this is the post for you!
What is cashback and how does it work?
Cashback is when you get a percentage of money back from something you buy via a website or an app. It takes just seconds and you'll quickly see your free cash stacking up.
Think of it as a nice incentive or discount!
The way it works varies depending on what method you choose. Most cashback sites will often track when you click through to a website and purchase an item online.
Cashback apps reward you for in-store purchases and may ask for a photo of your receipt instead.
Is it safe to use cashback sites and apps?
100% yes! I have been using these websites and apps myself for many years and have claimed hundreds, if not thousands of pounds in cashback. I wouldn't recommend something I don't use myself on this blog!
If you're not sure, you can always contact their customer service teams, who will be happy to answer any questions or doubts you may be having.
What can I claim cashback on?
You can claim cashback on just about anything you can think of! This includes:
Online retailers such as ASOS
Takeaway sites like Just-Eat and Dominos
Holidays
Insurance
Mortgages
Plus loads more!
How to claim cashback rewards
From cashback sites to credit cards, here are the easiest ways to claim cashback rewards in the UK…
---
1. Use a cashback site
If you're new to all this, cashback sites like Quidco and TopCashback are a great place to start because they do all the hard work for you and negotiate cashback deals with retailers for you.
Plus, you'll get a free £5 bonus when you sign up to either using the links above and earn your first £10 in cashback!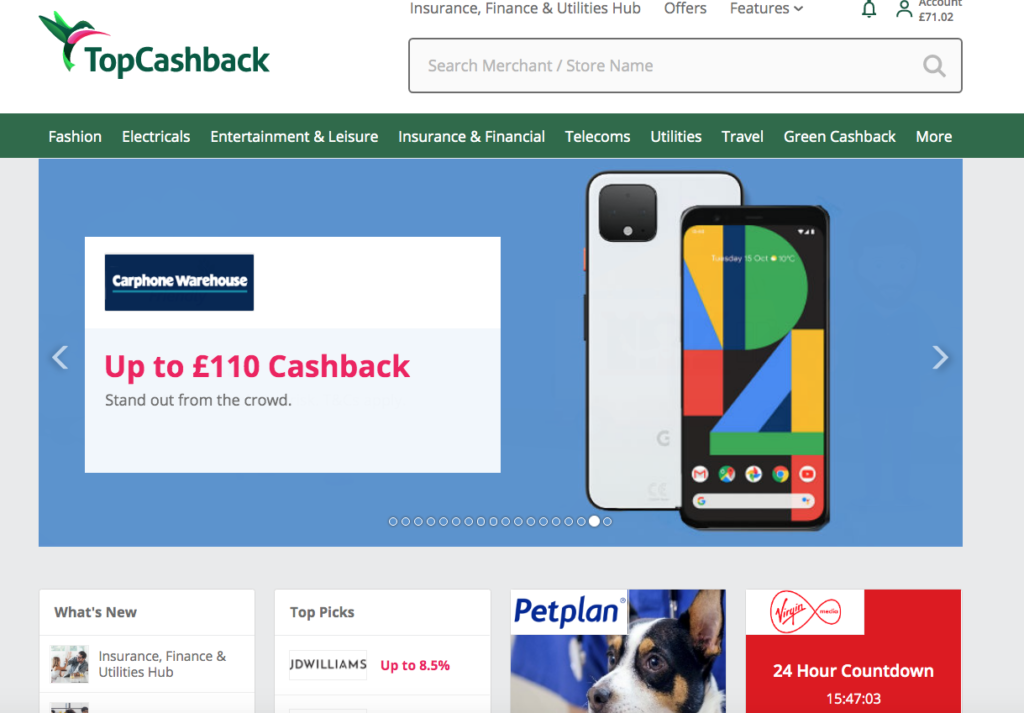 Simply sign up for an account, search for a retailer, click through to their website and shop as normal. Once you make a purchase, your cashback should track on your cashback account.
Related: TopCashback – the ultimate guide & top tips for earning even more
The amount you can earn here all depends on which retailer you're shopping with. Some offer a percentage rate, while others offer a cash bonus like £30 for example.
These sites often have referral bonuses and extra discount codes on top of regular cashback, so you can earn even more!
Related: 25+ best cashback sites & apps in the UK
Connect your card to earn cashback in-store
Did you know TopCashback also offers cashback in shops, as well as online? Active their In-Store feature by connecting your card and earning cashback on a variety of retailers while you're on the go.
---
2. Download an app to earn cashback rewards
You can also earn cashback rewards such as gift cards, and money off your bills using a variety of cashback apps.
Airtime Rewards is an amazing app that allows you to earn money off your phone bill each month. Use my referral code PPBMT7HU if you fancy getting a 50p bonus (PLUS £1 bonus if you spend with a partner retailer in the first 7 days)
Read my review here to find out more!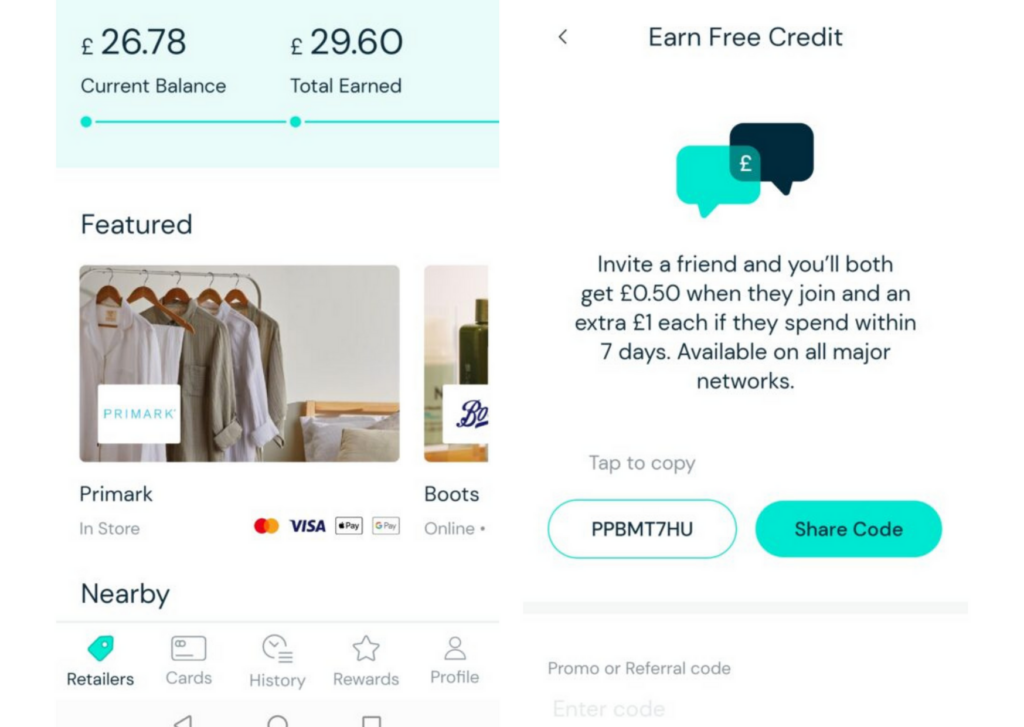 Daali is another awesome reward app, where you can earn points towards gift cards by shopping on Amazon, and in popular stores like Tesco and IKEA.
Once you've reached enough points, cashout your gift card for Amazon, Costa, plus loads more. Use my referral code: WrNHj and we'll both get 200 Daali points!
Supermarket apps like Shopmium, CheckoutSmart, Green Jinn, and Quidco ClickSnap offer cashback on a variety of groceries.
Related: CheckoutSmart App – How To Earn Cashback At The Supermarket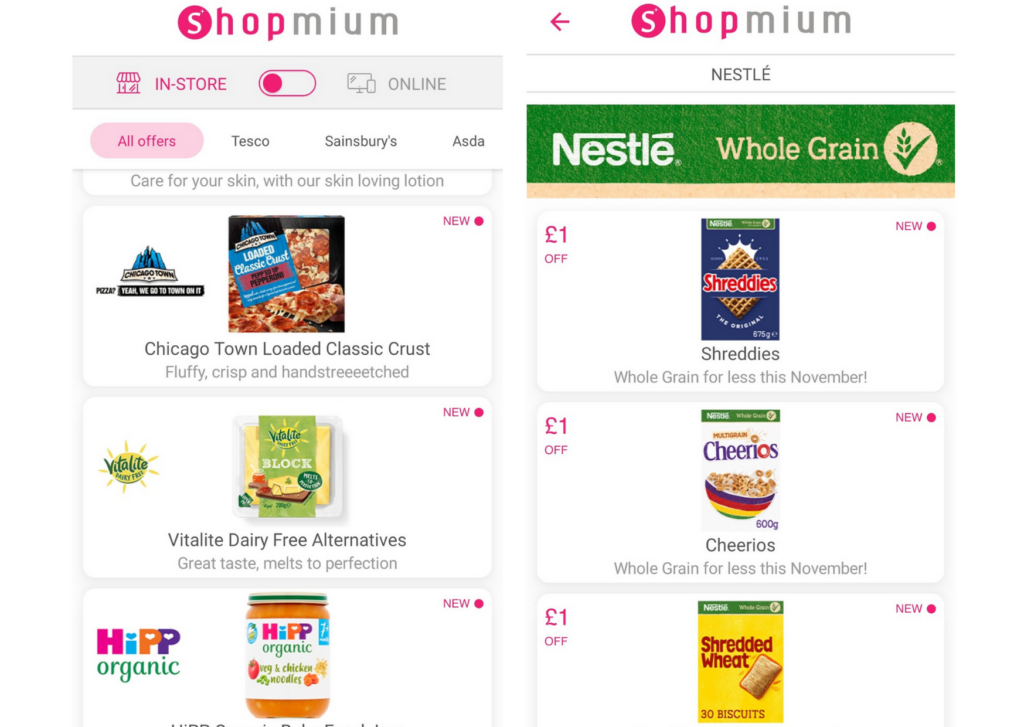 Pick up the product you see on the list available within the app at the selected supermarket and pay for it as normal.
Once you get home, scan your item and upload a photo of the receipt on the app, and they'll send you the cashback. So easy!
Related: Shopmium: How to get freebies & save money at the supermarket
Psst… if you sign up to Shopmium using my code: KHKCYCEN you'll get a FREE tub of pringles. Find out more here.
---
3. Install a browser extension
Browser extensions are another great way to find discounts and cashback when you shop online.
Quidco and TopCashback both have a browser extension, which features reminders when you land on a retailer's website that offers cashback.
You can also get discounts using similar browser extensions such as Honey or Pouch, which also pop up with any coupon codes when you shop on relevant websites.
Related: Best Chrome Extensions To Save Money Online
---
4. Get cashback with your bank
Did you know banks like Lloyds and Halifax also offer cashback when you spend at High Street and online retailers like Sainsbury's and Just Eat?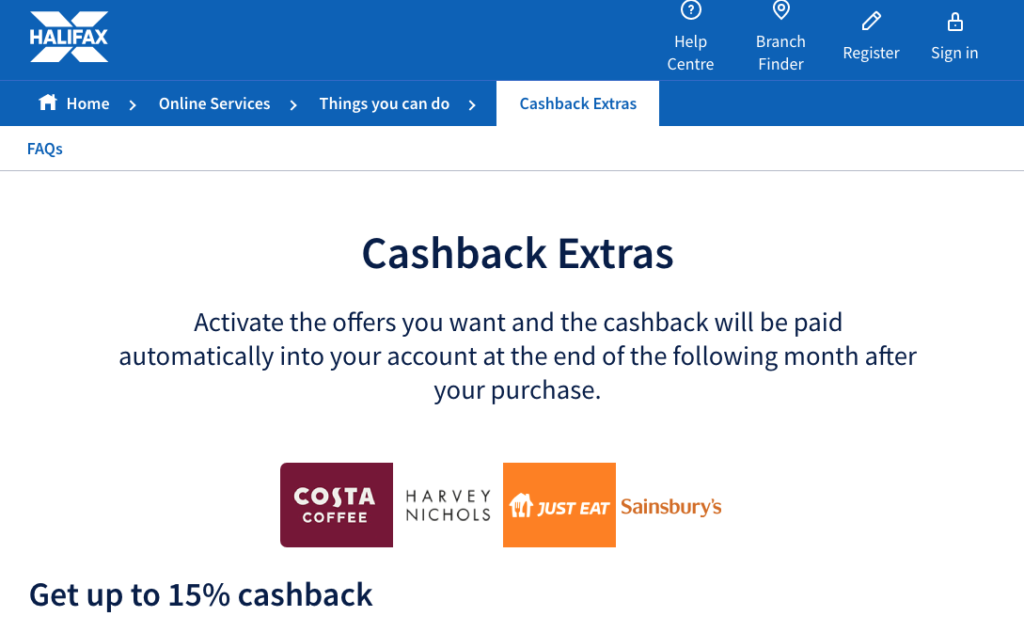 Simply log into your bank account and activate each offer and the cashback will be added to your account when you spend with each retailer.
---
5. Cashback credit cards
Do you already use a credit card and pay your bill in full each month? If you do, it's definitely worth considering switching to a credit card with cashback rewards.
Find the best cashback credit cards at MoneySavingExpert. Remember to compare cashback rates, and look out for any associated fees, and how much you have to spend to claim any cashback rewards.
---
6. Get cashback on a new phone contract
Is your phone contract coming to an end? Check cashback sites and compare rates for new mobile phone cashback rewards.
Some online sites such as Mobiles.co.uk also offer exclusive cashback deals on new contracts. You could £50-100 just by going direct!
---
7. Earn cashback on your bills
Many UK banks now offer monthly cashback when you set up direct debits for your bills. Here are the most popular ones:
1% cashback on phone, broadband, mobile, TV bills, council tax, and mortgage
2% cashback on gas and electricity (and on Santander home insurance or life protection policies)
3% cashback on water bills
Each rate is capped at £5 with a £2 account fee. So you can earn a maximum of £13 per month or £156 a year
Earn up to £4 in cashback each month when you pay at least two direct debits from the account (minimum £2) including utility bills and mobile phone contract
You can also earn £1 if you log into your online banking each month and earn 1% cashback when you spend with one of Natwest's retail partners
The account costs £2 per month and maximum cashback earnings are £60 per year
You can earn up to £7 cashback each month with Barclays Blue Rewards
Claim £5 cashback each month if you have a Barclays mortgage, 3% cashback on Barclays home insurance, £1.50 on a Barclays life insurance product, and £5 with Barclays critical illness cover
£4 monthly fee
---
8. Earn cashback on your mortgage
In addition to earning cashback with your bank on bills and when shopping with retailers, you can also earn cashback on your mortgage. Quite a generous sum, actually!
We earned a massive £1,000 cashback on our first mortgage with Halifax! Other banks including RBS and Natwest also offer cashback mortgage offers so make sure you check when you're comparing rates.
---
9. Get paid to websites
Get paid to sites like OhMyDosh offer cashback when you shop online, similar to cashback sites. You can also earn extra cash by completing tasks like surveys, watching videos, playing games, plus more.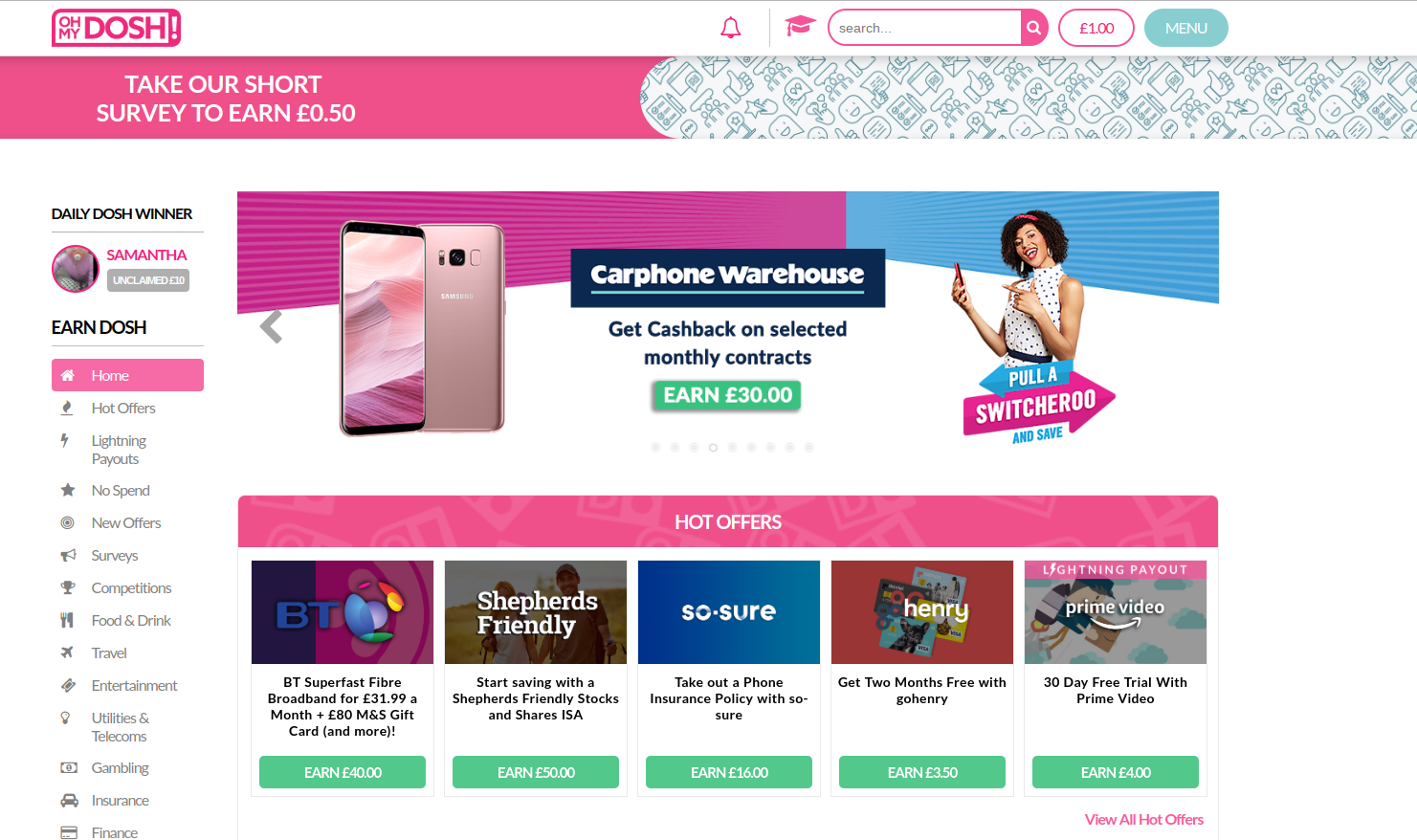 Sign up today and earn a £2 bonus just for joining and confirming your details! From then, select each offer and get earning extra cash.
Related: OhMyDosh – how to make extra cash fast!
10. Earn cash from adverts
Gener8 is a great first-of-its-kind, free browser plugin that replaces spammy, horrible ads with photos you like instead like cute pugs or bright pink flamingos. The best part? You get paid every time you view these fancy new ads!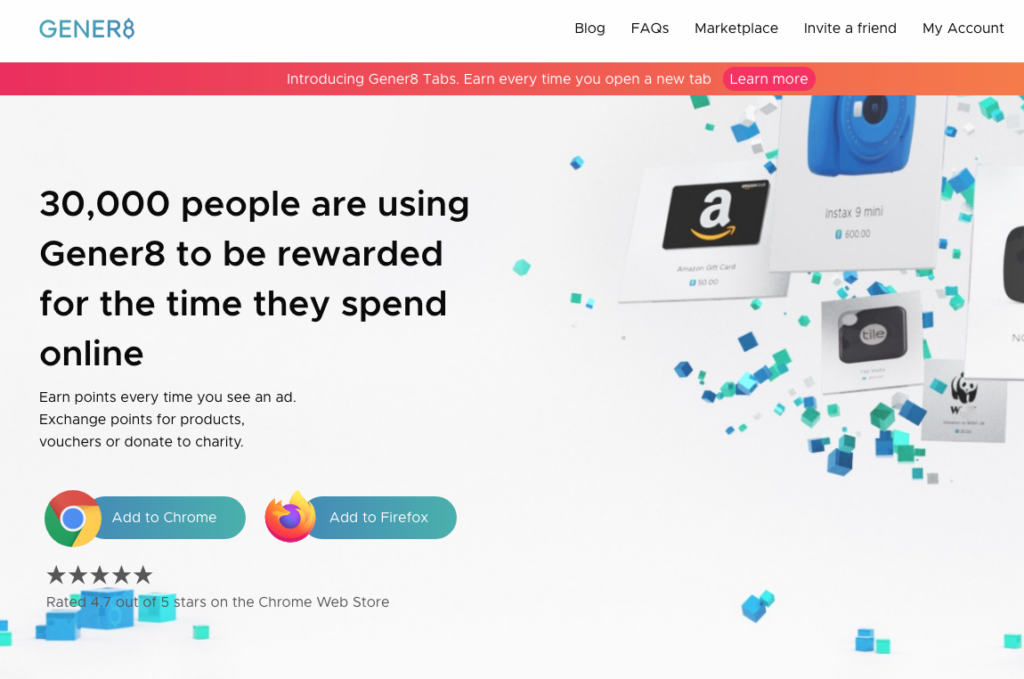 It's a great, passive way to earn free cash in the form of gift cards. To get started earning, Sign up and get 10 tokens straight away!
---
Top tips for earning cashback
Here are some of the tips and tricks I've learned over the years when it comes to earning cashback:
Take advantage of welcome offers – don't miss out on the welcome bonuses I've mentioned in this post!
Cash in on loyalty schemes – loyalty schemes are another great way to save money and you can often combine cashback deals with loyalty points!
Get cashback without spending a penny – TopCashback has a free cashback section, where you can complete tasks like applying for free insurance quotes or signing up to survey sites. Plus, other sites like the ones I've mentioned above also let you earn cashback by completing tasks online
Deal stack using voucher codes – most cashback sites also offer exclusive voucher codes so make sure you check these out on each retailer landing page!
Withdraw your earnings as a gift card – you'll often get a percentage more when you cashout this way
Have a look at premium accounts – TopCashback and Quidco have premium account options where you'll get access to exclusive offers and higher cashback rates
Compare on cashback platforms – some of these sites have better rates than the bigger comparison site platforms
Refer your friends – Lots of the sites and apps I've mentioned in this post offer refer a friend schemes, where you can earn even more cash just for sharing your unique link!
What are you waiting for? Start earning cashback today!
Pin for later…