I feel like I'm cheating on eBay a little bit writing this post, but there are actually lots of alternative selling sites to the big auction giant that can help you shift your gear and declutter for cash.
I love eBay, I really do, but sometimes you could list something that's quite heavy or unique and no one wants to collect it and it could be on there FOREVER. If you're struggling to sell on eBay and you've tried all these tips, it's good to mix it up and try other selling sites.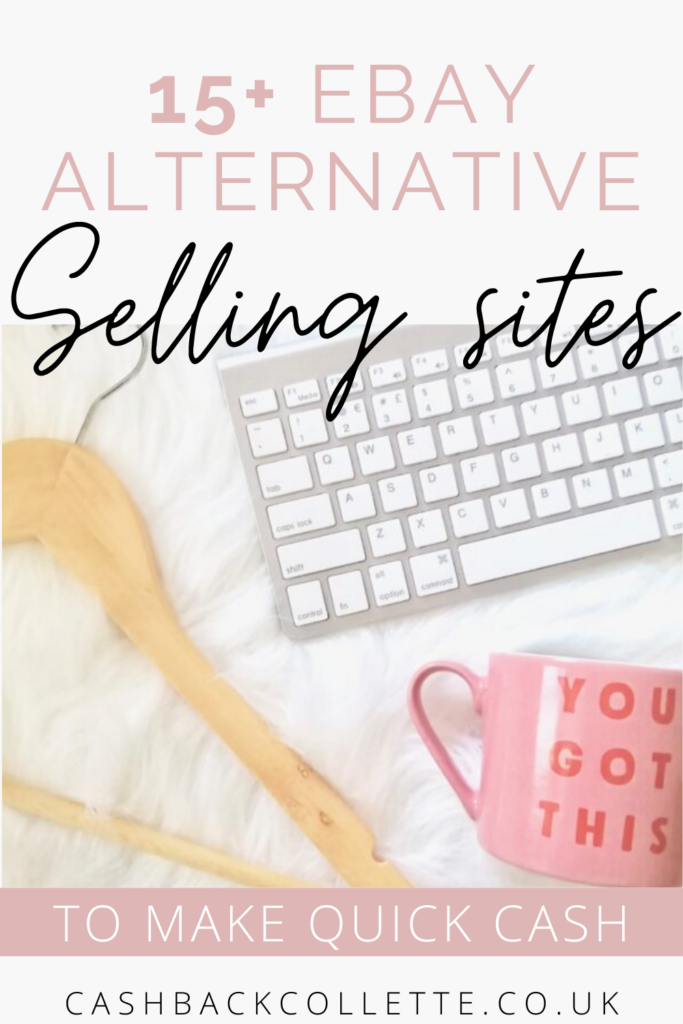 Plus, with a lot of these options, there aren't any fees to pay. Perfect if you're on a budget, as it won't sink into your profit! Each site has its strengths so without further ado, here are my favourite sites for each category.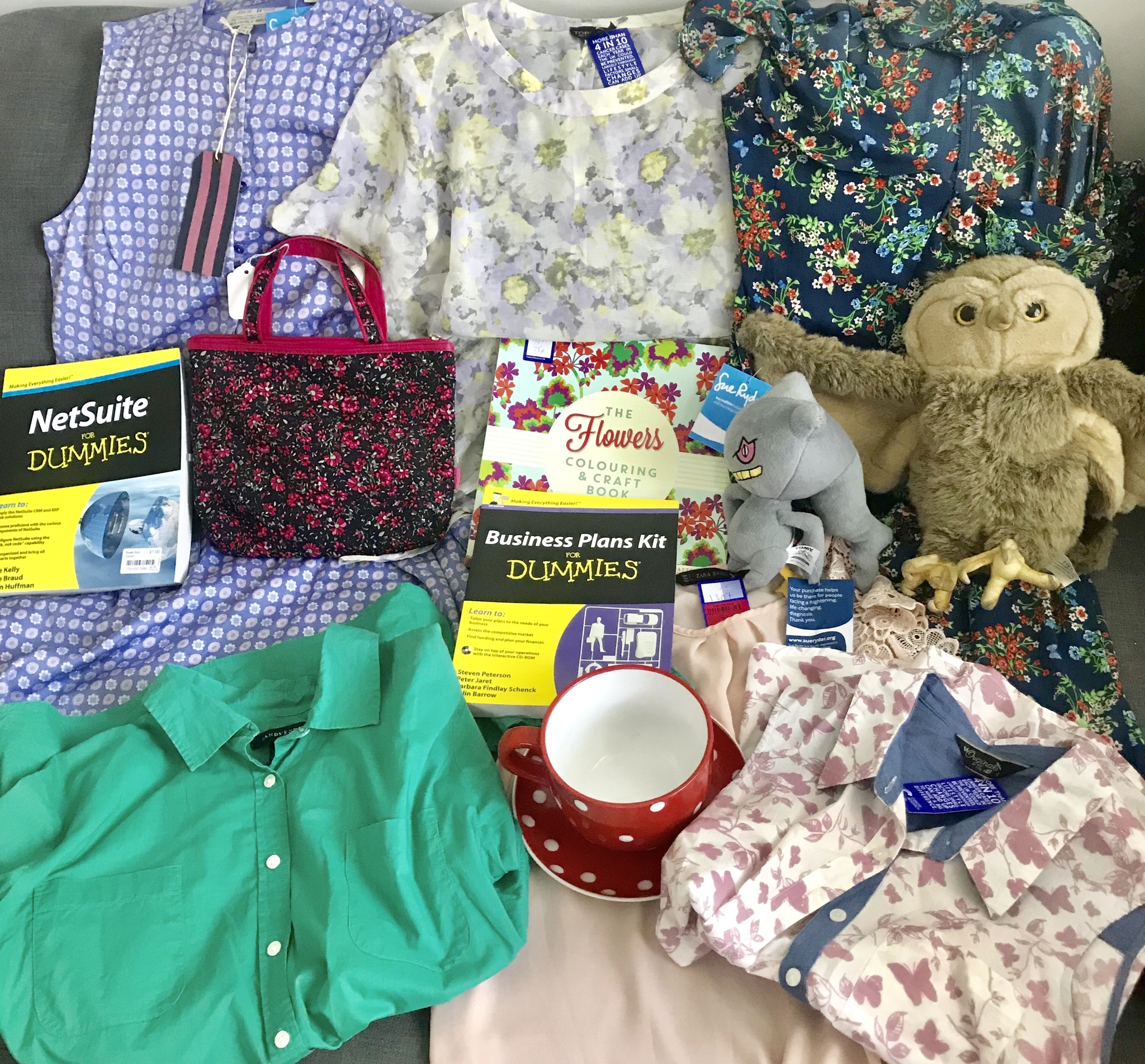 eBay alternative selling sites for selling clothes & accessories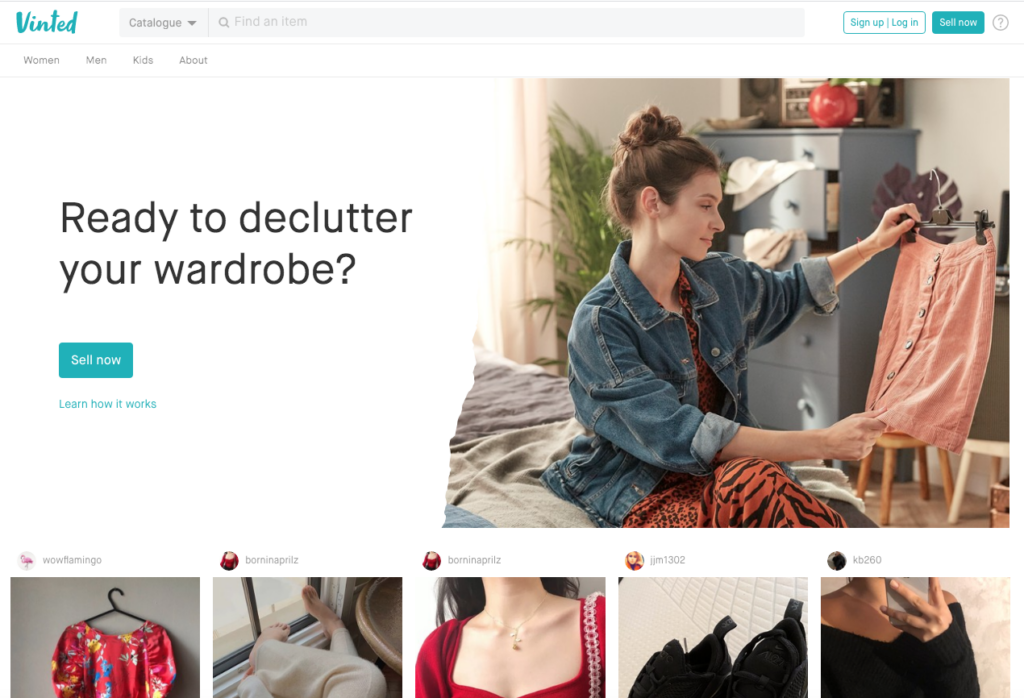 If you're looking to sell your clothes and want a cheaper eBay alternative, try out this site. The reason I sell a lot of clothes on Vinted is that it only charges fees to the buyer, not the seller.
A lot of these sites are free anyway, but eBay charges you the fees as a seller so this is a good alternative.
They used to have a cool function where you could choose to swap with something another seller was selling but I'm not sure if they have that anymore?
Anyway, it's a really cool app and site and you can send stuff tracked so you know it will get there safe.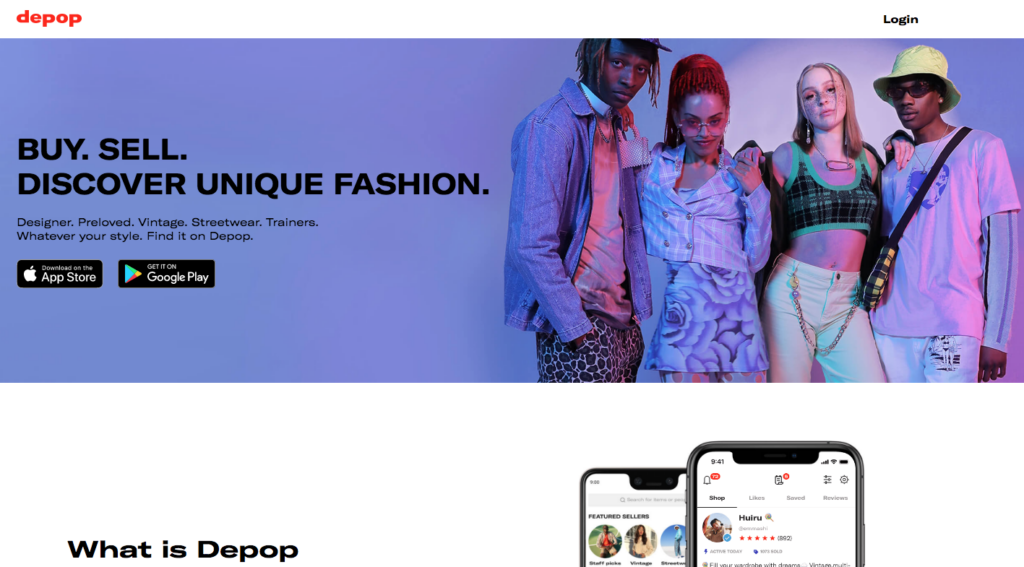 Depop is very popular in the US and I've seen a lot of people over there actually start to use this more than eBay.
Again, it's a free app and you simply snap pics of your clothes and upload them and wait for them to sell. It's popular with teens and early 20s, as you can sell lots of retro/vintage clothing and make your store look just the way you want.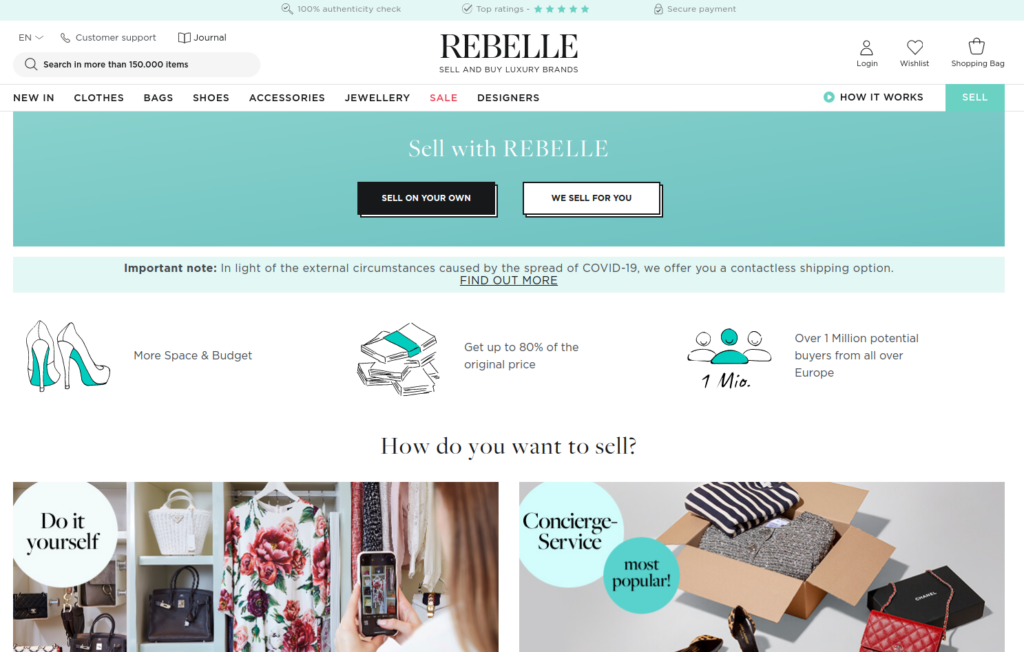 Rebelle is another great eBay alternative to sell your clothes online. You can look after the sale yourself or pay a little extra commission and have them do it all for you. That includes taking photos of your stuff, storing the item and shipping it, too.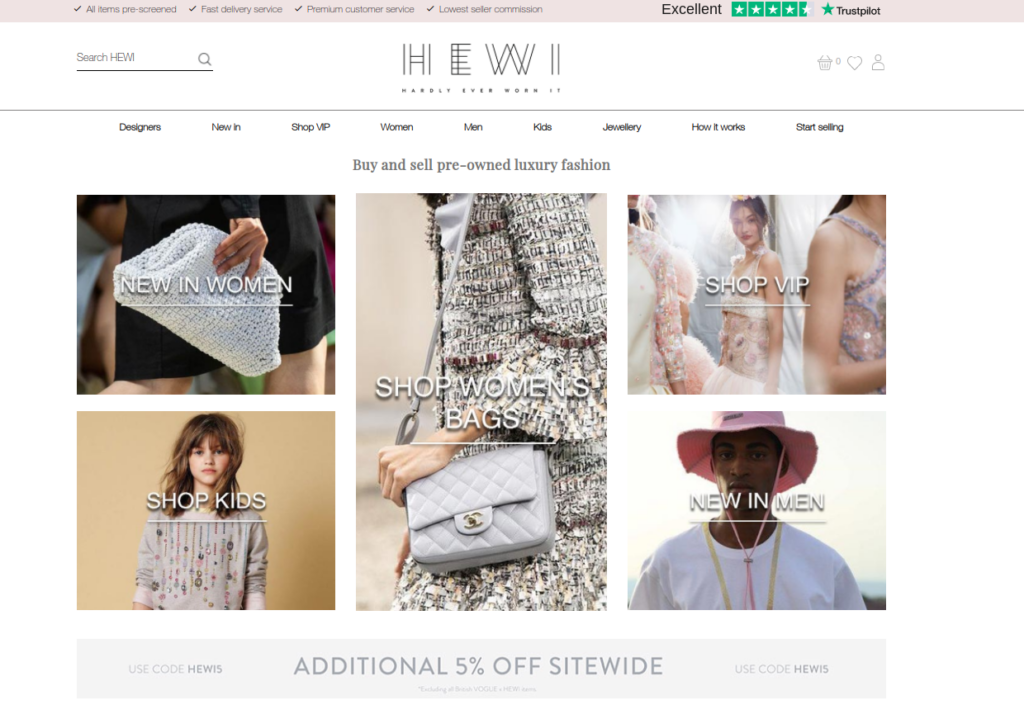 If you have some luxury or designer pre-owned clothing, HEWI (Hardly Ever Worn It) it a fab option! Similar to Rebelle, there is also the option to go 'VIP' and have them take care of everything for you.
Sign up to Vestiaire Collective and earn money selling designer goods on this luxury clothes and accessories marketplace.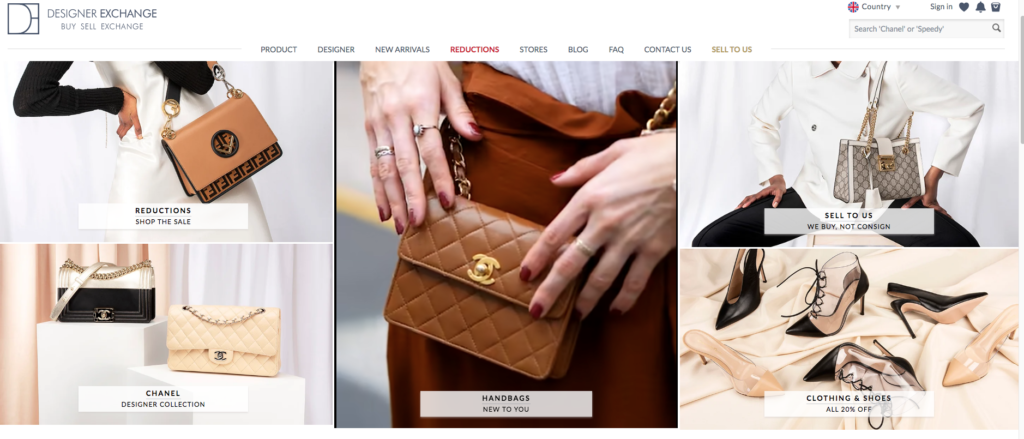 Designer Exchange is another fab platform to sell your designer goods! Got any purses, bags or shoes you would like to flog? This is the designer selling marketplace for you!
Psst… Looking for more places to sell clothes? Check out my top 20 sites to make money selling clothes online!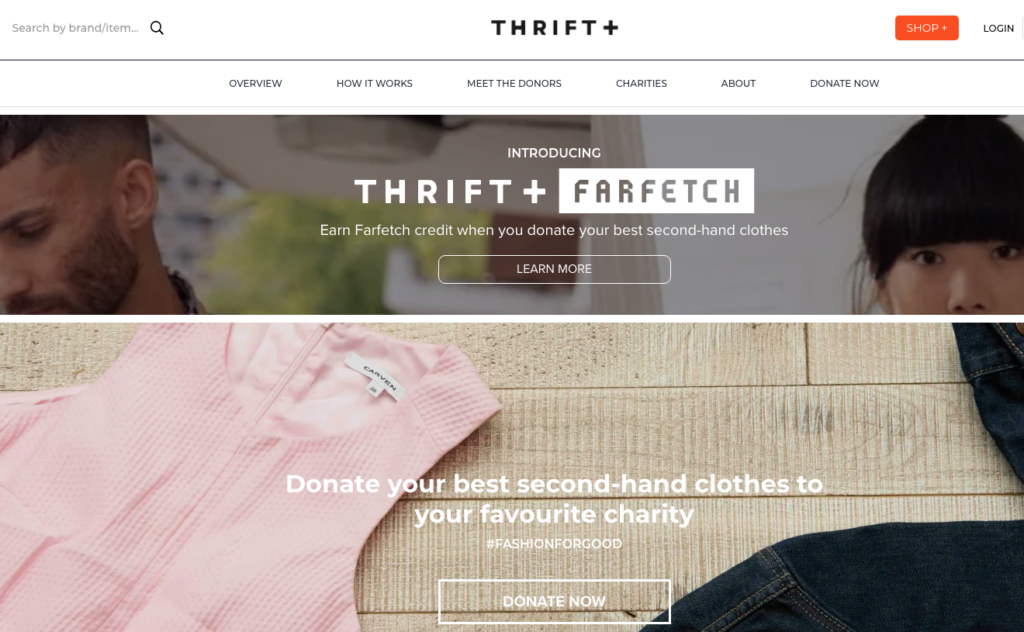 If you're feeling generous, you can donate a bag of clothes to Thrift+. They are a brand new start-up (you may have seen them on Dragons' Den!) The idea is, your items are sold and you choose which charity the proceeds go to. What a lovely idea!
Where to sell your furniture & household stuff online
I LOVE Gumtree both for buying and selling. I've found some absolute gems on there for our home and I always browse through their freebie section.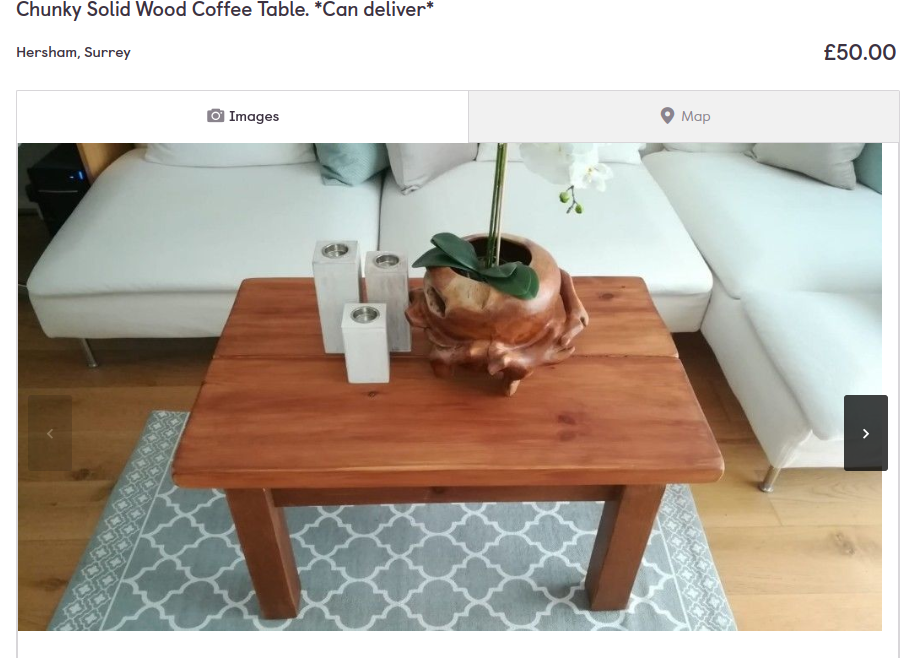 It's great for shifting furniture so we're talking sofas, wardrobes, desks, etc.
You'd be surprised at how many people want your used stuff, even if it's not in pristine condition!
To prove you literally can sell anything on there, we recently bought a toilet and sink from Gumtree (and thoroughly bleached them 1000 times) to keep costs down on our bathroom renovation.
People usually email you so keep an eye on your inbox and stick to the 'free ad' option to keep costs down.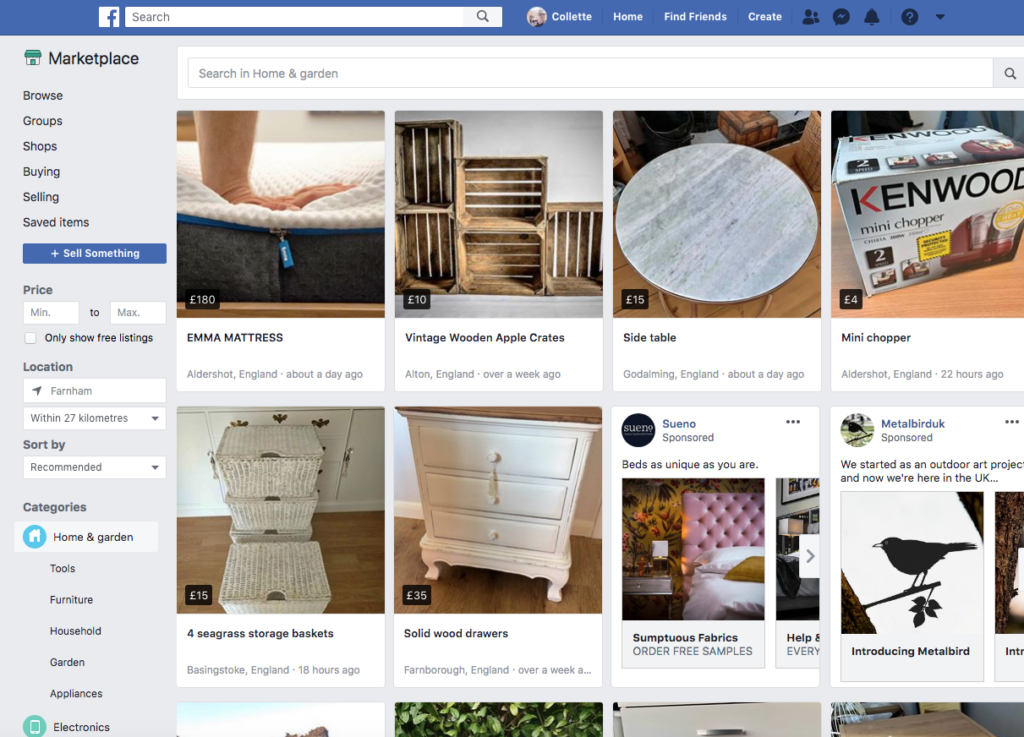 Just when you think Facebook is all about stalking your exes and watching dog gifs on repeat, they go and introduce their own selling platform!
FB Marketplace is great because it sits in the app on your phone and you can list things and reply to messages in seconds.
If you're wondering how popular this one is, I've gone for loads of stuff and people are like 'sorry it's sold already' so people are on the app all the time just waiting to buy your unwanted stuff!
There are also local selling groups so if you search for your local area, you'll find selling groups for people flogging stuff local to you.
Preloved is a good site to try and sell your heavier pieces on too.
It doesn't advertise itself as much as the other sites, but it's just as good and I've shifted a few bundles on there before like big bags of hangers and shoe boxes.
They've just updated their site too so it's all nice and clean and easy to use.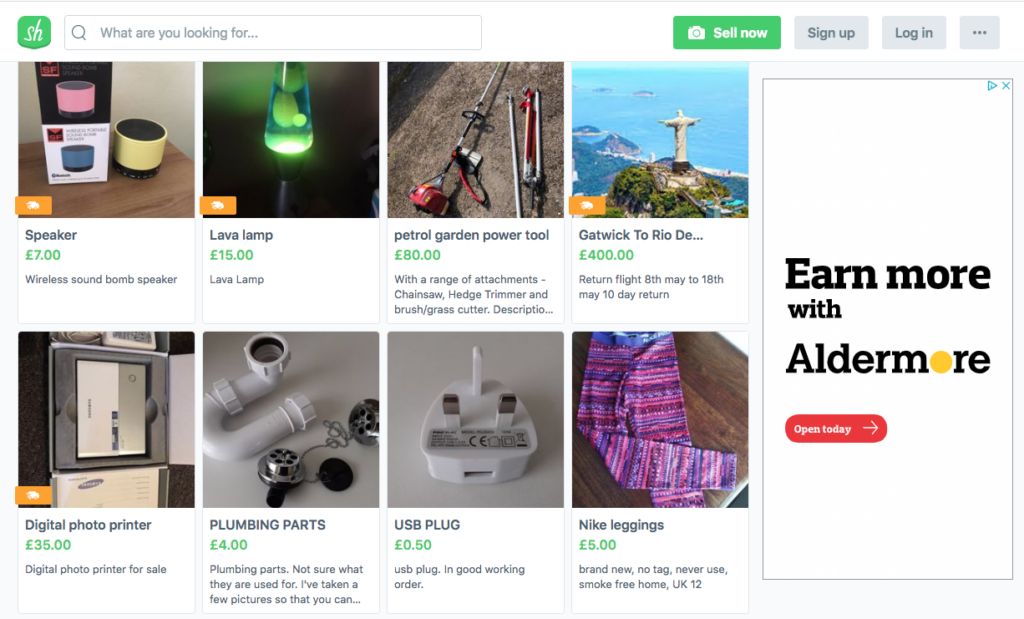 Shpock is also a great choice for bigger pieces but also for bundles. I've seen loads of kids toys, storage boxes and clothes on there.
It's still quite under utilised by most so chances are you'll have less competition and will be able to flog your stuff in no time. For that, you can forgive them their incredibly annoying tv ad!
Don't forget to read my top tips for buying & selling on local selling sites
Best places to sell baby stuff
It's amazing how quickly you can acquire baby stuff as a new parent. If you feel like it's time for a good declutter, the sites I've mentioned above can certainly help you flog bigger pieces such as prams, cots, etc.
I would also recommend car boots as a good option to get rid of stuff in one go and donate or discard anything you don't sell on that day.
Check out my top tips for selling out at a car boot to help give you inspiration.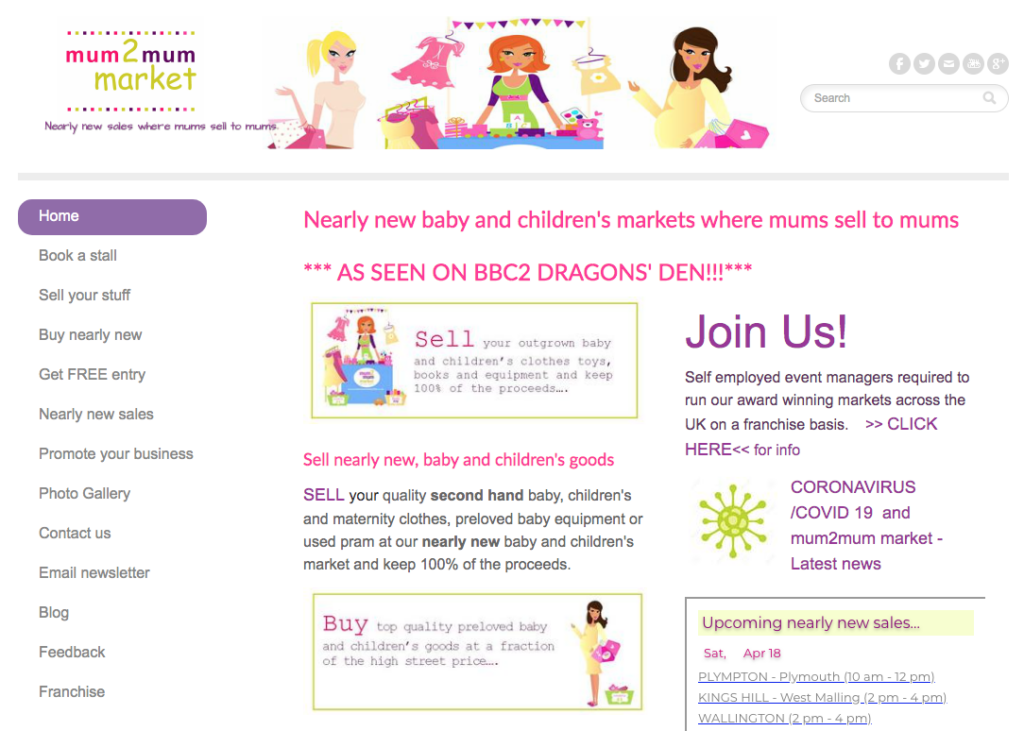 Mum2Mum Market is another great option for selling baby stuff. It works like a car boot, so you book a stall and head down to sell. The difference is, it's tailored to mums and babies, so everything is new or used baby stuff. It's also a brilliant opportunity to chat with fellow mums and meet new people in your area!
Facebook has loads of sell and swap groups, perfect for selling baby stuff to fellow parents! It works slightly differently to marketplace, as you don't 'list' the item as such, just post in a local group and gage interest. To get started, search 'buy and sell' followed by your local area to find groups close to you.
Best selling sites for Tech, Books, Games, CDs & DVDs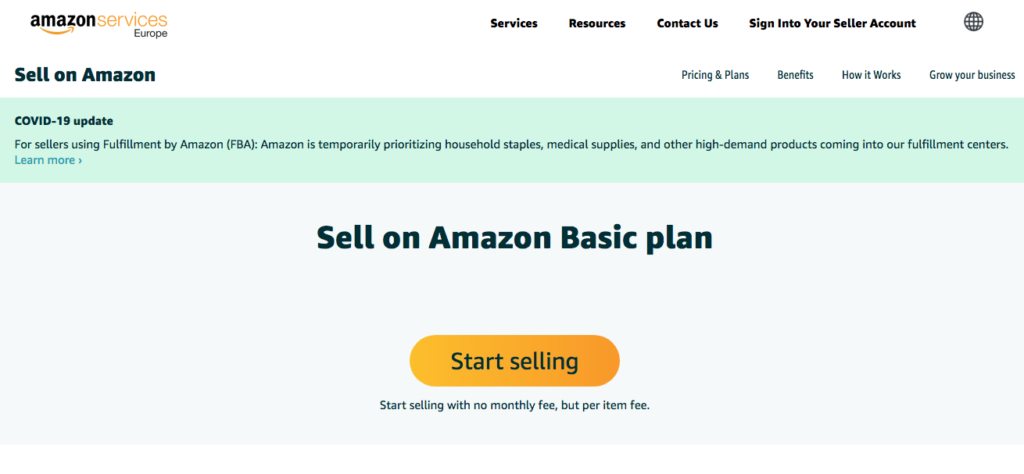 Amazon is probably the most popular place to flip your unwanted books and DVDs, and it's really easy to navigate. You can set up a basic account for free and sell up to 35 items per month. Fees are 75p per item, plus 15% and a 50p closing fee.
It works a little bit like eBay, so you upload your listing, its condition, etc. and then once a buyer comes along, you ship it and get paid.
You can also search for your item and they'll find it and autofill certain fields to save you time filling in the faffy details like year, paperback, and so on.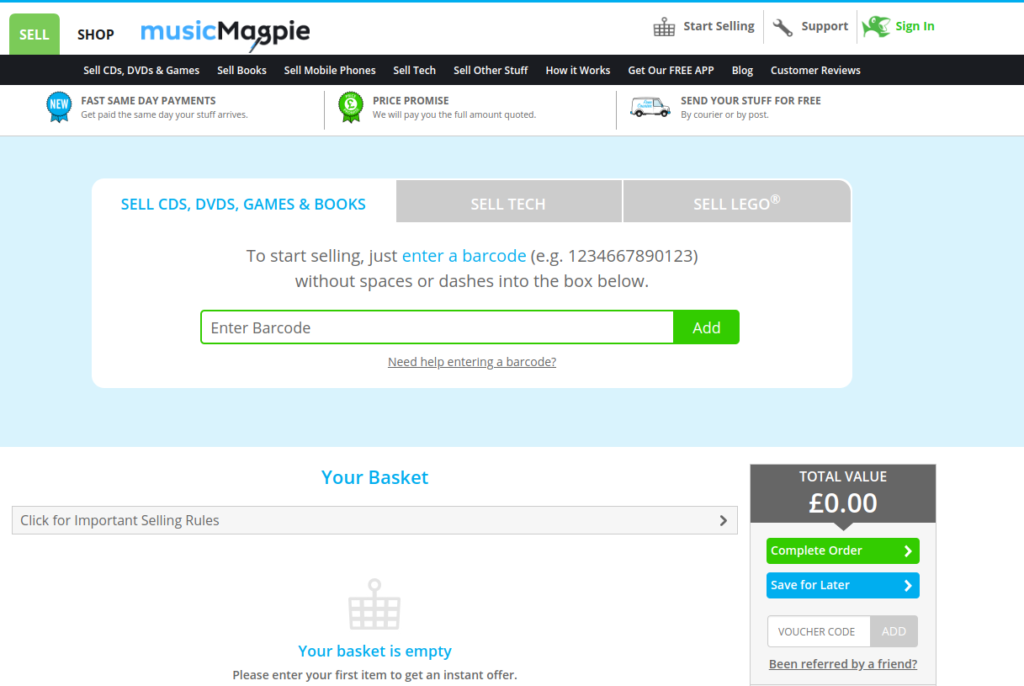 Music Magpie is so easy to use and it's great if you want to get rid of bulk loads of CDs, DVDs, and books all at once. Use my unique link and make an extra £5 on anything you sell!
I used it to shift a load of stuff before we moved house. They also buy your tech too so phones, laptops, etc. 
You download the app and scan the barcode of each item and they'll give you a price.
Here's a little tip though. They'll offer you on average 20-50p for most CDs and DVDs.
If they offer you a lot for an item like £1.50 upwards, I would check it out on eBay because chances are you'll get more for it selling it yourself.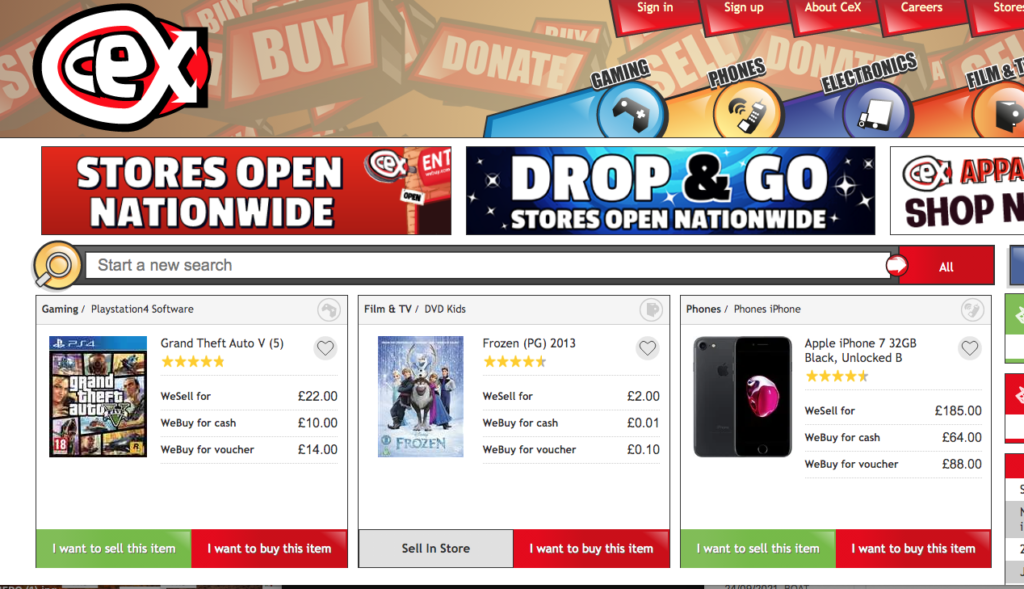 CEX is another great option for trading in used tech such as laptops, phones, games, and more. Search for your product on their website and see how much you could get for it.
Alternatively, head to one of their UK stores for a valuation. Obviously, factors such as condition, age, and demand will all determine how much you get for your item(s).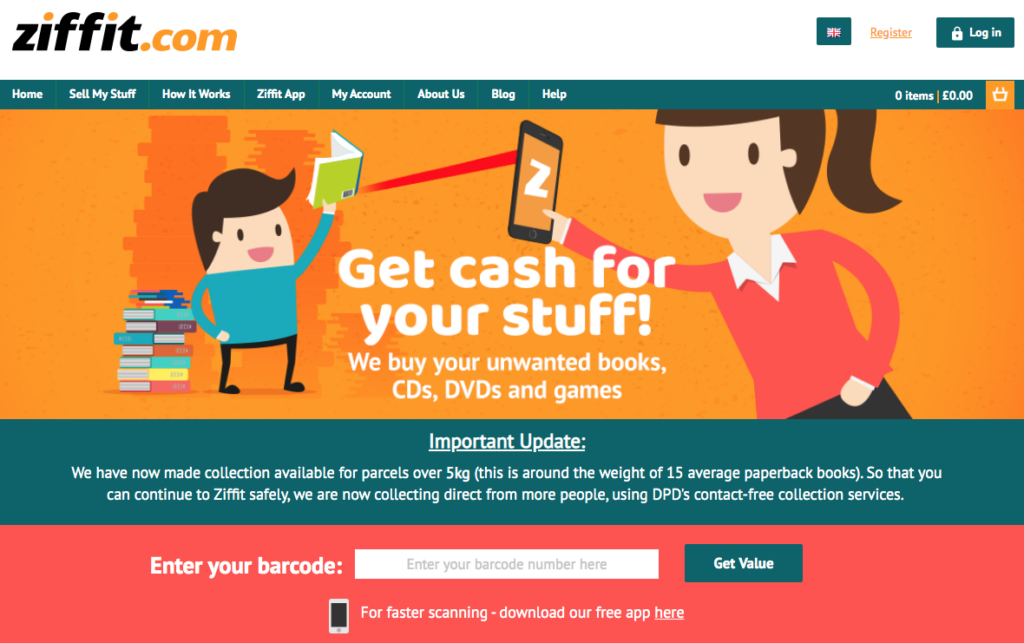 Ziffit is very similar to Music Magpie, but I always like to compare what they offer because sometimes you might get a little bit more and every penny counts!
Like Music Magpie, Ziffit also offers a free courier and collection service so simply pack up your items in a box and they'll take care of the rest.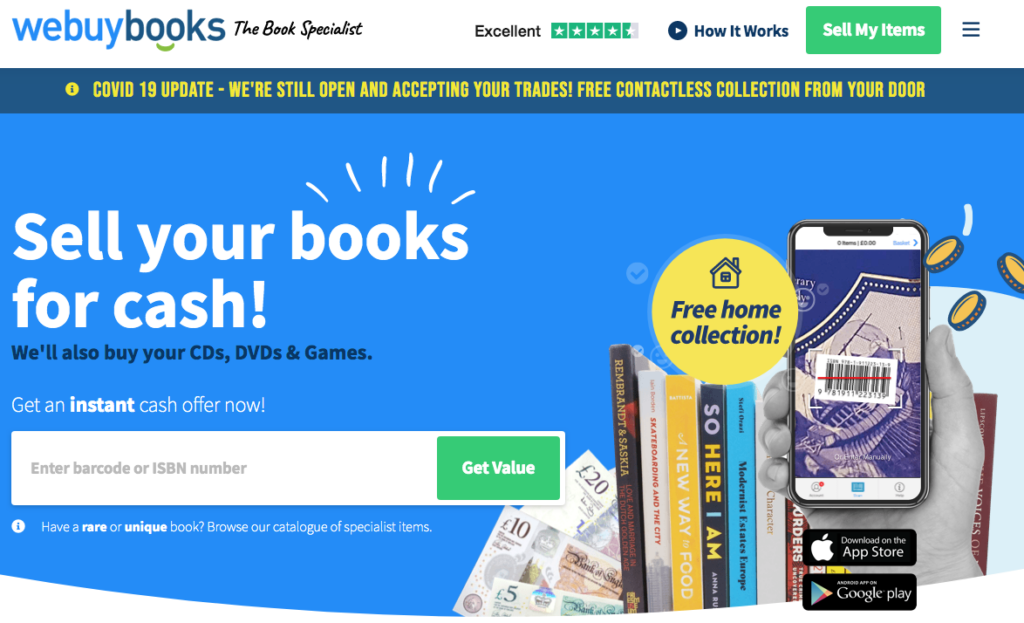 We Buy Books is another fab site for flogging all your books, CDs, games, and DVDs. They work similarly to the sites I mentioned above and take the barcode to give you a price. They also offer a free home collection service!
Check out even more places to sell your books in my post about the 10 best places to sell books.
Sell your mobile phone for the best price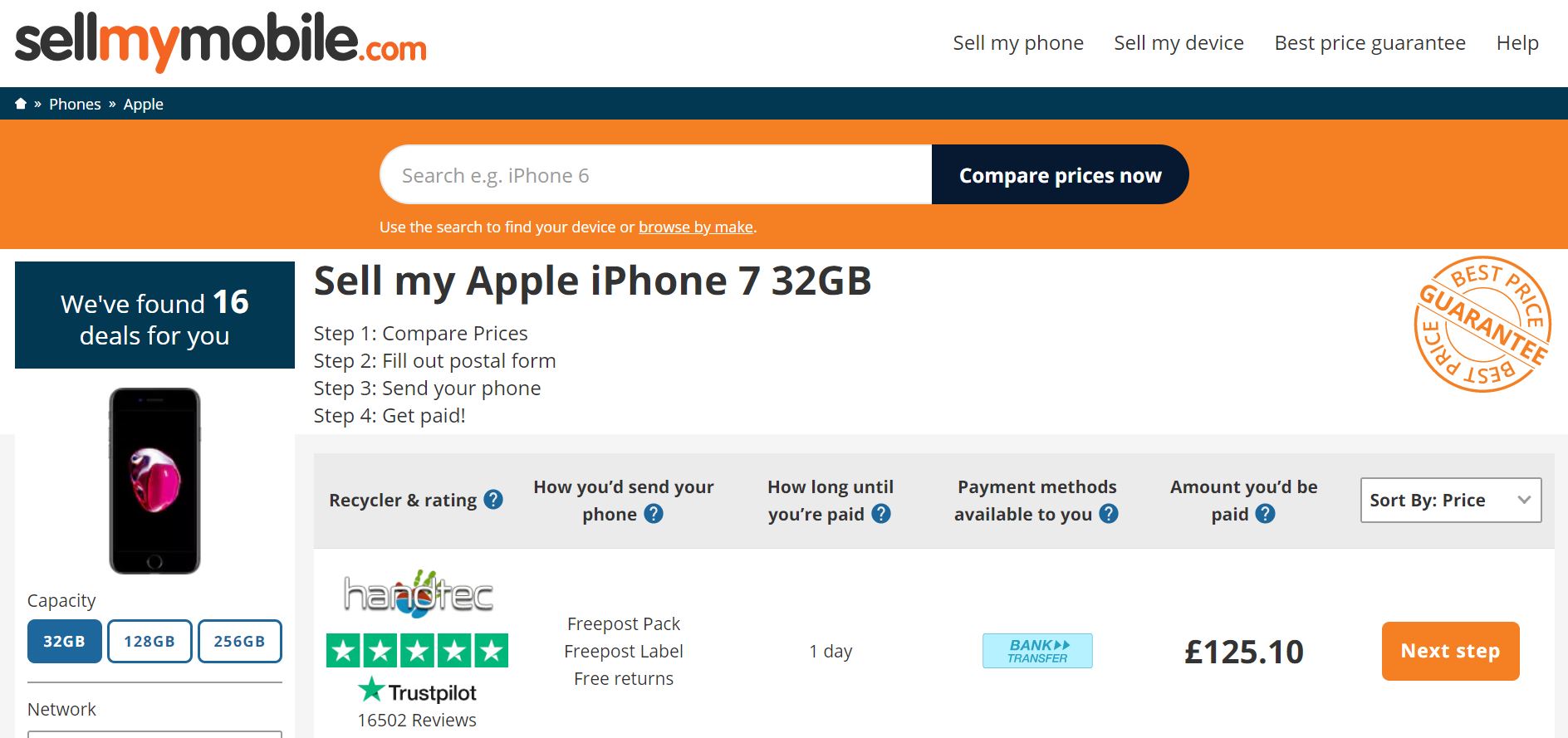 If you're looking to sell your phone, eBay and other marketplaces are good choices, but I have personally been put off by scammers in the past.
Again, some sites like Music Magpie are good options for selling a used phone.
If you choose to recycle your phone, sellmymobile.com is great because it compares prices across all phone recycling companies to give you the best price. Don't worry if your phone is faulty. It has filters so you can choose condition, network, GB capacity, etc.
It also shows you how quickly you'll be paid, which is great if you're in a hurry for cash! Plus, they'll even tell you which company will send you a free postage kit and will send your phone back for free if you're not happy with your quote.
Personally, I think this is really good because you don't want to get stung with postage costs!
Where to sell your special pieces
If you've got any arts and crafts to sell, I would 100% recommend Etsy. You can also sell vintage pieces on this platform too.
It's got a real community vibe to it and it's very popular so it's worth having a look if you're looking to sell anything sewing, crafts, retro memorabilia, that sort of thing.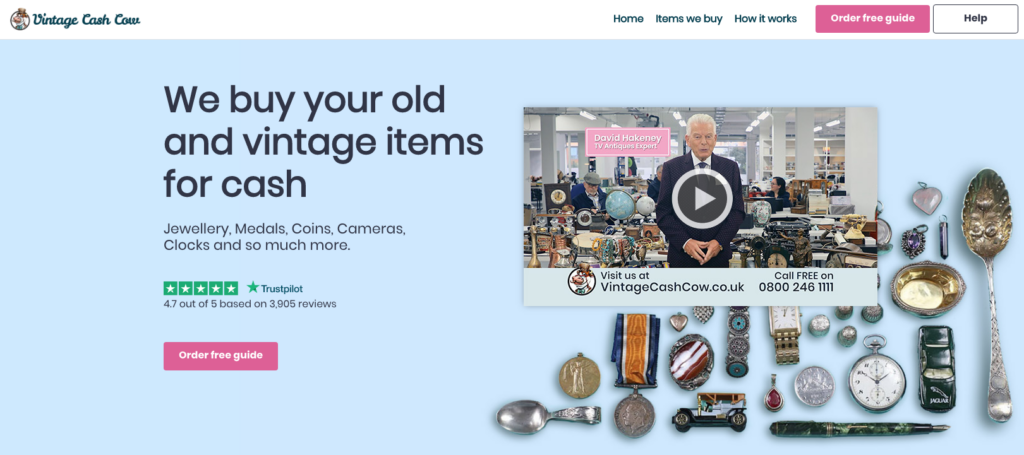 Last but not least, if you've got anything really special so like inherited jewellery, antiques or furniture, sometimes it can be difficult to know whether to pop them on eBay or take them to a specialist.
One website that I recommend for selling any alternative pieces is called Vintage Cash Cow.
They sell all sorts, including:
Jewellery
Vintage toys
Medals
Watches
Precious metals
Old currency
Plus loads more, so it's definitely worth checking what you have in the attic because it may be worth a lot more than you think!
Final thoughts on eBay alternative selling sites
So that is my list of eBay alternative selling sites!
Each of these has its benefits and like I said a lot of them are free and some of them even collect your stuff for free!
Just make sure you stay safe on these sites, never give out your address until you're sure someone is collecting and even then try and meet somewhere local.
Also, I personally only take cash on collection so that nothing goes wrong and you've physically got the cash.
So what are you waiting for? Get digging and decluttering and sell your stuff today 🙂
Do you use any sites I've not listed? Let me know…
P.S. eBay is still my first choice! Find out how to start selling on eBay today in my step-by-step guide.
Pin for later…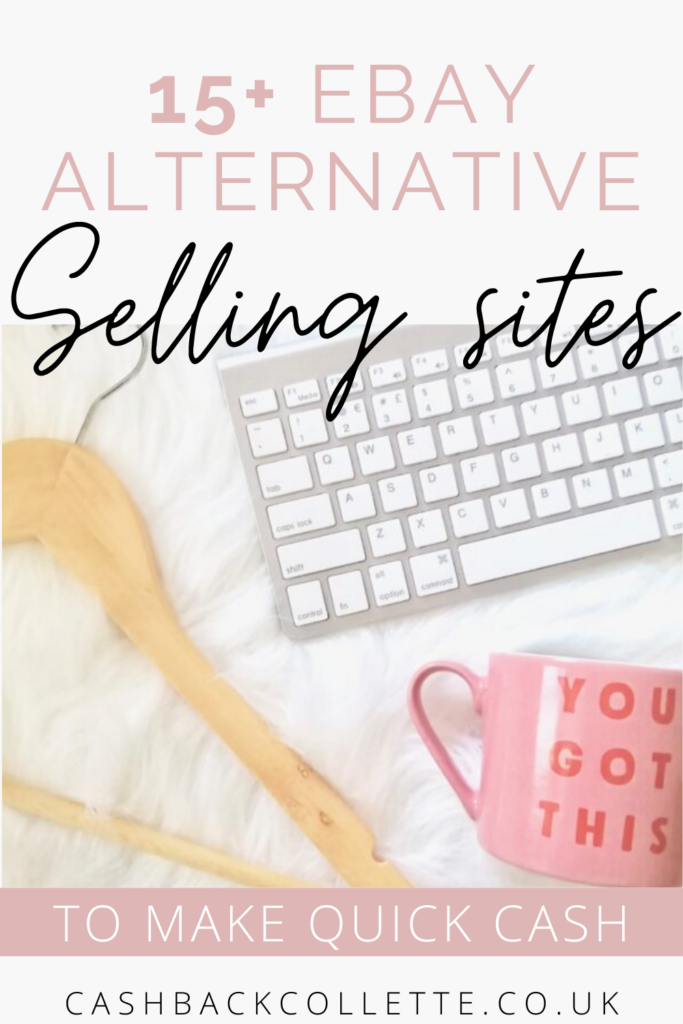 This post contains affiliate links, which means I receive a small commission if you purchase some of the products or services recommended, at no extra cost to you. Deals and offers were accurate at the time of posting, always check T&Cs.