Calling all book worms and magazine lovers! In today's post, I'm sharing with you some of the many ways you can get free books and magazines. I must admit, somedays (especially during lockdown) I love nothing more than nestling into a corner with a cup of tea, a pack of biscuits, and a good read.
Whether you're after an intense novel or a trashy magazine, here are some of the ways you can get free books and free magazines…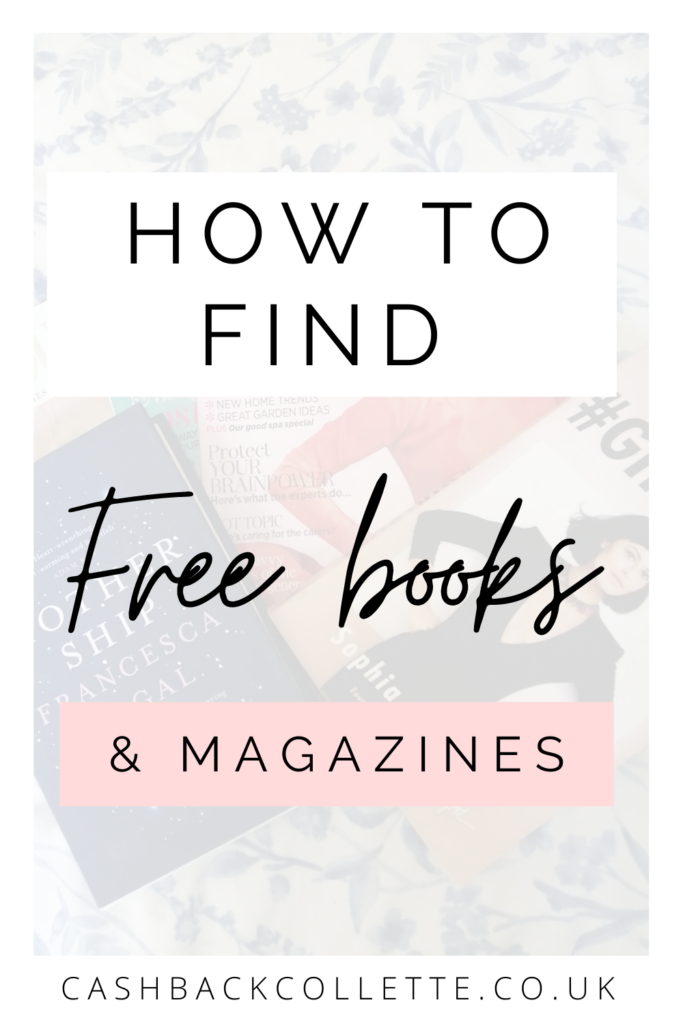 Find free eBooks for your kindle
You can find a massive selection of free books on your eBook bookstore. For free Kindle books, check out Amazon's top 100 free eBooks for inspiration or search for your favourites on the site to download and read for free.
Apple Books also offers the option to search for free books to read on your Apple device. Other sites like Book Hub offer a library of free eBooks and kindle books – you'll be spoilt for choice!
Amazon Audible offers a 30-day free trial for new members, where you can listen to unlimited books for free. Sign up today and have a browse to find a new book or a familiar favourite. This is perfect for listening around your home, in the office or on the move. Especially if you find it hard to focus on reading!
Sign up to a 30 day free Scribd subscription and enjoy loads of best-selling books and even magazines for free. They also have recommended lists, so you could sit and listen to books for hours and hours!
Follow & subscribe for free books & magazines
Find your favourite authors, book/magazine publishers, and book shops on social media and sign up to their email newsletters for exclusive offers. Many announce giveaways, special offers, and freebies on social media and within their email newsletters.
Sign up to as many as possible to increase your chances of scoring free books and magazine subscriptions!
Find out more about freebies and check out my favourite freebie sites.
Look in your local area for little free libraries
Little free libraries are a really cute idea that has made its way over here from America. People decorate boxes and leave free books in them for others to take or exchange with new books for you. Register to take part and get involved!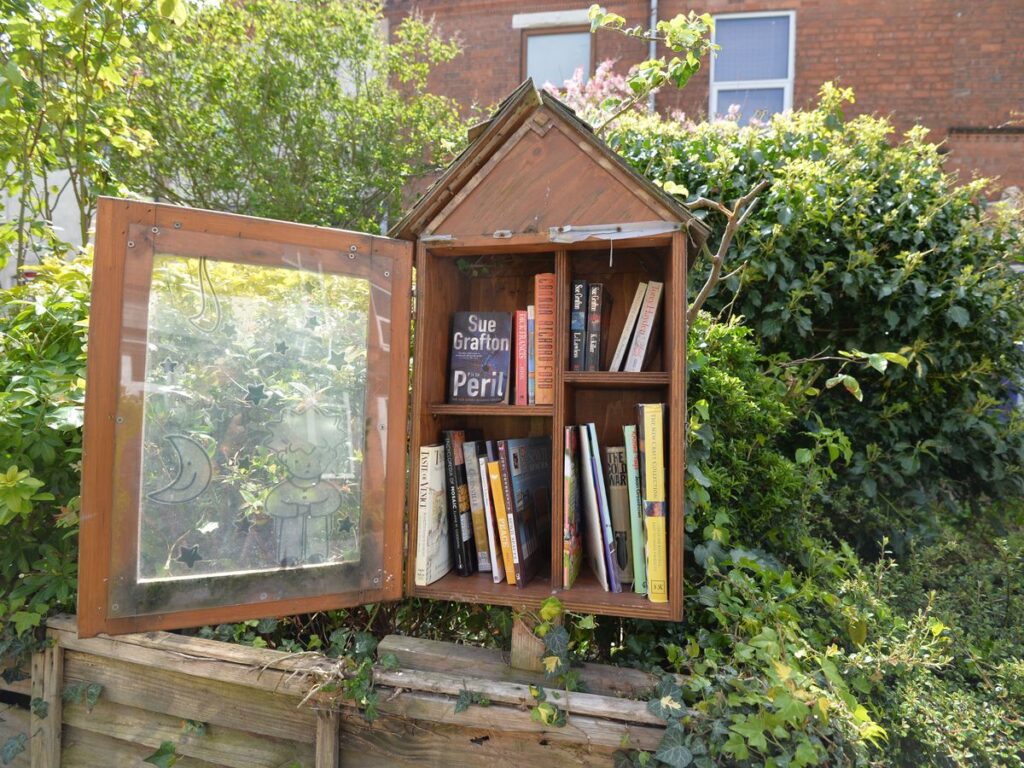 Many of us have been busy decluttering and as you can't donate to charity shops at the minute, I've definitely seen an increase in the number of boxes full of free books outside people's homes. How generous!
Social media sponsored posts
Facebook and Instagram display a range of sponsored ads, which you'll see as you scroll down your feed. Lots of brands advertise freebies across these channels, and you can apply directly on the app or website with a quick and easy form.
Whenever you see one, apply ASAP as these run out quick!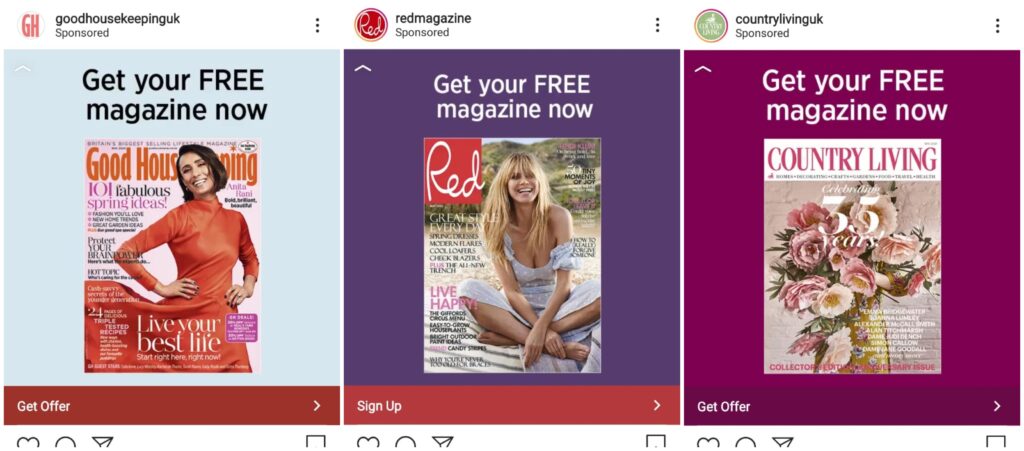 Get cashback on a new book
Cashback sites like TopCashback and Quidco have a range of offers where you can earn a percentage of your purchase back for places like Waterstones and Amazon.
If you're new to the world of cashback, you can find out more about cashback sites. Plus, you can earn £10 cashback by joining Quidco and cashing out £5 – which is more than enough for a nice new read!
Check your mobile provider for free book & magazine offers
Mobile phone networks like O2 and Vodafone have loyalty apps for users, featuring exclusive deals. If you're on O2, download O2 priority app and look out for free book offers from companies like Waterstones and WHSmith. VeryMe is Vodafone's loyalty app, and also offers deals for popular high street brands.
Download free digital magazines
Brands like Good Housekeeping offer free digital versions of their magazine inserts, such as their Financially Fabulous magazine, which is packed full of helpful money-saving tips. Tesco also offers a digital version of their monthly magazine, featuring coupons and freebies – don't miss out on these!

Think about the magazines you enjoy reading and have a look at their website to see if they offer a free digital magazine. Also, keep an eye out on your emails for free digital versions of your fave magazines.
Win free books & magazine subscriptions
There are hundreds of competitions running daily, giving you the chance to win free books and magazines. Head to competition sites like The Prize Finder and Competition Database to look for book and magazine competitions.
You can also see competitions on social media, find them in email newsletters and look in newspapers and magazines for free competitions.
Rent free books & magazines at your local library
Local libraries are still a great option if you're looking to read often (post lockdown!) Find your local library and head down with your ID and proof of address, and sign up for a free library card to rent books and magazines.
Many libraries across the country now also offer eBooks to rent via their website. Once you've read it, return it digitally via the library's website again and choose your next read.
Host a book swap with your friends & family
Another post lockdown idea… If you're looking for inspiration and new books to read, why not host a book swap? People can bring along a book they really enjoyed reading, and swap it with a friend or family member for a new one. Make a night of it by cooking up some food and serving drinks!
Cash in loyalty points for free books & free magazines
If you've got any Tesco Clubcard or Nectar points spare, why not treat yourself to a new book or fancy magazine? I don't know about you, but I often forget about my points! Any excuse to use them up before they expire…
Amazon Prime Free Books & Magazines
If you're an Amazon Prime member, you can get free access to Prime Reading. Choose from a selection of 1,000 books and magazines and borrow up to 10 kindle books (return them digitally to lend even more!)

Plus, check out First Reads and get early access to one of six books every month, handpicked by Amazon Editors. If you're not a member, you can still get this for just £1.99 per month and read books one month before they go on sale!
Trade in used books for cash
To help fund your book or magazine stash, trade-in used books and sell magazines in bundles online for cash on selling sites. Some of my favourite places to sell used books and magazines include:
There are loads more out there so it's worth doing your research and see which ones offer the best price. Most of the trade-in websites offer free shipping too, winning! Also, definitely make sure your books are in decent condition before selling and sending them.
Earn free Amazon gift cards
Another way to technically get free books is to earn free Amazon gift cards. Luckily for you, there are tonnes of ways to do this! Here are my top recommended ways to earn free gift cards:
Scan your receipts on consumer research apps like Receipt Hog, Shoppix, and Huyu
Take surveys on sites like Qmee and Valued Opinions and cash out as a gift card
Earn free cash every time you shop on TopCashback and Quidco and cash out as an Amazon gift card – you'll actually get more by doing this!
There are loads more ways but I would personally focus on a max of three methods to avoid getting overwhelmed and giving up.
Ask for books & magazine subscription for gifts
Last but not least, if your birthday or Christmas is coming up, why not ask family or friends for a new book that you're desperate to read? Or a magazine subscription for your regular fashion or lifestyle fix? Amazon gift cards are also a good option, as you can choose your own.
More ways to save money on books & magazines
While not all books and magazines are always free, there are definitely ways to get these cheaper! Check out my final tips on how to save money on books and magazines:
Get cheap books from charity shops – there are so many!!
Buy a magazine subscription – these often work out cheaper and you get a fancy free gift
Shop with TopCashback and Quidco cashback sites to get money off all your purchases
Search for a Facebook book swap group to buy, sell and swap books
Pick up cheap books and magazine collections at a car boot sale
Buy bundles and books series off selling sites like eBay or local sites like Preloved and Facebook Marketplace
That's it folks, enjoy your next read!
Pin for later…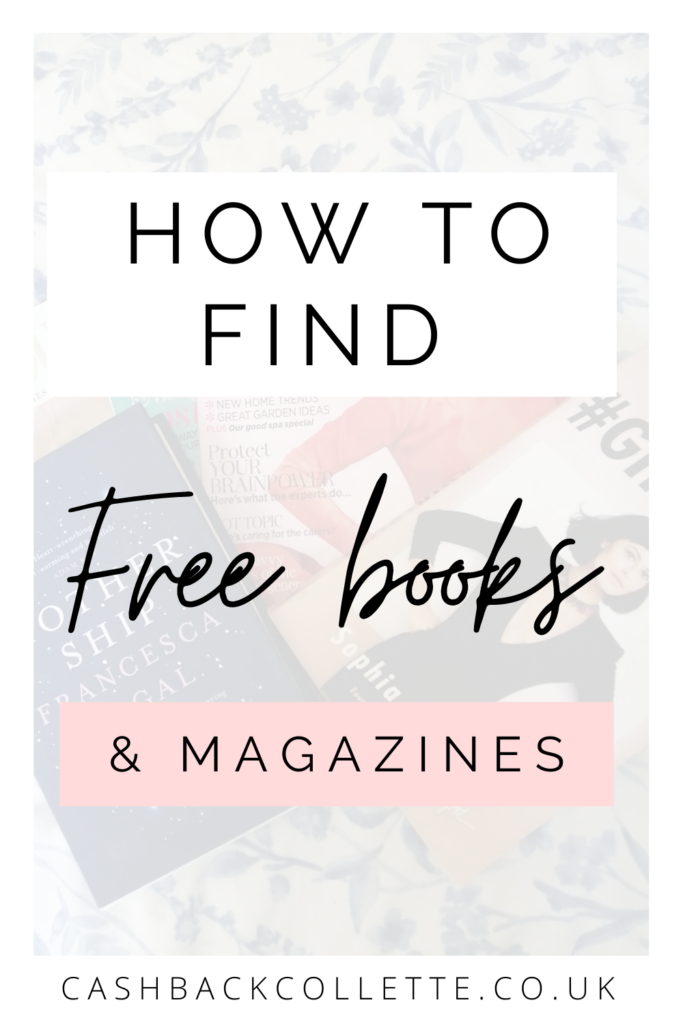 This post contains affiliate links, which means I receive a small commission if you purchase some of the products or services recommended, at no extra cost to you. Deals and offers were accurate at the time of posting, always check T&Cs.