Looking for ways to save money on a National Trust membership? I must admit, I'm a huge fan of the National Trust and all that they do to preserve our country's lovely landmarks.
We've visited loads of stunning places over the years, including Snowdonia National Park, Seven Sisters, The Devils Punch Bowl, and Mam Tor, to name just a few.
That being said, membership is pricey!
(Plus, them changing their policy from one membership per car to one membership per person hasn't really helped those on a budget looking for a nice family day out!)
Luckily, I've found some ways you can cut down costs and save money when purchasing a National Trust membership.
What is the National Trust?
The National Trust was founded way back in 1895, and is now Europe's largest conservation charity, protecting areas of natural beauty in England, Wales, and Northern Ireland.
It owns a whopping 610,000 acres of land and 780 miles of coastline. It also owns 500+ castles, historic houses, gardens, parks, industrial and archaeological monuments, and nature reserves.
What's included in a National Trust membership?
A National Trust membership grants you access to over 500 sites across the UK. On top of this, you'll receive:
A member handbook, packed full of useful information about each site
Free parking at most National Trust car parks
A National Trust magazine, which is released three times a year and features inspiration for your next visit, interviews, and all the latest National Trust news
Free entry to all National Trust for Scotland sites, including 26 castles and palaces
Definitely worth joining if you ask me!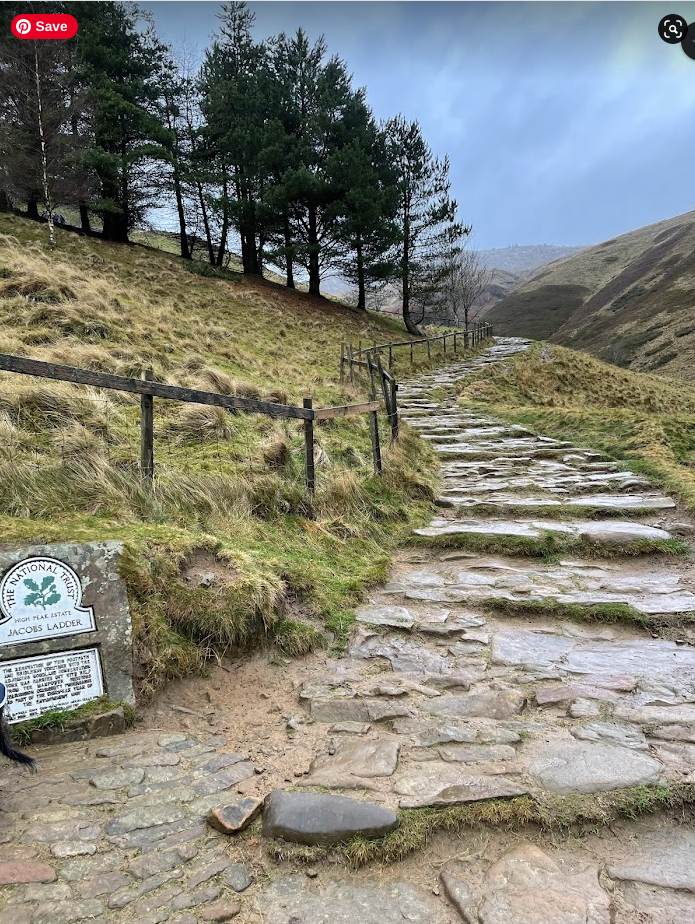 How much money does a National Trust membership cost?
At the time of writing, it currently costs £76.80 for an annual individual membership, £127.20 for a joint membership, and £133.80 for a family membership.
For more options and information, check out their membership page.
Is it worth becoming a member of The National Trust?
I would say 100% yes if any of the following applies to you:
You LOVE to explore history and have a significant amount of appreciation for nature and our country's history like mountains, castles, manor houses, and museums
The beach is your ideal day out – you can spend hours on the UK's stunning coastline and enjoy a free day out with free parking at a number of National Trust sites
You have children and/or dogs – there are so many places to visit and keep your little ones and faithful hounds entertained! Plus, there are loads of free events like crafts and treasure hunts throughout the year, especially around Christmas time
How to save money on a National Trust membership
Are you convinced? Here is the best bit! There are a number of savvy ways you can save money on a National Trust membership.
These are the best ways to cut the cost of your next membership purchase…
1. Get cashback when buying a National Trust membership
Have you heard of cashback sites like TopCashback and Quidco? You can earn cashback when you shop online and buy products and services.
You can get exclusive offers on memberships too, including The National Trust! The offers vary, but currently you can earn up to 2.55% when you buy your next membership using these sites.
You may also like: Best UK cashback sites to save money when you shop
2. Purchase a family membership
As I said earlier, it used to be the case that if one person had a membership, everyone in the car with them would gain entry to any National Trust site.
Now, the rules have changed, and everyone in the car has to have their own membership.
Therefore, it makes more financial sense to purchase a family membership, rather than everyone buying an individual membership.
Plus, you can share your membership with all of your family members, meaning you can all make the most of one membership fee.
3. Look on deal sites like Groupon
If you're looking for discounts on National Trust memberships, deal sites like Groupon and Wowcher are great places to find a bargain.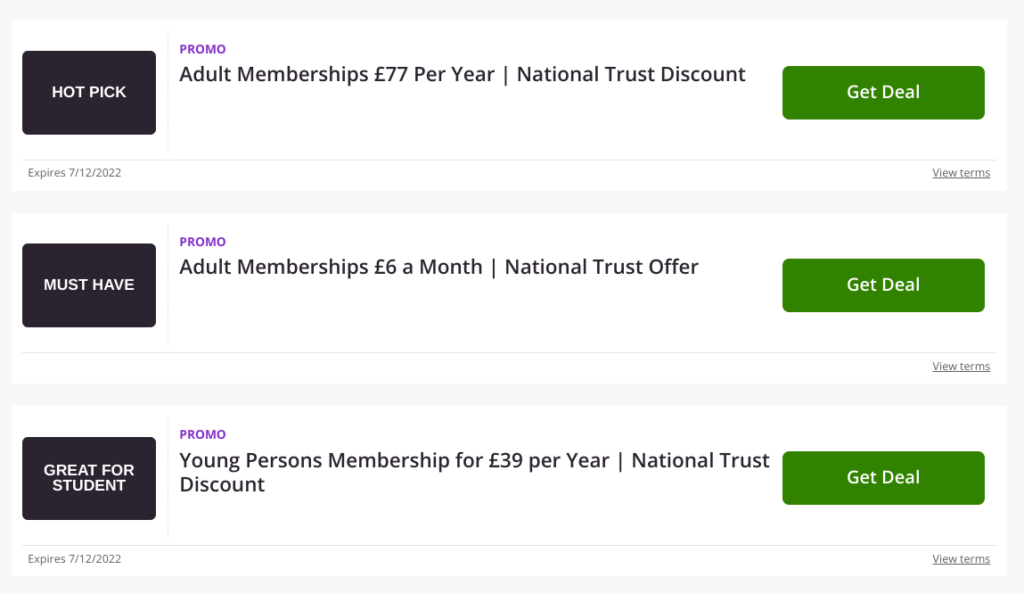 Have a browse and you may be surprised to find an exclusive deal you can't find on other sites!
4. Sign up to The National Trust email newsletter
If you're keen to keep up to date with all the latest National Trust events and offers, it definitely pays to sign up to their email newsletter. You get this option when you sign up on their membership page.
This is how I found out about their latest free pass offer in Autumn and got to enjoy a free visit to Lyme Park.
5. Follow The National Trust on social media
Similar to joining their email newsletter, following The National Trust on social media could help you save money, as they post offers on here for dedicated followers.
Follow and like The National Trust on Facebook, Twitter, and Instagram will help you keep up to date with all the latest news and offers available.
6. Find National Trust membership discounts in the paper
Did you know you can find National Trust offers in the newspaper and online too with digital subscriptions?
Papers like The Telegraph often feature offers such as £15-off any new memberships for The National Trust on their dedicated vouchers page.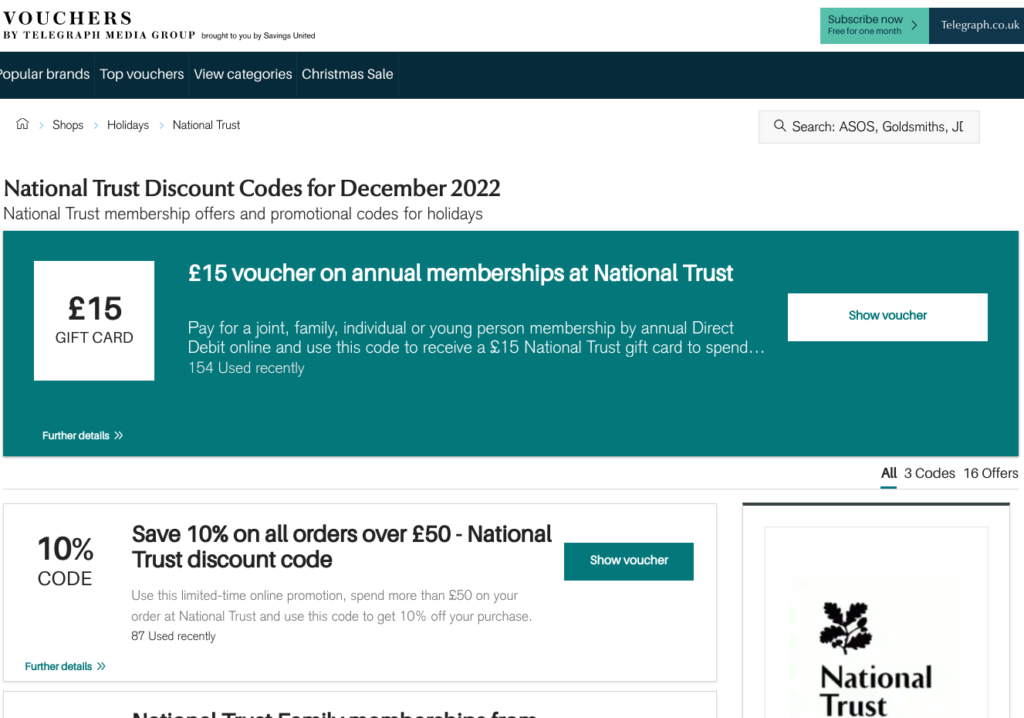 I've also seen offers in The Daily Mail in their Mail on Sunday papers, and sometimes featured in The Metro.
You may also like: Best websites to find voucher codes & discounts
7. Check your junk mail for National Trust offers
Don't forget to check your physical junk mail that you receive in the post!
I've recently seen leaflets posted through my door and had inserts included in my online orders offering discounts and money-off voucher codes too.
8. Download a browser extension
Browser extensions are a fab way to help you save money when you shop online. They are free to install on your Google Chrome browser and do all the hard work for you!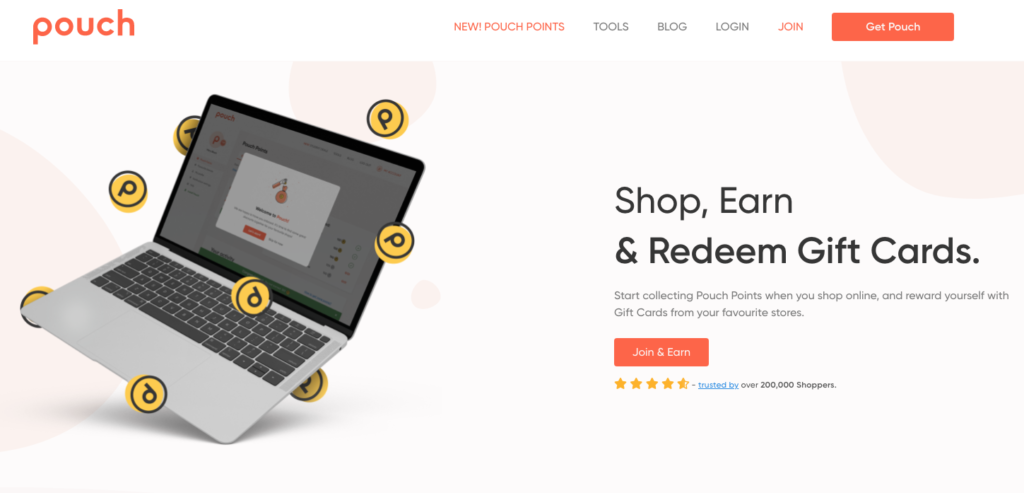 Once you've installed a browser extension like Honey or Pouch and visit The National Trust website, they'll automatically apply all the available voucher codes at checkout to find you the best deal. Amazing!
You may also like: Top 10 money-saving browser extensions
9. Take advantage of a free National Trust pass
Every so often, The National Trust release a promotion, offering thousands of free entry passes across the UK. These get snapped up super fast so make sure you claim yours as soon as you can!
This is a great way to score a free day out for the whole family and figure out if you want to commit to a membership or not.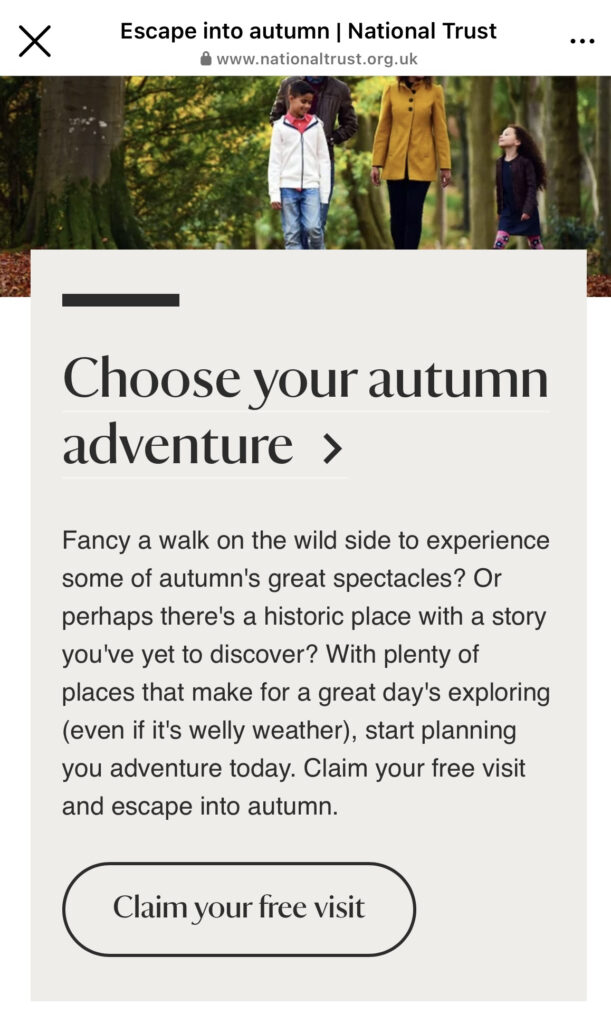 This is where signing up to receive the National Trust email newsletters and following them on social media really comes in handy, as they announce them here and on their social media channels first.
(Psst… if you're unsure whether you want to join or not, you could also ask to borrow a friend or family member's card first!)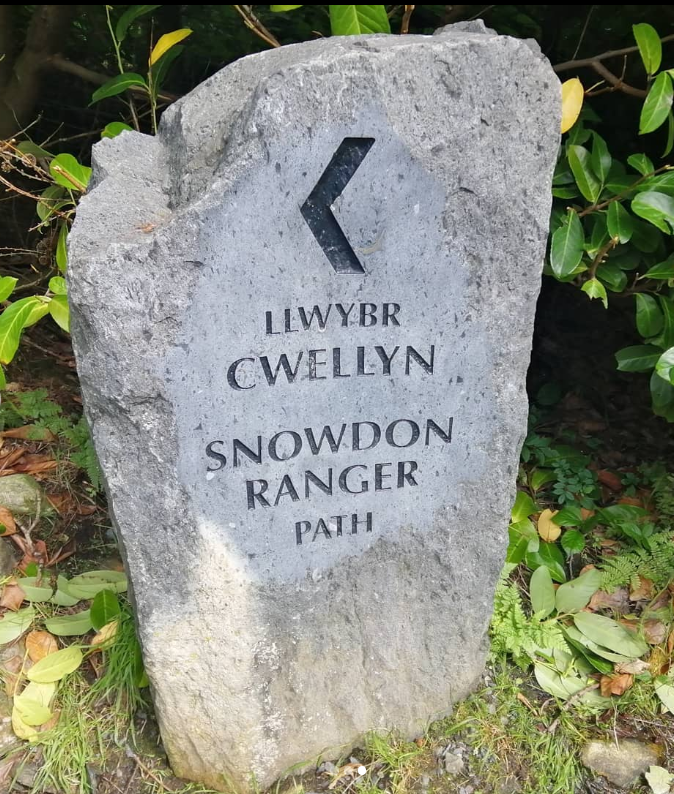 10. Enter competitions to win a National Trust membership
The National Trust often partners with magazines and affiliate nature-related websites to run competitions where you could win a free membership for an entire year!
Look on competition database sites like The Prize Finder and Competition Database to check for competitions relating to The National Trust.
The best part? These are often free to enter, so you don't have to text or anything. Fingers crossed!
11. Join money-saving communities to find the latest offers
The money-saving social media community is huge! My favourite groups to follow on Facebook include:
I also share deals and freebies on my Instagram stories every day (shameless plug incoming) so follow me at cashbackcollette to see these as soon as they become available.
It also helps to follow hashtags on Instagram like #savemoneyuk #ukmoneybloggers #debtfreecommunity and loads more to see the latest offers like the free pass deal.
12. Consider a lifetime membership
If you've tried a membership before and you're totally smitten with everything that The National Trust has to offer, have you considered a lifetime membership?
While it may seem expensive to pay so much upfront, it could help you save thousands if you make sure you get the most out of your membership.
In my opinion, it's definitely worth weighing up the cost based on how often you use it and how much multiple annual memberships vs a lifetime membership will cost you!
How to make the most of your National Trust membership
Whether you're already a member, or considering purchasing a membership, here are my top tips for getting your money's worth. Plus, it's not only a membership you can save money on…
There are various ways to save money once you're at your chosen National Trust site or at their online shop…
Visit at least 8 places per year
With an average National Trust entry fee working out about £10 per person, if you bought an individual pass at £76.50, you would only need to visit 8 places (or the same place 8 times) to make your money back.
Any further visits and you're in profit!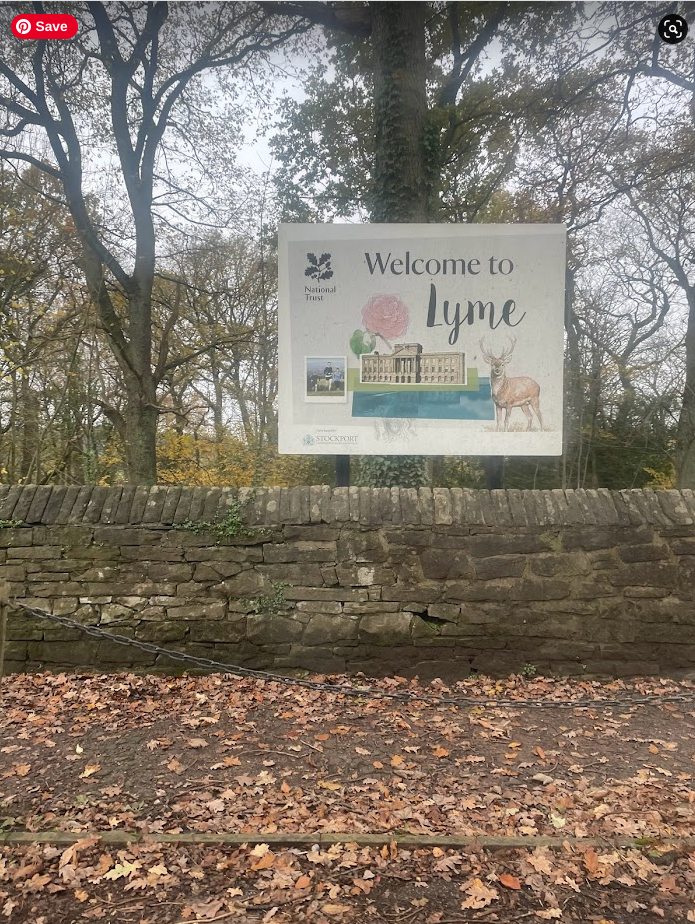 Take part in free National Trust activities
As I mentioned earlier, there are plenty of free workshops and activities running at your local National Trust sites all year long.
When you join, you will receive a list of activities for the year. You can also find these online.
It's always worth checking them out, as there are some pretty cool ones running including wreath making workshops around Christmas, and story time with special guests for your little ones.
Use your NT sticker for free parking
If you're planning a National Trust day out, make sure you have your NT sticker displayed in your car, as some places charge for parking.
If you're a National Trust member, parking is most often free, and you may get priority parking at certain events.
Check out the most expensive places
If you really want to get your money's worth, have a look at the most expensive sites like Stourhead in Wiltshire or Kingston Lacy in Dorset. Places like this often cost around £15-22 for normal entry.
I've found being a member encourages us to look for places across the UK near where we're travelling through.
If you're on the road, definitely research National Trust sites near your destination, especially if you're near any of the more expensive sites.
When we lived in Surrey, we definitely got a lot out of our membership by doing this!
Read the members' magazine
The National Trust members' magazine is packed full of useful information to help you plan your next visit. It shows you upcoming events and offers, as well as offering inspiration for your next day out.
You can also access the audio version here.
Visit English Heritage landmarks too!
Did you know being a member of The National Trust also grants you access to certain English Heritage sites like Stonehenge and Hadrian's Wall? It's true!
If you're going to an English Heritage Trust location, have a quick search before you go to see if you can get free entry as a National Trust member.
Use your Blue Light Card
If you work in the emergency services, for the NHS, social care sector, or armed forces, you are eligible to purchase a Blue Light Card.
This costs just £4.99 a month and offers more than 15,000 discounts across retailers including The National Trust online shop. Insert your card details at checkout and you will get 10% off your order.
Pin for later…