Are you looking for branded footwear at a bargain price? Great news! I've found a way you can bag new shoes, trainers, boots, you name it, for a fraction of the recommended retail price.
Schuh offers a great selection of designer and own brand shoes on their Schuh Imperfects section on their website.
If you're a thrifty shopper seeking out cheap footwear, keep reading to find out more…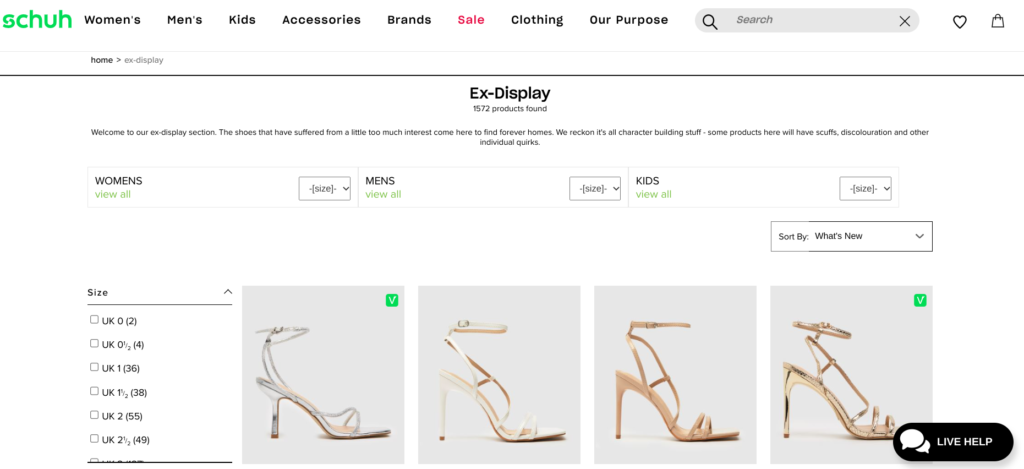 What is Schuh Imperfects?
Schuh Imperfects is a section of Schuh's website where they sell a range of their own branded shoes and a range of designer footwear in a variety of Adult and Child sizes.
These are listed at a heavily discounted price and you can view current pairs of shoes up for grabs here.
These shoes have varying imperfections and basically aren't good enough to sell in-store or are ex-display shoes.
Imperfections vary from shoe to shoe but to give you an idea, this could be anything from small scuffs and marks to slight discolouring.
Not too shabby when you consider what you can save on the original price!
Look in the 'product information' section for details on the condition of each shoe. It's also worth noting that your order might not arrive in original product packaging.
Where can I buy Schuh Imperfects?
You can only buy footwear from Schuh Imperfects on that specific section of the website. Discounts like this aren't available in-store.
What brands of shoes can you buy on Schuh Imperfects?
There are loads of brands and products available in a range of sizes on the website. These include:
adidas
Barbour
Converse
Dr Martens
Hunter
Lacoste
Lelli Kelly
PUMA
Reebok
UGG
And loads more! At the time of writing this, there are over 1,400 products available!
How much money can I save?
It all depends on what you're looking for but shoes start from just £2.99! You could save a good chunk of money – up to £40 on Hunter boots for example.
It shows you the original RRP on the website, so you know how much of a bargain you're getting.
What discounts can I use with Schuh Imperfects?
There are a number of discounts you can use on the main Schuh website. It's worth noting that these may not all work when you buy Schuh Imperfect products, but it's always worth a try!
The Schuh Club
Join The Schuh Club to get exclusive discounts and earn points on all purchases, including ex-display shoes purchased on the Schuh Imperfects section of the site.
You get £5-off your first purchase when you create an account, but unfortunately, you can't use this on any ex-display purchases.
You may also like: 60+ best loyalty schemes in the UK
Schuh student discount
If you're a student, you can get a generous 10% discount when you fill in this form or log into your UNiDays account.
Schuh Blue Light discount
NHS staff, emergency services, and armed forces can also get 10% discount by logging into your Blue Light account and copying and pasting the promo code from the Schuh discount page.
Schuh Defence Service Discount
If you're a DSD card holder then you can also get 10% off when you shop in-store or online at Schuh.
Browser extension discount codes
Using voucher code browser extensions like Honey or Pouch helps you find the best discount by scanning all the available coupons online at checkout.
If it finds any applicable codes, it will automatically add them when you checkout via the Schuh website.
You may also like: Best browser extensions to save money shopping online
Cashback on Schuh Imperfects purchases
Cashback sites like Quidco (read my review here) and TopCashback (read my review here) offer money off your purchase when you shop on the Schuh website.
You can currently earn up to 7% as a new Schuh customer, and 3% as an existing one. That includes any ex-display purchases you make on their website.
You may also like: Best cashback sites to earn free money when you shop
Can You Return Schuh Imperfects / Ex-Display?
Yes! Schuh offer a very generous 365 day free returns policy. But you'll have to send back any unwanted Schuh Imperfects purchases via their chosen courier, as you can't return them in-store.
Sites like Schuh Imperfects
If Schuh don't quite have what you're looking for and you're after more bargain shoes, check out these similar sites:
Office offcuts – buy up to five pairs of Office shoes, which are either ex display or slightly worn
eBay outlet stores – purchase shoes from a range of designer shoe brands, including PUMA, Joules, Hotter, loads more!
Check out this list of 50 best eBay outlet stores in the UK to find out more!
Pin for later…