Have you downloaded the new Asda Rewards app yet? Whether you're a regular shopper, or only pop in once in a while, you can definitely save some cash and benefit from using the app.
As you'll probably know, I love a good supermarket loyalty scheme! (Check out my mega list of 60+ best loyalty schemes in the UK) So I was all over the new Asda Rewards app when it relaunched.
Keep reading to find out what the rewards scheme is all about. Plus, get a free £5 welcome bonus – available for a limited time only…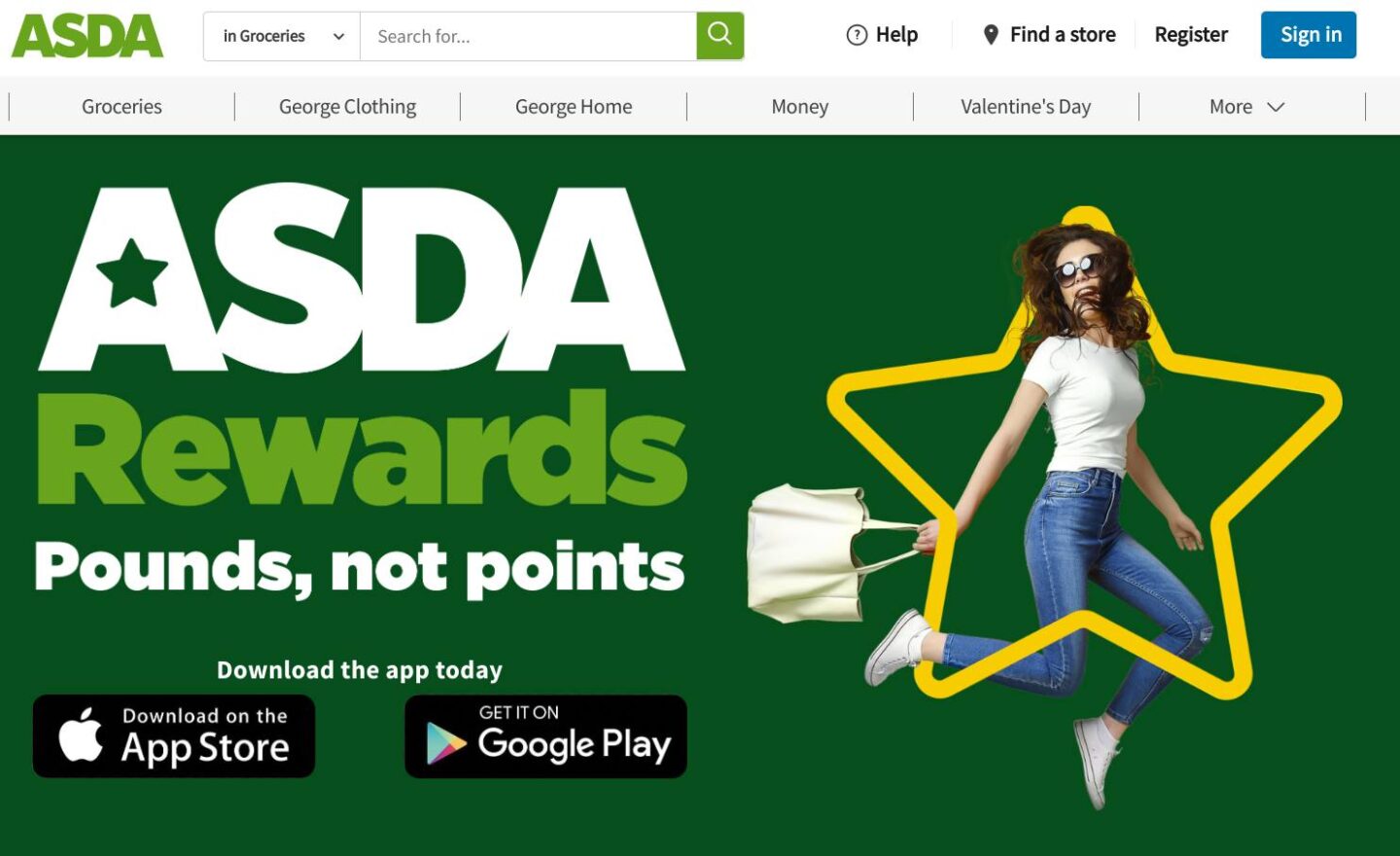 What is Asda Rewards?
Asda Rewards is the brand new loyalty app from Asda. Like all loyalty schemes, it rewards regular customers for their continued loyalty and encourage them to shop at Asda more often.
However, rather than a complicated rewards system, Asda Rewards offers 'Asda Pounds' which go into your 'cashpot.'
You can convert these into vouchers to spend straight away in-store or online.
It's available for both Android and Apple users and is 100% free to download and use. Find out more and download it here.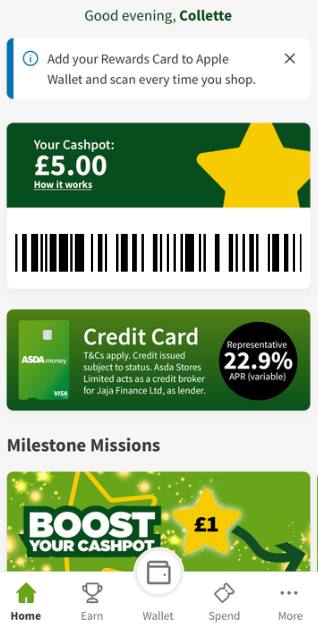 You may also like: 20 best places to collect Nectar points in the UK
How does Asda Rewards work?
Once you've downloaded the app and logged in or registered, you can start building your 'cash pot' by scanning the app in-store and online.
You can then cash in your cashpot by redeeming vouchers to spend in-store or online.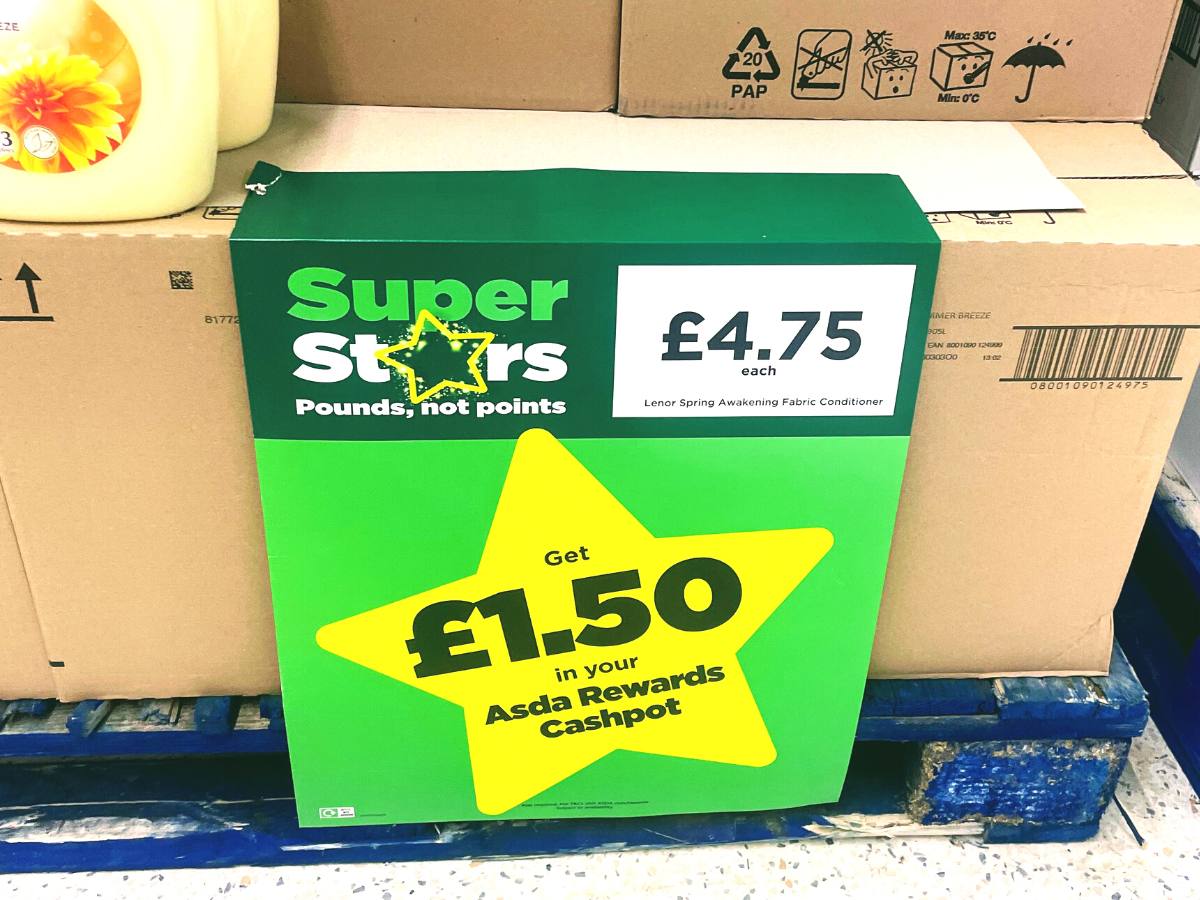 How do you collect points in Asda?
There are three main ways you can build up your cashpot on the app when you shop in Asda:
Pick up star products
Purchase selected 'star' products around the store and online, and you will get a generous 10% straight into your cashpot.
Super star products will earn you even more. For example, a pizza night meal deal will currently bag you a whopping £5! (Offer correct at the time of posting)
Complete missions
Asda offers spend-based milestone missions on the app. Every time you spend, you will get closer to your next milestone reward. The more you spend, the more you earn!
The app also features occasional bonus missions, which are often seasonal. A £1.50 Valentine's Meal Deal was recently available around Valentine's Day.
These obviously change regularly so keep checking your app and grab any offers before they expire!
Get an Asda Money credit card
If you're in a financially secure enough position to get a credit card and pay off the monthly payments, an Asda credit card can give your cashpot an even further boost!
Earn 1% cashback on all Asda purchases (and 0.3% cashback on all non-Asda spending.)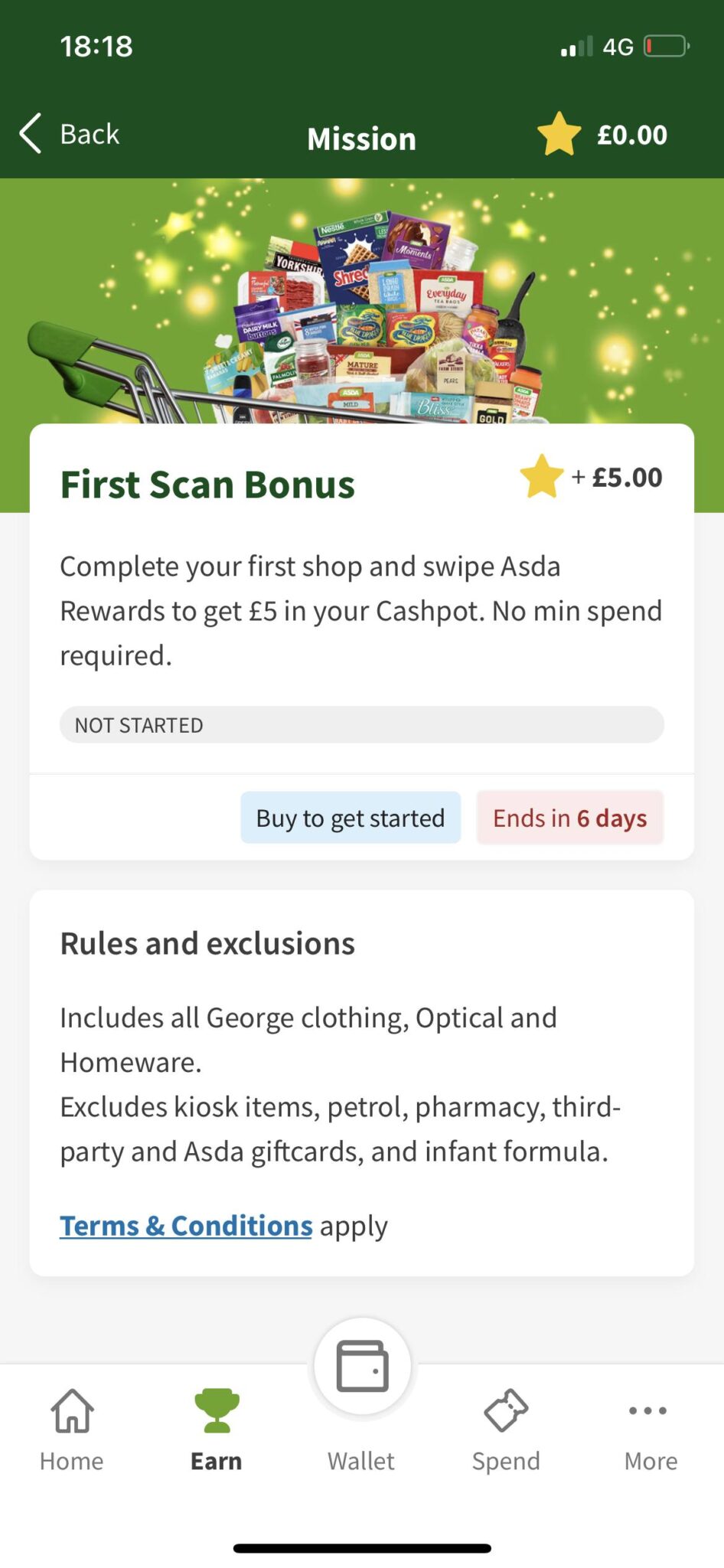 Can I get points on fuel?
Unfortunately not! Asda states rewards are excluded from any following purchases:
petrol station purchases
postage stamps
tobacco and tobacco related products
gift vouchers and gift cards
lottery
phone top up cards/vouchers
pharmacy
NHS prescriptions
infant formula
third party concessions or products
How do I use my Asda reward points?
ASDA pounds are added to your cashpot immediately after you scan your app while checking out.
Your rewards appear in your cashpot, which can then be converted to vouchers to spend straight away.
These can be used when you shop online or in-store. To use a voucher, scan your Asda Rewards app, tap the 'wallet' tab and click 'scan voucher' and scan the barcode.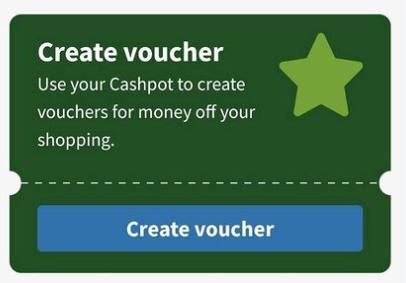 The amount will then be deducted from your shop. The best part? You can use as many vouchers as you want!
It's worth noting that once you commit to scanning your voucher, this cannot be undone and vouchers can't be converted back into your cashpot. So spend wisely!
You may also like: 40+ best places to find coupons in the UK
How long do my points last?
You have six months to convert your Asda pounds into vouchers, otherwise they will expire.
Are Asda Rewards worth it?
I've been using Asda Rewards for a few months now and I'm not going to lie, it's definitely one of my favourite supermarket loyalty apps.
I love that you can exchange your money for vouchers straight away, and don't have to wait to reach a certain amount of points.
Even if you just have like £2 in there, you can convert this into a voucher to spend either at your local Asda store or online.
I think it's also really good that you can earn and spend your points on things like George clothing and home stuff too.
If you do your weekly shop as Asda, you need to download it ASAP! Otherwise, you are basically missing out on free money!!
Especially if the missions or 'star' products are on your shopping list anyway! You're pretty much being paid to shop!
You may also like: How to get free Nectar points with MyMail Rewards from The Daily Mail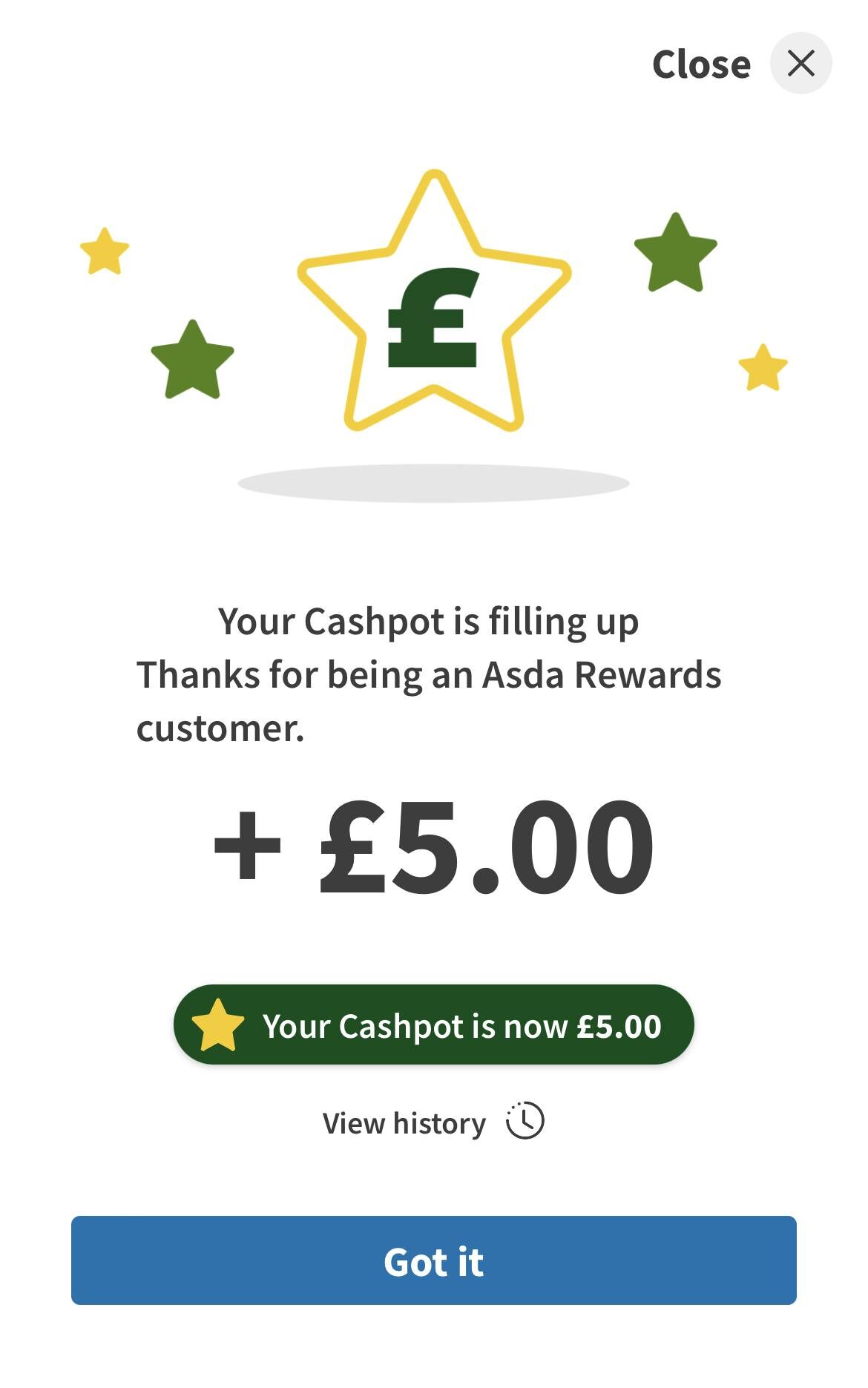 How to claim your Asda Rewards £5 joining bonus
Have I convinced you to sign up? Great! Here is how to claim your free £5 bonus:
Download the Asda Rewards app from your app store and sign up for a free account
Buy anything at Asda (literally anything, these is no minimum spend!) and scan your barcode on the Asda Rewards app when you checkout
You will receive £5 into your Asda Rewards cashpot and can convert it into a voucher to spend on your next shop – so easy!
Save for later…