Did you know you can earn Nectar points with The Daily Mail by signing up to their loyalty club – MyMail Rewards? Now you do! And I'm going to show you exactly how to do it in this post.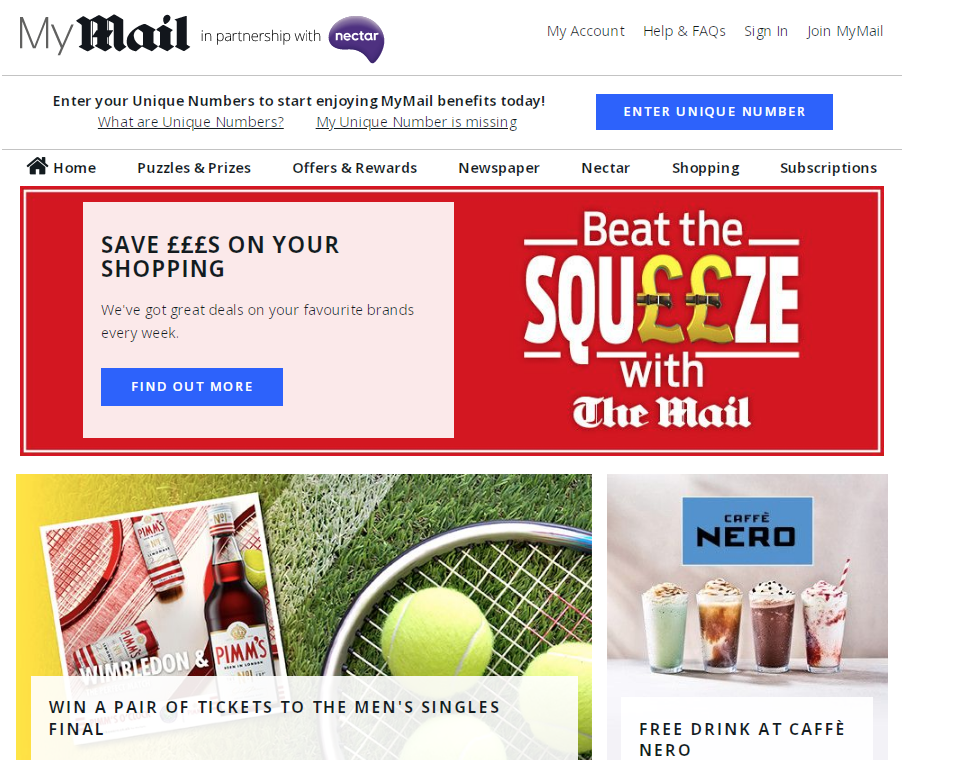 What is MyMail Rewards?
Launched in 2017 in partnership with Nectar, The Daily Mail MyMail Rewards is a loyalty programme that offers readers of the Daily Mail and Mail on Sunday exclusive offers and deals.
This includes collecting FREE Nectar points every time you pick up a paper, plus loads more exciting rewards!
Is MyMail free?
Yes! MyMail Rewards is 100% free to join and use to take advantage of exclusive offers.
How does it work?
MyMail works like most loyalty schemes, where you earn rewards every time you purchase The Daily Mail (or by being a super sneaky opportunist and collect codes from abandoned papers on your commute or in a coffee shop. But shh you didn't hear that from me!)
Each paper contains special unique codes printed at the top, which you enter on the website to earn free Nectar points.
Should I sign up?
I would say definitely yes! Especially considering there are actually quite a lot of perks to becoming a member, including:
Collecting free Nectar points every time you purchase a paper (keep reading to find out how!)
Opportunities to collect even more Nectar points and exclusive Nectar partner offers
Special money-off discounts for various brands and freebies including free coffee
How to collect Nectar points with The Daily Mail
Still here? Great! Here is how to get started collecting Nectar points with The Daily Mail…
1. Create your MyMail account
It's really quick and easy to sign up! Head to MyMail Rewards and fill in the form. Once you've created an account, you will receive a welcome email, explaining how to make the most of your account.
2. Link your Nectar card to your Daily Mail rewards account
Once you've created a MyMail account, log in and it will show you the option to connect your Nectar card.
There is also a helpful video with a step-by-step guide on how to do this but you'll be asked to enter your 11-digit Nectar card number and save it to your account.
If you've not got a Nectar account yet either, you can also do this via the MyMail site too. From there, you can start earning points as soon as you enter your first code on the site!
3. Buy the paper and enter your unique number
Pick up The Daily Mail or The Mail on Sunday and enter your unique number at the top of the MyMail website. Your code is usually printed on the back page (where the sports and puzzles are) in a boxed section.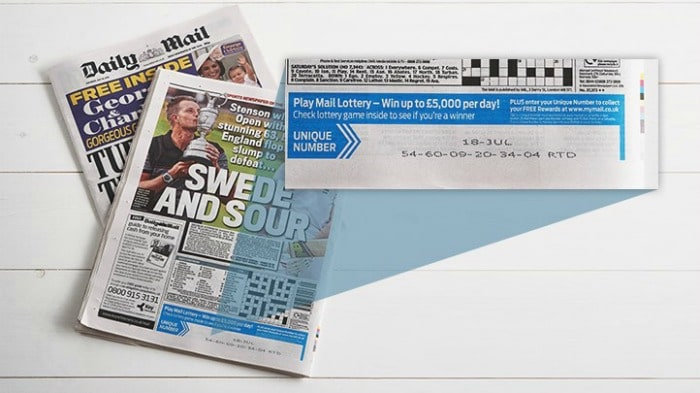 The unique code is 12 digits long and accompanied by a date. Once you've located your unique code, simply log into your account and enter it on the website to collect your points. Easy!

Can't find your Daily Mail paper unique number?
If you can't seem to find your code (maybe someone else got to it first!) or you've spilled your morning brew over it, making it illegible, don't panic!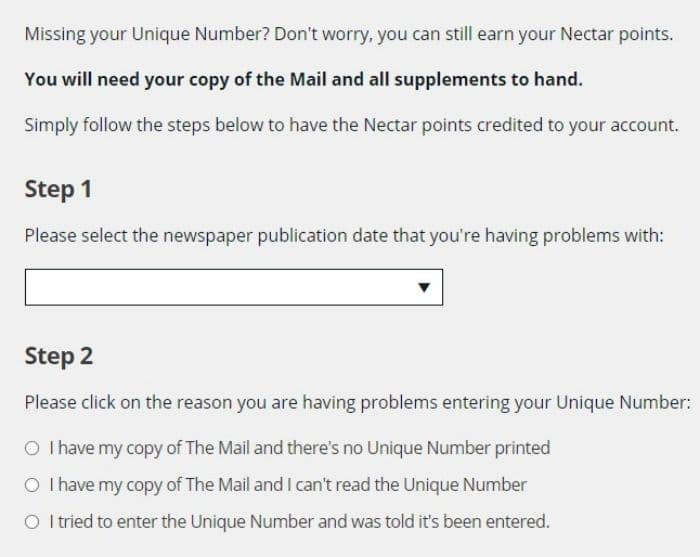 There is a super handy form, where you can simply answer a few questions about the paper and the reason you don't have your unique number and the points will be credited to your account.
Remember to do this within 5 days, otherwise, you can't claim your points back!
How many Nectar points can you earn from The Daily Mail?
How much you can earn in Nectar points all depends on what Daily Mail subscription you have and/or how often you purchase the paper.
If you're not a subscriber
According to the website, you can collect up to 70 Nectar points per week with The Daily Mail paper (5 points per paper Monday-Sunday.) That equates to 35p, which works out at £18.20 per year.
If you're a digital subscriber
As there are no unique numbers in the digital copies, you will automatically get 30 Nectar points sent to your account by the 21st day of the following month for every month that your subscription is active.
If you're a subscriber of the ultimate or premium pack
You can collect 5 points every time you enter a unique number from a paper on Monday-Sunday. PLUS, you'll get double the amount of any Nectar points you collect, which will be credited to your account.
Maximise your earnings with The Mail Shop
The Mail Shop is very similar to the likes of Groupon and Wowcher, offering deals on local experiences and seasonal purchases like garden plants and furniture.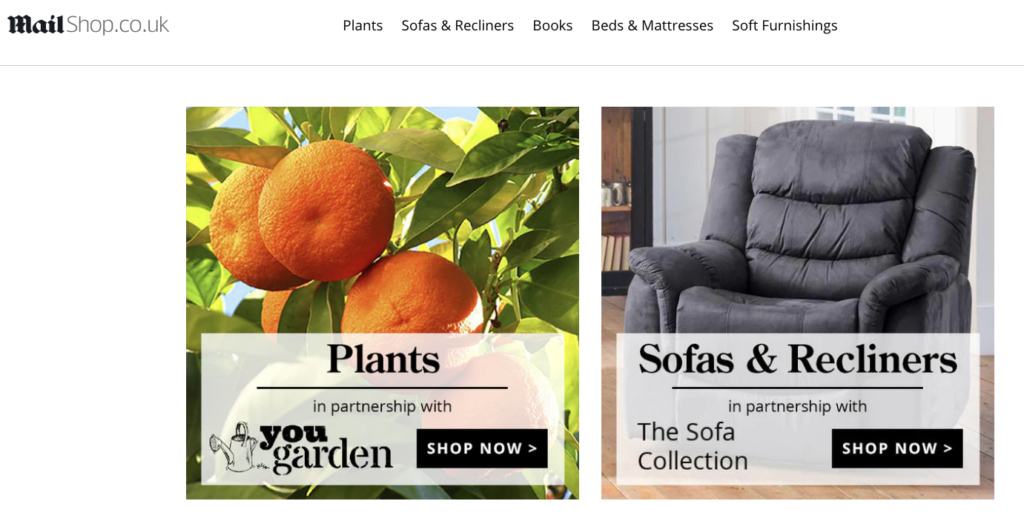 You can earn 2 Nectar points per £1 spent on the Mail Shop and can also spend your points here too so don't forget to have a look and pick up a bargain!
Is it worth collecting Nectar points with MyMail?
I would definitely say it's worth collecting Nectar points this way. Sure, it won't make you a millionaire, but it can certainly top up your Nectar account and help pay towards something special.
The only thing I would say is it's worth weighing up how much the paper costs and how often you buy it, as the money you spend on the paper will typically be more than the amount you will earn in Nectar points.
Think of it as an added perk rather than a way to save a lot of money.
Top tips for claiming Nectar points with MyMail Rewards
Now you know how easy it is to redeem Nectar points with unique Daily Mail codes! Here are even more little tricks I've picked up along the way:
Always keep hold of your paper (or at least the code) until your points have been confirmed
If you have a mywaitrose card, you can get a free newspaper, including the Daily Mail, when you spend £10 in-store (and can pick up a free coffee too!)
Ask friends and family to save any papers to claim codes that haven't been used
Check the website and your emails regularly for even more rewards and discounts
If you know someone with a Daily Mail subscription, ask them if they wouldn't mind connecting your Nectar card if they don't have one (very cheeky but worth a shot!)
My sneaky hack from earlier! Look out for free papers on trains, in coffee shops, at hairdressers, etc.
More ways to earn Nectar points
There are loads more ways to collect Nectar points from partners, including popular retailers like Argos, Sainsbury's, eBay, plus many more. Check out the full list here.
Remember, though, not all Nectar points are created equal! Check out my post for the best places to collect the most Nectar points.
Are there any MyMail alternatives?
In terms of newspaper reward schemes, The Sun Savers scheme works in a pretty similar way but offers different rewards.
Once you sign up, every time you enter a code from any paper Monday – Saturday, you'll be automatically entered into their exciting Raffle and be eligible for exclusive offers and competitions.
Pin for later…