Looking for some useful and honest budget wedding tips? You've come to the right place! As some of you may have seen on my Instagram stories, we got married back in April – eek! It seems like a lifetime ago now!
For a budget wedding planned in the space of two months (yes you read that right!) It was the most lovely, intimate day and we have such amazing memories that will last a lifetime.
The best part, though, was knowing we hadn't got into masses of debt to pay for our special day.
I've been meaning to write this post for a while and now that I've finally got round to it, I'm excited to share how we got married for £3.5k…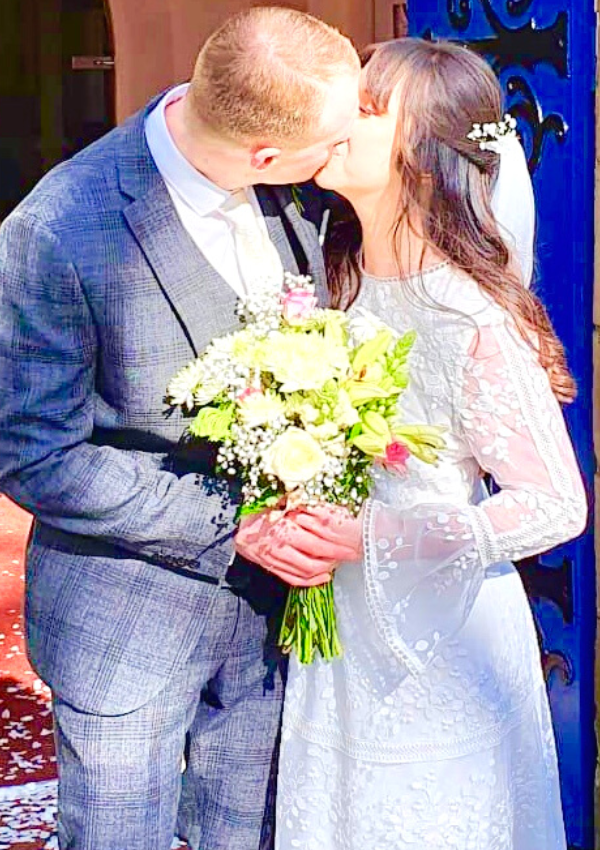 What is the average cost of a wedding?
According to recent research, the average amount people spend on a wedding in the UK is currently a whopping £17K!
Why we chose to have a small budget wedding
For us, there were a number of reasons why we chose to keep our wedding small, and looking back on our day, I honestly wouldn't change a thing!
To say that we went against the grain and planned a pared-down wedding would probably be a bit of an understatement. I totally get that what we did isn't for everyone, either! If you want a huge wedding with all the bells and whistles, you do you!
I've been to some incredible weddings where they've gone all out and had an amazing time!
Here are some of the main reasons we planned a cheap wedding, some of which may resonate with you too:
Money
Obviously, money played a big part in our decision. We got engaged back in November 2019, but since then, we bought a fixer-upper, which required a LOT of work, and money.
We moved into the house as it was and had slowly been doing the work ourselves and getting help from our lovely, super generous family.
Eventually, though, the time came when we had to throw a lot of money at jobs like re-building the shoddy kitchen extension. We decided to prioritise this over our wedding fund.
Apart from our mortgage, neither of us have any debt so we weren't keen to start married life with a bank loan looming over our heads, either.
Plus, I'm currently self-employed and we didn't know when my contract with my current client would end so we didn't want to go overboard.
Timing
What's the saying again? Make plans and God laughs? Shortly after getting engaged, the pandemic hit and we decided to postpone any wedding planning. Not that we were in a rush, to be honest, and it gave us more time to save up.
Then, in January 2022, we found out I was pregnant, which was amazing news! We joked about having a shotgun wedding and before we knew it, we had landed on a date in April.
The church was available, we found a reception venue, and decided to just go for it!
We're not the 'big wedding' type
As I said, I've been to some awesome weddings. That being said, I always joke with my family and friends that I'm a party goer, not a party thrower. And I think that's very much true for my husband, too.
We never really liked the idea of a huge wedding – it wasn't really 'us'. We both cringed at the idea of a first dance, and all the cheesiness.
The thought of a nice, relaxed, and intimate wedding was much more appealing to both of us.
Plus, as much as I loved the day, I was relieved when it was all over! I could relax and focus on my quickly-expanding bump and not worry about whether my dress would fit anymore!
Family politics
Planning a wedding can be difficult. Everyone suddenly has an opinion on how you should do things. As we were short on time and limited with where we could book, we found a restaurant venue for 35 guests max. Which was perfect for us!
It cut out so many politics over which distant cousins and plus ones we had to invite. Although, even choosing 35 was difficult!
If you're currently in this position, I feel your pain! All I would say is this. People have to remember and respect that it's YOUR day.
In my circumstances, I was lucky. I had a little excuse up my sleeve (or in my belly) – who really wants to upset an already mega hormonal pregnant woman before her wedding? 😂
Our friends didn't mind, either. We've promised to have a post-wedding/Christening party next year where everyone can come!
A breakdown of our budget wedding costs
Onto the juicy stuff! I know you're desperate to find out how much we spent.
Here is how much everything cost for our wedding:
Church & bells – £650
Wedding dress, shoes & veil – £180 (Dress from Coast, shoes, and veil from eBay)
Bridesmaid dresses – £135 (£67.50 each from Dorothy Perkins)
Suit – £200 for my husband from Next (the groomsmen agreed to pay for their own)
Rings – £500
Wedding reception – Free to hire, £1,200 for food and drink
Transport – £45 for minibusses, £200 for a wedding car
Photography – £400
Invitations – £25
TOTAL = £3,505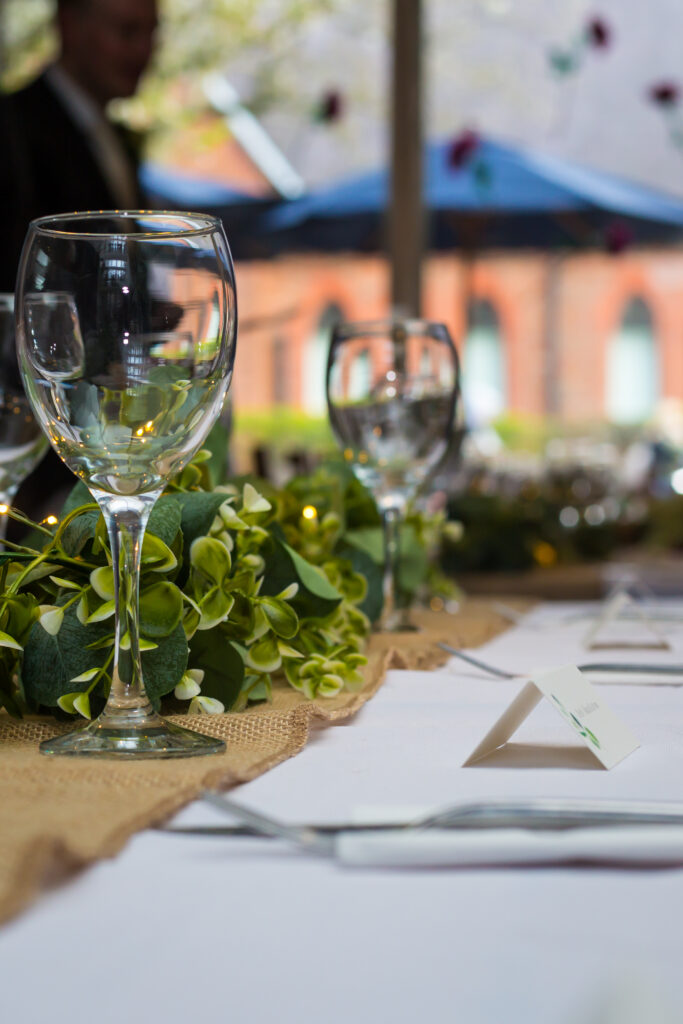 Top tips for planning a cheap wedding
Now that we've gone through the process, I thought I would impart some wisdom in the hope it helps if you're looking to plan your own budget wedding.
Here are my top tips on how to save money on your big day:
Set a budget
This one is important, as you can get carried away pretty quickly! I would recommend creating a budget spreadsheet with a tab for each category e.g. venue, dress, decorations, etc. Create and edit this together to make sure you're on the same page financially.
Do your research
Another huge one! Research is everything when planning a wedding on a budget. Narrow down your search by deciding on fundamentals first such as:
What type of wedding do you want? Destination? Intimate? Big party?
How many people do you roughly want there?
What food will you serve? Full-on sit-down meal? Or a buffet?
Have you got a season in mind? Summer or Winter?
Where will you look for professionals such as photographers or caterers? Do you know anyone already?
How many bridesmaids/groomsmen do you want? Will they pay for their own outfits?
Have you got a theme in mind?
Once you've made a decision on these key things, it will make everything else seem way less overwhelming.
DIY where you can
One of the ways we managed to save so much money on our wedding was by doing a lot of things ourselves. We bought the decorations for the restaurant and decorated the venue ourselves.
As I also mention below, our families were amazing and helped with things like the flowers and cake. My mum also made bridesmaid dress length alterations, which saved us extra money.
Have a think about your capabilities and try to do things DIY where possible.
Freebies are your friend
Is there anything you can source for free to help cut the cost of your wedding? The venue? Decorations? Makeup? Favours? Or could you ask for some help from a friend or family member rather than a gift? Check on local selling sites like Facebook and Gumtree for freebies and grab them as soon as you can!
Think outside the box
As soon as you say the word 'wedding' you should almost always expect to pay a premium. We found that out pretty quickly when we started to plan our wedding!
For us, things like wedding photography quotes were coming back at £1-2K+. We just couldn't justify paying that!
We went on Facebook and found a local product photographer who did wedding photography during her spare time.
She was absolutely lovely and although we had to wait a while for the photos after, it was totally worth the money we saved in the long run!
This was the same for our reception venue. A lot of people wouldn't have necessarily thought or wanted to have their wedding in an Italian Bistro but it was the perfect fit for us.
You can save on pretty much every aspect of your wedding. Could you buy your dress second-hand? Maybe you choose to have your wedding in a non-conventional venue like a museum? It's completely up to you!
Get cashback on everything
Are you using cashback sites like Quidco and TopCashback? I use them religiously when buying anything! You can save upwards of £300 a year by getting cashback on everyday shopping, insurance, phone contracts, plus loads more.
When we got engaged, I started saving all my cashback earnings and used cashback sites and apps like Airtime Rewards and Daali to get rewards when we bought things online and in-store for our wedding. This managed to help us save over £1K to put towards our wedding!
Don't compare your wedding to others
Comparison is the thief of joy! I'm not going to lie. I went through a period where I wondered if we were doing the right thing and made the mistake of looking at other people's weddings on social media.
In the end, I remembered it was about me and my husband and the commitment we were making to each other. And in the end, our wedding was perfect for us!
Stick to your guns and try to avoid going down an Instagram rabbit hole and looking at other weddings.
How we saved even more money on our budget wedding
We were very lucky to have a good support system around us, I know a lot of people don't have that! This is definitely how we were able to pull our wedding together so quickly and save so much money.
Free wedding reception venue
We both knew we wanted a classic, English church wedding. Our vicar was absolutely lovely and knew my parents already, so that made planning the ceremony less stressful.
This was a big bulk of our cost, though and we didn't want to splurge on a wedding reception venue if we could help it. Recently, I turned 30 and found this lovely Italian restaurant venue.
Unfortunately, it wasn't available for my birthday celebrations. Luckily, it was for our wedding date! It was free to hire and we only had to pay for food and drink. Plus, any decorations we wanted. It was perfect!
Wedding dress, bridesmaid dresses & suits
Everything we bought was from the high street, which really helped cut down costs. We didn't really have time to go down the traditional route and have regular fittings, either. Which in a way, made decisions a lot easier.
My wedding dress was from Coast and cost just £152! The bridesmaid dresses were from Dorothy Perkins and were £67.50 each, and the groomsmen's suits were £200 from Next.
Flowers
My lovely mum kindly offered to make up all the bouquets and do the church pew flowers. We went to Morrisons and bought them all the morning before the wedding and she bought some lovely jute ribbon from Amazon to tie everything together. I was over the moon with how they looked!
The cake
When it came to the cake, my lovely mother-in-law also offered her creative skills by offering to make and decorate the cake for us. It also looked stunning on the day!
Invitations
We used a digital wedding tool from Papier to send out digital invites via WhatsApp. Sure, it wasn't very traditional at all. It saved us a small fortune on postage costs, though! We paid £25 for the design, although free options were available too.
Hopefully, sharing our experience has helped inspire you to start planning your own budget wedding! Have you already gotten married on a tight budget? Share your tips below! 🙂
Pin for later…