Today I bring to you a HUGE post, packed full of a whopping 50 tips on how to save money at the supermarket. I absolutely love a good bargain – especially when it comes to food and groceries! I know a lot of us have been spending more on food during lockdown, and (like me) your weekly shop budget may have gone out of the window just a little bit…
So, if you're looking for ways to cut down your grocery bill and save money at the supermarket, this is the list for you!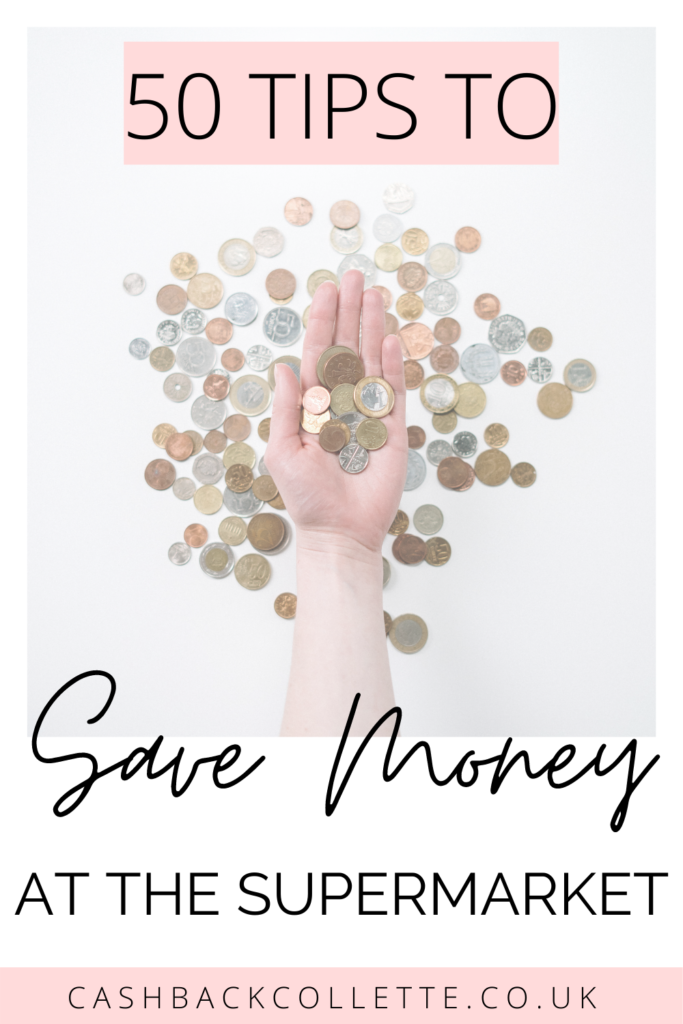 Save money at the supermarket with deals & freebies
1 – Yellow sticker reduction bargains
Yellow sticker bargains are my absolute favourite way to save money at the supermarket. You can find all sorts, from cheap off-cuts of meat to toiletries and even treats like a full birthday cake!
Each supermarket has different times and it all depends when they start reducing bargains, but here is a rough idea to help you hunt down some amazing yellow sticker reduction bargains of your own:
| | |
| --- | --- |
| Supermarket | Reduction time |
| Tesco | Mixed depending on the size of the store, can start from 8am but big reductions begin in the evening around 6-7pm |
| Sainsbury's | Some stores start reducing things like sandwiches from 1.30pm, but big reductions begin around 7pm |
| Asda | Reductions start at 7pm and usually get cleared out by 9pm so make sure you visit before then! |
| Waitrose | Biggest reductions happen about an hour before closing |
| Morrison's | Reductions start around 3pm and then continue to 8pm at night depending on the store |
| Co-op | Depends on the size of the store, my local starts reductions at around 2pm but offers major discounts about 8pm |
| M&S | Like Waitrose, the biggest reductions happen within the last hour before closing |
| Aldi | Meat and fresh goods sometimes have a 50% off sticker – these are quite random and can happen anytime |
| Lidl | Same as Aldi, random items will be on a fresh self with a 30% off sticker at any point in the day |
2 – Save money at the supermarket with coupons
Couponing is a good, old fashioned way to cut down your grocery bill. You can get money-off coupons for your essential items and some food and drink products are 100% free!
Find coupons on manufacturer websites, in supermarket magazines like Tesco and Asda, or check here for the latest list of current coupons. You could also try writing to your favourite companies and asking for coupons, it doesn't hurt to ask…
3 – Loyalty card schemes
My purse is packed full of loyalty cards and there is a good reason why. They help me save money at the supermarket, of course! Sign up for a free card either in-store or online and start collecting points to cash in for money-off your shopping. Here are my favourite supermarket loyalty schemes:
4 – Supermarket Cashback Apps
Get freebies and money-off bargains on supermarket cashback apps like CheckoutSmart and Shopmium. Look on the app and purchase the items as normal, then upload a photo of your receipt and they'll send the money back to you, winning!
Related: Shopmium App – How to get freebies & save money at the supermarket
Psst, sign up to Shopmium using my ref code KHKCYCEN and get a FREE Pack of Pringles!
Find out more about cashback apps in this post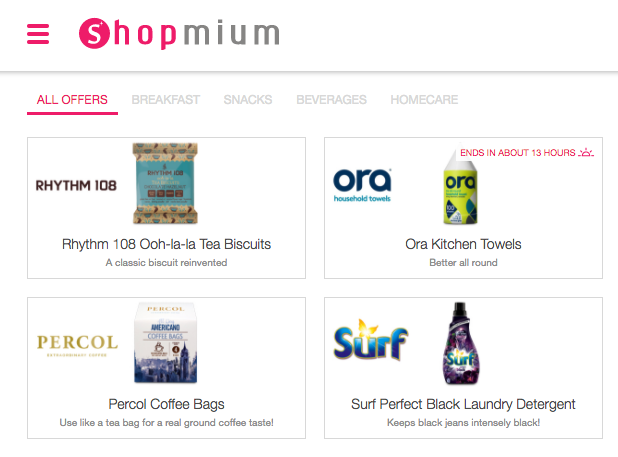 Related: CheckoutSmart App – How To Earn Cashback At The Supermarket
5 – Try me free campaigns
Keep an eye out for try me free campaigns on packaging at your local supermarket. These are displayed on the packaging and let you try certain products for free! All you have to do is purchase the item as normal and then upload a photo of your receipt on the brand's website.
These could be anything from cleaning supplies to your favourite pack of biscuits.
6 – Look for competitions online & in-store
There are so many competitions hosted by supermarkets, both online and in-store! Supermarkets like Tesco host regular competitions for loyalty club members, and Waitrose and Sainsbury's also have a competition page. You can win exciting prizes like £100 to spend in-store, or hampers packed full of amazing products.
Also, don't forget to look in-store on brand packaging for competition opportunities.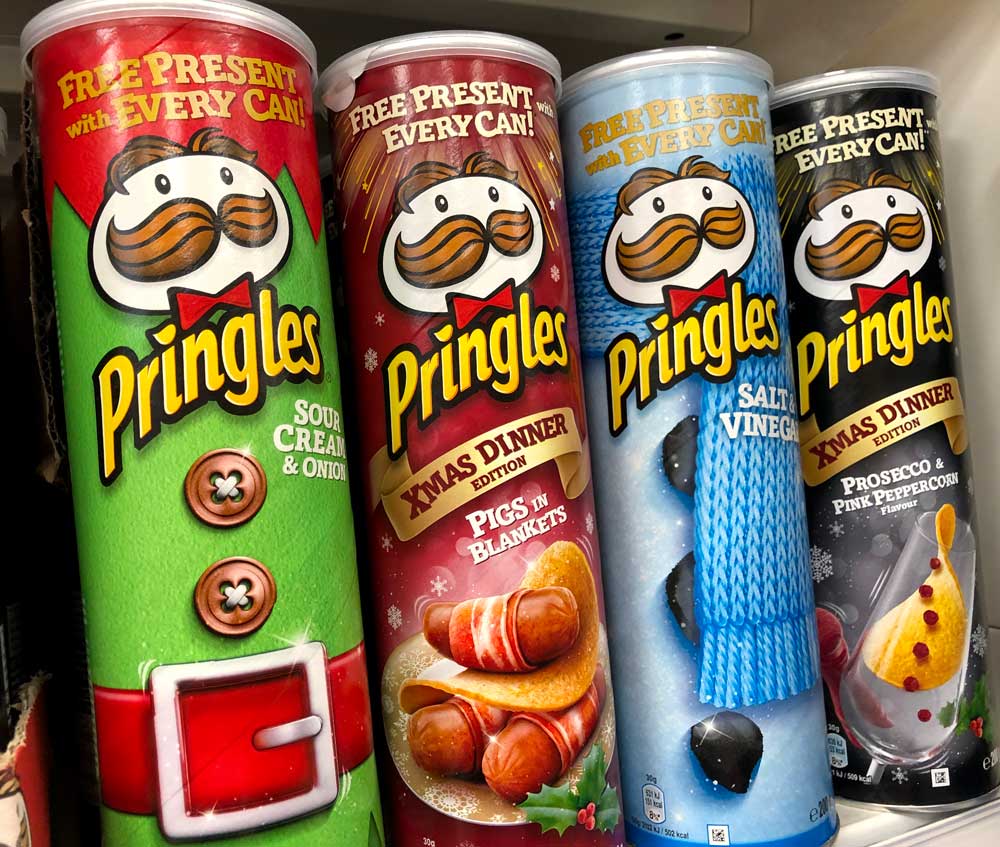 These are called 'purchase necessary competitions' and each pack contains a unique code. These competitions often have thousands of prizes up for grabs, so it's definitely worth picking up a pack. At the very least, you might win back a coupon for another free product, helping you save money in-store.
If you're new to competitions, I strongly recommend Super Lucky Secrets written by comping expert Di Coke. It's filled with beginner-friendly tips and tricks to help you win all the competitions!
7 – Use a price comparison app
Latest Deals recently launched a new price comparison app, where you can check which offers are best at different supermarkets. This has replaced an app called MySupermarket (for all you who were familiar with this) and is a really handy app to download before you visit the supermarket.
Using this free app means you can compare prices quickly and head to the cheapest supermarket for all your groceries.
Related: Best money-saving apps to save money at the supermarket
8 – Check your junk mail for offers
Don't be so quick to throw your junk mail in the recycling. I've seen loads of welcome offers for Ocado and I also get regular coupons for Sainsbury's and Waitrose. Most of these have a minimum spend but they definitely still help you save some money when shopping online or in-store.
9 – Look in your inbox & on social media for discounts
Keep an eye out for major deals coming through to your email from supermarkets on a daily basis. This could be anything from free delivery, new competitions, and in-store offers, plus fuel discounts.
It also helps to join online money-saving communities on social media. These are full of members who really know how to sniff out a cracking deal!
10 – Freebies & free samples
So many companies now give away free samples and full-sized food and drink products to help lure you in as a new customer. Look on freebie sites daily and keep an eye out for freebies in-store too. Some freebies get posted straight to your front door!
Find out more about how to get free food and drink here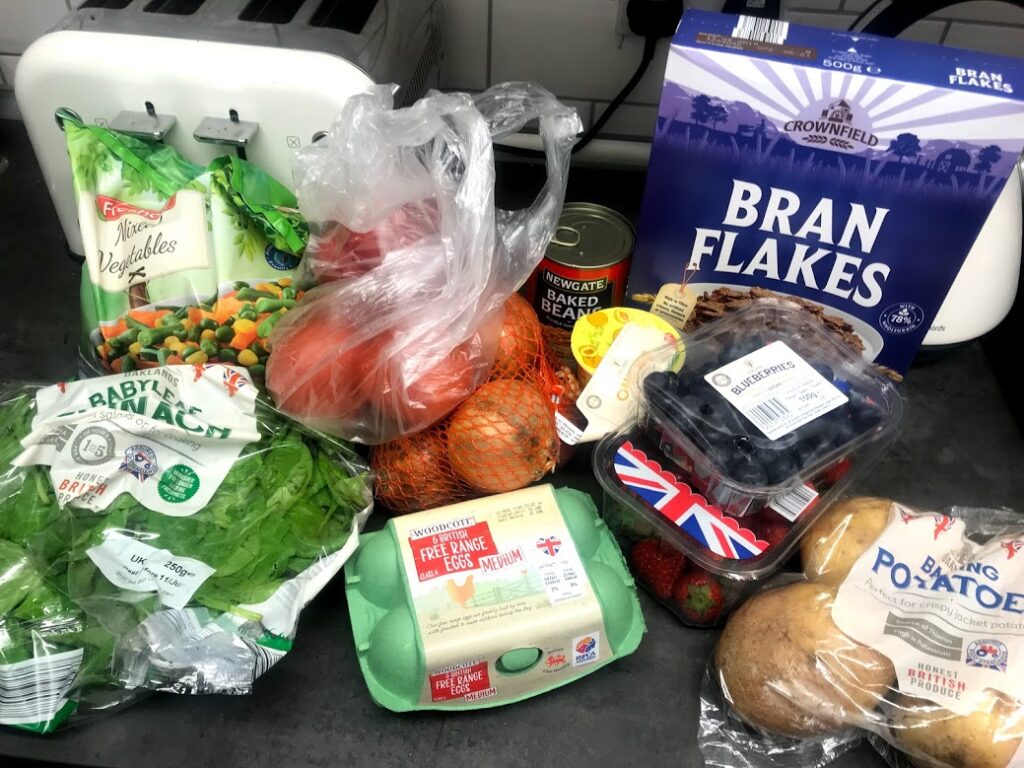 Save money at the supermarket with careful planning
11 – Shop your cupboards first
Before heading to the supermarket, it's a good idea to check what you already have to stop you spending more money than you need to. If you can, try and piece together meals, as well as looking at what essential items need replacing. This is where meal planning is also really useful!
12 – Write a list to save money at the supermarket
This sounds like quite an obvious one but writing a list is such an easy way to save money at the supermarket. Once you've had a look in your cupboards and fridge, write down all the things you need and be strict with yourself when you're at the store.
13 – Create a meal plan & batch cook
Meal planning is another fab way to save money on groceries. Write a list for breakfast, lunch, and dinner for each night of the week. This will help you only pick up what you need and will prevent any unnecessary top-up shops throughout the week.
It also helps to batch cook once a week to help you use any fresh produce and avoid waste. Simply make all your meals in one go and pop them in your fridge/freezer, job done!
14 – Never shop hungry
Did you know you're more likely to spend more at the supermarket when you're hungry? You're also more likely to pick up 'naughty' snacks and things you don't need. I know I do! If you're shopping early in the morning, have some breakfast first. Heading to the supermarket after work? Have a little snack handy before you go in.
15 – Shop on your own & when it's quiet
Shopping with a partner or kids can be quite chaotic! All of a sudden you find your trolley full of random items, which other house members have sneaked in or convinced you to buy. Shopping on your own gives you less distractions and help you stick to your list and stay on budget.
Shopping during peak times like at the weekend can be super stressful and lead to unnecessary overspending. As many supermarkets are now open until 9-10pm, I would always recommend going later when it's quiet and you can concentrate on what you're buying and make better judgments on what not to buy. Plus, yellow sticker bargains are better at night!
16 – Buy seasonal fruit and veg
I've definitely gotten used to having each piece of fruit and veg available all year round, but it's actually cheaper to be more selective. Seasonal fruit and vegetables are always cheaper and taste amazing. Check out this handy guide on what to buy at each time of year to help you save money on your next grocery shop.
17 – Don't shop on payday
This sounds like a strange one, but I definitely find I spend more as soon as I've just been paid, even on groceries. Try waiting a few days or even a week before you do a big shop. I bet you'll find you spend less once you've seen all your bills and have calculated what you have left.
18 – Pay with cash to stick to your budget
This tip helps you save so much money at the supermarket and can be quite a fun game! Withdraw cash and leave your debit card at home, and you'll be surprised at how more conscious you are about 1) how much you're spending and 2) what you're spending your precious cash on. Definitely worth a try!
Top tip – Use pretty and functional cash envelopes to help you budget your spending for the month.
19 – Don't forget bags!
I can't tell you the number of times I've walked into a supermarket and only realised my bags are in my boot when I get to the till! So I'm putting this one in as a little reminder to myself. Don't forget your bags!
You'll kick yourself for having to pay for more. It's not a massive cost, but if you forget each time, it soon adds up so it's good to get into the habit.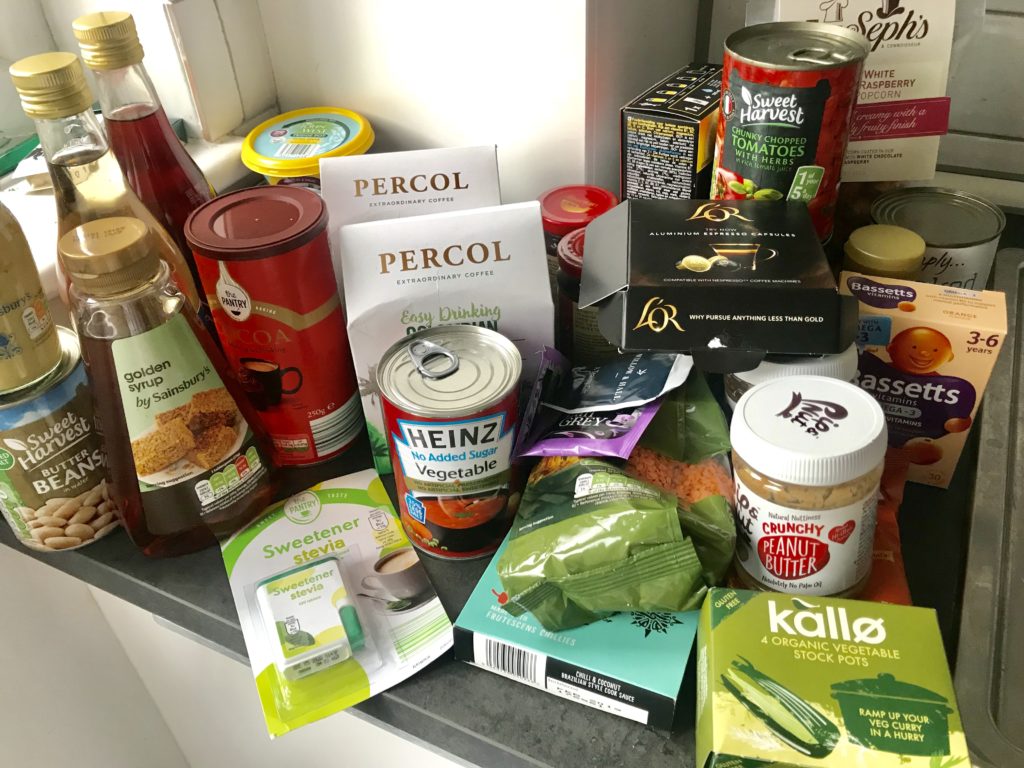 Where to shop to save money at the supermarket
20 – Shop at budget supermarkets
Aldi and Lidl are super popular now and many of you might even shop there already. If you don't, I 100% recommend giving it a go! You'll be surprised at how much you can save.
21 – Take a trip down the world food aisle
The world food aisle is an absolute gem for finding staples like beans and legumes for a fraction of the price on the regular aisle. It's always worth having a look to weigh up if it's cheaper or not!
22 – Support a local business
Local butchers, farmers markets, and fruit and veg shops don't always work out more expensive. If you're looking for something specific, staff are super friendly and if you become a regular, they might throw you in a freebie or a major discount every now and again!
23 – Skip 'express' stores
Express stores, especially in town and city centres, tend to be more expensive. It's a classic case of supply and demand. If you can, take a trip further out to a bigger store and you'll instantly notice the difference in price.
24 – Shop online
If you find you're getting distracted in shops and picking up items you don't need, it's definitely worth trying shopping online. You can choose a delivery slot and only add items to your trolley that you need. Plus, it's easier to see how much you're spending as you're adding items.
If you've found you've spent too much, it's easier (and less embarrassing) to take them off at the end too. The only downside? You might end up with alternative items if yours aren't in stock at the time.
25 – Consider clearance discount websites
Have you heard of clearance discount websites? Approved Foods is my favourite site for picking up food and drink, household and toiletry bargains for a fraction of the price! They have over 2,000 products on their website from big brands like Ariel, Dairy Milk, Simple, Weetabix, and loads more.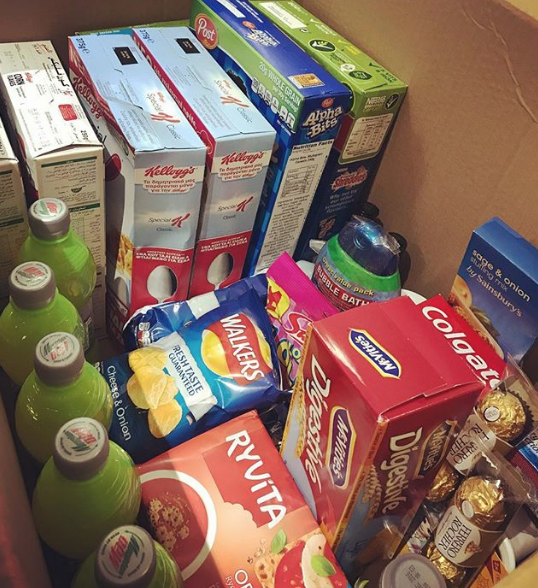 All stock their stock is food that is either near or just passed its 'best before' date – meaning it's perfectly safe to eat! Sign up for free and order some discount goods to try at home.
26 – Try Amazon Fresh
Amazon Fresh is a really good alternative for those who can't visit a store or get a delivery slot with all the major supermarkets. It's got all your family favourites on there and is really convenient and easy to use!
27 – Claim a free food subscription box
If you're looking for inspiration for meals, why not try a subscription box? Simply Cook is currently giving away your first box, 100% free! Each one is packed full of herbs, spices, and recipe ideas. Looking for new tasty snacks?
Graze also offer a free first box to help whet your appetite.
You can cancel these at any time so you could always claim your free box and see if you like it before you commit to a regular subscription.
28 – Become a member of Costco
Costco is definitely worth joining if you have a big family or just like getting things in supersize or bulk proportions! The membership basically pays for itself with all the bargains you can get in-store. If you're not sold, tag along with a member next time and see if you like it enough to sign up yourself.
Saving money at the supermarket – top tips & tricks
29 – Switch to own brands
We've all got those non-negotiable branded items and I'm certainly a self-confessed brand snob when it comes to some products. However, switching down to own-brand items can save you a small fortune each time you shop. Staples like beans, tomato ketchup, and pasta sauce is always cheaper when you opt for own-brand.
Don't forget to look on the bottom shelf, as that's where supermarkets often hide the own-brand items (they like to keep more expensive products on your eye level – sneaky!)
30 – Know your best before dates
It can be really confusing knowing when your food expires and if you should throw it away. Getting to grips with best before and expiry dates can really help you save money and reduce waste. Here is a helpful guide from the NHS – definitely worth a read before your next trip to the supermarket!
31 – Buy frozen to save money at the supermarket
Another way to save money at the supermarket is to take full advantage of your freezer space and buy frozen. My freezer has been a lifesaver for us! It's great for storing meat, vegetables, and also meals that we've prepped to eat later or leftovers. Ours is also packed full of yellow sticker bargains!
32 – Avoid the food counters
Food counters are expensive! They lure you in with their fancy displays and luxury meats, fish, and cheese, but don't get sucked in! Anything you need, you can probably find cheaper on the aisles.
That being said, it might work out cheaper if you're only buying one of something cheap like a pork pie snack. Obviously, an essential!
33 – Bulk in bulk to save money
Some items are actually cheaper to buy in bulk or bigger units. In theory, whenever you buy a large about of something, the individual unit cost tends to be lower. So the more you buy, the less it costs.
Here are some items we buy in bulk to save money at the supermarket or bigger chains like Costco:
Teabags and coffee
Kitchen roll and toilet roll
Shampoo
Laundry gel
Batteries
Soap
Pasta and rice
Hopefully, that gives you an idea!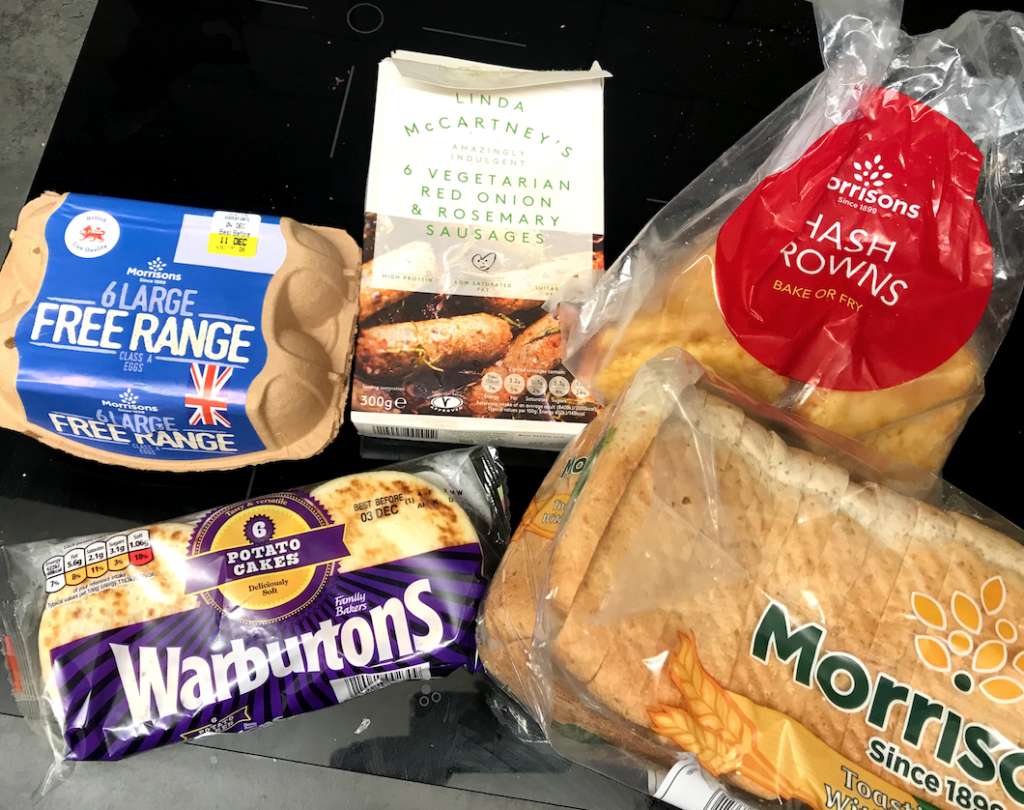 34 – Stock up on cheap staples
Items like pasta, bread, canned items like soup, beans, lentils, etc. are all cheap staples that can help you stay on budget if you're looking to save money on groceries. Lots of these items are also good to bulk out meals and can be mixed together to help stretch your food shop longer.
35 – Do the maths while you shop
If you can, get your calculator up on your phone or stick to a good old fashioned pen and paper and add things up as you go along. Then, you can make informed decisions based on what you have left on your allocated grocery budget. Plus, there's less chance of a nasty surprise when you see the final total at the till!
36 – Skip the 'deals'
Deals can be very tempting! But are you actually getting a good bargain? These promotions are usually right at the beginning of the store and at the end of each aisle and are usually from big brands, meaning they're more expensive!
However, if these items are in fact on your list, it's best to go to the aisle and look for a cheaper alternative. Only stock up if it's a real bargain!
37 – Resist junk food & unhealthy snacks
Treats and snacks are ok every now and again, but not all junk food and snacks are cheap and branded items can definitely bunk up the cost of your shop! Try to cut down on these or skip them altogether to save money.
38 – Avoid last-minute temptations at the till
You know what I'm talking about, don't you? The chewing gum, the chocolate bars, the magazines. All there to encourage a classic last-minute treat! Try your best to stay strong and avoid any last-minute impulse buys…
These are my favourite Facebook groups for finding supermarket deals:
39 – Check your receipt straight away
Occasionally, mistakes are made where an item has been scanned twice or a deal hasn't gone through. It's good to double-check your receipt BEFORE you leave the store, as it's more difficult to explain or prove once you've left and returned. It's also more effort for you to drive back!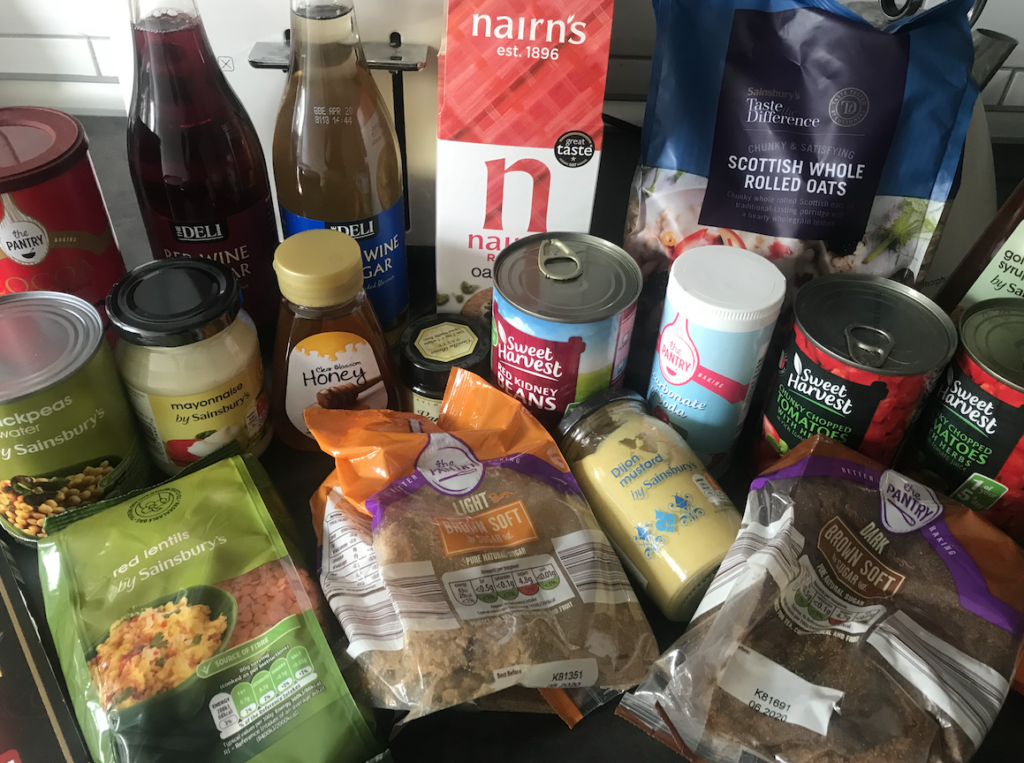 Save money at the supermarket & the environment
40 – Buy loose fruit & veg
Buying loose fruit and vegetables a good little tap to help you save money and prevent waste. For example, buying two carrots for a recipe is probably going to cost you less than a pre-packed job lot of carrots, which you may never use and end up forking out more for. Plus, less plastic!
41 – Grow your own
If you're feeling adventurous, you can always grow your own fruit and vegetables to save money. You can actually pick up seeds in your local supermarket for cheap and start growing things in your own back garden.
If you don't have any outdoor space, you can grow certain fruit and veg indoors. Check out this helpful guide to get started.
42 – Check waste apps
Waste apps like Olio and Too Good To Go are a fab way to save money on food. Check these apps daily to look for free and cheap food and drink from your neighbours and local restaurants.
You can definitely cut down your grocery bill by snagging a few bargains near you! Don't forget to return the favour if you have anything going spare…
43 – Buy wonky veg
Supermarkets like Morrisons and Lidl have clocked that budget-savvy shoppers prefer to pay less for perfectly usable, yet slightly wonky veg. They have created wonky veg boxes packed full of vegetables to sell at discount prices. These usually include products like:
Carrots
Onions
Potatoes
Leeks
Cauliflower
Sweet potato
And loads more! Have a look when you're next in-store…
44 – Try meatless Mondays
Meat can be one of the most expensive items on your shopping list, so consider swapping out some meaty meals and go veggie instead. Meatless Monday is a fab incentive, which promotes dropping meat from your weekday meals, at least once a week to help you eat healthier, environmentally friendly meals. The Meatless Monday website is packed full of recipes and inspiration to help you get started.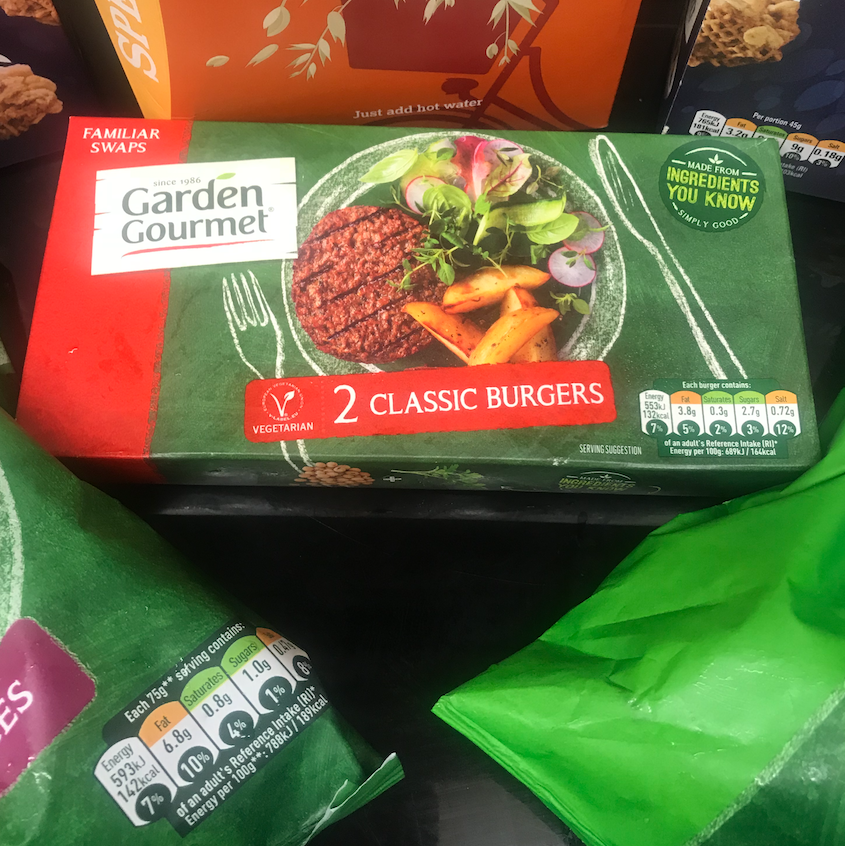 45 – Go foraging for herbs and fruit
Foraging is a totally legal way of getting free herbs and fruit in the UK. Check out this guide on the Woodland Trust and get inspired with exciting new recipes. What are you waiting for? Grab your Tupperware and hit the woods!
Get paid to shop at the supermarket
46 – Become a mystery shopper
Earn extra cash as a mystery shopper while you shop! Sign up to mystery shopping sites like Marketforce, tern, and Retail Maxim and rate things like cleanliness of the shop and customer service. Or try task apps like Streetbees, which ask you to complete smaller tasks, such as checking if certain items are in stock at specific supermarket chains.
47 – Earn supermarket gift cards
Did you know you can earn supermarket gift cards to help cut the cost of your weekly shop? Complete surveys on Valued Opinions and earn gift cards for Tesco, Sainsbury's, and M&S.
You can also earn cashback every time you shop online with sites like TopCashback and Quidco and withdraw your earnings as a gift card for Tesco, Morrisons, Sainsbury's, Waitrose and M&S.
Find out more about cashback sites & apps
48 – Scan your receipts
Once you've done your weekly shop, earn extra cash by scanning your receipts on free apps like Shoppix. These are market research apps that work with companies that love to see what customers are buying but don't worry, your data is 100% safe.
I can vouch for them, as I use them myself! Once you've earned enough points, you can cash out via PayPal or Amazon gift cards.
49 – Use a cashback credit card
I only recommend this one if you have a healthy credit score and you have a card that you're paying off in full on a monthly basis. You can get up to £100 in cash or voucher rewards when you spend in supermarkets and other stores. Check out the best ones here.
And now, for my final tip…
50 – Try a no-spend grocery week
You might think this next one is impossible, but I promise you it's not! I dare you to try a no-spend grocery week and get creative with what you have in your kitchen already. This can help you save so much money on groceries and use up any food that would normally end up in the bin!
Obviously, essential items like milk and other bits and bobs are ok, but see if you can go a week without doing a big weekly shop. Good luck!
Pin for later…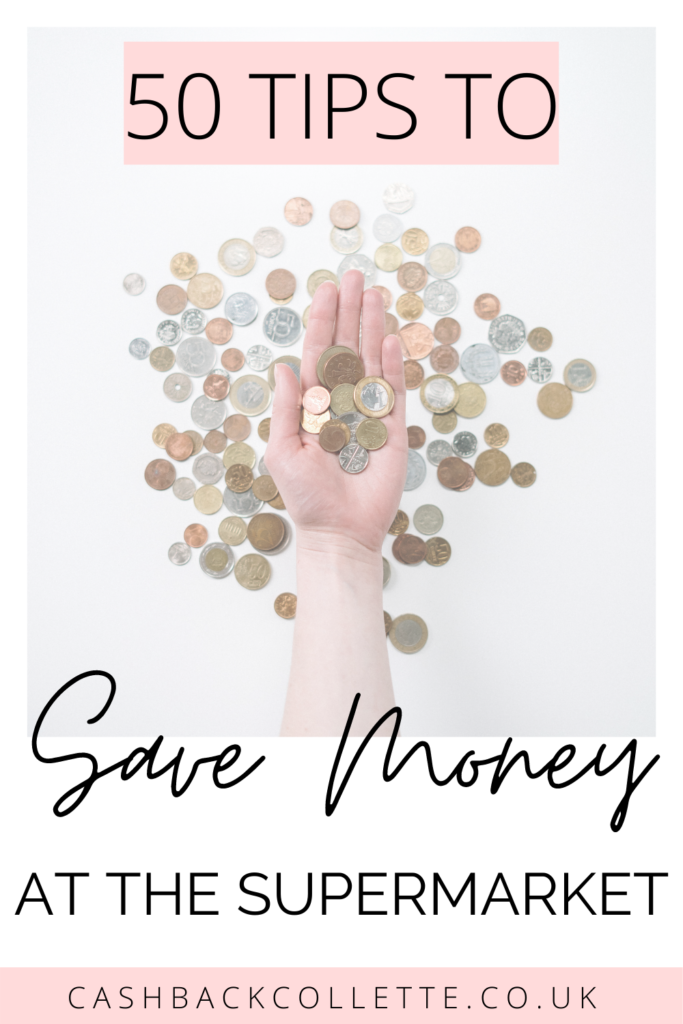 This post contains affiliate links, which means I receive a small commission if you purchase some of the products or services recommended, at no extra cost to you. Deals and offers were accurate at the time of posting, always check T&Cs.