It's easy to get carried away and spend money we don't have on our loved ones at Christmas, but there are ways you can treat your friends and family for free.
Here are some gift ideas that won't cost you a penny this Christmas. The best part? They're all really easy to find or create, so you save money AND time!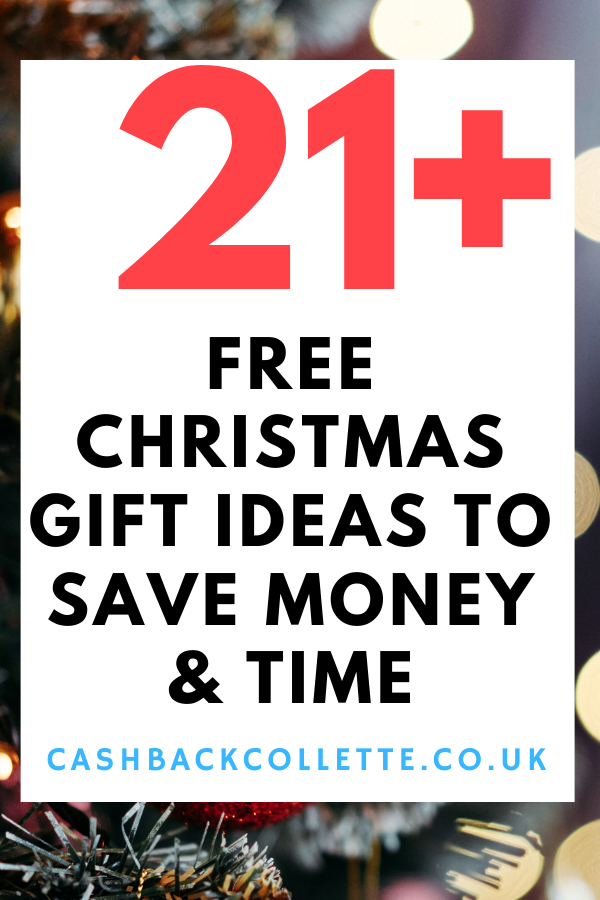 Re-gift something you already own
Let's start with a kind of brutal but most obvious way to save money and find free gifts. If you still have unwanted presents lying around from last year, pass them on to a loved one.
I tend to squirrel away any gifts of my own that I get for Christmas and presents for birthdays to re-gift the following year to others. If you get any bottles of wine or 'samey' gift sets, stash them away for Christmas presents.
Look around your home for items that are also new but might have been impulse purchases. You can also gift these to someone at Christmas.
Beauty freebies & free samples
Have you gathered a ridiculous amount of freebies and beauty samples throughout the year? This is the time to declutter! If not, find freebies on social media or head to your nearest beauty counters to ask for free samples.
You can make lovely little gift sets from minis, samples and full-sized freebies to gift to people. Re-use gift bags from previous years or ask local shops if they would offer gift boxes to make it look super fancy! Check out my post on how to make a FREE Christmas hamper for inspiration.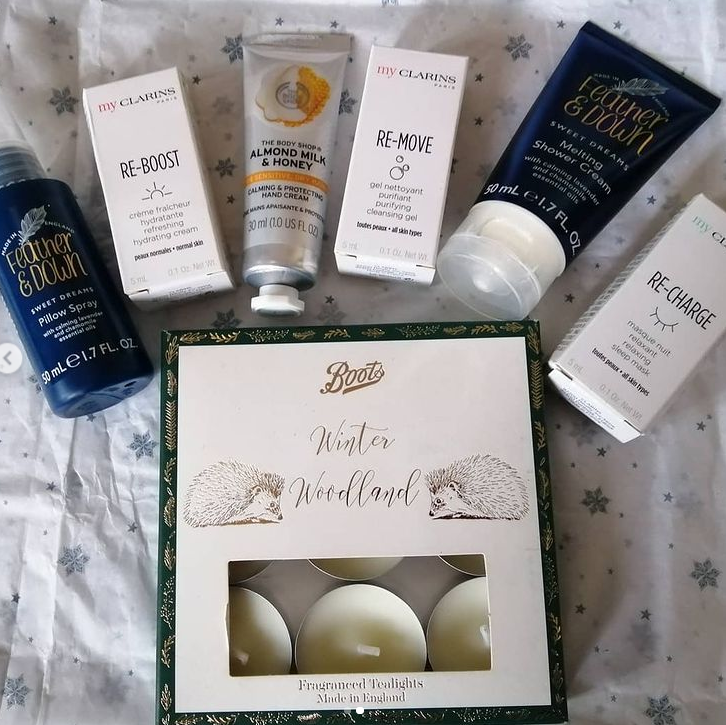 Free food & drink
Similar to beauty samples, there are also lots of ways to score free food and drink. Use supermarket cashback apps like Shopmium (Use my signup code KHKCYCEN to get a free tub of Pringles) and CheckoutSmart to get free bits and bobs.
I've had loads of freebies like Joe & Steph's popcorn and bottles of craft beer, which look very fancy. Stick these in a gift box (which you can also get for free using shoe boxes) with some shredded paper and they'll never know it was free!
Related: Shopmium App – How to get freebies & save money at the supermarket
Win competition prizes for free gifts
You can enter competitions all year round, using sites like The Prize Finder and Competition Database to find new competitions every day. Some people do it for a living!
You can win all sorts from bath gift sets to big prizes like holidays! The question is, what do you keep for yourself and gift to others?? It all depends on how generous you're feeling…
Check unredeemed gift cards
It's easy to stuff a gift card into the depths of our purses, only to find it years later when it's expired. So frustrating! Save your gift cards and gift them to someone who can make good use out of them. Just make sure they're still in date.
Gift a family heirloom to someone special 
Are you looking to propose or show someone you really care? Offering a family heirloom like a special piece of jewellery is the perfect gift, and it won't cost you anything.
Find a free event near you
Treating someone to a night out doesn't have to be expensive. Look for free events near you like bonfire displays, festivals and more. You can even get free tickets to TV shows like Loose Women.
If you're planning to visit somewhere, make sure you get tickets and plan your day in advance.
Get a free bouquet of flowers
Pick flowers from your garden to make a beautiful, handmade bouquet or lookout for deals from sites like Bloom & Wild, who have a £10-off your first order* or free first box subscription offers.
Offer your time & expertise
Instead of a physical gift, you could always volunteer your skills and time to someone who needs them. Maybe you can help with some DIY? Or teach someone guitar lessons?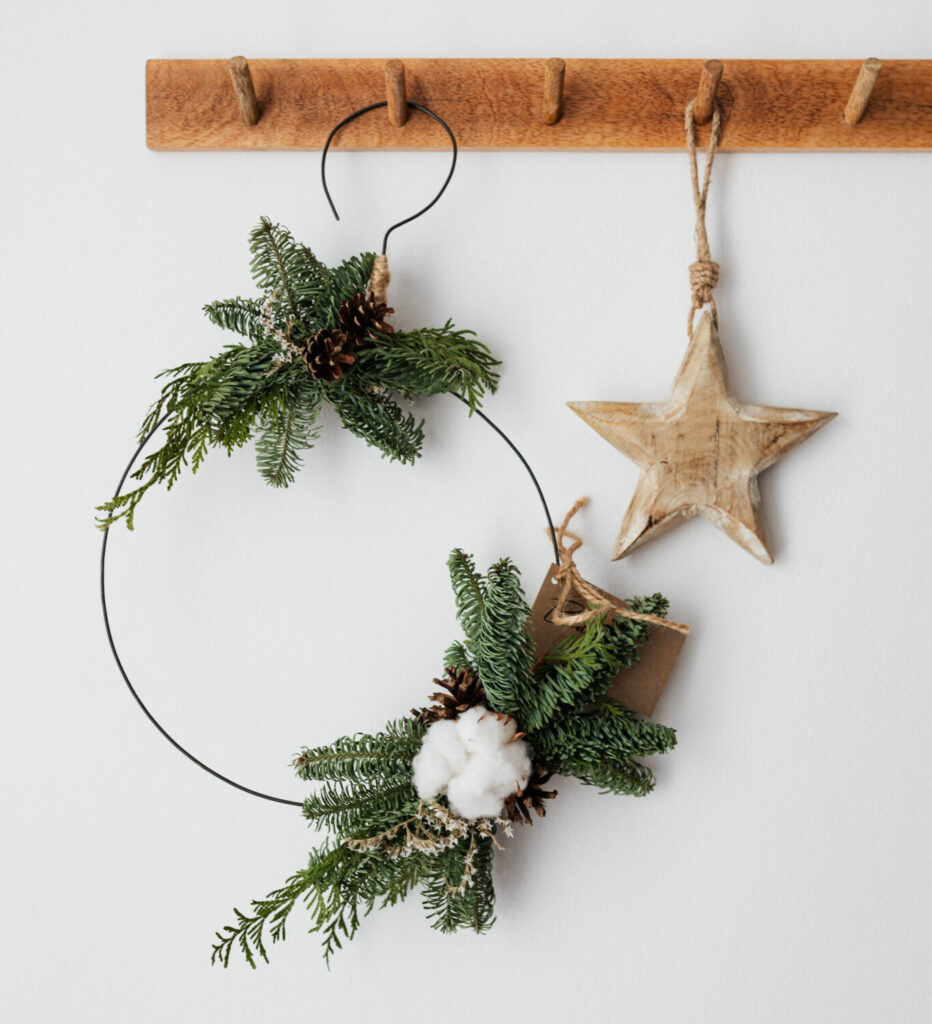 Free DIY Christmas gift ideas
There are so many DIY and craft ideas for Christmas on sites like Pinterest. Here are some of my favourite ideas:
Make a calendar
You can use free photo calendar sites to design a calendar filled with special memories. Simply print yourself to gift to loved ones.
DIY Face masks & sugar scrubs
Items around your home like coffee, bananas and sugar make amazing homemade skincare gifts! Check out these ideas for inspiration!
Once you're happy with yours, pop them in a jam jar or pot for a nice finishing touch.
Create a souvenir box
Using a cardboard box, gather together special items and gift them to someone special. A great example is saving bits and bobs from your wedding day for your husband or wife.
Also, pictures of a mum with her newborn and baby's first socks and favourite first soft toys are also a lovely thought.
Make a home movie or photo slideshow
Creating a home movie or photo slideshow to gather the family around on Christmas day is such a nice gift! Google search for free apps to help put your video together or use programmes like PowerPoint to create a reel for your family.
Design a book of coupons
Novelty coupons are another great pressie if you're looking for free Christmas present gifts. Canva has thousands of free coupons, gift certificates and loads more designs for you to make your own, personalised gifts for Christmas.
You can send these digitally or print at home if you have a printer. If not, your local library will offer to print your designs for you starting from 5p per page.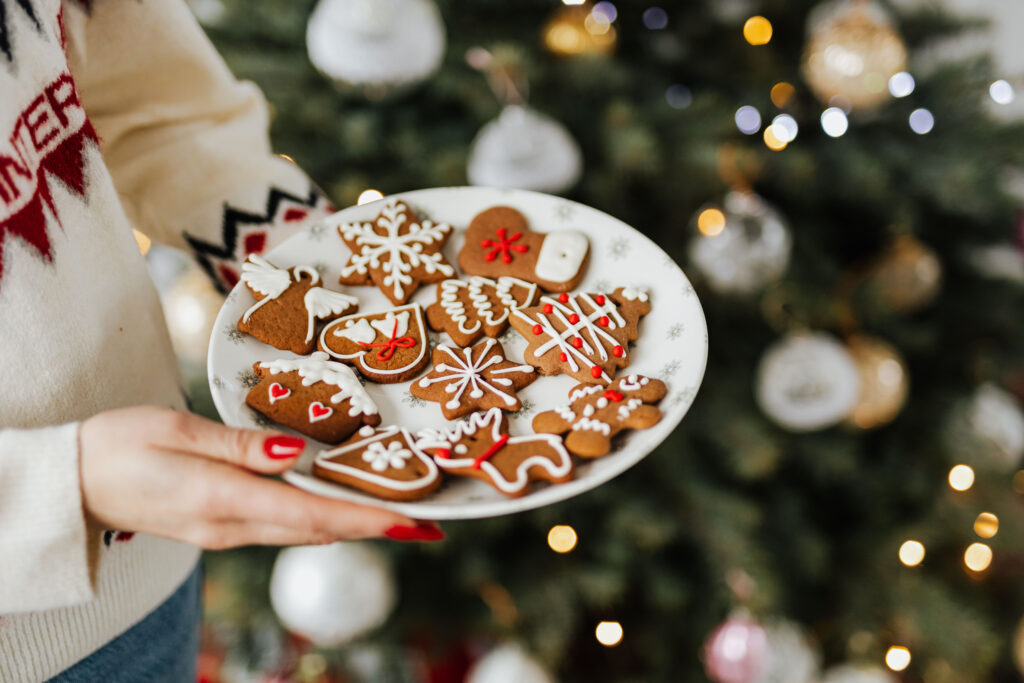 Bake something festive
I'm absolutely rubbish at baking, but making Christmas cookies or gingerbread houses is another great gift idea. If you bake regularly, you'll probably have the ingredients to hand, making it free!
DIY Candle Holders
Craft your own candle holders from leftover food tin cans and items around your home like jam jars. Check out this quick and easy tutorial from Aunt Annie.
Share your own cookbook
Have your friends and family ever complimented you on your cooking or specific recipes? Fill a notebook full of your favourite recipes or design one online in Canva.
Plan out a scavenger hunt
This is such a cute idea! Draft out some clues and signs on paper and dot them around your favourite places. For couples, it could be where you first met/first dates etc.
Hand draw your family tree
This one takes a bit of effort, but it's a lovely idea. Sign up to a free trial to a site like Ancestry and map out your family tree. Then, grab some paper and pens and draw out your family tree. The history buff in your life will definitely appreciate this one!
Write a letter or a poem
If you're good with words and really want to show someone you care, a poem or a letter is definitely the way to go to score Christmas gift brownie points.
Frame special memories & inspirational quotes
If you have any photo frames around your home, use these to gift a loved one a special photo or favourite quote of yours for Christmas. Frames also start from £1 in Poundland if you have a little bit of a budget.
Make a no-gift pact
Martin Lewis is once again promoting his No Unnecessary Present Pact (NUPP) which campaigns against overspending at Christmas. If you want to take it a step further, you could agree on no gifts at all. It's completely up to you!
Those are my top free gift ideas, which I hope will really help you save some cash this Christmas!
Pin for later…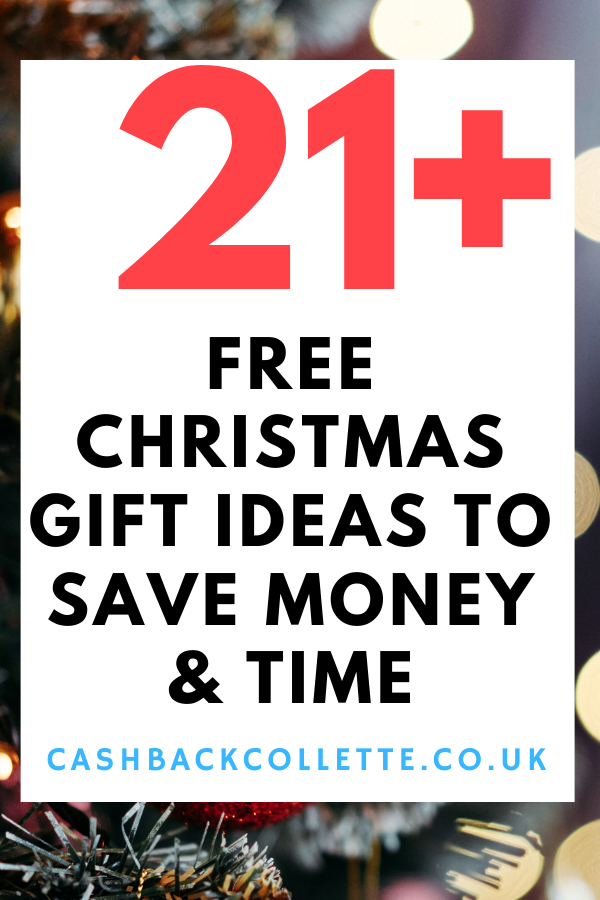 This post contains affiliate links, which means I earn a small commission at no extra cost to yourself if you choose to sign up or purchase a recommended product.