I LOVE getting my mitts on free stuff, whether it's a free sample of the new Body Shop face cream, a free book or magazine, or a full-on hamper of food goodies, every freebie feels like a win. Trust me, it's never been easier to find free stuff on social media. Let me show you how…

Why do brands give away free stuff on social media? 
Companies run giveaways on their social media pages all the time, as it's a great way to increase and engage with their following.
They get more likes and expand their reach, and you get a freebie. It's a win, win!
If you're reading this, the first thing I recommend is to go and chuck your favourite brands a like or a follow so their giveaways appear in your newsfeed. 
I've scored LOADS of freebies over the years this way so I definitely recommend it.
The best social media sites I use for giveaways are:
Facebook
Twitter
Instagram
Pinterest
Here is how I go about finding free stuff on each social media platform…

How to find free stuff on Facebook
There are soo many ways you can score free stuff on Facebook, it's one of the only reasons I still use it.
Brands hosts giveaways on their Facebook page all the time!
Ways you could win free stuff on Facebook could be things like:
'Like and comment' competitions – where you, well like and comment for your chance to win something for free
A 'sign up' form – either on the brand's Facebook page or a sponsored post that appears in your feed based on what you've recently liked and viewed (very clever!)
A free voucher download – from brands to print and redeem in-store
A fun game on the brand's Facebook page – where you participate in a quiz or a game and get a freebie at the end
Message them your details – for your chance to win a prize
The more you interact with brands, e.g. like, comment and share, the more you'll have similar brand suggestions pop up in your feed.
This is a great way to keep your finger on the pulse, as you can apply for free stuff straight away when you see it in your feed.
Joining freebie and money-saving community groups on Facebook will also put you one step ahead of other people hunting down freebies.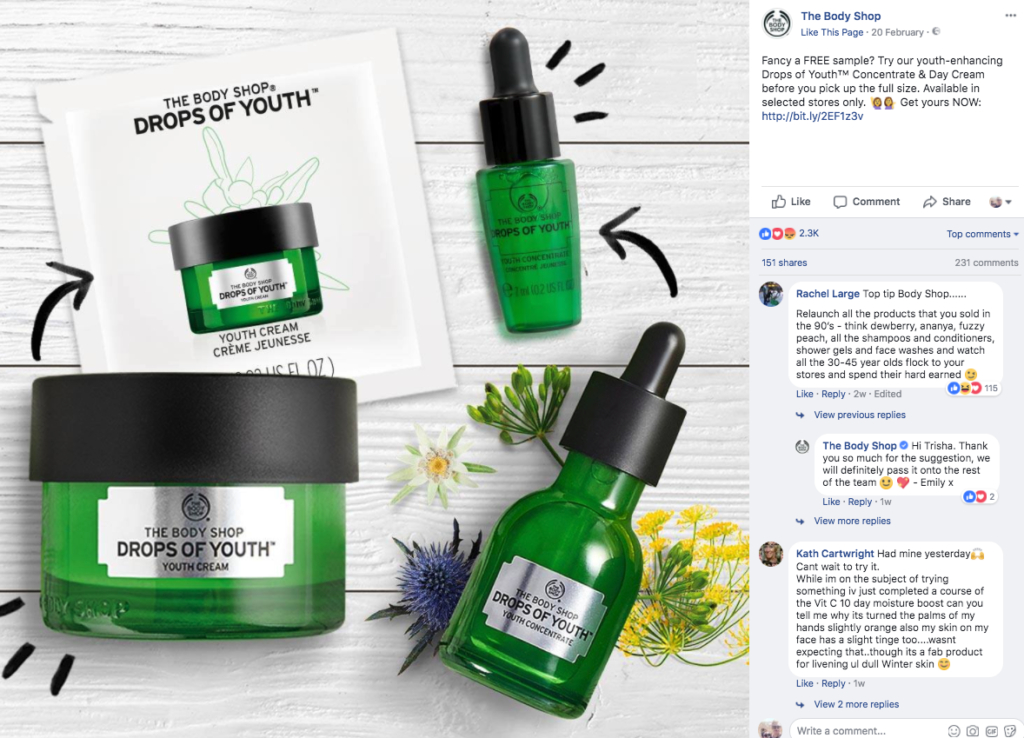 One of my favourite ones is Di Coke's Lucky Learners (for comps as well) as the engagement and support in that group is the best I've seen.
Everyone is so nice and it's a really active group, so it's definitely worth joining to check out the latest giveaways.
If you're desperate to try a brand's new product, you could always message them on their Facebook page to ask for a free sample.
Sometimes this has worked well when I've tried in the past, sometimes I just get ignored but hey ho!
Facebook sponsored ads explained 
Have you noticed Facebook adverts from companies you know and love pop up on your feed offering free samples lately? 
Do you think this is a scam or you're not quite sure how to claim them? Rest assured, these are 100% genuine and so easy to claim! 
You have to 'like' the page that is running the ad and wait for the ad to appear organically in your newsfeed.
This is why I'm constantly banging on about following your favourite brands across social media, so you don't miss out on finding little freebie gems!
You'll know when you see them, but just in case they look something like this: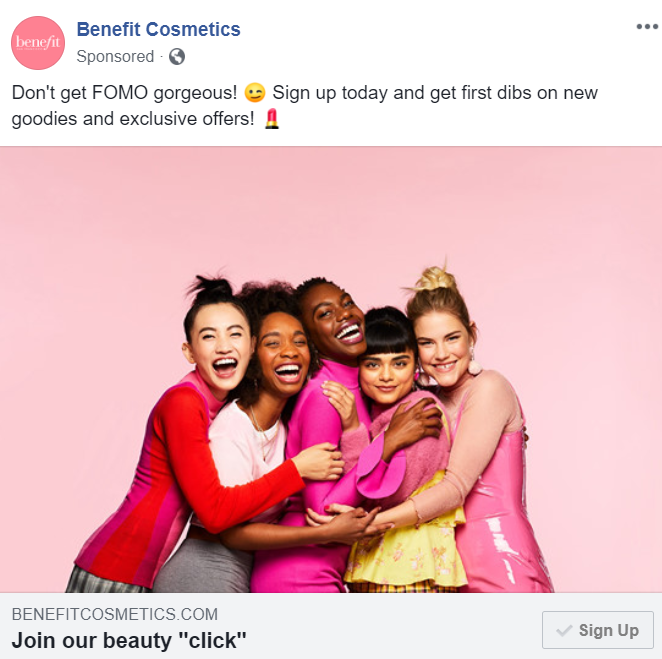 When you see one, simply fill in the form and submit and wait for your free sample to come in the post. 
Facebook uses all kinds of weird and wonderful algorithms so it's not guaranteed you will get the free sample opportunities that others might.
Psst… Instagram also has sponsored ads, more on this below. 
Win free stuff on Twitter
Twitter is one of my favourite places to find giveaways and competitions.
I'm constantly on there oggling at celeb spats and animal vids, but in between all the action, I like to enter the odd giveaway or two. 
It's so easy to get in touch with brands and they host giveaways on there all the time.
To start getting your freebies on Twitter, follow your favourites and start interacting!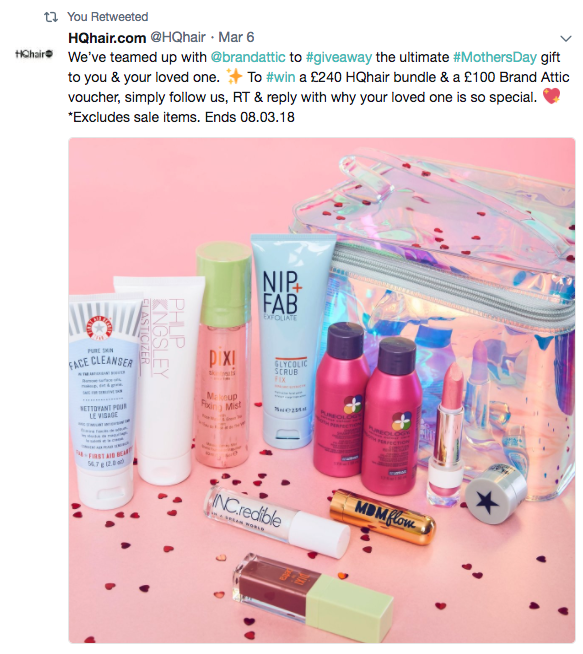 I follow a lot of companies and brands that host giveaways on Twitter, especially during seasonal times.
Make sure you check around these calendar events:
Easter
Christmas
Mother's Day
Father's Day
New Year
It's really easy to enter, as most usually involve a simple 'Follow & Retweet' style competition.
Some, however, might ask you to get creative and tweet them a joke or a tip, even a photo. It's good to try these because fewer people tend to enter, which increases your chance of winning.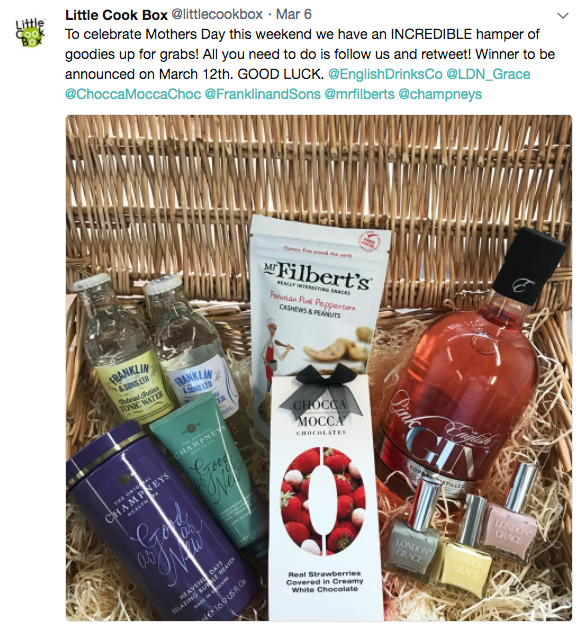 Search for popular comping hashtags such as:
#rttowin
#competition
#win
#freestuffuk
#winitwednesday
and #freebiefriday
All fab for hunting down Twitter competitions!
You could also try tweeting a company and letting them know how much you love their products and don't be afraid to DM them (if they follow you back or have their DMs open) and ask for free samples.
Cheeky but sometimes effective!
How to get free stuff on Instagram as an influencer
Instagram has become an amazing platform for sharing your pics with the world. It's also allowed regular joes like you and me to become 'influencers' by building a following online.
Brands have clocked onto this and now pay people to become brand ambassadors and post pics using their products online.
Talk about a dream job!
As well as being paid, brands will send you free products to review and post a photo of on the platform.
Remember to be honest and don't just set up an account with the intention to get free stuff.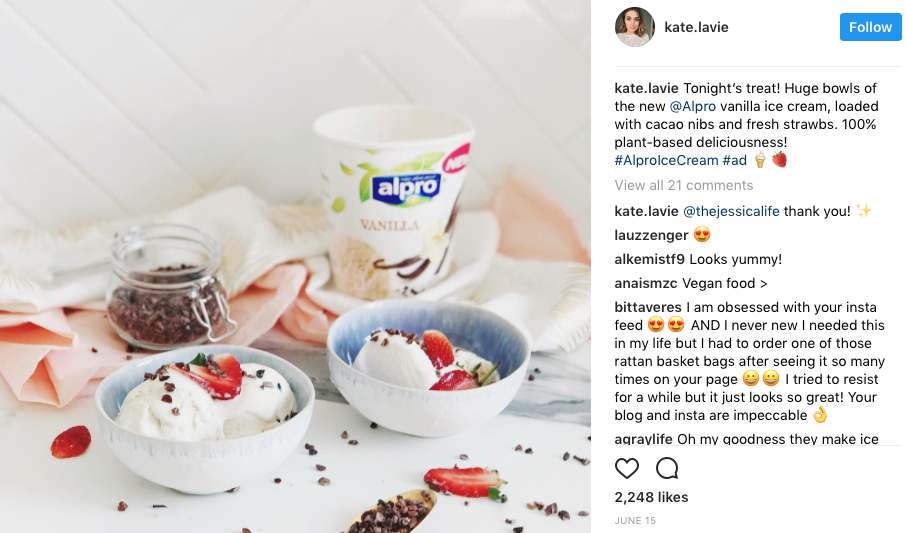 You've got to look the part but also be passionate about what you're doing!
Here are some top tips to help you if this sounds up your street:
Find a niche – it's a very crowded market out there so honing in on a niche like vegan beauty products will help
Be authentic – there's no point copying someone, especially if they have more followers. Trust me, brands will see right through it!
Do some hashtag research – this will help you understand how to get more reach and see if your topic is popular
Approach brands directly – send brands messages on the app or via their email which can usually be found on site. Showcase your stats like your most popular pic and number of followers
Be consistent – post regularly and keep to a theme or use similar filters so you start to build your brand online
You don't have to have a huge following, either. It's all about being unique and having a loyal following so quality over quantity applies here. 
Don't be tempted to buy followers or likes – brands can see right through this and it could affect any future opportunities!
>>> Related: 15+ ways to make money online from home <<<
More ways to find free stuff on Instagram 
If you're a little bit camera shy and don't fancy launching your career as an online influencer, don't panic. There are other ways to get yourself some fab freebies on Instagram.
Follow brands that you know & love
As with other platforms, following brands you like means you will actually enjoy the freebies and competition wins.
These giveaways usually involve tagging friends, using hashtags or emojis and also 'regramming' a photo or graphic to your own page. 
Search for free stuff hashtags
You can also enter giveaways on Instagram by following hashtags like #competition #giveawayuk which will help you hunt down those competitions in no time.
Instagram sponsored posts
Very similar to Facebook sponsored posts, Instagram sponsored posts offer free samples directly on the platform so when you see a form from a genuine brand, enter your details and they'll send you a sample in the post.
Follow other freebie finders on Instagram
This is a good tip that can apply across the board when looking for free stuff on social media, but it's probably less intrusive to follow freebie finders on Instagram rather than send them a friend request on Facebook. 
I also find that the Instagram freebie community are a lot more welcoming and collaborative, sharing links and giveaways as soon as they launch.
Here are some amazing freebie finders who are on the ball when it comes to finding free stuff online:
How to find free stuff on Pinterest
Pin your way to freebies on my favourite social media platform, Pinterest.
Honestly, I could be on there all day looking at interior design, blog advice, fashion inspiration, the lot!
Anyway, it wasn't until recently that I realised you could actually enter comps on Pinterest.
It's quite a new territory for lots of brands, but some are way ahead of the game.
Like Ted Baker, who hosted this wedding Pinterest competition.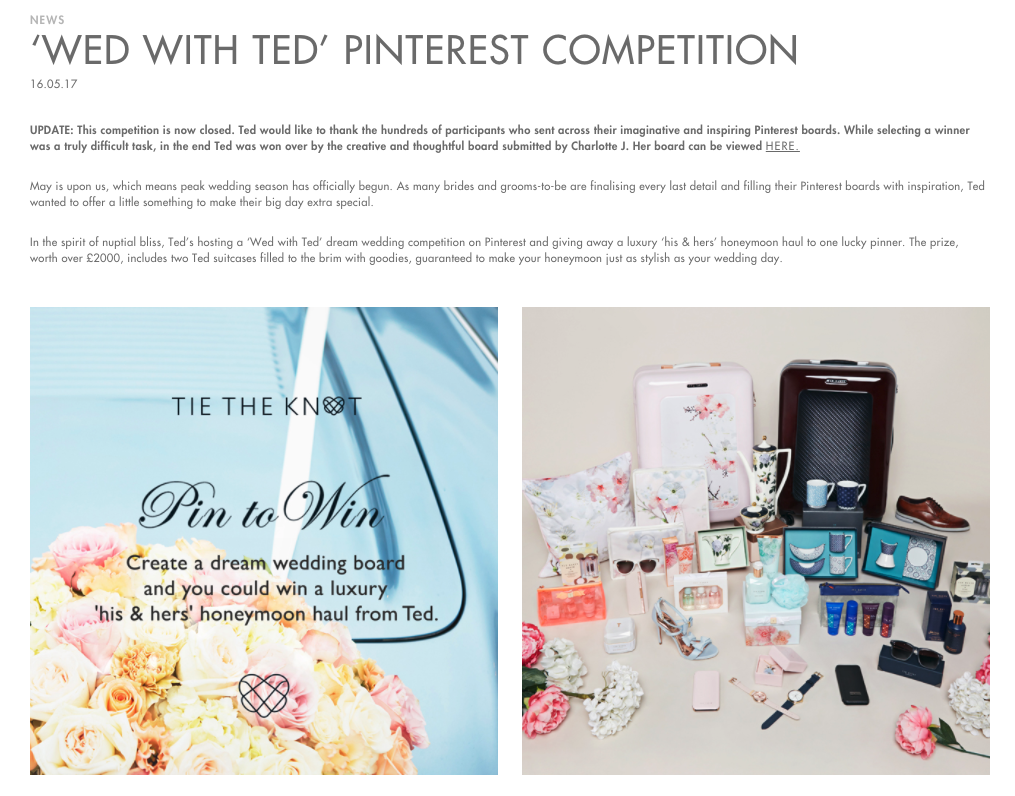 With this one, you had to make a Pinterest board filled with inspiration for your own wedding to win a load of wedding freebies from their new range.
If you're worried someone might copy your board, you can always set your board to private until you're ready to submit it or right before the closing date. That's what I do.
Keep an eye out for these ones, as I think your chances might be quite high.
That's because it's creative and not a lot of people enter because they don't know about Pinterest or Pinterest competitions.
I don't have social media, how can I still get free stuff? 
If you don't have a social media account, that's ok! There are still a number of ways to get freebies including:
Applying for freebies online through freebie sites and signing up for email newsletters – find out more about claiming freebies now
Emailing companies if you know a competition is running exclusively on social media and asking to be entered without having an account
Apply to be a product tester to get free stuff in exchange for your feedback
Get freebies through reward schemes such as Debenhams Beauty Club, which gives away beauty freebies each month and get LOADS of birthday freebies from High Street brands
Use cashback sites or cashback apps to get free stuff and earn free cash when you shop 
Find coupons either online or in print from newspapers and magazines
Write to companies to ask them for freebies 
>>> Related: 60+ best loyalty schemes in the UK <<<
Final tips for finding free stuff on social media
Social media is packed full of giveaways for you to enter and hopefully win, but remember:
Be active – brands sometimes get to choose the winner themselves and they're more likely to choose a real looking people than a fake account. Plus, being active means you can react quickly if you've been selected as a winner
Be polite to other compers and freebie finders – both in groups and on your profile. Brands won't pick a meanie for a winner and you'll get kicked out of groups and might miss out on upcoming giveaways!
Finally, you might not always win, but keep trying!
Good luck everyone!
Do you use any other methods to find giveaways on social media? Let me know in the comments 🙂
For more ways to get free stuff, check out my post on how to get free stuff in the post every day and don't forget to scour my latest freebies & deals page for the best offers!
Pin for later…