Have you heard of Bounty? It's a great website and app that offers support to new parents and parents-to-be. I would say that besides the NHS website, the Bounty app is probably the main source I used to get information when I was pregnant with Rose. Did you know that you can also get free Bounty packs during your pregnancy and once your baby is born?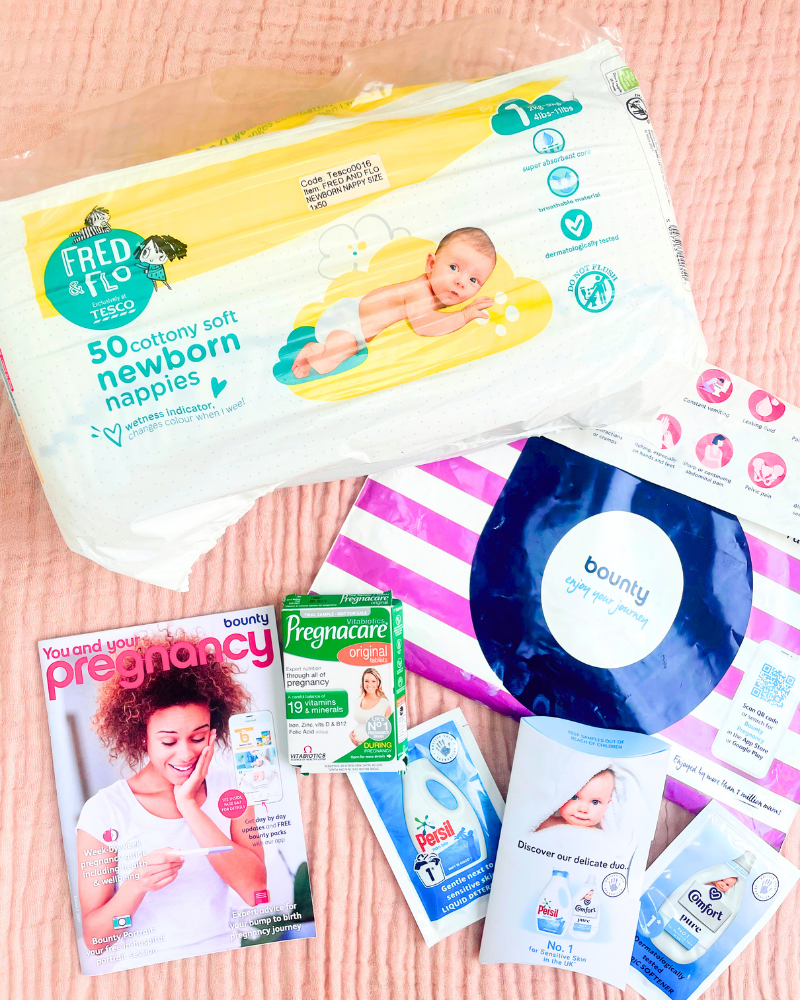 These are packed full of useful baby freebies, discounts, buying guides for baby essentials, and health advice for you and your baby.
I had never heard of Bounty or Bounty packs until I was pregnant, and even then, I wasn't 100% sure how to claim them until I did some digging. It turns out, they're pretty easy to get your hands on, actually!
And I'm going to show you exactly when and how to claim your free Bounty packs in this guide…
Before we begin, don't forget to check out my ultimate list of pregnancy and baby freebies you can claim right now in the UK!
Who are Bounty?
We all want the best for our babies and it's inevitable that when you're pregnant, you'll end up panicking over what you'll need. Once you start Googling, all that information can be confusing and draining. Especially when you have brands targeting your searches, trying to convince you their products are the best. That's where Bounty comes in!
Bounty offers parents and parents-to-be support throughout your entire pregnancy and beyond. From helpful guidance on getting pregnant, to baby names, car seat advice, and more, they have got you covered!
I also definitely recommend downloading the free Bounty app (you will need to download it to claim your mum-to-be pack anyway.) You get lovely little weekly updates on your baby's development; both in the womb and once they're born. The app also features a list of really useful offers to help you save money on all your baby essentials.
What are Bounty packs?
Bounty packs are free bags, which are given away by the family parenthood support website, Bounty. These packs are full of pregnancy and baby freebies, discounts, and leaflets to help you save money on pregnancy and baby essentials.
How many Bounty packs are there?
There are three Bounty packs up for grabs:
The pregnancy information folder
The Mum-To-Be pack
The Newborn pack
How do you claim free Bounty packs?
Your pregnancy information folder should be given to you at your booking appointment, and your newborn pack will be given to you in the hospital once you have given birth.
The mum-to-be bounty pack is the only pack you will need to collect yourself. To get this pack, download the Bounty app and register for free and you will receive your voucher to pick up your free Mum-to-be Bounty pack at your nearest participating Tesco store.
You may also like: Five tried and tested ways to get free Pampers nappies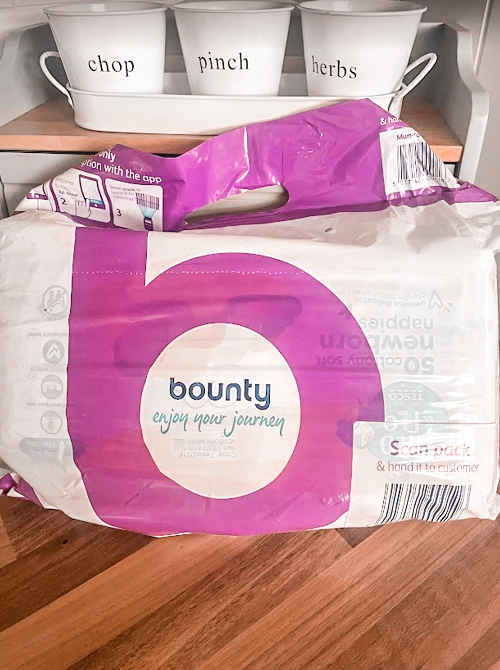 What's inside each pack?
Each Bounty pack contains a mix of freebies and free samples, information, and vouchers. Here is what is in each one:
PREGNANCY INFORMATION FOLDER
You will receive this at your first midwife booking appointment. It is a purple-striped folder and will hold your green maternity records booklet. Inside this pack, you will also find a few samples. Mine had a Persil non-bio sample, a sample pack of Pregnacare vitamins, a few leaflets and a Bounty Pregnancy guide.
BOUNTY MUM-TO-BE PACK
This pack contains a free pack of 50 Tesco Fred & Florence newborn size one nappies, a baby essentials buying guide, and a few leaflets with discounts for various brands, including Pregnacare vitamins and Beaming Baby.
NEWBORN BOUNTY PACK
Your newborn Bounty pack includes a free pack of Lupilu newborn-size nappies, Mum & You biodegradable baby wipes, vitamin D drops, and sudocrem nappy rash cream.
You'll also receive an HMRC child benefit form, money-off vouchers for various baby brands listed above in previous packs, and advice from organisations such as the Lullaby Trust, British Pregnancy Advisory Service, and The Sepsis Trust. Plus, an immunisations information leaflet.
I was a little bit gutted that there weren't any available at the hospital where Rose was born, but to be honest, that was the last thing on my mind when I gave birth! I only remembered to ask when we were leaving, which is when they told me that they hadn't had any deliveries of the newborn packs.
I didn't mind too much in the end, as we were very fortunate with all the other baby freebies we'd managed to claim!
You may also like: How to get a free pack of Aldi Mamia newborn nappies
Is it worth downloading the Bounty app & claiming Bounty packs?
I would say 100% yes! It is definitely worth downloading the app and claiming the packs too. I got so much information from the app and loved all the notifications about how Rose was growing and what was happening or about to happen with my body too.
I also took advantage of lots of the offers, which were exclusive to the app.
As you may know, I'm always on board when it comes to claiming freebies anyway, especially useful ones like a pack of 50 free nappies! That alone is worth downloading the app for. Especially if you shop at Tesco or are local to one, it's a no-brainer, surely?
I know the other samples and coupons may not seem like they'll save you a fortune, but they will help you test out products you may not have heard of or want to try before you buy too.
Save for later…