With Autumn on the way, a lot of us are packing away our preloved Summer classics. Instead, we're heading for the jumpers and puffer jackets! Many of us have also been busy decluttering our wardrobes over lockdown.
So what happens to all your second-hand clothes? Instead of simply tossing them, did you know you can actually make money from preloved items instead?
Here's my favourite ways to make money from preloved clothes…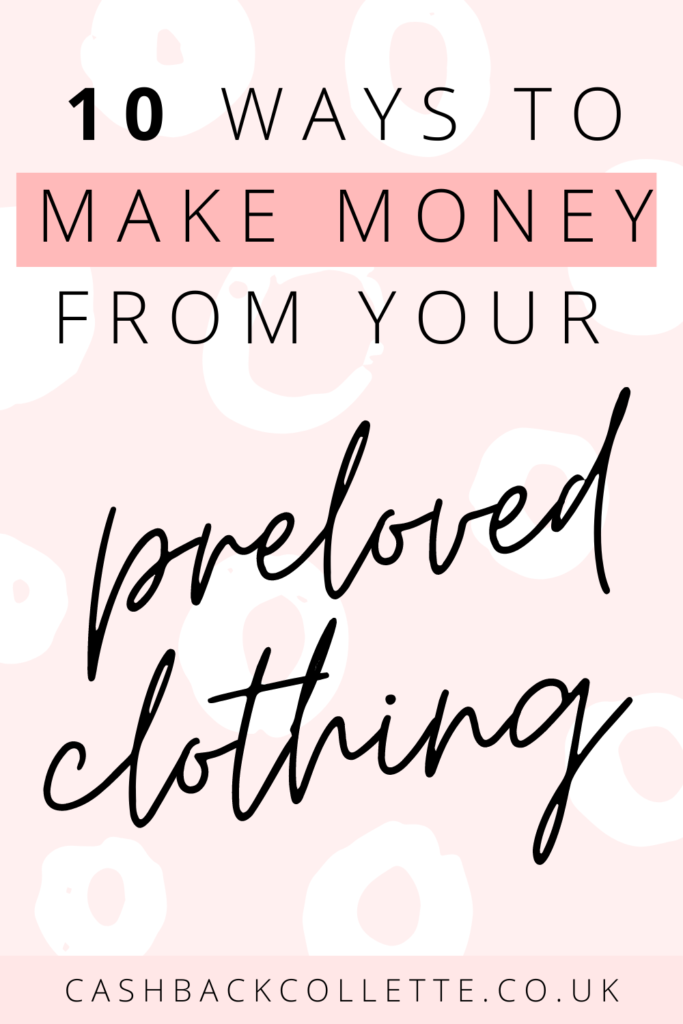 1 – Sell your clothes online
Let's start with a pretty obvious way to make some cash from your clothes. Selling them! Sites like eBay are an obvious choice, but there are loads more options like Vinted or Depop.
Plus, you've got local selling sites like Pre-loved and Facebook MarketPlace. For extra special vintage places, Etsy is another great option!
To help you decide where to sell your wares, I've written a whopping list of 20+ places to sell your clothes online. This helpful guide features all the pros and cons of each site, plus tips to start selling clothes for beginners.
Here are a few top tips for selling clothes:
Take amazing photos – try modelling them yourself or styling up a flat lay to help your listing stand out
Price your items fairly – remember, they are preloved after all!
Be honest about the condition – state any obvious flaws to avoid the buyer wanting to return an item (such a faff!)
2 – Car boot sales
Not precious about your items? Would you just like a massive clear out all in one day? A car boot sale is definitely the way to go. Hang items on hangers off your boot or a rail if you have one.
Alternatively, you can fold items neatly in a box (although this never lasts long!). Then group similar priced items together & label the box everything 50p, etc. Here are my top tips on how to sell out a car boot sale!
3 – Join in a jumble trail
A jumble trail works a little differently to a car boot. It's definitely more convenient! They work like yard sales in the US. You join others on your street and in your local area to sell stuff outside your house.
There used to be a website but now it's just a Facebook page, where members manage their own participation. These are often announced on local group community pages too. Keep an eye out for your next one and get involved!
4 – Recycle clothes for rewards
Did you know there are LOADS of brands that offer you money-off vouchers in exchange for recycling old clothes? With some offers, the clothing doesn't even have to be specifically from that brand or in good condition! H&M, M&S, Sweaty Betty, Monsoon, plus loads more have recycling rewards schemes.
Check out my massive list of high street brands that reward you for recycling to find out more.
5 – Dress agencies/consignment stores
Dress agencies or consignment stores are basically people that sell clothes on your behalf either online or in their shops. There's no actual upfront charge selling clothes this way. Instead, they take a commission and the percentage may vary based on who you go to and what you're selling.
It's a really good way of selling clothes that are in good condition. Especially if you're time poor (or can't be bothered selling them yourself haha!). And just want someone to handle all the admin.
6 – Rent out your clothes
Now, this may seem like a rather odd suggestion, but stick with me! Sites like HURR provide a platform to let you rent out your preloved clothes safely. They do everything for you!
I will admit, it is designer goods only. BUT it's perfect if you splurged on a special piece, but have fallen out of love with it. And yet, you're not ready to part ways just yet…
7 – Sell your used clothes at auction
I'm not talking eBay auctions here. Local auction houses are perfect for selling job lots of preloved clothes off to the highest bidder. You can also sell single items like occasion dresses and trainers in their own lot too. That's if you feel it's worth it, effort and cost-wise.
Have a google for local auction houses near you and make sure you check the commission before committing. Some auction houses charge the buyer fees, but others the seller.
8 – Cash for Clothes
A lot of people see Cash for Clothes as a last resort. I personally think it's a great option. Especially if you've got a LOT of second hand clothes that you'd like to get rid of in one go.
It saves you waiting around for an item to sell, you can make 50p per kilo of clothing. You won't become a millionaire, but you will free up some space in your wardrobe.
9 – Host a preloved clothes swap
Ok, technically this one won't earn you any money for preloved clothes. Also, probably not doable in coronavirus times. That being said, a clothes swap is a fab way to swap preloved items for someone else's unloved pieces.
You can host it at home or hire a venue and charge entry. Even better, you could do it to help raise funds for your chosen charity. It's such a lovely way to get everyone together. I've been to a few and had a really great time catching up with friends and shopping for new clothes. Guilt-free!
10 – Get coupons & discount codes for preloved clothes
The reGAIN app is a great incentive to trade in your clothes in exchange for coupons and discounts. The way it works is, you pack up any unwanted preloved clothes. Donate them to charity and get rewards from popular retailers like Boohoo and AO. What a great idea!
More ideas to make money from second-hand clothing
Ok so technically, I mentioned recycling twice so here are some more ways to make use out of second-hand clothes:
Upcycle clothing to make items like curtains, duvet throws or cushion covers & sell them online
Save money by gifting second-hand items in good condition to loved ones on special occasions e.g. birthday, Christmas, etc.
Give clothing a new lease of life by transforming them with things like tie-dye and crochet etc.
There we have it! I hope I've inspired you not just to throw your preloved clothing away.
Pin for later…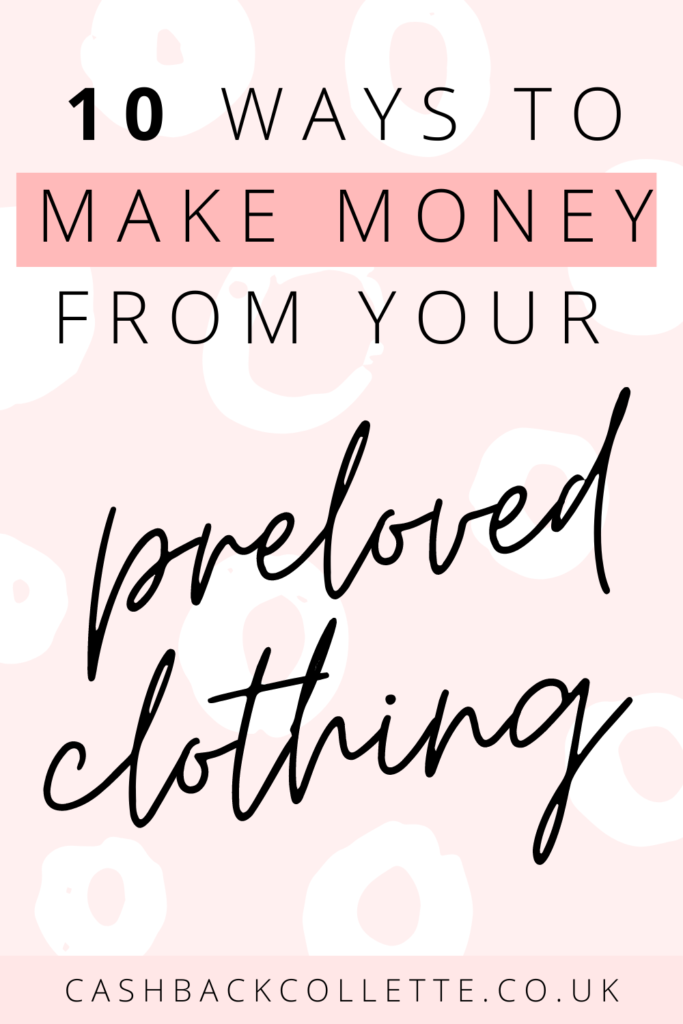 This post contains affiliate links, which means I receive a small commission if you decide to purchase some of my recommended products or services, at no extra cost to yourself.