Looking to sell clothes online for a bit of extra cash? If you're like me, you'll have spent most of the lockdown frantically decluttering your closet.
Sound familiar?
While most of us would usually drop everything off in one go at our nearest charity shop, the lockdown has provided a unique opportunity to sell clothes online and put some money back in our pockets!
But… Where do you sell your clothes, exactly? There are loads of selling sites out there but which are the best ones for selling clothes?
Keep reading to find out…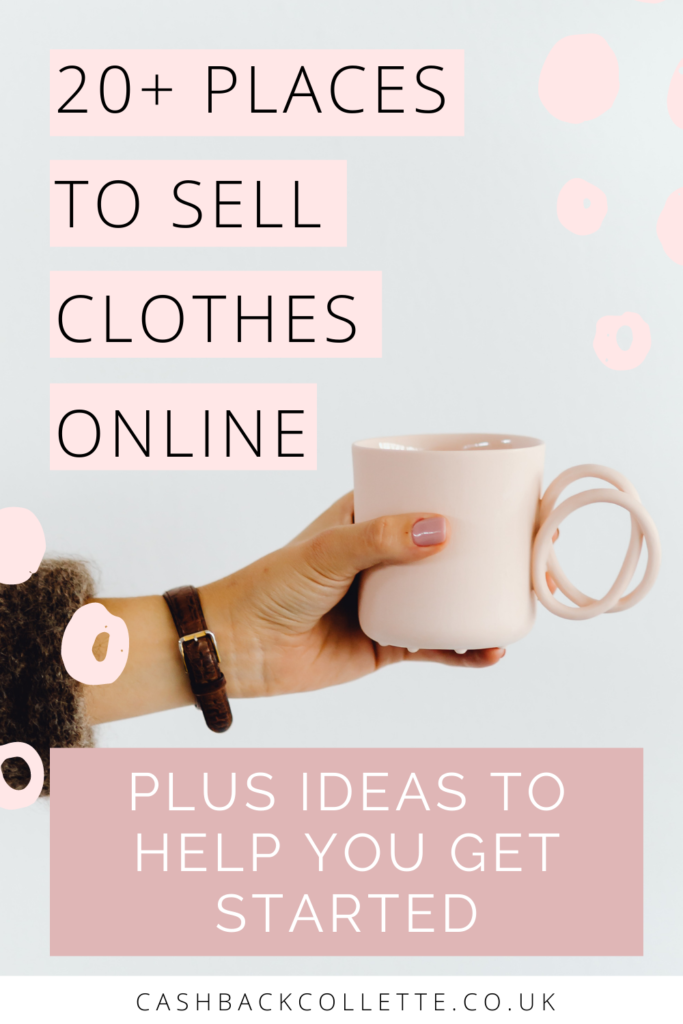 Selling clothes online for extra cash
Best for: flogging high street clothes such as Topshop and Zara
Let's start with everyone's favourite marketplace, eBay! There's the option to sell via auction or buy it now, which both have their positives. It's probably the most popular selling site ever! Meaning you can sell clothes online quickly and get money in your pocket faster.
Commission fee: eBay takes 10% of your final listing price, including postage, so it's worth factoring this into your price. There are £1 max fee offers every two weeks or so, where you won't be charged over £1 per listing sold within that period. I would personally wait until you see these offers to start listing.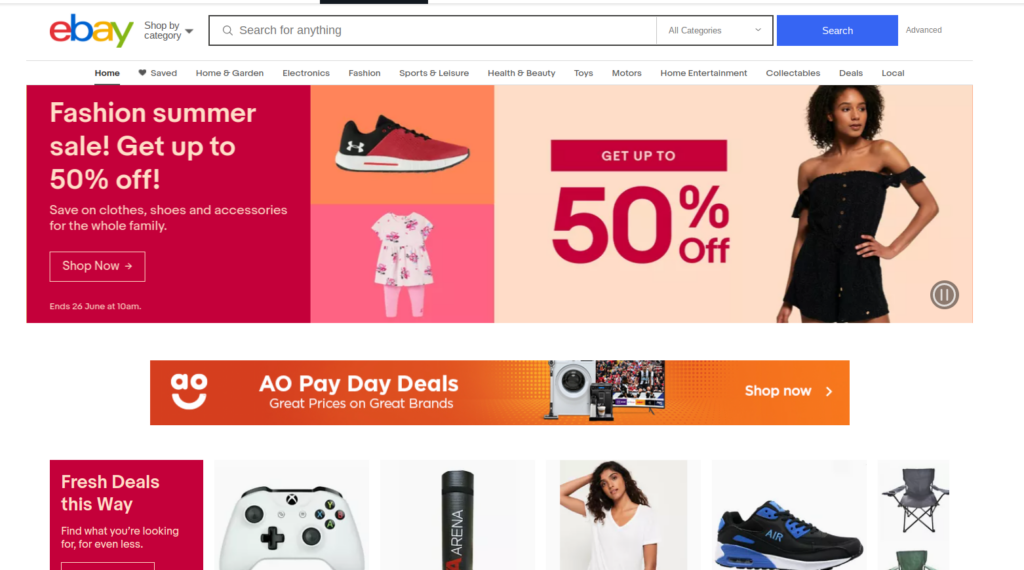 Pros of selling on eBay
24 million buyers in the UK alone!
Global shipping programme allows you to sell abroad with less fuss
You now get a whopping 1,000 free listings (no insertion fees) as a personal seller
Trust factor – everyone knows eBay!
Flexible shipping, dispatch times and postage options
Cons of selling on eBay
On average, 60 million other listings to contend with!
Wrapping and posting your items can be quite time-consuming
Customer service team often sides with the buyer if there's an issue
If you cancel an auction before closing, you will be charged fees
For extra perks like holiday mode, you'll need a business account
Related posts to help you get started on eBay:
How to start selling on eBay – a complete beginner's guide
125+ best selling items to sell on eBay
What to do if your items aren't selling on eBay
Best for: High street clothes & accessories
Vinted is quite similar to eBay, but there is no auction option. It's definitely up and coming and perfect for selling unwanted high street clothes. Buyers can make you an offer on the platform and you can also swap items with other sellers – fun!
Commission fee: 100% free to list and sell!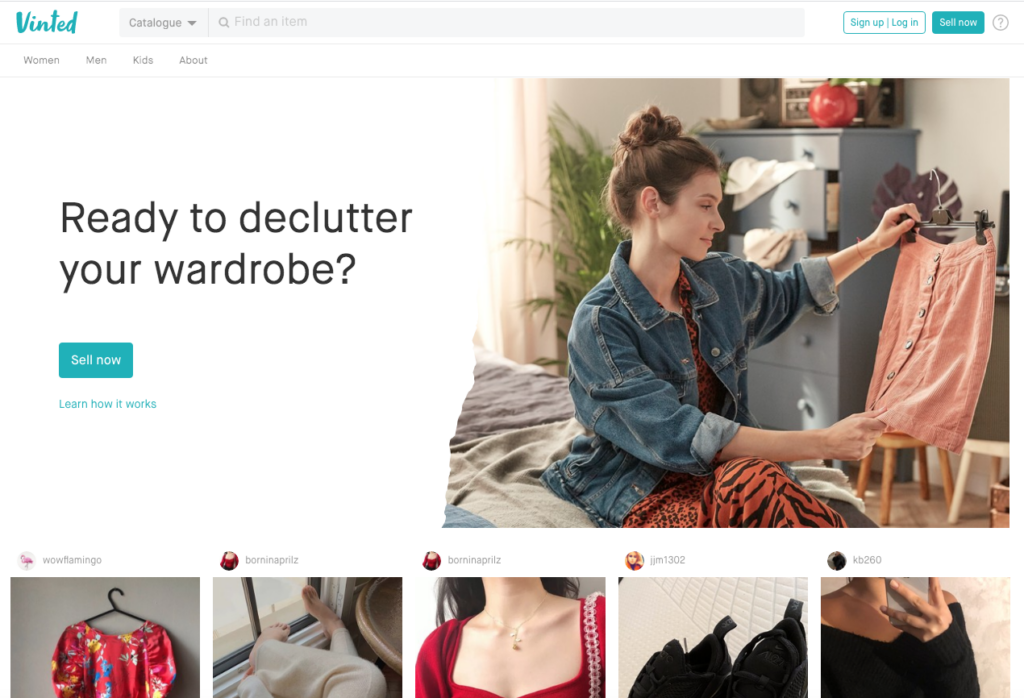 Pros of selling clothes on Vinted
No seller fees – they charge the buyer instead!
There is a friendly community where you can chat to other members
It's really easy to list your clothes in comparison to sites like eBay
Cons of selling clothes on Vinted
You don't actually get paid until the buyer confirms they have received the item (keep hold of your proof of postage!)
It's not as popular as other sites like eBay so your audience isn't as big, meaning sales can be quite slow
Best for: Vintage & quirky clothes
Depop is a social shopping app that has made its way here from the US and has been described as eBay and Instagram all rolled into one. You can use hashtags in your listings and like, comment, and save items on your account.
Lots of influencers sell clothes on Depop via their Instagram account, as it's so easy to use!
Commission fee: 10% of all your sales including shipping costs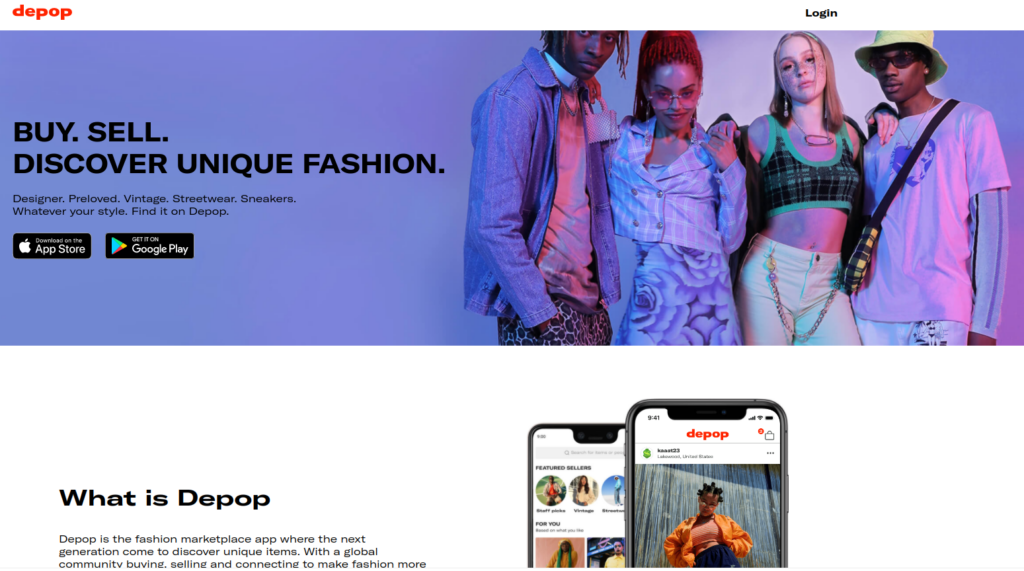 Pros of selling clothes on Depop
Colourful and iconic, one-off style pieces sell super fast
The app is free and super easy to use
Similar to Vinted, you can also swap items with other sellers
Cons of selling clothes on Depop
You'll get charged 10% of all sales straight away
Quite a few rude buyers who demand you accept their low ball offers
You have to stay in touch with the buyer and make sure they received their item
Best for: Selling any outfit which is styled right!
You might be wondering what Instagram is doing on this list, right? Well, many influencers have had a LOT of success in turning their Instagram account into their own personal selling page.
One example that comes to mind is Sophia Rosemary who is a blogger who sells vintage clothes via her Instagram shop Top of the Town Vintage. You don't even need to be a mega-famous influencer to get started!
Commission fee: It's free to set up an account and post photos of your items
Pros of selling on Instagram
Instant fashion-conscious audience ready to buy the next trend
A chance to showcase your personality and hone your photography and social media skills
No fees or restrictions that other selling sites have
Cons of selling on Instagram
It can be time-consuming to set up, build an audience and manage sales
You have to figure out how to take payments and arrange postage
There's no support or customer service – it's all down to you if something goes wrong
Best for: Getting rid of big bundles of clothes
Believe it or not, Cash for Clothes is still going! It's such a good way to have a bulk clear out and get rid of bags of stuff, all in one go.
Commission fees: It's absolutely free to arrange a collection!
Pros of Cash for Clothes
You get an instant payment of £5 per 10kg when they collect
It's free for them to pick up from your house
It's hassle-free if you're stuck for time and would just like to get rid
Cons of Cash for Clothes
They're very specific on what they accept – check the list on their website first to avoid disappointment
Depending on demand, it could take a while for them to get back to you and arrange an appointment
Best local selling sites to sell clothes
Best for: big clothing bundles & a quick sale
I've flogged loads of clothes on Facebook Marketplace over the years. It's definitely one of my favourite local selling sites! You can list items for free and also add them to local selling groups to boost your chances of it selling. People then come to you to collect and pay with cash.
It's really good for decluttering and selling off loads of items together in one!
Commission fee: Free to sell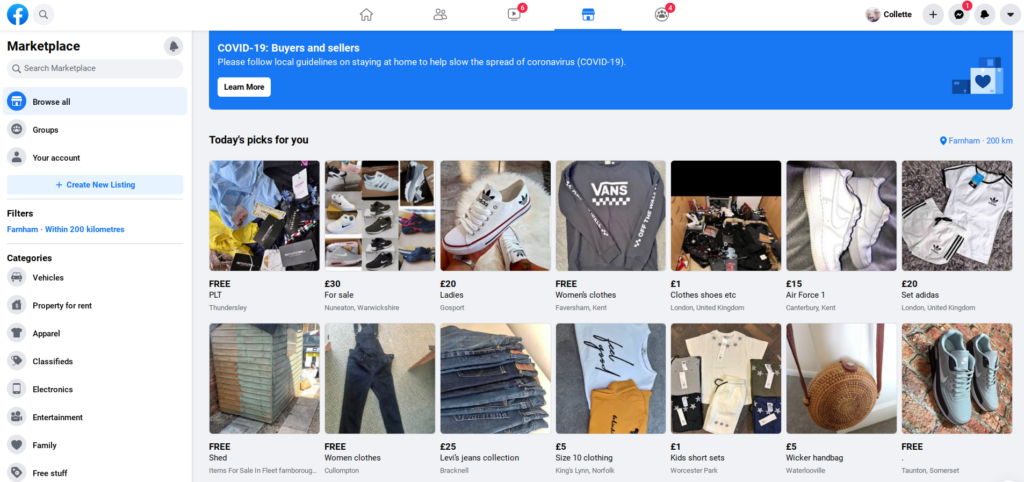 Pros of selling on Facebook Marketplace
Zero selling fees
No postage costs and less time consuming
Boost your items for free to refresh your listing
Cons of selling on Facebook Marketplace
Lots of messages from time wasters who may never show up
You'll get many people trying to haggle you down on price
Limited audience to local people in your area only
Best for: A quick & local clothing sale
If you're looking to sell clothes online, Gumtree is a fab local selling site! It's grown very popular over the last few years, and is a good way to sell a range of clothing items, from high street brands to special pieces like a ball gown or even a wedding dress!
Commission fee: Free to sell, no fees
Pros of selling on Gumtree
Less competition than sites like eBay
Local sales only, meaning cash on collection – straight in your pocket!
Easy & safe to contact buyers
Cons of selling on Gumtree
The website listing process is a bit fiddly in comparison with other sites
If there is little demand for your item, it can take longer to sell
Best for: Selling secondhand clothes locally
Preloved is a free, local classified ads site with millions of UK members! I've used it many times before in the past to buy and sell clothes and accessories.
Commission fee: Free to sell clothes online – hurrah!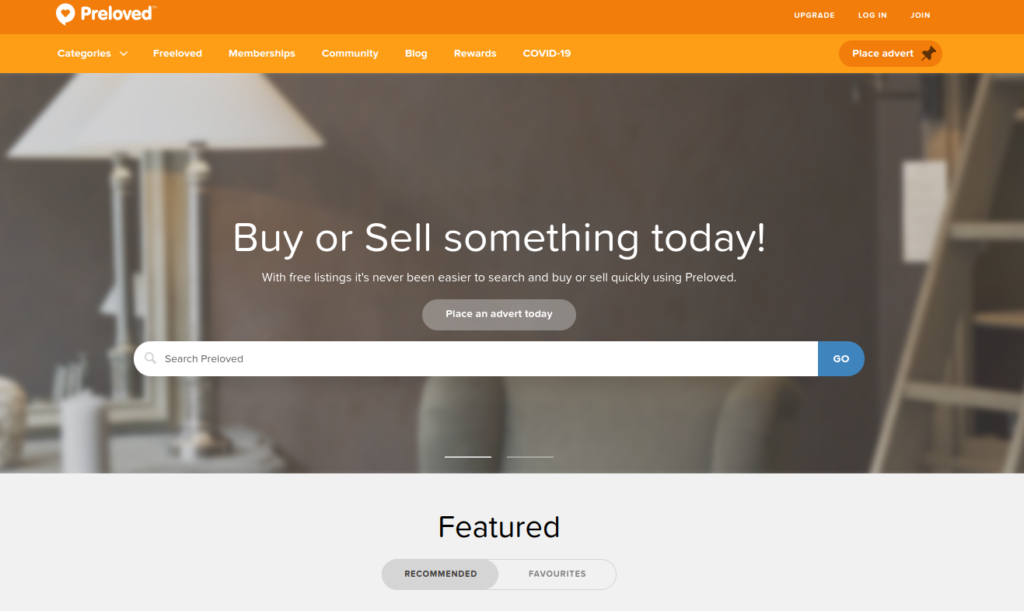 Pros of selling on Preloved
Loyal, local users ready to pick up instantly
Free to use for buyers and sellers
Really easy to list items
Cons of selling on Preloved
You only get three photos per ad – use them wisely!
As with other sites, selling locally means you're limited and items may take longer to sell
Best for: Flogging high street clothing bundles
Shpock has been nicknamed 'the boot sale app' as it's a bit like your local car boot, but in a convenient app. I've always had the best success bundling clothing items up by size and shifting bundles all in one go on this site.
Commission fee: Free to sell on here too!
Pros of selling on Shpock
100% free to use and no commission taken on sales
Opportunity to promote your posts (paid)
Safe for sellers and buyers
Cons of selling on Shpock
Allows buyers to make low ball offers on items
Attracts time-wasters who might not show up
Best sites for selling designer clothes
Best for: new-ish designer and luxury clothes
Selling authentic, designer stuff on eBay and local selling sites like Facebook can be tough. Quite often, they remove items even if they're genuine, for fear you're selling dodgy goods. That's why Vestiaire and similar sites are better for selling designer stuff. You can either list the item yourself or have them do it for you for an extra fee.
Commission fee: 20% if you sell yourself, 25% if Vestiaire sells it for you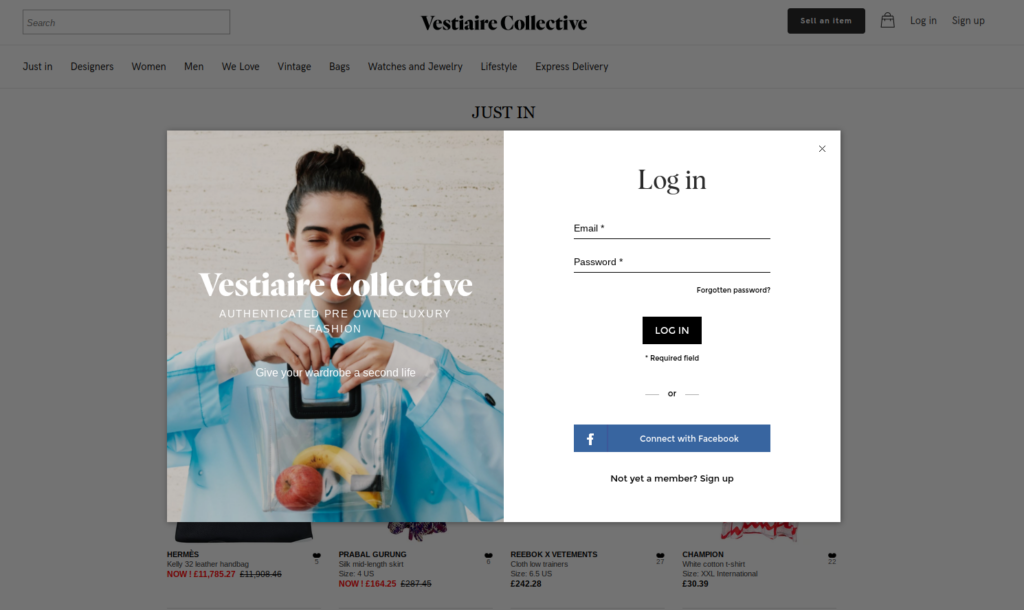 Pros of selling on Vestiaire
Vestiaire have experts on hand to authenticate products without any fuss
They do everything for you including posting the item onto the buyer
The site is very popular, so chances are your items will sell quickly
Cons of selling on Vestiaire
The only con really is that the commission fee is quite high but it's worth it, as they cover everything
Best for: Secondhand designer clothes & accessories
Rebelle is a great choice for selling your best designer clothes. You can either list the items yourself or pay a little extra for the concierge service to do it for you. Perfect if you're short on time!
Commission fee: This depends on how much your items sell for. As a general guide, it's between 17% – 33% and if your items sell under €40 you get charged a flat rate of €20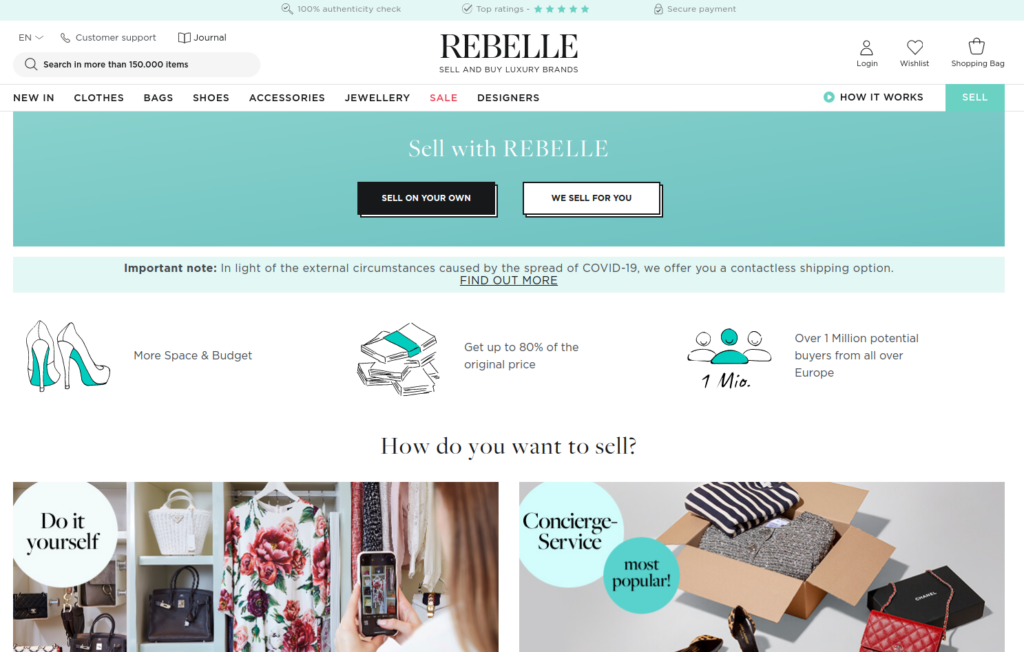 Pros of selling on Rebelle
It works a little like an online dress agency – they do all the hard work for you!
You never have to pay postage fees, they send you a pre-paid shipping label and helpful instructions on how to post your items
They have an excellent FAQs section on their site and amazing customer service
Cons of selling on Rebelle
The high fees mean it's only really worth selling high-value items
Depending on the demand, it could take a while to sell
Best for: Pre-owned luxury fashion items
HEWI is another great option for selling high-end, luxury items. Simply create your profile and get listing your designer gear to make some extra cash. Make sure you include as much detail as possible to increase your chances of selling!
Commission fee: 18% of all final sales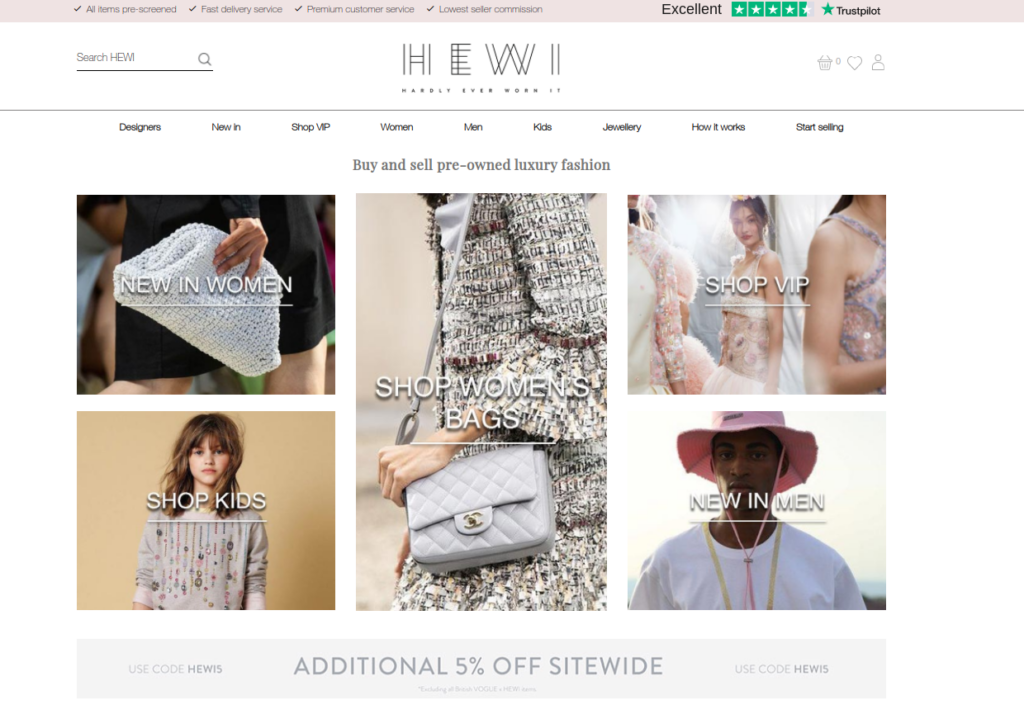 Pros of selling on HEWI
It's free to list your items
You can add personality to your profile, which often encourages sales
There is the option to become a 'VIP' where they do everything for you!
Cons of selling on HEWI
You have to wait for HEWI to approve your listings before they go live
On a basic account, you have to do all the leg work, which includes shipping your parcel
You don't get paid until 7-14 days after the buyer confirms they have received your item – so you're at the mercy of the buyer
Best for: luxury designer fashion and accessories
Cudoni is a fancy new online marketplace where you can buy and sell luxury designer items like clothes, handbags, luggage, watches, and even high-end consumer electronics!
Commission fee: 30% although it states in their FAQs the more you sell, the cheaper it becomes
Pros of selling with Cudoni
They take care of everything! Including collection, photographs, authentication, valuations, and shipping
They pay you as soon as an item sells straight into your bank account (or you can choose a charity to donate to)
If you're not happy with your valuation, they return your items free of charge
Cons of selling with Cudoni
The commission is quite high (but they do everything for you so it's worth it)
It's quite new so items could take a while to sell, although it's gaining traction thanks to the likes of Made in Chelsea folks and press
Best for: High end designer & fancy high street clothes
Vide Dressing is another online clothes marketplace where you can sell clothes online. Similar to Rebelle, Vide acts as an online dress agency, authenticating products, organising your deliveries, and everything in between.
Commission fee: Free on sales up to €150! Then it's 15% but is never more than €300
Pros of selling on Vide Dressing
You can sell a good selection of designer and more affordable luxury options like Sézane
They provide pre-paid labels
The customer service is really good and helpful
Like Rebelle, it's a great option for those who are time-poor
Cons of selling on Vide Dressing
Not as well known as other platforms, meaning your item will probably take longer to sell
There is a limit on how much you can earn in a year
Best for: Decluttering designer clothes & handbags
Edit Secondhand works slightly different to other places where you can sell clothes online. You send them a list of items and they'll get in touch with an estimated commission. They have a huge list of brands they accept on their site so it's worth checking this before you email them.
Commission fee: All depends on what you have to sell
Pros of selling with Edit Secondhand
Independent UK business who work similarly to a dress agency
They are honest about pricing and aim to get the best price for you
Dealing with them directly is often quicker than bigger corporations
Cons of selling with Edit Secondhand
You have to pay to send the items to them
They don't tell you the commission until they've received your items
The estimate they initially give you will probably decrease once they've seen the items
Best for: Selling & swapping designer accessories
Designer Exchange is a really good place to sell any unwanted bags, shoes, and clothes accessories. They buy the bag from you like at a pawn shop and pop the money in your account or give you the same amount in vouchers to spend on their online store.
Commission fee: It's free to get a valuation but their fees may cut into your final price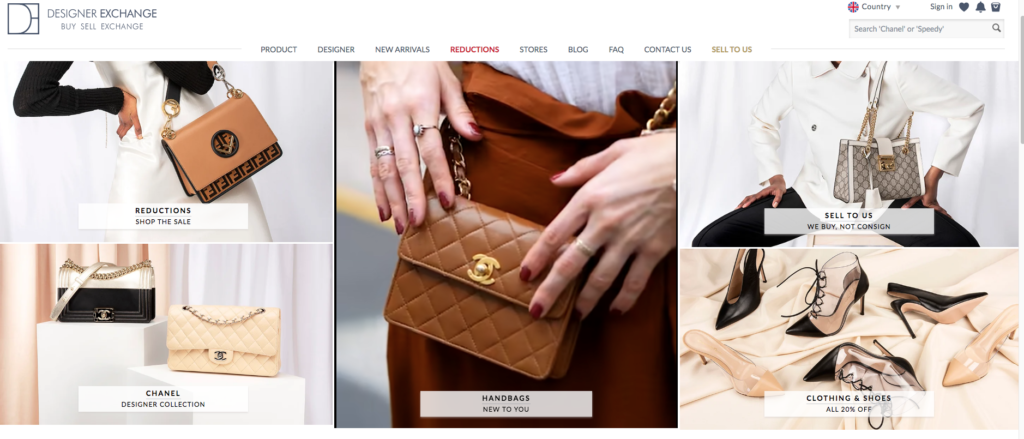 Pros of selling on Designer Exchange
It's a quick and hassle-free way to get paid for your stuff, rather than wait for a buyer to come along
They pay you really quickly once they've authenticated your items
There isn't any limit on how much you want to sell to them
Cons of selling on Designer Exchange
As with all sites like this, they will talk you down on price to ensure they make a profit on the item once they've sold it online
Best for: Renting out your best pieces
If you're not quite ready to part with your clothes yet, have you considered renting them? HURR is a fab website that lets you rent out your top pieces securely.
Commission fee: It's completely free to rent out your wardrobe!
Pros of HURR
It's really easy to set up and very secure!
The customer service team are super helpful
It's a great option, which lets you set your own rental price
You get paid very quickly (sometimes within 24 hours!)
Cons of HURR
There is always the chance your item might not be returned to you in the same condition you rented it out
The strict signup process might put renters off
You need good quality, designer pieces – which not everyone has in their closet
Best selling sites for vintage clothes
Best for: Unique vintage & hand-crafted items
I absolutely love Etsy! It's packed full of handmade and vintage gems, including loads of clothes and accessories. If you have anything rare or vintage (made between 20 years ago and 100 years ago) then Etsy is the marketplace for you!
Commission fee: 3.5% transaction fee and 3% payment processing fee
Pros of selling on Etsy
A guaranteed audience ready to get their hands on vintage goods
You can charge extra for items, as they're more in demand
Fewer returns or problems, as the buyer is usually more aware of what they're buying if it's vintage or specialist
Cons of selling on Etsy
Higher commission fees than other sites
Niche marketplace, meaning it could take longer for an item to sell
Best for: selling vintage clothes to young hipsters
ASOS Marketplace isn't really the kind of place to flog your scuffed Primark heels. It was set up to sell 'hip' vintage stock, so things like acid-washed dungarees, retro sportswear, and floral vintage dresses.
To sell on ASOS Marketplace, you'll need to set up a boutique and list at least 15 items, so dedication is required! I'll be honest. I would only really recommend this option if you're into vintage fashion and would love to open your own vintage reseller store.
Commission fee: You'll pay £20 a month to keep your shop open and also pay 20% on top when you sell an item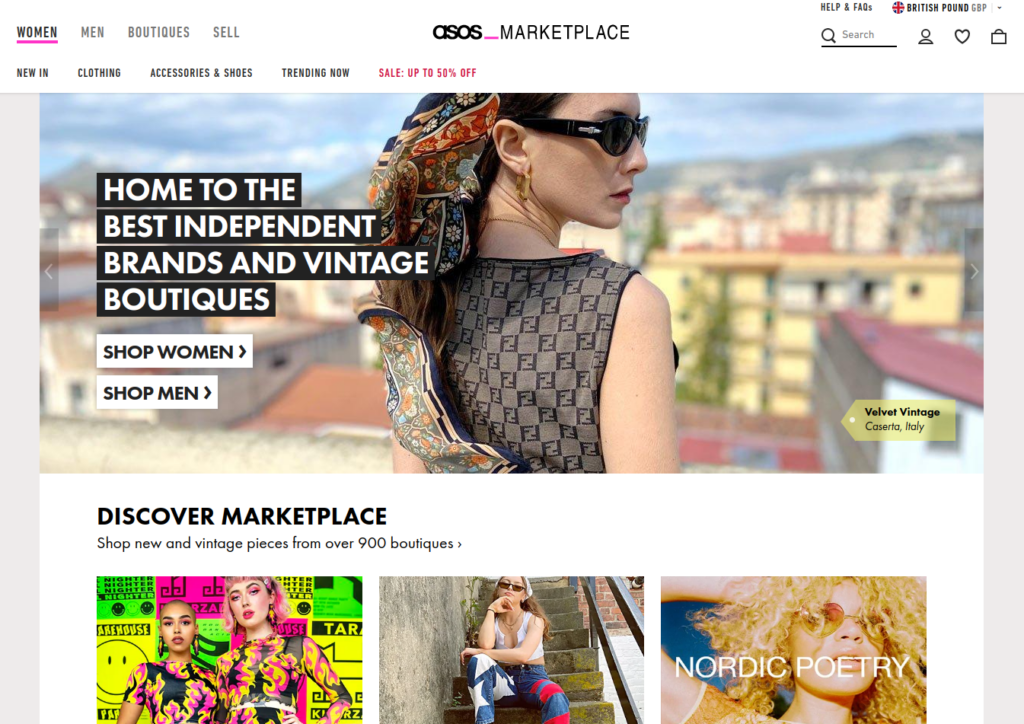 Pros
Opening your own boutique is really simple and fuss-free
There is no minimum contract and you can cancel anytime
Holiday mode is included so you can pause your listings for free
Trusted ASOS brand name backing
Less time wasters than on other platforms
Cons
The fees are quite high in comparison to other selling sites
You'll need to take professional photos with models, which can be demanding and time-consuming
You MUST ship your item within 2 days and add tracking
ASOS do not provide customer service, that is down to you
Best sites to start selling clothes full-time
Speaking of starting your own business… Here are two sites that can help you sell clothes for a living!
Best for: Selling pre-loved luxury clothes globally
Leprix is another site I came across a while ago when I started to sell clothes online. You can either become a consignment partner and send your stuff to them to sell or set up your own boutique.
Commission fee: It depends on which method you choose to sell things
Pros of selling on Leprix
Worldwide global network of partners and fellow resellers
Free pre-paid labels to ship and sell
LOADS of benefits for boutique owners including seller protection, wholesale product prices, and more
Cons of selling on Leprix
The boutique vetting application process can be quite strict
It's only for luxury designer items
Only really worthwhile if you're wanting to start your own business, rather than flog items for quick cash
Best for: Setting up your own clothing business
Shopify is an amazing eCommerce platform where you can set up your own online store. Think this sounds like too much and not for you? I've seen lots of people make a success out of selling pre-loved clothes on this platform!
Commission fee: 14-day free trial, then $29 monthly (and 2.9% + 30¢ per transaction for a basic store
Pros of selling on Shopify
Loads of free templates and help to get you set up
Excellent customer service!
Scalable and integration opportunities across social media
Cons of selling on Shopify
It takes dedication to maintain your online shop
Could take a long time to build an audience and get traffic to your website
Only worth considering if you're setting up a business, not just selling a few bits and bobs
Top tips for selling clothes online
Ready to start selling your clothes online? Great! Here are some top tips to help you get started that have helped me sell clothes online super quick over the years:
Clean, iron and/or steam clothes first – give your items the best chance of selling by looking fresh and clean
Take AMAZING pictures – showcase your clothes in the best possible light, either on a hanger or by investing in a mannequin like this one, for just £20!
Be honest about the condition – you can still sell clothes with minor flaws like bobbling or even a tiny hole, just make sure you mention it in your listing
Do your research – have a look at what similar items have previously sold for and price your item fairly so that it's not hanging around
Don't be shy with the description – give potential buyers as much detail as possible, including fabric, style, brand, size, and any special features e.g. pockets, zips, etc.
Is it worth your time listing? Primark tops fetching 99p on auction on eBay probably aren't worth the time and effort it takes to list and post
More ways to make money from used clothes
Finally, here are some other ways to make money from used clothes:
Try a car boot sale – Read my post here for top tips to sell out!
Host a clothes swap – Invite friends and family members round and ask them to bring any unloved items and get swapping for new clothes!
Exchange clothes for gift vouchers – Recycle bags of clothes in exchange for gift vouchers from a number of top high street brands (see this list for participating stores)
International selling websites – US folks! Try Poshmark and ThredUp for more selling sites to sell clothes online
Tools to help sell & post your clothes
Pin for later…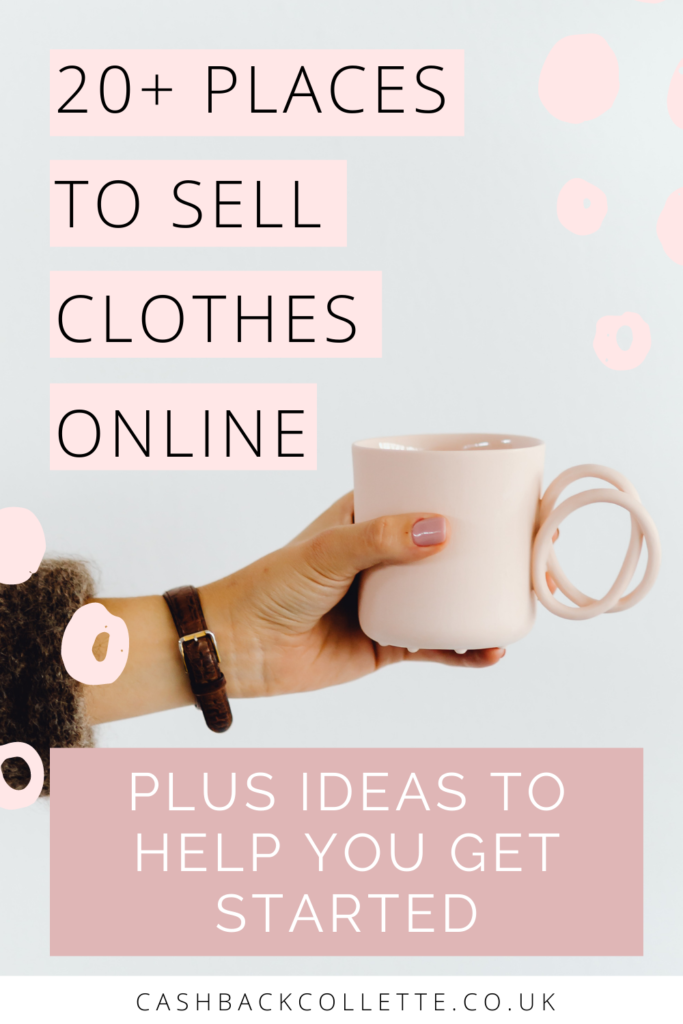 This post contains affiliate links, which means I receive a small commission if you decide to purchase some of my recommended products or services, at no extra cost to yourself.