Are you looking for ways to earn extra money at home during lockdown? It's no secret that the coronavirus pandemic has hit a lot of us hard financially and has shaken up our daily routine of going to work and earning money.
So, I wanted to share with you some of the ways we've been making extra money at home over the past few weeks. I hope these will help bring in extra cash and ease your money worries for the time being!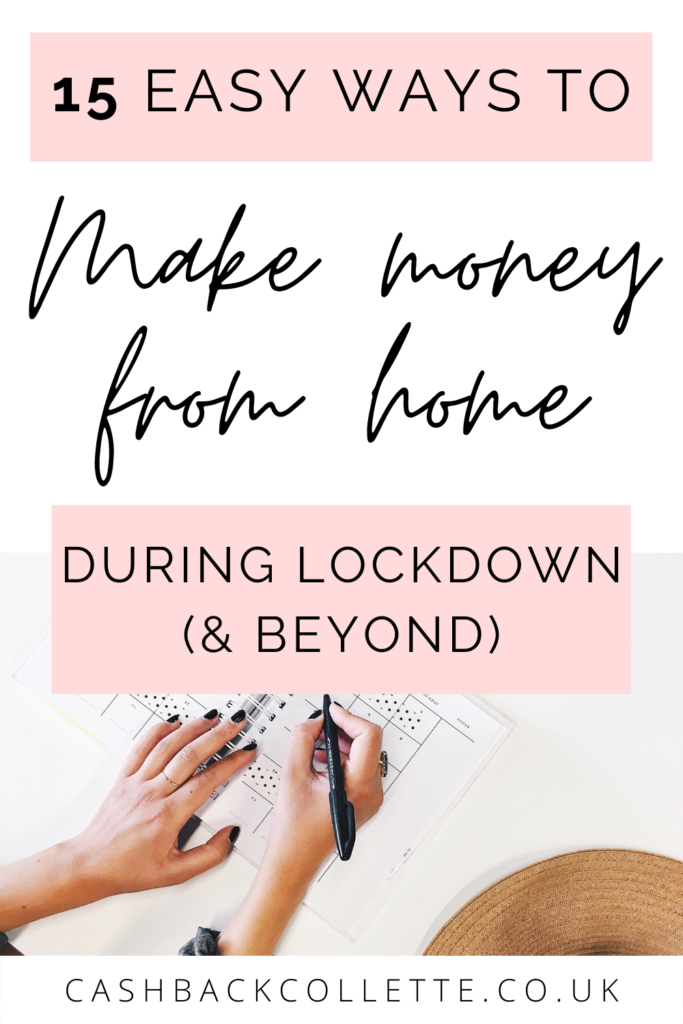 Sell your stuff
Have you got any clothes, electrical items, or toys hanging around your home that you no longer need? Selling your stuff on eBay is a great way to earn extra money fast! It takes less than five minutes to list an item and post offices and courier collection points are still open to post your items.
Check out my complete beginner's guide to selling on eBay to help you get started, plus my list of a whopping 125+ household items to sell for extra cash for inspiration.
If you're worried about eBay fees or don't want to post your items, there are plenty of eBay alternative selling sites to try. Most of these are local selling sites, so the buyer can collect from your home (obviously while adhering to social distancing rules!)
Get paid for your opinion
Survey sites are also a good option for making extra money at home. Some get a bad rep for paying low rates, but there are some that pay really well and add up fast!
My favourites are Prolific and YouGov. Both have really interesting survey topics and you don't get 'screened out' like other surveys. They send you an email every time a new survey is available, so sign up and check your emails daily for extra opportunities.
In terms of when you can cash out, the payment threshold for Prolific is just £5. YouGov's cashout threshold is £50, which sounds like a lot but you can hit that fairly quickly.
Make extra money on Fiverr
Do you have a talent for graphic design, web development, translation skills, or video editing? Fiverr is an amazing online platform where you can offer your skills and make extra money as a freelancer. There are endless opportunities across the platform, and you can also upsell and offer extra services to make even more money! Sign up now for free to get started.
Earn cashback on all your purchases
Get free money every time you shop online with cashback sites like TopCashback and Quidco. You can also claim money back on insurance, holidays, and loads more!
Get a free £10 just for signing up for Quidco and take advantage of earning free cash every time you shop.
Other sites I use to make money fast online are OhMyDosh and Swagbucks. These work similar to cashback sites, where you can get free cash online by signing up for free offers and trials.
Related: TopCashback – the ultimate guide
Related: How does Quidco work?
Related: OhMyDosh – how to make extra cash fast!
Scan your receipts for extra cash
Don't be so quick to throw your receipts away! These are really useful to market research companies, who are curious about consumer shopping habits. All you have to do is upload a photo of your receipt to earn extra money on free apps. Here are my favourites:
For peace of mind, your data remains 100% anonymous, and your personal information will NEVER be sold or passed onto third parties.
Join market research panels
Market research panels are a perfect way to earn extra cash from home! Companies carry out market research before they launch a new product and rely on your honest opinions before going any further.
You can get paid for a range of tasks, including product tests, interviews, focus groups, and more.
My two favourite ones where you can earn the most money include:
Respondent.io – online market research ranging from $50-200 payout!
UserTribe – mainly online or over the phone, rewards are either cash or gift cards – you can earn £100 on some interviews!
Earn extra money on your phone
Did you know there are LOADS of ways you can earn money from your phone? Enjoy earning money playing games and completing tasks, all from the comfort of your sofa or bed.
Fellow money-saving blogger, Emma Drew has written this fab kindle book packed full of 50 genuine apps to help you earn extra cash on your phone. The best part? It costs just 99p, which is an absolute bargain! Plus, you'll make that back in no time, so it's technically free…
Become a tutor to earn extra money
Have you ever thought about tutoring? It's a flexible way to earn extra cash online, up to £1,000 a month in fact! Websites like Tutorhub, Tutorhunt, Owl Tutor, and Tutorful all offer teaching opportunities online.
Each site has different requirements and not all of them require a teaching qualification. Just make sure you fully understand what they're asking you to do before you commit.
Test websites for extra money
Did you know you can test websites for cash? If you have a solid internet connection and a computer/laptop/tablet with a microphone, you can test websites for bugs and glitches for a range of companies to earn extra money. Sites like IntelliZoom, User Testing, and User Feel pay £10+ per test, so definitely worth giving it a go!
Sell your story to the press for extra cash
This one can sound kind of seedy, but trust me it's legit! You can genuinely sell your story to the press to earn extra money at home. I've featured in the press before a few times myself! Here are some places that will pay you for your story:
You can also check magazines and newspaper websites and contact them directly. I would also recommend following #journorequest on Twitter to get in touch with journalists who tweet when they are looking for someone specific to appear in an upcoming paper or magazine feature.
Start transcribing to make money at home
Have you got excellent listening and fast typing skills? A set of headphones and a reliable internet connection? That's all you need to become a transcriptionist! Sign up to transcription job sites like Take Note and look on job board sites such as Indeed.co.uk for opportunities.
You will often be asked to complete a test so it's worth practising before-hand on sites like Typing Test.
Become a virtual assistant
Are you extremely organised? Do you have a lot of patience and experience helping others complete tasks? Becoming a virtual assistant could be right up your street! VA's work remotely and carry out tasks for companies and individuals. Some things you can help others with include:
Data entry
Email management
Appointment scheduling
Social media management
Bookkeeping & accounting
Website administrative tasks e.g. uploading products & content
Plus loads more! It all depends on what type of skills you can offer. Search for virtual assistant jobs on Google and join blogging groups on Facebook. Bloggers can always use extra help! Also, think about friends and family – could you reach out to anyone to offer them support?
Win free money
During your time at home, enter competitions daily for your chance to win extra cash. Cora from The Mini Millionaire won a whopping £11k entering competitions and you could do the same!
Start by looking for competitions on sites like The Prize Finder to find competitions to enter daily. I also absolutely recommend SuperLucky Secrets: 100 tips for winning competitions, contests and sweepstakes. It's packed full of secrets and tips to help you win competitions!
Daily lottery sites are another way to score extra cash at home. They're also free to enter! Here are some of my favourite sites to check daily:
Get paid to search on Google, eBay & Amazon
Qmee is another fab site that is packed full of offers and surveys. Plus, it also pays you whenever you search on Google, eBay, and Amazon! All you have to do is install their free google chrome browser tool and click on the offers when you see them appear in your sidebar. The cash will be automatically added to your account and you can cashout anytime via PayPal. Sign up now and earn your first 50p!
Sell crafts on Etsy
If you love to get creative and make things, you can sell your crafts on a site called Etsy. It's full of sellers like you who sell items including:
Greeting cards
Handmade pottery & glassware
Knitting & crochet designs
Digital prints
And anything else that's either handmade or vintage! All you have to do is get creative, take great photos, and write detailed descriptions and watch the sales roll in. Start selling now…
Even more ways to earn extra cash…
Refer your friends
Lots of the sites I've mentioned have generous refer a friend schemes, where you can earn extra money just for sharing your link with a friend or family member! Here are some to help you get started:
| | |
| --- | --- |
| Topcashback | £5 for classic members, £7.50 for plus members |
| Quidco  | £10 when your friend cashes out £5 |
| Cleo | £5 for everyone who signs up |
| KidStart | £5 for every friend you refer |
| Swagbucks | 500 Swagbucks points (£3)  |
| Oh My Dosh | £1 for every person you refer |
It doesn't look like a lot, but it can quickly add up!
Look for money in old accounts
Could you have any spare cash just sitting around in old accounts? It's always worth checking sites and apps like:
Old bank accounts (plus check direct debits and cancel any you're not using!)
Any utility accounts where you might be in credit
Sites or apps you've signed up for with welcome offers and forgotten about (maybe some are listed in this blog?)
Get checking and cashout before you lose your money!
Start a blog or YouTube channel
I've saved this one for last because it's by no means a quick way to make extra money. However, if you have spare time and would like to build an audience online to make extra money at home, and have a passion for a topic (like saving money) then this could be a good way to make money.
You can make money on your blog or YouTube channel with sponsored posts or videos, display adverts, and affiliate marketing. A quick Google search will show you hundreds of guides on how to get started!
So there are my top ways to make extra money at home during lockdown. I hope I've inspired you to start exploring one of these options!
On a final note, don't try to do all of these at once! You'll burnout or end up not enjoying it. Be patient with yourself, choose one or two and watch the extra money build up. And, most importantly, stay safe!
Pin for later…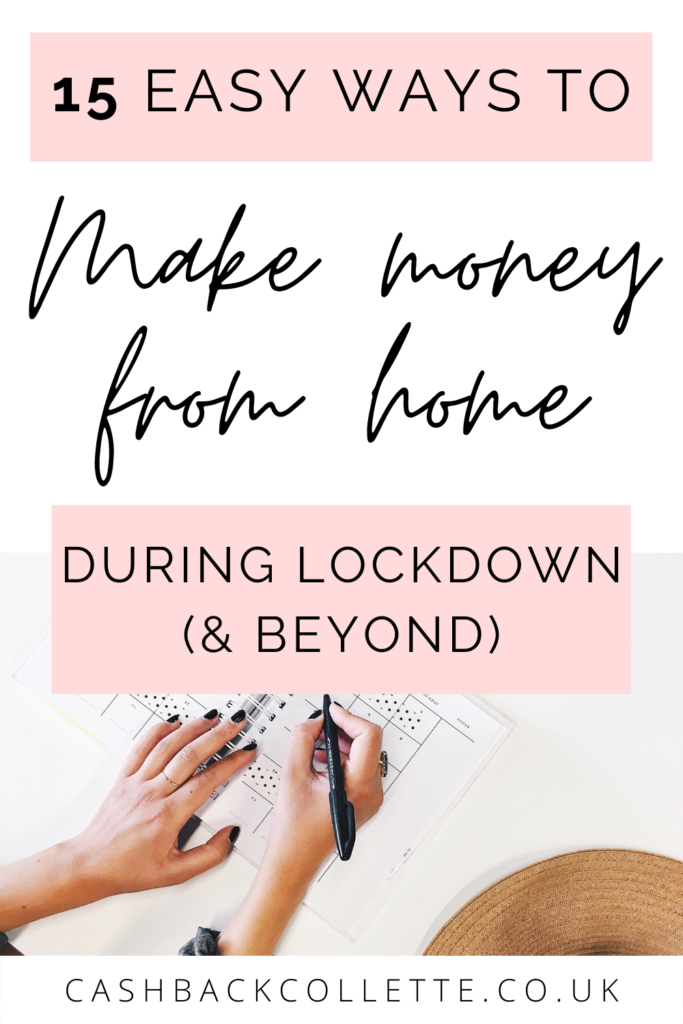 This post contains affiliate links, which means I receive a small commission if you purchase some of the products or services recommended, at no extra cost to you. Deals and offers were accurate at the time of posting, always check T&Cs.