Are you on the hunt for some lovely cheap and free furniture? You've come to the right place! I am a proper homebody and love to find ways to make my home feel comfortable and stylish on a budget.
When we moved down South a few years ago, we rented a beautiful, character apartment. The only problem? It was unfurnished.
So we had to find furniture, fast! I'm not going to lie, I was absolutely stunned at how expensive furniture was.
The penny pincher in me knew there had to be a cheaper way to furnish our new home. So off we went on a hunt! Once we had exhausted all the local car boots and charity shops, I went one step further and genuinely found free furniture online.
Yes, really!
In this post, I'll show you how to bag yourself cheap and free furniture too. Whether you're buying, renting, or looking for furniture to flip for a profit, this is for you!
Ready? Let's find you some lush, budget furniture…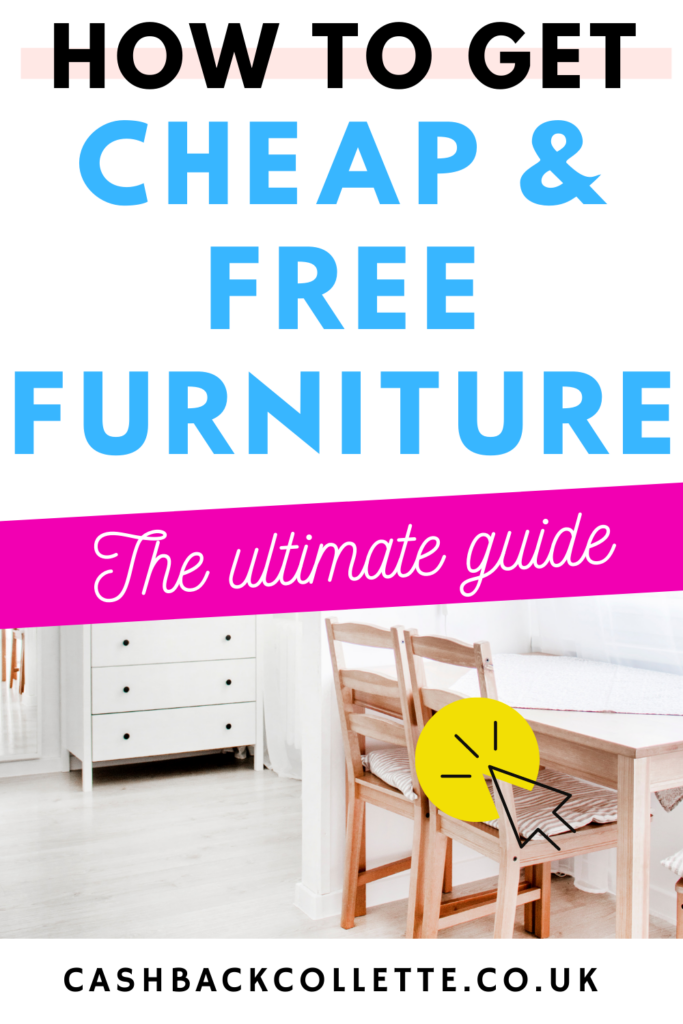 How to get free furniture
Find Freebies on local selling sites
Local selling sites are a goldmine for cheap and free furniture! People are desperate to avoid the hassle of getting rid of big furniture pieces, and will often list on these sites for free to anyone who will collect ASAP.
Facebook Marketplace
Facebook Marketplace is packed full of new freebies on a daily basis. I've scored a free table and chairs, lampshades and armchairs in the past. Head to their free stuff section and it will show you everything for free in your local area.
Find free furniture on Gumtree
Gumtree is another fab local selling site where you can bag free stuff for your home. They have a dedicated freebies section and also send you a weekly email with new listings. Make sure you subscribe to those!
Preloved
Preloved is personally one of my favourite sites for bagging cheap and free stuff for your home. They have a 'Freeloved' page where you can browse free listings all across the UK. Grab a brew and get hunting!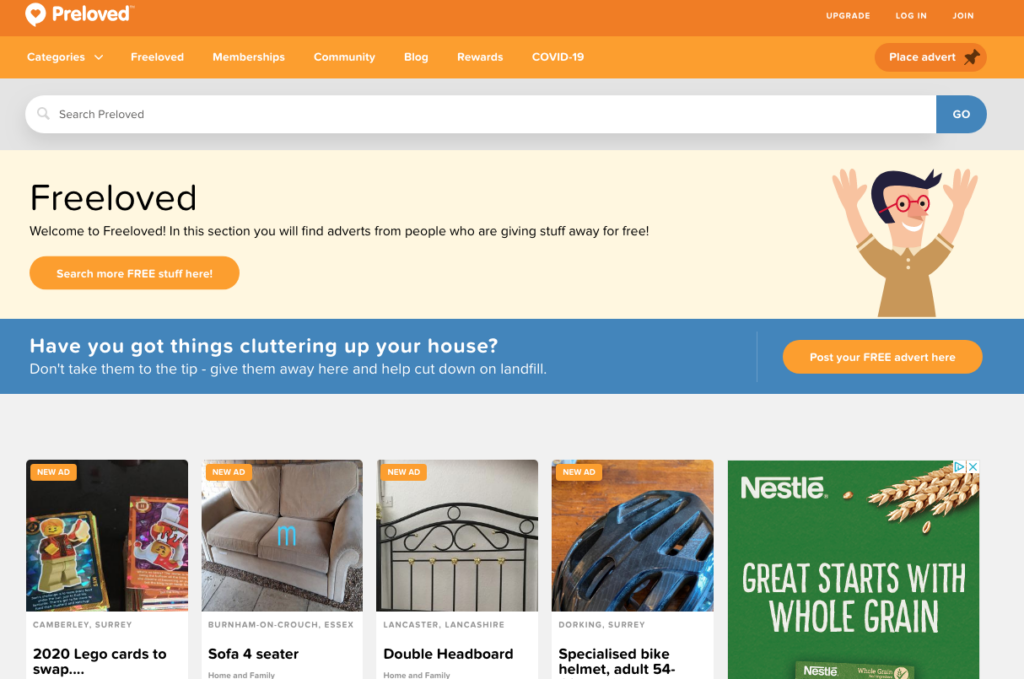 Freecycle
Freecycle is another great little site for scoring free furniture online. I've been lucky enough to get things like printers, plant pots, and a lamp on here. It's very handy because it breaks everything down by area and has different groups based on where you live.
Freegle
Freegle is very similar to Freecycle and always worth a gander if you're looking for specific things. They have a whopping 450 online communities across the UK where you can search for new furniture and home accessories for your home. Get searching!
Sell & swap groups
Local sell and swap groups and pages on Facebook are perfect for finding free stuff if you'd like to exchange items with someone near you. They work a little differently to Facebook Marketplace.
Just search for one in the search bar and like or join. Once you see something you like, comment ASAP to bag your item.
Friends & Family
Now, I'm not suggesting being cheeky and asking family or friends to give you items they love from their own home or buy furniture for you. However, if you know they are having a clear-out, it doesn't hurt to ask! Maybe, if you're lucky, they'll even offer something if they know you're moving…
Ask on social media
If you're after specific pieces like a sofa or bed frame, why not ask on social media? Facebook is great for reaching out to people you know but also others in a similar position to you.
For example, there are actually groups dedicated to helping those on a budget. I often see posts in groups like Scrimping on a budget and Skint Dad where people discuss where to get free furniture or sharing super cheap furniture deals.
UK Charities that offer free furniture
There are now dedicated charities that help those suffering financial difficulty to find basic and essential furniture for their home.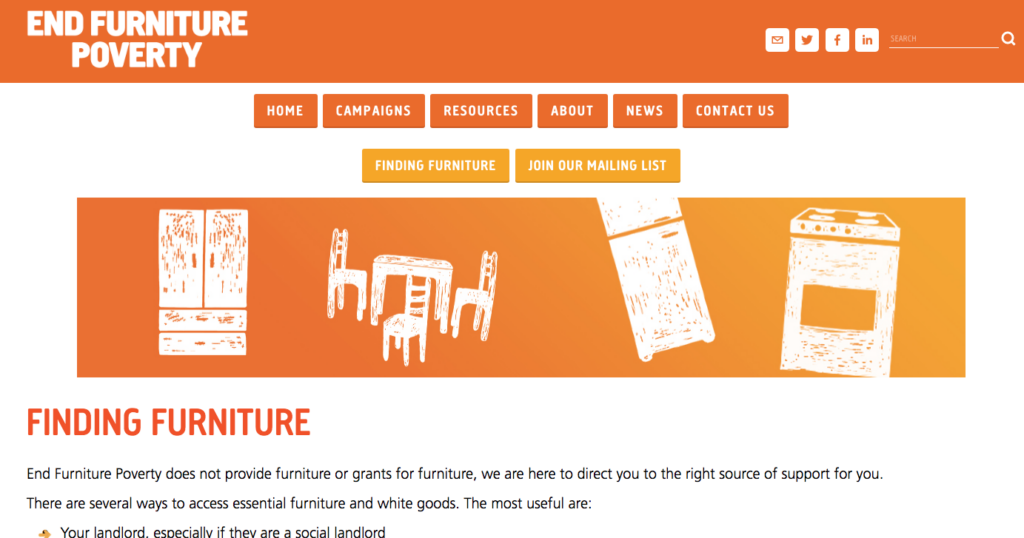 I must add here that you check your eligibility before contacting any charities from this list. These charities are doing an amazing deed and are already working overtime to help support families who REALLY need help.
Here are the links to charities currently offering help:
Enter competitions to win furniture
This is one of the more fun ways to bag yourself free furniture! Enter free competitions online using daily competition sites like The Prize Finder and Competitions Database to find furniture competitions.
Joining comping Facebook groups like Lucky Learners and FREE STUFF, Comps & Bargains by Magic Freebies will also help you keep up to date with all the latest comps.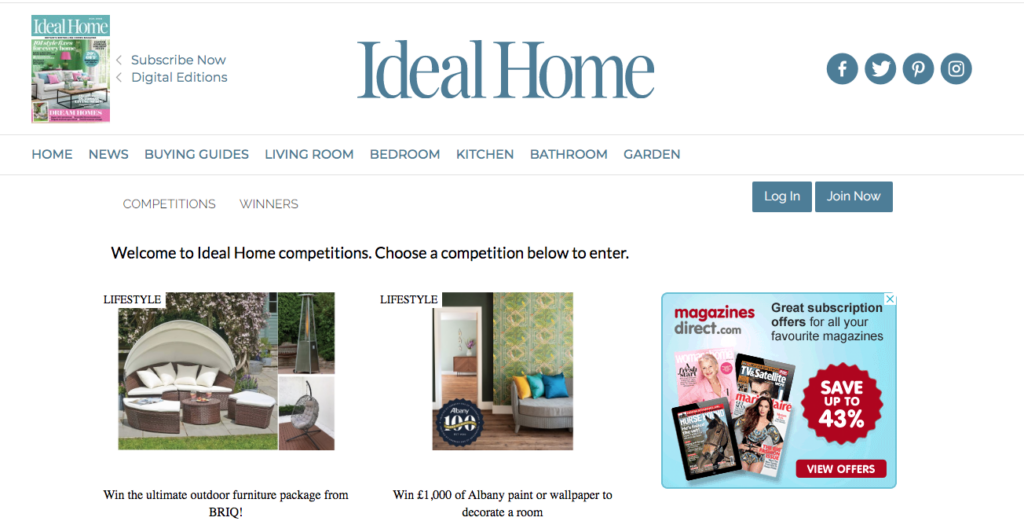 I've seen people in these communities win all sorts of furniture items like:
Mattresses
Beds
Sofas
Armchairs
Garden furniture
Plus loads more amazing prizes! Lots of brands also give away vouchers and gift cards. I actually prefer these types of competitions, because you can choose what you spend it on.
Another fab way of finding and entering competitions is to sign up for furniture brand emails and home magazines and follow them on social media. That way you'll be the first to know and can enter ASAP!
Keep a lookout around seasonal holidays like Christmas and Easter. This is when brands get particularly generous…
Ways to get cheap furniture
Now we've covered ways to get free furniture, there are also ways to get super cheap furniture too! Here they are…
Charity furniture shops
There are loads of charity furniture shops up and down the country that offer discount, secondhand furniture. Popular branches include the British Heart Foundation, Sue Ryder, and Phyllis Tuckwell, but there are other little gems. Find your nearest one using the Reuse Network website.
Car boot sales & jumble trails
Anyone who knows me, knows I LOVE a car boot sale! I've also recently discovered jumble trails, which work like yard sales in the US. They're both great for finding budget furniture and home accessories.
As you're going to someone's house or a field, you'll have to make sure you have room in your car or van to take the items!
Get cheap furniture at local auctions
Local auction houses are another fab place to score cheap furniture. You simply register in advance and head down to bid. You can even bid online in some cases! Some auctions have tons of repossessed or liquidation furniture pieces.
Others just have one or two lots. It all depends on which one you go to. Start by googling local auction houses in your area and have a gander at available lots. Happy bidding!
eBay clearance outlet stores
Did you know lots of popular High Street retailers also have eBay clearance stores? Brands like Tesco and AO.
Plus loads more all offer discontinued or bargain furniture at a fraction of the original cost. Search on eBay to find yours! Don't forget to also check the site's original website and store. Homebase and B&Q both have clearance sections.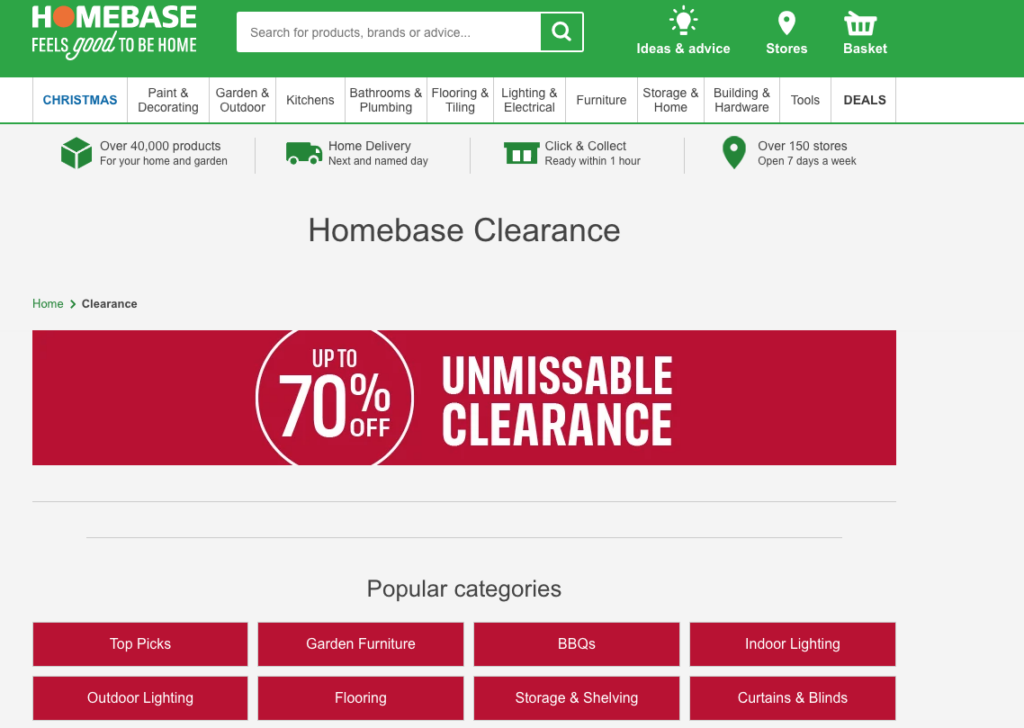 Get discount office furniture
If you're looking for budget office furniture, sites like Reyooz are perfect for scoring a bargain on items like desks, office chairs, etc. The best part? They even deliver to your door!
Top tips for bagging cheap & free furniture
Get cashback on all furniture pieces
If you're shopping online, particularly for a big-ticket item, always check if you can get cashback. Sign up to cashback sites like TopCashback and Quidco to earn back a percentage of your purchase in free cash!
Take advantage of welcome offers
Lots of furniture sites like Wayfair and IKEA offer exclusive discounts for new customers. This often involves signing up to their email newsletter, which is packed full of even more deals! Also, follow brands on social media for more offers for loyal fans.
Loyalty schemes
Speaking of being loyal, loyalty schemes are one of my favourite ways to save money when shopping! Schemes like Tesco ClubCard and the infamous Nectar card (most associated with Sainsbury's but you can collect at loads of places) allow you to rack up points to contribute towards furniture purchases.
Act fast when you see something you like
If you're looking on local selling sites, eBay and even in secondhand furniture stores, you'll need to act quickly. Most pieces get snapped up so don't hang around if you're keen on an item.
Do your research
Seen a piece you absolutely love but don't want to pay full price? Some quick research will reveal that brands like IKEA and Laura Ashley actually name their furniture.
Once you've got the name, you can set up alerts online so you'll know when one next becomes available. Even if you miss out, you still have all the details to search for an alternative. Who knows? You might even get it cheaper!
Look for lazy listings
This is a great tip I learned a long time ago! Lots of people are very busy and want to list items online as quickly as possible. However, their product gets lost on marketplace platforms because of things like leaving out key categories and info, spelling mistakes, awful pictures, etc.
This is your time to shine! Look for those mistakes and don't rule out any unloved pieces that need a little bit of TLC. If they've had less interest, it might mean you're more likely to score a bargain.
Learn to haggle
If you're going into a situation where the price is negotiable, brush up on your haggling skills or take someone with you. I must admit, I hate haggling but once you've done it once or twice, it really isn't that bad!
If you have an absolute final price in mind, it sucks but you might have to be willing to walk away if the seller won't budge.
Ask for gift cards
If you have a birthday coming up or Christmas is close, why not ask loved ones for gift cards or cash to contribute to a new piece of furniture? If you think about it, you're doing them a favour! It will save them the fuss of thinking of something to buy that you'll love!
Voucher sites
Another way to save money on new furniture pieces is to look for voucher codes. Browser extensions like Honey automatically find you relevant voucher discount codes when you land on a website! Other options that I like to check include Voucher Codes and Money Saving Expert.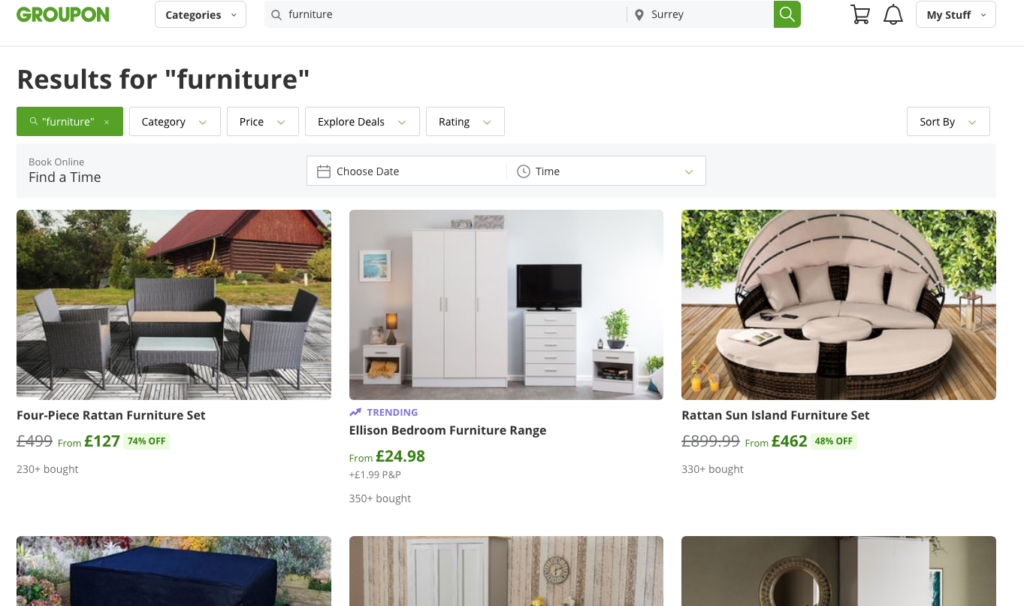 You can also look at sites like Groupon and Wowcher for mega deals on furniture and home accessories!
Sell or donate what you don't need
Just as a last little note, it's always worth selling on pieces you've fallen out of love with to make some extra cash. If you're looking for places to sell other than eBay check out my list of top eBay alternative selling sites to get started! If you can't sell it, why not donate it or recycle it?
That's it! I hope you've found this list helpful and manage to get yourself some lovely budget furniture soon…
Pin for later…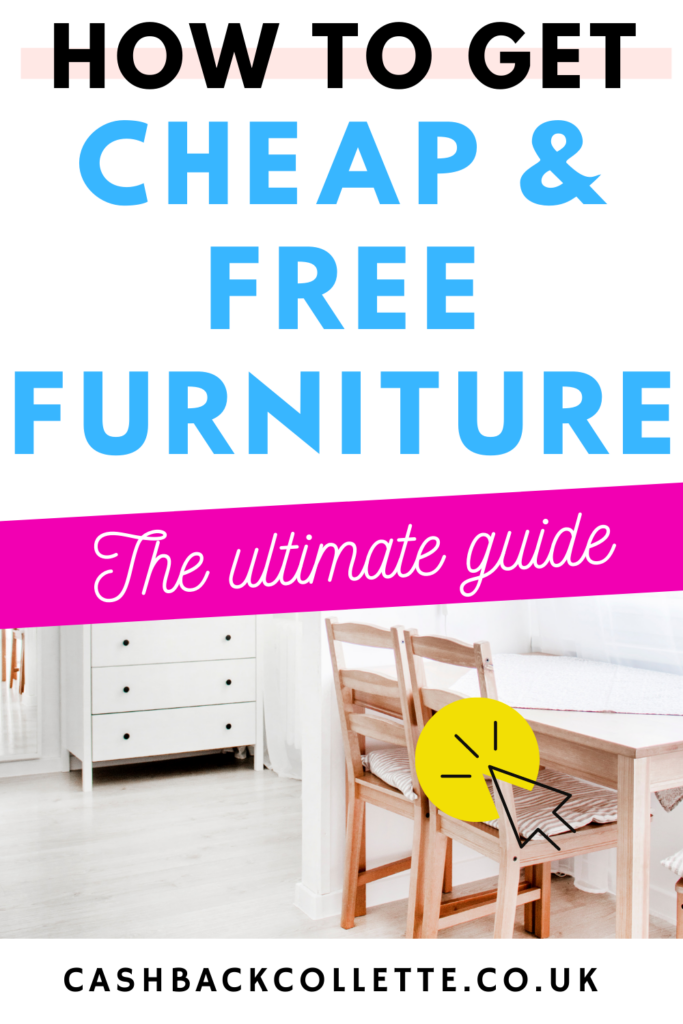 This post contains affiliate links, which means I may receive a small commission when you purchase an item or sign up to a service, at no extra cost to yourself.