Looking for ways to bag cheap cleaning products to help keep your home spick and span on a budget? Thanks to the likes of Mrs Hinch and fellow Instagram and TikTok influencers, cleaning your home has become a major trend!
And there is a product for every nook and cranny in your house.
I must admit, I love a good cleaning Instagram reel and decluttering TV show. There is something so satisfying about the end result!
I'm always on a mission to keep my home as clean and tidy as possible.
Although, with a dog and baby who's now reached weaning stage. It can be challenging to say the least!
Choosing the 'right' cleaning products for each area in your house can be a bit of a minefield, too.
You might think cheap cleaning products aren't necessarily the best and big brands tend to cost way more.
But that isn't true! There are ways you can bag yourself good quality, cheap cleaning products from brands you love without blowing your bank account. Some products you can even get for free!
Here are my top tips that I use every time I shop for cleaning products…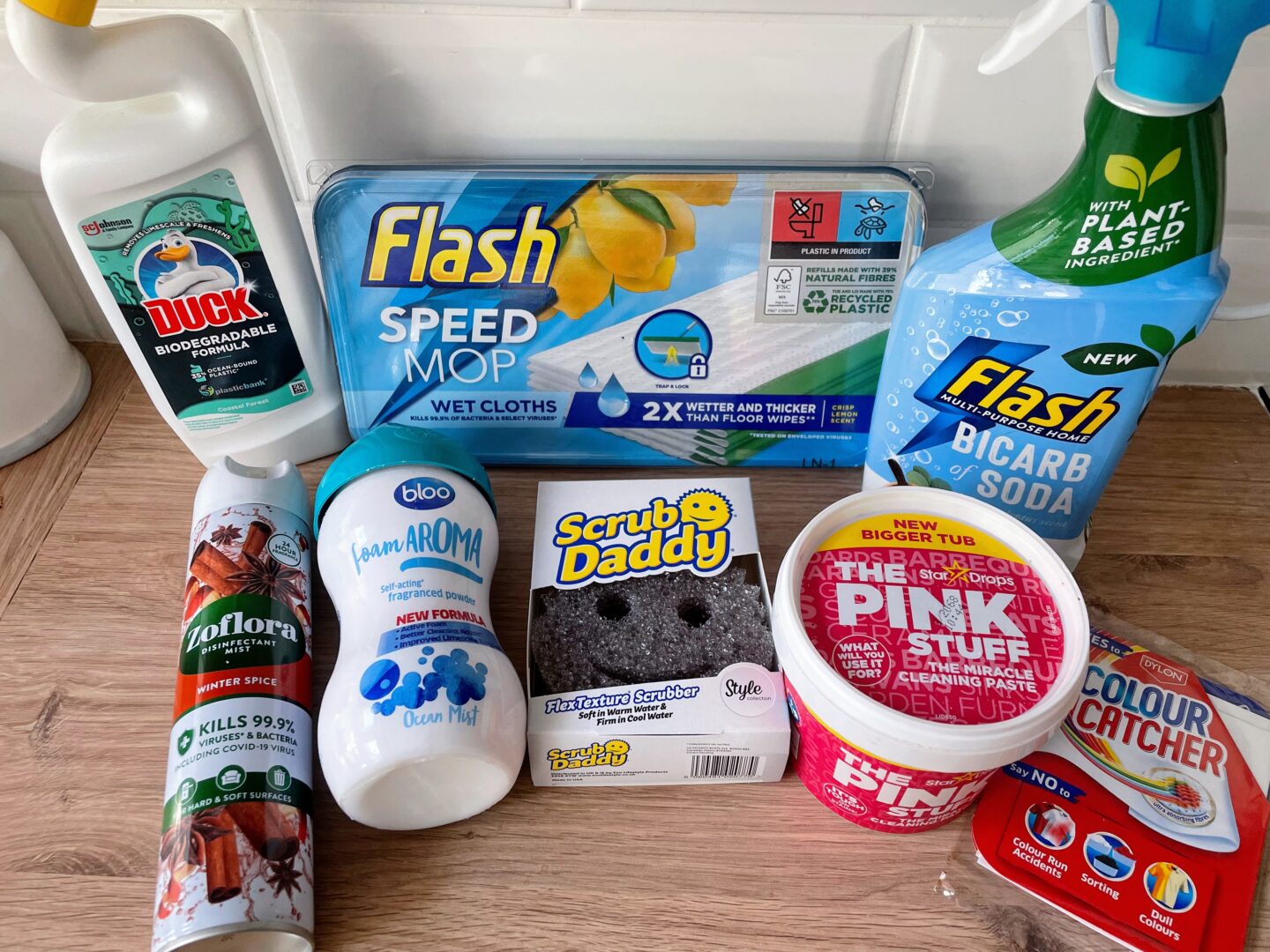 Shop in bargain stores for cheap cleaning products
It's no secret that B&M, Poundland, Wilko, and Home Bargains sell an amazing range of all the latest cleaning products, at a fraction of the price of supermarkets.
This makes it a great place to stock up on brands like:
Fabulosa
Bold
Fairy
Zoflora
Persil
Scrub daddy / Scrub mommy
And loads more!
That is, of course, if you can resist filling your basket every time you visit one of these stores and only shop for cleaning supplies!
Also, I would always suggest doing a quick size comparison before you purchase any items in stores like this.
Sometimes you can save a bit more long term by buying a bigger version of the product in supermarkets.
Get cashback on cleaning supplies
Did you know cashback sites like TopCashback and Quidco will pay you when you shop online with a range of retailers? Simply sign up for free, search for your retailer and click through to shop.
Once you've filled your online basket, checkout as normal and the cashback will be added to your account. You can either get cashback in the form of a percentage e.g. 1.5% cashback, or as a fixed rate, e.g. £2 cashback.
You can also get cashback in-store thanks to companies like Airtime Rewards, who reward you for shopping in certain shops when you link your debit or credit card on the app.
They then knock the money you've earned off your phone bill each month. Amazing!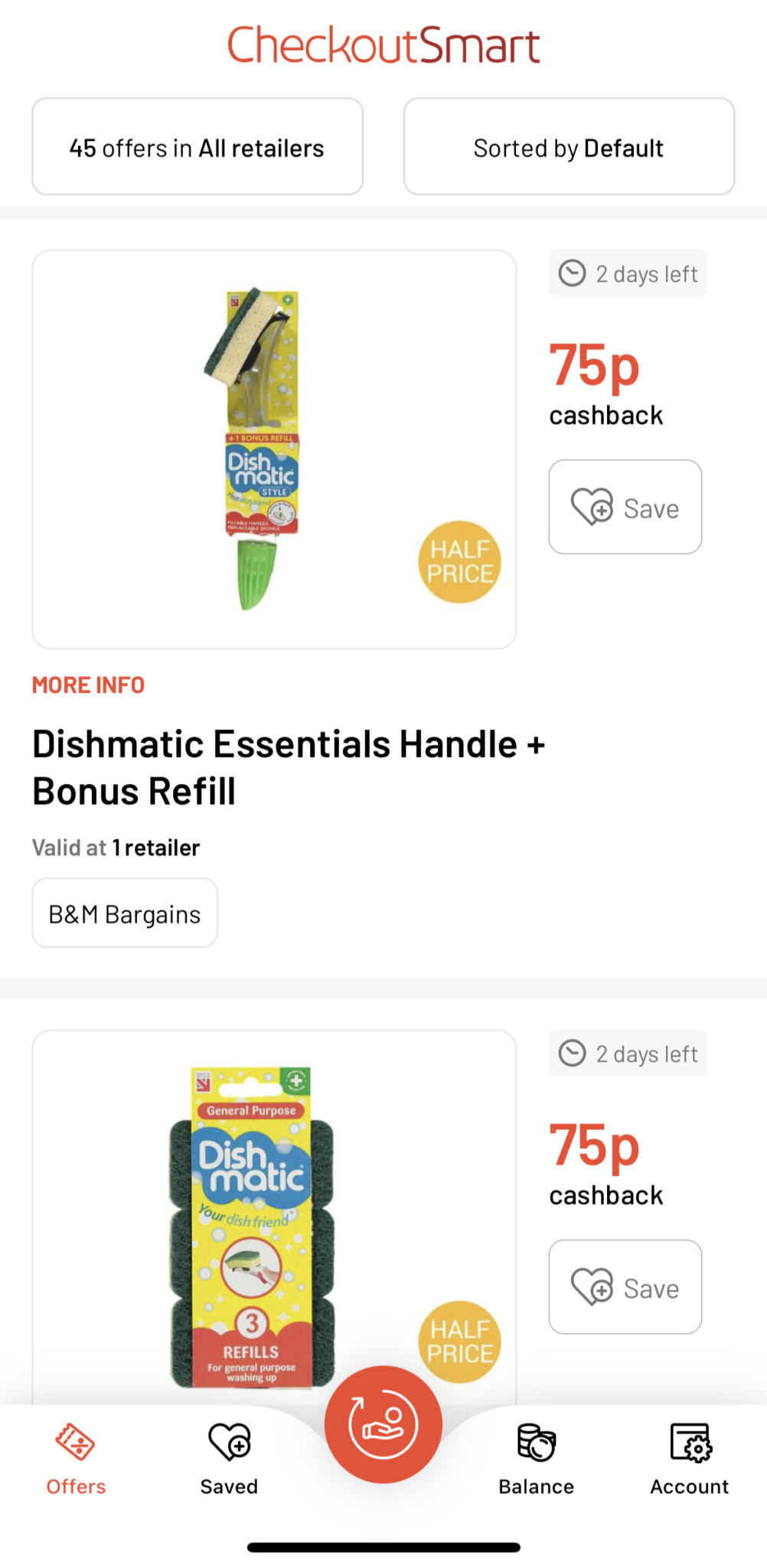 Supermarket cashback apps like CheckoutSmart and Shopmium also offer cashback on selected cleaning supplies in various supermarkets.
I've seen sponges, multipurpose cleaners, and even mops on there in the past. With apps like these, you shop in-store and upload a photo of your receipt to the app to earn cashback.
Make your own cheap cleaning products
Get creative and utilise household items you already have in your cupboards instead of purchasing expensive cleaning supplies. For example…
Ketchup can be used to shine your silverware
Baking soda is a fantastic product for cleaning ovens, sinks, toilets, and more!
Lemon can be mixed with baking soda to get rid of harsh marks and stains around the house
White vinegar is amazing for helping remove limescale in your bathroom
Washing up liquid can be used for a lot of things (not just for cleaning your pots) like cleaning windows and scrubbing floors
Shaving foam is amazing at cleaning stains off carpets
Pouring coke down your drains will help clean them out
Do you see what I mean?? The possibilities are endless!
Choose reusable / sustainable options
Sustainable cleaning products can be quite expensive, but it's always worth remembering that these will last longer, and therefore can work out a lot cheaper than one-time use cleaning products.
My favourite reusable and sustainable cleaning swaps and environmentally conscious efforts include things like:
Using rags and microfibre cloths instead of kitchen roll and surface wipes
Purchasing a bamboo scrubbing brush instead of buying multiple sponges
Switching to products that can be widely recycled
Finding multiple uses for products e.g. using dryer sheets for things like dusting and wiping down surfaces too
I've found it's pretty easy and achievable to make these small changes to help save money and the environment.
Stock up on free samples & trial offers
I can't tell you how many cleaning and household samples I've received in the post. The main items I tend to find are laundry detergent, fabric conditioner, dishwasher tablets, and colour catchers.
These freebies can appear on your Instagram or Facebook feed as a sponsored post or you can use freebie sites to hunt them down.
You simply fill in a form and they will pop your sample in the post to try. I have to say, some of the samples are very generous in size too!
Brands like smol are environmentally friendly and offer a trial subscription for either dishwasher tabs or laundry pods (you just pay £1 postage.)
Find out more and sign up today to get your free sample in the mail.
You may also like: How to get free samples in the mail every day
Become a product tester
Did you know companies like Super Savvy Me and Home Testers Club offer to send you cleaning and household products to try and review for free? All they ask in exchange is your honest feedback.
These sites are 100% genuine and have thousands of members testing products every day, myself included. I've been fortunate enough to test mops, steam cleaners, laundry gels, and more.
Find out more about these sites and apps in my blog post: 30+ genuine product testing sites to get free stuff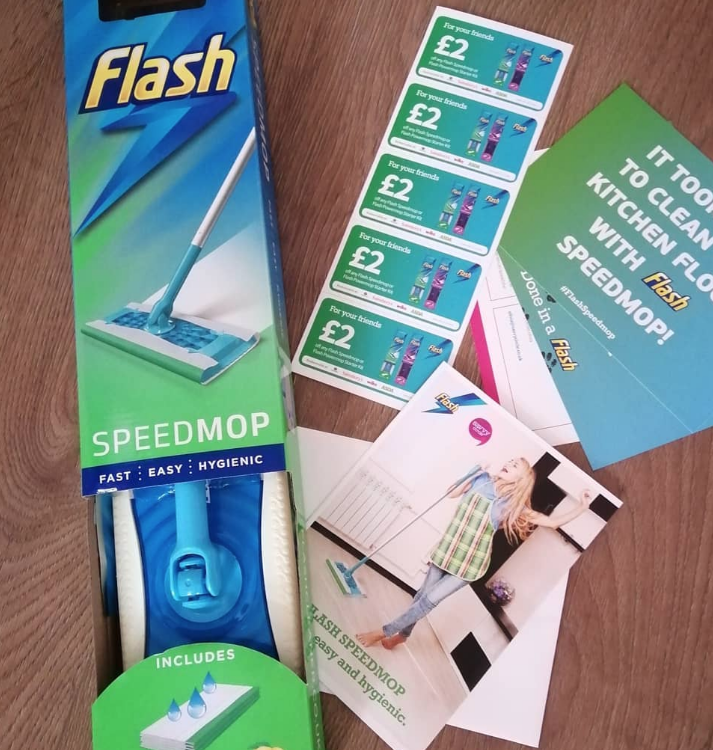 Sign up to loyalty schemes
Signing up to loyalty schemes can help you save a lot of cash on cleaning products!
Many apps like My Morrisons and Nectar offer personalised offers, which include money off cleaning supplies if you purchase these regularly from these stores.
You can also use your Nectar points and Tesco Clubcard vouchers to put towards cleaning products to help keep your costs low.
The Asda Rewards scheme is one of my favourites, as it offers basket bonuses for purchasing selected products in-store. These quite often include products like laundry detergent and disinfectant.
Plus, you can turn your vouchers into cash to spend in any Asda store immediately.
You may also like: 60+ best loyalty schemes in the UK
Shop clearance aisles
A lot of people are in the loop about yellow sticker bargains by now and are fully aware that the clearance aisle is a great place to bag a bargain when it comes to reduced meat and other food bits and pieces.
BUT…
Did know that supermarkets also have a little area dedicated to dry goods including household products too?? It's true!
If product packaging is slightly damaged or the item is discontinued, you can often find these looking all sad on the corner of an aisle in the supermarket.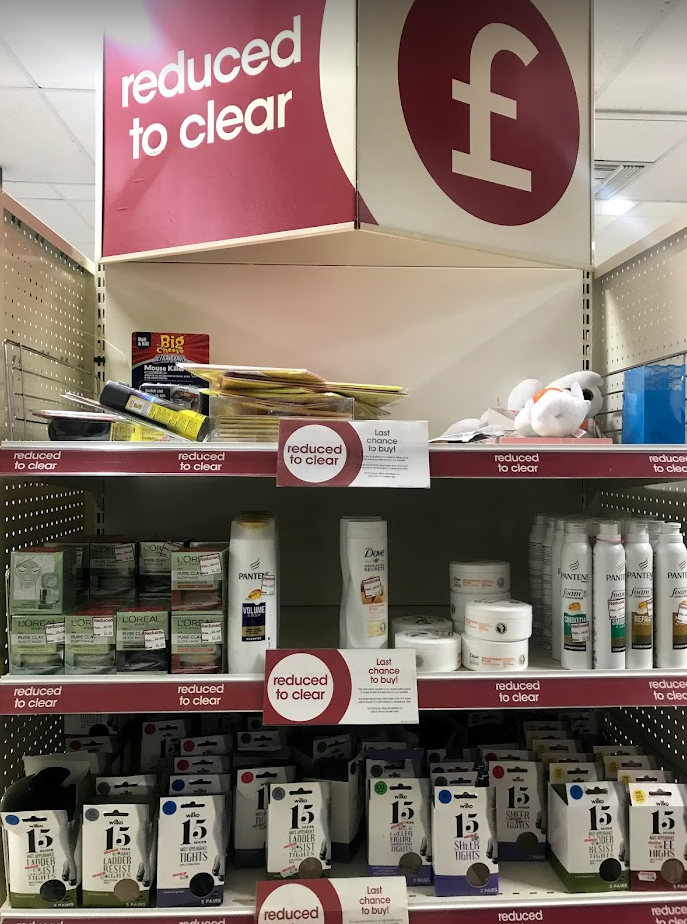 These are also up for grabs in bargain shops like Wilko and DIY stores like Homebase and B&Q.
Where these clearance aisles are located tend to vary but can usually be found near the cleaning/household aisles.
Keep an eye out for things like air fresheners, laundry products, cleaning wipes, and more next time you shop…
Buy own brand products
This one is pretty obvious but I thought I would include it anyway… Switching down to own brand cleaning products can definitely help you save money.
Especially for every day cleaning essentials like detergents, cleaning cloths, dishwasher tablets, disinfectant, multipurpose cleaner, washing up liquid, etc.
If you switched to own brand for all of these items, you could save hundreds each year.
You might eventually find you love the cheaper dupe option too!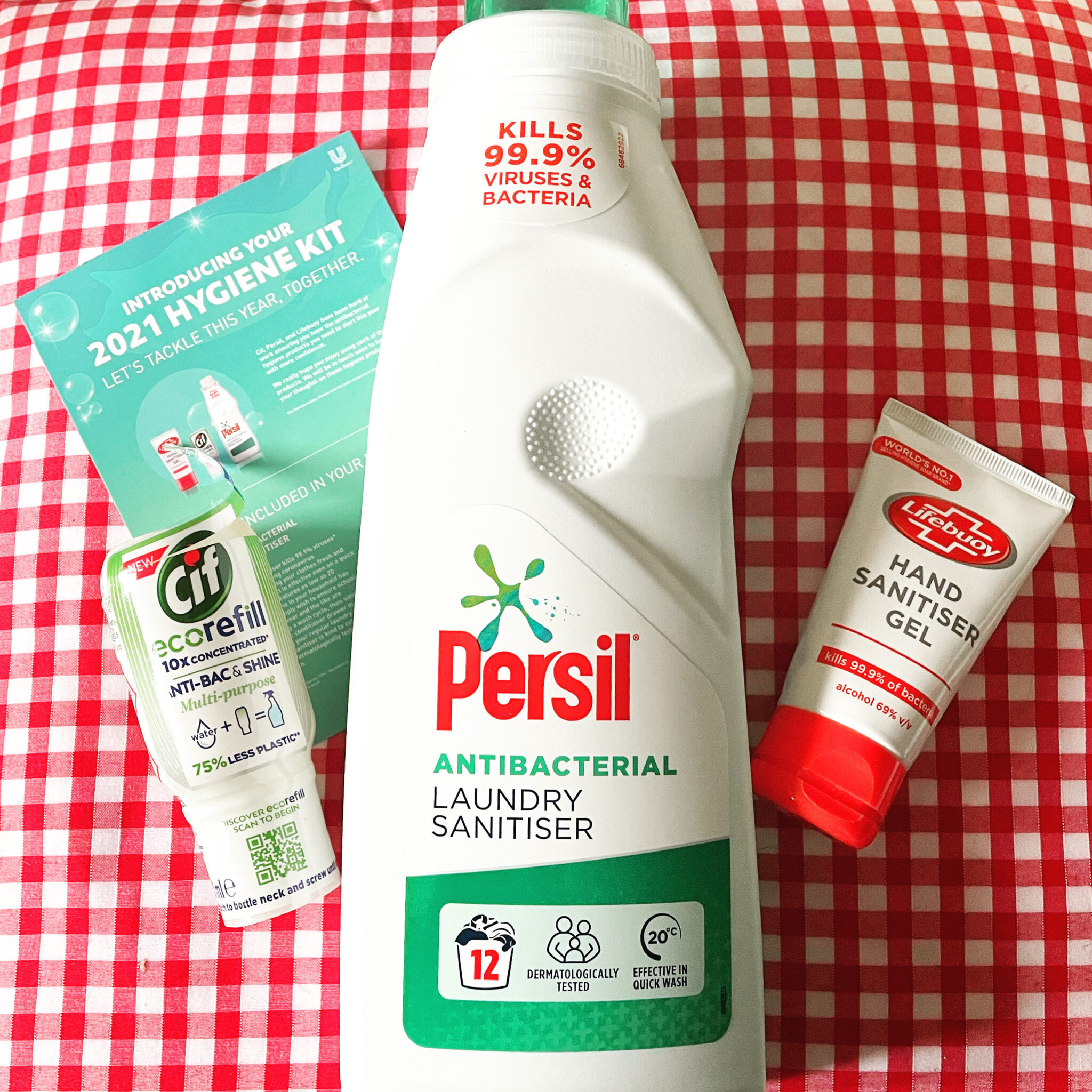 Find coupons for products you love
Many brands offer coupons for cleaning products, especially when they have launched an exciting new range! There are a number of ways you can find coupons, which include:
Looking on social media on brand pages and looking out for sponsored posts in your feed
Writing to a brand to ask for coupons (might not always work but worth a try!)
Picking up coupons in supermarket magazines
Signing up for email newsletters and receiving exclusive emails containing coupons
Checking your junk mail, which might contain coupons and vouchers
To help you get started, check out my list of 40 best places to find coupons in the UK
Go for multi-purpose products
I don't know about you, but I'm a sucker for a new cleaning craze! Any new scent or product, I'm right there at the supermarket eyeing it up.
Then I remind myself that I absolutely do NOT need it! Instead, I try and use products I already have in my cupboards. I like to call these 'hero' products.
A lot of cleaning sprays and wipes are now multi-purpose and anti bacterial, so there is no need to use different products in the kitchen and the bathroom.
That being said, always double check the label just to be sure!
For deep cleans like your oven or bathtubs, I LOVE the Pink Stuff miracle cleaning paste.
They've made an even bigger tub and it's just £1.50 in most shops.
BARGAIN!
Buy in bulk
My final tip is to always buy in bulk whenever you see a bargain that you know you love and will definitely use.
Sometimes, products are in the clearance section if they're being discontinued, or they will be on offer if they're new to market.
Either way, if your budget allows, stock up on cleaning supplies or buy bigger sizes!
Hopefully, these tips will help you save some cash and inspire you to get cleaning 🙂
Save for later…