Hello again! Today I'm going to share with you a top secret app I use to save money on things like fruit and veg at the supermarket – enter GreenJinn!
As you may know, I love a good supermarket cashback app. In fact, along with coupons, these types of cashback apps are the main ways I manage to save hundreds on my weekly shop.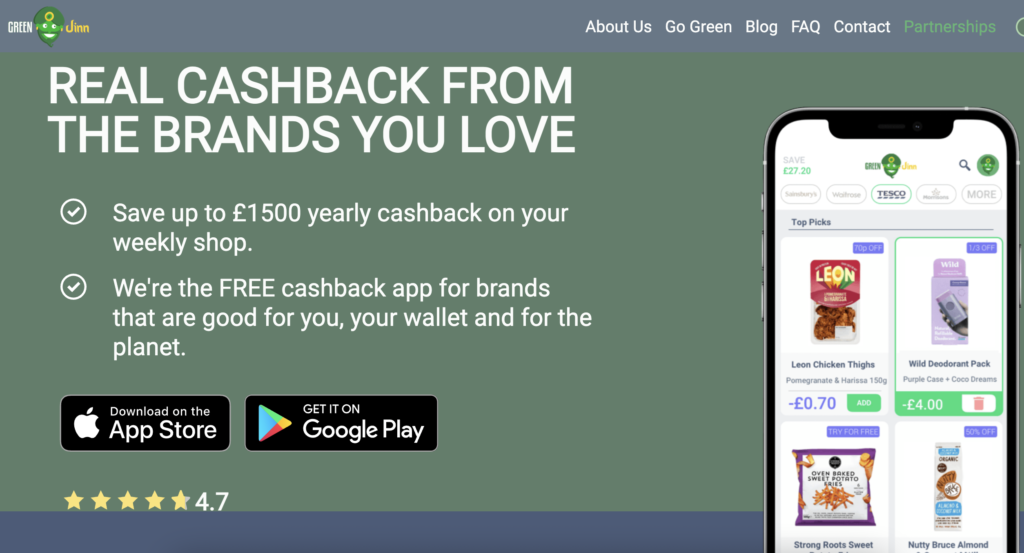 What I love most about GreenJinn is that unlike many of its competitors, you can get cashback on healthy items and fresh produce like bananas, salad, carrots, and more.
So, without further ado, here is everything you need to know about the GreenJinn app…
What is the GreenJinn app?
GreenJinn is a fab supermarket cashback app that's available on both Android and iOS devices and loved by over one million users!
They adopt a 'good for the planet, good for your wallet' approach and offer vegan, gluten-free, and sustainable product cashback on their app.
By using the app, you can earn cashback on a selection of grocery items on your weekly shopping list.
Cashback offers featured on the app range from 25p to the full value of the item (making it free!)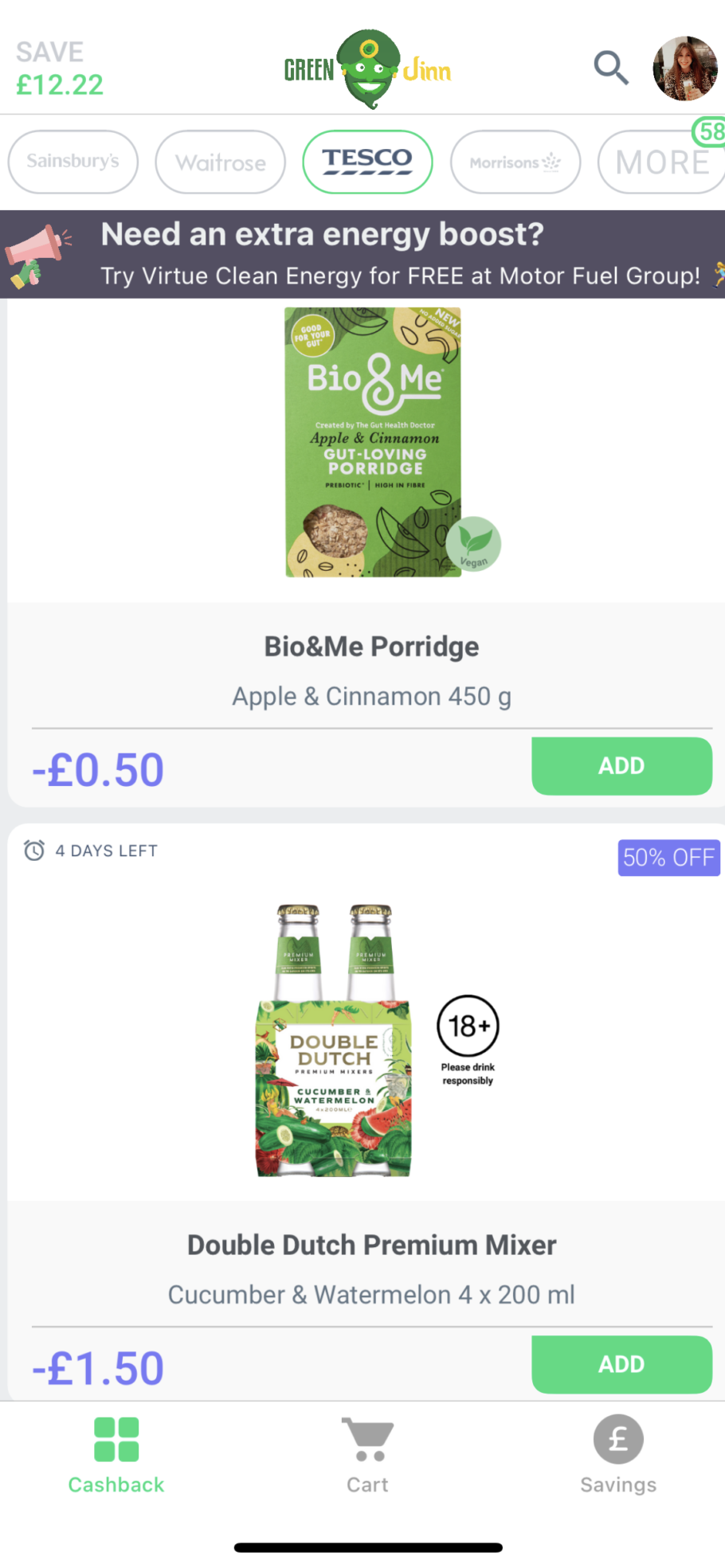 How does GreenJinn work?
GreenJinn is super easy to use! To get started, download the app and have a look around. When you're ready to go shopping, follow these three simple steps:
Choose your store on the app and browse offers
Add any available offers to your shopping basket
Pick up the items in your selected store and buy as normal, then tap the 'add receipt photos' button to upload a photo of your receipt to the app
GreenJinn will process your receipt and send you cashback via BACS or PayPal, amazing!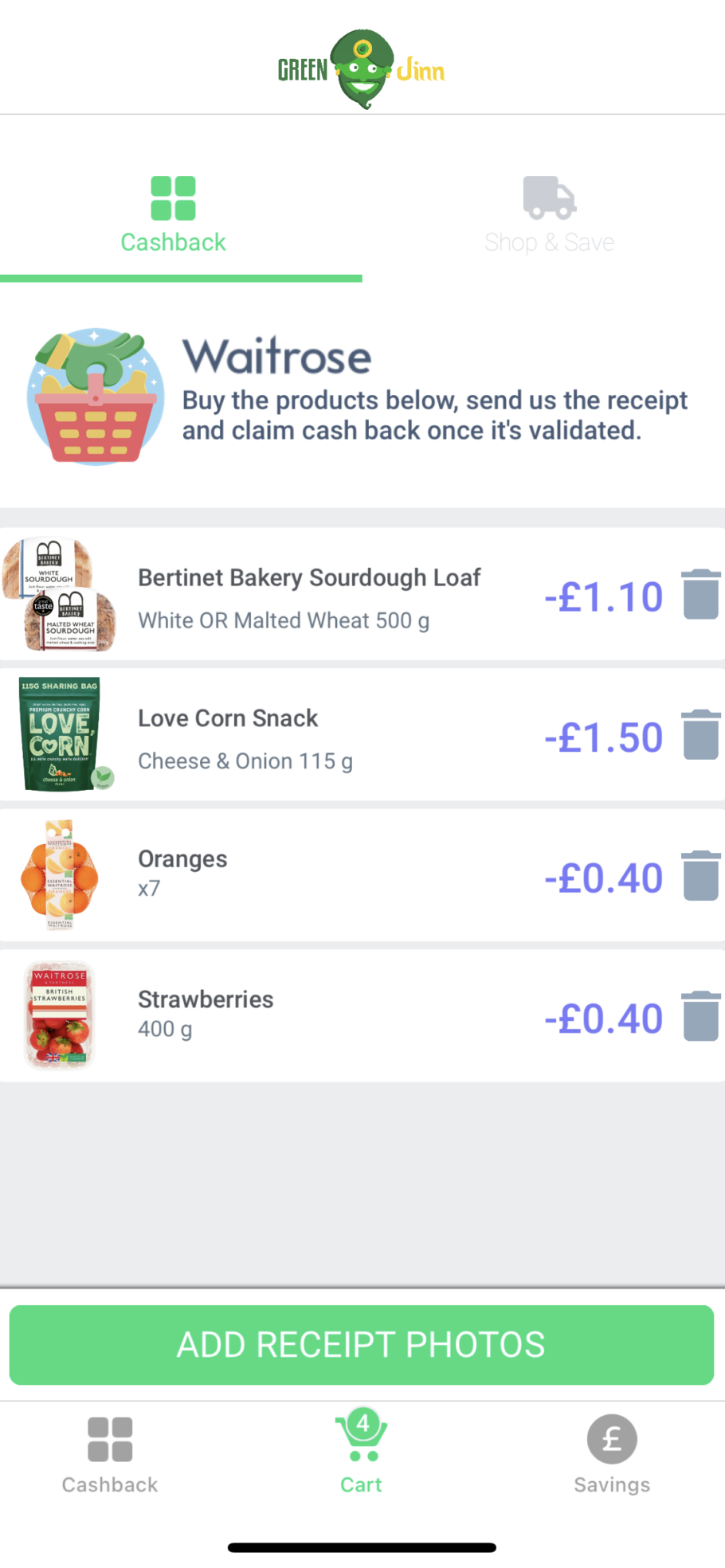 To make sure there are no delays in processing your cashback, make sure your receipt contains all the information they need.
This includes date of purchase, the name of supermarket or shop where you purchased the item(s), the items themselves and total price etc.
If you fill in your preferences, you'll also receive offers tailored to you every Monday. And the more you use the app, the more they'll get to know what you like. How good is that??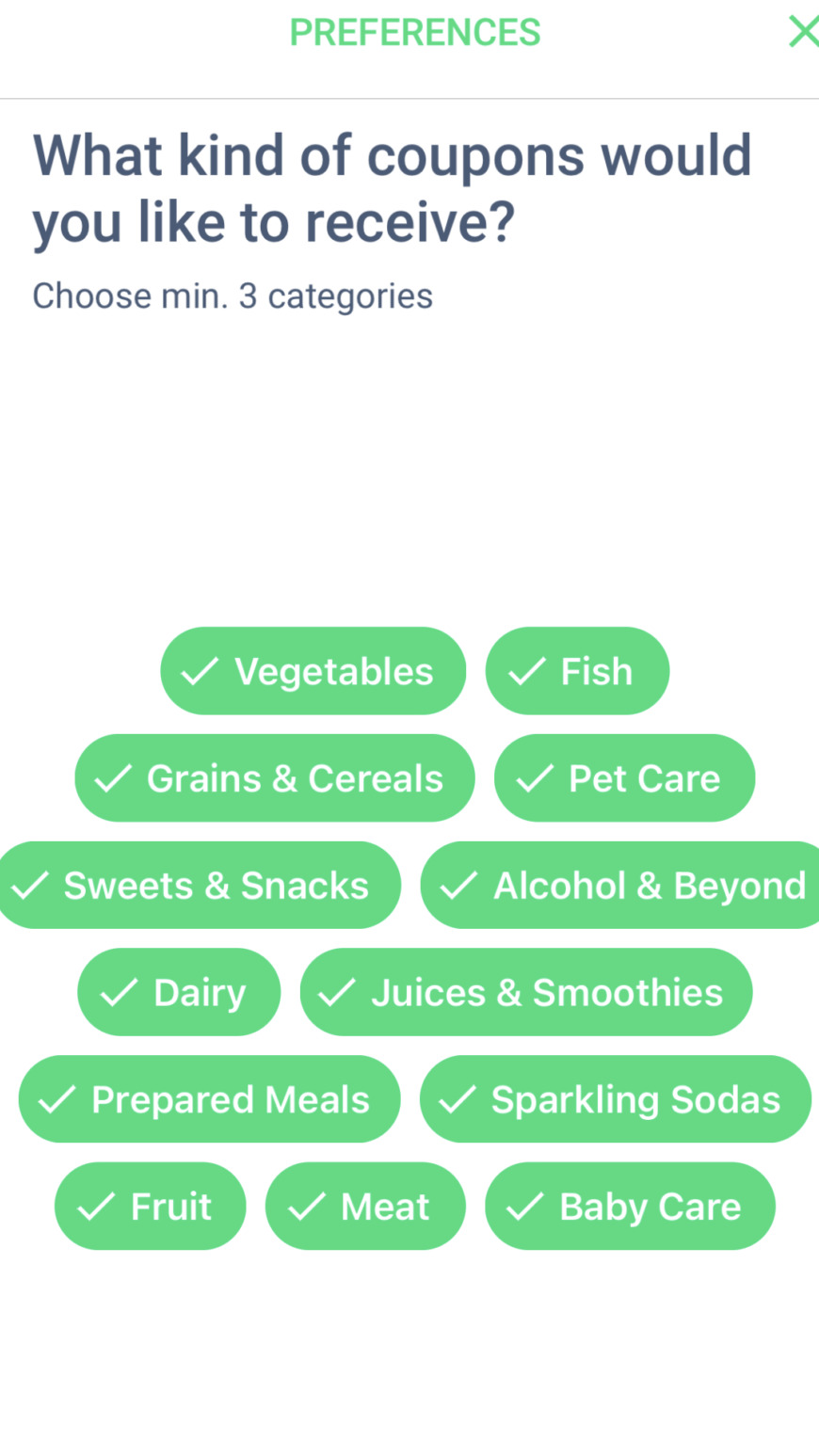 Is it free to use?
Yes! GreenJinn is 100% free to download and use. They actually pay YOU to use the app!
How much money can you save using it?
GreenJinn claims you can save up to a whopping £1,500 a year in cashback on your weekly shop. This is based on claiming £30 in offers on the app each week throughout the year.
While this is achievable, it definitely depends on what offers you claim. You may not want to take advantage of every single offer that is available on the app.
I must admit, there are some products on there that I'm not keen on trying, or wouldn't buy due to dietary needs.
That being said, there are still savings to be had and the more you use the app, the more you'll save. There is definitely the potential to save at least a few pounds every week, which can go a long way!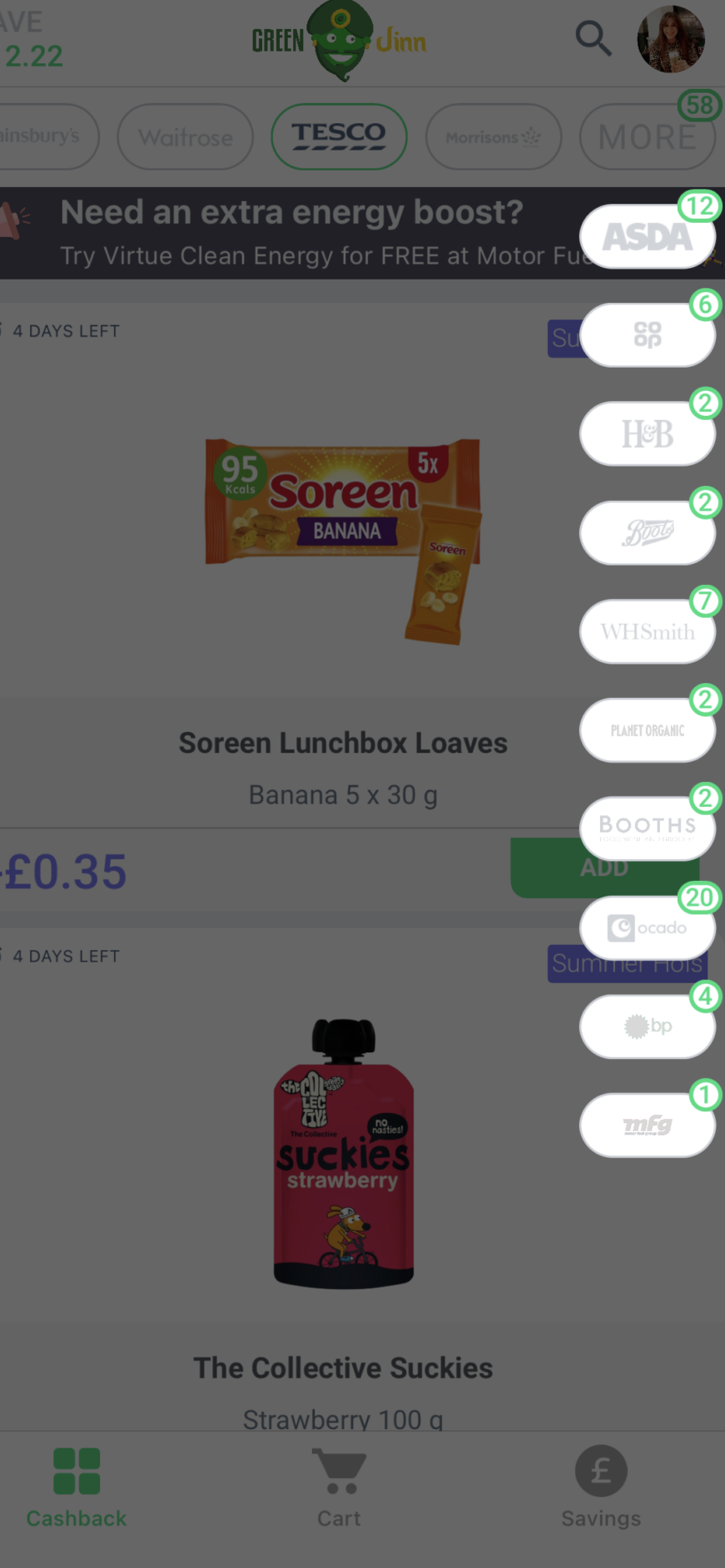 Where can you use the app?
You used to only be able to use GreenJinn at Waitrose or Sainsbury's, but they've since expanded massively and you can now claim offers at the following places:
Sainsbury's
Waitrose
Tesco
Morrisons
Asda
Co-op
Holland & Barrett
WHSmith
Boots
Planet Organic
Booths
Ocado
BP
MFG
Just tap the 'MORE' button within the app to see the full list.
Can you use GreenJinn online?
Yes! You can now upload proof of purchase and redeem cashback with online purchases too. How convenient is that??
What items can I get on GreenJinn?
The majority of items on there are food and drink, but you can also make money when you pick up the occasional household or cleaning offer. In the past, I've claimed offers for things like Eco laundry gel, Childs Farm moisturiser, and kitchen roll.
How do you get paid?
Once you've scanned your receipt and GreenJinn has confirmed your purchase, you can get paid via PayPal or directly into your bank account.
Make sure you add your correct details to your profile and hit the 'claim' button to request your payment under the savings tab.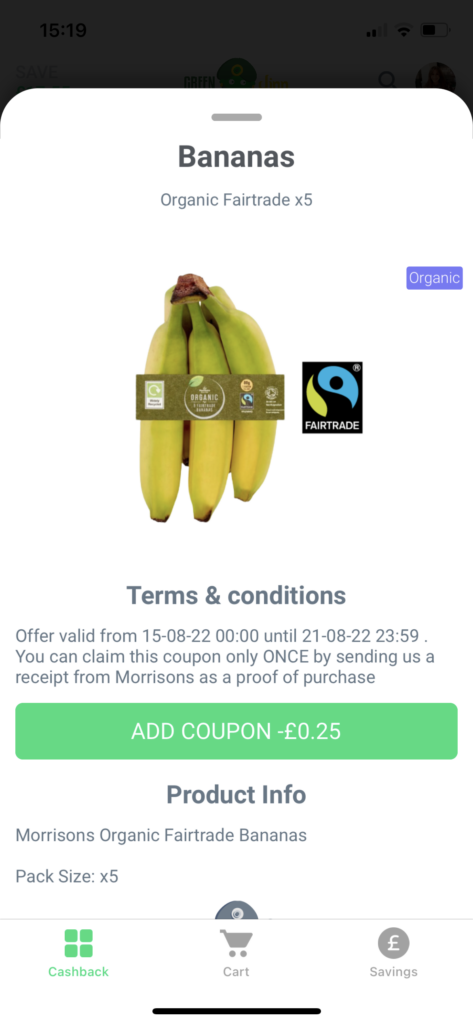 Is there a minimum payment threshold?
Yes, you have to earn at least £1.50 to be able to cashout your cashback, but if you use the app regularly, you'll hit this in no time!
How long does GreenJinn take to pay out?
If you're wondering how fast you'll get paid, GreenJinn states payments usually take place between 2-3 working days.
Is it worth downloading?
I would definitely say so! GreenJinn is a really good way to get cashback on healthier items that you would probably pick up anyway on your weekly shop.
The time and effort it takes is so minimal, as it only takes minutes, if not seconds to upload a photo of your receipt to the app once you get home.
Because of the every day types of the offers too, e.g. fruit and vegetables, yoghurts, etc, you tend to build up your savings quicker on this app.
Compared with other cashback apps that offer specific deals that may not appeal to you.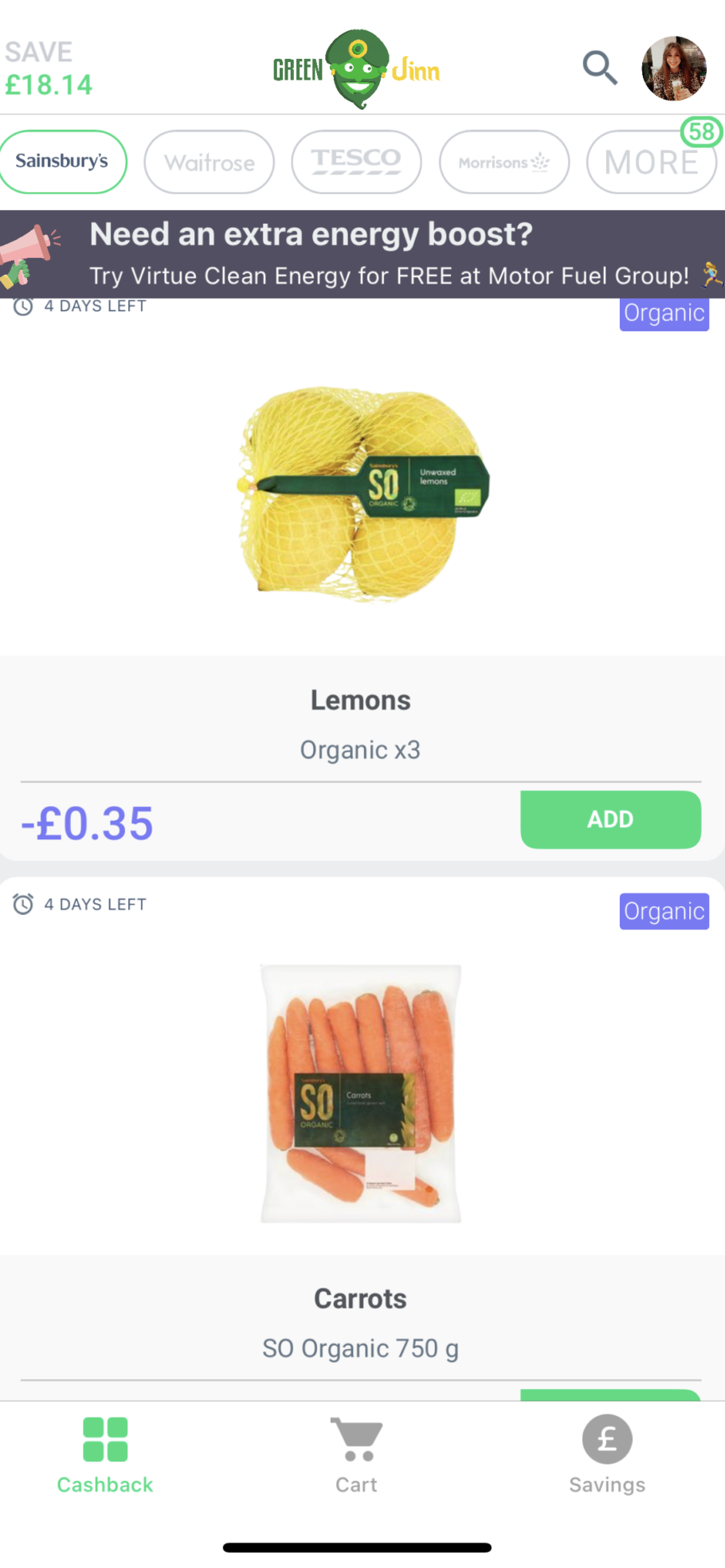 How does GreenJinn make money?
The way GreenJinn works is great! Brands partner with them and pay them to advertise their products on the app to regular folks like us.
This helps them build brand awareness and the cashback coupon deal encourages us to try these new products we may have not considered otherwise.
GreenJinn then passes that cashback money onto us, so it's a win, win, win!
How do I contact GreenJinn?
Whether you have an issue with payment or are just curious about the app and have a couple of questions, you can contact GreenJinn either directly in the app, via email, or follow them on social media and send them a message.
Their team are super friendly and helpful! Here are all the contact details you need.
Top tips for using the GreenJinn app
Since using the app back in 2018, I've picked up some tips and tricks to help you get the most out of GreenJinn. Here they are…
Keep your receipts crisp and clean – and don't throw them out until your cashback has definitely been confirmed!
Get cashback online too – save money on your next online grocery order with GreenJinn!
Check each store on the app – to see if you can double up savings or get the products cheaper in another store
Deal stack offers – combine cashback deals on the GreenJinn app with coupons and discounts to save even more money! Pick up Tesco Magazine for example, which contains coupons for items which may be featured on the app too. You can also use apps that automatically reward you for spending at certain shops e.g. Airtime Rewards (more on that below!)
Shop around for deals on other cashback sites – Many cashback sites and apps feature deals where you can earn double the cashback on supermarket and online grocery purchases, in addition to the cashback you'll make with GreenJinn e.g. TopCashback may offer £5 cashback on your first Waitrose order, which includes any GreenJinn items in your basket!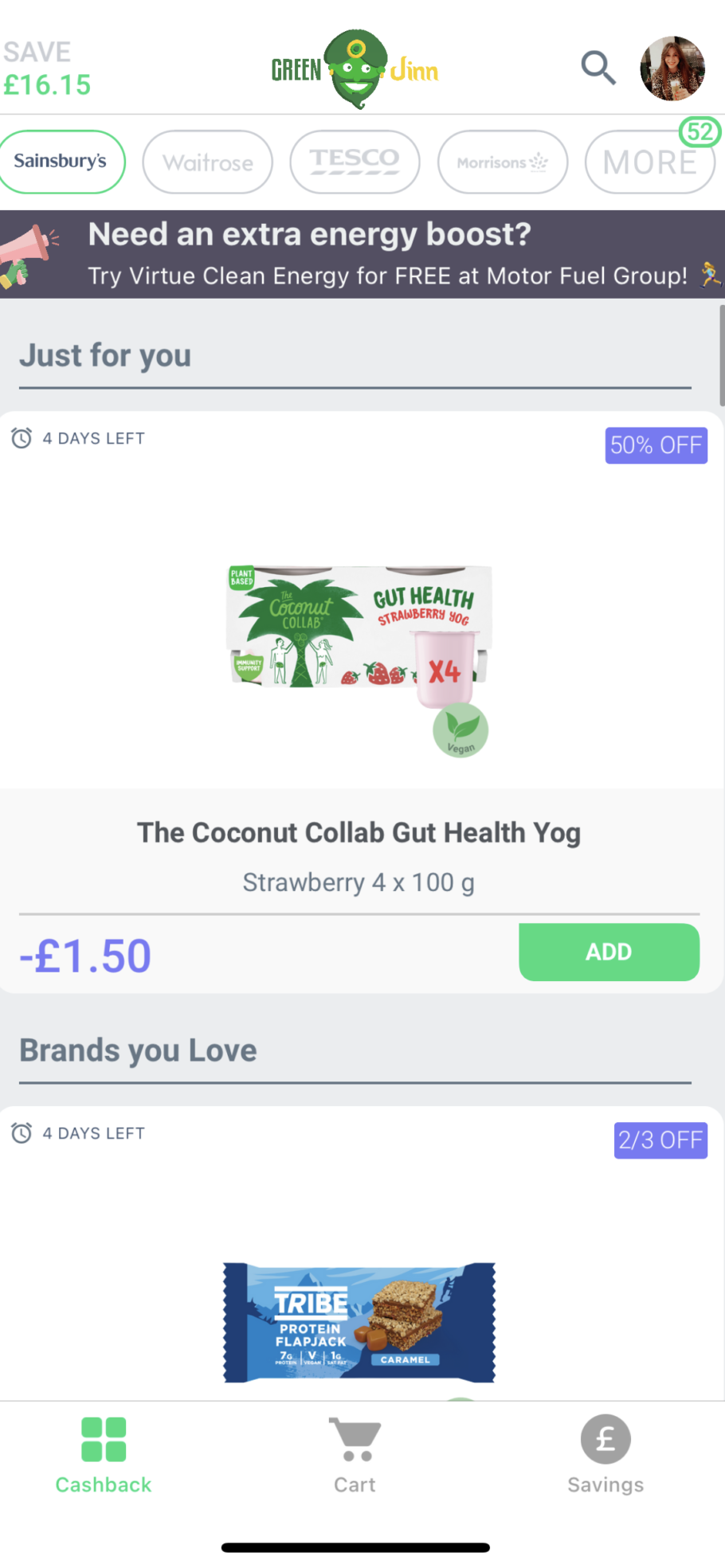 GreenJinn alternatives
While I love using GreenJinn, there are also other cashback apps to look at when you're on the hunt for supermarket bargains. These are:
Shopmium
Shopmium is another one of my go-to apps, and it's really easy to use too! They have loads of offers (and often freebies) for exciting new products from up-and-coming brands and update the app with new offers almost daily.
Download it today using my ref code KHKCYCEN to receive a FREE tub of Pringles!
You may also like: Shopmium App – How to get freebies & save money on groceries
CheckoutSmart
CheckoutSmart offers a range of freebies and discounts on their cashback app. You can pick these up at a range of supermarkets like ASDA, Sainsbury's, Tesco, Morrisons, and Waitrose.
It also features offers at local One-Stop and Iceland stores, too!
You may also like: CheckoutSmart App – How to earn cashback at the supermarket
Quidco ClickSnap
Quidco ClickSnap is another cashback app from Quidco, which has similar deals as CheckoutSmart, as they're owned by the same company!
This means you can often claim two lots of deals or freebies, as you can submit cashback claims on both apps. I would always recommend till splitting your receipts if you want to do this, just in case!
You may also like: How does Quidco work? The ultimate guide & Free £5 bonus
TopCashback Snap & Save
Cashback Snap & Save is a section of the TopCashback app, which is usually good for seasonal offers like a free Easter egg or Christmas wrapping paper. It doesn't have as many regular offers as the apps above, but it's always worth having a quick check!
You may also like: TopCashback: The ultimate guide & top tips to earn even more
Airtime Rewards
Airtime rewards app works a little differently from other cashback apps. You add your card to the app and it tracks your spending at shops and supermarkets like Waitrose.
It then adds cashback to your account, which you can redeem against your phone bill. (SIGN UP USING CODE: PPBMT7HU TO GET A £1.50 WELCOME BONUS)
You may also like: Airtime Rewards – How to save money on your phone bill
Daali app
Daali is another app that works in a similar way to Airtime Rewards. Add your card and it tracks your spending at shops such as Asda and The Co-op. Once you earn enough points, you can cash these in for gift cards for Amazon, Costa, and plenty more retailers!
That's it! Hopefully, I've inspired you to download the app and get saving!
Pin for later…