Did you know Philips has a product testing programme? If you join, you get to try free products in the comfort of your own home, before they're even available to buy!
Keep reading to find out how to become a Philips product tester and my top tips for product testing…
What is Philips product testing?
Philips product testing is a programme from Philips. Once you sign up, you get free Philips products sent to your home in exchange for your honest review.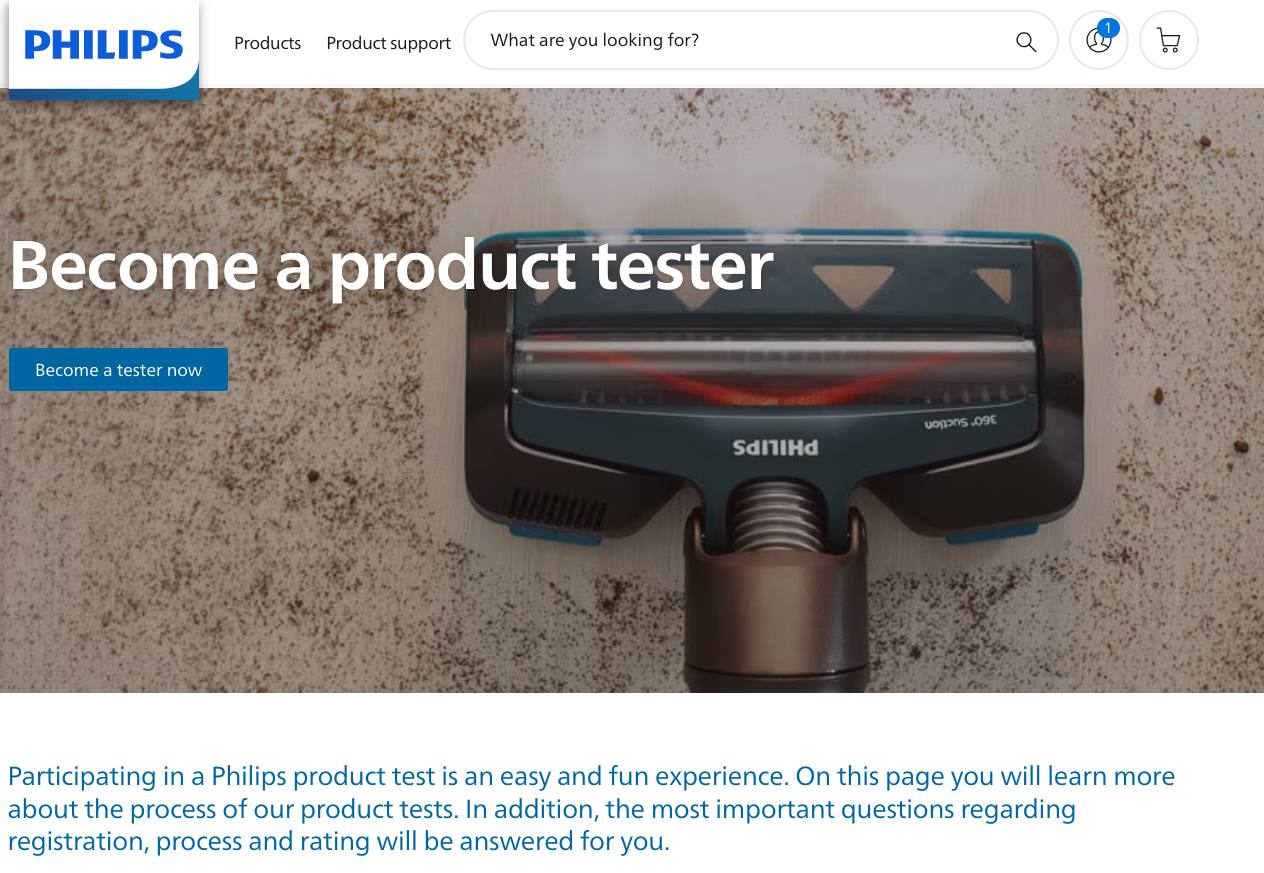 How do I become a Philips product tester?
It's so easy to sign up and completely free to join! Simply follow this link and click 'become a tester' to sign up in seconds. Once you log in, you can see what products are available to test and apply for them.
If you're selected to try the product, you'll receive an email confirmation. They will then send the product straight to your front door. Amazing!
Once you've tried the product, it's time to give your feedback! They will ask you to write an honest review of the item.
What can products can I test?
There are loads of products you can test for free as a Philips product tester! Past opportunities have included:
Philips Sonicare Series electric toothbrush
AVENT 4-in-1 baby food maker, storage cup set, and steriliser
Philips Series 5000 Shaver
Steam irons and garment steamers
LatteGo automatic coffee machine
Philips Lumea IPL series
And loads more fab Philips products. It all depends on what they have up for grabs on their website!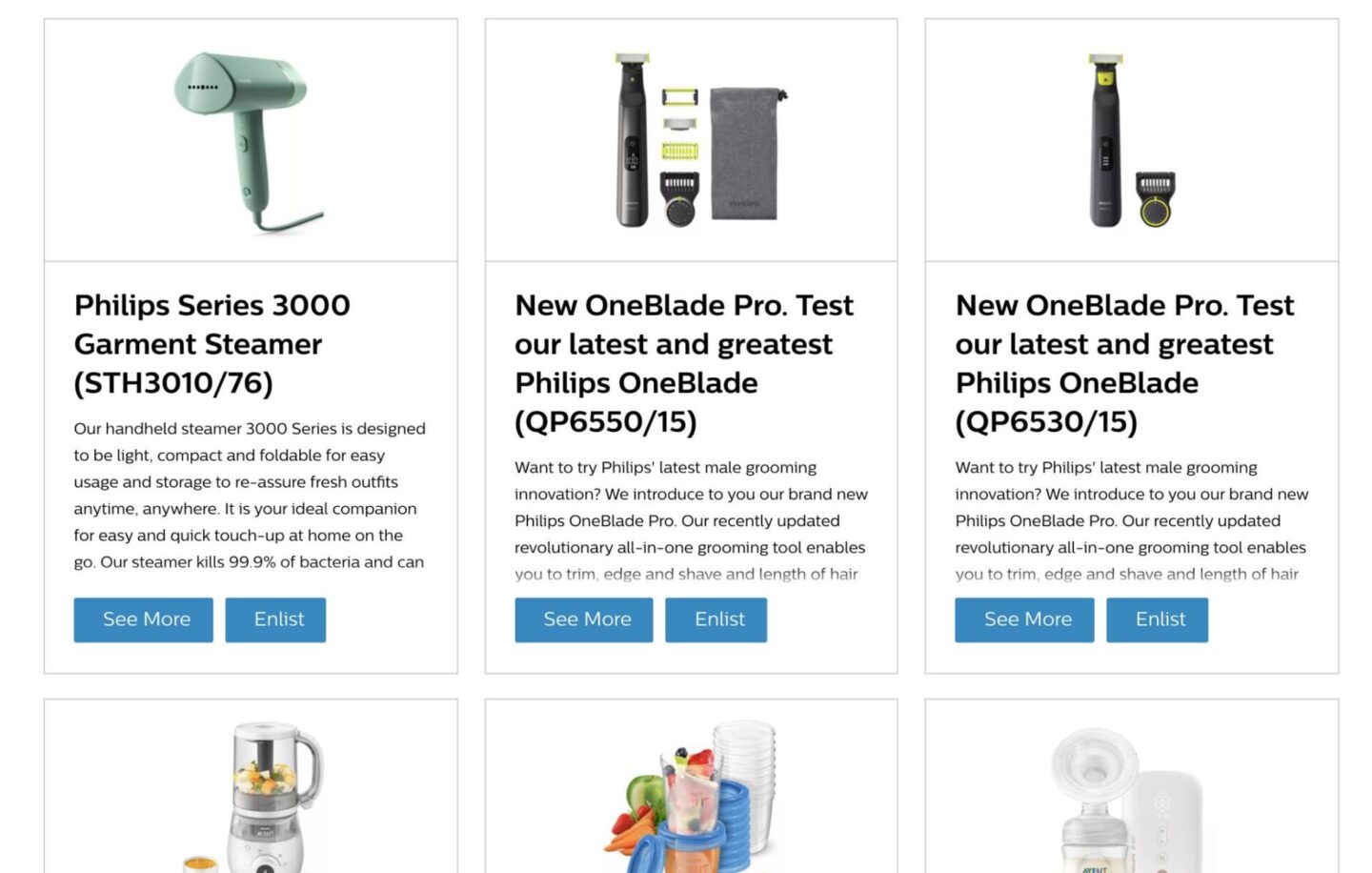 Do I have to return the products?
Absolutely not, no. You do not have to pay to keep the products or return them! You get to keep every product you try for free once you've submitted your feedback.
How many opportunities can I apply for as a Philips product tester?
Once you've signed up, you can apply for as many opportunities as you like!
That being said, it's worth noting that applying for every single opportunity doesn't always guarantee that you'll be selected. They also close opportunities very quickly so apply ASAP when you see one!
Top tips for product testing
Are you ready to start testing Philips products? Fantastic! Here are some of my top tips, which I always recommend for applying for product testing opportunities:
Check the website regularly and apply ASAP – as I mentioned earlier, spaces fill up fast! So it pays to check the website and also their social media channels to see when new opportunities become available
Fill in your online profile with as many details as possible – this will help Philips determine if you're right for the product. E.g. if you're a new mum, busy family, have pets, etc make sure you select these options to help improve your chances of being selected!
Commit to the project – have you promised to post on your social media channels or write a review on their website? Make sure you actually do it! This will increase your chances of receiving more opportunities in the future
Finally, I always talk about this, but I would definitely avoid lying to get products! Philips rely on honest feedback and there are people out there who really rely on these to help reduce their living costs.
More freebies & product testing opportunities
Fancy applying for more freebies? Check out my following posts for more ways to get free stuff:
30+ genuine product testing sites to get free stuff to try
How to get companies to send you free samples & coupons
TryIt Review – How to get free products to try at home
How to get unlimited SoPost samples in the UK
Latest freebies, coupons, deals & free money offers
How to get exciting freebies in the mail every day
30+ best freebie sites to check daily for free stuff
60+ birthday freebies to claim every year
Easy ways to get free stuff on social media
Marie Claire Beauty Drawer – how to get free beauty products to try & review
Save for later…