Are you looking to save money at the supermarket and cut down your grocery bill this year? Then you NEED these apps in your life.
I've been using some of these apps for years now and have saved hundreds, if not thousands, on my weekly shop each year.
Every app I recommend here is free to download and use. Even better, some apps even offer you a welcome bonus or gift for joining!
What are you waiting for? Let's start saving you some cash with these money-saving apps…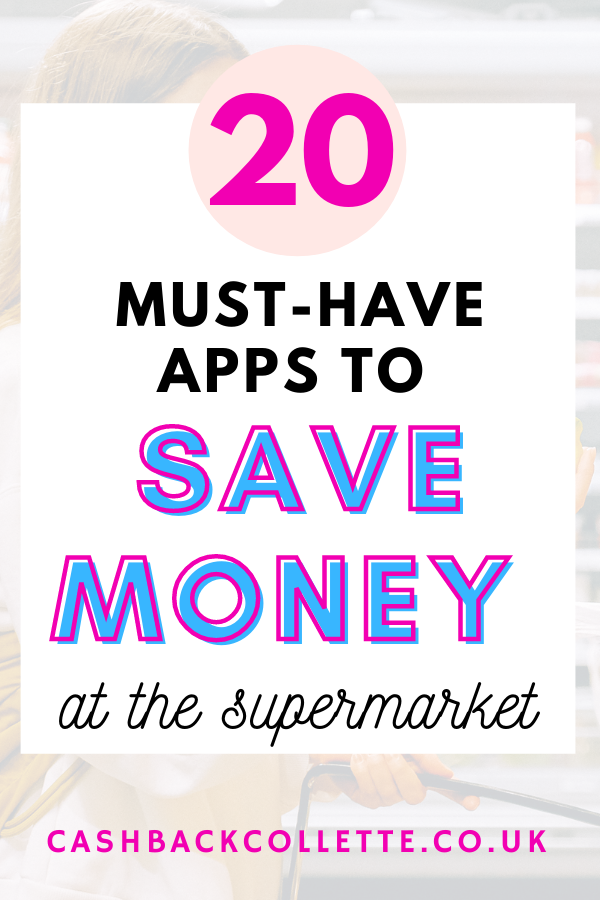 Supermarket price comparison apps
Let's start with some supermarket price comparison apps. These are the best way to save money on family favourites and weekly staples.
You can search for individual items on the app and it will tell you which supermarket stocks them, and where the item is currently the cheapest price.
MySupermarket alternatives
MySupermarket was the first choice for all bargain hunters. However, it shocked us all when it closed in March 2020. Here are the two main ones I use regularly since they shut down (so sad!)
1 Latest Deals supermarket comparison app
The Latest Deals supermarket comparison app is a fab alternative for saving money on your weekly shop. You can compare prices on all your grocery essentials from major supermarkets including Asda, Morrisons, Sainsbury's, Tesco, Waitrose, and Iceland.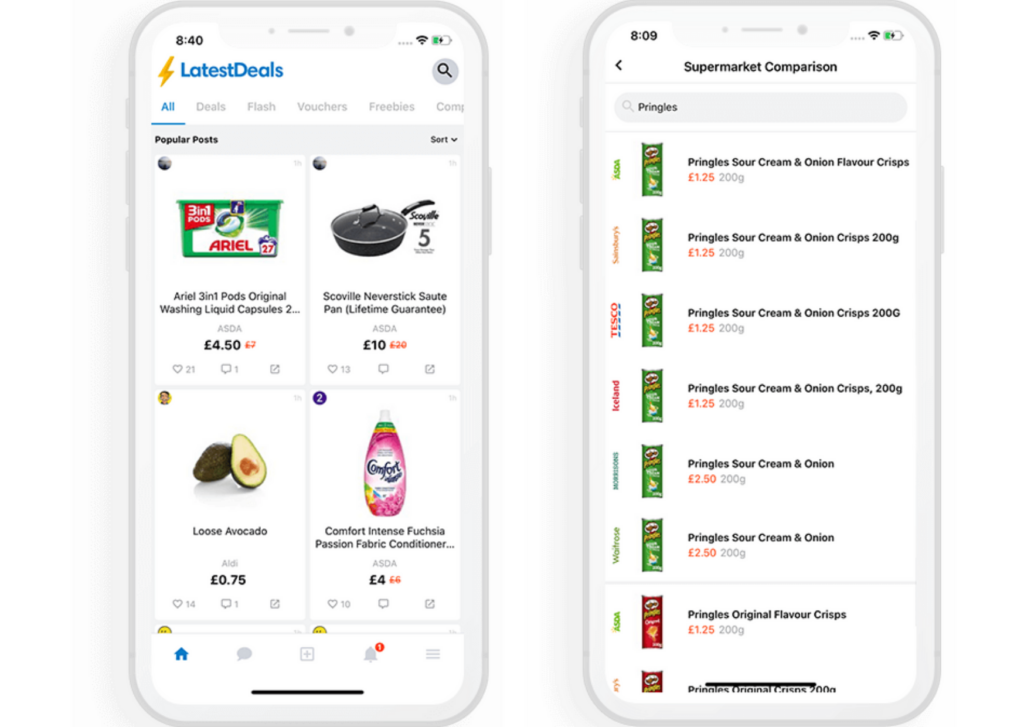 You can also check out all the latest deals, freebies, and competitions, all from within the app. Amazing!
Available on: both iOS & Android
2 COMPARASAURUS
Firstly, I LOVE the name of this one! COMPARASAURUS is another great choice for comparing the cost of supermarket items.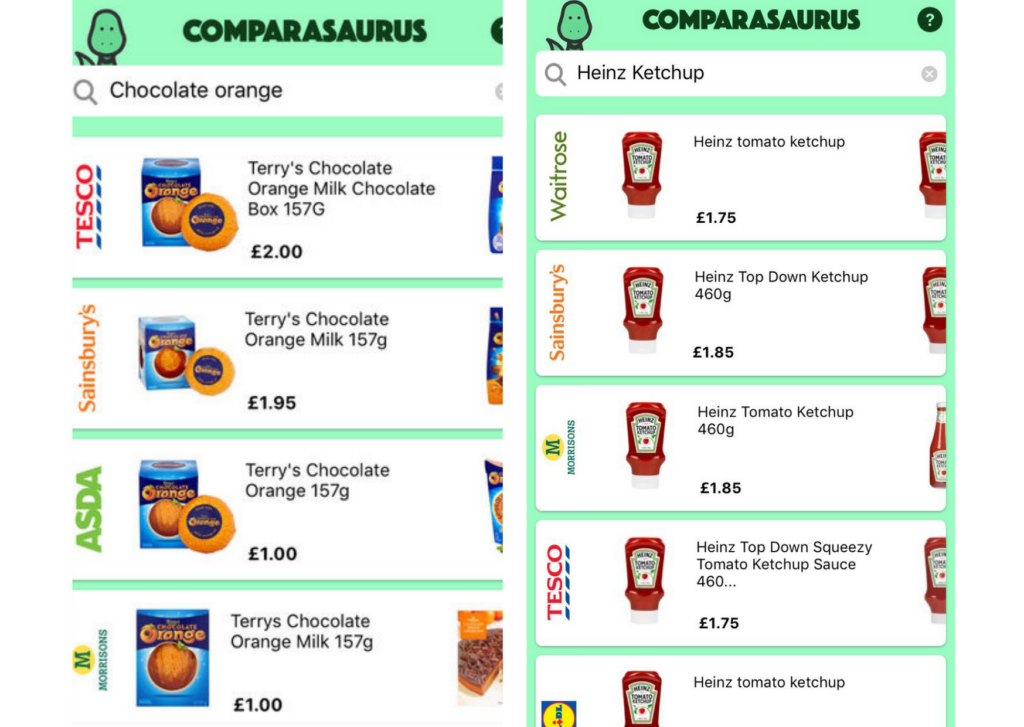 You simply type in the name of your product and it will show you all the items available across supermarkets like Asda, Tesco, Sainsbury's, Morrisons, Waitrose, Ocado, Lidl, and more.
It's free to download and use, but they also offer handy £1 digital recipe books from Miguel Barclay (who created the app itself.) He's famous for his budget-friendly dishes, coming in at £1 or less!
Available on: both iOS & Android
Supermarket cashback apps
I get so giddy just talking about supermarket cashback apps! They are definitely my favourite way to cut back when shopping for food and drink. It's also a really nice way to try new products at a discounted price. You can even bag plenty of freebies on there too!
How do supermarket cashback apps work you ask? Easy! You simply download each of the apps for free, then pick up the items on the app in the supermarket and purchase as normal.
Keep your receipt handy! Upload a photo of your receipt and they'll reward you cashback. Here are the best apps I use every week…
3 Shopmium
Shopmium is 100% my first choice if you're new to supermarket cashback apps. They have loads of offers for exciting new products from up and coming brands and update the app with new offers almost daily.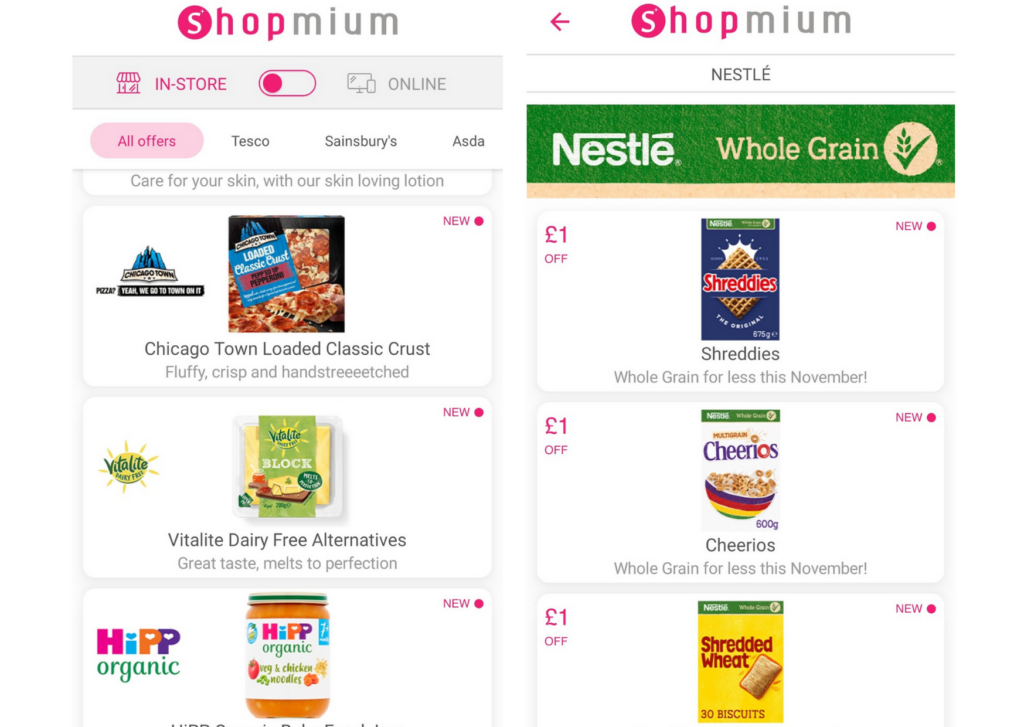 Plus, regular discounts and freebies from household names like Andrex, McCain, and loads more. Download it today using my ref code KHKCYCEN to receive a FREE tub of Pringles, winning!
Also, don't forget to refer your friends and family to get £3 per person you refer to spend on the app.
Available on: both iOS & Android
Related: Shopmium App – How to get freebies & save money on groceries
4 CheckoutSmart
CheckoutSmart is a close second for bagging deals on supermarket items. It's not as hot on the freebies and offers as Shopmium, but they are still pretty great for saving money on big brands like Alpro and Goodfellas.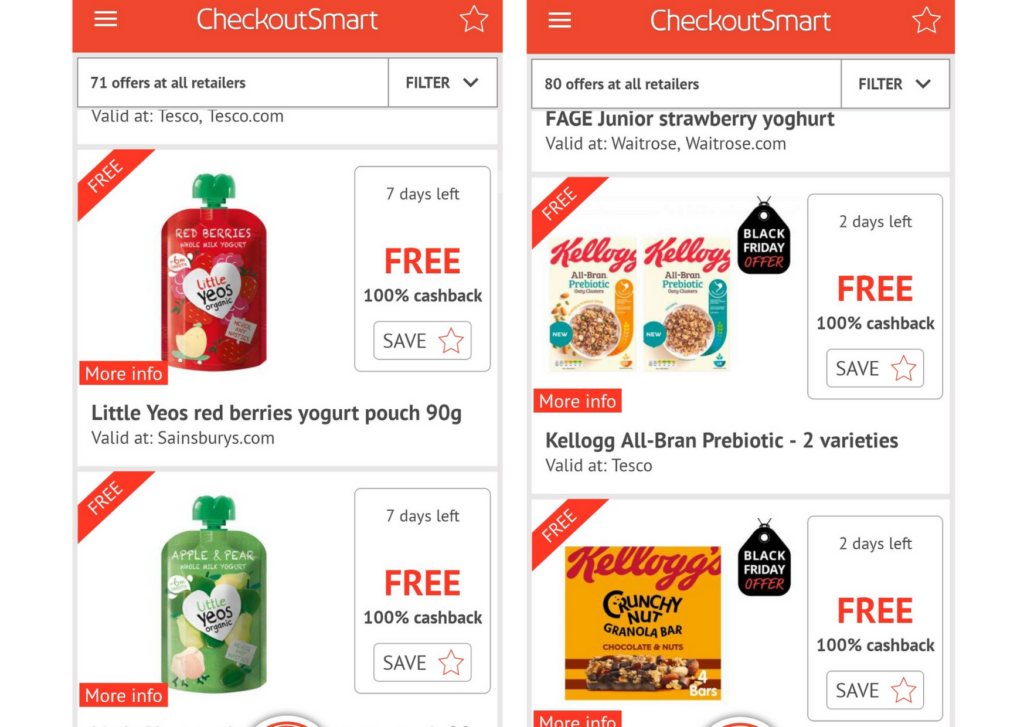 They're also particularly good for saving money on products like baby food and kids snacks.
Available on: both iOS & Android
Related: CheckoutSmart App – How To Earn Cashback At The Supermarket
5 Quidco Clicksnap
If you're familiar with cashback site, Quidco (sign up now to get a £10 cashback bonus!) Then Quidco Clicksnap is a must-have app for helping top up your cashback. to double up on your cashback.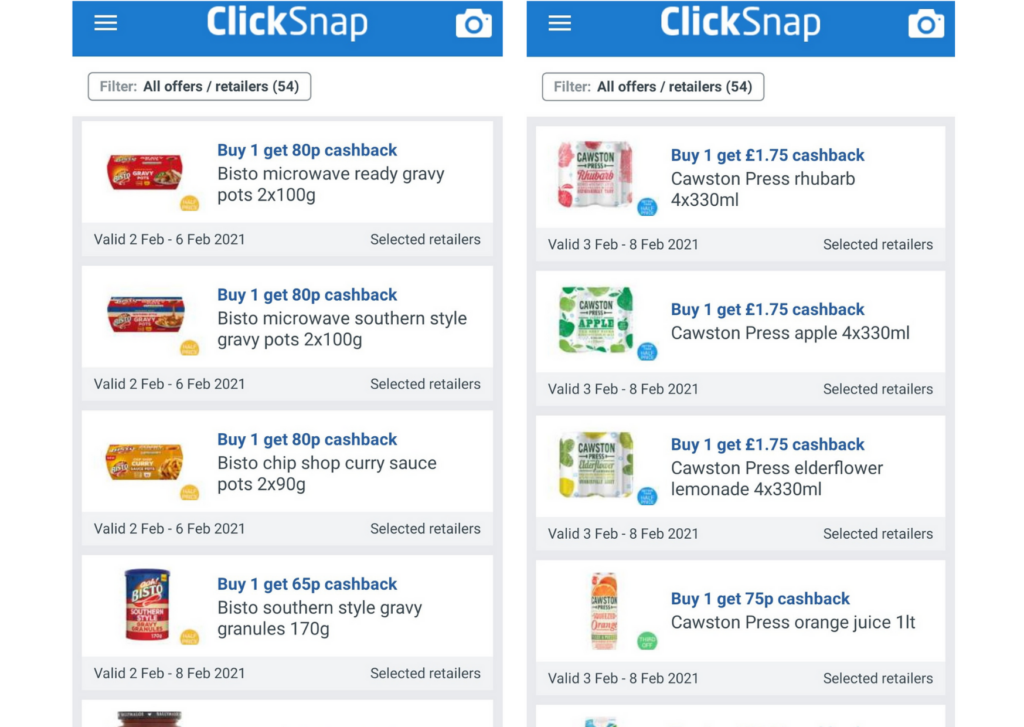 It works exactly the same as the other apps. You purchase the item in-store and upload your receipt to get the money back in your account.
TOP TIP: CheckoutSmart is also owned by Quidco, so you'll often find similar offers on the app. This means you can double up your savings by claiming cashback on items across both apps. Just remember to split your till receipts to guarantee you'll get cashback on both accounts!
Available on: both iOS & Android
6 Green Jinn
Green Jinn is another fab money-saving app to help you save money on everyday groceries. It offers digital style coupons for all kinds of items from energy drinks to packs of pasta.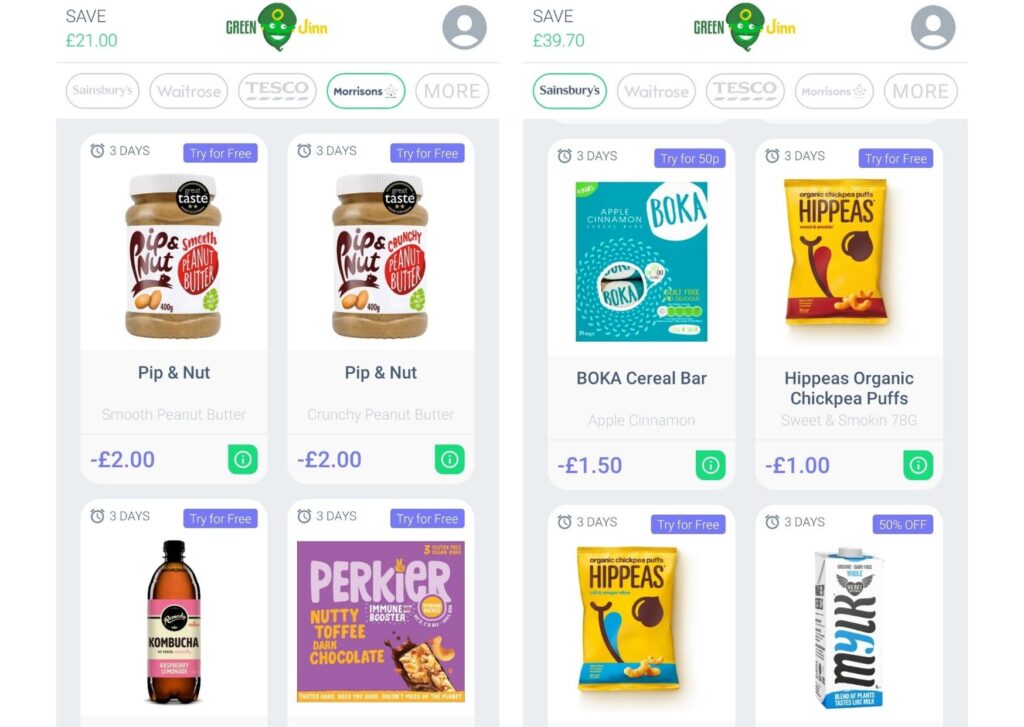 This one works the same as the other apps and offers cashback on purchases from Tesco, Sainsburys, and Waitrose when you upload a photo of your receipt.
What's really good about this app is unlike other ones, it offers discounts on fresh fruit and vegetables, plus loads of other healthy snacks.
Available on: both iOS & Android
7 Airtime Rewards
Airtime Rewards is another great app to help save money at the supermarket. The best part? It doesn't require you to upload a receipt as proof of purchase.
Simply download the app and connect your card (totally safe and regulated by the way, I've been using it for over a year now) and it will track your spending at places like Waitrose (plus loads more retailers!)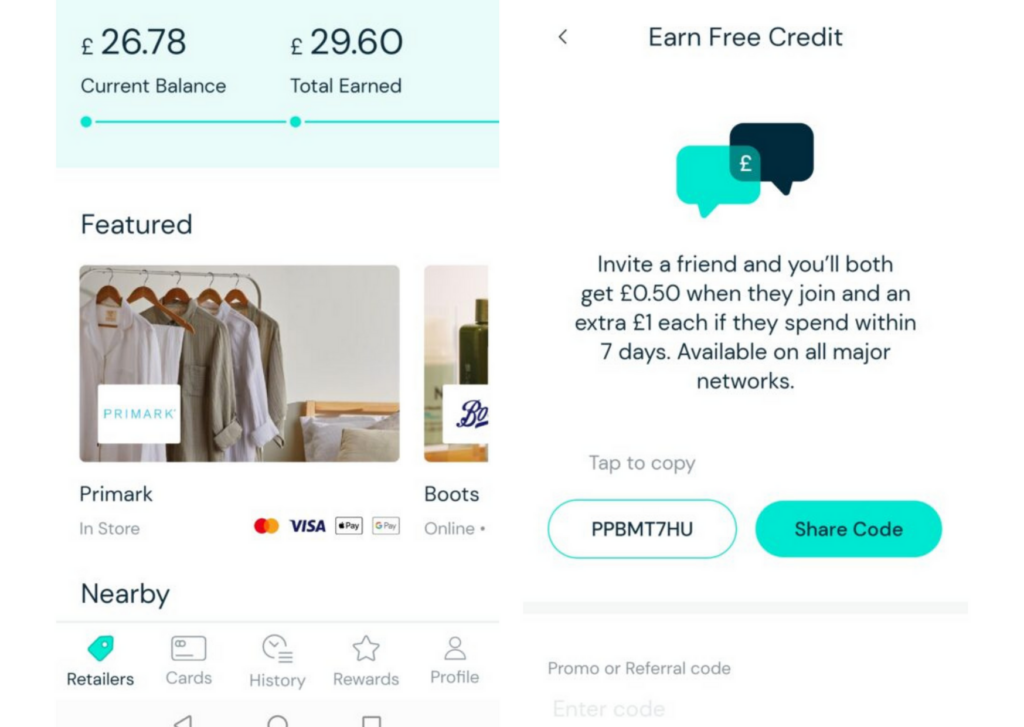 Once you've racked up some cashback on your account, you can put the money towards your phone bill. How amazing is that?? Earn a welcome bonus of up to £1.50 using my code PPBMT7HU when you sign up.
Find out more about Airtime Rewards
Available on: both iOS & Android
Supermarket loyalty apps
Supermarket loyalty schemes are a classic way to save money by earning points over a period of time. Lots of supermarkets now have handy apps, where you can track your points and take advantage of exclusive app-user offers!
8 Nectar card
Nectar is an essential loyalty scheme for all Sainsbury's shoppers! Earn 1 point per £1 spent in-store and 1 point per litre at all their petrol stations.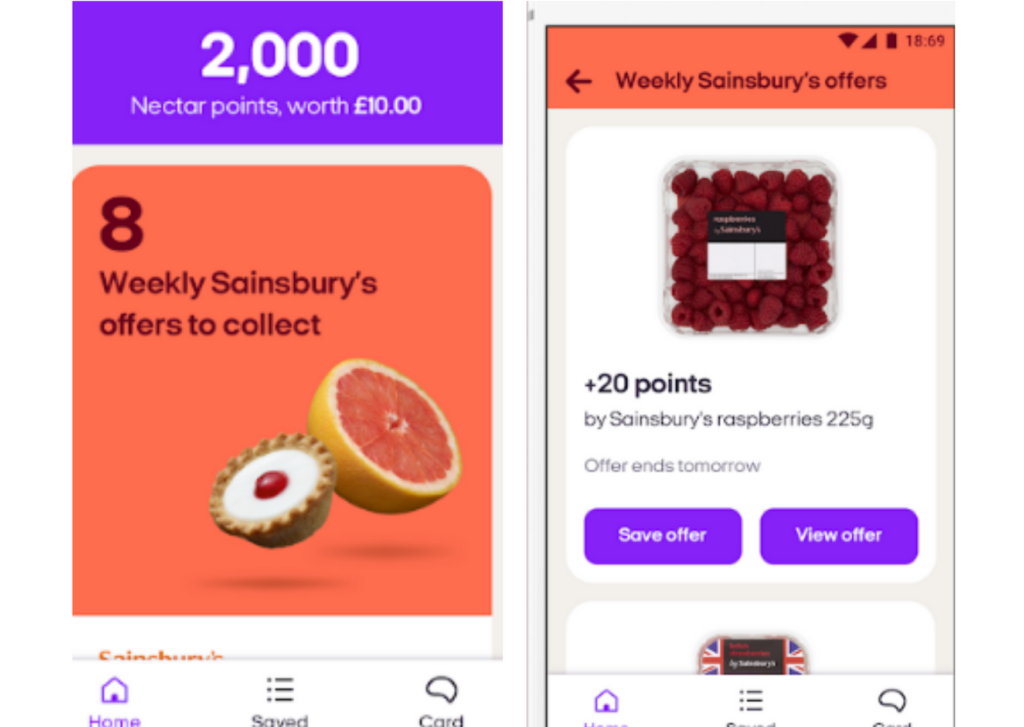 Reach 500 points and get a £2.50 off voucher to spend at any Sainsbury's store, on their website, or with one of their partners.
Related: Best places to collect Nectar points
Plus, when you download their app, you'll get special bonus points days and notifications for all new and upcoming offers.
Available on: both iOS & Android
Related: How to collect free Nectar points with MyMail Rewards
9 Tesco Clubcard
Tesco Clubcard is another fave on my list of supermarket loyalty apps. They offer 1 point per £1 spent in one of their stores and 1 point per £2 you spend on fuel.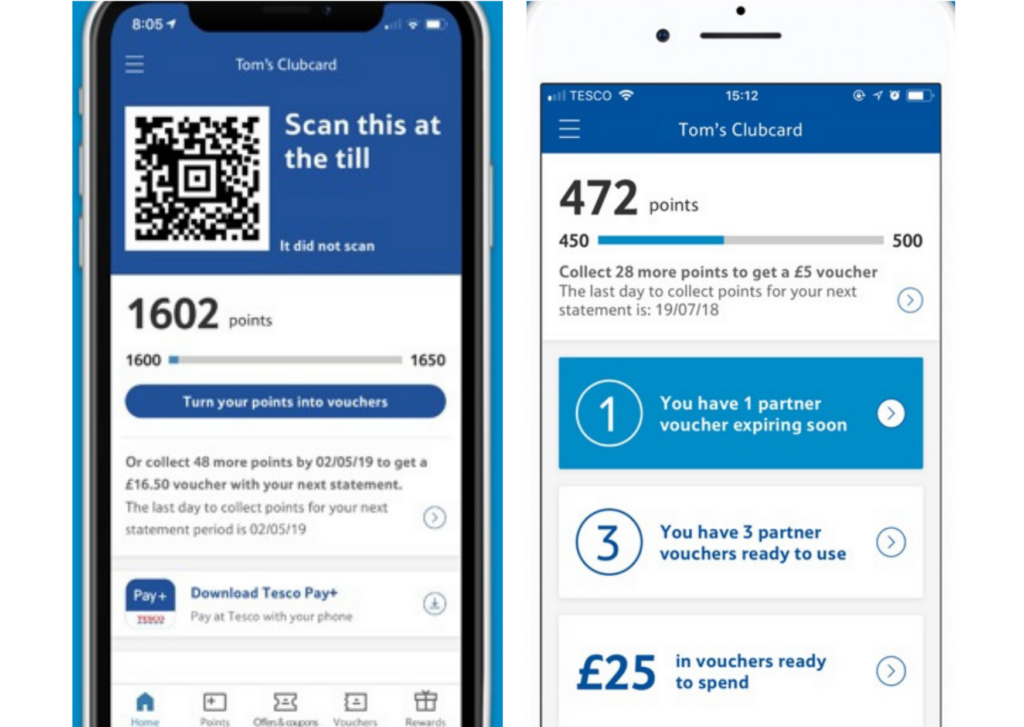 Tesco now also offers Clubcard members special discounts on household products, which you can redeem when you scan the app at checkout.
What I love most about their app, though, is that you can scan and spend your points in-store via the app (great if you've forgotten your card or vouchers!)
Available on: both iOS & Android
10 myWaitrose
myWaitrose offers lots of lovely discounts to their members. Like most loyalty schemes, it's 100% free to join and download their app.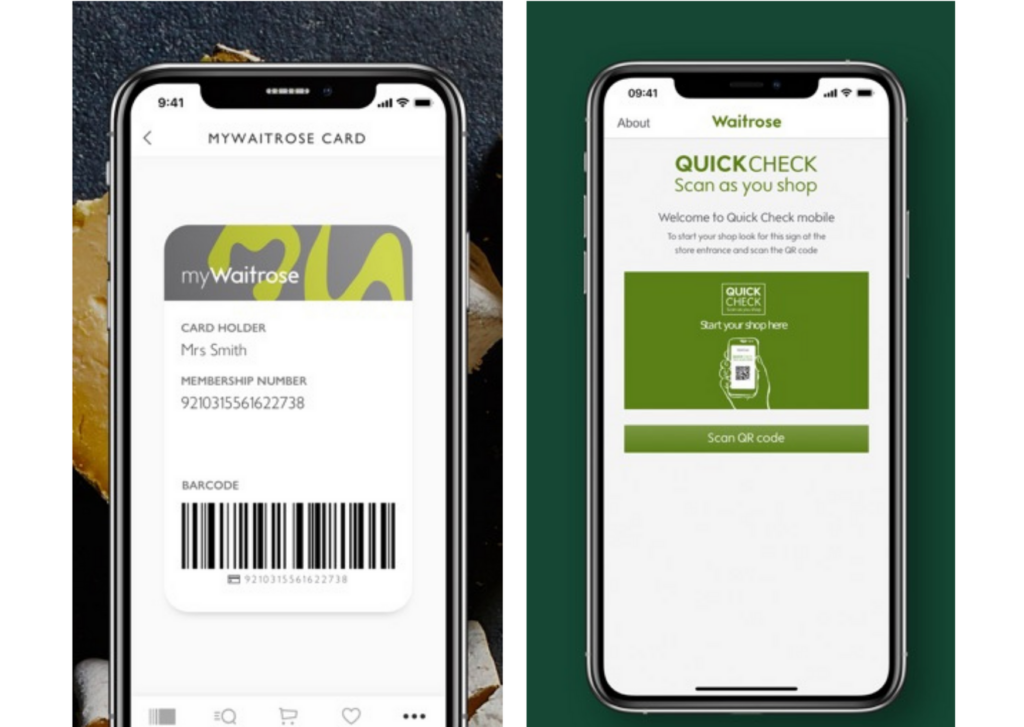 You don't necessarily collect points in exchange for vouchers, but there are perks to be had. Like claiming a free coffee when you shop in-store for example.
This app has been such a lifesaver when I've misplaced my card but still craved my coffee fix, as you can scan your loyalty card digitally. Score!
Available on: both iOS & Android
11 Morrisons More
Morrisons More is Morrisons' revamped loyalty scheme and now comes as an app, as well as a card. You can earn 5 points per every £1 spent and 5 points per litre on fuel.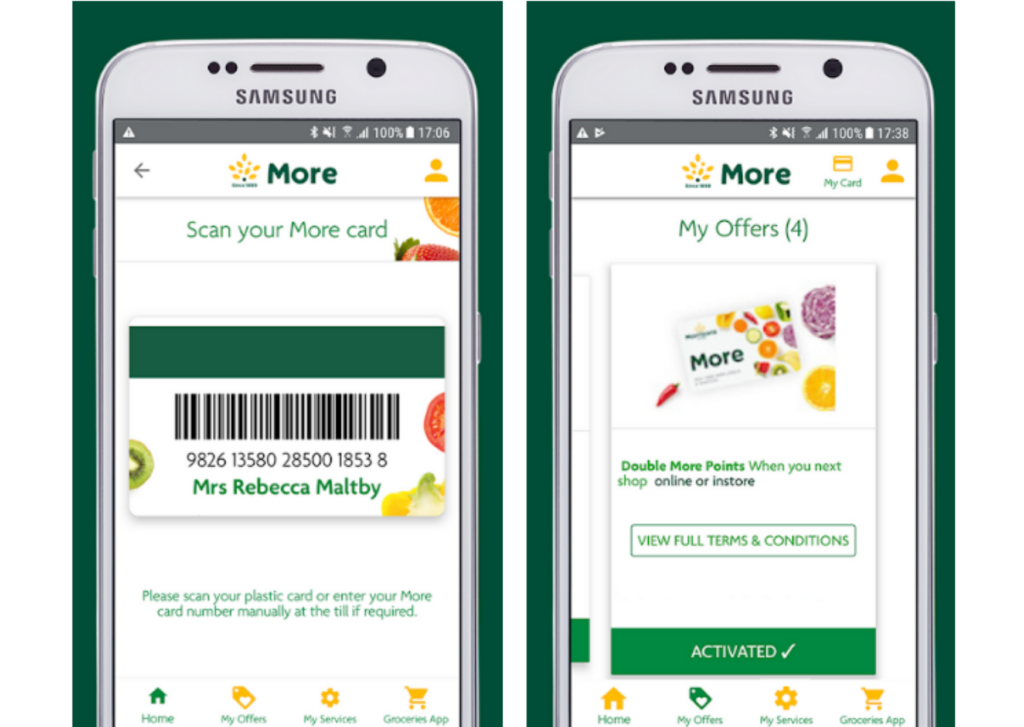 You'll then get a £5 voucher to spend in-store when you hit 5,000 points.
The app has loads of fab features like store and fuel finder, points and vouchers tracker, offers & competitions, recipes, plus more.
Available on: both iOS & Android
12 Co-op Membership app
Co-op Membership works slightly differently. You signup for just £1 and earn 5% on selected products in their shops.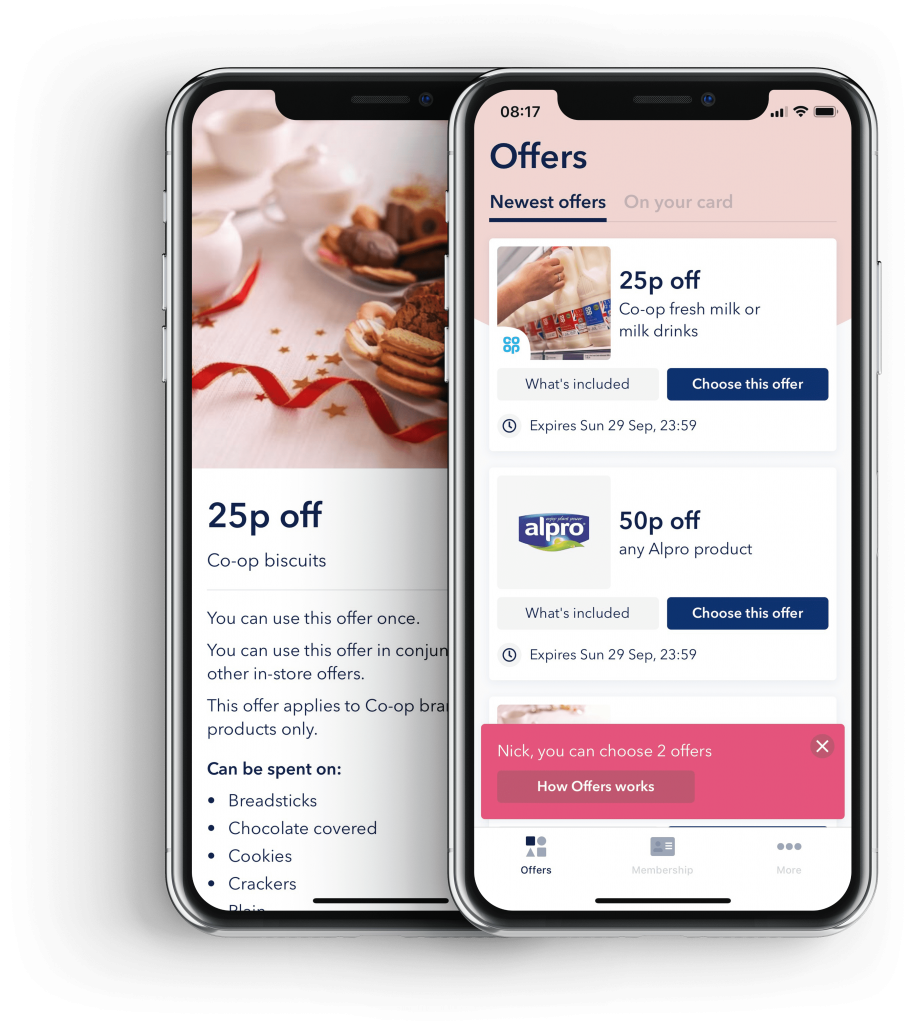 Their app is free to download and it's very handy for tracking your cashback. You can spend your cashback vouchers in-store.
Available on: both iOS & Android
13 Lidl Plus
Lidl Plus app is a fairly new rewards app from Lidl, featuring lots of exclusive bargains for Lidl shoppers. As if it wasn't cheap enough?!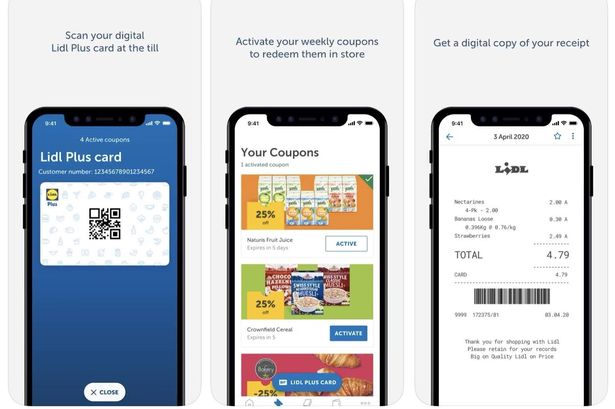 Download the app and signup for deals like £5-off when you spend £25, 15% off frozen vegetables, and free doughnuts, yum.
Available on: both iOS & Android
14 M&S Sparks card
The M&S Sparks Card app is definitely worth downloading if you're a regular in their food halls. Get 10 points per £1 spent in-store.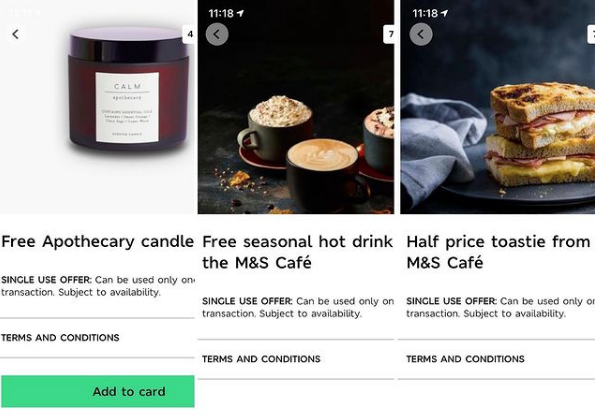 You also get LOADS of personal rewards like birthday freebies, free coffees, surprise gifts like shopper bags, packs of Percy Pigs, just to name a few!
15 – Stocard
Stocard is SUCH a handy app for helping you store all your loyalty cards in one place. How does this help you save money? You'll NEVER miss a bargain, coupon, or loyalty voucher opportunity again.
It's free to download and you can even pay for goods via the app using Apple Pay!
Available on: both iOS & Android
Receipt scanning apps
Receipt scanning apps don't technically help you save money at the supermarket itself. However, they can help you earn back some of the cash you spent there.
All you have to do is upload a photo of your receipt on each app and you'll earn points. Once you've collected enough points, you can cash out via PayPal or Amazon gift vouchers.
If you're worried about your personal information, it's ok! These are 100% safe to use and comply with data protection rights.
16 Snap my Eats
Snap My Eats offers £1 per every five food and drinks receipts and has a max earning potential of £5 per month for 25 valid receipts. You can redeem your money once you hit £10, which is really easy to reach.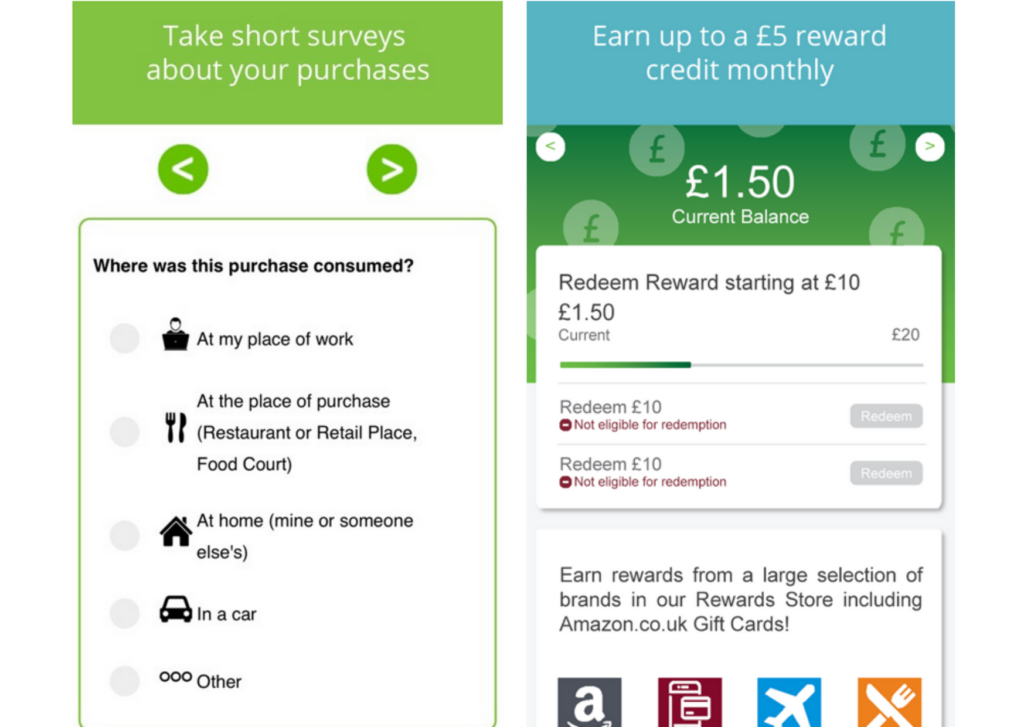 They'll also ask you some quick, multiple-choice questions like where and how you purchased your items. Receipts must be submitted within 7 days of your purchase.
17 Shoppix
Shoppix is my favourite receipt scanning app because you can upload receipts from all retailers, not just supermarkets! I earn regular points from receipts from places like Primark, IKEA, plus loads more.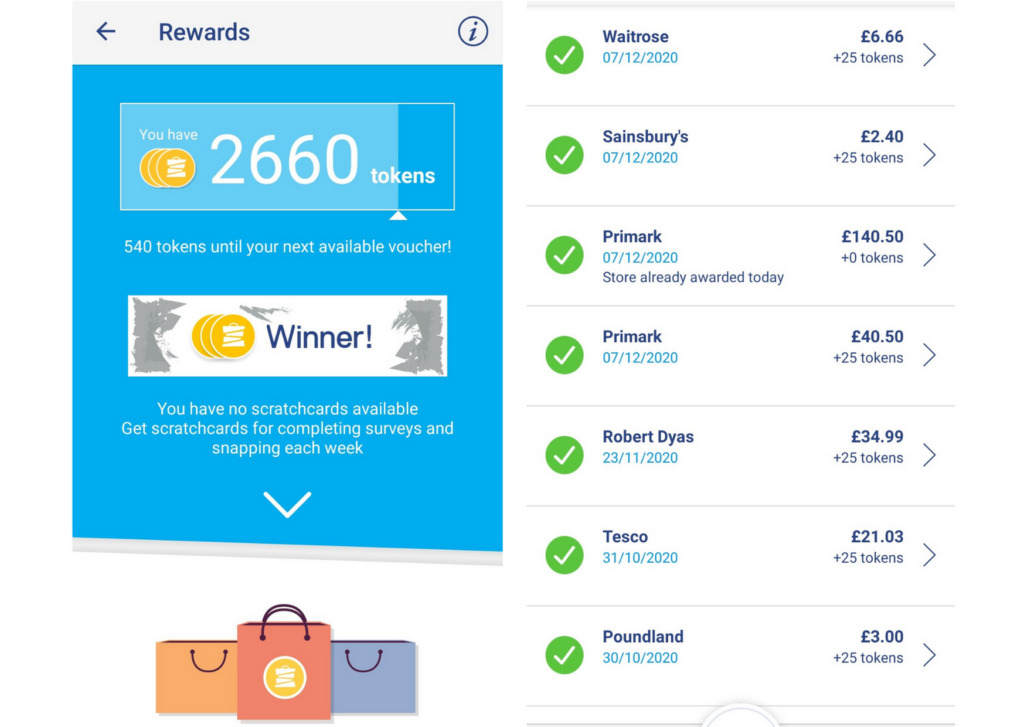 You can also forward e-receipts and take surveys on the app to earn extra points. Plus, you get bonus scratch cards where you have the chance to collect even more points!
Receipts must be uploaded within 7 days and you can cashout via PayPal or Amazon vouchers.
18 Huyu
Huyu is another receipt and survey app where you can earn money or shopping vouchers.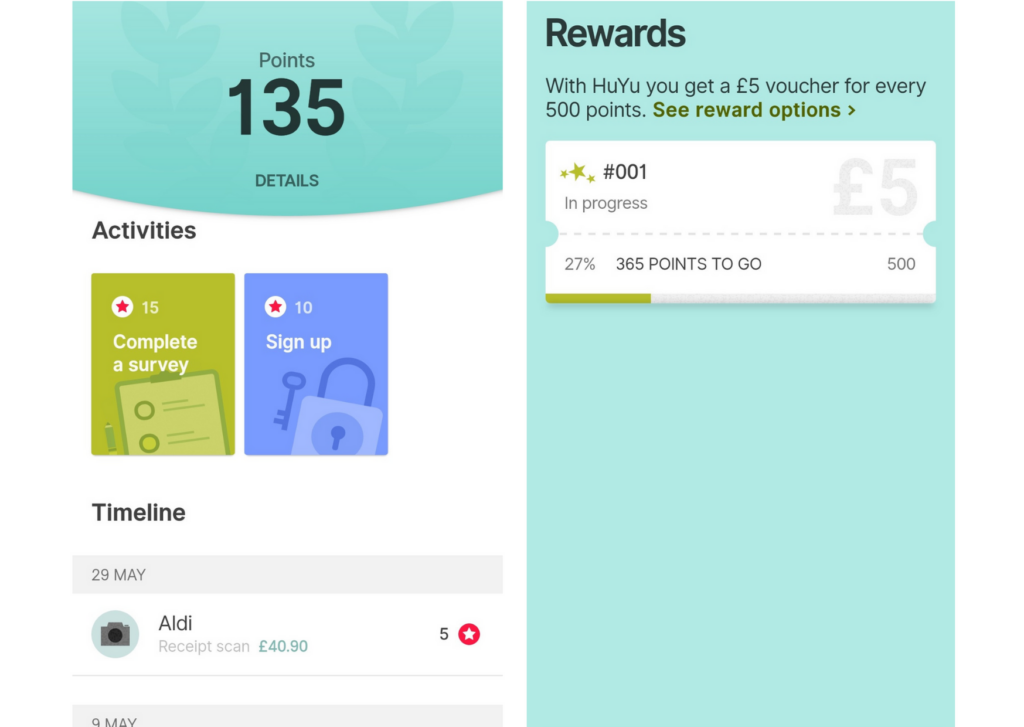 Upload grocery receipts from supermarkets including Tesco, Asda, Sainsbury's, Morrisons, Waitrose, Lidl, Aldi, and the Co-op. Plus forward your e-receipts for extra earning opportunities.
Again, receipts must be 7 days old, max when uploaded and you must reach minimum 500 points to cash out.
19 STOREWARDS
STOREWARDS is a fab app that rewards you for your receipts. It also offers daily bonuses and you can claim even more points by reaching new levels, based on how many receipts you upload.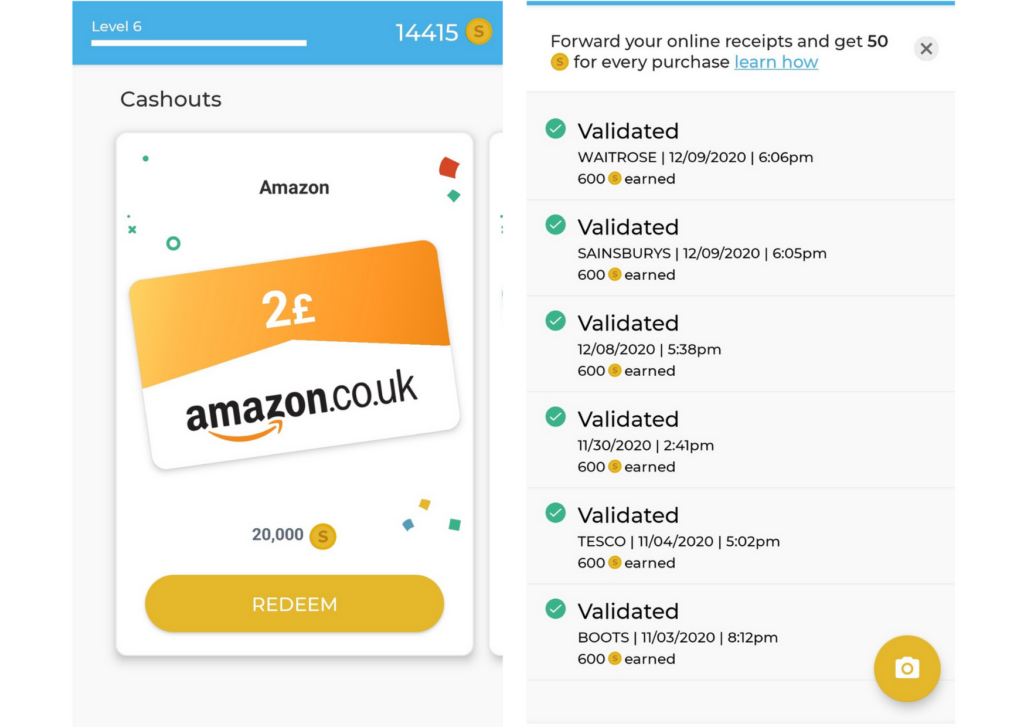 Cashout via PayPal or claim your rewards via Amazon gift cards. It's not just supermarkets for this one either, you can claim at most retailers and upload up to a whopping 35 receipts a week!
Available on: both iOS & Android
20 Personal Perks
My final essential app for saving money on groceries is Personal Perks. It isn't strictly a supermarket app but I really wanted to include it on the list because I've managed to bag free food and drink on here. It's a product testing app, so they send you free items to review.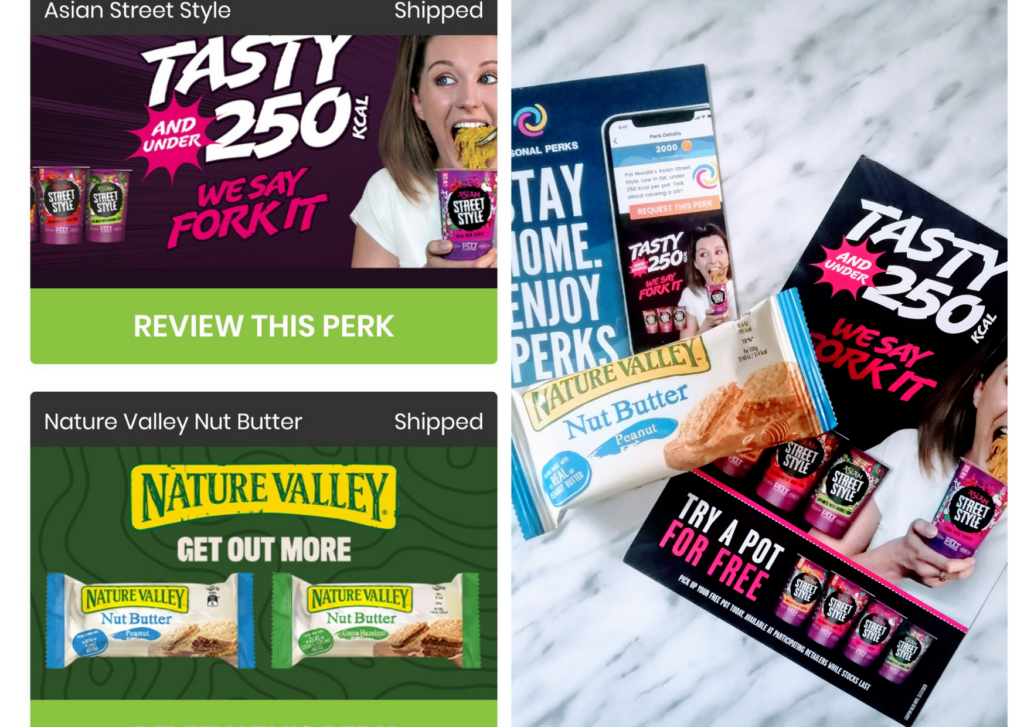 You earn coins every time you review a product they send. The more things you review, the more products they send! I've had all sorts in the post like jelly pots, noodles, perfume samples, and more.
Download the app and signup for free to get claiming your freebies.
Psst! Like the sound of product testing? Check out my huge list of 30+ genuine product testing opportunities too!
Available on: both iOS & Android
So there we have it! 20 money-saving apps to help you save money at the supermarket. Did I miss any? Let me know…
Pin for later…